The best fishing pliers are 7 inches in length, made from corrosion-resistant stainless steel, have a non-slip grip, and have tungsten cobalt cutters for durability.
The KastKing Speed Demon Pro is my top choice because of its utility, comfort, and durability. It features a corrosion-resistant Teflon coating, an oversized, rubberized grip, and is made from 420HC stainless steel. It is ideal for saltwater anglers looking for affordable pliers that don't sacrifice quality.
Fishing pliers are one of the most commonly overlooked pieces of equipment an angler can have in their arsenal. Most beginner or novice anglers who bypass purchasing a solid pair of pliers learn the hard way that this particular piece of gear is essential. Failing to pack a pair of pliers into your tackle box can result in plenty of unwanted obstacles, including the inability to safely remove your hook from the fish in a timely manner and get it back into the water. 
Experienced anglers understand that a good pair of fishing pliers allows them to bend hooks back into place, straighten wires and other components, cut line, and many other repairs tasks. 
All of the information in these reviews is based on my own first hand experience and insights with the individual products based on over a decade of angling knowledge.
Stainless Steel
7.5 inches
Rubberized Handle
Aluminum
7 inches
Very Affordable, Includes a Sheath
1. KastKing Speed Demon Pro Fishing Pliers
Tungsten Carbide Cutters
420 Stainless Steel 
Multi-Function Jaws and Hook Remover
Non-Slip Handle
In recent years, KastKing has climbed toward the fishing industry's top in many ways, including its fishing rods, reels, and other tools that help give anglers an added edge on the water. The KastKing Speed Demon Pro Fishing Pliers are worthy of being named among my list of the best fishing pliers as they offer a wide variety of features and a uniquely designed, ergonomic feel that helps anglers stay in control once they've caught their fish. 
The handle features an oversized, rubberized grip that helps anglers maintain a steady grip, despite being exposed to copious amounts of fish slime and water, which can combine to create a slippery mess in many cases. Made with corrosion-resistant Teflon coating, these pliers are designed to withstand just about anything you might encounter on the water. 
The jaws of the KastKing Speed Demon Pro Fishing Pliers are crafted from 420HC stainless steel, which is among the toughest in the industry. This product also offers anglers a tungsten carbide cutter that can easily cut through any fishing line and thickness. This tool is perfect for anglers who need one pair of pliers that can do everything from hook removal to crimping and even cinching down knots to tighten your rig. 
Pros:
Lightweight 
Made with 420HC stainless steel
Tungsten carbide cutter 
Rubberized Golf-Style SuperPolymer grip
It comes with sheath and coiled lanyard 
Affordable price 
Cons:
It can break when torquing the handle to a high degree 
2. Bubba Blade Fishing Pliers 
8.5" Overall Length; 3.5" Jaw Length
TiN-Coated, High-Strength, Stainless Steel Corrosion-Resistant Construction
Spring-loaded with side cutters, a crimper tool, lanyard hole and coiled lanyard
Non-Slip Grip handle ensure the pliers stay firmly anchored in your hand even when wet
Anglers who have years of experience are likely to be well-acquainted with the Bubba Blade brand name. This company is known throughout the fishing industry for their ability to deliver products that aptly meet the needs of their customers while coming in at a price that's surprisingly affordable compared to other brands that offer premium-quality models. 
The Bubba Blade fishing pliers are made to the same high standards that the brand's blades and tools have become known for, but can be purchased at a relatively affordable rate compared to some of the best pliers for fishing you'll find on the market today. 
These pliers are 7.5 inches long and offer everything an angler needs to safely remove hooks from their catch or to repair certain lures when necessary. The stainless steel jaws are made to be exceptionally tough and durable—capable of tackling just about anything you need to grab hold of on the water. Regardless of what kind of fishing line you're using and the exact pound test rating, the Bubba Blade can cleanly cut through it thanks to its tungsten cobalt cutter blade.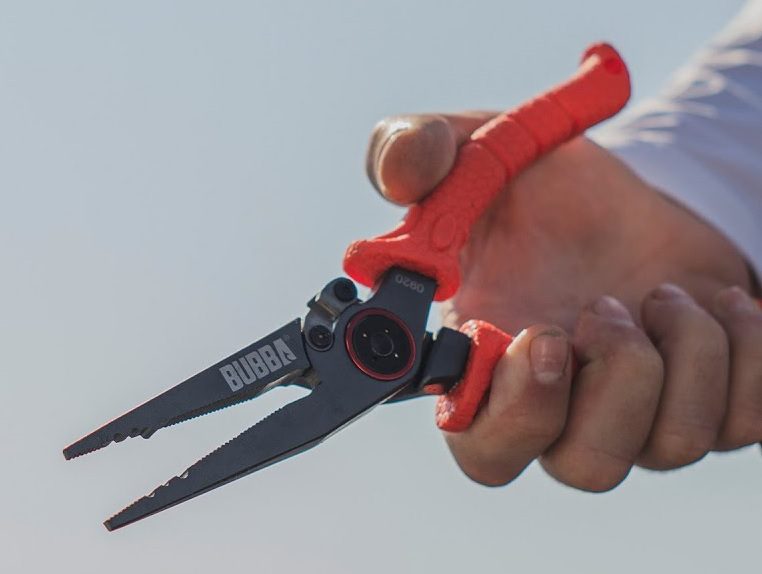 This model also features crimping slots on each arm and a thick, rubberized handle that will help anglers keep their hold on these pliers despite soaking wet conditions.
Why do I have this as my No. 1 choice for the best fishing pliers? Despite all its premium features, the Bubba Blade fishing pliers are available for a reasonable price that most anglers can afford. 
Pros:
Thick rubber handle
Crimping tools 
Heavy-duty, aircraft-grade aluminum 
Tungsten cobalt cutting blade
Affordable price
Cons:
Known to break under extreme amounts of pressure
3. Cuda Titanium Alloy Pliers
Corrosion resistant titanium bonded aluminum alloy construction
Integrated tungsten carbide wire cutters
Includes ballistic nylon sheath and convenient lanyard
Full-tang construction for durability
Non-slip Cuda scale pattern grips
For anglers searching for the absolute best pliers on the market—sparing no expense—it's hard to overlook the Cuda Fishing Products Titanium Alloy Pliers. These, like other Cuda products, are made to the highest standards in the fishing industry and are designed to meet the needs of hardcore saltwater and freshwater anglers who commonly target the largest trophy game fish in the world. 
These titanium pliers are virtually indestructible and saltwater corrosion resistant. This material makes them much more lightweight than their aluminum counterparts and easier to handle. The product's tungsten carbide cutters are made to slice through any type of fishing line with relative ease compared to other models.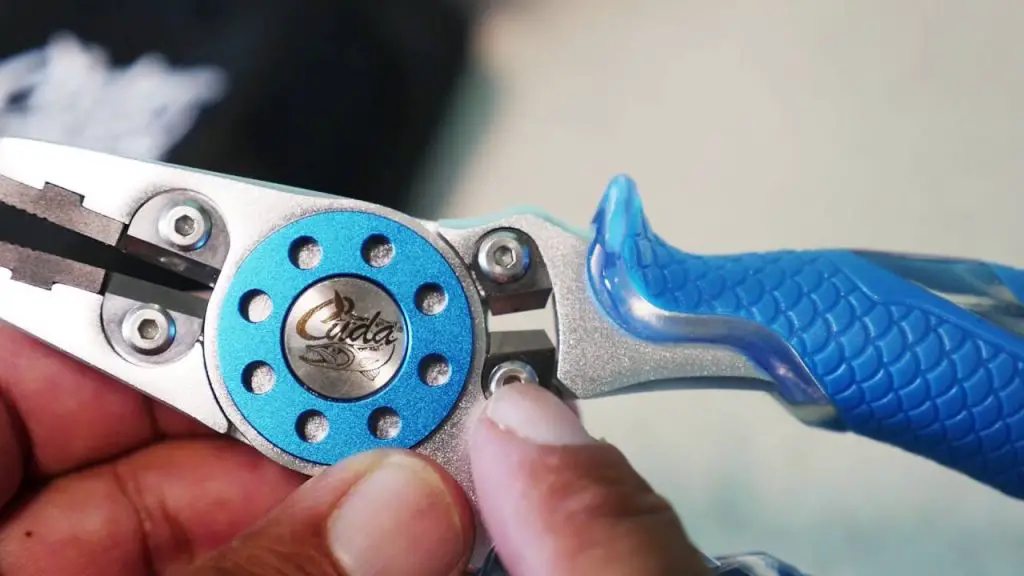 The Cuda Titanium Alloy Pliers features a sleek design that combines a grooved strip of rubberized material along each edge. It also comes with a leather sheath and lanyard to help anglers keep them close by and for when you need them. The pliers are spring-loaded, meaning they'll open with greater ease and allow anglers to reach in and quickly grab what they need and go to work. 
Pros:
Titanium alloy construction 
Lightweight 
Corrosion-resistant 
Tungsten carbide cutters
Includes sheath and lanyard 
Cons:
4. Gerber Magniplier
Provide extended reach and line of sight to remove hooks from the belly
Optimized to withstand harsh saltwater environments with added corrosion-resistant protection
Ergonomic control system and optimized space between handles for maximum power
Comfortable finger choil and an angled, off-axis shape
Gerber offers a limited lifetime warranty on all products
Gerber is not quite as well known as other brands in the fishing industry, but their hand tools and blades are second-to-none. The Gerber Magniplier Saltwater Fishing Pliers are crafted to serve as the one and only tool a saltwater angler needs to hit the water and successfully tackle the wide variety of giant species found swimming in the ocean. 
These pliers are crafted to withstand the highly corrosive elements of saltwater and feature a specialized coating that makes them much less susceptible to damage than might occur due to saltwater. 
The Gerber Magniplier Saltwater Fishing Pliers' handle is made to allow the hand to have the greatest amount of force rather than featuring the common, symmetrical design like so many other models. Users can also appreciate the oversized trigger-like finger groove that helps anglers enjoy even greater control. 
Like the others on the top of my list, these pliers feature a spring-loaded grip that allows for one-handed use when you're in the middle of an intense moment and trying to remove a hook from a freshly-caught trophy fish. The overall design is made with an off-axis shape, giving users a better line of sight for looking down the end of the pliers as they often do while reaching deep into a fish's mouth to retrieve their lure. 
Pros:
BearHand Control design 
Corrosion-resistant material 
Spring loaded for one-handed use 
Ergonomic look and feel 
Trigger grip for better control 
Includes sheath, belt loop, and lanyard
Cons:
Heavier than other models 
Expensive 
Smooth grip area 
5. Ugly Stik Stainless Steel Pliers 
Ugly Tuff Grip
Triggered reverse grip handle design
High carbon steel jaws
Spring loaded jaws for one hand operation
Replaceable cutters
It's no secret that Ugly Stik has established a reputation in the fishing industry as one of the toughest brands in the game. The company's fishing rods are second-to-none in quality, but their fishing pliers follow in the same path, being made to withstand just about anything nature might throw at them during your fishing trips. 
The Ugly Stik Fishing Pliers are made to a full 9-inch long design that allows anglers full control over the pliers thanks to its ergonomic design, rubberized grip and other factors. These pliers are made with a specialized trigger-finger groove on the handle, allowing the user to use them with better precision than other models. The offset design also lets anglers look down the edge of the pliers and see their hook better than they might be able to using other, symmetrical pliers. 
These pliers are known to be more lightweight than other models as they are crafted from high-grade carbon steel material designed for a lighter feel while still delivering much of the same toughness and durability as 420HC stainless steel. 
The Ugly Stik Fishing Pliers also feature a cutter section made with replaceable blades. This cutter feature is capable of slicing through most braided, monofilament, and fluorocarbon line with relative ease. These pliers also have a sleek, specialized plastic sheath that helps anglers keep this tool neatly tucked away and ready to go when needed. 
Pros:
Ergonomic design 
Offset to allow better visibility for hook removal 
Rubberized grip 
Carbon steel jaws
Tough and durable 
Cons:
6. Manley Professional Saltwater Fishing Pliers
Come with a nylon pouch storage
Fastened metal non-slip handles
Fishing lures clamp
Saltwater split ring tool
Saltwater anglers are likely well aware of the reputation and benefits of having a set of Manley Professional Saltwater Fishing Pliers. These are great pliers and are arguably the best overall set when you factor in the many different features with the price that's relatively affordable compared to other premium brands. As the product name indicates, Manley has made these pliers specially equipped to handle any saltwater corrosion that might threaten the overall quality and functionality of these pliers. 
The Manley Pro Saltwater Fishing Pliers are made with spring-loaded handles so that users can operate them one-handed and maintain control over their catch with the other hand. The pliers are a compact, 7.5-inch design that are both lightweight and durable compared to other competing brands' products. 
On the side of the jaws is a handy tungsten carbide cutter blade capable of shearing through monofilament, fluorocarbon, or even the thickest braided line when needed. This is especially handy when users remove a lure and tying on a new one on the fly. This product comes standard with a sheath and lanyard so that anglers can keep it stored away until it's needed.
One small downside is that the handle, while grooved for increased grip, doesn't feature any rubberized material and can sometimes slip if not gripped tightly enough. 
Pros:
Lightweight design 
Spring-loaded for one handed use
Compact 
Aircraft-grade aluminum 
Tungsten carbide cutters 
Cons:
Lacks rubberized grip 
Expensive price 
7. Buck Knives Splizzors
Long nose plier design for exceptional hook removal
Constructed of 420HC stainless steel and Buck's Edge 2x technology
Large and small split-shot crimping tool with bottle opener and lanyard hole
Dynaflex rubber handle with grip arches, Includes heavy-duty nylon sheath
One of the most uniquely-designed items on my list of the best fishing pliers is the Buck Knives Splizzors. Buck is a brand synonymous with outstanding quality when crafting some of the most well-made knives and other bladed tools in the outdoor industry. Their version of a set of fishing pliers will certainly grab the attention of most anglers, but will also allow users to grab hold of hooks and other items they need to maintain control over on the water. 
The Buck Knives Splizzors are made with an elongated 'needle-nose' design, featuring two scissor-like grooved handles that allow anglers to utilize the familiar feel of a common set of scissors to remove hooks and repair any lures on the water. This product is made of some of the highest quality components and the price reflects those premium aspects, which might place this one slightly out of the price range of most beginner and novice anglers. 
Made with an 8.5-inch design, the Buck Knives Splizzors are made for precision as much as anything. They feature crimping slots and the ability to slice through the thickest pound test fishing line of any kind, including braided line. The scissors are extremely sharp, which can present some danger compared to the typical fishing pliers design commonly found on the market today. 
This tool features a split shot crimper, lanyard hole, and even a bottle opener for anglers who like to enjoy their favorite beverage while they're on the water. 
Pros:
Sleek, scissor-like design 
Lightweight 
Sharp cutting blades 
Long needle-nose
Firm, rubberized handle
Cons:
Some anglers find difficult to operate 
Expensive price 
8. Penn Bull Nose Pliers
Stainless steel construction
Black nickel Titanium Coating
Replaceable cutters for both mono and braided lines
Knot cinching feature
Ergonomic non slip grips
Like most other items made by Penn, these Bull Nose Pliers are constructed with high-quality components designed to withstand just about anything you throw at them on the ocean. They are priced at an affordable rate that most anglers can comfortably purchase, but feature a surprisingly-efficient design. The aluminum material features a black nickel titanium coating that helps give these pliers corrosion-resistant properties that other models can't match. 
Featuring line cutters capable of slicing through any fishing line, the Penn Bull Nose Pliers are best known for their tough design and other aspects, like crimping spaces that help with knot tightening. What's perhaps the best overall feature of the Penn Bull Nose Pliers is the handle's heavy-duty rubberized material that allows anglers maintain a solid grip over this tool and stay in control of their hooks and their fish. 
Pros:
Comfortable, ergonomic design 
Replaceable cutting blades 
Black nickel titanium coating for corrosion resistance 
It can be used in fresh or saltwater 
Cons:
Affordable price 
Crimping slots sometimes fail 
9. Piscifun Aluminum Pliers
Aircraft-grade anodized aluminum
CNC handles offer extreme light feeling and durability
Spring Loaded Pliers
Tungsten Carbide Cutters
Come with Nylon Sheath, Coiled Lanyard and Belt Loop Clasp
Piscifun has become known worldwide as a brand capable of producing functional products for anglers of all skill levels at prices anyone can afford. The Piscifun Aluminum Pliers are among some of the best fishing pliers on the market. They are ideal for freshwater or saltwater use as they are crafted from aircraft-grade aluminum that's coated and treated to withstand the highly-corrosive properties of saltwater exposure. 
These pliers are made to be precise yet offer the user a lightweight option that's comparable to some of the most expensive fishing pliers you'll find. They feature stainless steel jaws that can grip and hold extreme amounts of pressure, as well as a tungsten carbide cutter that can cut through braid or any other type of fishing line with relative ease. 
The Piscifun Aluminum Pliers are also made with a spring-loaded design that allows users to easily operate them one-handed. These pliers are made to be incredibly lightweight and come with a sheath and lanyard that makes them perfect for beginning anglers, especially youngsters. 
Pros:
Lightweight 
High-strength aluminum
Sharp cutters
Stainless steel jaws 
Affordable price 
Cons:
Some components can loosen over time
10. MUXAN Fishing Pliers
Anglers might find that the MUXAN Fishing Pliers are nearly as good as any other brand on the market as this product features the same tough, corrosion-resistant material that some of the best fishing pliers are crafted from. Spring-loaded handle for one-handed use gives anglers greater control over their fish and tackle. 
Made of aerospace-grade aluminum handles that are capable of withstanding high amounts of pressure, the MUXAN Fishing Pliers are among one of the most lightweight designs you'll find while also featuring things like titanium-plated stainless steel jaws. These pliers come standard with a waterproof braided nylon sheath and a coil retractable lanyard to help anglers keep these fishing pliers in place until they are needed. 
The breathable mesh-like nylon material of the sheath coupled with the coiled lanyard make these plies perfect for kayak anglers who commonly find themselves getting wet.
Pros:
Lightweight 
Aerospace-aluminum handles 
Titanium-plated stainless steel jaws
Spring-loaded handle 
Cutter blade 
Affordable price 
Cons:
Fishing Pliers Buyer's Guide
Every angler, at some point or another, will eventually find themselves in a situation where they are in desperate need of a good pair of fishing pliers. There's an old fisherman's saying that there are some things it's better to have and not need, than to need and not have. This is the case when it comes to fishing pliers. 
If you're ready to purchase your first pair of fishing pliers or to upgrade to a better pair, what exactly should you look for to ensure you're getting a good product that will last? I consider several factors when buying a pair of fishing pliers. 
| Specification | Importance Level (1-5) | Description |
| --- | --- | --- |
| Material | 5 | The material used for the fishing pliers should be durable, corrosion-resistant, and lightweight. Common materials include stainless steel, aluminum, and titanium. |
| Grip | 5 | The grip should be comfortable, non-slip, and ergonomic, ensuring that the angler can use the pliers effectively and safely, even with wet hands. |
| Line Cutting Ability | 4 | Fishing pliers should have a sharp, precise line cutter to easily cut through monofilament, fluorocarbon, and braided lines, with minimal fraying. |
| Length | 4 | The length of the pliers should be suitable for the angler's hand size and the type of fishing they engage in. Longer pliers provide more reach, while shorter pliers offer better control. |
| Metal Cutters | 3 | Metal cutters are important for cutting through hooks, wires, and other metal components. They may not be used as frequently as line cutters but are still valuable for anglers. |
| Split Ring Tool | 3 | A crimping tool secures sleeves and connectors on fishing lines and leaders. Not all anglers use crimps, so the importance of this feature varies based on individual preferences. |
| Crimping Tool | 2 | The grip should be comfortable, non-slip, and ergonomic, ensuring the angler can use the pliers effectively and safely, even with wet hands. |
Material 
It's imperative to pay close attention to the type of material a pair of fishing pliers is made of. Some of the most high-quality pliers are typically constructed from stainless steel, but several good products are made of aluminum. Be aware that you'll be getting your pliers wet consistently, so purchasing an ordinary pair of pliers used as a construction tool will not be ideal as they are more prone to rust and corrosion. 
I look for pliers that are made to withstand regular exposure to wetness, especially products made with anti-corrosive properties for anglers who know they will be using their pliers in saltwater fishing. The best stainless steel quality is 420 HC, so anything else will be much more likely to develop rust and malfunction or become hard to operate. It's also advisable to bypass pliers made with cheap aluminum manufactured in places like China and opt for more high-quality aircraft-grade aluminum. 
Grip/Handle 
One of the most important aspects of fishing pliers is the handle and specific grip. Cheaply-made handles are often made with low-grade plastic or other material that won't offer much grip for avid anglers. One of the most common complaints regarding poorly-made pliers is that the handle is often crafted with inadequate material that can lead to the angler's hand slipping when wet, virtually rendering the pliers useless. 
Fish slime is another prominent factor that pliers must be designed to help anglers deal with. Even when wearing gloves, the combination of fish slime and water can devastate the grip of a pair of fishing pliers. This will commonly lead to the angler being unable to maintain a solid hold on their pliers, therefore unable to properly remove hooks from their catch and release it back into the water in a timely manner to ensure its survival. 
Finding a pair of pliers with rubberized, molded-grip handles are usually going to be your best bet and will provide the best possible grip compared to smooth, plastic material that is so often used by poor quality brands. Pay close attention to what the grip is made of and look at how it appears before you purchase a pair of pliers. 
Line Cutting Ability 
One of the main uses of fishing pliers is the ability to cut fishing lines. Few other tools offer adequate capability to make a clean cut on any fishing line, from monofilament to braided line. This might seem like an unimportant aspect of searching for and finding the right pair of pliers, but line cutting ability plays more of a prominent role than one might think in the overall effectiveness of fishing pliers. 
Look for a blade that's hard and sharp enough to cleanly cut through braided lines without leaving behind strands of string that can become even more frustrating to deal with when you get ready to tie another lure on again. Some pliers will have a specialized section with which anglers can cut braid, but it's essential to understand whether or not you'll be able to make a clean, quick cut when necessary. 
Metal Cutters 
Pliers should not only be able to cut cleanly and swiftly through fishing line, but must also be capable of shearing through the hard metal hooks that are commonplace on fishing lures. Having a barbed hook become lodged in your clothing or other gear can be extremely frustrating as it is almost impossible to be removed in one piece. Experienced anglers know all too well how often this occurs. 
What's worse than that is getting a hook lodged into your skin. This occurs more often than the average novice angler might think and should be something you're prepared to deal with on the water. Ensure your fishing pliers are heavy-duty and tough enough to snip off the end of a barbed hook. 
This characteristic might seem insignificant, but removing a barbed hook tip can prevent ripping through valuable clothing or other gear items. It can also be instrumental in allowing anglers to remove hooks from their skin and save them a trip to the hospital. 
Needle-Nose Length 
Professional anglers often refer to a good pair of fishing pliers as "needle-nose" pliers because they look much like a needle along the 'nose' section where the two pliers meet. A slender nose is best for fishing pliers since this will allow anglers to use their pliers to reach deep inside a fish's mouth to dislodge hooks. 
Reaching deep inside a fish's mouth is often overlooked by beginning anglers who don't quite know what to expect once they hook into several fish out on the water. Some species have enormous mouths, making reaching far into their throats and removing hooks relatively easy. However, there are many game fish that have reasonably small mouths that only allow anglers minimal room to maneuver their pliers around in such a way as to get a firm hold on the hook and work it loose. 
Split Ring Tool 
Most premium fishing pliers will be equipped with everything an angler needs to repair his tackle and lures or safely remove fish from his hooks promptly. Pliers that can meet every need an angler might have will be equipped with a small but highly-valuable portion known as a 'split ring tool.' 
This tool is designed to separate the small circular split rings that connect treble hooks to the base of a lure, giving them their unique ability to spin and twist with relative ease in the water. Split rings are essential to ensuring that a lure maintains fluid action underwater. Attaching the hook directly to the metal eye would create an incredible amount of drag since the hook itself could not move. 
Split ring tools have one side designed to hold the ring securely in a groove while the other features a pointed 'tooth' that is made to effectively separate the split ring and allow the angler to thread the metal eye through it on their lure. This tool is indispensable to professional anglers who know the value of a single type of lure and how important it is to repair that tool properly should one treble hook be lost. 
Crimping Tool 
What might typically appear to be an insignificant portion of a pair of fishing pliers has as much value as other parts do in the minds of highly-experienced anglers. A crimping tool on your fishing pliers will be very useful if you need to crimp certain parts of your lure together to keep it together and help it run as it's supposed to in the water. These crimping tools can tightly repair your hooks, split rings, and other components on your lures that often malfunction and will loosen after being bitten by a large, powerful fish. 
Conclusion 
Numerous brands out there offer similar products. Still, anglers should be cautious when purchasing a solid pair of fishing pliers. These are essential items that careless fishing enthusiasts who focus more on their rods, reels, and lures can often overlook. 
It's vital to keep in mind just what you'll need out of your fishing pliers when you're on the water to anticipate any issues and have the ability to effectively address them in a way that lets you focus more on the fish instead of your equipment. 
Based on the information we've provided you in this article, it should be easier for a well-studied angler to look through the various products and keep their eye on the characteristics that matter when getting your hands on a high-quality pair of fishing pliers.