The best braid fishing line has a thin diameter, high tensile strength, low memory, low stretch, and is highly sensitive, such as the Dorisea Multi Color.
A very common question we get is 'Should I use mono, braid, or fluorocarbon fishing line?' The answer depends on what you are fishing for and where. Braid fishing line is extremely thin, strong, and lightweight – it has quickly become a favorite of anglers everything.
But even within that selection, there are numerous different brands available, and picking one of those can be overwhelming. There are so many different strengths, lengths, colors, and features. 
Along with your fishing rod and reel, picking a high-quality line is key to ensuring you have as much success on your next fishing adventure as possible.
I have put together this overview of the 10 best braided fishing lines available in the market. I have also put together a buyer's guide to help you to make your purchase. I personally use a lot of braid line for my own fishing and have tried all of these products firsthand.
How We Rate Products
Russ Egan and Donny Karr have over 40 years of combined fishing experience. We know the difference between a high-quality reel and a poor alternative.
I thoroughly review all products to measure their performance, durability, and value for money. I conduct bench and field testing to check how the product performs. Each reel is tested for at least 8 hours, with a full test taking 2 full weeks. This testing results in an overall score that I give to all products. All metrics are scored out of 5.
Performance
The performance score is how well this product fulfills its primary purpose. Does it have all the features and optional extras you need to catch the target species? I also interview expert anglers on their experience to build a broader and more comprehensive view on the performance under multiple conditions.
I take all reels down to my local freshwater lake for bass and panfish, or inshore fishing off the beach for redfish.
Test 1: I confirm that the max drag meets the manufacturer's specifications using a calibrated scale.
Test 2: I test the maximum casting distance using a 1.0-ounce lure.
Test 3: I test the accuracy by casting 10 times into a 3 ft diameter circle at 30 yards.
Test 4: I check the versatility and the ability to handle multiple uses by field testing with 3 different lures and baits, by actually going fishing.
Durability
Durability refers to how long the product will continue functioning. I twist, bend, and break all the products to check their longevity. This score is for the materials of construction, the quality of the workmanship, and the servicing requirements. There are also bonus points for manufacturers' warranty.
For products that I can't test for long enough, I also consult with experts who have been using them for multiple decades to judge their longevity.
Test 5: I pull it apart to check the grease and oil levels, how difficult it is to maintain, and whether any sand or salt has deposited after use in saltwater.
Value for Money
The final aspect of the scoring system is the price or, more specifically, the value for money. Value for money is a comparison against the closest alternative products, both by the same manufacturer and other brands.
Overall Score
Finally, I average the three scores of performance, durability, and value for money to give the overall score of each product reviewed.
To see more details, please read the complete guide on how I test and evaluate fishing products.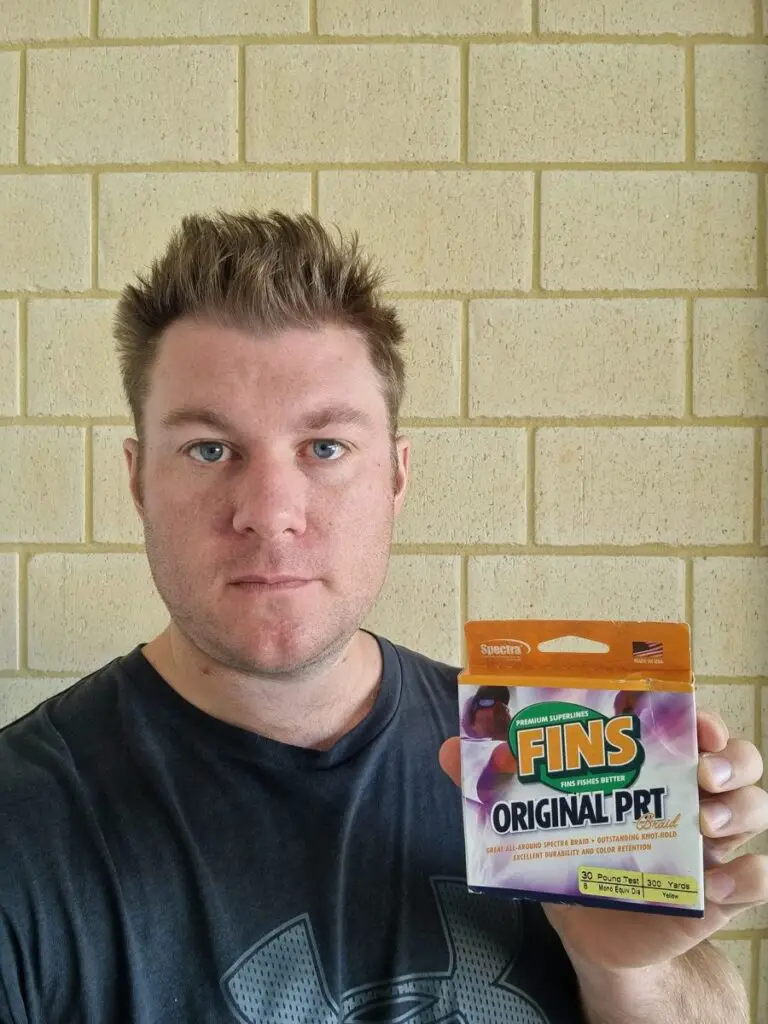 1. ​Godline – Best Braided Fishing Line​
Overall Score – 5/5 ⭐⭐⭐⭐⭐
ON SALE $18.50 OFF
Bestseller No. 1
Features
Multi-purpose superline at an affordable price.
Improved high tensile strength from PE fibers
Great abrasion resistance from teflon coating
Superior Sensitivity
Low Spool Memory which reduces backlashes and wind knots
Easy Tying and Strong Knot Strength
My Impressions
The Godline is a brilliant line. It is available up to 120 LB and 1094 yards so can suit the majority of your fishing requirements.
This line has no stretch when compared to mono so you will feel the fish strike much earlier.
It also has a low memory so you will not have too many casting issues.
Certainly recommend giving this line a try next time you are looking for a replacement.
Pros
Available up to 1094 Yards and 120 LB
Value for Money
Low Memory
Cons
Not particularly abrasion resistant
2. ​​​Dorisea Extreme Braided Fishing Line​
Overall Score – 5/5 ⭐⭐⭐⭐⭐
Features
No Color Fading
Ultra-strong composed of 4 strands of Ultra High Molecular Weight Polyethylene Fiber (HHMWPE)
Highly sensitive with zero stretch
Low memory and allows you to tie solid knots
Superior abrasion resistance
Extra-small diameter with coating technology
My Impressions
Dorisea is a very popular brand of line and comes in a huge variety of strengths, lengths, colors, and even diameters dictated by the number of weaves in the line.
This 4 weave line has an extremely small diameter, meaning that you can fit more line onto your spool.
It is also available up to 550 LBs and 2187 Yards, so there are very few scenarios that this wouldn't suit.
Pros
Strong line up to 550 LB
Extremely long up to 2187 Yards
Cons
3. ​Spiderwire Stealth Fishing Line​
Overall Score – 5/5 ⭐⭐⭐⭐⭐
Features
Varying blue/White/black color pattern designed to blend naturally with open blue water conditions
Color-lock Coating technology
Dyneema PE microfiber construction is strong, smooth, and round
Fluoropolymer treated microfibers
Whisper quiet for stealth attacks
My Impressions
This stealth braid fishing line is marketed as being whisper quiet. If you are targeting a scared, skittish fish, then I suggest trying the Spiderwire.
This is an extremely powerful recommendation with over 1800 reviews and a 4.5/5 rating.
The color is also designed to blend in with open ocean conditions to hide from the hungry fish about to strike.
Pros
Whisper quiet for easily startled fish
Color blends with natural environments
Cons
Some quality control issues
4. ​​Free Fisher Braided Fishing Line​
Overall Score – 4/5 ⭐⭐⭐⭐
Features
High strength polyethylene fiber line
Superior abrasion resistance
Excellent knot strength
4 Strands
Thin diameter
Zero stretch
Protective wire ring
My Impressions
This Free Fisher braided line is another high-quality option. It is available up to 2187 yards but only 80 LB. So consider the type and size of the fish that you are targeting.
It is also only 4 weave so gives a thinner line to hold more onto the reel but can be more susceptible to abrasion breaks than other 8 weave options.
The small diameter also provides less memory and a highly sensitive line with good casting ability.
Pros
Very long up to 2187 Yards 
Small diameter to fit more line on your reel
Cons
Only up to 80 LB in strength
5. ​​Hercules Cost Effective Braided Fishing Line
Overall Score – 4/5 ⭐⭐⭐⭐
ON SALE $5.80 OFF
Bestseller No. 1
Features
Superior Cast Experience
Great Knot Strength & Abrasion Resistance
Zero Stretch & Super-high Sensitivity
My Impressions
If you are on a budget then consider the Hercules. This comes with 8 strands in the weave so has a higher abrasion resistance than other options. However the line will be thicker and stiffer – this can be a positive if you are casting in high winds such as surf casting.
It also has zero stretch and hence is very sensitive to fish bites.
Personally, I would suggest going with a more reputable brand, but if you are wanting the lowest price this is still an option.
Pros
8 x Braided Weave for abrasion resistance
Zero stretch so easy to feel the fish bites
Very inexpensive price range
Cons
Lower quality – you get what you pay for
6. Dorisea Multi-Colored Braided Fishing Line
Overall Score – 5/5 ⭐⭐⭐⭐⭐
Features
10+ different colors to find one that is applicable for your situation from saltwater and freshwater, sea fishing, lake fishing, ice fishing, etc.
Ultra-strong, ultimate strength: this braided fishing line is composed of 4 strands of Ultra High Molecular Weight Polyethylene Fiber (HHMWPE)
The advanced braid fishing wire construction boasts high sensitivity and zero stretch that detects light bites and has low memory for outstanding castability and handling, and the fishing string holds up tight, allowing you to easily tie a more solid knot
This braided fishing thread is superior abrasion resistance and ultra-sensitive with near zero stretch, low memory, and thin diameter for easy casting and handling
My Impressions
Dorisea again is a brand of braided line with a very good reputation. I personally like lines that change color so that you can judge distance and lengths more easily.
This line has low memory, high sensitivity, and near-zero stretch. There are also a huge variety of spools available in different sizes, strength, lengths, and colors depending on your requirements.
A recommendation for experienced anglers and beginners alike.
Pros
Thin diameter so you can fit more line on your reel
Multiple colors on one reel help to determine length and distance
Cons
Poor abrasion resistance when compared with mono
7. Gevicont Braided Fishing Line
Overall Score – 3/5 ⭐⭐⭐
Features
100% UHMWPE
Thin diameter
Low memory
Suitable for Bass, Trout, Walleye, and Musky
Suitable for freshwater, saltwater, surf fishing, ice fishing, or bow fishing
My Impressions
The Gevicont brand is another option like the Hercules which is at a cheaper price point. It can have some quality control issues and the bright yellow color does fade over time from the sun and the saltwater.
This is available up to 1094 yards, so if you are looking for a really long line, then look at this spool.
This is a good entry-level braid line but you might consider upgrading to a higher-quality brand in the future before that big trip you have been looking forward to.
Pros
Low cost
Long lines available up to 1094 yards
Cons
Dye loses its color over time
Lower cost but lower quality
8. Premier Superpower Fishing Line
Overall Score – 5/5 ⭐⭐⭐⭐⭐
ON SALE $1.99 OFF
Bestseller No. 1
Features
Super strong PE braided line, new generation PE material, superior abrasion, slow water absorption, and good water cut
Thinner diameter with super strong power; Wide range of choices in tensile strengths: from 6lbs to 100lbs
Consistent roundness and unique smoothness increase casting distance for smoother and quieter casting
4 Ultra-high molecular weight polyethylene ( PE ) strands, 15 times stronger than other braided lines, and zero stretch
My Impressions
The Proberos Premier Pro Series braided line is a very popular option. It is very strong up to 100 LB but is also quite stiff. This can cause 
The strong line is very abrasion-resistant. If you are hunting for fish in obstacle-prone environments, you might want to consider the Premier Pro.
Some braided line can end up quite oblong or oval-shaped, but this line is consistently round.
Definitely, one you will want to consider.
Pros
Up to 100 LB strength
Round line
Cons
Stiff line compared to other braids
9. Sunline FX2 Braided Fishing Line
Overall Score – 3/5 ⭐⭐⭐
Bestseller No. 1
Features
Circular vs. Oval shape
Eight strand braid with circular cross-section smooth surface
Excellent abrasion resistance
Polyethylene and polyethylene terephthalate combination
My Impressions
The Sunline FX2 is a solid line. It has 8 strands of braid which is double that of most comparable braid lines. This gives it excellent abrasion resistance.
The spools don't come in very long or large spools, only up to 300 Yards. This is more of a specialty line for certain circumstances rather than a general everyday fishing line.
Pros
Cons
Short lengths – only up to 300 Yards
Only up to 80 LB strength
10. McCoy Super Spectra Braided Fishing Line
Overall Score – 3/5 ⭐⭐⭐
Features
With Tight Weave Technology
Superior Strength and Abrasion Resistance
Optimal Casting Performance
My Impressions
The American-Made McCoy Super Spectra is a great line. It is very high quality but does not come in a large spool – only up to 300 yards. It also only comes up to 80 LB, which is fine for most scenarios, but if you are hunting monster fish, you might want a stronger line.
This line also has no memory, so it will not develop any waves or loops from sitting on the spool.
Pros
Cons
Only available up to 300 Yards
Only available up to 80 LB
Braided Fishing Line Buyer's Guide
Braid lines come with a new vocabulary such as weave, memory, and various polymer varieties.
This guide will highlight some of the key factors that you should think about when you are selecting the braid for your line.
In summary, I recommend picking a braid line spool that is slightly stronger than you require and slightly longer than your reel can hold. 
If you want to change the lines on your reels frequently, you might want to consider a spooler tool to make this process quicker.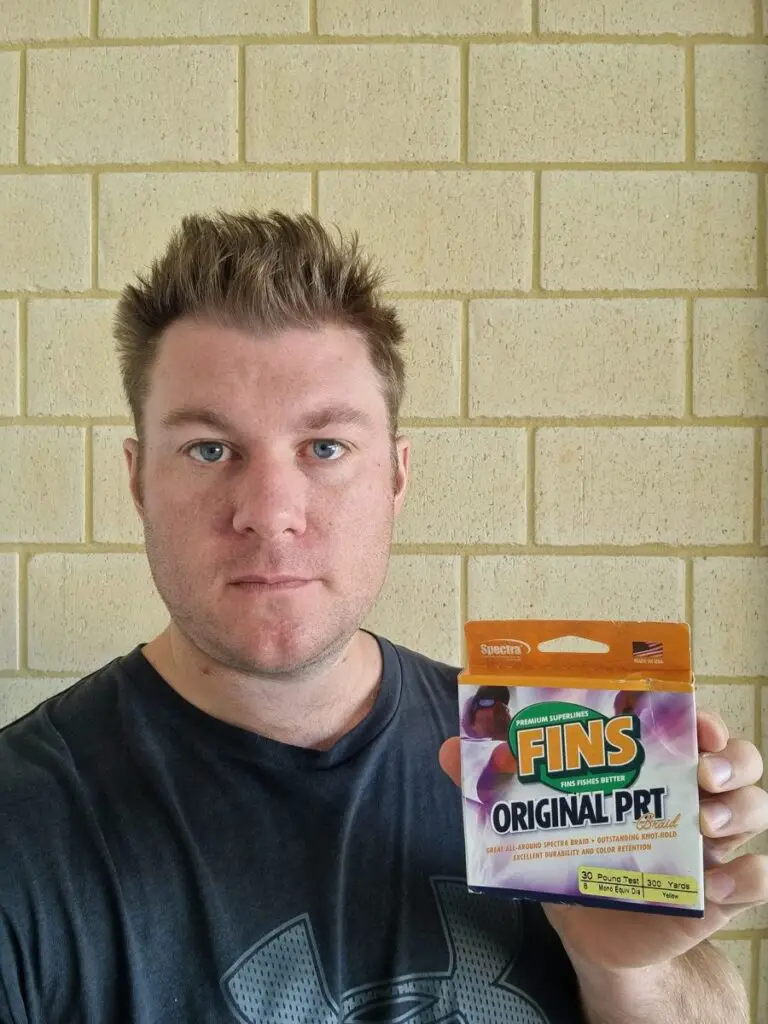 Line Strength
The stronger the line the thicker and stiffer it is (although significantly thinner than the equivalent mono line). This means that if you pick a much thicker line than you require, you will have less line on your reel, which could cause casting problems.
Pick a line slightly stronger than you require but not overly so. Again, you do not want to lose a fish due to low-quality gear, but having an overly strong line can cause over issues.
Spool Length
My biggest piece of advice is to select a spool of line that is long enough to completely replace your reel. Do not get two small lines; join them with a knot mid-way through your reel. There is no worse feeling in fishing than losing that monster due to a poorly tied knot. The fewer points of failure, the better.
Some spools are only available up to 300 yards, while the big ones are available over 2000 yards. Pick the one that suits your purposes and the size of your reels.
Line Color
While the color doesn't matter as much as the other factors, it is still something to consider. If you are targeting a skittish fish, you might want a camouflaged color to hide the line from the fish.
I personally prefer the multi-colored lines that change color every 10-20 yards as this gives a good understanding of how much line you have going out and how far away our lure or bait is located.
Memory
Some lines develop a memory where they tend to form the shape they have spent a lot of time in – for example, they may tend to keep a wave formed by their time spent on the spool.
This can cause casting and retrieving problems. The less memory or even no memory the better.
Lines with high memory tend to be thicker and stronger lines. 
Braid fishing lines tend to have very low memory due to their thinner size for the same strength mono line. Pay close attention to this if you are looking for 40 lb+ saltwater fishing line.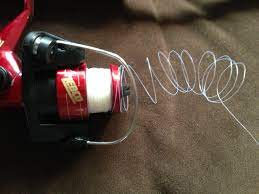 Number of Strands
The human eye cannot see the number of stands in your braided line, but it does matter in the line's performance. The strands are polyethylene threads twisted together into the braid of the fishing line.
Popular braid lines are usually available in 4 or 8 strands. Consider trying to make a fishing line with a target thickness – this can be made with either 4 larger strands weaved together or smaller stands. This gives the same strength, but the 8 strand is smoother and rounder.
The 4 strand braid is more rigid and stronger. Ideal for deep dropping or retrieving through weeds.
The 8-strand braid has less noise and less friction. This makes it better for casting long distances for jigging or baitcasting.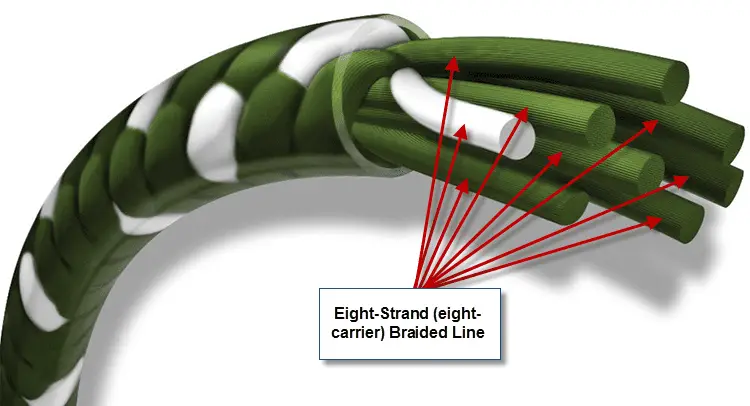 UV Resistance
One of the advantages that fluorocarbon and braid fishing line has over monofilament is that they have improved resistance to UV. This means that they won't degrade over time if you leave your spool in the sun. This is particularly important if you store your gear outside or in your boat. Remember if you fish in hot places like Texas or Florida.
If you are still not sure whether braid is the right line for your situation, then have a read through our Braid vs Mono Fishing Line Comparison.
Conclusion
The most important piece of equipment you own is your fishing line. It is the most vulnerable piece of gear and the most likely to fail. If you want to catch more fish, then your fishing line is the easiest thing to improve.
Fishing World has a good overview of fishing lines and what to expect.
I would also like to hear your experience and recommendations for the best braided fishing line in the comments below.
Happy fishing!
Last update on 2023-05-31 / Affiliate links / Images from Amazon Product Advertising API