The best fishing line spoolers should be able to hold enough line to fully fill your reel, be able to be mounted in your desired location, and have adjustable tension. My pick is the Piscifun fishing line spooler machine.
I remember one fishing trip towards the end of the season when I hooked a large fish, and it took off. After only a few seconds, I noticed that I was running out of line on my reel spool. There is only one reason for this – it is a pain to re-spool your line without a dedicated line spooling tool. The next day I sorted out the best line spooler that I could find – this became an essential fishing tool in my angling toolkit.
A line spooling tool makes replacing your fishing line significantly more manageable and is a must for an angler looking to change out their line regularly.
All of this information is based on my own personal first-hand testing with these fishing line spoolers and my insights from over a decade of angling experience.
Image
Features
Score
Price

Best Overall

Universal Fishing Line Spooler
 Adjustable Tension
 Suitable for Spinning and Baitcasters
 Disassemble for Storage

Check Price on Amazon

Best Value for Money

Shaddock Fishing Line Spooler System

Portable and Stable
Sturdy and Durable
Easy to adjust for different spool sizes
Easy to install

Check Price

Made of aluminum alloy, stainless steel and ABS plastic
Old line can be quickly reeled onto an empty spool and stored
Portable and transportable

Check Price on Amazon
Let's have a look at the top 10 line spoolers in the market at the moment:
1. Piscifun Fishing Line Spooler Machine
My Impressions
The most popular option is the Piscifun spooler. This is effectively a short, high-strength graphite frame with an adjustable spool assembly. Just attach your baitcaster or spinning reel to the reel seat, and you are ready.
A feature that some of the cheaper options have is the adjustable tension using a screw knob. This means you can use different width spools, and using the top screw cap, you can keep the frame parallel to the rotor.
This is highly portable and can be disassembled to store it in your boat or tackle bag so you can change spools on the water if you need to.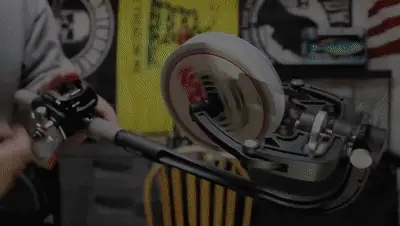 Pros
Portable, Universal fishing line spooler
Adjustable for different width spools
Adjustable tension knob
It can be disassembled for easy access
Suitable for spinning reels and baitcasters
Eliminates line twist
Cons
It does not fit 1000 yard spools
It does not have a line counter
2. Fishcm Fishing Line Winding Spooler
My Impressions
The Fishcm fishing line spooler is an excellent entry to the world of line spoolers. It is mounted onto your existing fishing rod so that you can use it at the river bank or on the boat. The mount can be a bit flimsy, so make sure you have attached it properly.
You can fit a large spool, suitable for larger offshore reels. It can be used for spinning and baitcasting reels.
This tool is also very lightweight and does not add much volume to your fishing gear collection. It is also tiny and can be stored in your boat for easy access.
Pros
Easy to install and use
Fixed position to enable fast winding
Suitable for spinning and baitcasting reels
Suitable for mono or braided line
Cons
Must be attached solidly to allow fast winding
3. ​​Sportsman Innovations Fishon Spooler Pro
Overall Score – 4/5 ⭐⭐⭐⭐
ON SALE $10.00 OFF
Bestseller No. 1
My Impressions
The other option for a line spooler is electric. The benefit of this is how fast it works. If you are spooling lines frequently, your wrist will thank you for picking an automatic option.
The problem is that you need a power source, so you won't want to store this on your boat or at the river bank. The Sportsman Innovations spooler pro can strip a line in under 1 minute.
This spooler can also hold either a giant spool or many smaller spools to give you plenty of flexibility.
Pros
Electric for easy spooling
Strips a spool in 1 minute
Ideal for a spinning or baitcasting reel
Cons
It cannot be used without power
4. ​Quick Fishing Line Winder Spooler
My Impressions
This Japanese-made spooler is brilliant. It has a C clamp to be mounted onto a table (or even the side of a boat, depending on your design). The ball bearing design and gear ratio lets you spool the line exceptionally quickly.
It can also hold multiple spools if you want to switch from one to another.
This is one of the better line spoolers that I have seen on the market but is also at a higher price range. It is certainly one to check out.
Pros
Can hold multiple line spools
Ball bearings for fast winding
Cons
It needs to be mounted on a table
5. THKFish Fishing Line Winder
Overall Score – 3/5 ⭐⭐⭐
My Impressions
An affordable and simple option is the THKFish Fishing Line Winder. It is effectively a clamp with an adjustable spool holder on the end. Just attach it to your workbench, put it on a spool, and start winding.
The clamp needs to be attached to a flat surface – this could be a workbench, table, or tailgate – check if your boat has a suitable surface; otherwise, you might not be able to use it on the water.
The tension is controlled via double-headed fastening springs on each side of the spool, which works well even with large spools.
Pros
Extremely affordable
It comes with a cloth bag for storage
Simple and easy to use
Anti-slip clamp
Cons
It needs to be attached to a bench – challenging to use on the water
It does not have a line counter
6. Plusinno Fishing Line Spooler
Overall Score – 3/5 ⭐⭐⭐
My Impressions
The Plusinno line spooler is a reasonably simple bench-attached clamp with an attached handle. It is made from aluminum and stainless steel, making it lightweight, corrosion-resistant, and durable.
Just attach your reel to the reel seat and start spinning.
One of the advantages over other options is that you can use it to remove line from your reel. This helps to re-use your fishing line if you switch strengths or line types.
The tension is controlled using black cone washers that tighten the star wheel to the spool.
Pros
Allows you to remove old line from your reel as well as put line onto your reel
Simple adjustable tension setting mechanism
Cons
No line counter
Requires a bench to clamp to for use – difficult to use on the water
7. Mostbest Fishing Line Spooler
Overall Score – 2/5 ⭐⭐
My Impressions
Similar to the Piscifun design is this fishing line spooler by MostBest. It is made from ABS plastic which is light and robust so that you won't weigh down your fishing kayak.
The tension is adjustable using a knob, and the position of the spool can be changed to suit your particular design of fishing reel.
One of the negatives is the quality of the manufacturing. It can be too flimsy when spooling a lot of line, particularly if you have large spools and heavy reels.
Pros
Cons
Not manufactured to as high a quality as the other options
8. N/D Portable Fishing Line Spooler
Overall Score – 3/5 ⭐⭐⭐
ON SALE $10.00 OFF
Bestseller No. 1
My Impressions
At the highly affordable end of the spectrum is the N/D portable fishing line spool. This is effectively a clamp that attaches to the end of your fishing rod with a spring-loaded spool holder. It doesn't get any simpler than this.
The clamp is suitable for four different rod sizes, but you can also move the clamp up and down the taper to make it tight.
It is super lightweight and portable, but it cannot hold huge spools of fishing line. Tension is controlled using an inset spring.
Pros
Affordable
Lightweight
Portable
Spring-loaded tension control
Cons
Not suitable for large spools
9. Penn Fishing Line Winder
Overall Score – 4/5 ⭐⭐⭐⭐
My Impressions
A different type of fishing line spooler is the Penn option. Made by one of the most well-known manufacturers in the industry, Penn never disappoints.
This heavy-duty steel spooler is designed to hold large, bulk spools, so is perfect for offshore trolling reels.
It folds away to be stored easily and doesn't take up a lot of room.
If you are a commercial saltwater charter fisherman, I would certainly suggest looking at this line winder.
Pros
Made from heavy-duty steel
Suitable for large bulk spools, even up to 3000 yards
Tension is controllable
Cons
More expensive than the other option
10. Goture Portable Fishing Line Winder
Overall Score – 3/5 ⭐⭐⭐
My Impressions
Finally on our list is the Goture Fishing Line Winder. It is another affordable option consisting of a suction cup base and a fishing line spooler with spring-loaded tension control.
While this may sound good, the suction cups are a disadvantage to the other clamp-based options. The suction cups need an excellent surface, like tiles, to hold against the tension of a fishing line pulling against it.
While it is lightweight and portable, unless you have a suitable surface on your boat, you may need to keep it at home.
Pros
Tension is controlled via springs
Portable
Lightweight
Affordable
Cons
You need a solid surface to attach the suction cups to
Not suitable for large spools
Fishing Line Spooler Buyer's Guide
There are so many different styles and designs for line spoolers. Some spool line off your reel and some spool line onto your reel. Some are electric while others are manual. Some require a table to mount, while others are mounted directly onto your rod.
Take some time to think about your circumstances:
Where are you most likely to use your line spooler?
Will you use it after the fishing trip in the comfort of your workshop, or are you more likely to use it while at the river bank after a bad line break?
Are you likely to change your line several times per season as you switch from freshwater to saltwater, or will you do it only every few years as you run out of length?
Powered or Manual
Some electric spoolers are available that can make spooling a reel much more quickly. But it also limits the locations that you can use them as you need power access. An electric spooler might be the best option if you are spooling many lines from your workshop.
But electric might not work out if you are expecting to re-spool your lines on the boat or the lake. 
Most line spoolers are manual and require you to wind your reel to take the line off the spare spool. This is not as painful as it sounds – imagine winding in a very slow fish – you can always have a break if you are adding a lot of length.
Manual line spoolers are also much cheaper, some simple ones even going for under $10.
Mounting
Line spoolers can be mounted on anything from a table to a boat wall onto your fishing rod or mount the reel onto the spooling device itself.
Selecting the mount is based on the location you will use it. I like spoolers that mount onto your rod because it is the simplest option, and you don't have to disassemble your reel from your rod.
Volume
The frequency and amount of line you want to spool onto your rod will impact which model you select. If you have a large ocean rod that can fit hundreds or even a thousand yards, you will need a line spooler that can handle a large bulk spool so that you don't need to add a weak knot in the middle of your reel's spool.
It also depends on how many different spools you want to add. Some line spoolers allow you to fit five or more small spools onto it, so as you switch from reel to reel, you don't need to change the spool.
Tension
The last thing to consider is the tension. If you don't have enough tension on your line when spooling it, it won't sit properly – this means that you can't fit as much line onto your fishing reel as you should. It also means the line won't flow easily off the spool when casting.
This is also true of a line that is spooled with too much tension.
Conclusion
A few good fishing line spooler guides are available elsewhere if you are looking for more information.
I would also be interested in hearing your experience or even if you have attempted a homemade line spooler in the comments below.
Happy fishing!
Last update on 2022-11-29 / Affiliate links / Images from Amazon Product Advertising API