The best monofilament fishing line has high abrasion resistance, low memory, high stretch, and an affordable price tag.
The Berkley Trilene Big Game Line is my top choice because of its combination of high abrasion resistance, affordable price tag, and ability to stretch. It features sex color options for targetted visibility. It is ideal for anglers looking to spool their spinning reel with a high quality yet value for money monofilament.
Monofilament fishing line is known worldwide as the most commonly-used line for fishing for nearly any species of game fish. Monofilament is also known as "mono" and has certain properties that make it extremely useful to anglers who need specific movements and capabilities from their lures or rigs. 
Monofilament fishing line has been used for many decades as it was first introduced to the fishing industry in the 1950's in the United States. When it first hit the market, monofilament was made of a nylon material that was stronger than most other types of line currently being used. However, it still had the unique ability to stretch, which proved exceptionally useful to anglers for many reasons. 
This article will discuss what makes monofilament fishing line so useful to modern anglers and the many critical points you'll want to pay attention to if you're searching for the best monofilament fishing line for your next outing. 
Thin Diameter
Good Strength
Great Abrasion Resistance
Great hook set ability 
Stronger than most mono lines
Good shock resistance 
Affordable
Good Abrasion Resistance
Able to Stretch without Breaking.
1. Berkley Trilene Big Game
Available in Up to 10,800 Yard Spools
From 8 to 200 Pound Strength
Extremely Powerful
Shock Resistant
Berkley has been one of the top names in the fishing industry for many years thanks to the brand's dedication to delivering just what anglers need when it comes to quality fishing line. There are few brands out there that are more popular than Berkley and the Trilene Big Game Monofilament Line is our number one choice among our list of the best monofilament fishing lines. 
This particular type of mono isn't necessarily the most expensive on the market. In fact, it's one of the more affordable types of mono line that we will mention. This line has been around for many years and anglers have come to rely on it as a solid choice when it comes to monofilament fishing line. 
Berkley Trilene Big Game Monofilament Line comes in six different color options that lets anglers choose the shade and coloration that's best for them based on the water color in the lake or river they plan to fish. This line has excellent ability to guard against abrasions that often happen when fishing in or around heavy cover. Anglers also respect the Trilene Big Game Mono for its ability to stretch, yet still provide a decent hook set when necessary. 
Pros:
Affordable price
Good abrasion resistance 
Able to stretch without breaking 
Multiple color options 
Cons:
A bit more memory than other mono lines
2. Stren High Impact Monofilament Fishing Line
Great hook set ability 
Stronger than most mono lines
Good shock resistance 
Stren is another name easily recognized in the fishing industry for several reasons. This brand is known for producing reliable lines that will typically outlast others that are offered at the same relative price range. The Stren High Impact Monofilament Fishing Line is among our top picks because this particular mono line is made of high-quality nylon material that won't easily break or succumb to abrasions. 
Anglers know that this particular line has a good reputation for shock absorption, which means heavier, hard-striking fish will not easily break your line when they initially bite like they are known to do with various types of fluoro lines. This line can also stretch out to a decent degree, but can still allow anglers to get a good hook set as it won't stretch out too much when gradually pulled as opposed to quickly jerking the rod tip. 
Stren lines, especially the mono options, are known to be among some of the longest-lasting types of line on the market. The Stren High Impact Monofilament Fishing Line can be used with any type of fishing reel and will withstand just about anything you might encounter on the water. 
Pros:
Great hook set ability 
Stronger than most mono lines
Good shock resistance 
Cons:
Slightly uneven diameter can weaken line
3. KastKing World's Premium Monofilament Fishing Line
The KastKing brand has recently enjoyed a meteoric rise in the fishing industry. While other brands that have emerged on to the angling scene and made little or no splash, KastKing has quickly developed a name for itself by offering solid products that can be purchased for a reasonable price. 
The KastKing World's Premium Monofilament Fishing Line is among one of the best types of mono line you'll find on the market today. While most anglers with decades of experience may prefer to stick to the brands they have trusted for many years (and understandably so), we recommend giving this one a try if you're thinking about trying out a new mono line this year. 
This line has a thin diameter, but manages to deliver outstanding strength and abrasion resistance compared to other mono lines. The KastKing World's Premium Monofilament Fishing Line can stretch like no other type of fishing line, making it ideal for using with lures that rely heavily on their ability to twitch and dart around, creating drastic movements that will often entice a strike. 
The only downside to this line is that some anglers have reported it snapping during casts when it's used with heavier lures. The KastKing World's Premium Monofilament Fishing Line is a decent choice that will perform well on light rod and reel setups. 
Pros:
Minimal diameter
Good strength 
Great abrasion resistance 
Cons:
Breaking can occur when casting heavy lures
4. Berkley Trilene XL Monofilament Fishing Line
Anglers who are regulars on the bass fishing circuits in the United States and others who fish worldwide for larger-sized species are likely familiar with our next option among the best monofilament fishing lines. The Berkley Trilene XL Monofilament Fishing Line is easily one of the top mono options for anglers who regularly target heavier, hard-pulling fish that are known to break lesser-quality lines. 
The Berkley Trilene XL Monofilament Fishing Line can be a bit more expensive than others on our list, but this type of mono is well-worth investing a few more dollars into if you're looking for a line option that will stand up against big fish while also providing anglers with excellent knot strength, as well as greater flexibility. 
You may have noticed that we've already included a Berkley mono line in our No. 1 spot, but we'd be doing our readers a disservice by leaving this one out of our top five options. This line is known to resist line kinks and twists while also offering high amounts of sensitivity to anglers in the same way braided line feels. 
Pros:
Good knot strength 
Great sensitivity for mono line 
Ideal for larger-sized fish due to strength level 
Cons:
Higher memory than most mono lines
5. SpiderWire Ultracast Ultimate Monofilament Fishing Line
SpiderWire has a stellar reputation in the fishing industry as a brand that is centered around toughness and durability. While this is abundantly clear with the SpiderWire braided line options, this brand's mono line is also worthy of the attention of seasoned anglers. 
The SpiderWire Ultracast Ultimate Monofilament Fishing Line is made with a minimal-diameter design that can provide solid abrasion resistance and great sensitivity. Anglers also report that this mono line offers exceptional hook setting ability compared to some of the other top choices on our list. 
The Ultracast Ultimate lives up to its name as this line delivers quality characteristics in just about every area you might expect as an angler that uses monofilament line to your advantage. However, the main downfall that the SpiderWire Ultracast Ultimate Monofilament Fishing Line has is its high memory which sometimes causes it to spring off the spool and create tangles in some cases. 
Regardless of this line's reputation for high memory and a tendency to coil up, it does offer anglers with a great level of sensitivity that can prove to be exceptionally useful with certain types of lures and rigs that causes anglers to rely on their sense of tough to feel the most subtle bites. 
Pros:
Great strength for the small diameter 
Good knot tightness
Lightweight line is ideal for topwater 
Cons:
6. Berkley Trilene Sensation Monofilament Fishing Line
Next on our list of the best monofilament fishing lines is another option from Berkley. We could have placed this particular mono fishing line higher on our list, but it is at our No. 6 spot because it offers a more specialized approach that's tailored toward using with certain types of lures instead of functioning as an all-around mono line that can be used with anything. 
The Berkley Trilene Sensation Monofilament Fishing Line is an excellent option for anglers who are looking for an exceptionally sensitive brand of mono line that can be used for fish that have a reputation for pecking at the lure and biting with less ferocity. This line is labelled as 'ultra-thin' and yet still delivers a strong approach when used in freshwater and saltwater environments. 
This line comes in a specialized blaze orange coloring that allows anglers to have a better visual on their line in the water. This is useful for going after various types of fish that might pick the lure up and take off with it instead of striking and pulling against the reel as soon as they bite. Using this option with a clear leader line is also recommended to avoid the line being spotted underwater. 
Pros:
Thin diameter is surprisingly strong
Low memory 
Very sensitive for a mono line 
Cons:
Slightly more expensive 
Not an ideal all-purpose mono line
7. South Bend Monofilament Fishing Line
Most anglers looking for a more affordable choice of mono line might feel like their options are limited when it comes to finding a line that's truly made with quality. However, the South Bend Monofilament Fishing Line is among the more appealing budget-friendly lines we've found as it pertains to mono. 
This line comes in a wide variety of pound test ratings from 4 pound test all the way up to 30 pound test. One of the most popular advantages of the South Bend Monofilament Fishing Line compared to other mono lines is that this one has the unique ability to seemingly vanish beneath the water's surface much like fluorocarbon line is known to do. 
This is mainly due to the fact that the line is made with a particularly clear coloration that seems to blend in with a variety of different shades of water. 
We would bet that most anglers would be surprised with the South Bend Monofilament Fishing Line's knot strength and the fact that it is one of the more durable mono line options when it comes to abrasion-resistance. 
Pros:
Good ability to blend in
Great knot strength 
High abrasion resistance 
Cons:
Doesn't stretch as much as other mono lines
8. Berkley Trilene XT Monofilament Fishing Line
When finding a good mono line that can be used in and around heavy cover, it can be hard to narrow down the many selections to one that's remotely comparable to the toughness that braided line offers. Many anglers settle with a range of other types of mono line, but if it's toughness you're after, the Berkley Trilene XT Monofilament Fishing Line might be the best monofilament fishing line available for you. 
This line's namesake is an indication that it is designed to have an added element of toughness as the 'XT' in this option's name stands for "Extra Tough." Anglers will find this line to be able to live up to its moniker quite well as it offers substantial amounts of abrasion resistance and the ability to stretch resistance used with lures like crankbaits and other types that are known for producing bites in heavy cover. 
Pros:
Very tough abrasion resistance 
Good stretching ability 
Good knot strength 
Cons:
9. Hi-Seas Grand Slam Monofilament Fishing Line
Anglers who are seeking a mono line that offers all the typical characteristics they might expect from mono with a little added sensitivity will find the Hi-Seas Grand Slam Monofilament Fishing Line to be one of the more appealing options. This line is capable of achieving a higher level of sensitivity on any kind of fishing reel. 
The Hi-Seas Grand Slam Monofilament Fishing Line is a bit more pricey than some others on our list, but that is usually an indicator of a higher-quality product in the fishing industry. This line is said to be a great option for both saltwater and freshwater use as anglers report it having great qualities for using in either environments. 
This line offers solid knot strength and also has the ability to withstand abrasions in a way that few other mono lines are capable of matching. This is a great option for anglers who plan to target large saltwater fish species with bigger artificial lures and other options. 
Pros:
Great knot strength 
Good abrasion resistance 
Highly versatile 
Cons:
10. Sufix Elite Monofilament Fishing Line
Rounding out our top 10 list of the best monofilament fishing lines is the Sufix Elite Monofilament Fishing Line. This is another great option that's considered a high-quality option capable of being used in fresh or saltwater environments and can also be spooled on any reel. 
This brand is made with a special wax resin material that helps it maintain better knot strength than most other types of mono lines on the market today. It's also much more flexible than other mono lines on our list and has a reputation as one of the smoothest-casting mono lines you'll find in the fishing industry today. 
This line doesn't have the high level of memory you might find in other premium mono options, making it an all-around great choice for anglers looking to get their hands on a great-quality mono line that won't break the bank. 
Pros:
Affordable price
Good knot strength 
Low memory 
Cons:
Slightly less abrasion resistance
Mono Fishing Line Buying Guide
Depending on what type of fishing line you're using, you'll experience certain benefits from each specific type of material. In addition to these benefits, each type of line will also have certain weaknesses or vulnerabilities that should be taken into account for anglers who want to optimize their equipment and get the most out of everything they are using in order to be successful. 
Here are some of the most important characteristics that you'll want to expect out of your fishing line, depending on the type of line you're using, as well as the level of quality. 
Line Strength 
Perhaps the most important aspect of any fishing line is its ability to withstand significant amounts of pressure that are applied once a fish bites the lure and begins pulling against the line to escape. Each line will have varying levels of strength which is measured and indicated in a scale system referred to as a 'pound test rating.' 
This pound test rating notes the amount of pounds a fishing line can hold if the line is attached to an object weighing a certain number of pounds. For instance, a fishing line that is rated as being '10 pound test' will be capable of holding up to 10 pounds of pressure on the line itself. In most cases, fishing lines can withstand a bit more pounds of pressure—especially lines that are made by premium quality brands. 
The pound test rating system remains the same no matter what fishing line material you use. It's commonly accepted that lines like braided material will be stronger than mono or fluoro, but we will cover that in greater detail later in this article. 
Impact Strength 
Each line type has another type of strength, often called 'impact strength' or shock strength. This mostly refers to the line's ability to hold up against the sudden and sometimes extreme levels of force that can be applied to the line when a fish bites the lure or bait. 
Some types of game fish species are known to strike with such a high force that it all-too-often snaps the line before the angler can begin reeling in his or her catch. This was a common occurrence for rod and reel anglers up until the early 20th century. Once monofilament line was invented, it allowed anglers to have a line that possessed the ability to stretch just a bit, giving them enough strength to withstand the initial strike and run by the fish. 
Ability to Stretch 
The ability to stretch is one of the most important keys to what makes mono such an effective type of fishing line. Mono's stretching ability is a crucial part of what makes casting certain lures and rigs much easier, but this stretching also has some negative impacts that we will discuss later on. 
Other lines are minimal when it comes to being able to stretch, meaning they don't give the angler much advantage at all when it comes to guarding against impact strength and other aspects that can make a fishing line more vulnerable. 
Memory 
The fishing line's memory refers to its capability to take on the form of the spool that it's wound up on. A line does this when it is made of multiple strands that are less likely to bend, twist, or stretch easily. Fluorocarbon fishing line is notorious for having high amounts of memory, which can cause it to coil up after being on the spool for more than a few months in some cases. 
This memory also makes it very difficult to keep the line from becoming tangled or knotted. Braided line is made of soft material that will not stretch at all, meaning you'll never have to worry about memory issues with braided line. 
Buoyancy 
Another important property that fishing line is known to have is buoyancy, or the ability to float in the water. This might seem like a trivial matter since most of the lures that will be used are quite heavy and are expected to cause the line to sink down into the water as the lure itself drops to the bottom. However, it can be very useful to have a fishing line that offers more buoyancy than others as this will sometimes help the lure sink more slowly than other types. 
Monofilament fishing line is known for having the highest amount of buoyancy among all other types of fishing lines. This is important to keep in mind if you plan on using a weightless rig or other type of lure setup which you will need to rely on your line to help prevent the lure from sinking too quickly, keeping it in the strike zone longer. 
Visibility Underwater  
One of the most sought-after characteristics of any type of fishing line is the ability to 'vanish' underwater, or blend in with the water's color. Most popular game fish species have keen eyesight and can spot a single strand of fishing line much more easily than most anglers might expect. They are highly tuned-in to their surroundings and environment and fish often pick up on anything that is unusual in their habitat. 
Monofilament line can sometimes blend into the water to a certain degree, but fluorocarbon fishing line is much more adept when it comes to having the ability to vanish underwater. The multiple strands that make up fluoro line allow light to pass through it instead of reflecting off of it, which means the line can more easily blend in with the water's shade and color.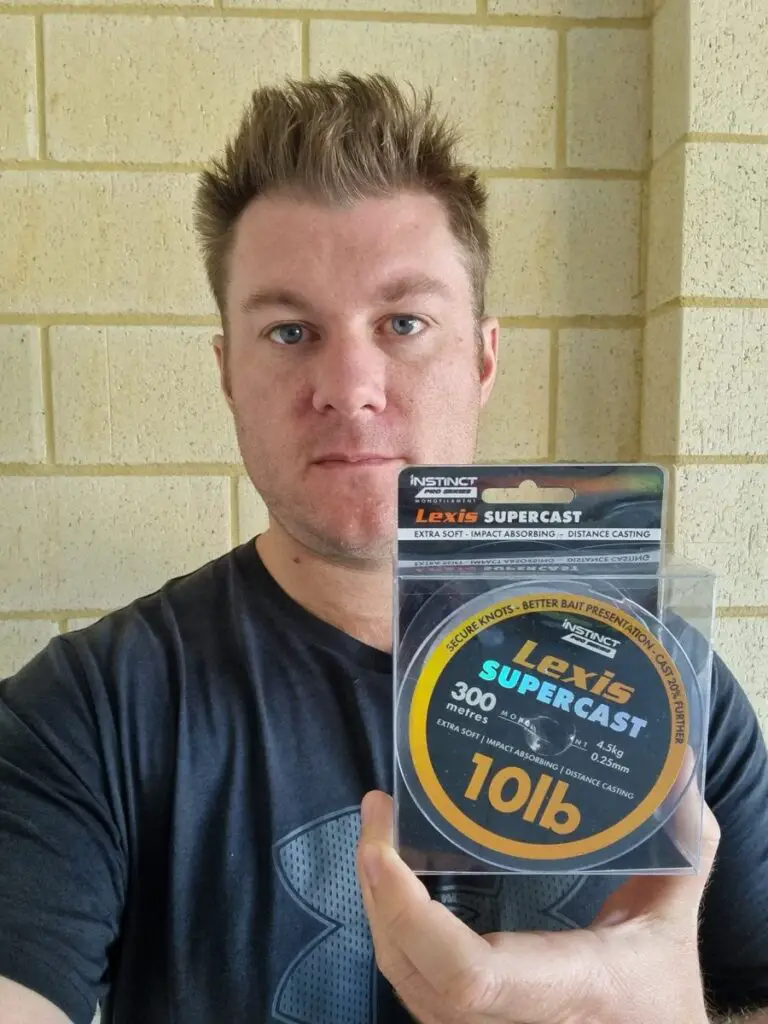 When is the Best Time to Use Mono? 
The best anglers will have a deep knowledge and understanding of when to use certain fishing lines instead of other types. There are instances when anglers will have more success using fluorocarbon line than mono, and vice versa. This is also true when you compare braided line to mono and fluoro as well. So when are the best times to use a monofilament fishing line? 
Monofilament is the ideal type of fishing line for anyone considered to be a beginner or novice as it relates to fishing. Some of the most obvious reasons why it is a better choice is because it is more affordable, and is also able to keep fish on the line longer than fluoro or braided line can in some cases. Despite the newer and more advanced types of fishing line materials, you can never go wrong using monofilament fishing line. 
Remember that monofilament line can stretch and withstand the impact shock that occurs when a large fish strikes a lure with a massive force. Mono can hold together and withstand this sudden, heavy pulling sensation while fluoro or braid will very often break in an instant. 
Due to its ability to withstand these sudden hard pulls, mono is the best choice when fishing with lures that are known to produce 'reaction strikes.' These lures include crankbaits, as well as spinnerbaits and jerkbaits. 
As you might have already guessed, monofilament line is also the perfect fishing line for using topwater lures. This is obviously because mono has much more buoyancy than other types of fishing line, making it easier to properly utilize certain fishing techniques like 'walk the dog' and other popping or twitching motions known to entice a strike from a nearby fish. 
Pros and Cons
Like all other types of fishing line, there are various pros and cons that you'll want to pay attention to if you plan to use mono when it comes to fishing at certain times of the year. The stretching ability of monofilament should never be ignored or taken for granted. It will allow anglers to utilize certain lures and rigs more successfully than with other types of line. 
However, this stretching ability also has some downsides. It is often known to force anglers to deliver a much longer, more exaggerated hook-set on fish since the line is very likely to stretch as it is being pulled, diminishing the hook's ability to puncture the fish's mouth and gain a decent hold on your target. 
Mono can also give anglers stronger knots around their hooks and lure eyelets. This is very important for anglers who are using certain types of lures as they often can't afford the risk of a knot being loosened as it will often result in losing a fish. 
If you're using a baitcasting reel, monofilament is often better than fluoro or even braid if you are still getting the hang of using this advanced reel. You're less likely to end up with a bird's nest when using monofilament fishing line due to the low memory level of mono. 
If you are looking for more information comparing mono to braid fishing line, read this article.
Frequently Asked Questions 
How often should I change out my monofilament line?
Mono, like most other types of fishing line, will eventually wear out and lose its strength and stretching ability. If your fishing rod and reel is exposed to sunlight, the UV rays will cause the quality of the mono line to break down, which weakens it and can lead to broken lines, lost lures, and fish getting away. It's a good idea to swap out your monofilament line every year in order to avoid any issues with the quality of the line itself. 
What color mono line should I use?
Despite what you may have heard, the color of your monofilament line can have an impact on a fish's ability to spot your line underwater, which almost always spoils your chances at catching anything. Be sure to use a type of monofilament line that blends in with the water color when possible as this will help camouflage your line to a better degree. If you plan to use a topwater lure, it's best to use a clear-colored mono line as fish might spot darker line more easily if it is set against a clear sky with plenty of sunlight. 
What pound test line should I use?
There is really no right or wrong answer to this question. Be sure to do plenty of research on the specific species of fish you plan to target and gain a solid understanding of the average weight the fish is likely to reach, as well as their characteristics when fighting against a rod and reel. 

Does the fish pull hard and fast away from the rod? Does it have a tendency to violently shake its head back and forth? If the answer to these questions is yes, monofilament is probably going to be your best bet since it has the ability to stretch and is less likely to be snapped or pulled free. 

A general rule of thumb is to use mono line that is rated as being double the number of the pounds that your target fish is expected to be. For instance, if you plan on fishing for bass, which typically grow to at least 5 pounds at full maturity, it's best to opt for 10 pound test fishing line. 
Conclusion 
Monofilament is an excellent choice of fishing line for nearly any type of situation in both saltwater and freshwater environments. Knowing what your gear is capable of is part of becoming a highly-skilled angler and it's very important that you understand just what your monofilament fishing line is capable of. Using the information and selections we've provided in this article, you should be able to narrow down the many different options and find the specific type of mono that will work best for your needs.