The best fishing line for baitcast reels is braid for maximum line capacity, an affordable price range, good abrasion resistance, and a wide range of diameters, colors, and spool lengths
The KastKing Superpower is my top choice because of its combination high strength, abrasion resistance, and value for money. It features a wide range of colors and strength up to 150 lb. It is ideal for anglers looking to spool their baitcasting reel with an affordable and high performance braid.
Baitcaster reels give much greater accuracy in casting but at the expense of casting distance. But just a good reel is not enough to trap that monster fish – the right fishing line can be the difference between success and failure.
I drew up 8 of the most reliable fishing lines for baitcasting reels approved by pro anglers and a quick summary of the key things to consider when selecting.
Strong Knot Strength
Low Memory
High Abrasion Resistance
Ultra-high Sensitivity
Available in Up to 10,800 Yard Spools
From 8 to 200 Pound Strength
Extremely Powerful
Shock Resistant
UV Resistant
High Tensile Strength
Invisible Underwater
Extremely Sensitive
1. Kastking Superpower Braid Line
Strong Knot Strength
Low Memory
High Abrasion Resistance
Ultra-high Sensitivity
​A Must-Have fishing line for the bass angler. This is my favorite fishing line, and I spool it on all of my reels when extra strength and line capacity are required. This is certainly one of the best braided lines around.
Whether fishing in a casting or rocky mountain stream along the beach KastKing fishing line has stunning abrasion resistance if you want to land trophy fish.
Indeed, KastKing braided line has what it takes to catch the big fish.
Kastking Superpower is my recommendation as the best overall line for baitcasting reels. It is affordable and high quality, like all of Kastking's products. Buy yourself a long spool that will provide enough line for all of your reels for the entire season.
What I Like About It:
First and foremost, you don't have to worry about break-offs or fraying. KastKing MultiTuf PE Line Braid is made with the same sturdy fiber (Ultra High Molecular Polyethylene Braid Fiber) that is bulletproof.
What about strength?
One definite advantage is its great feature of Greater abrasion resistance, which decreases the likelihood of losing the big one. KastKing Braid line's strength is superb.
Affordable KastKing SuperPower line ranges from 10 lb to 150 lb (test strength), with many vibrant colors available such as green, grey, multicolor, white, blue, pink, and yellow.
What I Don't Like:
Though it's a bang for your buck, the thing that bothers me most is its thickness. Besides this issue, some users complain that it fades after a few months.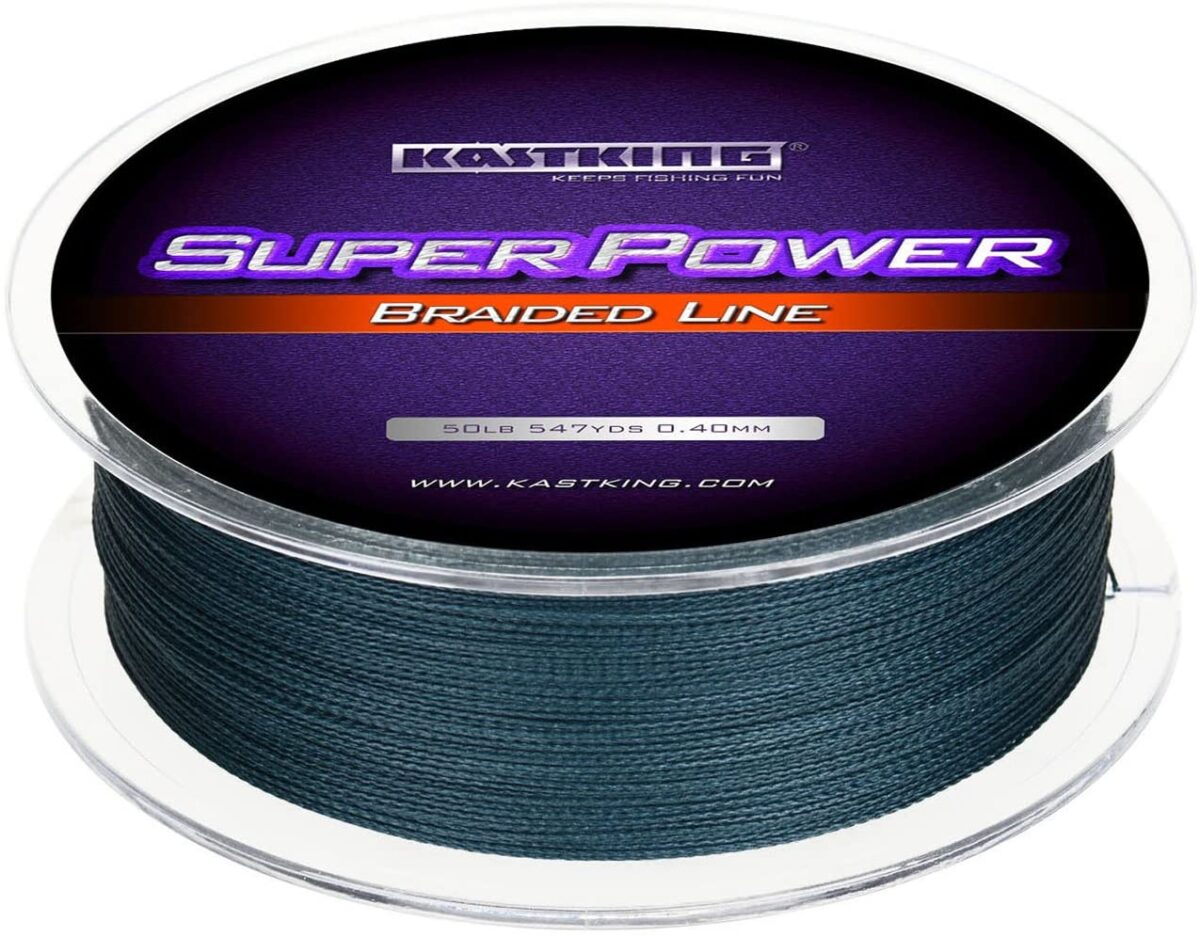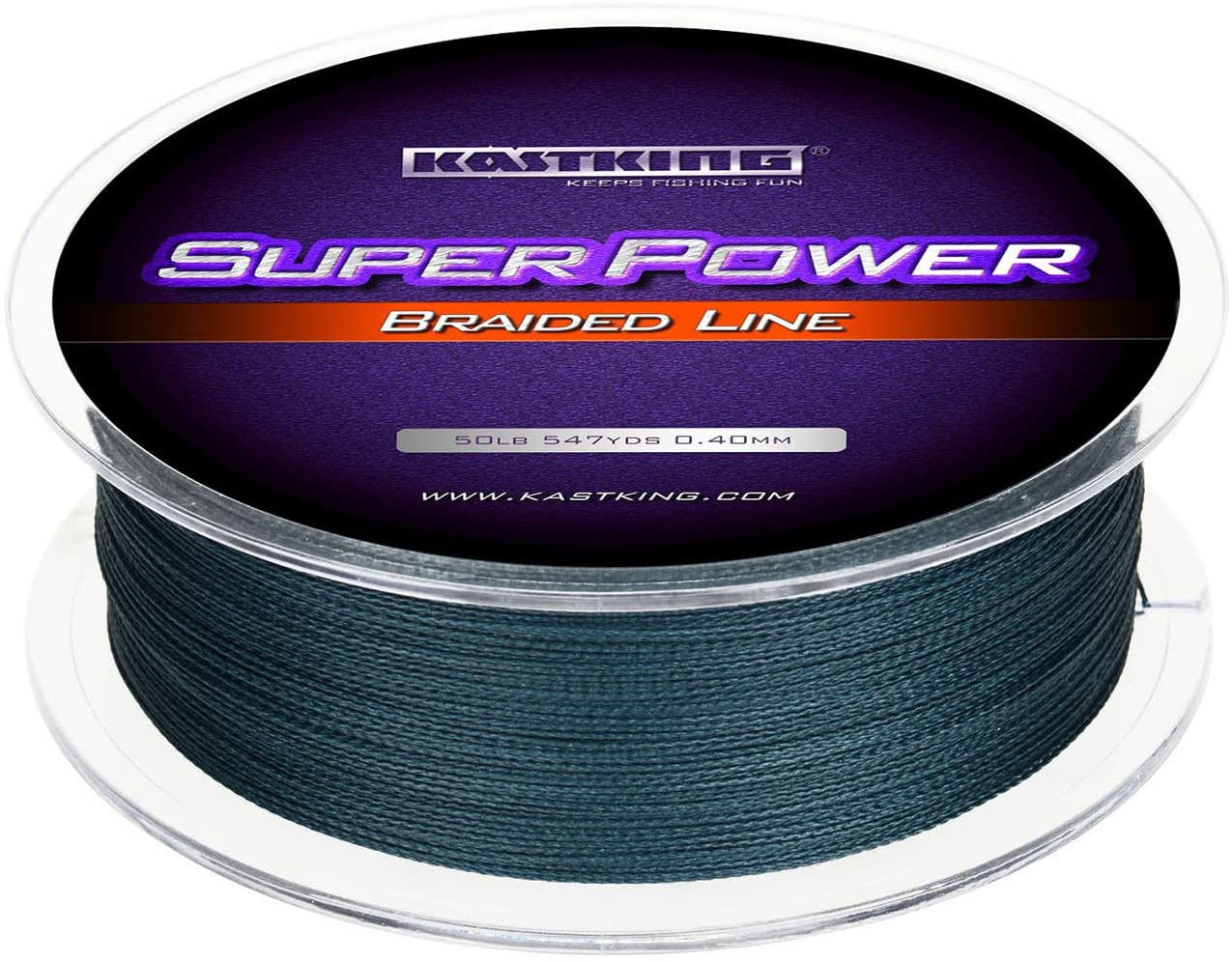 Pros
Low memory.
Ultra-high sensitivity.
Strong knot strength.
Cons
Spools top out only at 1096 yards.
2. Power Pro Spectra Fiber Line
Strong Knot Strength
Low Memory
High Abrasion Resistance
Ultra-high Sensitivity
​Power Pro braided line is a fishing line like no other, especially in bass fishing.
The thin diameter of this stunning line will provide lures more accurate action in the water. Whether you fish for Trout, Panfish, Bass, or Walleye, this Microline will dramatically change how you usually think about fishing forever.
This is my top recommendation for bass angling because of its wide range of lengths and diameters so you can get the exact dimensions with near zero stretch.
What I Like:
The combination of three ends braided designs and near-zero stretch makes this item the most sensitive line brand PowerPro has ever offered.
This line is available in many different colors. Its diameter ranges from 0.005 to 0.035 of an inch and from 150 to 3,000 yards in length. This PowerPro Braided Line could last two to three seasons or longer depending on how much you fish.
Plus, it is treated with advanced Body Technology for an amazing round and sensitive line. Another great thing about this package is Arbor tape included.
What I Don't Like:
The main drawback is that you can't rely on an ordinary nail clipper to cut, as it has extreme strength. You'll need a sharp pair of scissors – I often use serrated scissors, which cut through braid more easily.
Pros
Ultra-strong braided Spectra Fiber.
Built-in cutter.
Impressive packaging.
Cons
3. Spiderwire Stealth Low Visibility Line
Strong Knot Strength
Low Memory
High Abrasion Resistance
Ultra-high Sensitivity
Introducing a new metered fishing line called Spiderwire stealth braid. Whether you're planning to fish in the frozen waters or angling in the nearest lake, this fishing line gives you an unbelievable fishing experience.
I recommend Spiderwire Stealth for finicky fish species like trout when low visibility and no noise are crucial.
What I Like About It:
Spiderwire Stealth line has mono manageability, but the ultra-thin diameter, and ultimate sensitivity of a superior braided line.
Due to the Teflon-treated microfibers, this fishing line is quiet and casts long distances. Also, Stealth keeps its color better than the other competitor. Apart from this, the round shape control backlashes and resist digging in on reels. 
What I Don't Like:
I noticed parts of the line had been flattened within a few weeks. This can increase the line's resistance as it leaves the spool and reduces your casting distance.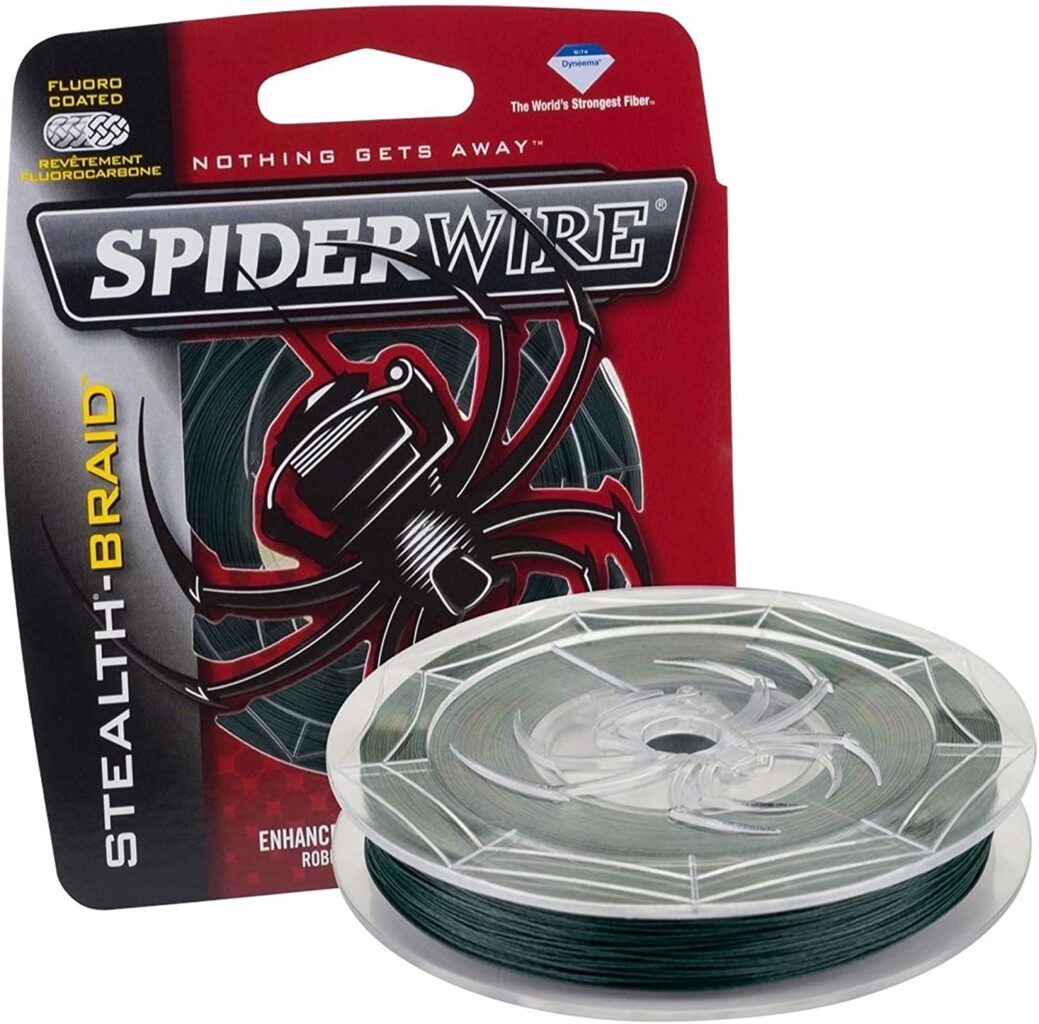 Pros
Ultra-thin diameter.
Super quiet line.
Superior strength.
Cons
4. Berkley Trilene Big Game Mono Line
The kind of fishing line that anglers dream about. Berkley Trilene Big Game is one of the popular monofilaments, especially in North America.
I normally use braid line due to the increased line capacity, but when I recommend mono I pick Berkley Trilene. It gives abrasion resistance and stretch for powerful saltwater species with sharp teeth.
Keep in mind you will need a larger sized reel to get enough line capacity.
What I Like:
Engineered with more stretch, it ensures more fighting power and incredible strength to your setup for confidence and control. Now come to the specification.
The extra-strong, abrasion-resistant material holds powerful against rough/sharp objects. It's got extreme fighting ability for big game fish – saltwater or freshwater. 
What I Don't Like:
It's better to soak the line in lukewarm water and spool it on your reel. This process reduces memory as well as allows the line to seat in your fishing reel better.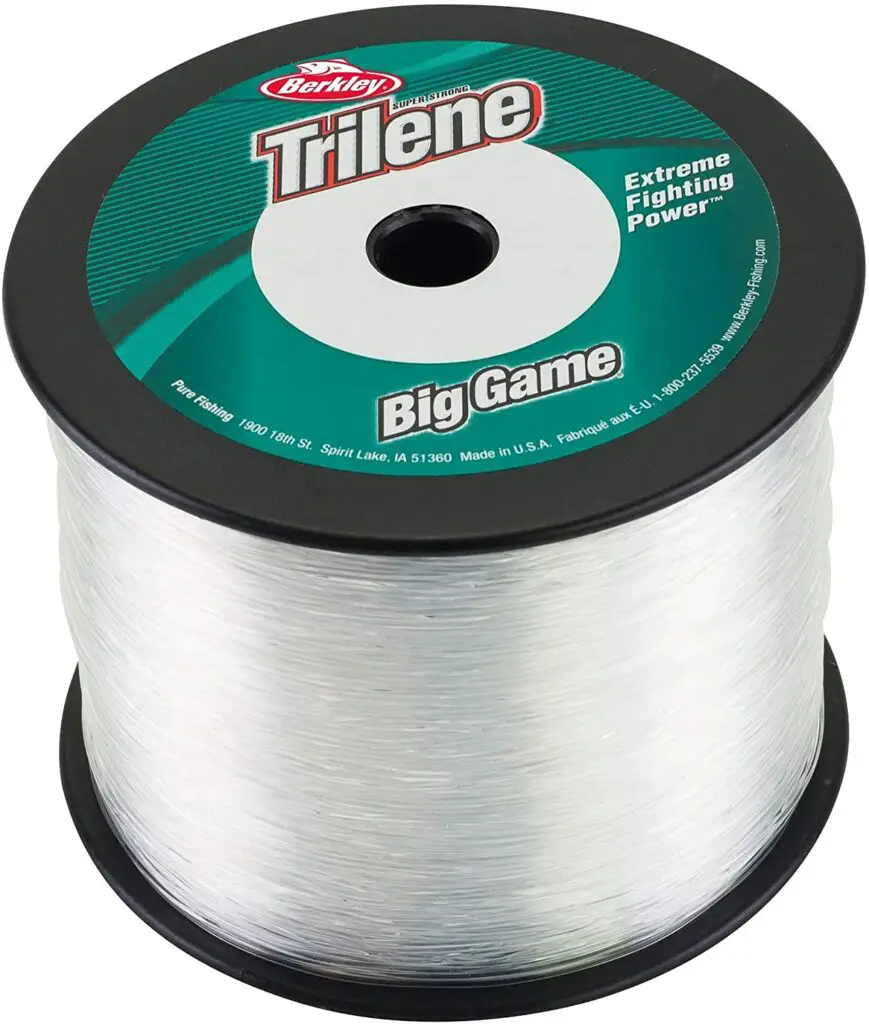 Pros
Affordable price.
Powerful.
Great for bottom fish.
Cons
5. Piscifun Braid Budget Line
Strong Knot Strength
Low Memory
High Abrasion Resistance
Ultra-high Sensitivity
​If you are going to run bass baitcaster on your next trip, you probably won't beat Piscifun Fishing Line. First, it's cheap, and second, it's handy in all situations.
Consistent backlashes free and unparalleled smoothness help the bait arrive faster at the target water layer to trap the fish.
Piscifun is quickly becoming a favorite brand of mine because they are able to produce high-quality products at affordable price tags. Their braid fishing line is no exception, and is my recommendation if you are looking to buy line on a budget.
Why I Like It:
Powered by epoxy coatings technology, it keeps the braided lines distant from being damaged.
Precision braiding of 6lb to 50lb is designed with four high-strength strands. At the same time, the tensile strength is 65lb-150lb for even more power resulting in knot strength and better casting.
Now let's come to the knot strength. Unmatched fiber material holds tight, allowing you to tie a solid knot. Also, the high abrasion resistance helps to avoid fish coming off.
The thing that impressed us most is its Long-lasting Color coating. Yes, the Piscifun fishing line is fully coated for color fading repelling ability, yet after a long time immersed in saltwater.
What I Don't Like:
Don't expect to cast very smooth coming off as well as it was not casting very far. Another thing, it is quite noisy when casting.
Pros
Low Memory.
Abrasion Resistance.
Ultra-Low Stretch.
Cons
6. Reaction Tackle Braided Line
Strong Knot Strength
Low Memory
High Abrasion Resistance
Ultra-high Sensitivity
Try Reaction tackle line on your next fishing trip, and notice for yourself why this item is every angler's dream.
This Reaction Tackle fishing braid is just as superb as any high price fishing line.
What I Like About It:
The feature that makes it unique 100% UHMWPE, which is the world's strongest fiber that ensures the highest quality standards.
Whether you fish for Trout, Muskie, Walleye, Bass, or any other species, this line will perform fantastic in saltwater, surf fishing, freshwater, bow fishing, or ice fishing you know you can trust Reaction Tackle as your fishing gear.
Reaction Tackle line is coated for extra longevity and flies through fishing guides to ensure long casting distance.
What I Don't Like:
A little thicker than the other brand but quite good with random frayed spots or no mystery break-offs.
Pros
Near zero stretch.
Ultimate strength.
High abrasion resistance.
Cons
I did notice some color bleed over time.
7. Piscifun Lunker Fishing Line
Strong Knot Strength
Low Memory
High Abrasion Resistance
Ultra-high Sensitivity
Piscifun Lunker Braided Fishing Line is simply every fish's nightmare.
Piscifun Lunker line is undeniably the top-graded fishing line in a matter of tensile strength. Meanwhile, it comprises Netherlands material and precise braid crafts, which will help you downsize diameter without sacrificing strength.
It ranks as one of the best value for money fishing line for baitcasting reels due to Piscifun's low prices while still maintaining exceptional quality.
What I Like:
Surprisingly, Piscifun braided line has little to no spool memory and does not untwist as mono; this feature makes it awesome for spinning reels. Thus, it is a fantastic presentation tool where sensitivity and strength are paramount.
The braided line exchanges information from your lure. As a result, you will feel light bites; if your lure ticks bottom and weeds/ other debris have fouled the presentation. Smooth as ever after the 500 cycle test.
What I Don't Like:
Lunker fishing line cuts or slices through vegetation like a knife, which seems a big benefit if you're hauling giant bass and other trophy fish. But it's quite sharp, and you must be careful during casting.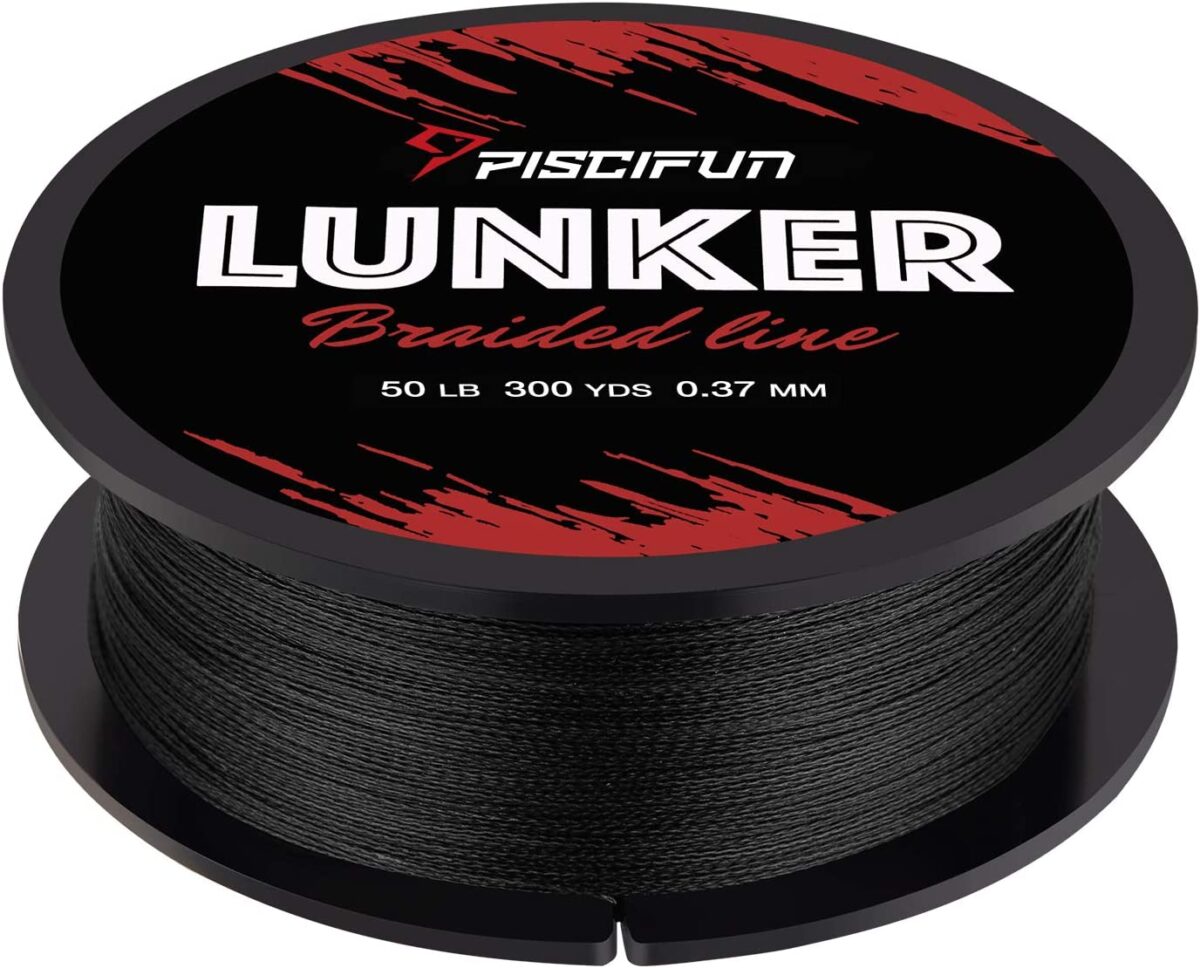 Pros
Thinner diameter.
Nano-coating treatment.
Abrasion resistance.
Cons
8. Seaguar Red Label Fluoro Line
UV Resistant
High Tensile Strength
Invisible Underwater
Extremely Sensitive
​Land more fish with Seaguar Fluorocarbon Fishing Line.
A fantastic innovation to Fluorocarbon, Seaguar brand is strong yet extremely sensitive and soft. It is considered the most versatile line as Red Label can be used in both Baitcasting and Spinning Reels and is suitable for saltwater and freshwater. 
I recommend Seaguar Red Label as my go to choice for fluorocarbon fishing lines for baitcast reels. I generally will only use this as a leader when I need invisible line underwater to target shy fish species.
What I Like About It:
This heavy-duty line is .012 Inch Diameter along with 200 Yard Spool. As it's a 100% Fluorocarbon product, this Seaguar Red Label is less visible underwater than conventional monofilament line and invisible to fish. Not only that, the line provides remarkable strength and awesome abrasion resistance.
Red Label is chemical resistant, UV resistant, non-absorbent, and impervious to extreme cold conditions.
Made from 100% resins and manufactured using their proprietary extrusion process.
What I Don't Like:
Too much memory. It shatters when it gets a white-colored kink in its line. So it is only recommended as a leader on braid.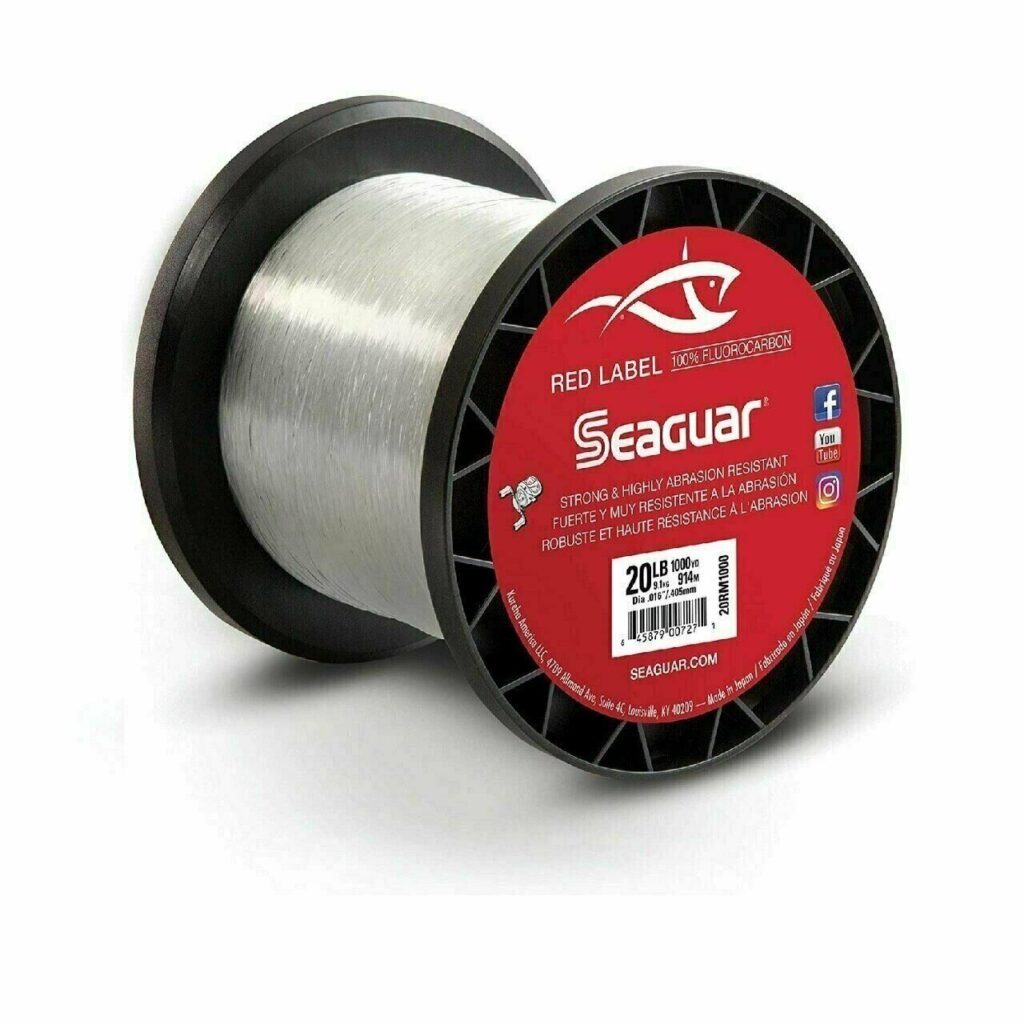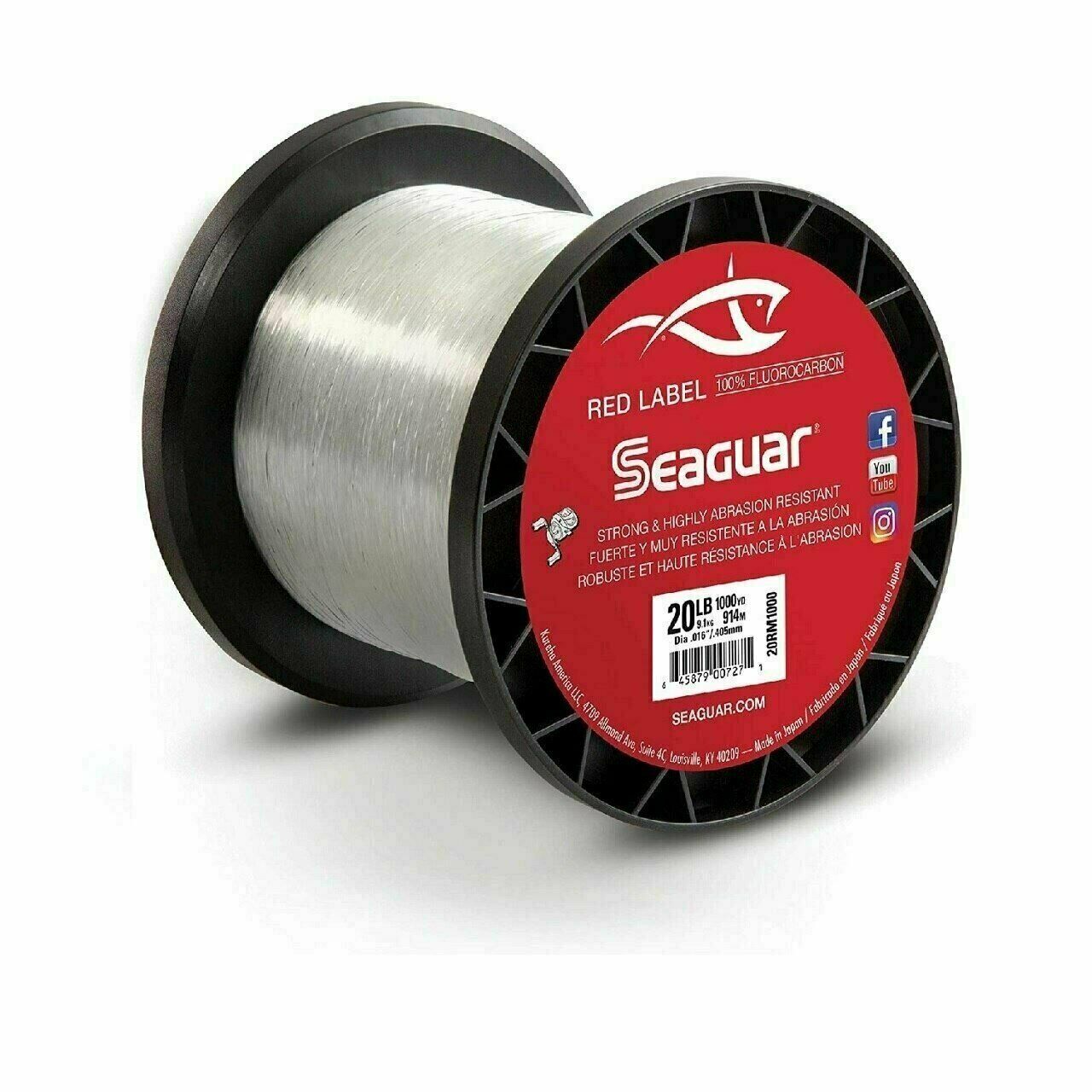 Pros
High-density.
Extremely soft.
Reasonable price.
Cons
Fishing Line for Baitcasting Reel Buying Guide
When it comes to fishing accuracy, the baitcaster reel is unbeatable. Even many experienced anglers like to use baitcasters to place their lure in the right place.
This reel offers the sheer degree of control and precision crucial for casting around weeds or rocks. But remember that moving the rotating spool requires skill without 'birds nesting' your line. So you must practice to be 'fluent' in using this type of reel.
A casting reel is a fantastic reel for bass or trophy freshwater fish as it lets you put the lure right in front of a hungry fish. It is ideal for casting under trees or on the edge of reed banks.
Fishing Line Types:
There are three types of fishing line available in the market.
Among them, Monofilament is the most common as it is cheap. It is thick, strong, and stretches. This can provide plenty of power and is very abrasion resistant, but you won't be able to fit as much length as the thinner options.
On the other hand, Fluorocarbon is a great substitute for the leader. It blends well into the water and can be almost invisible to hungry fish.
Braid on the other hand is very strong and thin. You can fit huge lengths of line onto your spools, but it isn't abrasion-resistant against rocks or sharp teeth. You can use braid as your mainline and mono or fluoro as the leader.
So pick the line which meets your need and requirement.
Diameter
No doubt, the diameter has a huge effect on your casting performance. Simply, the larger the diameter of the line, the more friction is produced when line is pulled off the spool.
It also impacts how much line can be stored on your spool. If you need a lot of length, then go for a thinner diameter.
Large diameter fishing line is also fairly abrasion resistant against rocks, snags, or structures.
Strength
Most importantly, Line strength is expressed in pounds. First, determine what kind of fish (big or small) you want to catch before choosing the perfect line strength.
Skill Level
Sound's silly, but actually, it has a great impact. As a beginner, you should choose something light, simple, and affordable, such as monofilament. More advanced fishermen should go for fluorocarbon or braided, depending on the fishing you wish to do.
Wrapping Up
As you can see, choosing the right line for the baitcasting reel is crucial for enjoying your next fishing trip.
I have picked the finest fishing line for baitcaster reel list of trustworthy products tested by experts. Each is reliable, but our favorite is Power Pro Braided Fishing Line. We loved it for its versatile performance.
Some products missed out on my top 10 but are still worth a look, such as the Kastking Fluorokote fishing line and Berkley Trilene XL.