Pflueger is one of the longest-standing brands in the fishing industry. They have a reputation for producing some of the most reliable and performance-driven spinning reels on the market today. Many of the Pflueger spinning reels produced today are made for freshwater and saltwater fishing. 
The company has been in business since 1881 and plenty of anglers consider themselves loyal to the Pflueger brand. If you are one of those anglers, you might be wondering what the best Pflueger spinning reel actually is. 
We've researched and combed through as much information as possible to compile this article on the best Pflueger spinning reels. If you are looking for other brands, I have also written a broader buying guide of the top spinning reels.
The table below is comparing 3000 size reel models:
1. Pflueger President 
9+1 Stainless Steel Ball Bearings

Oil Coated Drag Washers

Lightweight Graphite Body

Comfortable Rubber Handle Knob
Drag Isn't Enough for Large Saltwater Species
Overall Score – 5/5 ⭐⭐⭐⭐⭐
Performance – 5/5 ⭐⭐⭐⭐⭐
Durability – 4/5 ⭐⭐⭐⭐
Value for Money – 5/5 ⭐⭐⭐⭐⭐
The Pflueger President is a spinning reel that's been in production for more than a decade, undergoing a major redesign several years ago that was aimed at making the President smoother and more capable of handling larger fish. This reel is an excellent choice for beginner anglers as it provides outstanding performance and carries a reasonable price tag that's well under $100. 
There are more advanced, better-performing Pflueger reels that we could put ahead of this one on our list, but the features and capabilities coupled with the price make the Pflueger President an exceptional offer. The President is a lightweight spinning reel that's very smooth and is used by freshwater and saltwater anglers to catch a wide variety of different game fish species. 
It has a 10 bearing system and is made with a durable and rigid graphite body and rotor. The Pflueger President offers a gear ratio of 5.2:1, which is not quite as fast as some anglers prefer, but provides plenty of cranking power for bringing in fish with a very smooth drag system. It comes with an elegant, metallic-blue color and well-crafted design and a load of great features that set it apart from most other reels in its class. 
Pros:
Great durability 
Very lightweight 
Affordable 
Smooth casting and retrieval action 
1-year limited warranty
Freshwater/saltwater
Cons:
Not sealed 
Some issues reported with handle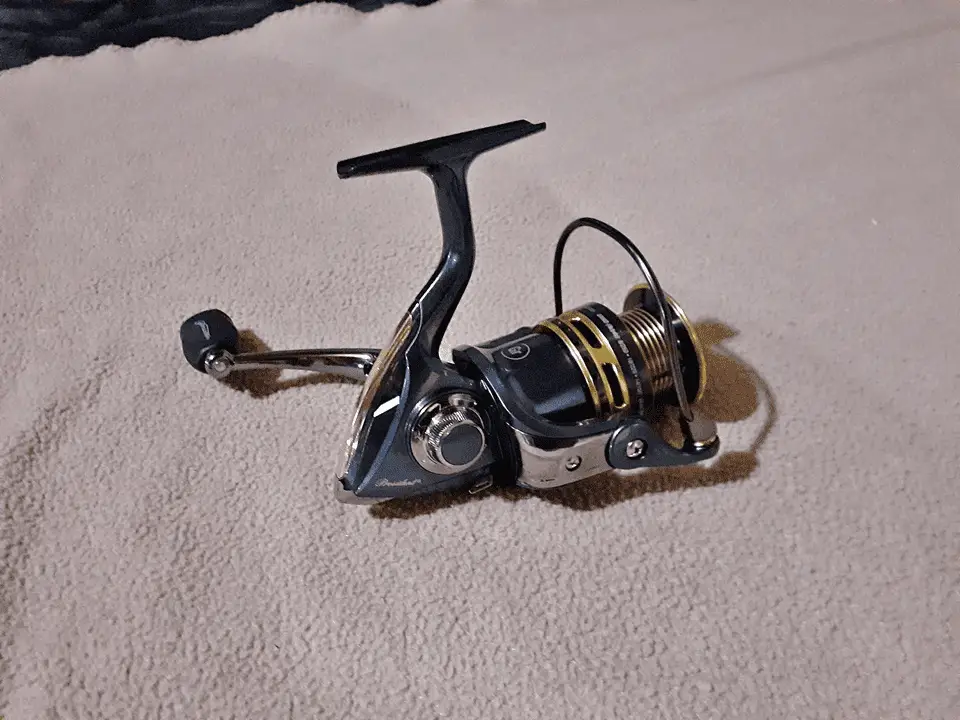 2. Pflueger Patriarch 
Sealed XCR Bearing System

9+1 Ball Bearing Design

Magnesium Body

Extremely Lightweight
More Expensive Than Other Pflueger Reels

Only Available in 3 Sizes - 2500, 3000, and 3500
The Pflueger Patriarch is an exceptional spinning reel that's easily one of the highest-performing models made by the brand. It's very well-suited for fishing in both saltwater and freshwater and is widely considered to be one of the best finesse spinning reels on the market today. The Patriarch has a reputation as an incredibly-smooth reel that's also very durable, despite it's lightweight design. 
The Pflueger Patriarch is made with a magnesium body that gives it excellent rigidity. This material is more durable than the graphite material that other brands make their reel bodies out of and is also more lightweight as well. The reel is made with corrosion-resistant components and is quite popular as an inshore fishing setup for anglers that want to target small to medium saltwater game fish species. 
Like the President, the Patriarch is made with a 5.2:1 gear ratio, as well as a 9+1 bearing system that gives it buttery-smooth reeling and casting action. It comes in three different size options that include a 25, 30 and 35 size reel. The smallest model weighs just 5.3 ounces while the 30 and 35 models tip the scales at only 6.2 and 7.3 ounces, respectively. The Patriarch is much more expensive than any other reel on our list, but it's worth the extra cost for serious anglers who want the best possible Pflueger spinning reel. 
Pros:
Extremely lightweight 
Magnesium body 
9+1 bearing design 
Buttery-smooth action 
Sealed XCR bearing system
freshwater/saltwater 
Cons:
3. Pflueger Supreme XT
Long Distance Casting Reel
Extremely High Line Capacity
10 Corrosion Resistant Ball Bearings
Sealed Carbon Drag System
Can Have Issues with Heavy Saltwater - Flush After Use
Overall Score – 5/5 ⭐⭐⭐⭐⭐
Performance – 5/5 ⭐⭐⭐⭐⭐
Durability – 5/5 ⭐⭐⭐⭐⭐
Value for Money – 4/5 ⭐⭐⭐⭐
The Pflueger Supreme XT is another spinning reel worthy of our list of the best Pflueger models as it is viewed as one of the strongest lightweight spinning reels in the mid-level range of the fishing industry. The Supreme XT comes in four different size options and is crafted with a sealed drag system that makes it an ideal choice for inshore fishing for saltwater species. 
The Pflueger Supreme XT is a great blend of quality and performance when compared with other spinning reels in the same price range. Like the Patriarch, the Supreme XT is also made with a super-durable magnesium body, as well as a carbon rotor. These characteristics make the reel more expensive, but the magnesium body is incredibly light and rigid compared to graphite or even aluminum. 
This reel is made with an 11 bearing system that's very smooth in both casting and retrieval. The machined aluminum spool is made to handle mono, fluoro or braided fishing line without the need for backing. The Supreme XT's carbon sealed drag system offers a max drag weight of up to 15 pounds in the largest model. This is another Pflueger reel that's a bit more expensive than some of their other models, but packs a load of great features that rival some of the best spinning reel brands in the business. 
Pros:
Lightweight
Durable magnesium body 
Sealed carbon drag system 
Braid-ready aluminum spool 
Smooth 11 bearing system
Freshwater/saltwater 
Cons:
Requires regular cleaning for saltwater use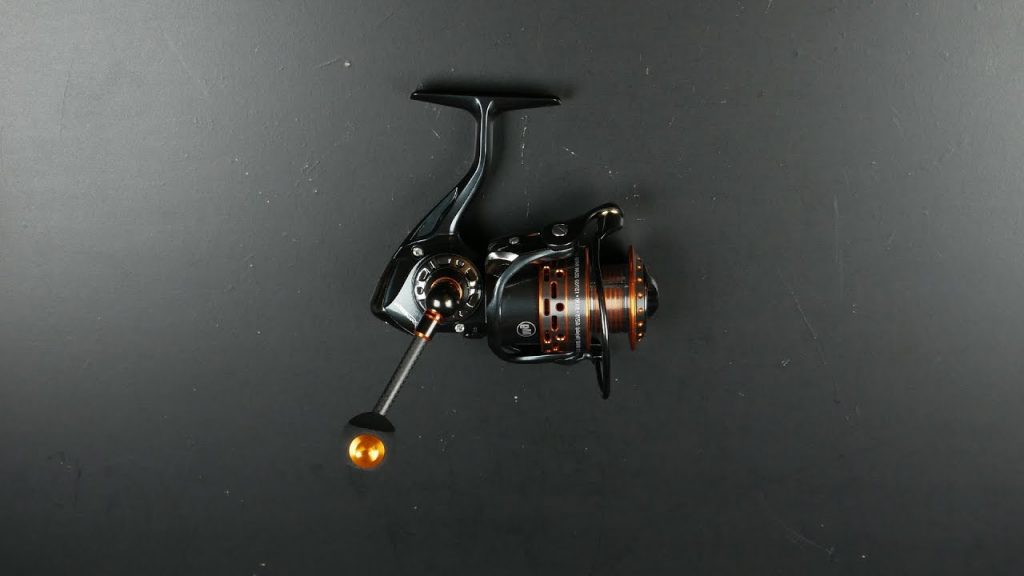 4. Pflueger Trion
Braid-Ready Aluminum Spool

Lightweight Graphite Body

Stainless Steel Multi-Disc Drag System

Smooth Casting and Retrieve
Not Suitable for Saltwater

Some Issues with Drag Reported

Largest Model is 4000 Size
The Pflueger Trion is an absolute workhorse of a spinning reel and is one that is much more affordable than some of the brand's products. It's made to deliver a performance that feels similar to a premium reel, but without the expensive parts. This reel is made with a fairly smooth 7 bearing system that gives you great casting distance and accuracy, as well as retrieval smoothness. 
One of the main differences between the Trion and some of the other models we've mentioned is the fact that the reel's body is made of graphite instead of the more lightweight and expensive magnesium. One of the downsides of the Pflueger Trion compared to some of the other models we've already mentioned is that it's not made with corrosion-resistant material and, therefore, isn't suitable to be used in saltwater settings. 
The Pflueger Trion comes in 5 different size options that range from 20, 25, 30, 35 and 40. The smallest 20 size model only has 5 bearings, but is still just as smooth as the others when casting or reeling in. The three smaller sizes offer a 5.2:1 gear ratio while the 35 size is made with a 5.2:2 and the largest 40 size is crafted with a 5.2:4 that is designed to give you greater cranking power when fighting a fish. 
Pros:
Braid-ready aluminum spool 
Smooth casting and retrieve 
Stainless-steel multi-disc drag system 
Lightweight graphite body 
Cons:
Not suitable for saltwater use 
Some issues with drag reported 
5. Pflueger Purist 
9+1 Sealed Stainless Steel Bearing System

Durable Hybrid Aluminum and Graphite Body

Titanium-Coated Line Roller

Saltwater-Ready
Low Drag Capacity of 12 Pounds

Can Be Too Light for Saltwater Species
The Pflueger Purist is very similar to the highly popular President model, but offers a few small variations that some find to be more suitable in certain situations. It's body is made with a blend of graphite and aluminum material, which is designed to be both strong and lightweight. It features a very smooth 9+1 bearing system that feels very similar to the Supreme XT in many ways. 
The Pflueger Purist is made with a sealed carbon fiber drag system, which makes it a popular choice for inshore saltwater fishermen. Each ball bearing is made with a shielded high-grade stainless steel material that is well-suited for regular saltwater use. It's also made with a titanium-coated line roller that is capable of withstanding the corrosive properties of saltwater use. 
One of the only potential downsides that the Purist has when compared to other reels in the same price range is that it only has a max drag weight of 12 pounds, which is not quite enough for going after most inshore species like redfish, mackerel and other hard-pulling fish. The Pflueger Purist is made in four different size options that are all very similar and feature a 5.2:1 gear ratio. 
Pros:
Lightweight 
Durable hybrid aluminum and graphite body 
Corrosion-resistant parts 
9+1 sealed bearing system 
Decent line capacity 
Cons:
6. Pflueger Lady President 
Slow-Oscillation Gear System

Sealed Drag System is Saltwater-Ready

Lightweight Design
Smallest Model Only Has 7 Ball Bearings With Rougher Retrieve

Largest Size is 4000 Model

Low Max Drag of 14 Pounds
The Pflueger Lady President is arguably the best overall spinning reel for women because it offers a comfortable, smaller and more lightweight design than the actual President or the President XT model. The Lady President comes in 4 different size options that range from a small 25 to a 40 size model. Each reel is crafted with many of the same basic components and characteristics that the President has, except that it's made to allow women to fish with the reel all day without feeling as much fatigue in their hands or forearms. 
It's made with a very smooth 10 bearing system, as well as a sealed drag system that's well-suited for saltwater use. The Pflueger Lady President is exceptionally popular with ladies who like to use inshore spinning reels to catch various species of drum, sea trout, pompano and other types of fish. The slow-oscillation gearing system is made so that each gear fits precisely in with the other internal components, which gives the reel outstanding sensitivity and strength. 
The reel sizes include a 20, 30, 35 and 40 model. The smallest 20 size is made with a 7-bearing system that is not quite as smooth as the others, but still functions very well as an ultralight setup. Each reel has a 5.2:1 gear ratio and offers a solid max drag poundage that ranges from 8 pounds up to 14 pounds. These reels are lightweight and possess the strength and durability you need in a good inshore spinning reel model. 
Pros:
Lightweight design 
Sealed drag system 
Freshwater/saltwater 
5.2:1 gear ratio
Slow-oscillation gear system 
Perfect for ladies or kids 
Cons:
Smallest (20) model only has 7 ball bearings
7. Pflueger President XT 
Fast 6.2:1 Gear Ratio

Aluminum Main Shaft and Pinion Gear

10 Bearing System

Sealed Drag is Saltwater-Ready
Uncomfortable Rubber Cork Handle Knob

Ultralight Reel Lacks Power for Some Species
The Pflueger President XT is another one of the brand's best spinning reels that is an upgraded version of the President model. This reel offers a few nice improvements on an already great model that's widely popular with anglers all over the world. One of our favorite aspects of the President XT is that it's made with a faster 6.2:1 gear ratio in the 30, 35 and 40 size models. This faster gear ratio is ideal for expanding the different lures you can use with the President XT such as topwater, jerkbaits, and various soft plastic rigs. 
The President XT comes in 5 different size options that range from the smallest 20 size all the way up to a 40 size reel. Each one is still extremely lightweight compared to many other products that are similar in characteristics, as well as price range. The smallest model weighs just 5.6 ounces and possesses a max drag weight of 6 pounds, which makes it an outstanding ultralight reel that can be used in freshwater or saltwater environments. 
Each reel operates using a front drag design that's sealed so that any saltwater, grit or other unwanted elements don't seep into the reel's internal parts and render it useless after being used in saltwater. Some of the other notable upgrades this one has over the President is the aluminum pinion gear, aluminum main shaft, carbon fiber handle and a stylish rubber cork knob. If you're looking for an outstanding quality spinning reel that's under $100, the Pflueger President XT is truly hard to beat. 
Pros:
Sealed drag system 
Faster 6.2:1 gear raio
Aluminum main shaft and pinion gear
Smooth drag 
10 bearing system 
Smooth casting and retrieve 
Cons:
Some anglers might not like the rubber cork knob 
How We Rate Products
Russ Egan and Donny Karr have over 40 years of combined fishing experience. We know the difference between a high-quality reel and a poor alternative.
I thoroughly review all products to measure their performance, durability, and value for money. I conduct bench and field testing to check how the product performs. Each reel is tested for at least 8 hours, with a full test taking 2 full weeks. This testing results in an overall score that I give to all products. All metrics are scored out of 5.
Performance
The performance score is how well this product fulfills its primary purpose. Does it have all the features and optional extras you need to catch the target species? I also interview expert anglers on their experience to build a broader and more comprehensive view on the performance under multiple conditions.
I take all reels down to my local freshwater lake for bass and panfish, or inshore fishing off the beach for redfish.
Test 1: I confirm that the max drag meets the manufacturer's specifications using a calibrated scale.
Test 2: I test the maximum casting distance using a 1.0-ounce lure.
Test 3: I test the accuracy by casting 10 times into a 3 ft diameter circle at 30 yards.
Test 4: I check the versatility and the ability to handle multiple uses by field testing with 3 different lures and baits, by actually going fishing.
Durability
Durability refers to how long the product will continue functioning. I twist, bend, and break all the products to check their longevity. This score is for the materials of construction, the quality of the workmanship, and the servicing requirements. There are also bonus points for manufacturers' warranty.
For products that I can't test for long enough, I also consult with experts who have been using them for multiple decades to judge their longevity.
Test 5: I pull it apart to check the grease and oil levels, how difficult it is to maintain, and whether any sand or salt has deposited after use in saltwater.
Value for Money
The final aspect of the scoring system is the price or, more specifically, the value for money. Value for money is a comparison against the closest alternative products, both by the same manufacturer and other brands.
Overall Score
Finally, I average the three scores of performance, durability, and value for money to give the overall score of each product reviewed.
To see more details, please read the complete guide on how I test and evaluate fishing products.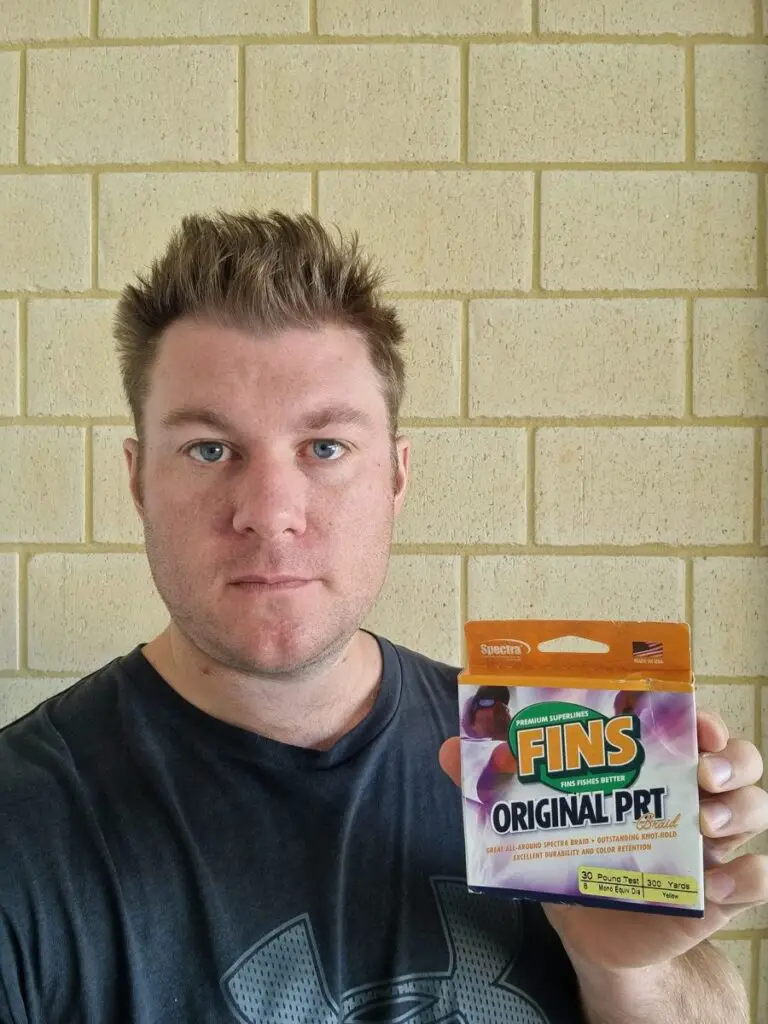 Conclusion 
The Pflueger brand is a favorite among saltwater anglers who regularly target inshore species because their spinning reels usually offer many of the right features and characteristics without the hefty price tag. There are plenty of other Pflueger spinning reels you can choose from, but these 7 reel models are widely believed to be the best the brand has to offer.