Discover the top fishing reel covers made with durable, water-resistant materials, these covers safeguard reels from scratches, dirt, and corrosion.
The Shimano Neoprene Cover is my top choice because of its thick design and quality construction. It features a wide range of sizes, tough stitching, and stretchy neoprene material. It is ideal for anglers who want to protect their gear from scratches during transport.
Fishing reel covers work to ensure that the fishing reel is securely protected. They are mostly made from polyester, endure and propane. They aid in ensuring your reel functions well during angling. These covers come in different sizes, shapes and colors, giving you a variety to choose from depending with your taste and preferences.
Reel covers are available in an array of types from different suppliers. The article below gives an in-depth reel cover buying guide for a beginner.
I travel a lot for fishing and need to protect my reels from damage during transit. I also make sure my unused reels are protected when I store them in the off season, so I have used a number of different reel covers over the last decade. All of the insight in this article is based on my own first hand experiences.
Available in Small to X-Large. Thick Neoprene Material.
1. Shimano Neoprene Cover
Bestseller No. 1
Most anglers are very familiar with the Shimano brand as the company has established itself as one of the best in the fishing industry for a number of reasons. Like most of their other products, Shimano's Neoprene Reel Cover is a great product that offers exceptional quality and can be used on a wide variety of different types of round, offshore-style reels that you want to keep covered on your fishing trips when they're not being used. 
Like most other reel covers available on the market today, the price of the Shimano Neoprene Reel Cover will vary depending on the size, which ranges from small, medium, large, and x-large. The reel cover's rounded design is specially made to protect baitcasting reels, as well as the line that's spooled on them. 
The neoprene fabric material is very thick and provides a type of cushion against impacts like dropping the reel or other instances where your reel might incur some type of scratches or other damage. The material also helps to adequately protect against saltwater corrosion that often occurs from ocean water spraying up as your boat streaks across the water's surface, heading to your favorite fishing spot. 
Thanks to the Shimano Neoprene Reel Cover's design, you can easily stretch it over any reel you want whether it's mounted to a rod or not. When you're ready to use the reel, simply pull the cover off and it will slide off with relative ease.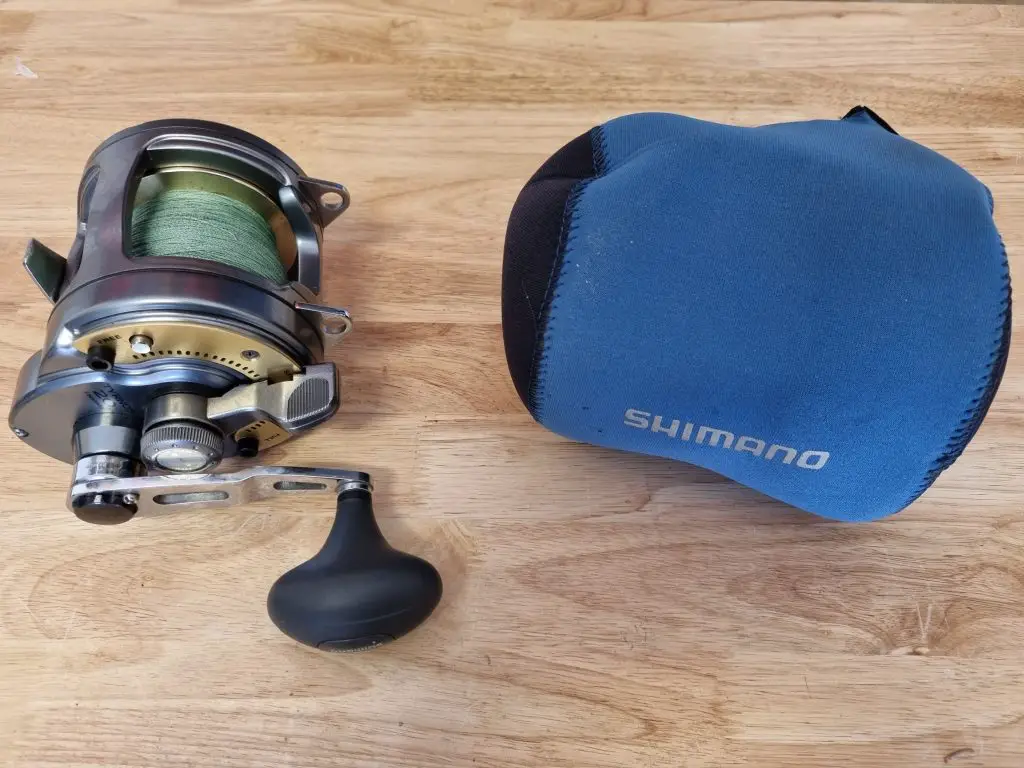 2. SF Spinning Reel Cover
ON SALE $1.00 OFF
Bestseller No. 1
Keeping your reels covered is highly important to expanding their overall lifespan, as well as ensuring that your fishing line doesn't wear out quickly from being exposed to the sunshine, rain, and other elements. The SF Spinning Reel Cover Case Bag Pouch is arguably the best overall reel cover for virtually any type of spinning reel since it's specially-made to protect the most valuable spinning reels on the market. 
The reel cover is able to fit onto most spinning reels of almost any size and one model is rated to fit on reels that are up to a size 3000 model while another is designed to fit onto reels that are from 3000 to 7000, and the largest is made for a size 7000 reel or larger. This means you're likely to be able to use one of these on virtually any size spinning reel. 
The SF Spinning Reel Cover is made with a thick, neoprene material that also provides decent protection from bumps or scrapes that might occur, as well as harder impacts that could possibly jar some of the reel's internal components and loosen them. This reel cover features an easy-to-use flap that is used to secure the cover to the rod and reel. 
3. Shimano Neoprene Spin Reel Cover
Bestseller No. 1
Another one of the best 10 fishing reel covers that must be included among our top selections is the Shimano Neoprene Spin Reel Cover. This is arguably the best selection for any spinning reel, but is a bit more expensive than the SF Spinning Reel Cover that we mentioned in our No. 2 spot. 
This particular reel cover is made of the same 3 mm neoprene material that the Shimano baitcasting cover is crafted from, giving it much of the same protective ability to guard against impacts, as well as the natural elements that will gradually wear down a reel's exterior, as well as the fishing line itself. 
The Shimano Neoprene Spin Reel Cover comes in three different sizes: small, medium and large. These sizes will generally fit most spinning reels with the rule of thumb being the small is capable of fitting up to a 3000 size reel, medium will fit up to a 7000 size reel, and the large will encompass anything larger than a 7000 size reel. 
This reel cover is made of neoprene fabric that's designed to stretch and cover the reel, so you'll be able to get a snug fit that won't slide around or easily be pulled off. 
4. Dr. Fish Fishing Reel Cover
Bestseller No. 1
Another great option among our list of the best 10 fishing reel covers is the Dr.Fish Fishing Reel Cover. This is likely to be the best budget-friendly reel cover option if you're looking for a good-quality cover that is a bit less expensive. 
The Dr.Fish Fishing Reel Cover is made to cover spinning reels and comes in three separate sizes that are essentially Large, X-Large, and XX-Large. The Large-sized reel cover will fit any reel up to a size 3000 while a X-Large will fit over any reel ranging from 4000 to 6000, and the XX-Large size is mostly designed for reels that are size 6000 and up. 
This reel cover is made with a thick, 4 mm neoprene material that offers plenty of cushion against impacts that could damage the reel. The cover also features enough interior room to fit most reels that have a foldable handle. You'll be able to firmly attach this cover to your rod and reel thanks to its velcro closure material. 
5. Jili Online 4X Case Neoprene Reel Cover
If you're in the market for a reel cover that will fit over a spinning reel that's up to a 3000 size, the Jili Online 4X Spinning Reel Cover Case is likely to be a great option that isn't overly expensive. This cover, like some of the others mentioned on our list, is made of thick, neoprene material that is designed to stretch over the reel and handle. 
The neoprene material is of very high quality and the stitching along the edges of the JIli Online 4X Spinning Reel is one that will adequately protect just about any type of spinning reel, but users sometimes complain that it doesn't quite fit over certain types of reels that are made in a size 3000 model. 
One of the most appealing features of this reel cover is the oversized flap, which is designed to properly seal out any water, or other material that might find its way into the reel cover and potentially damage the reel or the line itself. This model is a bit more expensive than some of the others on our list, but it is made with high-quality material that will last many years if cared for properly. 
6. Abu Garcia Revo Shop Neoprene Cover
Bestseller No. 1
If you're looking to purchase a great-quality cover for your low profile baitcasting reels, it can be difficult to find one that's relatively inexpensive and capable of providing adequate protection. The Abu Garcia Revo Shop Neoprene Cover – Low Profile does just that in a thick, neoprene material that is specially designed to fit most low profile baitcasting reel models like a glove—especially those within the Abu Garcia lineup. 
Most anglers who use low-profile reels rarely employ them anywhere outside of freshwater environments, but you'll be able to rest assured that this reel cover does protect against saltwater, as well as freshwater damage that could potentially occur. 
The Abu Garcia Revo Shop Neoprene Cover is made to fit over low profile reels that are fastened to a rod, which means you'll be able to keep your reels covered up until you're ready to make that first cast on the water. The neoprene material is 2 mm in thickness, which is slightly less than some of the others on our list, but still able to provide great protection from any damage or general wear-and-tear that  might happen. 
7. Lews Fishing LSCBS2 Speed Cover
Bestseller No. 1
It's no secret in the fishing industry that Lews is among the top brands when it comes to making both spinning or baitcasting reels. It should come as no surprise that the company also manufactures one of the best reel covers you're likely to find on the market today. The Lews Fishing LSCBS2 Speed Cover has everything you need to protect most spinning reels. 
One of the only drawbacks this reel cover could potentially have is that the online listing doesn't necessarily designate this as a spinning reel cover. However, the design should tip you off to the type of reel it's basically designed for. 
The Lews Fishing LSCBS2 Speed Cover is made with thick, 4 mm neoprene material that will stretch and fit over almost any type of spinning reel that's under a size 3000. The reel cover is capable of being quickly and easily removed thanks to a velcro fastening flap that covers the rod's reel seat. 
8. CAPACI Fishing Reel Bag Protective Cover
It's hard to find a reel cover that's capable of fitting over some of the industry's most popular baitcasting, spinning or spincast reels with one, single design. However, the CAPACI Fishing Reel Bag Protective Cover is one particular model that is capable of doing so to some extent. This reel cover is made to fit over most types of baitcasting and spinning reels, but anglers should be aware that it might not cover some brands. 
The reel cover will adequately fit over most spinning reels up to just about any size as it can be purchased in a large or small size. The cover is made from a thin neoprene material that is capable of protecting against rain or water that can be splashed up into your boat, as well as sunlight that might wear down the reel's quality over time. 
The material is not as thick as some of the other options we've mentioned in our list of the best 10 reel covers, which means you won't get the same level of impact protection from the CAPACI Fishing Reel Bag that you might expect from another model that's made with thick neoprene. Nevertheless, this reel cover is a great option that's affordable enough for most anglers to purchase. 
9. Shimano Tiagra Conventional Reel Cover
Bestseller No. 1
Another Shimano reel cover that we truly should mention among our selections for the best reel covers on today's market is the Shimano Tiagra Fishing Reel Cover. This one is specially designed to fit the highly-expensive and exceptional quality Shimano Tiagra reel, but it is quite capable of fitting over just about any other round baitcasting reel as well. 
This reel cover is made with a super thick, 5 mm neoprene material that's guaranteed to provide adequate protection from most impacts the reel might incur, as well as the many types of natural elements that you also want to guard against and prolong the lifespan of your reel and its fishing line. 
There are a variety of different sizes to offer a customized fit for each one of the Shimano Tiagra reel's sizes. You only need to look up the size reel and the corresponding cover size to determine which one you would use for any other brand of reel that's similar in size. This cover allows you to keep your reel protected whether its mounted on the rod or not. 
The Shimano Tiagra Fishing Reel Cover is one that we could easily mention in a higher position, but the size options can be a bit confusing for some users who aren't well-acquainted with Shimano Tiagra size options. 
10. Booms Fishing RC2 Spinning Reel Cover
Another outstanding option that should be considered among anglers who are looking for a more budget-friendly option is the Booms Fishing RC2 Spinning Reel Cover. This model is relatively inexpensive and offers great quality material that's capable of fitting most reels like a glove. 
The main feature that should attract the attention of anglers is the reel cover's breathable mesh portion that allows any moisture or wetness on the reel to dry out more thoroughly and help prevent rust or other corrosion that can occur if you forget to let your rod dry out before putting it away in a cover. 
The Booms Fishing RC2 Spinning Reel Cover will fit most spinning reel models as the small size cover is made for reels that are size 2000 to 3000 and the medium is designed for reels that are sized 3000 to 5000. These covers feature 3 mm neoprene material that will protect your reel from most impacts or other elements that you want to guard against when you're on the water. 
Fishing Reel Cover Buying Guide
Reel covers are very vital in protecting your angling reel from the listed factors.
Types of Fishing Reel Covers
Fishing reels fall into four distinct categories. You can buy a cover suitable for:
Spinning Reels
Baitcasting Reels
Spincast Reels
Fly Reels
All these four share the same principle of casting a line to the desired location. While selecting your reel cover, be sure to pick a cover suitable with the category of your fishing reel. They all have different shapes and sizes, so selecting a correctly sized cover is key.
Cost
Reel covers vary in prices regarding the material used, type of reel to be used on and brand. Depending on your angle, you need to get a reel cover that will serve you effectively and for a long time. Do due diligence on the market prices to have a precise price estimate.
Reel covers start at $10 for a simple neoprene design and can go up to $40 for branded designs that give a snug fit.
Material
Reel covers are made of neoprene, endura and polyester materials. The most common and widely used material is neoprene. They have been tested and proved to be durable, flexible and offer a degree of padding hence making it the most ideal. They are waterproof and available in a variety.
Polyester is the other material. Polyester reel covers do not worn down quickly due to their strong fibers – they are flexible and resistant to saltwater and UV sunlight. Additionally, these covers dry quickly hence ideal for covering your reel during any weather condition.
Color
Reel covers come in different colors. The type of material used to manufacture the cover determines the color of the outcome. Neoprene covers are available in black color only. Polyester and endura covers have a variety of colors from red to black to army green to blue to grey. If you are color sensitive and want to improve the theme of your angling mission, spice up your equipment with a cool colored reel cover.
Quality
Neoprene covers have been tested and proved to be ideal covers for any reel. They are durable, flexible, and waterproof. They are UV and saltwater resistant. However, if you want a material that dries up quickly and can be used in angling in any weather condition gore for polyester reel covers.
Get quotations from different suppliers and compare who is in line with your budget. Remember, quality cannot be compromised with the price. Bulk buying may come with attractive discounts. However, it would be best to consider shipping costs, which increases the covered price.
Size
Depending on the manufacture or brand, reel covers come in an array of sizes. The type of reel will determine which cover scope best suits you. Reel covers should have a maximum of over 8 inches in width to accommodate your reel fully. However, the size of a reel cover can be customized to fit your desired measurements.
Furthermore, understand that spin casting reels and bait casting reels are different in sizes; hence you cannot use the same reel cover on the same. Ensure you know the type of reel you are dealing with and get a suitable cover for it.
Ease of Use
All covers are generally easy to fit on and off the rod. The only determinative factor is the durability. As a novice, you might consider seeking advice from an experienced angler on which cover is the most ideal. An ideal product should be flexible and stretchable for more comfortable fitting and removal.
Conclusion
Ensuring your reels remain functional for a longer time get a reel cover. It will go on a long way to save you on repair and maintenance costs of the reel. Take your time in purchasing a good reel cover as it is an important piece of equipment.

Last update on 2023-09-29 / Affiliate links / Images from Amazon Product Advertising API