Are you looking for an electric fishing reel for your deep waters fishing hobby? The odds are that your current fishing reel is not getting the job done for you. Every angler knows that the fishing reel they will use will shape their fishing experience.
Finding the ideal fishing reel is a daunting task. That is why we have created this review to help you find the best fishing reel.
Shimano beastmaster reel is the perfect electric fishing reel that wants to catch big gamefish. This fishing reel can be used for any type of fishing including kite fishing, marlin fishing, and deep bottom dropping.
Anglers who have been using this fishing reel can attest that it is one of a kind. Read on to learn more about the Shimano beastmaster reel.
3.1:1 Gear Ratio

Adjustable 55 lb Drag

14 Double Shielded Ball Bearings

180 m/minute Retrieve Rate
Japanese Manual can make it difficult to understand
Learn more about how our scoring system works.
Main Features of Shimano Beastmaster Reel
This outstanding fishing reel gives anglers the confidence and strength to fight against horrific and monstrous sea creatures, thanks to its reliable level of reel torque power and heat dissipation. The following are the main feature of this great fishing reel:
Shimano beastmaster reels have powerful brushless motors to increase efficiency and reliability. Brushless motors also improve the durability of the fishing reel and reduce noise.
It is ultra-lightweight to allow anglers to take advantage of small lures, jigs, and tender tackles – anglers can use this fishing reel for a long time without getting tired.
Shimano beastmaster reel is the only electric fishing reel that has a 50% reduction of drag heat. This makes it one of the best performing and durable fishing reels.
Features 10% more winding power than other electric fishing reels to allow deep water fishing enthusiasts to fight and catch big sea monsters.
This electric fishing reel also has 55 Ibs of adjustable drag power, making it the perfect fishing reel for the deep waters.
It has a fabulous torque due to the outstanding planetary gear system.
With an incredible winding strength of 250 lbs, this electric fishing reel makes deep-sea fishing seamless.
It has a full 3.1.1 gear ratio, the perfect speed for every monster fish.
Its LCD screen with an English menu makes it easy to use and operate an electric fishing reel.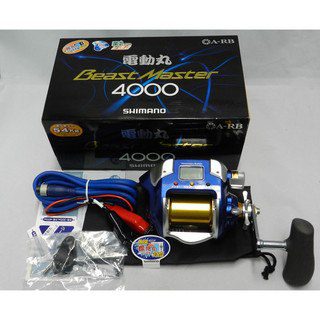 Design Criteria
Unlike other electric fishing reels, the Shimano beastmaster reel is the only fishing reel that combines power, heat dissipation, and durability. This fishing reel from Shimano looks like a spaceship and gives anglers the confidence they need during a fierce battle against fierce sea monsters.
Product Highlights
Like all electric fishing reels, the Shimano beastmaster reel makes it easy to pull up fish from the deep sea and to hold big fish. This electric fishing reel also winds the line and increases the time anglers can fish manually. Read on to discover why the Shimano beastmaster reel is different from other reels in the market:
A Powerful Gigmax Brushless Motor
One of the outstanding features of this fishing reel is its 10% more powerful Gigamax brushless motor. Apart from the cosmic power and incredible power, the fishing reel is reliable because it does not overheat or burn out. Its cosmic speed means that sharks and other sea monsters will not eat your big catch.
Ultra-Lightweight
Shimano beastmaster reel is the only extremely lightweight reel with high power and reliable properties. With a weight of 52.4 oz., this fishing reel is easy to use and carry. It will also allow you to fish for several hours without getting tired.
Thermo to Adjust Drag
Overheating is one of the serious flaws of several electric fishing reels. However, the Shimano beastmaster reel is one of a kind because it has a thermos to adjust drag that reduces 50% of heat. This perfect electric fishing reel also has a heat-free system that facilitates the release of heat through the side vents.
More Winding Power and Cross Carbon Drag
Shimano beastmaster reel is the perfect fishing reel for every angler who loves fighting monstrous deep waters creatures due to its awesome winding power and cross carbon drag.
Fabulous Torque
Shimano beastmaster reel is the only electric fishing reel with incredible torque thanks to its gear system, 250Ibs winding strength, and 55Ibs drag force. Anglers who use this fishing reel can catch big fish while keeping sharks and other fierce sea creatures at bay.
Double Shielded A-RB Bearings
This fishing reel has corrosion-treated bearings with a shield on both sides to prevent salt, dirt, and foreign substance from decreasing their rotations. The two shields ensure smooth and consistent performance.
A Full 3.1.1 Gear Ratio
Shimano beastmaster reel can pull in 35″ of lines per crank thanks to the full 3.1.1 gear ratio.
Audible Drag Sound
Unlike other electric fishing reels, the Shimano beastmaster reel makes an audible drag sound instead of a mechanical clicker. Anglers have better feedback during a fight thanks to its audible drag sound.
Shimano beastmaster Reel has an LCD Screen With an English Menu
Using and handling this electric fishing reel is extremely easy thanks to its LCD screen with an English menu. Anglers can select their preferred mode and control the fishing process easily and quickly.
Manual Mode
This awesome fishing device also has a manual mode set-up. Anglers can take advantage of the manual mode during kite fishing.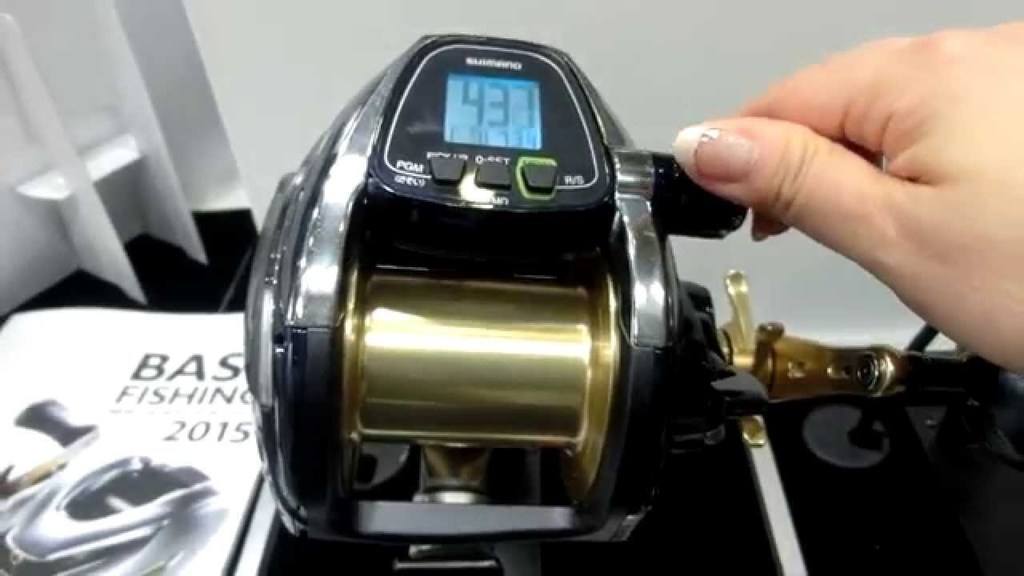 Pros
Anglers who use this perfect fishing reel stand to enjoy several benefits. Learn more about the benefits of the Shimano beastmaster reel below:
It has a manual mode for kite fishing
More winding power
Shimano beastmaster reel has an aluminum clod forged clutch lever
Fabulous torque
Does not need binding
The only electric fishing reel with an awesome drag sound
Extremely lightweight
Reduced drag heat
Brushless motor
250 lbs winding strength
Sturdy and reliable
A full 3.1.1 gear ratio
Double shielded bearings
Drawbacks
Shimano beastmaster reel also has its share of drawbacks. Below are some of the common disadvantages of this fishing reel:
This is an extremely expensive reel – but considering it is the top of its class electric reel made from the absolute top-quality construction materials it makes up for it. I can promise you that when you have a big game fish on the line then you will be happy you didn't skimp.
The manual needs improvement.
Shimano Beastmaster Video Review
This video shows the Shimano Beastmaster MD3000 and EJ1000 in action:
Shimano Beastmaster vs Speedmaster
I also like to compare reels to their competitors to judge their performance and value for money. This was a difficult decision in this case because the Beastmaster is an absolute premier reel – it is hugely powerful, with a lot of line capacity and its electric gearing system is unrivaled.
So what I have done is select another one of Shimano's high-end conventional reels in the SpeedMaster II. The Beastmaster is a much larger and more expensive reel, so it comes with a higher line capacity, higher number of bearings, and max drag. Although on the downside it is significantly heavier.
If you are looking for an electric reel then the Beastmaster is hard to walk past, but if you are just considering a high-end conventional reel then check out the SpeedMaster. I have put together a comparison of their specifications below which shows these differences – even though both of these reels have extremely high-performance features:
| | | |
| --- | --- | --- |
| Specifications | SpeedMaster II | Beastmaster |
| Bearings | 4 | 12+2 |
| Gear Ratio | 5.2:1 / 2.3:1 | 3.1:1 |
| Retrieve Per Crank | 52 inch | 34 inches |
| Max Drag | 44 lb | 55 lb |
| Weight | 34.6 oz | 52 oz |
| Braid Capacity | 575 yards of 80 lb | 984 yards of 80 lb |
Final Thoughts
Shimano beastmaster reel is a real beast since anglers can use it for any type of fishing. It is easy to use because it is extremely lightweight and is the only electric fishing reel that combines fabulous torque power, durability, and great optimal heat dissipation.
Happy fishing!