The best spincast reels have more than 5 ball bearings, at least 80 yards of 6 lb mono line capacity, a gear ratio of around 4.0:1, and an adjustable drag.
The Zebco Omega Pro is my top choice because of its superior performance that beats every other spincast reel on the market. It features a ceramic line pickup mechanism and a fully-protected internal chamber. It is ideal for bass anglers who want the top performing spincast reel available.
Spincast reels are considered the perfect choice for anglers just getting started in the sport of fishing. They're simple to understand, easy to use, and anglers are just as capable of catching any type of game fish species on spincast reels as they are spinning or conventional reels. 
The spincast reel has been a pillar of the fishing industry and is commonly used by beginner and novice anglers as they get their start in the sport. It is greatly valued as the best type of fishing reel for beginners because of its simplicity and ease with which the spincast reel can be cast, as well as its maintenance-free design compared to other types of reels. 
In this article, we'll take a closer look at some of the characteristics you need to pay attention to when looking to purchase a spincast reel while also covering the best spincast reels that are currently available on the market today. 
Based on my own personal testing experience, I rate each reel on its performance, durability, affordability, value for money, and comfort.
Pre-Spooled with 10-Pound Line
Dual Paddle Handle
Tungsten Carbide Pickup
Instant Anti-Reverse Technology
Pre-Spooled with 10 Pound Fishing Line
85 Yards of 10 lb Line Capacity
Corrosion Proof Components
3.4:1 Gear Ratio
1. Zebco Omega Pro Spincast Reel
Saltwater rated
Pre-spooled with fishing line
7 ball bearings 
Lightweight design 
Premium quality internal components 
What I Like About It
I recommend the Omega Pro for all bass anglers. It is durable, affordable, and performs better than alternate spincast options.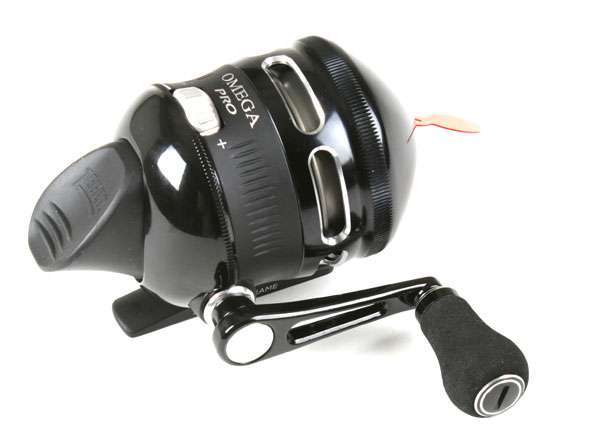 Pros:
Saltwater rated
Pre-spooled with fishing line
7 ball bearings 
Lightweight design 
Premium quality internal components 
Cons:
Slightly slower gear ratio 
2. Daiwa Goldcast Spincast Reel
What I Like About It  
I recommend the Daiwa Goldcast for beginner anglers still learning to cast and retrieve. It is incredibly easy to use and simple to operate.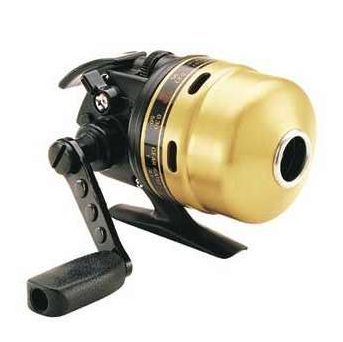 Pros:
Durable design 
Metal interior components 
Tungsten carbide line pickup
Single ball bearing for simple operation 
Cons:
Slightly heavier than other models 
3. Pflueger President Spincast Reel
3.4:1 Gear Ratio
160 yards of 8 lb mono
5+1 ball bearings
Durable Design
What I Like About It
I recommend the Pfluger President Spincast Reel when an angler is looking for more casting distance and line capacity.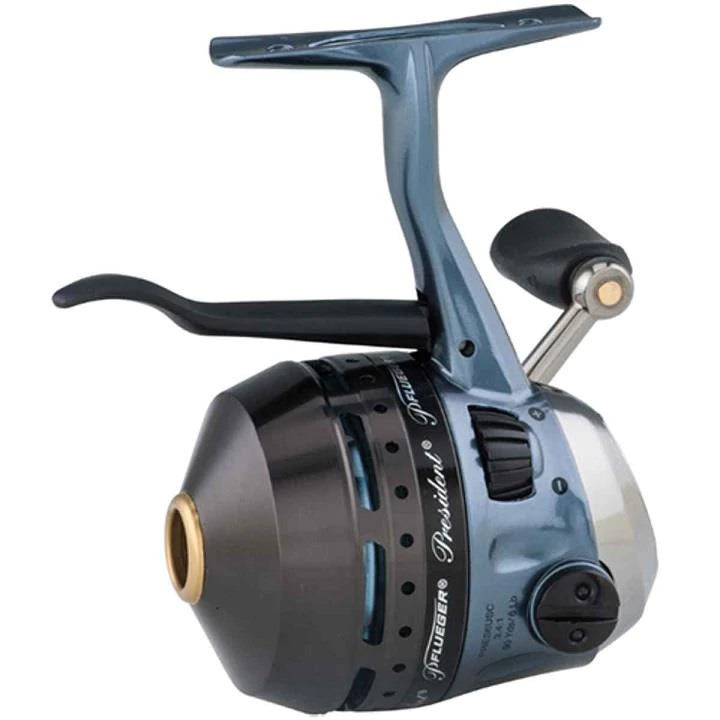 Pros:
Durable body
Lightweight feel
Five ball bearings
Anti-reverse capability 
Two different sizes
Cons:
A bit slow for some anglers
Requires regular maintenance 
4. Daiwa Silvercast A Series Spincast Reel
4.3:1 Gear Ratio
Suited for Saltwater
Lightweight at 9 oz
Capable of Handling 10 lb Line
What I Like About It
I pick the Silvercast when I need extra power or target larger fish species or trophy bass.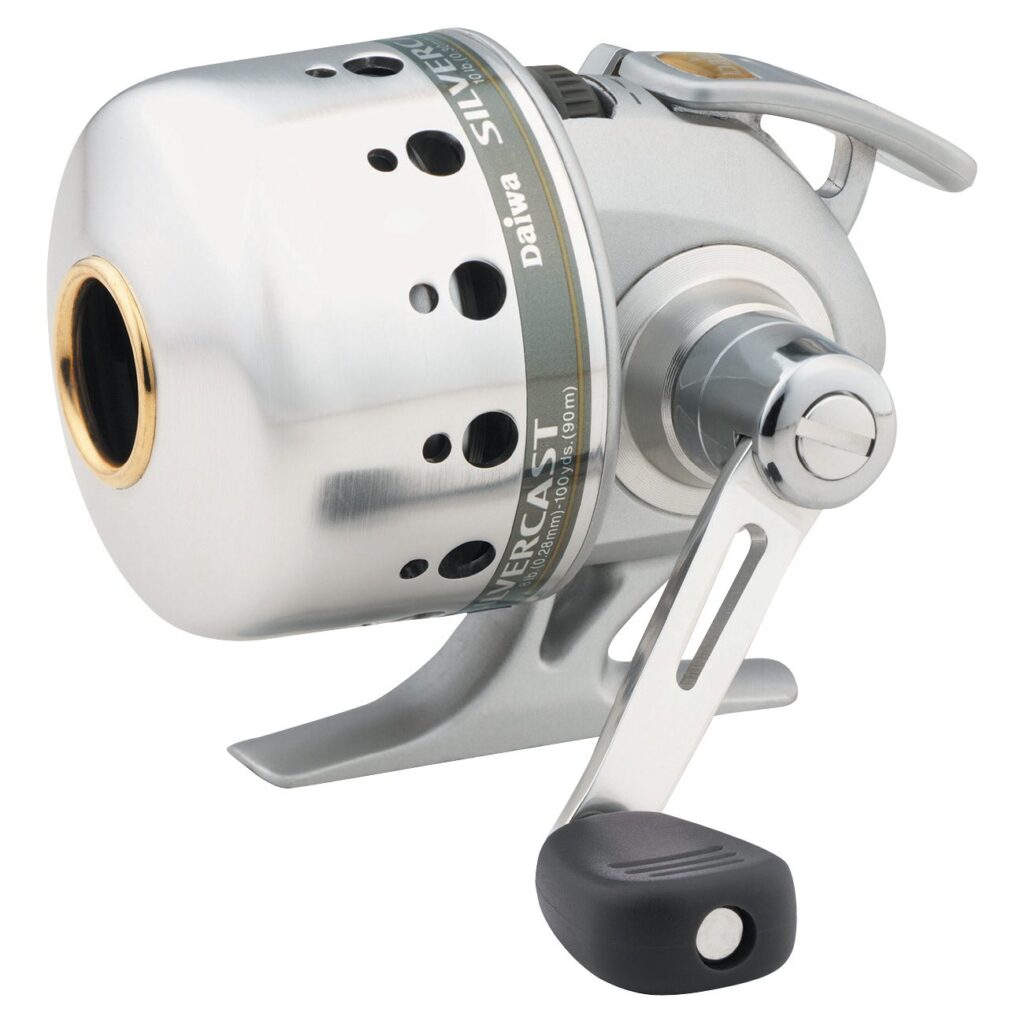 Pros:
Lightweight yet tough
Capable of handling larger fish
4.3:1 gear ratio
Three ball bearings 
Cons:
5. Zebco Bullet High-Speed Spincast
What I Like About It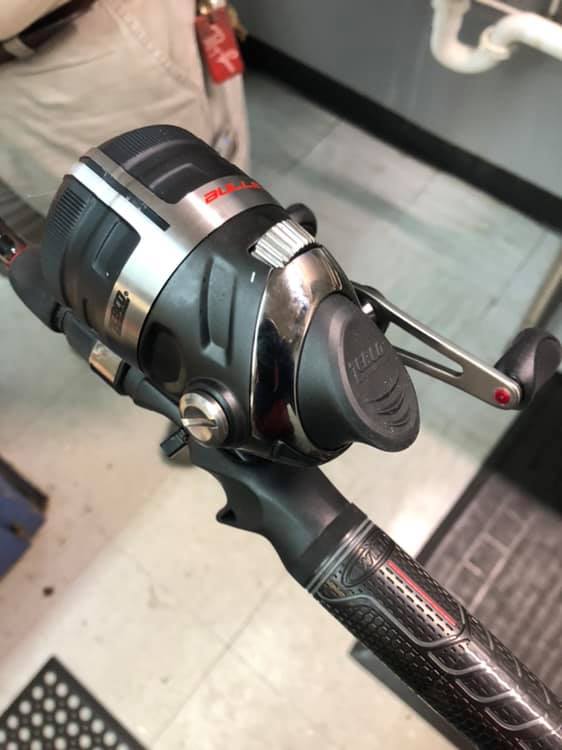 Pros:
Fast retrieve 
Incredibly smooth experience 
Premium quality body 
9 ball bearings design 
Cons:
Slightly heavier than other models 
6. Pflueger Trion Push Button Spincast Reel
5 Stainless Steel Bearing System
Lightweight Aluminum Frame
Dual Titanium Pins
Instant Anti-Reverse Feature
What I Like About It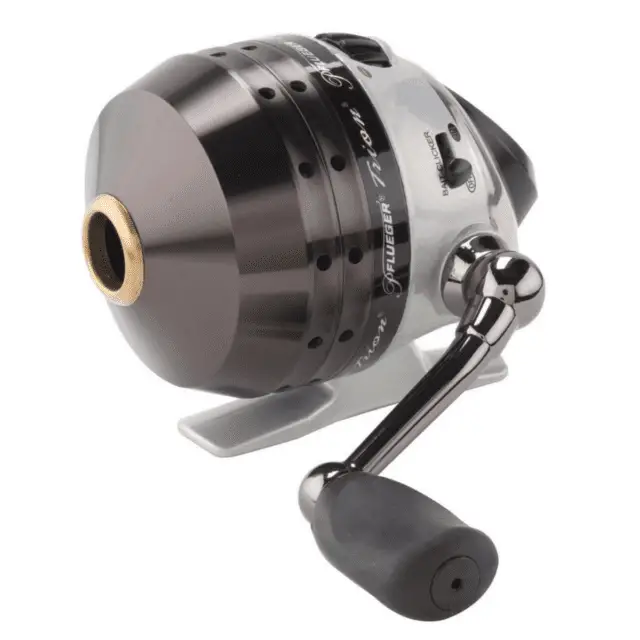 Pros:
Smooth operation
Standard push button or trigger model
Tough aluminum material 
Cons:
Line guide can have some issues 
7. Zebco Omega Spincast
7 Ball Bearing Design
Stainless Steel Ball Bearings
Ceramic Line Guide
Best Value for Money Spincast
What I Like About It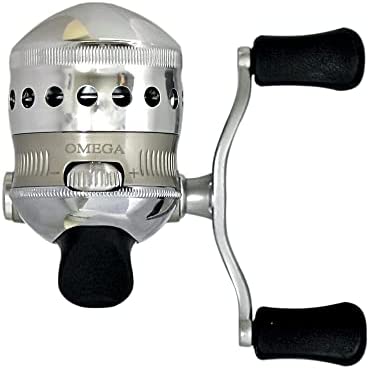 Pros:
Smooth 7 bearing system 
Durable design 
Ceramic line guide 
Rapid change spool 
85/10 mono capacity 
Cons:
Requires regular rinse and lubrication 
8. Abu Garcia Abumatic Spincast Reel
Dura Matrix Drag System
Tough Aluminum and Carbon Material
Heavier, Durable Design
3.9:1 Gear Ratio
This is the most durable spincast reel on the list. If you are particularly clumsy or worry that your kids will damage it, pick the Abumatic.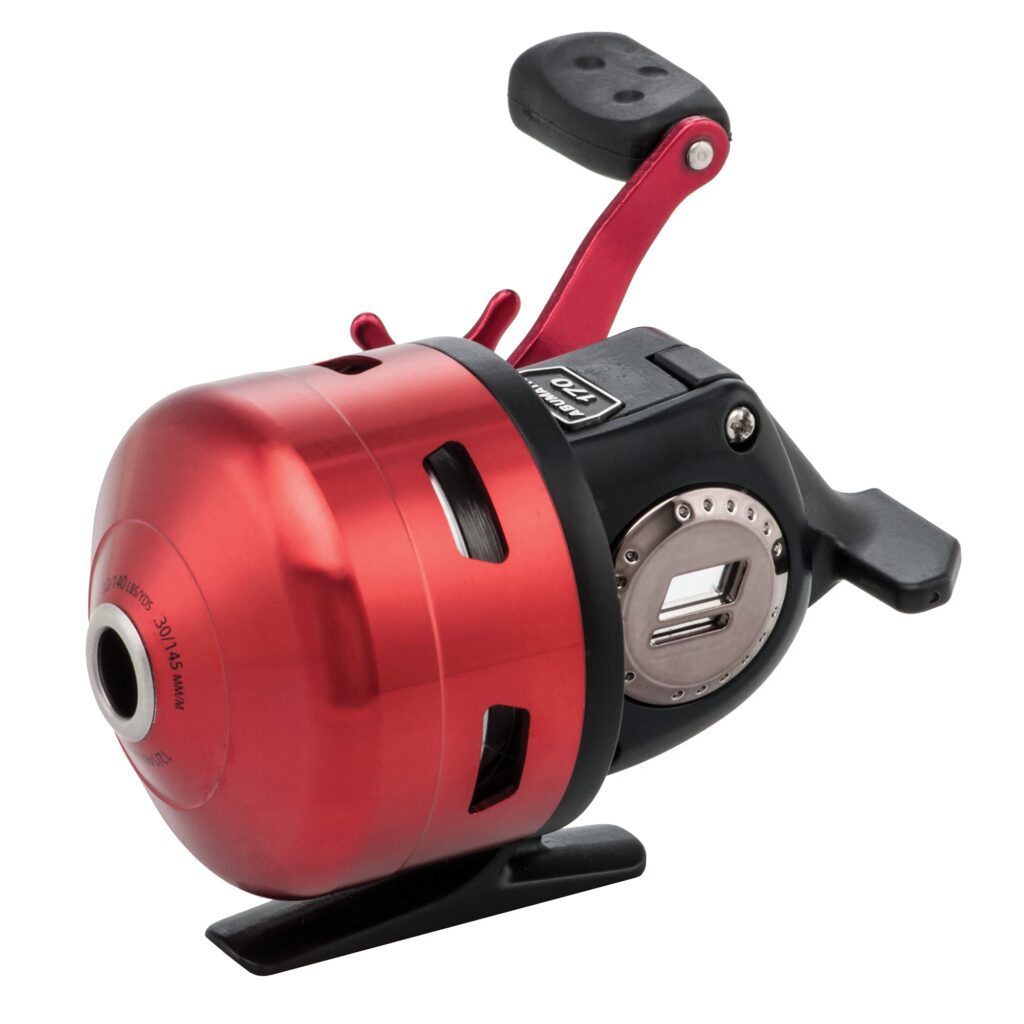 Pros:
Tough design 
3.9:1 gear ratio
Easy to use
3 bearings 
Cons:
9. Daiwa Underspin US XD Lightweight Spincast
What I Like About It
Pros:
Ultralight experience 
Low profile design 
Single bearing interior 
Cons:
Can be tough to mount to some rods
10. Zebco 33 Spincast Reel
What I Like About It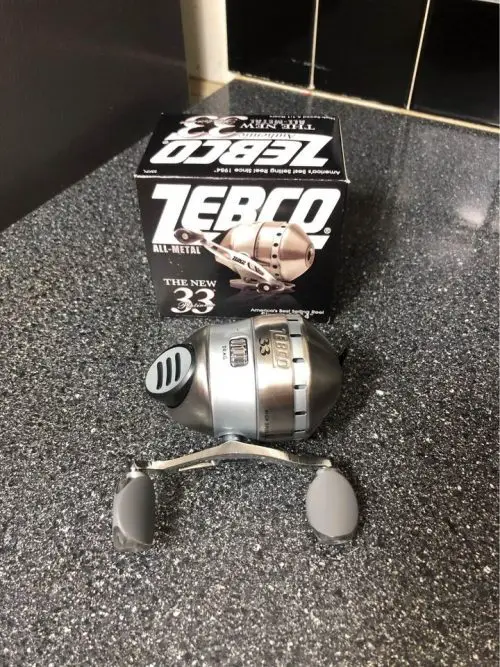 Pros:
Stellar reputation for reliability 
Durable 
Simple, easy-to-use design 
Good value 
Cons:
Not the smoothest spincast model 
Specification Comparison
| | | | | |
| --- | --- | --- | --- | --- |
| Spincast Reel | Score | Gear Ratio | Ball Bearings | Mono Line Capacity |
| Zebco Omega Pro | 5/5 | 3.4:1 | 7 | 85 yards of 6 lb |
| Daiwa Goldcast | 4/5 | 4.1:1 | 1 | 75 yards of 8 lb |
| Pflueger President | 4/5 | 3.4:1 | 5 | 70 yards of 8 lb |
| Daiwa Silvercast | 3/5 | 4.3:1 | 3 | 75 yards of 8 lb |
| Zebco Bullet | 4/5 | 5.1:1 | 9 | 90 yards of 10 lb |
| Pflueger Trion | 4/5 | 4.1:1 | 2 | 90 yards of 8 lb |
| Zebco Omega | 4/5 | 3.4:1 | 7 | 85 yards of 6 lb |
| Abu Garcia Abumatic | 4/5 | 3.9:1 | 3 | 110 yards of 8 lb |
| Daiwa Underspin | 3/5 | 4.1:1 | 1 | 85 yards of 4 lb |
| Zebco 33 | 4/5 | 3.6:1 | 5 | 110 yards of 10 lb |
Spincast Reels Buyer's Guide 
When looking to purchase a spincast reel, there are several characteristics you need to pay attention to to be sure that you're getting a quality product. Spincast reels have a very different overall design when compared to conventional or spinning reels, so the following areas are important indicators of quality when it comes to spincast reels. 
Spincast reels are also known as a closed face reel or a push button reel.
I have also written an article explaining the situations that you would use a spincast reel that you might enjoy.
| Specification | Recommended Value for Bass |
| --- | --- |
| Gear Ratio | 5.1:1 to 6.2:1 |
| Ball Bearings | 3 to 6 |
| Line Capacity (lb/yards) | 8-10 lb / 100-150 yards |
| Line Retrieve Rate | 20-25 inches per turn |
| Max Drag | 8-12 lbs |
| Reel Weight | 6-12 oz |
| Frame Material | Aluminum or graphite |
| Spool Material | Aluminum or graphite |
| Handle Material | Aluminum or EVA |
Design and Construction 
The material that a spincast reel is made of is highly important as it will determine its overall durability and performance in many ways. Pay close attention to whether a spincast reel is made out of plastic material, or if it's crafted from a more solid, metal or graphite material. 
Some of the spincast reels made especially for beginners are made of less durable plastic material—especially smaller models designed for kids. When judging whether or not a spincast reel's outer housing will be tough enough to handle the rigors of fighting and reeling in larger-sized fish, it's important to note whether the reel features aluminum or graphite housing material around the spool and internal components. 
Push Button vs Underspin Style 
Two main types of spincast reels are popular among the many brands that manufacture these types of reels. The push button style of reel is much more prevalent across the fishing industry as it can be operated by kids and anyone else with limited amounts of fishing experience. 
The underspin reel style is quite different as it features a spool and other mechanisms underneath the rod handle. This type of reel looks very similar to a spinning reel design and typically features a 'trigger' mechanism to engage the spool instead of a button that must be pushed. 
In either case, the casting method is relatively the same with each reel style. Anglers must first push the trigger or button down and hold it while making the cast, only to release the button or trigger immediately when the lure will be cast out using the rod. 
Pickup Pins 
Unlike a spinning reel, which uses a bale to gather the fishing line and properly spool it onto the reel, a spincast reel utilizes smaller pickup pins that function within the inner housing of the reel more complexly. These pins are covered and are not disturbed by any outside factors in the same way a spinning reel or even a conventional reel might be susceptible to. 
While this design is much easier for beginners to handle (since it does most of the intricate work for you), the pickup pins inside your spincast reel can only operate at a certain level. This means your retrieval rate will be dictated by the rate at which these pickup pins are capable of working inside the reel. While other types of reels can have a much faster retrieval rate, spincast reels are severely limited in this respect. 
If you're concerned with getting a spincast reel that offers a faster retrieval rate, it's important to look for a model that features more pickup pins inside its reel design. Another key factor related to retrieval is what the pins are made out of. Better quality spincast reels will often feature metal pickup pins that are stronger and will outlast pins that are made of plastic or composite material. 
Line Capacity 
Spincast reels don't have quite the same amount of line capacity that spinning or conventional reels offer. Some premium spincast reel models can hold up to about 100 yards of fishing line, but this number will often depend on the specific pound test you're using as well. 
The line capacity is one of the most glaring differences between spincast reels and other types of reels. Anglers also tend to shy away from using spincast reels because they are not conducive to being spooled with braided lines as it usually can't be properly fed into the pickup pins and spooled back onto the reel itself during retrieval. 
Remember that your line capacity with any model spincast reel will significantly decrease as you move to heavier mono or fluoro lines. It's very important to use only the types of fishing line that the spincast reel is rated for since using a too heavy line could result in tangled up inside the housing. 
Gear Ratio 
Anglers who generally prefer to use spincast reels understand that the gear ratio of a specific spincast model can truly be the most important factor in some cases. Most amateur anglers think of gear ratio only regarding line retrieval. Still, this factor also significantly affects how a lure runs through the water and whether or not a fish will find it attractive enough to take a bite. 
If a spincast reel is made with a low gear ratio, the reel may not be suitable for using certain lures like spinnerbaits, crankbaits, and other types of items that require a smooth, steady retrieval. If the gear ratio is too high, the lure will be zipped through the water too quickly and won't have an opportunity to finesse any nearby fish into gaining their attention or even enticing a strike. 
A spincast reel rarely has a gear ratio that's too fast, but it is very common to see them with a slower-than-average ratio. If you're unsure of the right number to look for in relation to gear ratio, select a spincast reel with a gear ratio of no more than 4.5:1 and no less than 2.5:1. 
Bearings 
Bearings can make or break a spincast reel. Not having enough of them or a reel made with poor quality bearings will render the product much less effective at a smooth retrieval. The number of bearings might not always be the most important factor. It's also crucial to ensure the bearings are in the right place or made of quality materials like stainless steel. 
If you're looking into the finer details of a spincast reel and you're having trouble finding out how many bearings it has, or what the bearings are made out of, this is usually an indication that the manufacturer is conveniently leaving out these details because the reel doesn't have them or is made with cheap bearing material. 
Drag Adjustment 
Another part of spincast reels that is all too often overlooked is the specific drag adjustment mechanism. Many push-button spincast reels will feature a star drag adjustment, typically located on the handle of the reel and can be twisted to adjust the drag. 
More premium-quality spincast reels often feature a drag system controlled by a simple wheel or knob on the reel housing's top or side. It's very important to make sure you can properly adjust the drag on your reel as this is often quite literally a make-or-break factor when it comes to fighting large fish that are capable of pulling hard and stripping out the internal components of a reel that has a drag that's set too high. 
How We Rate Products
Russ Egan and Donny Karr have over 40 years of combined fishing experience. We know the difference between a high-quality reel and a poor alternative.
I thoroughly review all products to measure their performance, durability, and value for money. I conduct bench and field testing to check how the product performs. Each reel is tested for at least 8 hours, with a full test taking 2 weeks. This testing results in an overall score that I give to all products. All metrics are scored out of 5.
Performance
The performance score is how well this product fulfills its primary purpose. Does it have all the features and optional extras you need to catch the target species? I also interview expert anglers on their experience to build a more comprehensive view of the performance under multiple conditions.
I take all reels down to my local freshwater lake for bass, or inshore fishing off the beach for redfish.
Test 1: I confirm that the max drag meets the manufacturer's specifications using a calibrated scale.
Test 2: I test the maximum casting distance using a 1.0-ounce lure.
Test 3: I test the accuracy by casting 10 times into a 3 ft diameter circle at 30 yards.
Test 4: I check the versatility and the ability to handle multiple uses by field testing with 3 different lures and baits, by actually going fishing.
Durability
Durability refers to how long the product will continue functioning. I twist, bend, and break all the products to check their longevity. This score is for the construction materials, the workmanship quality, and the servicing requirements. There are also bonus points for manufacturers' warranty.
For products I can't test for long enough, I also consult experts who have been using them for decades to judge their longevity.
Test 5: I pull it apart to check the grease and oil levels, how difficult it is to maintain, and whether sand or salt has deposited after use in saltwater.
Value for Money
The final aspect of the scoring system is the price or, more specifically, the value for money. Value for money is a comparison against the closest alternative products, both by the same manufacturer and other brands.
Overall Score
Finally, I average the three scores of performance, durability, and value for money to give the overall score of each product reviewed.
To see more details, please read the complete guide on how I test and evaluate fishing products.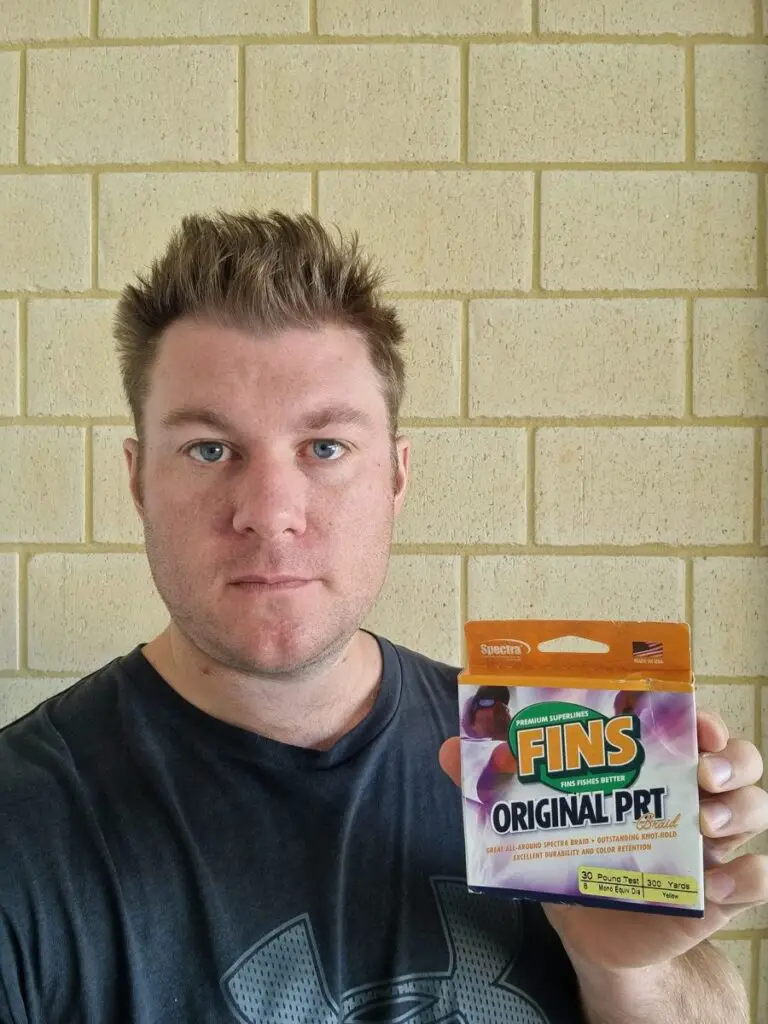 Conclusion 
There's no denying that spincast reels help take a lot of the guesswork out of handling a rod and reel and truly allow young and beginner anglers to enjoy catching fish without worrying too much about their equipment. There's also nothing wrong with experienced anglers who prefer to rely on the simple and straightforward design and reliable performance these reels offer. 
A few other models didn't make this list, such as the Zebco 202 and the KastKing Brutus.
If you're new to fishing, selecting a closed face fishing reel is a great place to start your journey. However, if you've been fishing for several years and are still unfamiliar with just how these reels work on the inside, I hope this article will help enlighten you to the inner workings of the spincast reel and work to improve your knowledge and understanding of the sport as well.