The best spinning rods are extremely durable, have a wide range of actions and powers, have a comfortable non-slip grip, and corrosion-resistant guides, such as the Ugly Stik GX2.
Planning for your next fishing adventure and looking forward to catching more fish? Then this is a must-read for you. Catching fish will always be one of the most thrilling pastimes ever. There's no one activity that is simultaneously as exciting and as peaceful as fishing.
So if there's a need for the best spinning rod then today we'll have a mini trip to find one. Explore the whole article to learn a lot of interesting details about the best spinning rods. I'll be providing the five best spinning rods reviews that are perfect for a fishing tour.
I'll be also talking about the important factors that will make your purchasing journey an easy thing.
I judge each reel personally based on its performance, durability, cost, value for money, and comfort based on my own individual testing experience. 
So stop waiting and start reading.
Quick Summary – Best Spinning Rods
| | | | |
| --- | --- | --- | --- |
| Editor's Comments | Most Durable | Best Overall | Best Value for Money |
| Product | Ugly Stik Elite | Ugly Stik GX2 | Shimano FXS |
| Preview | | | |
| Best Suited For | Heavy Duty Workhorse | Great All Rounder | Two Piece Travel Rod |
| Features | Virtually indestructible jigging rod | Extremely Durable and Versatile | Comfortable, Firm Grip, built for a wide range of applications |
| Construction Material | Fiberglass | Graphite and Fiberglass Composite | Aero Glass |
| More Information | Check Latest Price | Check Latest Price | Check Latest Price |
How We Rate Products
I thoroughly review all products to measure their performance, durability, and value for money. This testing flows into an overall score that I give to all products. All metrics are scored out of 5.
Performance: The performance score is how well does this product fulfill its primary purpose on the water. Does it have all the features and optional extras you need to catch the target species?
Durability: Durability refers to how long the product will continue functioning. This is both the materials of construction, the quality of the workmanship, and the servicing requirements. There are also bonus points for manufacturers' warranty.
Value for Money: The final aspect of the scoring system is the price or, more specifically, the value for money. Value for money is a comparison against the closest alternative products, both by the same manufacturer and other brands.
Overall Score: Finally, the average of the three scores in performance, durability, and value for money is used to give the overall score of each product reviewed.
To see more details, please read the complete guide on how we test and evaluate fishing products.
11 Best Spinning Rods
1. Ugly Stik GX2 Spinning Rod
Extremely easy to use
Convenient weight in one hand
Solids parts
Easy to store and carry
The handle can be too small for large hands
2. Ugly Stik Elite Spinning Rod
Suitable for jigging
Very durable for everyday use
Manageable weight for casting
Able to handle large fish
3. Shimano FXS Spinning Rod
Extra durable with good construction
Firm grip
Comfortable to use with a nice balance
Easy to use and cast
Suitable for most situations
Can be on the heavy side when you hold it in one hand
4. Cadence CR5 Spinning Rod
Affordable price tag
High-quality construction
Easy to carry and store
High maintenance and needs to be looked after with care
5. OKUMA Celilo Graphite Trout Rods
The perfect trout rod
Suitable for almost any conditions
Good at casting and retrieving
Highly sensitive
Easy and comfortable to carry
The shipping process can be poor
6. St Croix Premier Spinning Rods
Very sensitive and durable rod.  
Has outstanding hook-setting power. 
Suitable for use with different types of lures. 
Has a lot of length options and power. 
Firm grip cork handle.
Little pricey. 
Does not look that attractive.
7. Fiblink 3-Piece Spinning Rod
Fits into your bags or suitcase.
Flexible, lightweight, and sensitive. 
Suitable for surf fishing also. 
Corrosion resistant. 
Affordable price.
The pieces may be stuck sometimes if not maintain properly, like, detach, clean, and oil regularly.
8. EAT MY TACKLE Sabiki Spinning Rod
Stiff and sturdy rod for handling worst fighting fish.
Looks great and modern.  
Light, stiff and sensitive.
Two pcs rod for easy portability. 
Offer lifetime warranty.
9. Shimano Trevala Spinning Saltwater Rod
Made of high-quality materials
Offers excellent performance that could reach any professional angler's expectation
Sensitive rod for fast action
The splits grip style handle for offshore conditions is excellent
High-density EVA foam grip
10. OKIAYA COMPOSIT Saltwater Spinning Rod
Different designs on the rod make it unusual and attractive
Very well at handling massive fish, even small-medium sharks
Affordable price
Durable enough to use for many years
Feels a little bulky while holding it for a long time
11. Penn Carnage III Jigging Spinning Fishing Rod
Great for high-speed vertical jigging
No slip foregrip
High quality and efficient rod
Nice looking durable construction
Little expensive
The order I received was packed very loosely and I was worried that it would arrive broken but it didn't.
Spinning Rod Buying Guide
​There are a few factors you should be considering to get going with the journey and make a better decision at the end of the day. It's important to mull over each of these criteria. Please don't neglect the basic requirements that almost any angler would need to have in their spinning rod.
The Action
The action means the amount of bending a rod can do. Obviously, you'll have to put pressure on the tip for that. Now there are rods that would vary from slow action to fast action. Parabolic is the term used for slower action rods.
This feature helps you to have better sensitivity and faster control for hook setting.
Most of the time a fast action rod is preferable for fishing because the faster power would help to set the hook faster.
The Taper
Taper actually is a synonym for action to many folks. However, this term also determines the thickness of the wall of the blank. The blank where a lower amount of material is available would give a better bend. These are the familiar case with the best spinning rods.
The Power
The best spinning rods should have good lifting power. This ability is usually known as the power of a particular rod. The rod that would say it includes a lot of backbone is usually greater in power.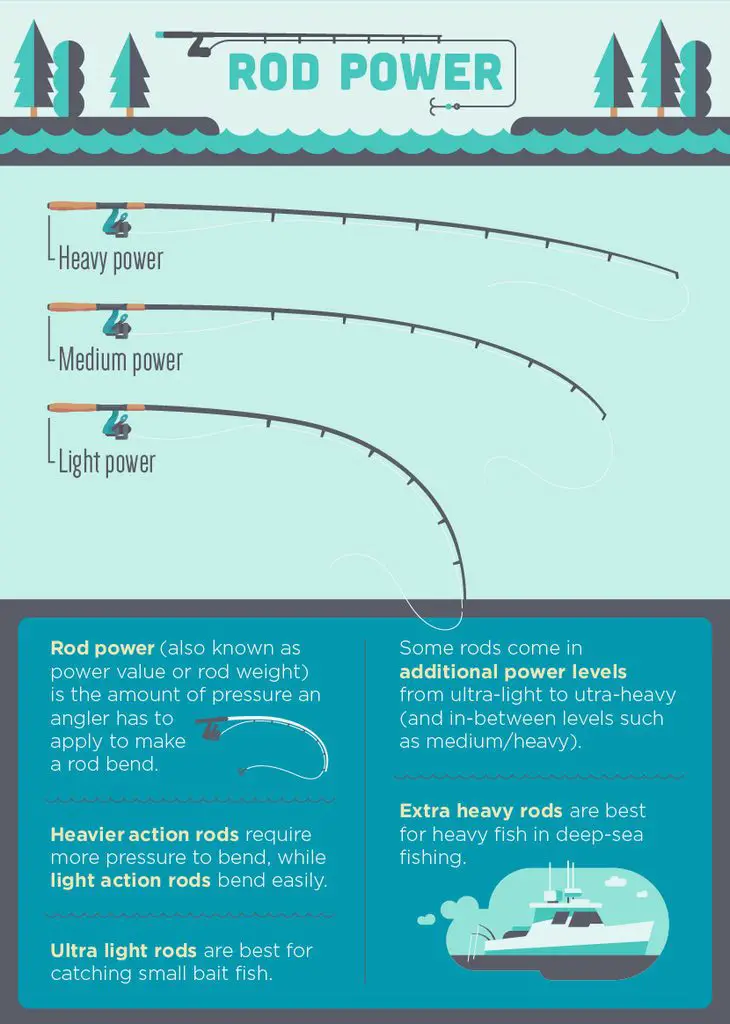 Image Source: fix.com
The power is most of the time measured as heavy, medium-heavy, and medium. It's sort of connected to line strength. The powerful lines with heavy ratings would be better to hold more weight. While the ones that are less in power rating would be able to withstand less weight lifting.
You should depend on the type of water environment you would be fishing in. This condition would usually determine what type of power you need in your rod. Thick or heavy water usually needs stronger rods. On the other hand, clear and open water needs thin and hard to notice lines.
The Reaction Ratio
The ability of a rod to flex below the weight and release the inner energy in the casting task has a connection with responsiveness. A completed rod actually is a result of a lot of layers of a different material. This really affects the ability to respond.
The most basic rule is to remember that a rod that has less weight would respond faster. The more the modulus of a rod the better energy-saving energy the rod would have. This later would help the rod to give a precious casting result when trying on a lower trajectory.
Transportable (telescopic, 1 piece, or 2 piece)
Of course, it is all about preference what piece suits you most? Also, I figure out quality will vary slightly with the style of the rod. However, if you ask, then I must admit telescoping, and 2pcs are way convenient to carry. But if you feel 1pcs is best for you, go for it.
Material of Construction
Graphite
No matter if we are talking about the lightest spinning rod or a heavy version, most rods will surely have this very common material in them. It is known as graphite. Recently, graphite is made at high temperatures. It's completed with two major processes. There are some best cheap spinning rods as well that would go through this process.
Fiberglass
Fiberglass is a popular material used in so many tools. It's been around for construction from the late 50s. The soft toughness that glass construction gives is the reason behind its popularity. Rods use this as well for better quality. So good cheap fishing rods will also include fiberglass along with graphite and others.
There are various anglers who love a fiberglass rod for activities such as crankbaits. Basically where you need to have a medium to slow action will require a fiberglass construction for better results.
The finest rod for spinning reels would usually have a variety of elements to make different layers of fiberglass as well as graphite. The most fascinating thing about this excellent material is that it shows off its toughness, sensitivity and weight. Best rods in the market use this material along with others.
There are also rods made from other materials such as bamboo that are great for float rods.
Quality Guides
A guide is basically a bass rod part. It usually holds a metal frame with a ceramic ring. It helps to slide the lien on. The ring quality often varies according to price and rod type. This ring often decides on the fishing rod quality and suitability. There are so many best budget spinning rod that includes quality guides made of aluminum material.
A great guide would give you less friction with better smoothness on the surface with the line. It helps to have a longer cast and fewer temperature problems. We all know the huge issue of heat killing the fishing line.
Look for rods that include more guides. It might cost more but the results will include better bent, consistent balance throughout the length, and properly utilize of power. It would help greatly to fight huge fishes.
Reel Seats
The reel seats are basically the place that holds the reel. It comes in many variations depending on the price. Most anglers would like seats that are made of graphite. Don't get a low-quality rod that would lack a plastic cushion inside the hoods. These types of seats often rust and cause a stain on your reel.
Frequently Asked Questions
What type of cork should I choose?
A cork that gives you a good grip while lifting huge fish should be your ideal pick. The best spinning rods have nice, new, fresh, and clear corks that give enough grip. Make sure the cork fits the bill nicely.
What is the difference between IM6 and IM7?
These are actually the graphite name produced by a Hexcel. This is a measurement used to refer to graphite by other companies as well. It would help you to compare the quality of the material in general. Both types are used to make good-quality spinning rods. However, the IM7 rod is better in quality than the IM6.
What is Modulus?
Modulus is a term that is used to understand the strength of graphite material in a rod. It usually tells about the stiffness you can have in a particular rod. It is a measurement unit that will decide which rod would be a more premium choice for a certain activity. However, this is not the only feature to judge a rod. There are other things needed as well to ensure the finest performance as well as durability of a rod.
​Conclusion
When it comes to finding the best spinning rods then there is a lot you need to be careful about. But throughout your purchasing journey, you need to be conscious of your instinct. Your instinct will best tell you what you need and what you don't.
I have also written some more buying guides into more specific rods that might be better suited to your needs:
So when you are confused even after knowing the basics and all essentials, think more. Always keep in mind that it's the best thing to choose a spinning rod that will maintain your basic requirements. A fancy one might end up being pricey and also less manageable.
Last update on 2022-11-18 / Affiliate links / Images from Amazon Product Advertising API