Planning for your next fishing adventure and looking forward to catching more fish? Then this is a must-read for you. Catching fish will always be one of the most thrilling pastimes ever. There's no one activity that is simultaneously as exciting and as peaceful as fishing.
So if there's a need for the best spinning rod then today we'll have a mini trip to find one. Explore the whole article to learn a lot of interesting details about the best spinning rods. I'll be providing the five best spinning rods reviews that are perfect for a fishing tour.
I'll be also talking about the important factors that will make your purchasing journey an easy thing.
I judge each reel personally based on its performance, durability, cost, value for money, and comfort based on my own individual testing experience. 
So stop waiting and start reading.
Quick Summary – Best Spinning Rods
Features
Great Combination of Durability, Sensitivity, Power, and Strength
Extremely Durable - Almost Indestructable
Comfortable, Firm Grip, built for a wide range of applicationse
Construction Material
Graphite and Fiberglass Composite
Best Overall
Features
Great Combination of Durability, Sensitivity, Power, and Strength
Features
Extremely Durable - Almost Indestructable
Construction Material
Graphite and Fiberglass Composite
Features
Comfortable, Firm Grip, built for a wide range of applicationse
Spinning Rod Buying Guide
​There are a few factors you should be considering to get going with the journey and make a better decision at the end of the day. It's important to mull over each of these criteria. Please don't neglect the basic requirements that almost any angler would need to have in their spinning rod.
The Action
The action means the amount of bending a rod can do. Obviously, you'll have to put pressure on the tip for that. Now there are rods that would vary from slow action to fast action. Parabolic is the term used for slower action rods.
This feature helps you to have better sensitivity and faster control for hook setting.
Most of the time a fast action rod is preferable for fishing because the faster power would help to set the hook faster.
The Taper
Taper actually is a synonym for action to many folks. However, this term also determines the thickness of the wall of the blank. The blank where a lower amount of material is available would give a better bend. These are the familiar case with the best spinning rods.
The Power
The best spinning rods should have good lifting power. This ability is usually known as the power of a particular rod. The rod that would say it includes a lot of backbone is usually greater in power.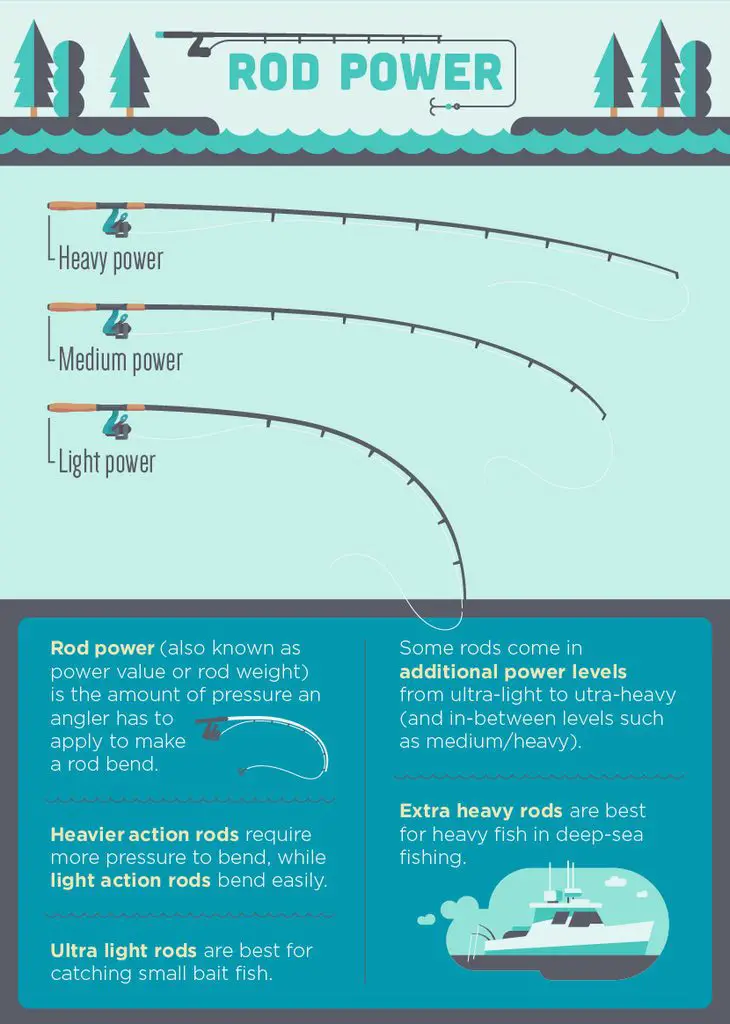 Image Source: fix.com
The power is most of the time measured as heavy, medium-heavy, and medium. It's sort of connected to line strength. The powerful lines with heavy ratings would be better to hold more weight. While the ones that are less in power rating would be able to withstand less weight lifting.
You should depend on the type of water environment you would be fishing in. This condition would usually determine what type of power you need in your rod. Thick or heavy water usually needs stronger rods. On the other hand, clear and open water needs thin and hard to notice lines.
The Reaction Ratio
The ability of a rod to flex below the weight and release the inner energy in the casting task has a connection with responsiveness. A completed rod actually is a result of a lot of layers of a different material. This really affects the ability to respond.
The most basic rule is to remember that a rod that has less weight would respond faster. The more the modulus of a rod the better energy-saving energy the rod would have. This later would help the rod to give a precious casting result when trying on a lower trajectory.
Transportable (telescopic, 1 piece, or 2 piece)
Of course, it is all about preference what piece suits you most? Also, I figure out quality will vary slightly with the style of the rod. However, if you ask, then I must admit telescoping, and 2pcs are way convenient to carry. But if you feel 1pcs is best for you, go for it.
Material of Construction
Graphite
No matter if we are talking about the lightest spinning rod or a heavy version, most rods will surely have this very common material in them. It is known as graphite. Recently, graphite is made at high temperatures. It's completed with two major processes. There are some best cheap spinning rods as well that would go through this process.
Fiberglass
Fiberglass is a popular material used in so many tools. It's been around for construction from the late 50s. The soft toughness that glass construction gives is the reason behind its popularity. Rods use this as well for better quality. So good cheap fishing rods will also include fiberglass along with graphite and others.
There are various anglers who love a fiberglass rod for activities such as crankbaits. Basically where you need to have a medium to slow action will require a fiberglass construction for better results.
The finest rod for spinning reels would usually have a variety of elements to make different layers of fiberglass as well as graphite. The most fascinating thing about this excellent material is that it shows off its toughness, sensitivity and weight. Best rods in the market use this material along with others.
There are also rods made from other materials such as bamboo that are great for float rods.
Quality Guides
A guide is basically a bass rod part. It usually holds a metal frame with a ceramic ring. It helps to slide the lien on. The ring quality often varies according to price and rod type. This ring often decides on the fishing rod quality and suitability. There are so many best budget spinning rod that includes quality guides made of aluminum material.
A great guide would give you less friction with better smoothness on the surface with the line. It helps to have a longer cast and fewer temperature problems. We all know the huge issue of heat killing the fishing line.
Look for rods that include more guides. It might cost more but the results will include better bent, consistent balance throughout the length, and properly utilize of power. It would help greatly to fight huge fishes.
Reel Seats
The reel seats are basically the place that holds the reel. It comes in many variations depending on the price. Most anglers would like seats that are made of graphite. Don't get a low-quality rod that would lack a plastic cushion inside the hoods. These types of seats often rust and cause a stain on your reel.
Specific Spinning Rod Buying Guides
11 Best Spinning Rods
It's hard to choose from among so many popular picks available in the market these days. You need to be very selective and go through hundreds of products to see and judge their worth. But nobody wants to waste that much time only selecting one product. So here we are to cut that time wasted in half!
There is a bunch of choices I want to talk about. Just go through the features and see what works best for you. Here I'll include all of my favorite spinning rods that would do best for your situation as well. Just have a thorough look.
1. Cadence CR5 Spinning Rod
The Cadence CR5 spinning rod is a medium-fast two-piece model that comes with a bunch of facilities to praise about. With the price range, it's one of the effecting rods you can grab.
The carbon fiber blank rod comes with a construction that includes almost 30 ton of graphite blanks. That's the reason it is a superior choice to depend on for better durability, sensitivity, power, and strength.
Affordable price tag
High-quality construction
Easy to carry and store
High maintenance and needs to be looked after with care
2. Ugly Stik GX2 Spinning Rod
The Ugly Stik GX2 is also a great pick for folks who are looking for a good quality casting weight rod. The rod is very hard with a solid construction quality to resist any kind of environment. No matter when you take it for fishing, it would do exactly what it needs to do.
But with the solid construction, this lightweight rod is also very comfortable to carry and feel. You can easily hold the weight and the manageable rod would help you to cast even more effectively. Those who are tired of massy rods can pick this excellent quality model.
The fiberglass and graphite rod also includes a great design that can provide better durability and control. The length is quite easy to use as well. It's a one-piece rod that goes through various tests while manufacturing to ensure optimum quality. With an EVA handle it's even better to hold and use.
Pros
Extremely easy to use
Convenient weight in one hand
Solids parts
Easy to store and carry
Cons
The handle can be too small for large hands
Verdict:
The UglyStik GX2 is casting a capable rod that would give you a lifelong solution to catch huge fish. The construction, handle quality, stability, portability, and ergonomic design are all features of this excellent fishing rod.
3. Ugly Stik Elite Spinning Rod
Suitable for jigging
Very durable for everyday use
Manageable weight for casting
Able to handle large fish
4. Shimano FXS Spinning Rod
The Shimano FXS Spinning Rod is a two-piece spinning rod that comes with great quality and design. It's an efficient fishing gear for anglers who are of any skill level. No matter what age they are this would satisfy most of them.
The length is perfect and it comes with usability that is applicable to any situation. It's a great pick for a lake, river, or stream. This is one of the greatest light saltwater rods you can get for the price. It's one of the versatile tools that will cover most areas of application for you.
The construction quality is another golden feature we need to talk about. The Aero glass blank built-in gives you a stable and durable functioning ability. It's superb with sensitivity and handiness.
Also, the aluminum oxide guide does a great job to maintain smooth line flow. It's one of the best to do casting because of the guides.
There is also a comfortable handle that works great for extra usability. You are going to enjoy a strong hold even when there is dampness available. It's also suitable for offshore situations.
Pros
Extra durable with good construction
Firm grip
Comfortable to use with a nice balance
Easy to use and cast
Suitable for most situations
Cons
Can be on the heavy side when you hold it in one hand
Verdict:
Shimano FXS Fishing Rod is one of the flawless choices for budget fishing rods. It's a great rod that is top class for durability and heavy construction. It might be a hassle to fish with this rod in one hand. But otherwise, it's totally superior.
5. OKUMA Celilo Graphite Trout Rods
The OKUMA Celilo Spinning Rod is a trout rod that comes with lightweight application benefits to make anglers' jobs easier than ever. The perfect budget spinning rod gives you a great lifelong servicing with good-looking features.
It's basically a trout rod combo that comes with excellent quality material for hard and solid construction quality. The reliability is high enough with proven tests and measurements. So that the user can have an end product actually valuable for their fishing needs.
The quality of the rod is extremely appraisable. It is made of sensitive graphite blank construction that includes stainless steel reel seats. These ensure you are going to have a tough built-in that would help you no matter how hard the conditions or fish fighting is.
Also, there are aluminum oxide guides available to make lining effortless. It's one rod that is very popular among professional fishermen.
Pros
The perfect trout rod
Suitable for almost any conditions
Good at casting and retrieving
Highly sensitive
Easy and comfortable to carry
Cons
The shipping process can be poor
Verdict:
The OKUMA Celilo is not a bad choice if you are looking for a freshwater spinning rod that is quite lightweight. The design and usability will help you to go fishing whenever you want since it is super easy to fit in trunks and carry along. It is one of the best spinning rods for the money that performs well under most situations.
6. St Croix Premier Spinning Rods
For those who don't have budget problems and want a better flexible rod, you can choose the ST Croix premier spinning rod. It is a light, reliable, sensitive, and flexible fishing pole for versatile fishing. The rod has options from 4 ft. 6 inches to maximum 7 ft. Long rods with all power variation. However, you need to choose anything from 5 ft. 6 inches to 7 ft. Long medium to heavy rods for bass, trout, etc. fishing.
The ST Croix spinning rod is made of premium quality SCII graphite blanks. Not only the main body that has made of quality elements but the tips, hook, reel seat also well-made. That is why the rod is very balanced and sensitive too. The light construction not only makes it easy to hold and handle but also let you carry easily. 
The rod includes the Fuji TCS reel seats with premium quality cork handle. That is why it won't get slippery if your grip is wet by water or sweat. The St Croix designed and handmade In the USA. It has twice slow cure fishing that helps to withstand salt and freshwater. 
Pros
Very sensitive and durable rod.  
Has outstanding hook-setting power. 
Suitable for use with different types of lures. 
Has a lot of length options and power. 
Firm grip cork handle.
Cons
Little pricey. 
Does not look that attractive.
7. Fiblink 3-Piece Spinning Rod
Portable fishing rods are best when it comes to transport it one place to another. That is why we have tested the Fiblink 3-Piece Spinning Rod. This rod is detachable into three pieces and can be stored in the bag that comes with it. The rod comes into three length- 6, 7, and 8 inches. You will get an equivalent carrying case for respective modes.
In addition, the sensitive carbon composite body of the rod is the best quality of it. The body structure increases sensitivity and stiffness. That's why it's useful for managing catch the big baits.
This is a heavy-fast action rod. It's suitable for saltwater coat fishing or surf fishing. It comes with an aluminum alloy reel seat with corrosion resistant steel hood. All of these are very much rust-proof and long durable in saltwater. 
This fishing pole is good with 30-50 line weight with 2-8 oz. of lure bearing capacity. It includes the EVA foam grip that offers much more fir control and better comfort. Also, it comes under a year of warranty. 
Pros
Fits into your bags or suitcase.
Flexible, lightweight, and sensitive. 
Suitable for surf fishing also. 
Corrosion resistant. 
Affordable price.
Cons
The pieces may be stuck sometimes if not maintain properly, like, detach, clean, and oil regularly.
8. EAT MY TACKLE Sabiki Spinning Rod
Here is another rod that comes with great features, look, and performance. If you see the EAT MY TACKLE Sabiki Fishing Rod Bait Rod, you will forget your old rod. This is a 7 ft. Fishing rod for catching large size of fish. The opening of the rod is 7/16 inches and would put up the maximum type of hooks found on most rigs.
It has a durable fiberglass base with plastic fittings. It weighs 2.8 pounds but still suitable to hold for a long time or to handle the fighting fish.
The rod is very durable yet flexible to use. This Sabiki fishing rod is perfect for catching Ballyhoo, Cigar Minnows, hardtails, Blue runners, Google eyes, and many more. It allows the while sabiki rig with all hooks stored inside the rod. So there is no more problem with sticking hooks in your clothes. 
Pros
Stiff and sturdy rod for handling worst fighting fish.
Looks great and modern.  
Light, stiff and sensitive.
Two pcs rod for easy portability. 
Offer lifetime warranty.
Cons
9. Shimano Trevala Spinning Saltwater Rod
​Shimano is one of the top class fishing rod brands that are known to produce high quality rods for fishing. However, the Shimano Travala spinning rod is an excellent creation of the company, which is praised by many professional anglers. It's a beautiful, reliable, and sensitive rod to catch any vast fish.
The Shimano Trevala features advance of TC4 construction. And it contains a rigid carbon butt section with the TC4 tip section. This outright design gives you extra pulling power in different weight conditions and increases the sensitivity. The rod is a jigging rod, and it's good at the jigging action with a quicker retrieval rate. It's subdued fish quite fast and gives you the opportunity to ready for the next step.
Like the other top quality fishing rod, this one has some options to choose. It has 5 ft. 8 inches to 7 ft. rods for heavy-weight fishing. The rod seems beautiful and also modern in design. Its gear up with Fuji Aluminum Oxide guides which makes it more long-lasting. For the handle, it contains EVA foam rubber grips. The grip is very comfortable while giving an excellent firm hold even if your hand is wet. 
Pros
Made of high-quality materials
Offers excellent performance that could reach any professional angler's expectation
Sensitive rod for fast action
The splits grip style handle for offshore conditions is excellent
High-density EVA foam grip
Cons
10. OKIAYA COMPOSIT Saltwater Spinning Rod
​Here is another premium quality fishing rod specially made for saltwater fishing. This rod OKIAYA COMPOSIT 80-130LB can catch all the massive fish like goliath grouper, Warsaw grouper, and other big fish even sharks. Any expert level of angle can have this one to find the winner fish.
The rod features CNC machined aircraft grade allows, with a classic rod design. The composite fiber body makes the rod very flexible yet sensitive. Its stainless steel rollers and hardware keeps it scratch-free and rust-free. That is why an old Okiaya Composit rod also looks almost new even after 5-10 years of usage.
The overall length of the rod is 5 ft. 6 inches. It weighs 2.2 lbs. which is a little uncomfortable to hold longer. You can use it with 80-130 lbs. line. This rod comes with an Okiaya rod cover for extra protection.
Pros
Different designs on the rod make it unusual and attractive
Very well at handling massive fish, even small-medium sharks
Affordable price
Durable enough to use for many years
Cons
Feels a little bulky while holding it for a long time
11. Penn Carnage III Jigging Spinning Fishing Rod
​The Penn Carnage III jigging spinning rods are strong and more durable than the land-based freshwater rods. You can use it for catching large fish with live or artificial lures. This one is especially good for a small boat or kayak fishing. With the proper lining and reel, you would get a better result of it. The rod weighs only 1 lb. And come to a single piece. It's easier to hold, manageable, and also powerful enough to tackle large fighting fish.
The rod has three different options to choose from, like the massive 6 ft., 6 ft. 4 inches with medium-heavy power and the 6 ft. 6 with medium strength. All of them are a single piece. The rod is suitable to use with 50-130 lbs. line rate. It offers moderate fast action, which is suitable for any beginners who just have started catching fish like salmon, bass, and trout. 
Pros
Great for high-speed vertical jigging
No slip foregrip
High quality and efficient rod
Nice looking durable construction
Cons
Little expensive
The order I received was packed very loosely and I was worried that it would arrive broken but it didn't.
Spinning Rod Maintenance Habits
Stop threading the rod while holding the tip. It really damages the rod.
Every time you rinse the rod use fresh water. Saltwater lakes often damage spinning rods.
Before you store the rod always shake off excess water from it.
Use a dry and cool place to store the rod.
For two-piece rods always give attention to both parts equally. 
Never try to detach parts forcefully. Avoid using additional tools to do so.
Frequently Asked Questions
What type of cork should I choose?
A cork that gives you a good grip while lifting huge fish should be your ideal pick. The best spinning rods have nice, new, fresh, and clear corks that give enough grip. Make sure the cork fits the bill nicely.
What is the difference between IM6 and IM7?
These are actually the graphite name produced by a Hexcel. This is a measurement used to refer to graphite by other companies as well. It would help you to compare the quality of the material in general. Both types are used to make good-quality spinning rods. However, the IM7 rod is better in quality than the IM6.
What is Modulus?
Modulus is a term that is used to understand the strength of graphite material in a rod. It usually tells about the stiffness you can have in a particular rod. It is a measurement unit that will decide which rod would be a more premium choice for a certain activity. However, this is not the only feature to judge a rod. There are other things needed as well to ensure the finest performance as well as durability of a rod.
​Conclusion
When it comes to finding the best spinning rods then there is a lot you need to be careful about. But throughout your purchasing journey, you need to be conscious of your instinct. Your instinct will best tell you what you need and what you don't.
So when you are confused even after knowing the basics and all essentials, think more. Always keep in mind that it's the best thing to choose a spinning rod that will maintain your basic requirements. A fancy one might end up being pricey and also less manageable.
Go with any of these spinning rods but make sure you choose the one that particularly suits your need and taste. We have also put together this list of the best kids fishing poles. May your basket be full of delicious fish!
Last update on 2022-05-20 / Affiliate links / Images from Amazon Product Advertising API