There are different ways you can fish walleyes. Your choice of fishing rod for Walleye depends entirely on the method you want to use for fishing. Each method is useful in a specific set of conditions such as techniques, locations, and setup.
In this post, I am going to present you with the Fishing Rods for Walleye Buying Guide. This should be useful to overcome any hurdle in fishing walleyes. All of this information is based on my own insights from decades of fishing.
Quick Summary – Best Fishing Rods for Walleye
Features
Titanium frame guides and Hidden Handle Design
SiC guides with durable stainless steel frames
Newly designed guides provide maximum durability
Features
Titanium frame guides and Hidden Handle Design
Features
SiC guides with durable stainless steel frames
Features
Newly designed guides provide maximum durability
The three the most popular ways of fishing walleye are:
Each of these methods of fishing needs a different tackle configuration and setup. The difference lies in the sensitivity with which the rod can function in a given set of conditions.
While trolling rods are the least sensitive, spinning rods fall in the middle range and the jigging rods are always the most sensitive.
Trolling Rods
In contrast to spinning and jigging, in the trolling method of fishing for walleyes, you need a heavier setup. Trolling brings a lot of pressure to your gear. This is more so if you use a heavy lead core fishing line or planer boards to ensure you reach deep enough.
A trolling setup will require a longer rod, medium action, and a medium to heavy power. A heavier spinning rod can work well for trolling but you can also find rods that are designed to be used in troll-fishing.
Spinning Rods
Spinning rods are extremely versatile and can also be used when trolling. In contrast to other fishing rods, it's not as heavy as trolling rods and not as light as jigging rods. In terms of action, it's medium to fast and in terms of power, it's light to medium.
The advantage of spinning rods is that it allows you to cast a number of different lures. Depending on where you are fishing, you can use Rapala, crankbaits, or even heavier spinners.
A good spinning rod for catching walleyes is neither ultralight nor too heavy but a medium heavy with most other settings in the medium range. The trick is in having a rod that's versatile, not too light nor too heavy.
Jigging Rods
The point of having a jigging rod relates to the extreme sensitivity it offers. This kind of rods can be 6'7 or it can be extended up to 7 feet as well. But it must have fast action and light to medium power.
When the tackle is lighter, it offers more sensitivity. If you have a sensitive rod, you can use small jigs heads in vertical jigging. The tips will give much more feedback. 
I have discussed the basic features required in different kinds of fishing rods for fishing walleyes. Now, let's have a closer and more detailed look at each type of these rods.
Spending more money on the rod is not always right. In trolling and spinning methods of fishing, the reel plays a more important role so you should focus on buying a more robust reel than a pricy rod.
A good walleye fishing rod may not cost you much. But different fishing locations will make you buy different rods, and soon you will have quite a few of them.
The situation, however, changes completely when you are using jigging for walleyes. In this case, the rod assumes more significance than the reel. As a jigging rod is lightweight, a heavy reel can affect its balance, which in turn can affect how you are jigging. 
Rod Power
The power of a rod describes how stiff it is, and is an indicator of the backbone of the rod. This comes from extra heavy to extra light.
For walleye, you will generally want a Medium Light to a Medium Heavy power range depending on the size and type of fishing you are going to do.
However, different types of fishing require different power, for example if you are trolling then the pressure of the strike will be higher and you may want to consider a higher power rod to compensate. For walleye trolling this would be medium rod power.
Rod Action
The action describes how flexible a rod is, particularly around the tip. This is described from extra fast to slow. A slow action rod will flex uniformly from the base to the tip while a fast action it will only flex at the tip. This gives more sensitivity so that you can feel a fish strike more quickly.
For walleye fishing have a fast action rod is more desirable. This tip allows you to present your lure with a more attractive movement and you can strike early with a nibble.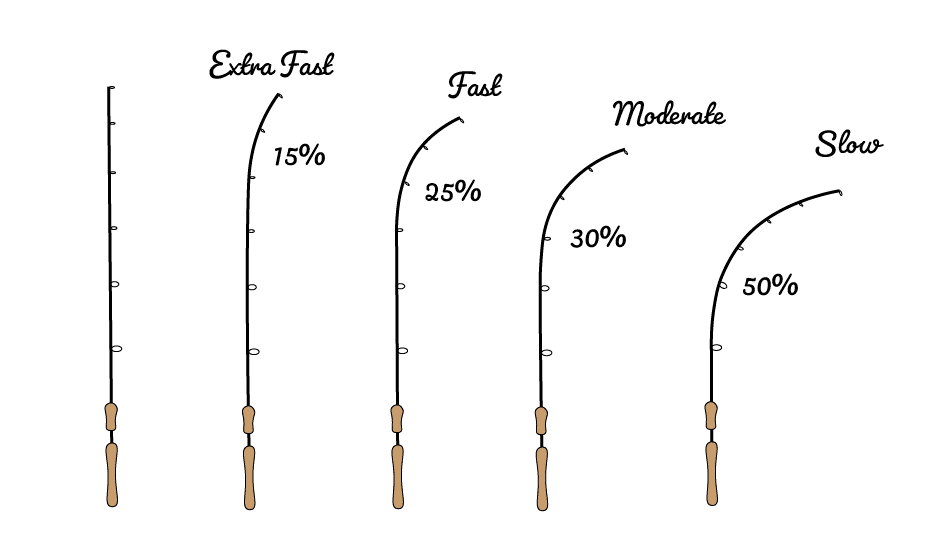 Material of Construction
Most fishing rods are made from either carbon fiber or graphite. Both are acceptable but have their own pros and cons.
Graphite rods are lighter and more sensitive, but they are more expensive and less robust.
Carbon fiber rods are heavier and most robust but don't have the same flexibility or sensitivity.
For walleye, I would prefer a graphite rod but carbon fiber will certainly work as well.
Length
Most walleye fishing rods are between 6'0″ and 7'0″, although this depends on how you are going to be fishing. If you are going for trolling from a boat then you can go with a shorter rod.
This length gives good leverage when live baiting to get a good hook set when striking.
My recommendation is to go for a rod between 6'6″ and 7'0″.
8 Best Fishing Rods for Walleye
1. Fenwicks Elite – Best Trolling Rod for Walleye
Trolling for Walleyes is usually done deep in large lakes. For baits, crankbaits are used that resemble deep-diving species of minnow. To get the trolling depth right, you will need one of the following: 
Weight
Down-rigger
Plano board
All of these tend to strain the rod. Down-rigger, for example, can make the rod bend for hours. But if you are trolling in shallow waters, you don't need to use any kind of weight, no down-rigger at all. The crankbait's lip might need to be adjusted for shallower waters. You can also adjust the diving depth by changing the boat speed.
Trolling next to the weed beds can be more productive and it would not require a powerful walleye setup as you may in case of trolling. If your troll-fishing involves the top 10-15 feet of water, you can even fish with a medium power spinning setup. In this case, you will not need a dedicated trolling rod for walleyes.
Even in the shallow waters, you can use trolling tackle but there is no need to use whatever you use to get it at a depth. 
Length – 6'6″
Power – Medium Light
Action – Fast and Extra Fast
2. Cadence CR5 – Best Jigging Rod for Walleye
Jigging is an equally popular method for catching walleyes. A good-quality jigging rod should be highly sensitive at the tip. This would ensure you get prompt feedback on what's going on at the hook.
The feedback is necessary to choose the right setting for the hook. For this reason, you need a rod with medium power but with fast action. 
When you are using the jigging method, you need to know precisely what's happening to the jigs. A fishing line with low stretch and fast action features is, therefore, necessary.
Length – 6'6″
Power – Medium
Action – Fast
3. Ugly Stik GX2 – Best Spinning Rod for Walleye
Although trolling and jigging are more popular ways of catching walleyes, spinning can prove to be the most productive method. A spinning setup requires a rod with light to medium power, and medium to fast action. 
With a spinning setup, you can throw lighter lures to a greater distance. Baitcasters do not allow the lures to go lighter beyond a point, not so with spinning.
A heavier spinning rod can be used for light trolling. This means spinning setup can be used for all three methods of walleye fishing – trolling, spinning, and jigging. For jigging, however, you may need a lighter line in a spar spool.
Length – 6'6″
Power – Medium
Action – Fast
4. Tica Libra Spinning Rod
This spinning rod by Tica is a seven foot graphite rod with a fast action and medium power that almost perfectly fits the description of the ideal walleye rod. It has extreme sensitivity so you can feel every strike.
The graphite also has great strength for larger fish and even trollingh.
It comes with a non-slip cork handle as well as stainless steel guides.
Length – 7'0″
Power – Medium
Action – Fast
5. KastKing WideEye Spinning Rod
This rod by KastKing suits walleye fishing – even its colors match that of a walleye. It is made with Toray IM9 graphite to give lightweight feel and extra sensitivity that is ideal for walleye. It has fuji line guides and reel seats which is an indicator of high quality construction.
The handle is made from high-quality AAA cork handle with an EVA butt.
Length – 6'8″
Power – Medium Light
Action – Fast
Bestseller No. 1
6. St Croix Eyecon Spinning Rod
The St Croix Eyecon is specifically designed for Walleye fishing. This is a top quality rod and should be seriously considered as an option. It is made from Premium quality SCII graphite which makes it very lightweight to fish with while also having the strength to handle any walleye you hook.
The other components are also extremely high quality with fuji reel seats, Kigan 3D guides, aluminum oxide rigs, and cork handle with EVA trim.
The graphite makes its action very fast with high sensitivity so you can feel strikes more easily.
If you have the budget then give this rod a closer look.
Length – 6'3″
Power – Medium
Action – Fast
Bestseller No. 1
7. Shimano Clarus Fishing Rod
The Shimano Clarus is a two-piece rod which gives much better portability. This rod is very well built, as all Shimano products are, and is durable and robust. It can be on the heavy side when targeting small walleye species.
The guides are made from titanium oxide for better durability and lower friction leading to further casting distances.
The Clarus also has a great grip which is made from an anti-slip material giving the angler better control and comfort.
This is a versatile rod and you can use it to catch many different species as well as walleye.
Length – 6'6″
Power – Medium
Action – Fast
Bestseller No. 1
8. St Croix Legend Fishing Rod
The St Croix Legend is a premium walleye rod, and if you have the budget for it then go for it. It is made from carbon fiber with Advanced Reinforcing Technology. This makes it a lightweight yet strong and durable rod. It also featured Integrated Poly-Curve technology with eliminated the transitional points on the rod – this gives it improved sensitivity.
This is shorter than the other rods I have considered at 5'9″ but has a medium power and extra fast action.
It also has a 15 year warranty so you can sleep easy.
Length – 5'9″
Power – Medium
Action – Extra Fast
Bestseller No. 1
Frequently Asked Questions
What is the best walleye rod?
The best rod for walleye is a 7 foot long graphite fishing rod with a medium power and fast action such as a Fenwicks Elite or Ugly Stik GX2.
Final Thoughts
The perfect fishing rod for walleyes depends on the methods you choose to do the fishing. And, your selection of the method depends on the fishing conditions such as the depth and techniques.
Based on these factors, I analyzed the best fishing rod options that I have for walleyes. To be precise, I checked out when trolling, jigging, and spinning setups can work best. As per this analysis, I found that spinning rods offer more versatility while trolling and jigging can be more useful in circumstances that favor them.
Last update on 2022-09-09 / Affiliate links / Images from Amazon Product Advertising API