If you have been looking for an electric fishing reel then you certainly would've heard of the Shimano Forcemaster 9000. It is sleek and stylish but comes with enough strength and power to retrieve anything you can find in the deep blue ocean.
Whether you are interested in kite fishing, deep bottom fishing, or billfish targeting, the Forcemaster allows you to experience a whole new type of angling.
I have put together this review of the reel to highlight the features and benefits so that you can make an educated buying decision.
Let's get stuck in.
3.1:1 Gear Ratio
55 lb Adjustable Drag
14 Double Shielded Ball Bearings
180 m/minute Retrieve Rate
Learn more about how our scoring system works.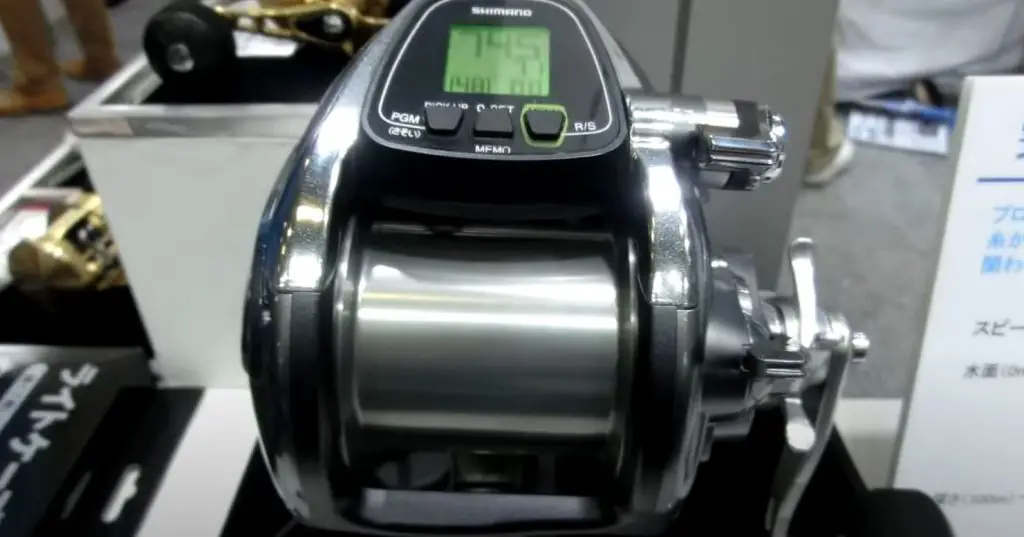 Features
10 Year Warranty
Hagane Body
Shielded Anti-rust Bearings
Cross Carbon Drag
LCD Display
The Shimano Forcemaster is one of the premier electric reels on the market. It has a high max drag of 55 lbs that is powerful enough to fight almost any game fish in the deep sea. Its line capacity can hold over 1000 yards of 80 lb braid which can drop deep enough to most popular reefs. The electric motor is ideal for fishing the seafloor of the deep ocean or for anyone with an impairment that needs some assistance in retrieving.
The main downside, in my opinion, is the cost. This is a high-end reel, full of features, with a large price tag. With a recommended retail price of over $1200, you really want to be certain that this is the reel for you. For this reason, I have given it a relatively low score for value for money.
Kite Fishing
Kite fishing is particularly popular with Forcemaster anglers. This is because the amount of line they need to retrieve can be enormous, depending on how much distance has been used.
An electric reel is an absolute must-have for kite fishing long distances. When you are floating bait and hooks hundreds of yards away from the surf to the target zone, then it can be tiring every time you need to re-bait the hooks. The assistance of an electric motor on your reel is invaluable and a must-have, depending on the location of your kite fishing.
This is also a must-have for drone fishing, which can also take your bait hundreds of yards away, and having a huge line capacity along with an electric assist is highly recommended.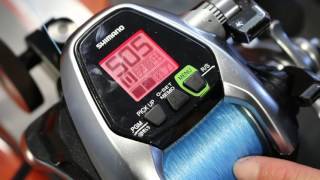 Deep Bottom Fishing
If you have ever gone deep sea fishing then you will already understand the beauty of having an electric reel.
Trying to retrieve hundreds of feet of line with a heavy sinker attached is a workout – and even more so if you have a big fish on the end.
If you consider how many times you need to bring your hook up from the bottom because you have hooked a fish or just to replace your bait can be hundreds of separate occurrences. And if each of these is hundreds of feet or even 1000 feet down then you will be glad you had an electric reel.
The Forcemaster comes with four different programmable modes:
Top / Bottom Mode
Jigging Mode (called Invitation Mode)
Constant Speed Mode
Easy Mode – maintains tension
Another feature that helps with deep-sea bottom fishing is the depth memory alarm. This function remembers the depth that you have been fishing at and alerts you with an audible beep when you are 12 feet from that depth.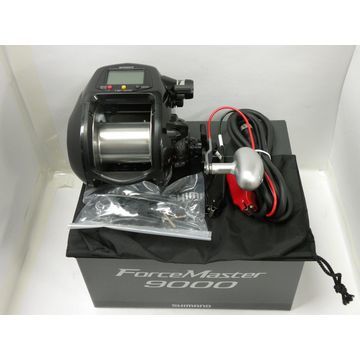 Sailfish Specialist
I have seen a fisherman use an electric reel to catch a sailfish from almost 2000 feet deep. This is something that would be almost unthinkable with a hand reel.
Big game fish, particularly from depth is a prime target for this type of reel with the electric retrieve design.
Sailfish and marlin have so much power and energy that they can seemingly keep swimming forever. To be able to fight them you need to have enough strength to halt their run or enough line for them to get tired. The Shimano Forcemaster has both. The main concern is whether the electric motor can retrieve line at the same speed that a sailfish can swim to avoid losing tension and the fish spitting the hook.
The gear ratio of 3.1:1 gives it serious torque that very few conventional reels can deliver.
My only concern would be the retrieve rate at 135 m/minute which is on the low side compared to some of the alternatives. The Shimano Beastmaster has a retrieve rate of 180 m/minute with a similarly high max drag of 55 lb and the same gear ratio.
Pros
The Shimano Forcemaster has one of the highest max drags of any electric conventional reels at 55 lbs.
The extremely high line capacity of over 2000 yards of 40 lb braid means that you can fish almost anywhere on the planet for any large saltwater species.
Cons
The retrieve rate of 135 m/minute is on the low side compared to other alternatives at 175-190 m/minute.
This is a heavy reel at 54 ounces, but you will be mounting this properly and won't be lifting it during a fight.
At this price range, it is a very expensive reel, and there are some other options that you might want to consider to get better value for money.
Shimano Forcemaster Specifications
Maximum hoisting power – 72 kg
Practical hoisting endurance – 12 kg
Maximum hoisting speed – 135 m/min
Practical hoisting speed of a 1kg load: 118 m/min
Practical hoisting speed of a 2kg load: 114 m/min
Practical hoisting speed of a 3kg load: 109 m/min
Shimano Forcemaster Video
For those who like to learn from video, have a look at this fisherman bringing up a Queen Snapper from deep-sea fishing with a Shimano Forcemaster.
Conclusion
If you are looking for more information, please read through Shimano's official documentation.
If you have used a Shimano Forcemaster and have your own thoughts and experience, please leave a comment below. I love interacting with our readers and sharing your wisdom.
If you want to see some alternatives, then look at the best electric reels on the market.
Happy fishing!