The best spinning rods for bass fishing have a 6-10 pound line rating, made from lightweight graphite, a sensitive tip, and a non-slip cork grip.
The Okuma Celilo is my top choice because it is extremely lightweight without losing any performance or durability. It features high-quality graphite and premium cork grip for comfort. It is ideal for anglers who are looking for a versatile rod that is well-suited for bass, but also versatile enough for panfish.
Many companies are producing different sizes, powers, and features of fishing rods for the various skills of fishermen. The price varies a lot in baitcasting and spinning rods – but you can pick the perfect one once you understand what makes a fishing rod suitable for catching bass.
This article is part of my Complete Guide to Bass Fishing series that you might be interested in. I have also written a more general guide of the top spinning rods if you want a more versatile option.
Very Lightweight and Sensitive Tip
Graphite Rod, Stainless Steel Reel Seat
Smart Choice for Bass, Crappie, and Trout
Solid Construction Yet Lightweight
Comfortable EVA Handle
Graphite and Fiberglass Combination
Cork and EVA Handle
Stainless Steel Guides
Lightweight and Strong
1. Okuma Celilo Spinning Rod
Stainless Steel Reel Seat
Aluminum-Oxide Guides
Comfortable Cork Grip
Graphite Composite Blank
Lightweight and sturdy rods are popular in the fishing world, but they can also be incredibly expensive. That's why you might choose the Okuma Celilo Graphite fishing rod for bass fishing. This rod is ultra-light and specifically designed for catching bass. If it can handle trout, bass should not present a significant challenge.
This ultra-light rod weighs in at just 3.2 ounces. It's made of high-quality graphite, a sensitive material that alerts you to any contact or movement through the reel or rod. The rod's grip is made of cork, ensuring comfort and lightness when held. The reel seats, fashioned from stainless steel, are hooded. The tip of the rod is extremely light, which can sometimes make threading the line a challenge.
Overall, the Okuma Celilo is my top recommendation for any experienced angler seeking a well-balanced spinning rod for bass, but is also suitable for crappie and trout.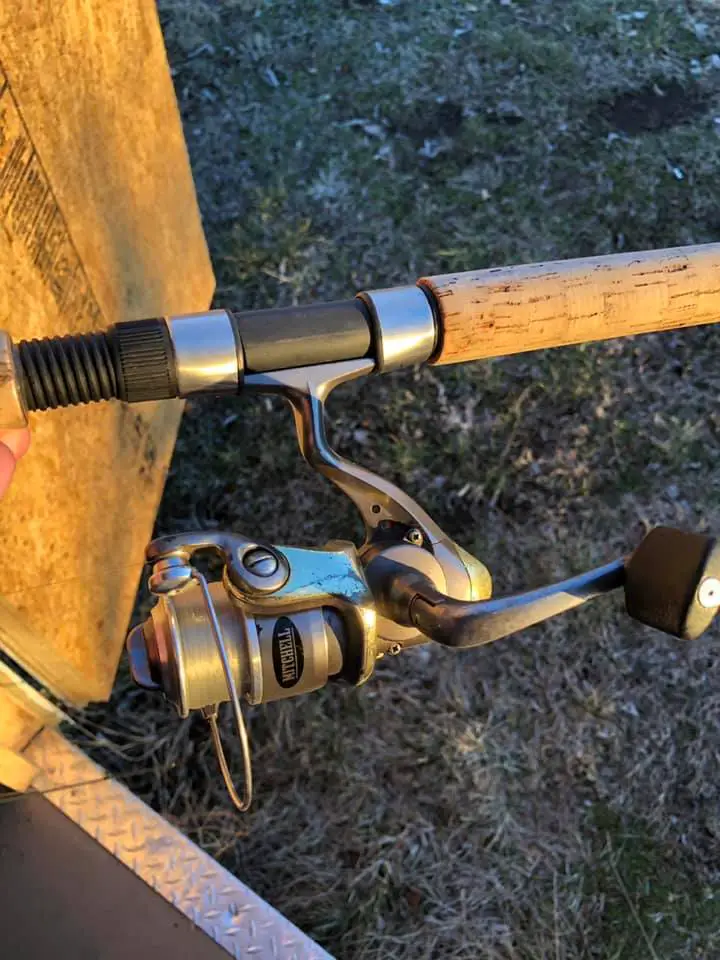 Pros
Constructed from quality materials for durability
It provides a secure and comfortable grip
Highly sensitive, ideal for bass fishing
Reasonably priced
Portable and versatile for various types of fishing
Cons
The build quality appears somewhat inferior
The hook set is very light and can be difficult to secure in windy conditions
​2. Ugly Stik Elite Spinning Rod
Comfortable Cork Grip
Graphite/Fiberglass Composite
Virtually Indestructible
Ugly Tuff Guides
If you're looking for a convenient bass fishing rod that can effectively handle large, feisty fish, look no further. The UglyStik Elite Spinning Rod, with its bright tip design, provides additional strength exactly where you need it.
This fishing rod is made of graphite, which makes it light, sensitive, and durable. Moreover, it features a single piece of stainless steel as a guide. This guide defines the edge and helps control your strokes.
The rod also includes a long cork handle for grip. This user-friendly handle provides both comfort and safety.
The UglyStik Elite offers a wide range of options to choose from. It has models ranging from 4'6″ to 7'6″. Currently, it offers power options such as ultra-light, light, medium, medium-heavy, and heavy.
This spinning rod is typically used with casting lures like live or plastic baits. You only need to pair it with an easy-to-operate spinning reel that suits your fishing technique.
I often recommend the Ugly Stik Elite as an extremely durable and versatile rod if you only want a single rod that can be used for almost any fishing environment.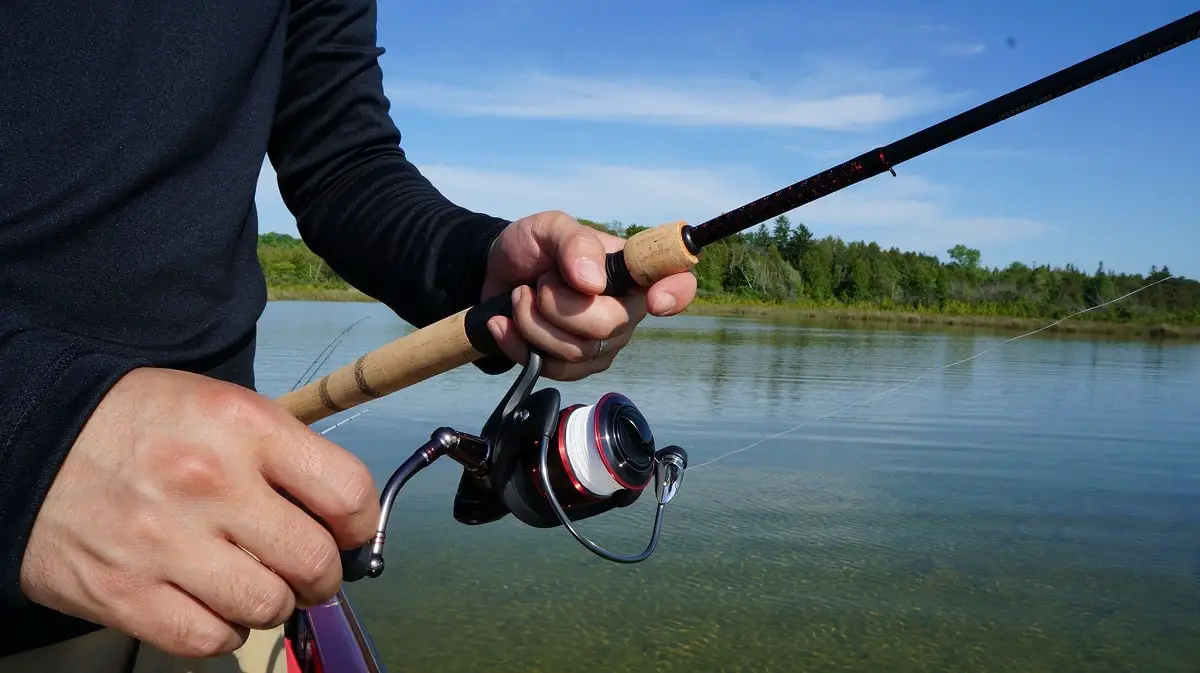 Pros
Effective for catching large fish
Lightweight, easy to carry and control
Durable rod
The handle is made of cork and provides a secure grip
Cons
The reel seat is a little small and doesn't fit larger sized reels
​3. Ugly Stik GX2 Spinning Rod
Solid Construction Yet Lightweight
Comfortable EVA Handle
Graphite and Fiberglass Combination
Stainless Steel Guides
The Ugly Stik GX2 Spinning Rod is an extremely lightweight fishing rod. In fact, it's even lighter than the first one we reviewed earlier. Weighing in at just 0.8 oz., it's very convenient to use. The rod's design perfectly blends traditional Ugly Stik features and modern enhancements.
It retains a precise tip eye and cork handle from the original rods but also incorporates graphite and fiberglass construction, making it an advanced rod option.
This rod offers a wide range of models to choose from, ranging from 4'6″ to 7'6″. Additionally, it includes power options ranging from ultra-light to heavy. We tested the two-piece, 6 ft medium-heavy rod for catching some bass, and successfully reeled in a lively 15-pound bass, perhaps a bit of luck! But the rod can certainly handle even larger species.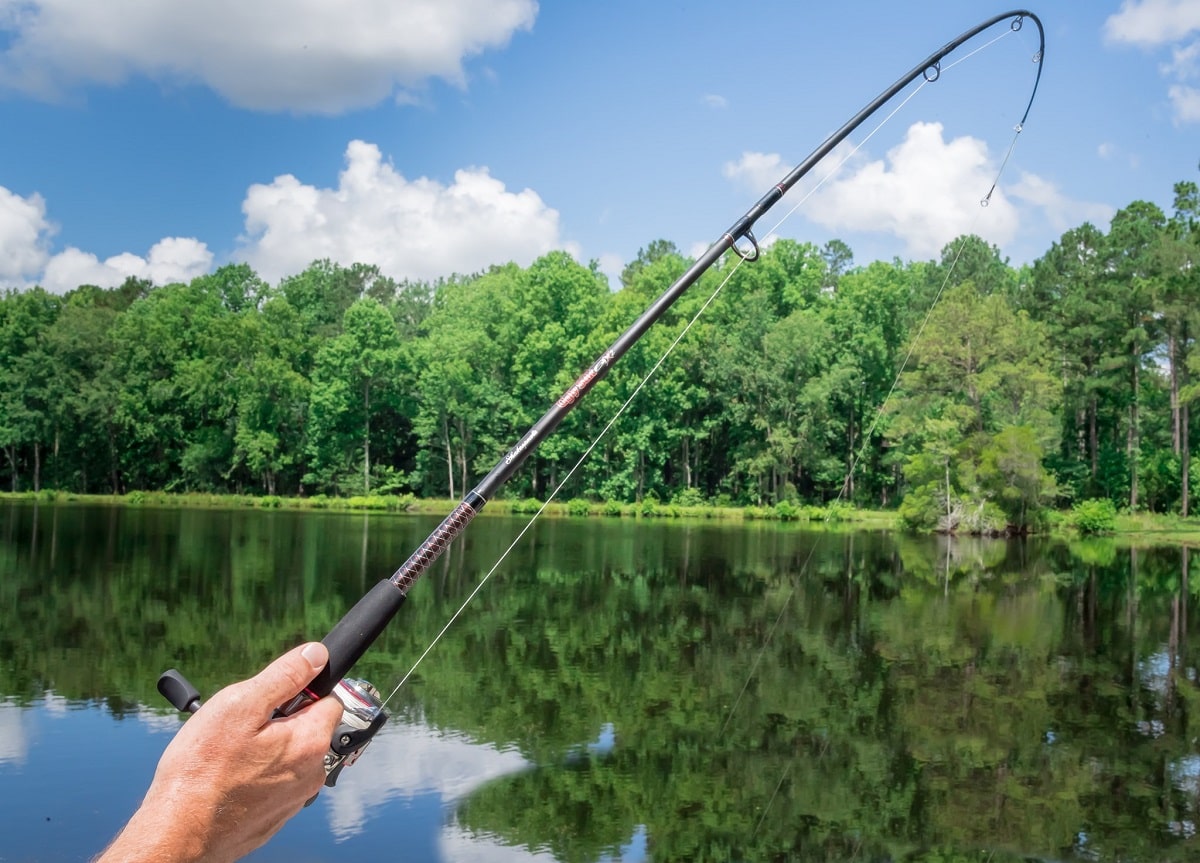 Pros
Well-balanced rod provides great control when handling larger fish
Features light EVA grips
Durable two-piece construction
It comes with a seven-year warranty
Offers a wide range of choices for length and power
Cons
The handle can be too small for large hands
4. Cadence CR5 Spinning Rod
Cork and EVA Handle
Fuji Reel Seat
Stainless Steel Guides
Lightweight and Strong
You can purchase the Cadence CR5 spinning rod with confidence, as it is constructed with high-quality materials and boasts excellent craftsmanship. The rod is crafted with 30-ton graphite blanks, assuring you of its durability and power.
This rod features stainless steel guides with SiC inserts. These combined attributes contribute to a smooth rod and prevent line stacking in the guides, reducing friction and enhancing sensitivity. Additionally, the rod includes a Fuji Reel seat and premium-grade cork handles, providing the firm yet comfortable grip needed to handle hard-fighting fish.
Despite being quite strong and sensitive, the rod weighs 2.2 pounds. As such, those seeking an ultra-light rod may be disappointed. However, overall, it's a great rod to hone your bass fishing skills.
If you are budget conscious and want an affordable spinning rod without sacrificing quality, the Cadence CR5 is a great option.
Pros
Made from high-quality materials, ensuring durability
Features a comfortable grip handle
Offers a variety of options in terms of power and length
The matte black blank has an excellent aesthetic
Priced very reasonably
Comes with a warranty and a money-back policy
Cons
It weighs 2.2 pounds, which is a little heavy
5. Fenwicks Eagle Spinning Rod
5 Year Warranty
Comfortable Cork Handles
24-Ton Graphite Material
Increased Casting Distance
Here's another essential type of spinning rod for general bass fishing. You have various options to choose from, ranging from 5'6″ to 8'0″ long rods. Additionally, this rod offers power options from light and medium-heavy to ultra-light and ultra-heavy.
This implies that anglers of all skill levels can find the best spinning rod for bass in this model. The rod is made of graphite and features a long cork handle. The handle, simple yet durable, employs a B2 Burled cork design, offering a feel reminiscent of traditional cork.
It also features lightweight stainless steel guides and inserts. The guide eyes are compatible with braided lines, and the rod can be paired with any high-quality reel of your preference.
Like the Cadence CR5 Spinning Rod, the Fenwicks Eagle spinning rods are an excellent option for bass fishing, particularly considering their price point. Whether you're a beginner or an expert, your collection wouldn't be complete without this spinning rod.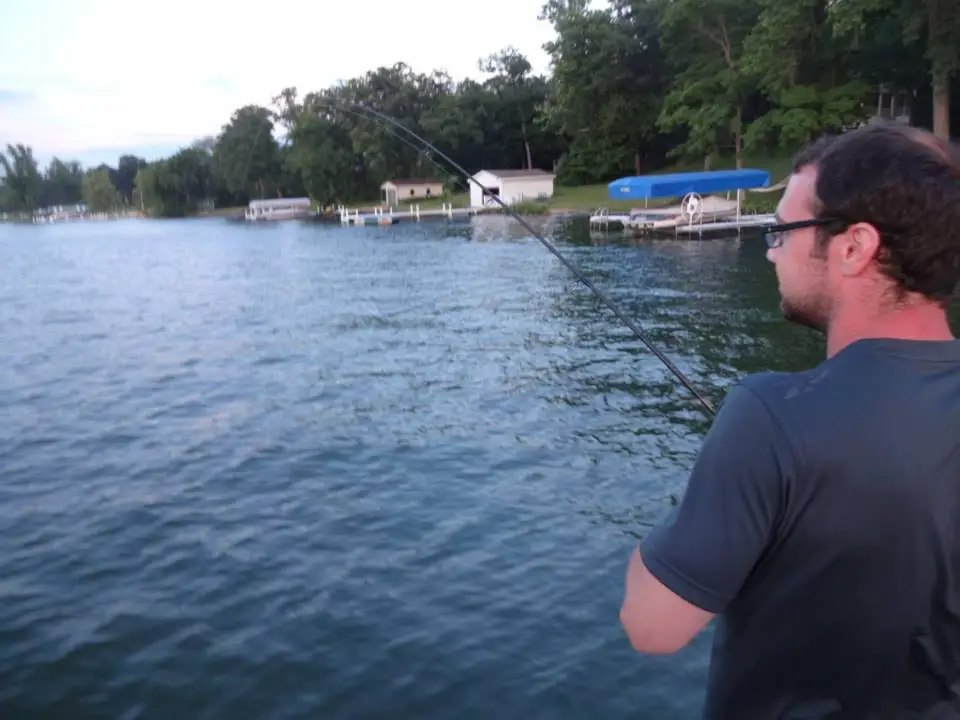 Pros
Sensitive enough to keep you alert
Features a chip-resistant handle
Lightweight and corrosion-resistant guides
Offers a range of length and power options
Affordably priced
Cons
Requires careful handling when dealing with large fish
The aesthetic appeal is not particularly impressive
6. Shimano Solora 2 Piece Spinning Rod
Sturdy Aeroglass Construction
Aluminum Oxide Guides
Comfortable Cork Handle
Suited for Beginners
Shimano is a well-known brand in the realm of casting and spinning rods. For bass fishing, the Solora 2-piece spinning rod is a superb option to consider. For this type of fishing, you require a medium-heavy rod ranging from 6 to a maximum of 7 feet. This rod is sensitive, dependable, and easy to use.
This top-rated spinning rod for bass is constructed from durable Aero Glass for the rod blank. It also includes aluminum oxide guides. The rod's dense graphite locking reel seat ensures you secure the reel with utmost safety and precision. The rod also features a cork handle, which offers a firm grip and comfort for long durations of fishing.
The fishing rod is also available in several variations, such as 6-foot medium, 6-foot medium, and 7-foot medium. The most popular model is the 6'6″ medium power rod, favored by most avid anglers. The rod's flex is light action and compatible with any lure.
Pros
Features a compact locking graphite reel seat
Rigid guides made from aluminum oxide
Cork and rear grip handle
Fast-action medium power rod
Affordable price
Cons
Requires careful maintenance to ensure durability
It feels a little stiff
7. St Croix Premier Spinning Rod
SCII Graphite Material
Premium Cork Handles
Fuji Reel Seat
Flex-Coat Slow Cure Finish
If you have a higher budget and are seeking a well-balanced fishing rod for bass fishing, then this could be your pick. The St. Croix Premier Spinning Rod is a lightweight, stiff, and flexible option capable of catching large fish. It offers rods ranging from 4'6″ to 7'0″ in length, with different power variations. So, if you wish, you can choose a smaller length or lower power rod for general fishing, but this rod is equally suitable for catching bass, trout, catfish, etc.
This fishing rod is crafted from premium quality SCII graphite blanks and other top-notch components. It also features aluminum oxide guides with a double-plated black chrome frame. All these elements contribute to the rod's rugged performance while keeping it well-balanced and lightweight.
The rod comes equipped with Fuji TCS reel seats, providing a comfortable base for your reel. Also, the premium grade full cork handle ensures a better grip and more leverage for casting. The description states that it's designed and handcrafted in Park Falls, USA, and is double-coated with a slow-cure finish.
For the bass angler who simply wants the best of the best and money is no object, the St Croix Premier is for you. This is the best-performing option and is made from the highest quality materials.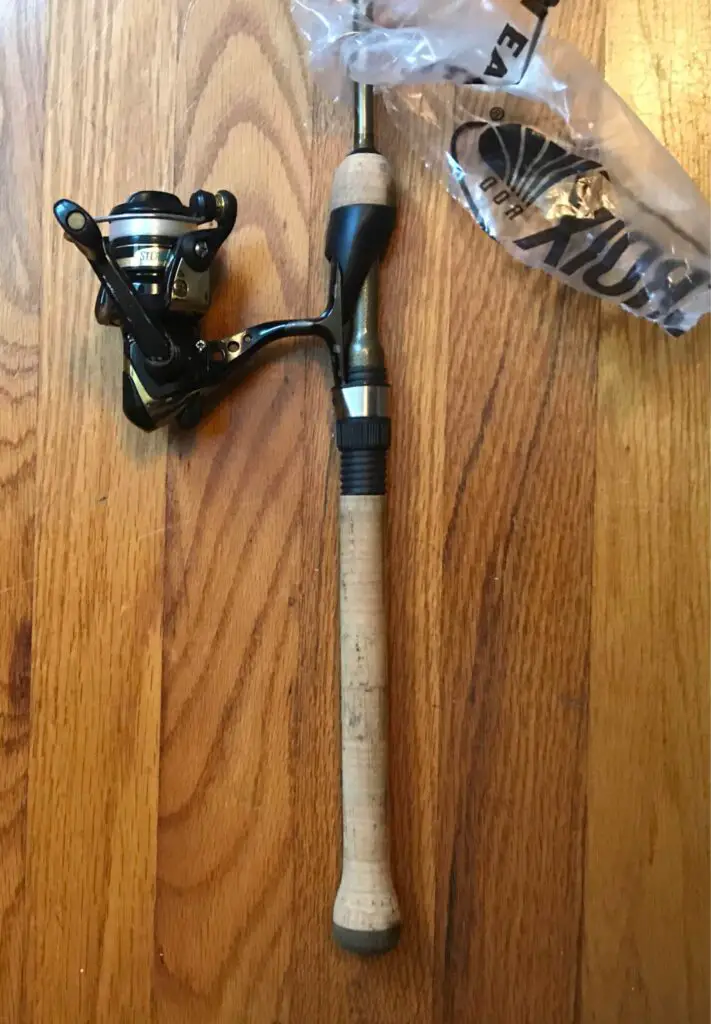 Pros
Reliable, powerful, and sensitive
Offers outstanding hook setting power
A well-crafted rod that will last a long time
Suitable for different lure weights
Offers multiple length and power options to choose from
Cons
8. G. Loomis GL2 Spinning Rod
Ultra-light Spinning Rod
Graphite, Fiber Blend
Comfortable Cork Handles
1 and 2 Piece Designs
G Loomis, a partner brand of the fishing giant Shimano, offers a variety of excellent options for different types of fishing. They have a collection of both spinning and casting rods, all of which excel at their specific tasks. However, the spinning model is more versatile for bass fishing.
The G. Loomis GL2X Spinning Rod, in particular, is made from a graphite blend. This rod is 20% lighter than other previous GLX rods and is also stronger overall.
The rod features a slimmed-down handle with an ergonomic design. It's a medium-powered, sensitive rod that can easily detect even the lightest bite. The cork handle has been slimmed down and tapered for optimal hand placement, leading to better casting control. The G. Loomis GL2 offers enhanced balance and accuracy, along with smooth pulling.
The spinning rod is suitable for anglers of all skill levels and performs well according to your abilities. We recommend opting for an 8-15 lb range of line weight for a 6'6″ rod. For other models, you can pair it with the appropriate line weight of your choice.
Pros
Medium to fast power rod
Casts far and smoothly
Evenly applies power across the rod
Durable, sturdy construction
Cons
Expensive price range
The graphite body must be treated with care
9. Daiwa Tatula Fishing Rod
X45 Bias graphite fiber construction
Fuji K-guides with Fazlite rings
Split-grip handle design
All Tatula fishing rods are designed to impress users. That's why we couldn't resist testing the Daiwa Tatula Rod despite its low price. This rod comes in lengths varying from 6′ to 7'7″ feet and offers different power options ranging from medium to medium-heavy/heavy. The rod features a "Mega-top" tip spliced to the end with two small caliber guides wrapped around it. All of these features combined make it incredibly sensitive, flexible, and fast.
The rod pairs well with the 2017 Daiwa Tatula Sv Reel, making it a perfect combo. However, you can also try using your existing reel to see how it performs.
Additionally, you can easily set the hook on the rod. The tip quickly gives way to a stiff and rigid backbone, helping you achieve excellent penetration every time. The rod is robust, versatile, and suitable for many years of use. Depending on the type of fishing and your skill level, if you succeed in choosing the right power, it's possible to achieve the expected performance from this product.
Pros
Offers different size and power options to choose from
Alconite guides help you control the action
Lightweight
Sensitive enough
Cons
Shiny wrapped finish is poorly designed
10. St Croix Triumph Spinning Rod
SCIII Carbon material
Premium Cork Handle
Flex Coat Slow Cure Finish
5 Year Warranty
Last but not least, our final pick is the Triumph Travel Spinning Rod, designed for savvy anglers. It offers a four-piece design and is built to deliver top-tier performance. This top-notch spinning rod for bass fishing features aluminum oxide guides with a black frame. Additionally, it includes a Fuji DPS reel seat with a frosted silver hood, a high-quality cork handle, a double-coat cure finish, and more. Hence, it's highly sensitive, reliable, and offers excellent hook-setting power.
You have five different options to choose from in terms of power and length. For bass fishing, 6′ medium or medium/heavy rods are ideal choices. The rod is made of premium quality SCII graphite along with hard aluminum-oxide guides and a black frame. The rod comes with a five-year service warranty.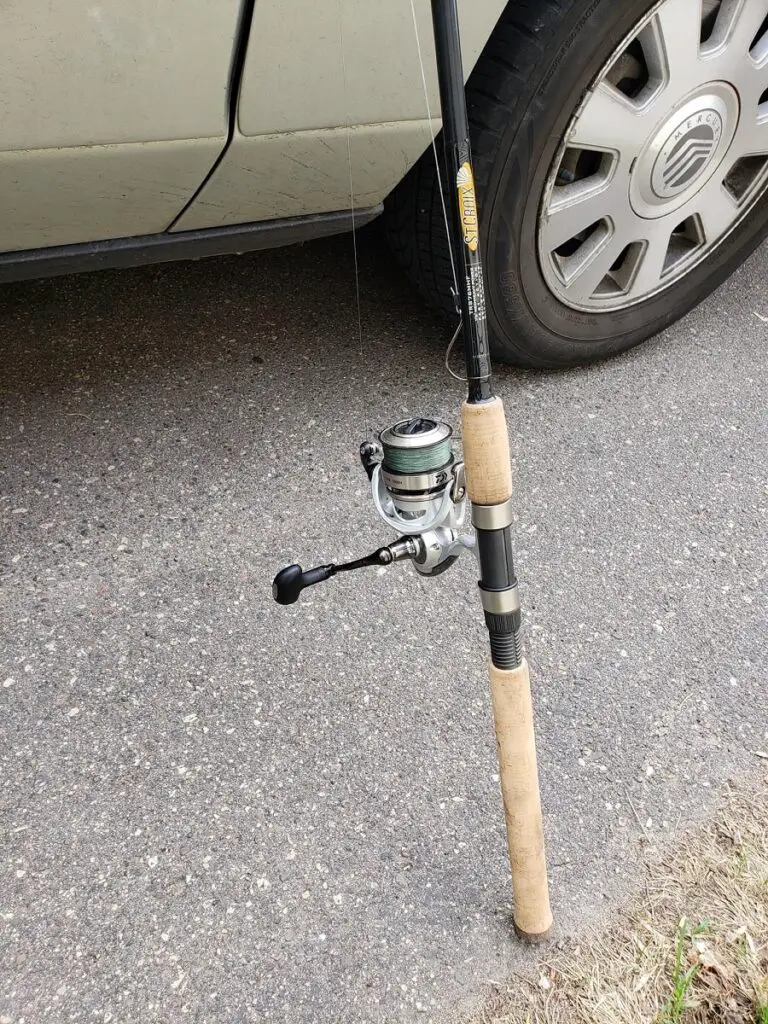 Pros
Sensitive rod
Fast performance
Powerful enough to catch big bass
Easy to use and comfortable
Cons
I feel too smooth for those who prefer stiff rods
Spinning Rods for Bass Buying Guide
Fishing rods contain a lot of features that help you make a successful fishing trip. That is why you need the best spinning rods for bass fishing. So, what makes a rod the best for catching some winning bass? Let's find out.
Rod's Action
The action of a rod means how much it can blend or flex from the top when pressure applied. Fishing rods can be designed to be slow to extra fast. You need a fast or extra fast action for fishing like trout or bass depending on the model and features.
Fast rods bend up to 25% of the rod length. The action determines a few things like how much power is applied to set the hook into the fish's jaw and the rod sensitivity.
For catching fish like bass, you need a responsive rod. Otherwise, you don't pull the fish up when deep under the water from the boat. So, choosing the proper action with a well-set hook and reel set is essential.
Without any doubt, the bass fishing rod has to be sensitive. This species of fish are notorious for spitting out lures which they hate. So, you need a sensitive rod to alert you when the bass bites the lure. Before the fish know you need to pull the line and remove it from the water.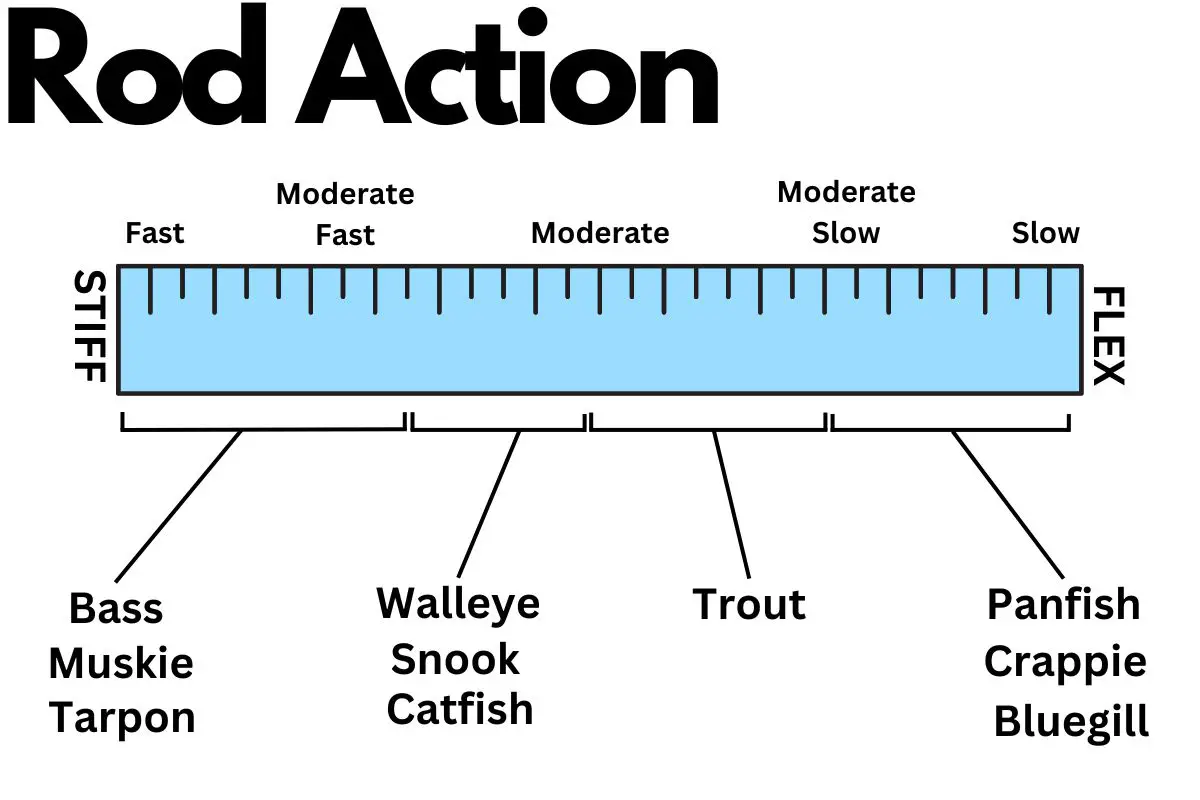 Rod's Power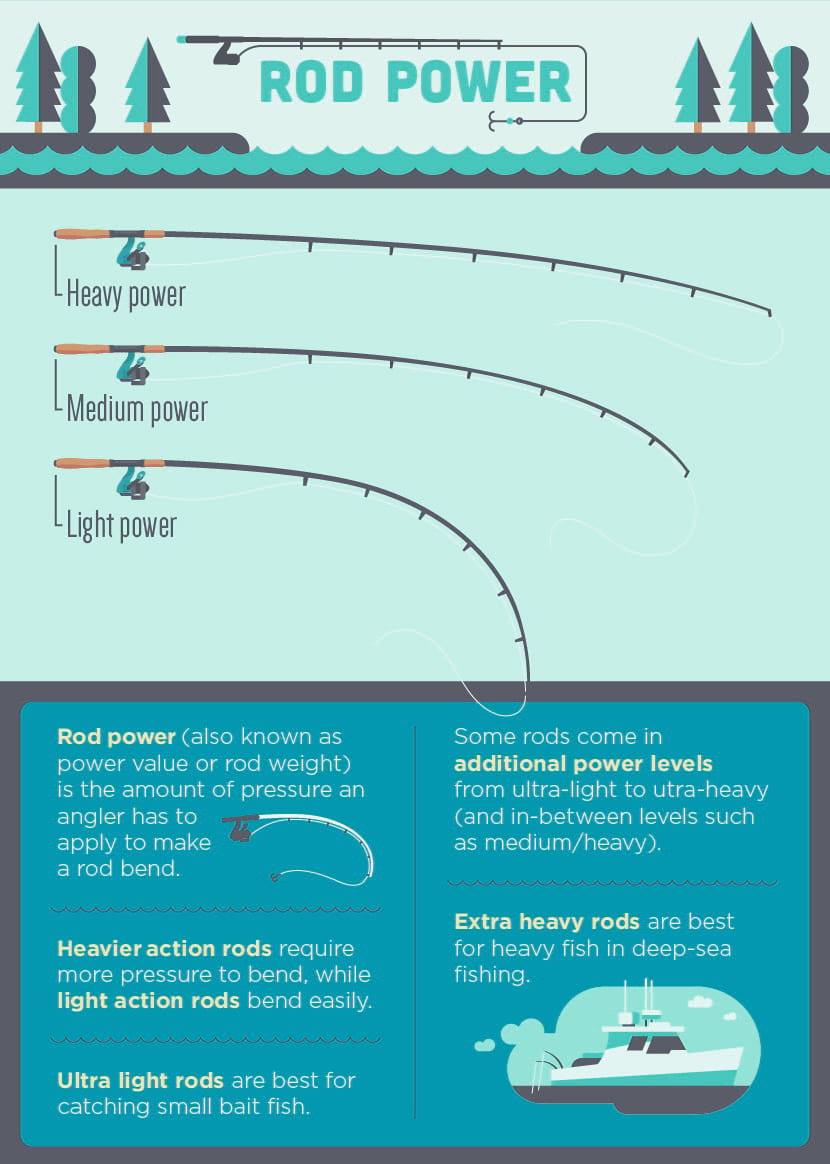 Image Source: fix.com
The rod power determines how much force a rod can take. Many people suggest having an ultra-light powered rod for best performance. But some medium-heavy rods are also suitable depend on the rod stiffness.
However, rod power is also related to rod's flexibility. For example, a heavy bass rod is different from a heavy saltwater rod. Select the red depending on your intended use before determining the power. If you are not informed about the intended purpose, use the line weight as a guide.
And remember – always use the line weights which go well with your rod power. If the power and weight line mismatch, the line or the rod could be broken.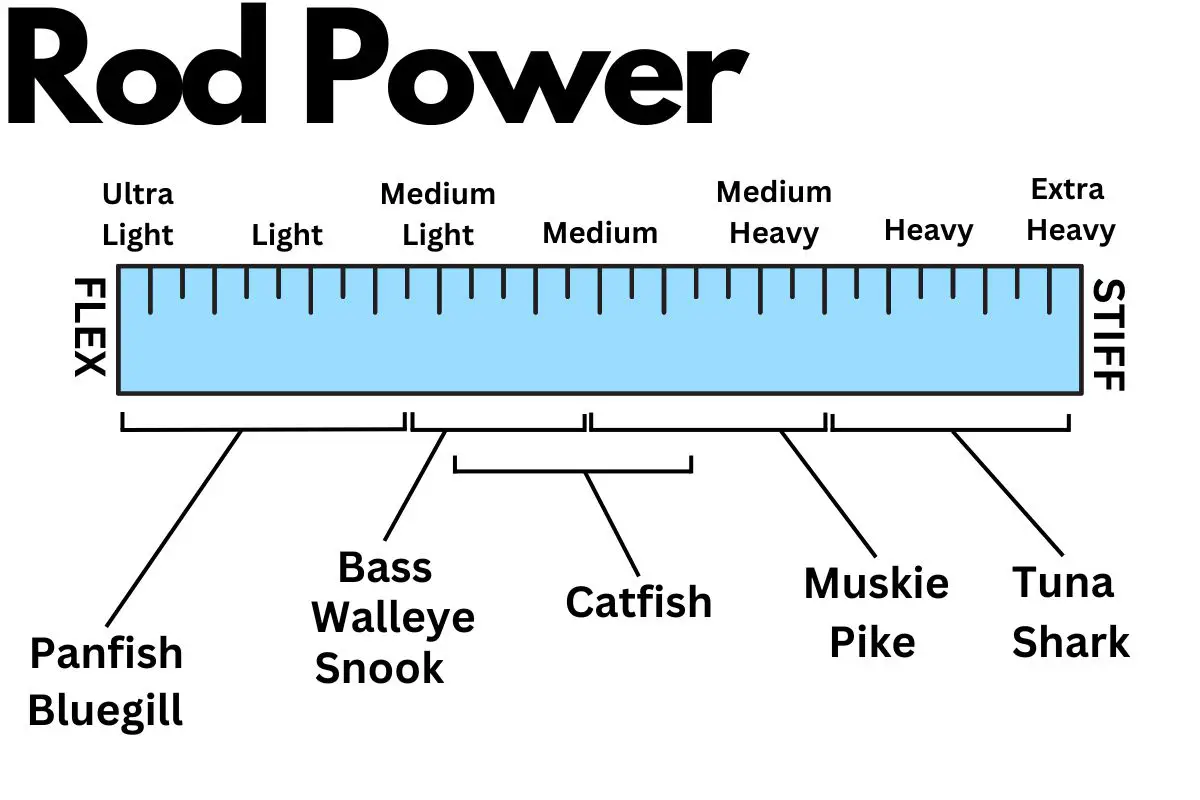 Line Weight
Many anglers choose a heavy line thinking of performance and durability. Heavy lines are not always suitable for bass fishing. It depends on your rod's power and the manufacturer's suggested line weights. So, determine the correct line weight by asking the seller or any expert or recommended by the brand of your rod. 
Spinning rods are suitable for the lighter line starting from 4-10 pounds. Some of the lines could be 10-14, but nothing more. You can easily catch any large bass on the 4-pound track, but 6-8 pounds are much helpful. In case you are feeling nervous with this weight range, go higher.
Travel Rods
You will see many rods are available in one, two, three, and even four pieces. This parted rod is suitable for transport. For example, it can be hard to take a 7 ft rod on the trip. And there are higher chances that it could break during the transport. So, splitting the rod into pieces is much more convenient than to carry an entire rod. But the truth is the performance of a one-piece rod is far better than the parted one.
Lure Weight
Lure weights are a minor priority in here. If you have some preferred and successful option for a lure which goes with your new spinning rod for bass fishing, go for it. It's better to research first what baits are popular as lures weight, type and goes well with a particular rod. Some bass rods are suitable for light lures like 1/8 oz while some are good up to 6/8 oz.
Guides
Guides are another important element to consider when deciding on a rod. A poor-quality guide can ruin a high-quality blank, whereas a high-quality and lightweight guide can significantly increase casting distance and sensitivity. When choosing a guide, remember to ensure the ceramic rings are rounded. Fuji guides are a great choice.
Guides are intended to manage certain line sizes. Guides need to be compatible with the specific line sizing for the rod. Every rod length will have a set number of guides. These come in two different styles – single and double foot (the feet being what attach to the fishing rod). Double foot guides are physically stronger however, they are heavier and you will lose a little bit of flex from your rod.
Final Words
More than hauling bass and other fish, an ideal bass fishing rod affects your cast, lures ability to detect bites, and the hook set. So, your total fishing performance mostly depends on the quality rod. Many experts suggest that try your luck on some cheap but quality full rods if you are a beginner. That's how you get the chance more and more about knowing bass fishing, rods and gear, and better your skills. So, when you are investing a high-quality, expensive gear, you know better what to choose.
Our top editor's choice for best spinning rods for bass fishing is the Okuma Celilo. This rod is an excellent option for anglers looking for more convenient settings and features. Also, it's suitable for use for years after years without much hassle.