When it comes to conventional reels for saltwater fishing, the choices are numerous. When you talk about great fishing reels from reputed companies, there are again a lot of options. But when you ask for a really capable reel from a reputed brand at an affordable price, the selected becomes much more limited.
The Shimano Speedmaster II is one of those reels that are capable of catching large saltwater species in the deep sea. In this Shimano Speedmaster Reel Review, I found that this product has an excellent build quality and you can expect it to work without any trouble in most fishing conditions. I have spent decades fishing with Shimano's heavy overhead reels, so I already had pretty high expectations about how the Speedmaster was going to perform.
Made of high-grade aluminum and stainless steel, it has a compact design and medium-range weight. This makes it very versatile to the point that you can't afford to forget it on your next offshore fishing trip. Overall, it's a winning product that has come to the market pretty recently. More reviews and opinions are awaited for a more considered verdict but the reviews that we have so far suggest that it's going to be a big hit with the fishing community.
Learn more about how our scoring system works.
Let's have a look at the specifications:
Shimano SpeedMaster Features
Drag: Double-Speed Lever Drag Reel
Water Type: Saltwater Fishing
Hand: Right Hand Retrieve
Gear Ratio: 5.7:1 and 3.1:1
Line Retrieval: 42 / 23 inches per crank
Mono Line Capacity: 30/230, 25/280, 20/250 (lbs/yds)
Braid Line Capacity: 80/355, 65/400, 50/580 (lbs/yds)
Maximum Drag: 40lbs
Bearings: 4
Weight: 25.7oz
Overview
If you use heavy-pound braid fishing line, you should be happy to find Shimano Speedmaster 12II. This is a saltwater 2-speed lever drag fishing reel with a right hand retrieve.
There are two gear ratios to choose from 5.7:1 and 3.1:1. This means that you can switch between a high speed and a high torque option. This is particularly useful for the differences between pulling in an empty lure and fighting a grouper. I found this feature to be extremely useful when fishing on the bottom at deep depths – if you have lost your bait and need to re-bait your hook, then you can retrieve the line quickly with the 5.7:1 option. But if you hook onto a tuna then you can apply some serious power with the 3.1:1.
It also has a high spool capacity necessary for fighting big fish. The SM 12II can hold 65-pound braid up to 400 yards. It offers a maximum drag pressure of 40 pounds – that's a lot and makes it fit for big game fish. It has an S-compact design with Shimano's Hagane body and weighs 26 ounces. This must give you a hint about its strength and durability.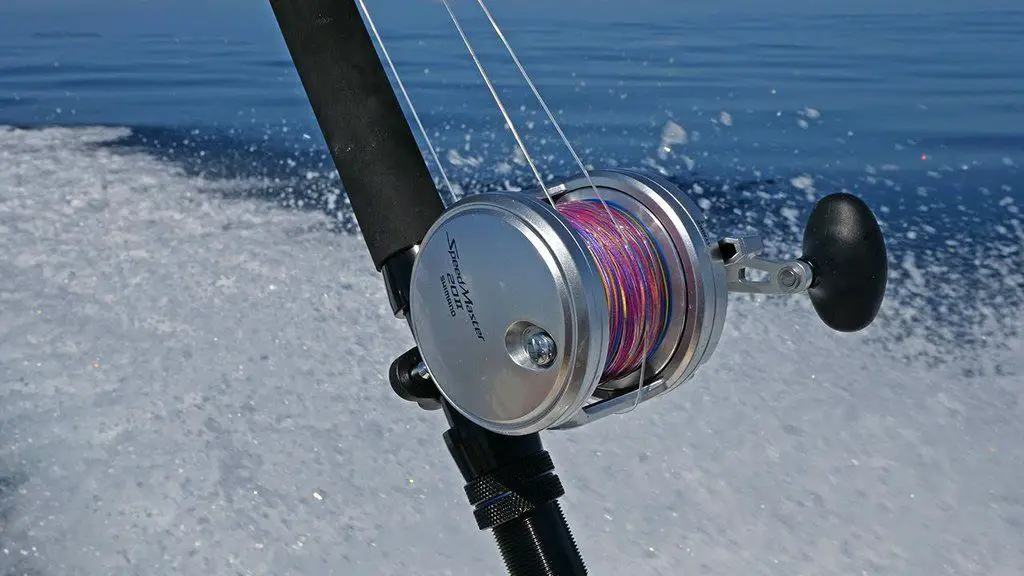 Drag
Speedmaster 12II has a more capable drag system that can have a 40lb – 50lb setup without any problem. This reel has a maximum drag of 40 pounds. I have found some offshore setups that don't offer this much drag but they rely on having a large line capacity to wait for the fish to run out of gas before being able to fight them properly. That is not the case with this reel – 40 pounds is plenty for catching anything except for the largest Marlin. It also has the benefit of the high line capacity as well.
Smooth Functioning
This reel functions very smoothly in both high and low gear settings. Like most overhead reels I don't recommend casting with them. You can through out a live bait a few feet but anything further than that is better suited for a spinning reel. It is simply too heavy to be casting lures.
Best for groupers and snappers
This is a saltwater reel that can catch some of the biggest groupers and snappers. It's very smooth and has got a good deal of cranking power. There are users who claim that you can go on catching big-sized red groupers, mango snappers, and gag snappers and the handle of the SM II reel will never give any problem. I would be happy to use this reel for most pelagic species as well such as Tuna and Mackerel.
Pros
At 42 inches for each crank, the SM12 II has an incredible line pick-up. Compared to other reels in its category, the Speedmaster 2 comes across as slightly heavier, but I found that's directly linked to its strength and build-quality.  
The gearing of the Shimano SM 12II is very silent and smooth. The Speed Master 12 II is also cheaper than other comparable reels. This reel seems to have many good features that will surely enhance your fishing experience.
2-speed lever drag with 40 pounds of pressure that can battle even the biggest saltwater species.
Made of high-grade materials including industry-grade aluminum, stainless steel, and plastic.
Cons
On the downside, this reel does not seem to have Instant Anti Reverse Bearing. This makes you play with the gear back and forth to change it.
This isn't a very versatile reel – you can't cast with it and it will be overkill for smaller reef species.
Value for Money
In terms of price, it's a cheaper substitute for some of the more expensive reels in its category. It works smoothly and gives you a big bang for your money. The Speedmaster is going to meet your expectations with its excellent quality and great pricing. With the launch of this affordable lever drag reel, Shimano has raised the bar for saltwater reels. Shimano deserves kudos for giving a lever drag reel at such a low price.
My only comment would be if you are going to be targeting Marlin or Sailfish then you may want to consider going for the premium reels – that is not a target species that you want to be caught with a smaller reel than you need.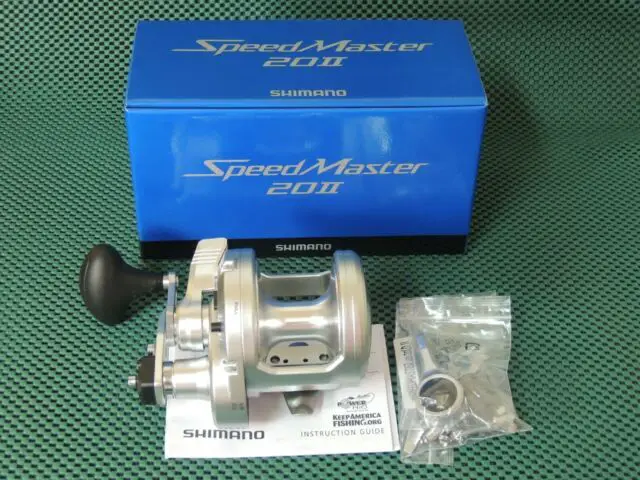 Video Review
Ultimate Fishing has put together this video of the Shimano Speedmaster so you can see the reel in action:
Specifications
| MODEL | MONO LINE CAPACITY (#TEST/YD) | WEIGHT (OZ) | BEARINGS | GEAR RATIO | RETRIEVE PER CRANK (IN) | BRAID CAPACITY (LB/YDS) | MAX DRAG (LB) |
| --- | --- | --- | --- | --- | --- | --- | --- |
| SPM12II | 20/350, 25/280, 30/230 | 25.7 | 4 | 5.7:1 | 42 | 50/580, 65/400, 80/355 | 40 |
| SPM16II | 20/440, 25/350, 30/300 | 26.5 | 4 | 5.7:1 | 42 | 50/750, 65/550, 80/450 | 40 |
| SPM20II | 30/470, 40/320, 50/260 | 34.6 | 4 | 5.2:1 | 52 | 65/725, 80/575, 100/435 | 44 |
| SPM25II | 30/550, 40/420, 50/340 | 36.2 | 4 | 5.2:1 | 52 | 65/1010, 80/730, 100/470 | 44 |
Although it is called the SpeedMaster 2, this does not refer to a previous model, but rather that it is a two speed reel that can switch between high speed and high torque depending on whether you are retrieving a big fish or just bringing back your lure.
Shimano SpeedMaster II vs Tyrnos II
A common comparison to explore is the differences between Shimano's SpeedMaster and Tyrnos. Both are high end, two speed conventional reels. For this comparison I have used the Model 20 sized specifications for both options.
The SpeedMaster is a more compact overhead – it is lighter, has less line capacity, but has a faster retrieve and higher max drag. If you are chasing heavy gamefish that requires a higher max drag then consider the SpeedMaster.
The Tyrnos is a heavier reel but packs a huge line capacity. If you are chasing gamefish that will run long distances then it is hard to pass. The line capacity also lends itself to deep dropping. I personally own a Tyrnos and have chased many pelagic species over the past decade and can vouch for its performance and durability.
The SpeedMaster is the more expensive of the two options.
| | | |
| --- | --- | --- |
| Specifications | SpeedMaster II | Tyrnos II |
| Bearings | 4 | 4 |
| High Gear Ratio | 5.2:1 | 5.0:1 |
| Low Gear Ratio | 2.3:1 | 2.5:1 |
| Retrieve Per Crank | 52 inch | 45 inch |
| Max Drag | 44 lb | 33 lb |
| Weight | 34.6 oz | 39.2 oz |
| Braid Capacity | 575 yards of 80 lb | 790 yards of 80 lb |
Final Thoughts
If deep-sea fishing is your passion, the Speedmaster reel is for you. It's a highly evolved and refined product that brings the best of Japanese engineering and craftsmanship. It is sturdy and high-performance equipment. It has all the attributes that make a reel pass the test for saltwater use. We are happy to recommend this product to you. 
If you want to see some alternatives then have a look at our review of the best conventional reels available on the market.