The best reels for surf fishing should have high durability, long casting ability, smooth action, and large line capacity. They should also be corrosion-resistant from saltwater, have a sealed drag system, and offer a good gear ratio.
The Penn Spinfisher VI Long Cast is my top choice because it offers the superior casting distance and line capacity needed to get your bait beyond the waves and fight large saltwater species. It features HT-100 drag washers for corrosion resistance and an aluminum spool. It is ideal for surf anglers where the fish are a long way away.
I have also written a guide to rods for surf fishing you may enjoy.
Powerful 44 lb of Max Drag
High torque from 4.3:1 gear ratio
41 inch per turn retrieve rate
 
2 Speed Gearing System
High Line Capacity
Corrosion Resistant Stainless Steel Components
1. Penn Spinfisher VI Long Cast Spinning Reel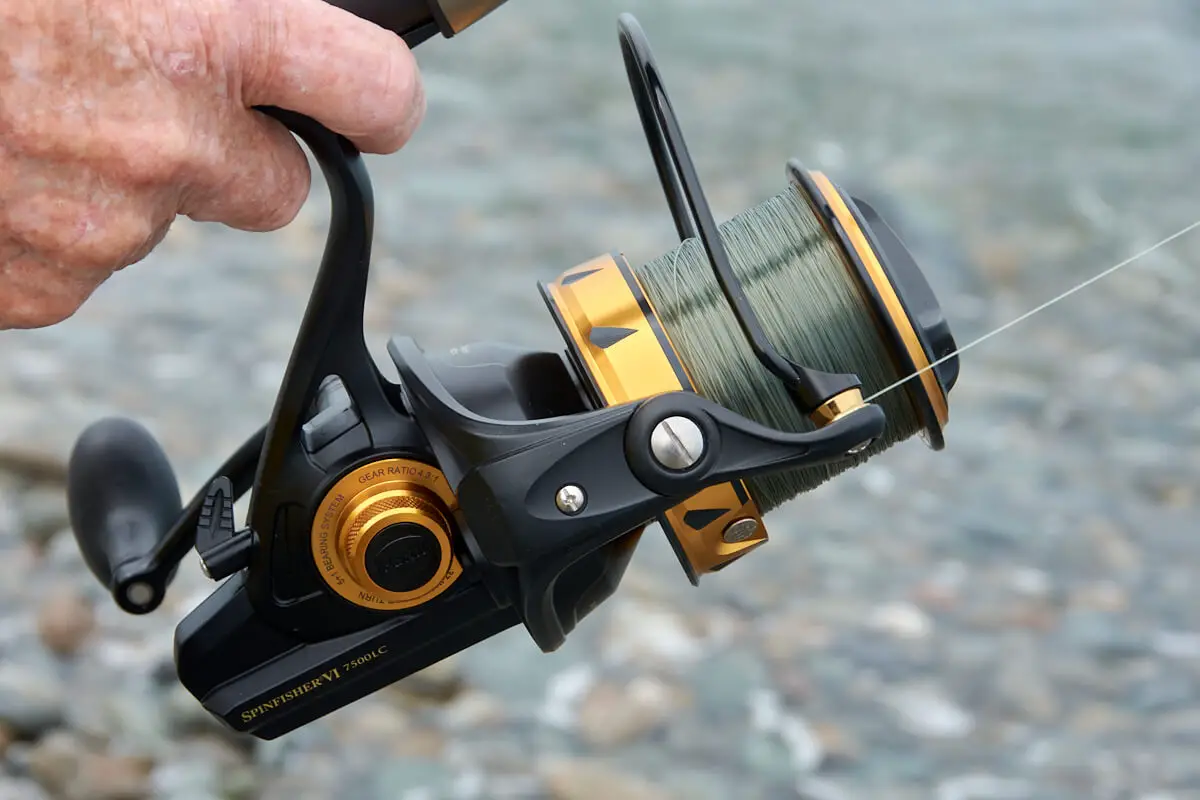 Update July 2023 - At ICAST 2023 the Penn Spinfisher VII was released. This model comes with new technology, improved materials, and better specifications.
The Penn Spinfisher is one of my favorite spinning reels, and thankfully, they make various models, in this case, the Long Cast. Unfortunately, it is only available in three sized models: 5500, 6500, and 7500.
It is well suited for saltwater use because it has HT-100 drag washers sealed within the housing. The spool is aluminum, making it both lightweight and corrosion resistant. It is engineered excellently for a reel with this much line capacity at only 20 ounces.
The 5500 model has 450 yards of line capacity for 15 pound braid, due to the lengthened spool. This is well suited for larger inshore species that might put up a big fight. You must have enough line to cast past the waves and fight after the strike.
The largest model only has 25 pounds of max drag, which I feel is on the light side for a powerful saltwater reel, but I think is likely sufficient for inshore fishing.
Pros
Extreme casting distance will get you beyond the breaking waves
Excessive line capacity will fight any inshore fish species
The materials of construction and Penn's drag technologies are extremely durable, even for saltwater
Cons
Limited sized models available
The 8500 model only has 25 lb of drag, which is low for a large saltwater reel
Fully Sealed HT-100 Drag Washers
Full Metal Body
Extremely long casting distance will get past the waves
2. Shimano Speedmaster Surf Reel
Shimano is my favorite fishing reel brand, so I couldn't go past their Speedmaster surf reel.
It only comes in a single sized model, the 14000, which can handle almost any fish in the ocean. But it doesn't offer much flexibility if you target smaller species.
This is a huge reel that can fit over 500 yards of 50 lb braid. This reel isn't suited for flounder or redfish – it is designed for shark or tuna.
It also has 44 pounds of max drag, that is achieved by sacrificing speed. The gear ratio is only 4.3:1, so you can see where the torque comes from. It still gets 41 inches per turn in retrieve rate, so you don't have to worry about cranking for too long.
Also, I love the all black design of this reel. It looks fantastic!
Pros
Powerful 44 lb of max drag can handle almost any saltwater species.
High line capacity of over 500 yards of 50 lb braid
Cons
Extremely limited sizes available.
Low 4.3:1 gear ratio.
Not suitable for smaller inshore species.
Powerful 44 lb of Max Drag
High torque from 4.3:1 gear ratio but still has 41 inch per turn retrieve rate
3. Penn Fathom Star Drag Reel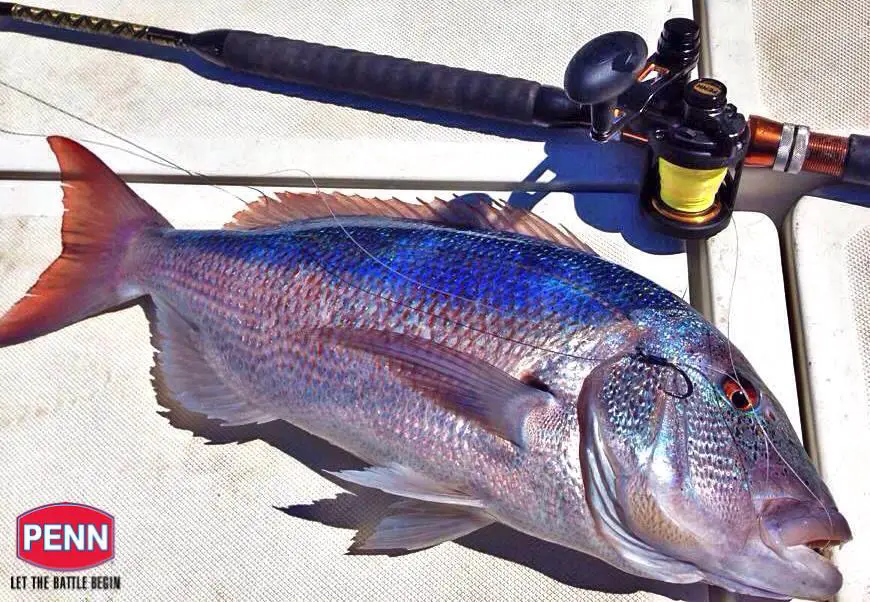 Another Penn reel, this time I have chosen a conventional reel design. The Fathom also comes with Penn's reputation for durability and robust design. It has a full metal body with Dura-Drag washers, and stainless steel gearing. This reel can handle saltwater with no trouble.
The full metal design does increase the weight – even the smallest model (2500) weighs 19.6 ounces. If you are fishing all day you will notice the effort, especially for casting past the breakers.
It has a powerful 33 pounds of drag that will handle large saltwater fish, and can hold almost 500 yards of 50 pound braid. It has visible line capacity rings so you can see how much you have left on your spool. This is especially useful if a fish cuts you off on some rocks 100 yards offshore.
It has a 5.5:1 gear ratio with a 38 inches per turn retrieve rate. This is a well balanced reel that is durable, powerful, and fast.
Pros
The high max drag and line capacity is ideally suited for large inshore fish species.
Cons
At almost 20 ounces in weight for the smallest model, you will notice some muscle fatigue after a few hours casting into the surf.
4. Daiwa Emcast Surf Reel
The Emcast is designed especially for using live bait, which I have found is very popular inshore fishing. It has a secondary drag system will allow the live baitfish to take small amounts of live to improve its action and allow it to manervour. It also means you don't need to leave your feel with the bail open when using live bait.
It is based on Daiwa's LT (Light and Tough) design which is full of saltwater resistant properties.The handle is machined aluminum, the body is carbon, and it has an air rotor. This reduces the weight to only 16.8 ounces, even in the largest model.
It is available in 2500 to 500 sizes, so you get more options than the previous reels. The drag goes from 22 to 26 pounds, which should be plenty for popular surf fishing species.
This reel is also much more affordable than some previous options, which is great for a saltwater reel.
Pros
It is specially designed for live bait.
Saltwater ready design.
Affordable price tag.
Cons
Only 3+1 ball bearings can be a little rough when retrieving.
The secondary drag system makes it more complicated for beginner anglers.
Specifically designed for live bait
Powerful 22 to 26 lb max drag
Machined aluminum handle
5. Abu Garcia Revo Inshore Spinning Reel
This reel is a variant of the popular Abu Garcia Revo, designed specifically for inshore surf fishing. It is saltwater ready with technological upgrades that improve its casting distance, such as the rocket line management system. This lays the line evenly to reduce the friction resistance when it empties from the spool.
It also has the rocket spool lip design that provides less friction when the line is cast past the edge, further increasing distance. When every yard matters, this is the attention to detail that is important.
The carbon matrix drag system gives it a smooth drag across the entire range. However, I do find the 11 lb max drag on the 3000 and 3500 sizes to be too low for inshore species. I wouldn't pick anything smaller than the 4000 at 17 pounds.
Pros
6+1 stainless steel ball bearings give a smooth retrieve.
Rocket line management system improves the casting distance.
It is Corrosion resistant with an alloy body and aluminum rotor.
Cons
Low max drag of 11 pounds in the smaller models.
The line capacity of the smaller models is low at under 200 yards of 10 lb mono.
6+1 stainless steel ball bearings
Upgraded insert molded C6 carbon body design
Rocket line management system
6. Daiwa Sealine Conventional Reel
The Daiwa Sealine has a free floating spool, that separates the spool from the main body, allowing it to spin more easily, and reduces resistance to the cast. This gives increased casting distance, which is one of the most important aspects of a fishing reel for the surf.
The ball bearings are corrosion resistant CRBB. It is made from a combination of marine bronze and stainless steel. The spool is aluminum to reduce the weight.
One design feature I like is the two position handle adjustment, so people like me with large hands, can move the handle further away from the reel.
It has over 400 yards of 25 lb line capacity, and 46 inches per turn retrieve rate at only 18 ounces in weight. There are four sizes available, so you can find one to suit your needs.
Pros
The free floating spool gives superior casting distance.
The premium construction materials give high performance, light weight, and corrosion resistance.
Cons
The 4000 and 5000 models have a much high retrieval rate than the 2000 and 3000, so pay close attention to the specifications.
Free floating spool allows further casting distance
Marine bronze and stainless steel gearing is saltwater ready
High tensile aluminum spool
7. Penn Slammer IV Spinning Reel
When it comes to saltwater durability, nothing beats the Penn Slammer. It is always my recommendation for charter fisherman because it is almost indestructible.
It is filled with Penn's latest technologies including:
IPX6 rated body
CNC Gear Technology with brass main and pinion gear
8+1 Sealed Stainless Steel Ball Bearing System
Hydrophobic line roller bearing
Reduced rotor weight for smoother operation
Sealed Slammer drag system
Dura-Drag carbon fibre washers or HT-100 carbon fibre drag washers
Full Metal Body and side plate, with graphite rotor
Machined aluminium power knob
Automatic bail trip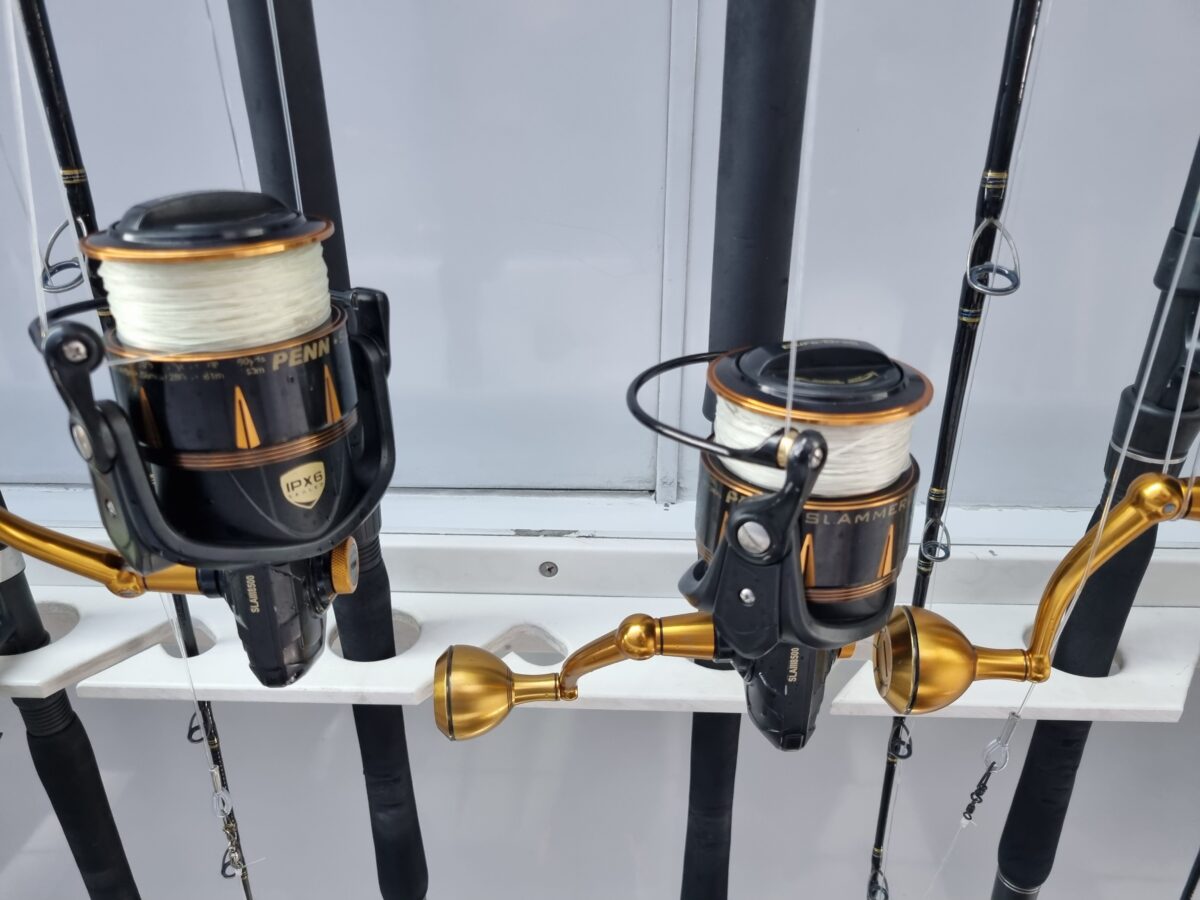 This is a powerful reel. Even the smallest model has 20 lb of drag, while the largest is 60 lb.
There are high speed models available to get the gear ratio from 6.2:1 to 7.0:1. This helps when fighting fast pelagic species or using topwater lures.
The 8+1 ball bearings also produce a smooth retrieve.
I would also note that the smallest model (2500) weighs over 10 ounces, which is on the heavy side for compatible sized freshwater reels that you may be used to.
Pros
Extremely durable design with a full metal body.
Available in a wide range of sizes from 2500 to 10500
Cons
Its durability means it is heavier and can cause muscle fatigue over time.
All of the latest technology does increase the price tag.
I View This as an Extremely Durable Design

Very High Max Drag

Very High Retrieve Rate

8+1 Stainless Steel Ball Bearings 

Ideal for Charter Fishermen
Surf Fishing Reel Buying Guide
Selecting a reel for surf fishing requires very different characteristics than just heading down to your local pond. The fish are often larger and more powerful, the distance required to cast is further, and the saltwater is more likely to corrode your internal mechanisms.
Let's look at the specifications and materials you will require to successfully fish from the beach.
Type of Reel
You'll encounter two primary types of reels when surf fishing – spinning reels and conventional reels. Each type has its unique benefits and downsides.
Spinning Reels
Spinning reels are versatile, easy to use, and typically have a good casting range. Ideal for beginners or those who prefer a straightforward approach. However, they may not offer the same degree of control as their conventional counterparts.
Conventional Reels
Conventional reels are perfect for seasoned surf anglers. These reels provide superior control and are generally sturdier. But remember, they also demand more skill and finesse to master.
Corrosion Resistant Materials
Saltwater is merciless. Hence, it is crucial to choose a reel made of corrosion-resistant materials. Look for reels with bodies and components made of anodized aluminum or stainless steel. These materials resist the corrosive effects of saltwater and increase the reel's lifespan.
Sealed vs Shielded Ball Bearings
In terms of bearings, you'll face two choices: sealed or shielded. Sealed bearings provide the highest protection against corrosive elements but are more expensive. Shielded bearings offer moderate protection but need to be flushed with freshwater regularly.
When selecting a surf fishing reel, I strongly recommend a reel with sealed ball bearings.
Line Capacity
Surf fishing often requires long casts, so line capacity is crucial. Opt for reels with larger spools to hold more line. A higher line capacity ensures a long cast and gives you enough line to fight the fish.
| Inshore Fish Species | Suggested Line Capacity (yards/lb test) |
| --- | --- |
| Redfish | 200/10 |
| Snook | 250/12 |
| Tarpon | 300/15 |
| Bonefish | 250/8 |
| Flounder | 200/10 |
| Striped Bass | 300/12 |
| Speckled Trout | 200/10 |
Casting Distance
Longer casting distance often means higher chances of catching fish. The design and quality of the reel largely determine the casting distance. Look for free-floating spindles, high-speed bearings, and a large open spool for minimal resistance.
A good idea is to check how far you need to cast at your local beach to get your bait out past the breaking waves.
Drag System
A smooth, powerful drag system is essential to successfully land big fish.
Look for reels with a sealed carbon fiber drag system featuring large drag washers.
This setup allows for a steady, strong pressure without jerks or skips.
| Inshore Fish Species | Recommend Max Drag (lbs) |
| --- | --- |
| Redfish | 10-20 |
| Snook | 15-30 |
| Tarpon | 15-30 |
| Bonefish | 8-12 |
| Flounder | 10-20 |
| Striped Bass | 15-25 |
| Speckled Trout | 10-20 |
Gear Ratio
The gear ratio defines how fast you can reel in the line. Higher gear ratios retrieve faster, which can be helpful when reeling in a fish from a long distance. However, lower gear ratios give you more power for battling big fish. It's all about balance, so choose according to your surf fishing style.
| Inshore Fish Species | Suitable Gear Ratio |
| --- | --- |
| Redfish | 5.1:1 – 6.4:1 |
| Snook | 6.4:1 – 7.1:1 |
| Tarpon | 5.1:1 – 6.4:1 |
| Bonefish | 6.0:1 – 7.0:1 |
| Flounder | 4.7:1 – 5.6:1 |
| Striped Bass | 5.1:1 – 6.4:1 |
| Speckled Trout | 5.1:1 – 6.4:1 |
Conclusion
There are some key design specifications to pay attention to when selecting a reel for surf fishing – the line capacity, the max drag, the corrosion resistance, and the gear ratio.
Based on my testing and experience, I have judged the Penn Spinfisher VI Long Cast to be the best currently available. It has a long spool with low friction lip design that gives both line capacity and casting distance.