Extensively designed, this Daiwa Fuego spinning reel is one of the best-placed products for fishing on the market. The product is underlined to be one of the top fishing reels for experienced anglers with a hard covered body, extensive lightweight design and outstanding durability.
In terms of functionality, this reel is renowned to be one of the toughest fishing reels that are available in the market from top brands like Daiwa Fuego. Released in 2017, this reel has quickly become a fan favorite.
All of my judgements and conclusions in this review are based on my own experiences as an angler.
Extremely Lightweight Design - Smallest Model is Under 7 Ounces

MagSeal Design for Durability

Saltwater-Ready

Extremely Sensitive and Smooth Casting Action
Daiwa Fuego Features
Made using the highest quality components
Tested for durability and quality
Magnetised oil seal to keep out dust and saltwater
Overview
When I first looked at the Fuego LT I was surprised and impressed. Although it is not an entry level reel, it is still very affordable. This reel is filled with Daiwa's latest technological improvements – all based around the LT philosophy of reducing the weight and improving the durability.
This reel is full of high end materials and unique design features that I will go into in more detail below. Comparing it to other spinning reels it is hard to go past. It is extremely lightweight but features the highest durability. It has a very high performance with the max drag of a larger sized reel. All at an affordable price point.
This is a well balanced design that really ticks a lot of your boxes.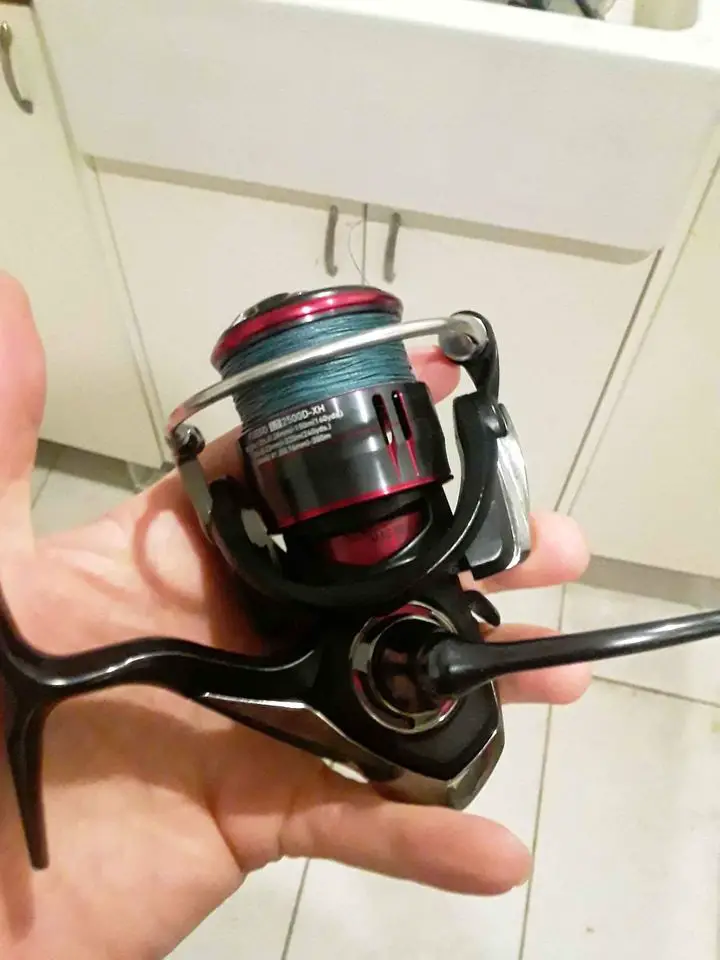 Slippage Proof Fishing Reel
The final thing that configures a good fishing reel is the grip of it. Better the grip is, better remains the chances of restricting a slippage. This is the case with this fishing reel too.
The Daiwa Fuego slippage-proof spinning reel is having a separate bearing than the bearings to aid smooth spinning. This stainless steel bearing ball is backed up by a rubber gutter of excellent quality to stop the slipping, rubber quality and the stainless ball quality here is so good that you will not even require them to be changed in the next 10 years. 
MagSeal Saltwater Protection
The Fuego also has Daiwa's MagSeal design. This is a magnetised oil seal, which is situated on the rotor's main shaft and prevents dust and saltwater from corroding the internal gears.
My favorite way to get better value for money is by ensuring that your gear lasts for years if not decades. Having the best saltwater corrosion resistance is the best way to do this. The Fuego will perform as good in a decades time as it does the day you unbox it.
The MagSeal tech is now used in all of Daiwa's high end premium spinning reels. The Fuego LT is the cheapest reel with this technology which really helps with its durability.
Digigear Gearing System
Daiwa used to have a gearing system called Digigear. In the Fuego, this has been upgraded to the 'Tough Digigear' system. This is proclaimed to be a digitalled designed, machine cut gearing system. We have seen through many reel manufacturers that they have been able to achieve superior performance without significant design change just by improving the quality of their construction.
Daiwa claim that Tough Digigear ensure 'the ultimate gear precision, rotational smoothness, and strength.'
Air Rotor Design
The final key feature is the design of an air rotor. This is lighter and more balanced than the previous editions designs. It features a redesigned arch that moves pressure from the rotor's lower section. It has also been hollowed out to reduce the weight and increase the sensitivity. This dispersing of pressure reduces flexing and increases the stiffness.
This is claimed to have reduced the rotor weight by 15% compared to other designs of the same material.
The image below shows the change in stresses between the new air rotor design and the previous evolutions: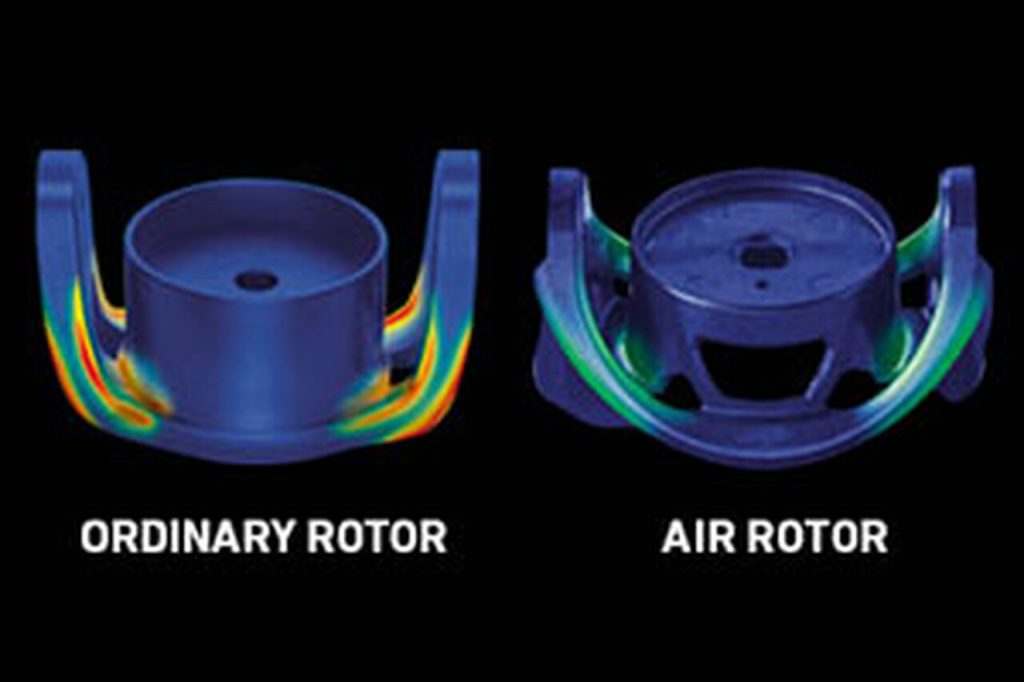 What is LT?
LT is daiwa's specification for their new Light, Tough philosophy:
LT (Light Tough) technology is based four key elements, Lighter, Tougher, more drag, and more bearings. Featuring a new compact body design and Tough Digigear, LT reels introduce a new level of lightness and toughness to spin reel design

Daiwa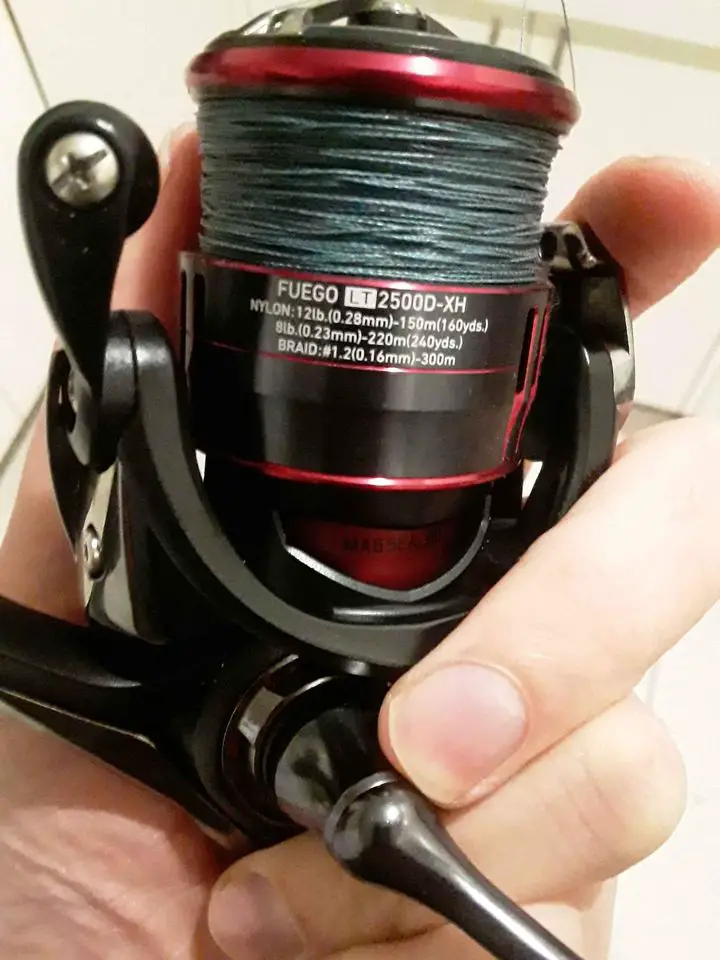 Pros
This reel has a great balance of affordability, durability, performance, and weight. Unless you are looking for a specialist option then this fits most anglers capacity.
Suitable for freshwater and saltwater.
This reel has the max drag of a much larger spinning reel, at an extremely low weight – it is both lightweight and powerful.
Cons
The reel's color is something that creates confusion among users. The reddish part of the device is so much shiny and natural that it often looks to be pink

.
I heard some reports about the drag sticking and an off balance bail.
Specifications
| MODEL | BALL BEARINGS | GEAR RATIO | RETRIEVE RATE (INCHES/CRANK) | WEIGHT (OZ) | MONO CAPACITY (LB/YDS) | BRAID CAPACITY (LB/YDS) | MAX DRAG (LB) |
| --- | --- | --- | --- | --- | --- | --- | --- |
| FGLT1000D | 6BB + 1 | 5.2 : 1 | 25.5 | 6.7 | 4/250, 6/160, 8/110 | 6/320, 8/200 | 11 |
| FGLT2500D | 6BB + 1 | 5.3 : 1 | 29.6 | 7.2 | 8/240, 10/210, 12/160 | 10/250, 15/185 | 22 |
| FGLT2500D-XH | 6BB + 1 | 6.2 : 1 | 34.5 | 7.2 | 8/240, 10/210, 12/160 | 10/250, 15/185 | 22 |
| FGLT3000D-C | 6BB + 1 | 5.3 : 1 | 31.6 | 7.6 | 10/280, 12/220, 16/160 | 15/250, 20/220 | 22 |
| FGLT4000D-C | 6BB + 1 | 5.2 : 1 | 32.5 | 8.6 | 10/360, 14/250, 20/160 | 20/280, 30/200 | 26.4 |
Frequently Asked Questions
Is the color of the reel pink as shown in the image?
The color of the reel is not pink but red. The image shows the color of a different one, due to the effect of red-eye-removal.
Is the reel suitable for saltwater?
Yes, the Daiwa Fuego LT reel is resistant to saltwater and all types of weather condition.
What Does LT stand for?
LT in the name Daiwa Fuego LT stands for 'Light, Tough.' This is based on four key design components – lighter, tougher, more drag, and more bearings.
Alternate Comparison
If you are looking for an inshore spinning reel, then its always a good idea to look at what else is available on the market. For this comparison I have picked the Quantum Smoke. This comparison is based on the 2500 sized models.
These are very comparison options with a few differences. The Smoke has more bearings but is heavier. The Fuego has more drag capacity but a lower retrieve rate.
| | | |
| --- | --- | --- |
| Specification | Daiwa Fuego LT | Quantum Smoke S3 |
| Ball Bearings | 6+1 | 11+1 |
| Weight | 7.2 oz | 8.0 oz |
| Max Drag | 22 lb | 18 lb |
| Gear Ratio | 5.3:1 | 6.0:1 |
| Retrieve Rate | 30 inches per crank | 32 inches per crank |
| Price | $$ | $$ |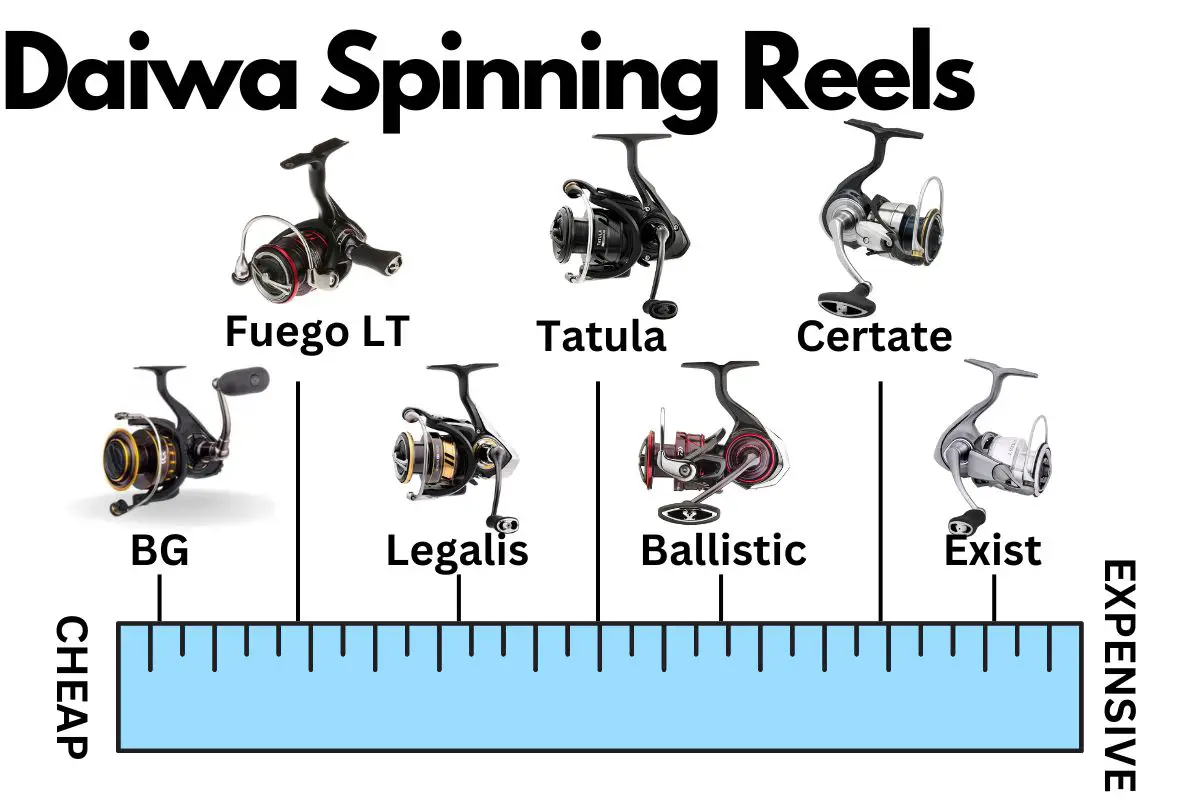 Conclusion
Daiwa Fuego is always a brand that is preferred by professionals. This product is perfectly aligned with outstanding features, it is not a product with which you can drag to a very high range, or can cast to the best possible distance, but still this is a product that gives the best possibilities to any fisher, as it is highly balanced in all aspect. If you have the plan to get this item, you will not feel a waste of money by any means.