Are you looking for a new inshore spinning reel? Then you have come to the right place.
I have put together the best inshore spinning reel reviews. There are a lot of variations in design and type, so this will be helpful for people looking for something new.
If you invest a decent amount from your wallet, it's pretty obvious you want to ensure it's good value for money.
Here I have picked 5 of the best spinning reels specialising in inshore fishing. I will also discuss their technical specification, benefits, and new technology. I have added a buying guide to help you choose the right one.
So let's get started.
Quick Summary – Best Inshore Spinning Reel
What Is Inshore Spinning Reel?
Generally speaking, inshore fishing is a term that anglers use to describe fishing within around three feet of the beach. Usually, this area has calmer water than deep-water offshore. An inshore spinning reel doesn't suit the boat angler as they are designed for catching giant fish. So inshore reels are designed with a relatively smaller spool with lightweight material.
If you are interested, we have also put together some instructions on how to use a spinning reel.
Inshore fishing is the most popular type of fishing in the United States, with 51% of anglers fishing from the shoreline in 2019. (Source)
5 Best Inshore Spinning Reels
Looking for a high-quality spinning reel with top-class performance in saltwater? In this article, we will discuss our top 5 inshore spinning reels highlighting their excellent features and benefits. We will also explain why they are best available on the market compared to other brands. Here are our top picks.
1. Penn Spinfisher VI Spinning Reel – Best Overall
Features
A watertight spinning reel performs reliably in saltwater and sandy environments
Durable construction with full metal body, side plate, and rotor and heavy-duty aluminum bail wire
Sealed HT-100 Slammer drag system provides robust, silky-smooth drag, while friction trip ramp prevents premature bail trip when casting
​Looking for a single reel that will be perfect for fishing from the kayak? This Penn Spinfisher is one of the finest reels on the market today. 
This model comes in different sizes, including 3500 to 10500. Of all of them, the 6500 spin fisher is the most popular.
What I Like About It
One of the great features of the Penn SPinfisher VI is its watertight design. This is due to its sealed drag and stainless-steel shield.
The HT-100 slammer drag system provides silky-smooth drag and robustness that secure from untimely bail trip in casting.
Being a full metal body, this Penn spin fisher V presents an excellent backbone for your spinning reel.
It comes with infinite Anti-reverse and heavy-duty bail of aluminum.
Pros
Reliable in a sandy and saltwater environment
High-quality finish
Superline spool included
Cons
On the heavier side compared with its size
It does not come with a spare spool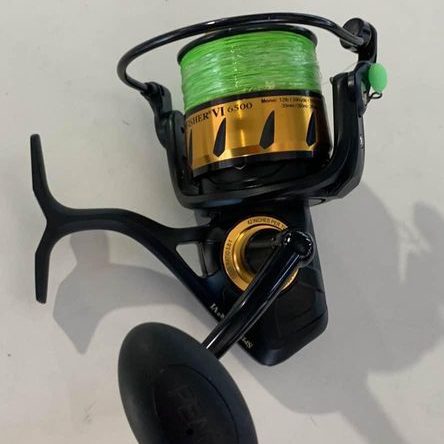 2. Penn Clash Spinning Reel – Best Lightweight
Penn Clash Spinning Fishing Reel comes with such features that are far better than mediocre. Even if you are investing in an affordable range, you still receive amazing benefits from this inshore spinning reel.
This class series from Penn features seven models ranging from CLA2000 to CLA8000. Among them, CLA6000 is the most well-reviewed spinning reel.
What I Like About It
First, it comes with CNG (Computer Numeric Control) gear that perfectly matches the gear in a softer retrieve.
Like the other series of Penn spinning reels, this is made with eight sealed, stainless steel bearings. This is perfect for saltwater angling.
The next noticeable feature we would like to introduce is its excellent Leveline Oscillation system which keeps the overall balance on the retrieve and the line wraps.
It comes with Penn's patented HT-100 Carbon Fiber drag washers.
Pros
Extremely lightweight
Durable reel design
Extremely easy to use
Anti-reverse mechanism
Cons
The lightweight reel may have trouble casting in high winds
Low top drag settings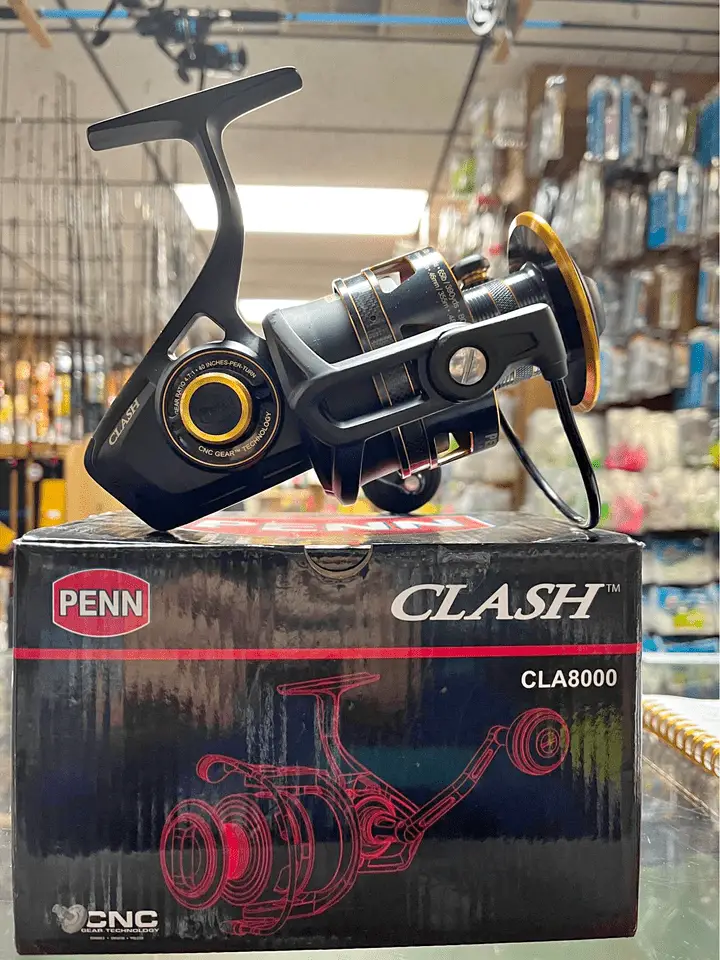 3. Shimano Baitrunner OC Spinning Reels – Best for Live Bait
Bestseller No. 1
The S A-RB bearings feature shields on both sides of the bearings, reducing the possibility of salt or sand inhibiting the bearing's position
The dyna-balance feature eliminates wobble during the retrieve by counterbalancing the rotor to enhance sensitivity and smoothness
Fluidrive II features a large master gear polished using a wrapping process; increasing the efficiency of the retrieve
​Need professional performance? Shimano Baitrunner OC Reels are designed to get out most of a reel. This item got some superb features of better castability, less backlash, comfortable grip, and high max drag.
This will be a great choice for you if you are looking something for a handy, comfortable spinning reel. This class series from Shimano features sizes from 4000 to 8000. 4000OC is the most well-review spinning reel.
What I Like About It
The first noticeable feature we would like to mention is its easy and quick access for oil maintenance that allows maintaining the reel without pulling apart the whole reel.
This spinning reel is made from an aluminum spool that guarantees a robust and durable spool that can adjust the pressure to fight powerful fish.
At the same time, Leveline Oscillation system allows a more exact line lay and solves the posed problem and line twist.
Excellent stainless steel and ball bearing of 3+1 on the double-sided that works like a top-performing reel in saltwater to handle the fish easily.
Made from Anti wobbled Dyna balance – you can redistribute the weight of the rotor and generate smooth rotation.
Pros
Super easy to maintain
Very sturdy reel design
Stainless steel ball bearings handle saltwater well
Cons
Heavy reel
Can have some corrosion issues if not cleaned regularly
4. Daiwa BG Spinning Reel – Most Durable
Daiwa BG Spinning Reel
Overall Score – 4/5 ⭐⭐⭐⭐
The Daiwa BG spinning reel is popular among all kinds of fishermen, from inshore to bass anglers. One of its top features is the metal body that makes the reel stiff and solid for long-term performance. The reel is well designed for waterproofing along with stainless steel ball bearings.
The BG features Digigear technology which features high precision cutting techniques for better gear meshing – you will notice an improved smoothness when under load compared to some older models.
The reel also looks great with the gold and black styling.
What I Like About It
This is a well-balanced reel in terms of good design leading to solid performance and high durability, all at a reasonable price tag.
The spool is braid-ready, so you don't need to apply any backing mono line.
The machined aluminum housing makes it very durable in the long term.
Pros
It is available in a wide range of sizes from 1500 to 8000, so you can select a drag and line capacity that suits your fishing environment and target species.
The stainless steel ball bearings are corrosion-resistant to saltwater.
Cons
The max drag is on the low side, especially in the smaller models.
The reel is a little heavier, but probably not enough that you would notice unless you fish for extended periods.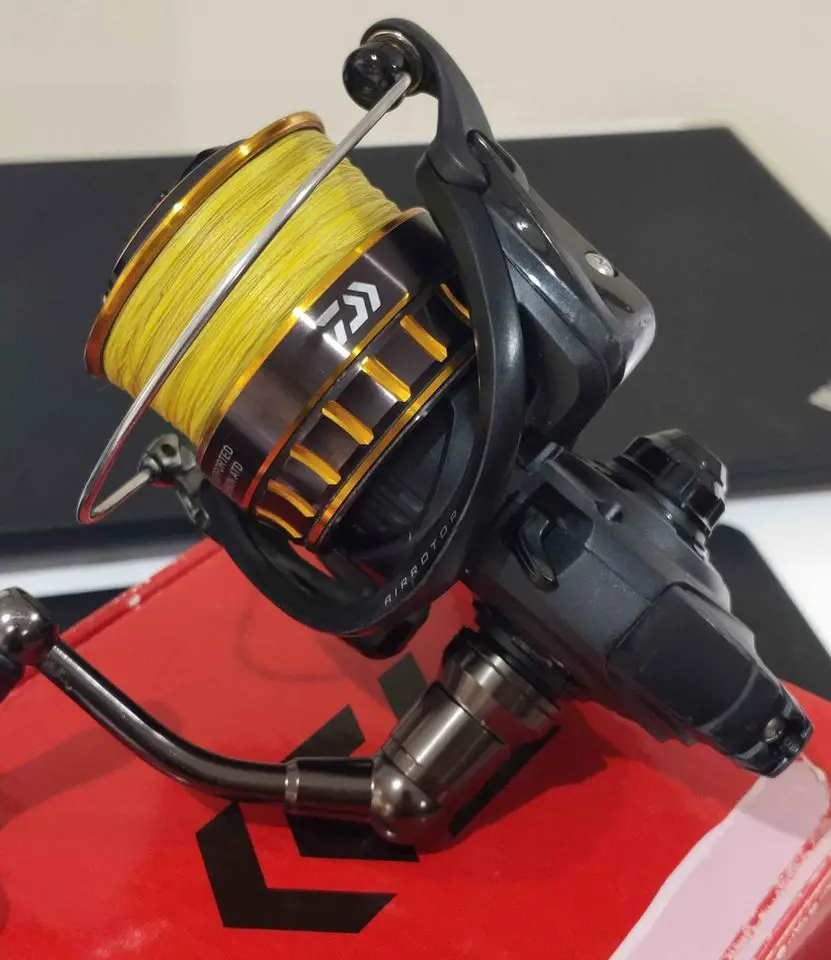 5. Shimano Vanford Spinning Reel – Most Lightweight
An upgrade to the favorite Shimano Stradic Ci4+ is the Shimano Vanford. It comes with a series of improved features and specifications. The main differences are that it is even lighter than the older model (which was already ultralight), and comes with a higher gear ratio which is better suited for fast-moving lures.
Shimano has put all of its latest technologies into this reel, including X-Protect, Silent Drive, and Cross Carbon Drag.
What I Like About It
I was already a fan of the previous iteration, and the Shimano Vanford takes that to a new level. It is more expensive than the Stradic Ci4+, but it is still good value for money.
The Vanford is suitable for saltwater with the upgraded carbon drag washers, water-resistant line roller, and Shimano's patented X-Protect and X-Ship waterproofing on their coated gear materials.
Pros
The combination of long stroke spool and propulsion line management gives you a longer cast.
I noticed the improvement in durability with the added technologies and engineered solutions.
Cons
The smaller sized models of 500-3000 don't have upgraded carbon drag washers.
The price is higher than that of the old model it is replacing but I still feel it is good value for money.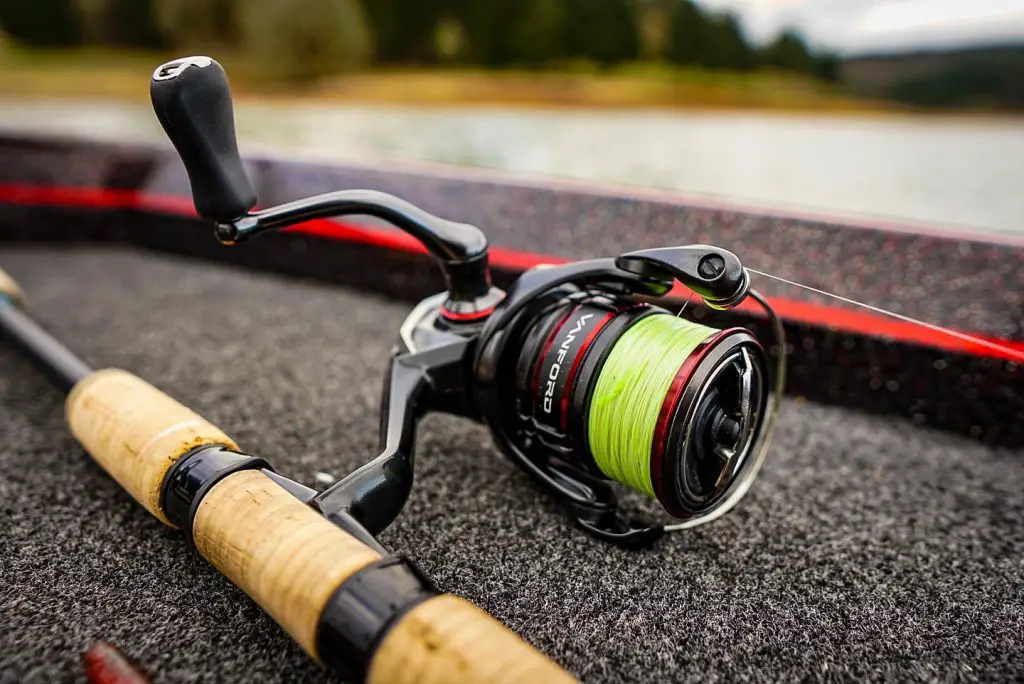 Specification Comparison
These specifications are based on the 3000-4000 reel model for a closer comparison.
| | | | | | | |
| --- | --- | --- | --- | --- | --- | --- |
| Inshore Spinning Reel | Ball Bearings | Gear Ratio | Max Drag | Retrieve Rate | Mono Line Capacity | Weight |
| Penn Spinfisher VI | 5+1 | 6.2:1 | 15 lb | 37 inches/crank | 220 yards of 10 lb | 12.1 oz |
| Penn Clash II | 8+1 | 6.2:1 | 15 lb | 35 inches/crank | 165 yards of 10 lb | 10.1 oz |
| Shimano Baitrunner OC | 3+1 | 4.8:1 | 15 lb | 28 inches/crank | 200 yards of 10 lb | 13.4 oz |
| Abu Garcia C3 Ambassadeur | 3+1 | 5.3:1 | 15 lb | 26 inches/crank | 240 yards of 12 lb | 9.9 oz |
| Shimano Vanford | 7+1 | 6.4:1 | 20 lb | 35 inches/crank | 140 yards of 10 lb | 6.3 oz |
Inshore Spinning Reel Buying Guide
In this section, we have written a guide to help you select which reel will fulfil your requirements. Here in this article, we try to cover the entire buying guide that will help you. If you can't decide how to choose the best inshore saltwater spinning reels, this buying guide will help you.
So let's start.
What to look for in the best inshore spinning reels?
As a perfect spinning reel plays a vital role in inshore fishing, you should select one that delivers the best performance. To pick a high-quality, comfortable feel, you should consider the following important factors. There are plenty of benefits and features – some you need and others you don't.
Reviewing the following criteria will help you to get the finest spinning reel for saltwater.
Material:
The first thing to look at carefully is its material. Is it stainless steel, aluminum, or graphite? Magnesium is great for reducing weight but is not perfect for saltwater. We recommend looking for something with aluminum or stainless steel for spinning reels. 
Size: 
When you buy your reel for inshore fishing, pick the right size and weight. This depends on the size of the fish you are targeting. So choose wisely, something that is well shaped by size and lightweight.
Drag:
More than anything, a smooth and strong drag is the must-have feature of an ideal spinning reel. Pick the one with a sealed drag that prevents salt and sand from getting in. If your spinning reel doesn't have a smooth drag, it will make your fishing go to hell.
Sturdy Sealing:
A good seal will secure the reel from saltwater moving in and out from the reel's inner parts. So make sure your spinning reels have easy rinsing and get flushed after use.
Line Capacity:
The next noticeable feature while picking an ideal inshore reel is its line capacity. How long the line should depend on the species you will target and the environment you will be fishing in. When you tend to catch a bigger fish, the line capacity should be as large as you need – you don't want to re-spool your line too often.
Our Recommendation
Every spinning reel in our top list has been entered for its excellent benefits and value. We highly recommended Penn Spinfisher VI Spinning Reel for its excellent functionality with classic, elegant design. On the other hand, Penn is one of the finest reel manufacturers in the fishing industry today.
Final Verdict
To wrap up the best inshore spinning reels reviews, any of the spinning reels on our list will ensure maximum performance for the long term. They are highly efficient and cost-effective as well.
All the required features and essential information should be considered carefully in the proper order. Lastly, you should consider some features before purchasing the reel which you can find in the buyer guide section. So we hope you love our article and it will be helpful to pick the best spinning reel for saltwater in your affordable range.
Last update on 2022-09-28 / Affiliate links / Images from Amazon Product Advertising API