Once the summer heat begins to bear down on anglers and bass alike, both will become nocturnal creatures, hunting for their prey under the cover of darkness. Fishing for bass at night is quite different than targeting them during the daylight hours. 
If you're wondering how to fish for bass at night, we've compiled this article to lay out some of our best night bass fishing tips to help. 
This article is part of my Complete Guide to Bass Fishing series that you might be interested in.
When to Fish for Bass at Night
Bass fishing at night isn't a strategy that will yield results all year long. This method of bass fishing is exclusively related to the hot summer months across most of the United States.  Night time bass fishing usually begins in late May for most of the country as many of the bass have already spawned and are now seeking to feed on anything they can find in the shallow waters around the shorelines of most bodies of water. 
As the summer air heats up, night bass fishing also becomes more productive. During the months of June, July and August, anglers have the most success fishing at night using a variety of different methods. Bass fishing under the cover of darkness will begin to slow in productivity around the end of September for the Southeast and Midwest regions of America. Florida is the only state in the country where anglers can usually have success fishing at night in the spring and fall, as well as the winter in some rare cases. 
Bass Behavior at Night 
Largemouth bass are one of the most adept predators that live in the freshwater lakes and rivers of North America. They use their sense of sight, smell and feel to detect certain types of creatures and devour them as their next meal. Night fishing for bass involves an angler working to appeal to the fish's sense of smell and feel more than their sense of sight. Since vision is very limited at night, bass will instead find their prey by sensing tiny vibrations in the water and other movements, along with the various scents that their prey produce.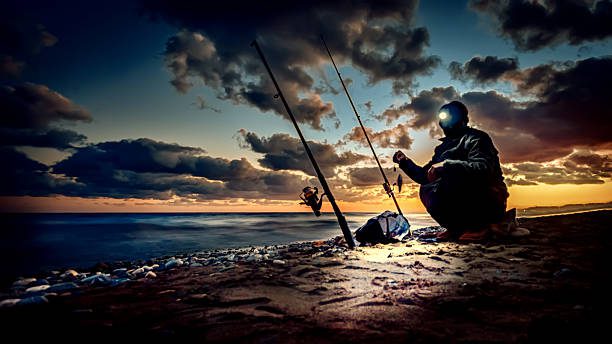 Use Dark Lures
When fishing for bass at night, you can usually put away any brightly colored lures and tackle as these are going to be much less effective in the darkness. Some anglers are confused, thinking that using white lures might appeal to bass at night, but the opposite is usually true. Fishing for bass in the dark should mostly involve using dark, or even black-colored lures. 
You can never go wrong using a black-colored lure when bass fishing at night, but some anglers have found that using different colors in the right conditions can be the key to success. Pay close attention to how much moonlight and cloud cover there is when you're night fishing and reserve your normal, daylight lures for times when there is more abundant moonlight. If there is very little moonlight, stick to using dark or black lures as this will appear to be more natural to the bass you're targeting. 
Get Loud 
If there is ever a time in which you want to use a lure that's especially loud and noisy, there is no better time than fishing for bass at night. Unlike the subtle approaches that sometimes work best during daylight hours, night bass fishing calls for the use of lures that produce lots of noise. The rattle, clicking or bubbling of a lure often greatly increases a fish's awareness to its location and usually entices bass to strike. 
Some of my all-time favorite lures to use for bass fishing at night include large buzzbaits, topwater poppers, whopper ploppers, jitterbug poppers, and any type of crankbait or plug that produces a rattling or clicking sound as it is retrieved. 
Vibration is Key 
Bass are capable of detecting their prey at night using parts of their body that are called lateral lines. These lateral lines are sensory organs that are located on the sides of the fish's body that are able to pick up on varying levels of vibration in the water. Bass will make use of lateral lines when hunting or feeding during the daytime, but darkness is when these sensory organs truly come into play. 
If you want to appeal to a bass' sensory perception, it's best to use lures that are specially designed to give off a considerable amount of vibration as they are being reeled in. Spinnerbaits are one of my favorite lures in this context, but it's important to distinguish the difference between Willow Leaf blades and Colorado blades. The round shape of the Colorado blade makes it produce much greater vibration than Willow Leaf or even Indiana blades. 
Using Black Lights 
One of the secret weapons for many bass fishing anglers that often find success at night is black lights. Black lights allow you to produce a very low intensity light that will give you a distinct advantage over someone who doesn't use one for night fishing. When used in combination with fluorescent fishing line, your fishing line will actually glow in the dark, making it incredibly easy to see and monitor. 
When using a black light system, you can actually see a fish tugging on your line before you even feel a bite on the end of your rod, which goes a long way in helping anglers hook and land fish at night. There are a number of different black lights that are typically used for bass fishing and some anglers even have their boats outfitted with a black light system that fits onto the boat's rub rail, which shines a full 360 degrees around the boat in every direction. 
Depth Changes 
Focus much of your effort on depth changes and shallow areas. Bass won't usually stay in deep water when it's dark outside as they use the cover of darkness to move up into shallow water. I've caught some of my biggest bass on ledges that join deep water areas to shallow parts of a lake. If I'm going to be night fishing, I usually start working these ledges or other areas where there is a significant depth change before moving on to make casts around the shallow areas near the banks. 
Other Tips for Fishing at Night
When it comes to night fishing, most of the normal practices for daytime bass fishing also apply. However, there are a few night fishing tips you should consider before venturing out in the dark. Always keep the clutter on your boat and in your fishing area to a minimum as you never know when you might catch a monster bass. Fighting a large fish requires space in order to control your catch and having rods and reels scattered all over the boat along with other gear can lead to you knocking some items into the water or tripping and falling in. 
It's also advisable to slow your lures down when retrieving them at night. Bass aren't nearly as capable of biting a lure on the first strike when it's dark and slowing down your retrieve will help you pick up more bites. Also, if you're fishing large lakes, or rivers where there are usually lots of other anglers on the water, be sure that your boat is well-lit so you aren't at risk of being in an accident. 
Conclusion
Night fishing is often just as exciting as fishing for bass in the daytime, but you'll need to adjust your strategy slightly if you want to experience success. Using the tips and information we've included in this article should give you a good head-start as you begin your time fishing for bass at night. Like anything else related to bass fishing, practice is key, so make sure you don't give up if your first night bass fishing trip is unproductive.