This Okuma Helios spinning reel is an extremely lightweight reel of 6.3 ounces in the smallest model with a smooth retrieval with 8+1 bearings. In this review, you will read about the advantages and disadvantages of this reel and whether it will suit your own personal circumstances.
Are you planning on going on a fishing adventure? Just like any other hobby, you might not succeed in the project if you do not have the proper fishing gear.
If you are a novice angler, note that one of the vital tools you need is the reel. Selecting the proper reel is just as important as choosing the rod itself. Working with the wrong reel might compromise your fishing venture.
However, you will find that buying a reel is not easy, with so many different options you will find in the market. Learning about each reel will help you get the most suitable product for your fishing experience. Read this Okuma Helios Spinning Reel review to help you determine if this is a suitable fishing reel for you to use.
Okuma Helios Spinning Reel Features
Learning about a reel's characteristics will assist you in understanding when its advantages and weaknesses. Here are some top traits you ought to know about Okuma Helios Spinning Reel.
Rust-Resistant Bearings
Some anglers assume that having many bearings on your reel makes your reel efficient. However, the character of the bearings on your reel is essential.
The Okuma Helios Spinning reel has 8HPB and 1RB steel bearings. The bearings are strong and corrosion-resistant, which makes the Helios suitable for saltwater fishing.
Since the reels are made of quality materials, they are known to offer effortless reeling, longer castings, and excellent performance when you have a large fish on the line. This type of reel will serve you for a long time and offer you outstanding performance.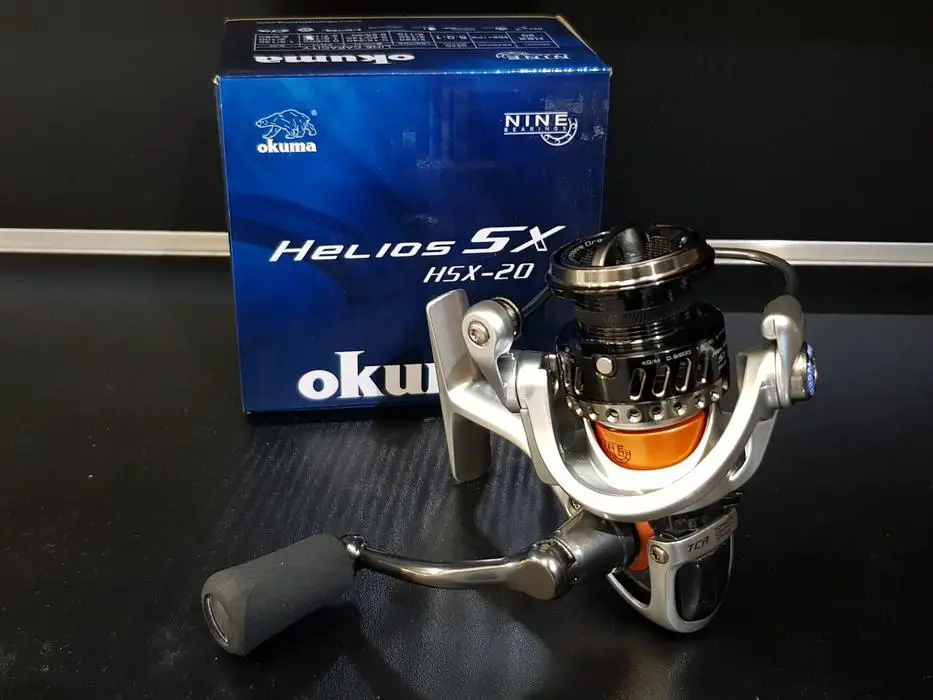 Anti-Reverse Roller Bearing
Another feature you should note about the Okuma Helios Spinning Reel review is its anti-reverse roller bearing. This is important as it prevents the reel from turning backward, and it is known to engage the drag.
The Okuma Helios Spinning Reel review is known to have a quick set anti-reverse. The feature is essential as it prevents wind knots and backlash. If you are fed up with spending time untangling your fishing line, then make sure you get a reel with an anti-reverse bearing.
Elliptical Gearing System
Another feature of the Helios is that it has an elliptical gearing system. This is important as it is used to keep the line even on the spool. This system is essential when you are looking for more casting distance.
The elliptical gearing system helps in reducing friction during casting. Thus, this helps in increasing the casting distance and providing greater accuracy.
No Switching the Handle
Most reels can easily be changed from the right hand to the left hand. That is why you might be shocked to find one that cannot switch. With the Okuma Helios Spinning Reel, you cannot make the switch.
You might not enjoy working with the reel if you are left-handed since it does not switch. However, right-handed people are likely to enjoy working with the reel as it is designed to meet their needs.
Okuma Helios Spinning Reel Design Criteria
Understanding the reel's design criteria will help you determine if this is the reel for you to use. Here are some design features you need to know about the Okuma Helios Spinning Reel.
Cyclonic rotor flow
The cyclonic rotor flow was designed to create a cyclonic flow of the rotor. The reel's airflow is vital as the last thing you need is to have water in the reel. With increased airflow, you will not have to worry about drying the reel.
Airflow is also essential as it assists with the drying time. The water around the reel leads to its corroding, especially if it is saltwater. You will not have to deal with a wet reel with increased airflow. This helps in reducing the likelihood of corrosion.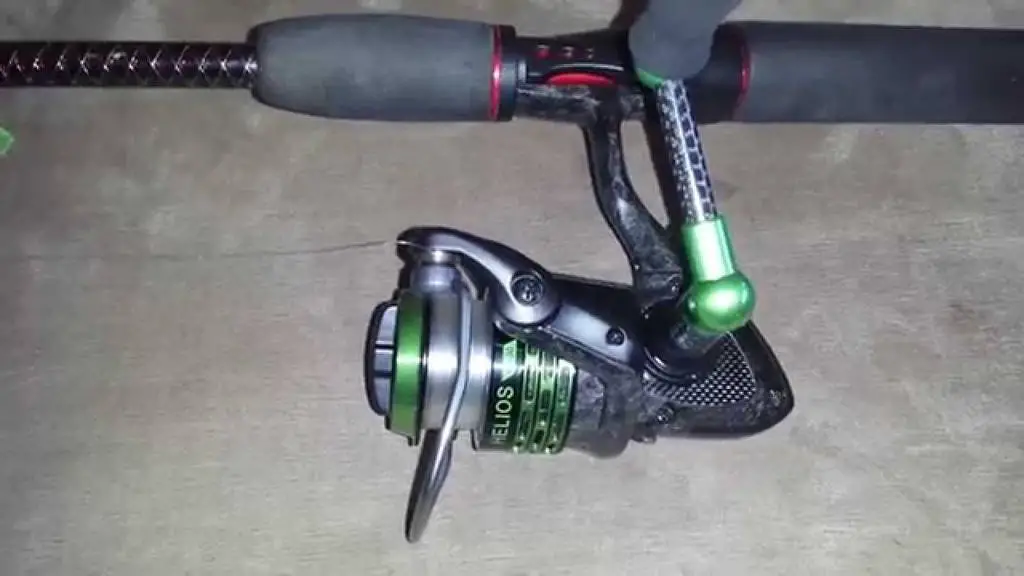 Torsion Control Armor
The other ensign feature that makes Okuma Helios Spinning Reel stand out is its torsion Control armor. This is a reel built with carbon fiber technology and one with a double arm.
The double-arm offers higher torsion and is known to be flex resistant. This is what makes this reel lighter and rigid. Also, it helps ensure that the internal parts are correctly aligned.
Carbon Fiber Technology
The Okuma Helios Spinning Reel has been made using carbon fiber technology. The carbon fiber found in the product is elongated and reinforced. It is this feature that makes it strong.
Graphite in the reel is what makes it light and robust. This makes the reel that is lightweight and long-lasting.
Pro
Corrosion-resistant
Lightweight at under 10 ounces for even the largest model
Anti-reverse roller bearing
Smooth retrieve
Elliptical gearing system
Suitable for saltwater
Cons
Not fully sealed
Not suitable for left-handers
Video Review
JandHTackle has put together this overview of the Okuma Helios SX HSX30 so that you can see this reel in action:
Specifications
| | | | | | |
| --- | --- | --- | --- | --- | --- |
| Model | Gear Ratio | Ball Bearings | Weight (Oz) | Retrieve Rate (In/Crank) | Max Drag (Lb) |
| HSX-20 | 5.0:1 | 8+1 | 6.3 | 24 | 6 |
| HSX-30 | 5.0:1 | 8+1 | 7.1 | 26 | 13 |
| HSX-40 | 5.0:1 | 8+1 | 9.2 | 30 | 13 |
| HSX-40S | 5.8:1 | 8+1 | 9.2 | 35 | 13 |
 Conclusion
Even if you have a high-quality rod, if you do not invest in the right reel, this will limit your fishing experience. It would help if you researched the various reels in the market to choose the one that will make your fishing experience worthwhile.
The features highlighted above will help you determine if the Okuma Helios Spinning reel is the right reel for you to get. When buying a reel, make sure that you choose the one that will improve your fishing experience.
If you are looking to read about other reel reviews then please have a look through our spinning reel guide to find one that suits you.