The Shimano Sahara F1 is a good option for an affordable, saltwater spinning reel but it does have some downsides and lack of features that you may want for offshore fishing.
You do get plenty of power and performance. Shimano reels are designed with cold forge technology and they employ a 3D design. Hence, the brand is able to produce strong reels of high performance that are still at an affordable price.
The F1 models come in a range of 6 sizes from 500 to 5000, each with a different weight, gear ratio, and drag. Each of these will also carry different lengths of lines. This provides anglers with an opportunity to choose what best suits their fishing needs across these factors.
So let's get into my review.
Decent Quality Reel at an Affordable Price

G-Free Body

Hagane Gears

Graphite Frame, Rotor, and Side Plate
Shimano Sahara Reel Review
The Sahara has plenty of Shimano's latest technologies built into its affordable package. All of the 6 sizes are built with 3D designs, X-ship, and G-body. The Hagane gearing technology is worth a mention because it allows the angler to use less energy when crank, but I will go into this in more detail below. They have built a very durable reel and the performance is satisfactory for both experienced and novice anglers.
The graphite construction has reduced the weight of the reel and will definitely extend the life of the Shimano Sahara spinning reel. It is corrosion resistant and suitable for saltwater use, although I would prefer sealed bearings if exclusively fishing offshore. The one big downside is the lack of an anti-reverse function – Shimano seems to have missed the point on that one.
For some anglers, there is a danger of hurting your knuckles during the cranking up when using this reel because the handle is quite close to the spool, but I didn't experience this personally. I'm sure you could change out the handle if this does become an issue.
Sahara Overview
This saltwater spinning reel employs a state-of-the-art gearing system known as Hagane, which improves the performance of the gearing. Both sides of the pinion gear are supported by the X-ship gear durability. This makes the pinion better aligned with the drive gear, so the gear can stay in place and will not flex even when the angler is fighting with a large fish. This is hard to explain in words but you will certainly notice the lack of flex in Shimano reels when under high load.
Design
The Sahara F1 has six size models, with the smallest – the 500 – serving those who need finesse angling for panfish. It also suits anglers who are interested in fishing light tackle in shallow water. With the lightest in the category, at a weight of 6.2 ounces, you get a reasonable drag of 7 lbs.
The heaviest of the F1 category affords you a weight of 10.6 ounces, provides 24 lbs of drag, and has a gear ratio of 6.2:1. I would personally probably limit my choice of a Sahara to 4000 size option. If I was going offshore for larger saltwater fish species then I would look for a more premium option with more drag and better saltwater resistance.
All of the six sizes allow anglers a good selection of the weight, drag, gear ratio, and capacity.
Features  
G Free Body
The F1 model turns out to be a great option for an angler who spends endless hours and days out to sea because they will experience less fatigue. That's because the center of gravity is closer to the rod using a G-free body construction. 
Although this technology is somewhat controversial amongst anglers, I do feel that it is more comfortable.
Hagane Gear
The Hagane gear is a method of construction which keeps the gearing strong all the way up to the gear's teeth. This eliminates any slippage due to wear over time. This lessens the need to machine cut the gears which helps to manufacture high quality reels that are also affordable.
X-Ship Technology
The X-ship technology on the Shimano Sahara spinning reels is valuable for those who want to avoid the feeling of friction on the casts. For instance, when using low quality reels, you can hear this happen when the lines are coming out of the spool. The pinion gears are aligned with the bearing in such a way to avoid this friction.
The above design also ensures a larger casting distance and you also feel that the reel will also be smoother to use.
Downside
Unfortunately, the reel does not incorporate an anti-reverse switch, although this is compensated appropriately by the quality drag system.
I also noticed that is only has shielded ball bearings rather than sealed – this means that you may need to be more careful when flushing the reel of any saltwater. I always prefer sealed ball bearings when on offer for a saltwater reel to make sure I get the longest life.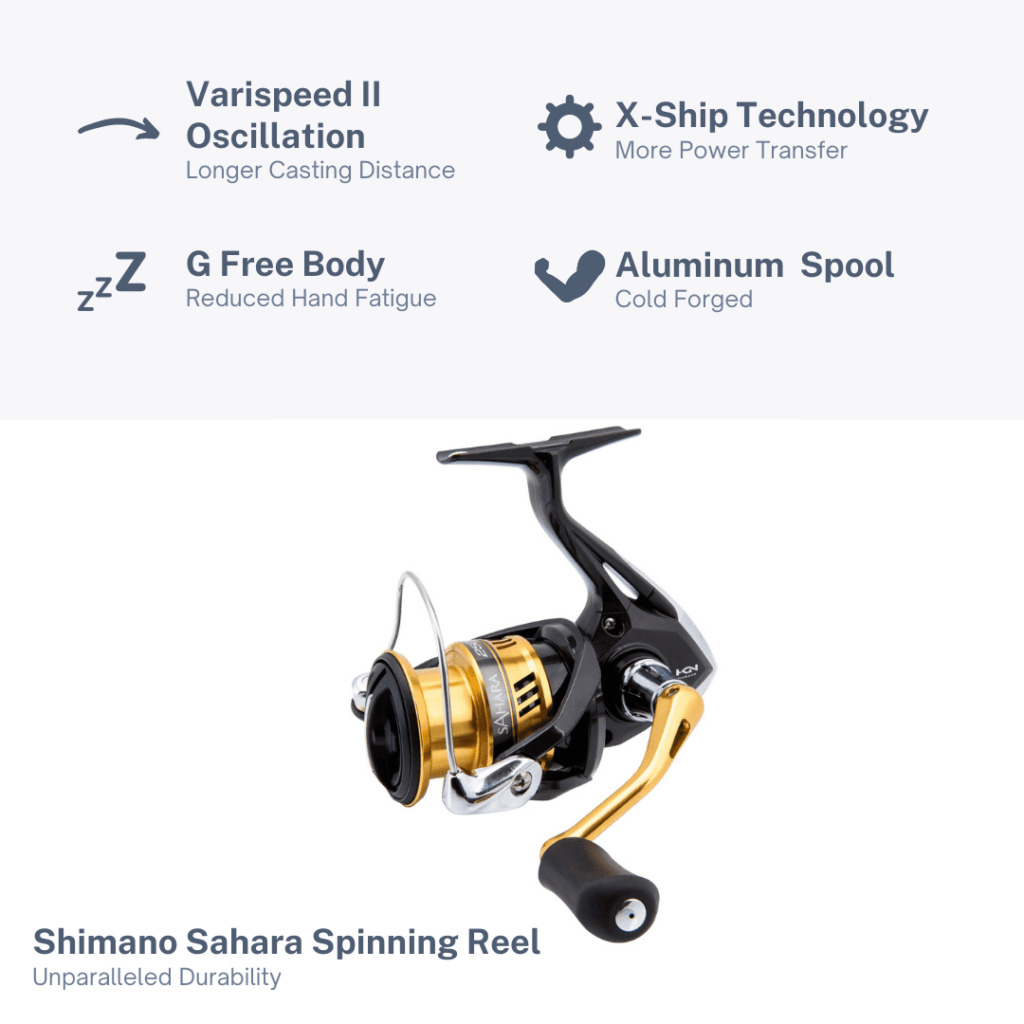 Pros
Incredibly durable construction with cold forged aluminum spool and Hagane gearing.
It is lightweight at only 8.8 oz for the 3000 sized model compared to 11.7 oz for a similarly sized Penn Fierce II. Given this it still has good power with a 20 lb drag.
It is still a very affordable reel with many of Shimano's latest technologies.
Available in a 500 size if you are looking for a quality panfish reel.
Cons
There is no anti-reverse system as seen in other reels in the market.
I did notice the handle is too close to the foot – this means it is easier to hit your knuckles when cranking.
The ball bearings are only shielded and not sealed which is a less than optimal design for a saltwater reel. 
Decent Quality Reel at an Affordable Price

G-Free Body

Hagane Gears

Graphite Frame, Rotor, and Side Plate
Shimano Sahara Video Review
If you want to see this reel in action then watch this review by Tyler Brinks:
Specifications
| MODEL | MONO LINE CAPACITY (LB/YD) | WEIGHT (OZ) | BEARINGS | GEAR RATIO | RETRIEVE PER CRANK (IN) | BRAID CAPACITY (LB/YDS) | MAX DRAG (LB) |
| --- | --- | --- | --- | --- | --- | --- | --- |
| SH500FI | 2/190, 4/100, 6/60 | 6.2 | 3+1 | 5.6:1 | 27 | 5/135, 8/105, 10/65 | 7 |
| SH1000FI | 2/270, 4/140, 6/110 | 7.6 | 4+1 | 5.0:1 | 26 | 10/95, 15/85, 20/65 | 7 |
| SH2500FI | 6/200, 8/140, 10/120 | 8.8 | 4+1 | 5.0:1 | 29 | 10/150, 15/145, 30/100 | 20 |
| SHC3000HGFI | 6/230, 8/170, 10/140 | 8.8 | 4+1 | 6.2:1 | 36 | 10/200, 20/140, 40/105 | 20 |
| SH4000XGFI | 8/240, 10/200, 12/160 | 10.4 | 4+1 | 6.2:1 | 39 | 15/280, 30/170, 50/150 | 24 |
| SHC5000XGFI | 10/240, 12/195, 14/165 | 10.6 | 4+1 | 6.2:1 | 41 | 20/220, 30/200, 40/160 | 24 |
Table of Shimano Sahara FI Specifications
Shimano Technologies Included
| | |
| --- | --- |
| G-Free Body | Yes |
| Hagane Gear | Yes |
| X-Ship | Yes |
| X-Protect | No |
| Propulsion Line Management System | Yes |
| Hagane Body | No |
| Silent Drive | No |
| Infinity Drive | No |
| Heat Sink Drag | No |
| X-Shield | No |
| X Tough Drag | No |
| AR-C Spool | Yes |
| EI Surface Treatment | No |
| Rigid Support Drag | No |
| S A-RB | No |
| One-Piece Bail | No |
Table of Shimano Features Included with the Shimanno Sahara
Conclusion
The Sahara F1 is a good option if you are looking for a lightweight, durable, and affordable reel. It suits both novice and experienced anglers. That's because it provides excellent technology to make cranking and casting easier for both.
The Shimano Sahara also made our top 10 rankings for the best spinning reels for bass.
The most notable features include the G-body that makes it possible to fish for longer durations with less fatigue. This means you are able to use it for extended periods in the seas and oceans. The brand takes advantage of its Hagane gearing technology to manufacturer affordable but high quality systems because it reduces need for machine cutting gears. With the X-ship technology, the reel has succeeded in trying to keep friction on the gearing as low as possible so you feel that the reels are smooth to use.