The best spinning reels under $100 have more than 5 ball bearings, over 10 lb of max drag, a wide range of sizes, and is made from corrosion-resistant materials.
The Penn Battle III is my top choice because of its durable design and corrosion-resistant materials. It features a full metal body, HT-100 drag washers, and a powerful max drag. It is ideal for anglers who want an entry-level spinning reel that will perform just as good in a decade as it does today.
In this article, I have selected some top spinning reels under $100. Each of the reels on our list has been entered for their great functionality. Rather than their premium features, they have been selected because they are in a reasonable price range.
I discuss these products with a comprehensive comparison that will help you recognize key points. I have added the buying guide to consider the factors to look for before buying.
I have spent decades angling with all kinds of spinning reels and have personally tested all 5 reels in this list. They have been thoroughly tested for performance, durability, and value for money. If you are interested in more information, then I have also conducted an individual review of each reel if you want to learn more.
I have also put together a guide to the best spinning reels if money is no issue.
Pflueger President Spinning Reel
10 stainless steel ball bearings
Graphite body and rotor
Lightweight graphite reel construction.
Braid ready spool
HT-100 carbon fiber drag system provides powerful drag
Full Metal Body and sideplate
HT-100 carbon fiber drag washers
5+1 sealed stainless steel ball bearing system
Line Capacity Rings
Braid Ready Superline spool
Saltwater Ready
7+1 Ball Bearings
Multi-disc Drag System
Extremely Lightweight Design
1. Penn Battle III Spinning Reel
Saltwater Ready

HT-100 Drag Washers

Extremely Durable Material

Wide Range of Sizes Available

High Speed Options for Fast Moving Lures
Durable, high range spinning reel ideal for conquering big saltwater gamefish
Full metal body, side plate, rotor, and heavy-duty aluminum bail wire offer exceptional durability
HT 100 carbon fiber drag system provides powerful drag without sacrificing smoothness
Penn Battle III Spinning Fishing Reel will perform flawlessly, even for novice anglers. When picking the best-in-class spinning reel, Penn comes to the forefront of innovation and elegant design. The best thing is they come at a reasonable price.
The Penn Battle III Spinning Fishing Reel is one of them. It comes first on our best spinning reels list because of its reliable design and versatility. So arm yourself to fight the battle of saltwater fish with a Penn Battle III Spinning Reel.
This model from Penn comes in several versions from 1000 to 8000. The gear ratio of 2500, 3000, and 4000 is 6:2:1. On the other hand, other versions like 5000 and 6000 have come with a gear ratio of 5:6:1. Only 8000 version has a 5:3:1 gear ratio. All of them have six bearings.
Penn is famous for producing durable gear, and the Penn Battle III is no exception. If you are looking for great value for money, the key is to make sure that it lasts for a lifetime. If you want the best budget spinning reel under $100 that will perform as well in a decade as it does on day 1, pick a Penn Battle.
Specifications
| | | | |
| --- | --- | --- | --- |
| Penn Battle Model | Gear Ratio | Max Drag | Mono Line Capacity |
| BTLIII1000 | 5.2:1 | 9 lb | 105 yards of 6 lb |
| BTLIII2000 | 6.2:1 | 10 lb | 180 yards of 6 lb |
| BTLIII2500 | 6.2:1 | 12 lb | 255 yards of 6 lb |
| BTLII3000 | 6.2:1 | 15 lb | 120 yards of 12 lb |
| BTLII4000 | 6.2:1 | 25 lb | 165 yards of 12 lb |
| BTLII5000 | 5.6:1 | 25 lb | 225 yards of 12 lb |
| BTLII6000 | 5.6:1 | 25 lb | 230 yards of 20 lb |
| BTLII8000 | 4.7:1 | 30 lb | 340 yards of 20 lb |
| BTLII10000 | 4.2:1 | 40 lb | 230 yards of 50 lb |
Penn Battle III Key Specifications
Why I Like It:
The corrosion resistance will give protection against all chemicals and saltwater sprays. The previous version Penn doesn't have this feature. This was one of the limitations of the last version.
It now has six ball bearing – This extra ball bearing makes it sturdy and durable by preventing damage in saltwater. The bearings are made from stainless steel.
Comes with 20% extra drag. 
More than anything, it comes with a large Line Capacity Ring.
Pros:
The Drag System Is So Smooth
Solid Reel As Well Build Quality
It Comes With Anti-Reverse System
Enough Spool Capacity With Braid-Ready
Cons:
The metal body makes it heavier than some of the other reels, which can cause some muscle fatigue if you are casting a lot – especially in the large sized-models.
2. Penn Fierce III Spinning Reel
Saltwater Ready

4 Stainless Steel Ball Bearings

Versatile Size Models Available

Line Capacity Rings
This spinning fishing reel offers premium performance and durability at an exceptional value
Durable construction with full metal body and side plates plus heavy-duty aluminum bail wire
Fluid cranking with 4 shielded stainless steel ball bearings and instant anti-reverse bearing
Penn paved the way for another great reel. Penn undoubtedly presents some great spinning reels at a very reasonable cost. Rather than its low cost, you will get many features you expect on a quality reel. 
Though Penn has produced spinning reels for saltwater for decades, this model was launched in 2005 in the fall.
It has got multiple versions starting from 1000 to 8000. The features and specifications are very close to each other. So if you want a solid reel for less than 100 dollars, this Penn Fierce II Spinning Fishing Reel is worth considering.
Why I Like It:
First of all, the full metal body is made from aluminum. On the other hand, the side plate gives better gear control under heavy pressure. So it is durable and has a long lifespan.
Like other Penn reels, it has also got quality paint. That protects against chemicals and saltwater spray and works well against corrosion.
Being Techno-Balanced, Penn Fierce II Spinning Fishing Reel is far better than the other reels on the market in this price range. It is a trademark design of Penn spinning reel. At the same time, 4+1 ball bearing gives a silky smooth feeling. The bearings are made from stainless steel. As a result, it will be durable.
It has an anti-reverse system that gives a solid retrieve and avoids slippage.
This reel has a bail wire of heavy-duty aluminum. This aluminum fights back the test of time and survives for long periods.
It is made with more than enough spool line capacity. The mono capacity is also impressive for each model.
Pros:
It is Enclosed By The Full Metal Body
Affordable Price Range
It Has an Upgraded Corrosion Resistance System
Cons:
Weight is slightly high
The anti-reverse function can put extra pressure on the gear system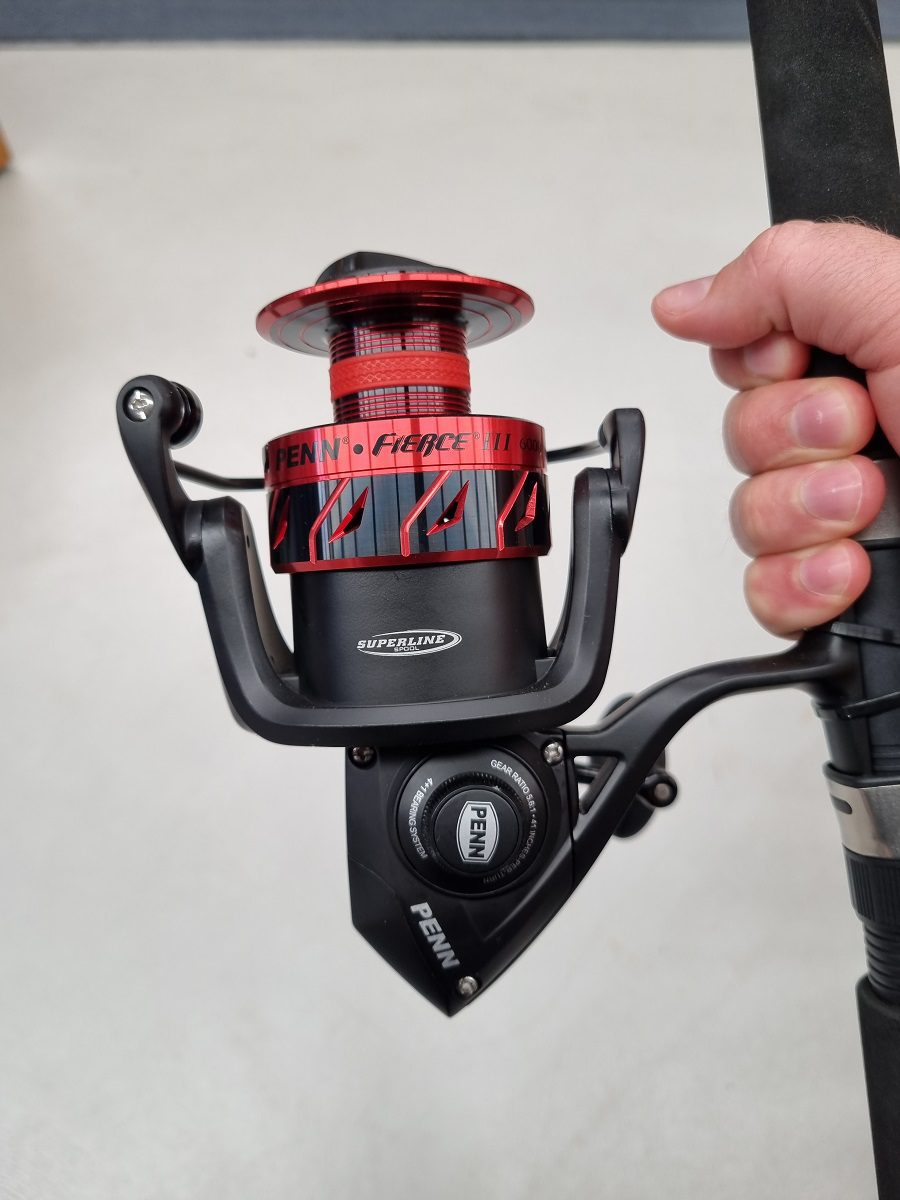 3. Okuma Ceymar Spinning Reel
Saltwater Ready

7+1 Ball Bearings

Multi-disc Drag System

Extremely Lightweight
Gear Ratio: 5.0:1, Precision Elliptical Gearing system
7BB + 1RB bearing system, Quick-Set anti-reverse roller bearing
Multi-disc, oiled felt drag system
Ambidextrous
Okuma Ceymar Lightweight Spinning Reel is a great choice for any enthusiastic angler.
We know picking the best spinning reels under 100 Dollars is a daunting task. But Okuma has managed to win people's hearts within just a few years. Their motto is to offer more than fishing gear but motivate and inspire the fishing. As you can see from the name of the reel, most of the Okuma spinning reels are lightweight.
This Okuma Ceymar Lightweight Spinning Reel comes in five different models. The price range is very reasonable and there are five different models of this Okuma spinning reel.
These models are- C10, C30, C40, C55, and C65. The entire model comes with 7BB + 1RB bearing system and a gear ratio of 5.0:1.
| | | | |
| --- | --- | --- | --- |
| Okuma Ceymar Models | Gear Ratio | Max Drag | Mono Line Capacity |
| C10 | 5.0:1 | 4 lb | 110 yards of 4 lb |
| C30 | 5.0:1 | 8 lb | 145 yards of 8 lb |
| C40 | 5.0:1 | 10 lb | 160 yards of 12 lb |
| C55 | 4.5:1 | 15 lb | 200 yards of 18 lb |
| C65 | 4.8:1 | 25 lb | 260 yards of 20 lb |
Okuma Ceymar Key Specifications
More than anything Okuma produces each model specifically for different reasons and purposes. Have a look.
C-10 Ceymar Reel for small fish:
The smallest fishing reel is perfect for small fish like 2 to 6 pounds. It is designed especially for fishing trout, bluegill, crappie, sunfish, or small perch as well as an outfit for small ice fish.
C-30 and C-40: Versatile Freshwater spinning:
This medium size is suitable for walleye, carp fishing, steelhead, bass, catfish, and more. The C30 model is great for fish within 6 to 8 pounds. On the other hand, C-40 got a large capacity for bigger fish around the 10 to 12 pounds size range.
C-55: For Inshore Saltwater Fishing:
C-55 size reel offers a versatile reel in inshore saltwater fishing. It is designed for snook, shallow water fish, and redfish.
C-65: Jetty, Pier & Big Water Fishing:
This C-65 model is equipped with Ergo Grip. It is made for big water fishing like a pier, jetty where a large number capacity is required. More than anything, it can cover the vast area of lakes or big rivers.
Why I Like It:
Quick Anti-Reverse Roller
Fine cut brass pinion gear
Double-Tone Anodized Spool
7+1 Ball Bearings.
Large mono capacity
The aluminum bail wires are solid and heavy duty
Pros:
These reels are Reliable and durable at an affordable price
Retrieving line is quite smooth
It comes with a dynamic design
Cons:
There are different reels for different scenarios which can cause confusion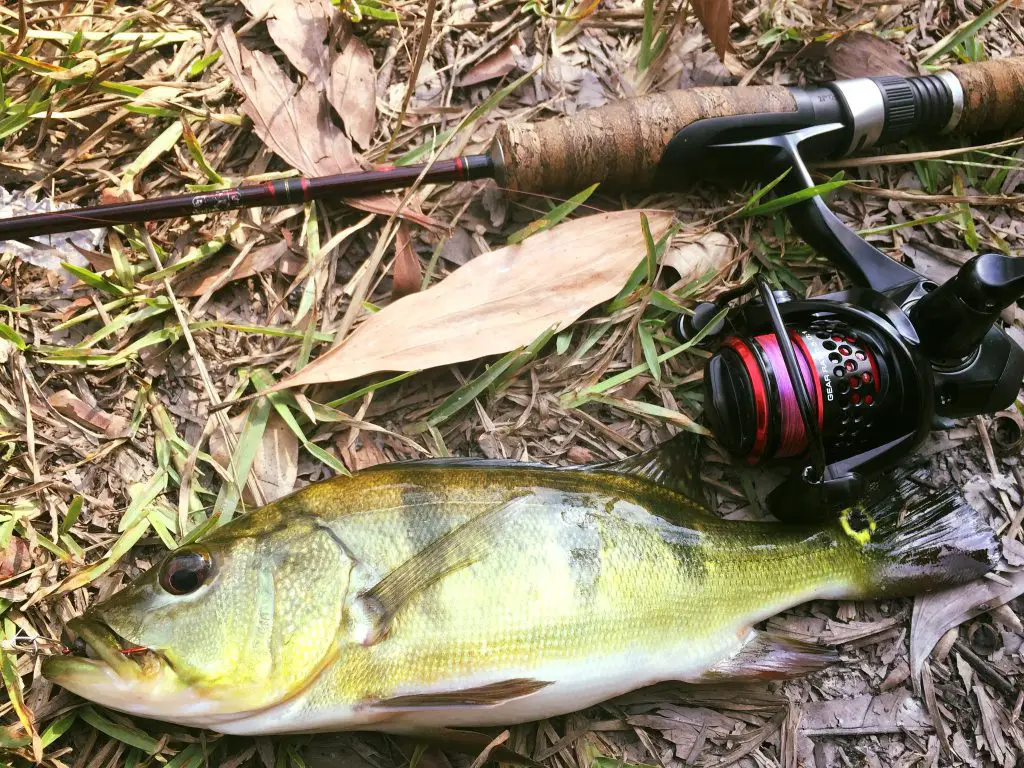 4. Pflueger President Spinning Reel
9+1 Stainless Steel Ball Bearings

Oil Coated Drag Washers

Lightweight Graphite Body

Comfortable Rubber Handle Knob
9 Stainless Steel Ball Bearings; 6920 has 6 ball bearings
On/Off instant anti-reverse bearing
Lightweight graphite body and rotor
Looking for a superior quality spinning reel at a modest price? Well, then Pflueger President Spinning Reel will be the right choice for you.
Fishing can be both fun family time and a competitive sport. But you have to choose the right equipment. This Pflueger President Spinning Reel will not disappoint you.
Like other Pflueger spinning reels, this one is also enclosed with a graphite body and aluminum spool, making it durable and light. It has a Sure-Click bail that gives a loud indicator. There are two styles of Pflueger President Spinning Reel including – Box and Clam. Both have three different models. Those are 30, 35, and 40. The entire model has got a gear ratio 5.2:1 and ten ball bearings.
| | | | |
| --- | --- | --- | --- |
| Pflueger President Specifications | Gear Ratio | Max Drag | Mono Line Capacity |
| PPS30 | 5.2:1 | 10 lb | 130 yards of 8 lb |
| PPS35 | 5.2:1 | 12 lb | 175 yards of 8 lb |
| PPS40 | 5.2:1 | 14 lb | 285 yards of 8 lb |
Pflueger President Key Specifications
Why I Like It:
10 corrosion-resistant stainless steel ball bearings
Smooth haul drag adjustment with oil-coated washers
The clutch is one-way as well as anti-reverse which is instantaneous.
This reel comes with a single braid-ready spool
The best feature of this Pflueger spinning reel is its Graphite body. At the same time, the rotor is also made from Graphite. As a result, the reel is pretty lightweight.
Slow Oscillation Gearing
The knob is made from rubber and is quite soft. So it gives comfort and excellent grip. 
Pros:
Easy Casting and Durable
Smooth Reeling and Drag System
It's a very Reliable spinning reel
Cons:
Lower casting distance than some of the other options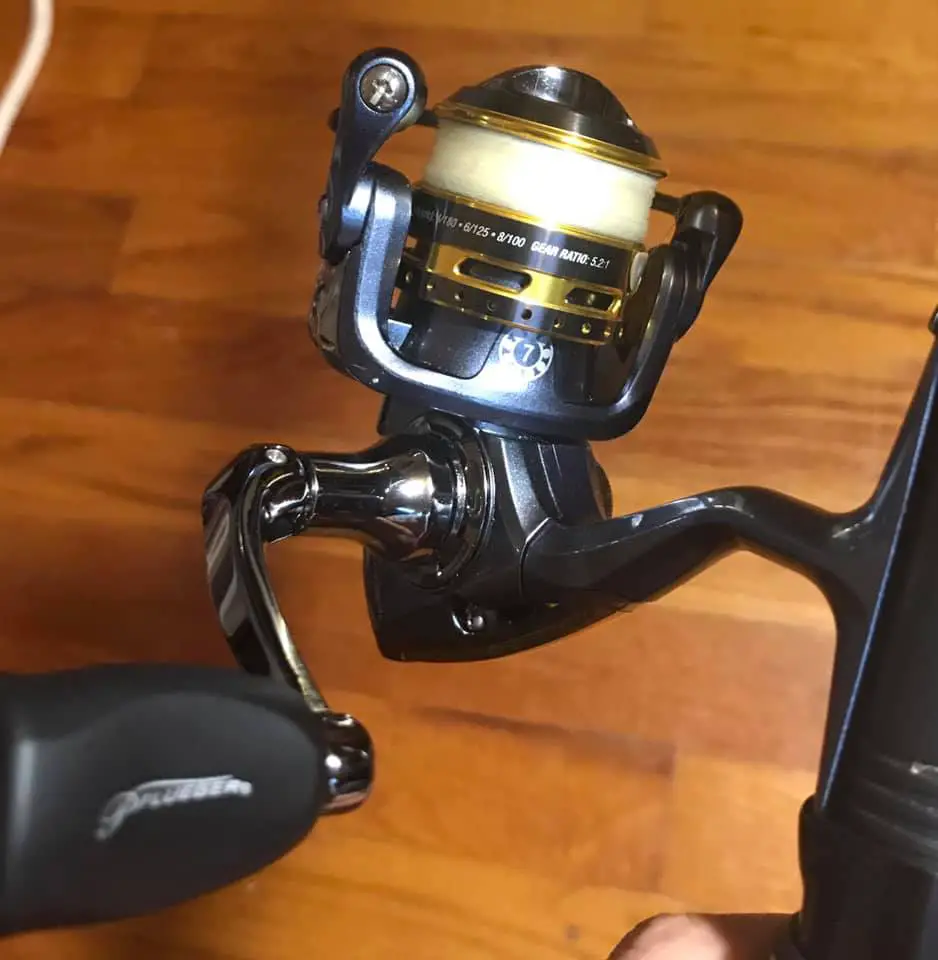 5. Shimano IX Rear Drag Spinning Reel
Solid Aluminum Frame and Handle

Propulsion Line Management System

Shielded Ball Bearings

Rear Drag is Easier to Adjust During a Fight
SSR 1:
Weight: 9.6 ounces
Gear Ratio: 4.1:1
Max Drag: 7 Ibs
Line Capacity: 6/170, 8/120, 10/100
SSR 2:
 Weight: 24 ounces
Gear Ratio: 4.1:1
Max Drag: 15 Ibs
Line Capacity: 8/240, 10/200, 12/160
Shimano has finally released a spinning model that most anglers or professionals can afford in the Shimano IX. It is very popular among freshwater anglers.
You will first notice its sleek blackish look thanks to its stunning mechanical design and excellent drag system. This Shimano Spinning Reel is not only a great spinning reel for the angler but also at a modest price.
Why I Like It:
The frame and handle are constructed of solid aluminum. The combination of graphite and solid aluminum makes it extra durable.
Shimano designed this reel for saltwater. To survive and protect against damage all graphite material like side plate, frame, spool, rotor. So it will be the best choice for saltwater fishing.
More than anything, these spinning reels are light. One of them is 9.6 ounces, and another is 1.5 pounds. So you will not be getting fatigued to hold it.
The handles are made as traditional T-shaped. At the same time, paddle-shaped depending on which size you prefer.
This reel is an easy casting and level winding reel. The Propulsion Line Management System allows flowing off the spool gently. It ensures a longer cast, without making huge backlashes.
The S A-RB bearings come shielded on each side and protect from dirt.
Pros:
This Spinning Reel Is Quite Lightweight
Rear Drag
It Gives Effortless Casting
Cons:
Can have trouble casting in rough weather
Take care of the graphite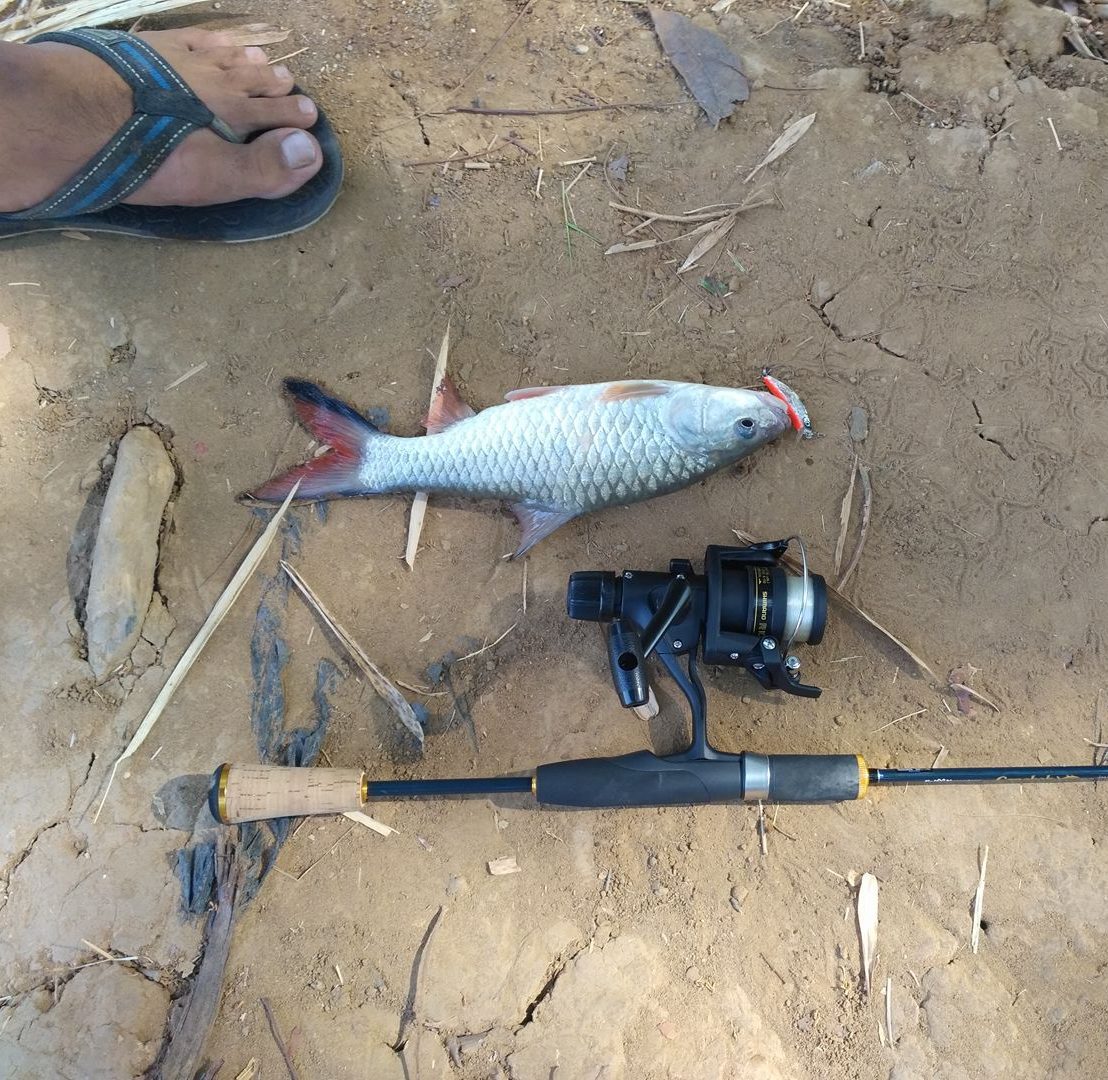 Specification Comparison
This table shows the difference in the key specifications for each of the products in this list, which is based on the 3000 sized model:
| | | | | |
| --- | --- | --- | --- | --- |
| Product | Ball Bearings | Weight | Gear Ratio | Max Drag |
| Penn Battle | 5+1 | 12.3 oz | 6.2:1 | 15 lb |
| Penn Fierce | 4+1 | 11.7 oz | 6.2:1 | 10 lb |
| Okuma Ceymar | 7+1 | 8.2 oz | 5.0:1 | 15 lb |
| Pflueger President | 9+1 | 7.6 oz | 6.2:1 | 10 lb |
| Shimano IX | 0 | 13.5 oz | 4.8:1 | 15 lb |
Specification Comparison Table
What to Expect From a Budget Spinning Reel
As manufacturers don't use costly materials to create cheaper Spinning Reels the weight can't be optimized. So if you expect a lightweight spinning reel under $100, you will be disappointed. But remember that heavier reels are not always bad if you know how to adjust with your wrists.
This is especially true of larger-sized models, especially as you move into the offshore saltwater-sized options.
| | | | |
| --- | --- | --- | --- |
| Reel Size | Lightweight | Medium Weight | Heavy |
| 1000 | < 7 ounces | 7-10 ounces | 10+ ounces |
| 2000 | < 8 ounces | 8-11 ounces | 11+ ounces |
| 3000 | < 9 ounces | 9 – 12 ounces | 12+ ounces |
| 4000 | <10 ounces | 10-13 ounces | 13+ ounces |
Table of spinning reel sizes and average weight
More Plastic Elements
Like the reel, the manufacturer can't invest a huge amount for any advanced component. So they try to use more plastic materials to save on the production cost. As a result, these reels come with fewer metal components. You won't find many solid metal bodies, precision-engineered gearing, or the latest corrosion-resistant materials.
Cheapest – Plastic Materials
Most Durable – Full Metal Body
Most Lightweight – Aluminum and Graphite
Unsealed Bearings and Drags Systems
The drag systems will not be sealed on these reels to save some money. The bearing count is often also cut down to reduce the price, resulting in a drop in performance. You can still find high-performing entry-level spinning reels, but I would strongly recommend flushing your feels in fresh water after use to remove any salt or sand from the internals.
Shielded Drag System – Base-level design that allows some water into the internals
Sealed Drag System – Superior design which prevents most water from entering the internals
How We Rate Products
Russ Egan and Donny Karr have over 40 years of combined fishing experience. We know the difference between a high-quality reel and a poor alternative.
I thoroughly review all products to measure their performance, durability, and value for money. I conduct bench and field testing to check how the product performs. Each reel is tested for at least 8 hours, with a full test taking 2 weeks. This testing results in an overall score that I give to all products. All metrics are scored out of 5.
Performance
The performance score is how well this product fulfills its primary purpose. Does it have all the features and optional extras you need to catch the target species? I also interview expert anglers on their experience to build a more comprehensive view of the performance under multiple conditions.
I take all reels down to my local freshwater lake for bass, or inshore fishing off the beach for redfish.
Test 1: I confirm that the max drag meets the manufacturer's specifications using a calibrated scale.
Test 2: I test the maximum casting distance using a 1.0-ounce lure.
Test 3: I test the accuracy by casting 10 times into a 3 ft diameter circle at 30 yards.
Test 4: I check the versatility and the ability to handle multiple uses by field testing with 3 different lures and baits, by actually going fishing.
Durability
Durability refers to how long the product will continue functioning. I twist, bend, and break all the products to check their longevity. This score is for the construction materials, the workmanship quality, and the servicing requirements. There are also bonus points for manufacturers' warranty.
For products I can't test for long enough, I also consult experts who have been using them for decades to judge their longevity.
Test 5: I pull it apart to check the grease and oil levels, how difficult it is to maintain, and whether sand or salt has deposited after use in saltwater.
Value for Money
The final aspect of the scoring system is the price or, more specifically, the value for money. Value for money is a comparison against the closest alternative products, both by the same manufacturer and other brands.
Overall Score
Finally, I average the three scores of performance, durability, and value for money to give the overall score of each product reviewed.
To see more details, please read the complete guide on how I test and evaluate fishing products.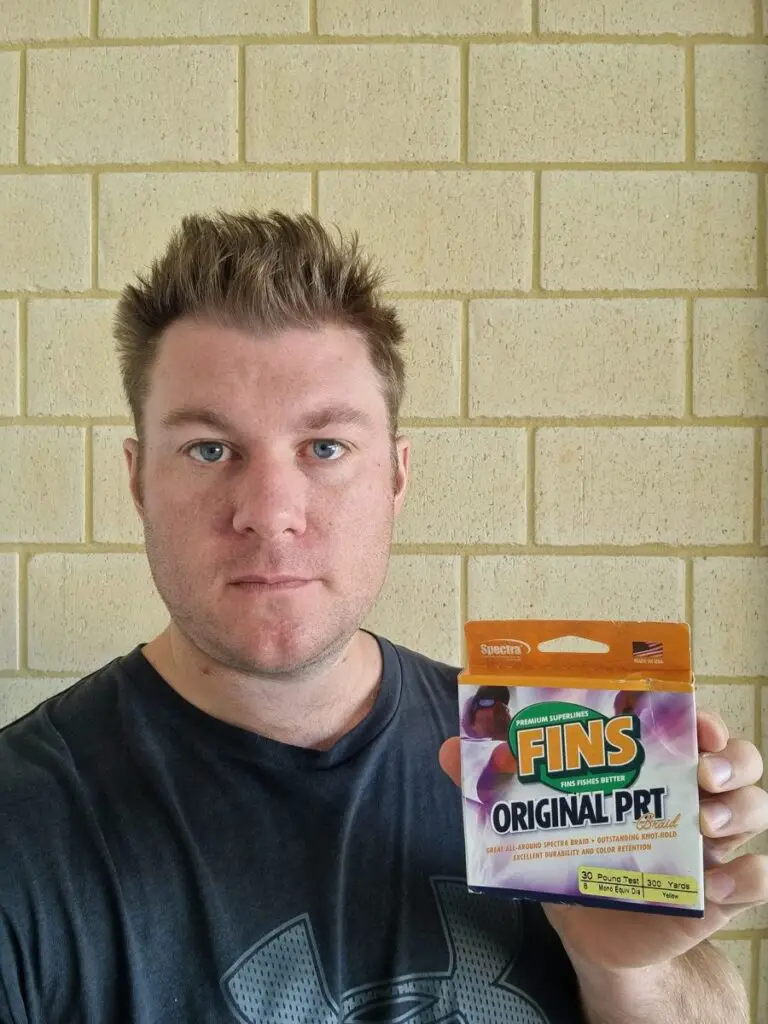 Final Thoughts
We know finding the Best Spinning Reels under 100 is a tough task. But we carefully selected top-quality performer spinning reel.
I highly recommend the Penn Battle III Spinning Reel for its amazing features and elegant design. Penn is so far one of the exceptional spinning reel manufacturers on the market and a reliable brand in the fishing industry.
Each reel on this list is amazing with their superb benefit and specification plus we added the things we didn't like about the item. 
Some other reels just missed out on this list such as the KastKing Megatron that you might find interesting.