The Shimano Sustain Spinning Reel won Best of Category – New Saltwater Reel in 2017 and rightly so. The Shimano company has been a trendsetter in fishing, and this reel is an excellent way of improving your saltwater fishing. Remember the quality of your fishing reel, is a significant determiner of whether you go home empty-handed at the end of the day.
Shimano over the years has created a variety of fishing gear that is trusted by top anglers in the United States and the world. This reel stands out because of its smooth bail and drag system as well as the stiff Hagane body. It is also the most waterproof line in the market today.
Shimano was established in 1921, and they have used their experience in the market to create fishing gear that solves the problems you experience in the water. The Shimano Sustain series has been around for a couple of years, and anglers find it very efficient during inshore fishing. Here is my Shimano Sustain Spinning Reel review that highlights both its strengths and weaknesses.
Everything in my review is based on my own personal experiences and judgements.
Saltwater Ready

Ci4+ and MGL Rotor Reduced the Weight

8+1 Ball Bearings for a Smooth Retrieve

Suitable for Bass to Billfish
Shimano Sustain Spinning Reel Review
Hagane Body Design
With the Hagane body design, Shimano aims at creating a reel that offers eternally smooth reeling. The company has put its 100 years of metalworking into forging a fishing reel that is stiff and therefore has low body flex. In the Shimano Sustain the company combined the Hagane body design with the Hagane drive gear to offer anglers a reel that performs well with reduced gear wear.
G-free Body
The design team on this reel moved the centre of mass closer to the fishing rod, improving its balance and weight in your hand. When using this spinning reel, anglers can feel the strike and when it comes to it, fight the fish better.
This design is also used in fishing reels like the Shimano Stella. It ensures less forearm fatigue. You can keep fishing for a long time without getting tired and dealing with a painful forearm.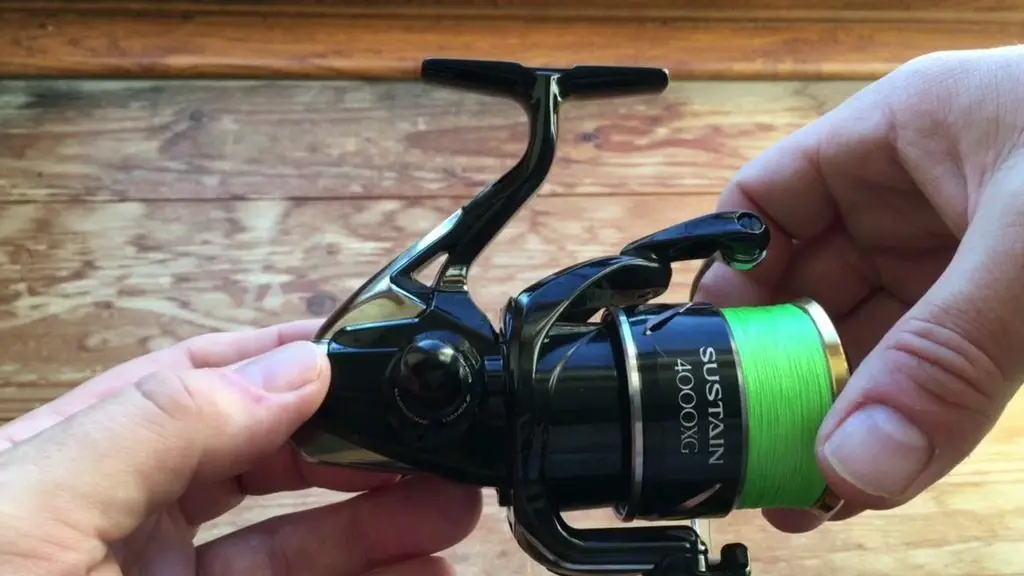 Ultra Hard Hagane Cold Forged Gear
One of the ways you lose your fishing reels is when the gears wear out. The Hagane cold forged gear ensures that your Shimano Sustain will serve you for along time. Shimano Sustain gears are created under 200 tonnes of pressure, and the cold forging process does not involve any cutting, which enhances their longevity.
This method also ensures that the reels do not come with any factory defects. It is important to note that the Hagane gears also ensure that you have the smoothest retrieval experience of any fishing reel. Even under a load, these gears do not stick.
Magnumlite Rotor
Magnulite is a new material that is 30% lighter than Ci4+ and Ci4. That noted the material is strong and Shimano uses it to reduce reel weight while maintaining durability. Therefore, your Shimano Sustain will be lighter, but you will not lose the strength and reliability you have to expect from Shimano range of reels.
X-Ship Pinion Gear
The X-Ship is a combination of features that enhance the efficiency of Shimano reels. The pinion gear is installed closer to the centre line, and that ensures that larger amounts of power are transferred from the handle to the Magnumlite rotor. When the fishing reel is under load, the Shimano S A-RB roller bearings help to increase the pinion gear stability, as well as reduces rotor deflection and pinion gear twist.
X-protect Water Resistance
When saltwater fishing, keeping water out of your reel is as important as catching fish. The Shimano company uses its Labyrinth design seal to ensure that water does not get into your Shimano Sustain reel. That is combined with water repellent coating to ensure that no water gets into your spinning reel.
Remember that saltwater speeds up corrosion and will reduce the longevity of your spinning reel. The labyrinth design was originally used the Shimano Stella, and users can add grease between the lips of the seal.
Cross Carbon Drag System
With the Shimano Sustain, you can adjust the drag from free spool to maximum reel capacity. The cross carbon drag system ensures that you can adjust the drag infinitely using several clicks on the drag adjustment to whatever you prefer.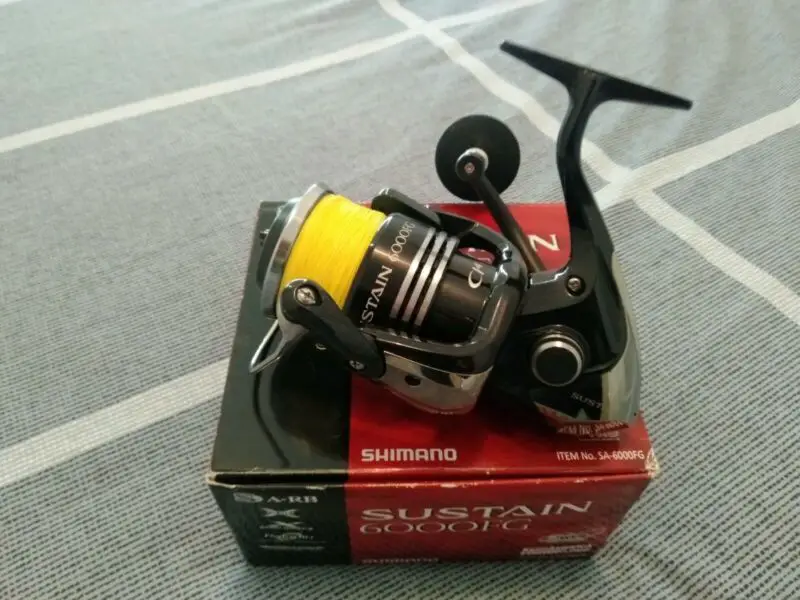 8 S A-RB (Shielded Stainless Steel Ball Bearings)
These ball bearings are similar to what you will find on other reels made by the Shimano company. However, in the Shimano Sustain, they are shielded to ensure that they do not get into contact with water, sand and debris that could roughen them. Corrosion could also make your reel less smooth during retrieval.
Super Stopper II anti-reverse roller bearing
The Super Stopper II refers to a one-way roller bearing that allows you to set the hook whenever you want without having to deal with reel back-play. It also gives the reel a solid feel.
Pros
Here are the merits of the Shimano Sustain Spinning Reel.
It is very light. The Hagane body design, Ultra Hagane cold-forged gear and the Magnumlite rotor all serve to reduce the weight of the Shimano Sustain. That allows users to fish throughout the day without easily getting tired.
It is smooth. The Shimano Sustain has one of the smoothest gears in the market. The placement of the pinion gear also ensures that you have stability and provides you with a smoother, lighter feel.
It is water-resistant. One cannot emphasize the importance of a water-resistant reel enough. Water enhances corrosion and rusting, which lowers the durability of your spinning reel. A water resistance reel is durable and will not inconvenience you when you are fishing.
It has an infinitely adjustable drag. The Shimano Sustain comes with an infinitely adjustable drag system which means that you can calibrate it to fit the conditions and the type of fishing that you do.
Cons
It is expensive due to its full list of Shimano technologies that does reduce its value for money somewhat
The line roller system sometimes makes a squealing sound which can indicate internal wearing
Saltwater Ready

Ci4+ and MGL Rotor Reduced the Weight

8+1 Ball Bearings for a Smooth Retrieve

Suitable for Bass to Billfish
Video Review
If you want to see this reel in action, have a watch of this video review by Salt Strong:
Specifications
| MODEL | MONO LINE CAPACITY (#TEST/YD) | WEIGHT (OZ) | BEARINGS | GEAR RATIO | RETRIEVE PER CRANK (IN) | BRAID CAPACITY (LB/YDS) | MAX DRAG (LB) |
| --- | --- | --- | --- | --- | --- | --- | --- |
| SA2500HGFI | 6/200, 8/140, 10/120 | 8.3 | 8+1 | 6.0:1 | 35 | 10/150, 15/145, 30/100 | 20 |
| SAC3000HGFI | 6/230, 8/170, 10/140 | 7.9 | 8+1 | 6.0:1 | 35 | 10/200, 20/140, 40/105 | 20 |
| SA4000XGFI | 8/240, 10/200, 12/160 | 10.1 | 8+1 | 6.2:1 | 39 | 15/280, 30/170, 50/150 | 24 |
| SAC5000XGFI | 10/240, 12/195, 14/165 | 10.1 | 8+1 | 6.2:1 | 41 | 20/220, 30/200, 40/160 | 24 |
Shimano Technologies Included
| | |
| --- | --- |
| Hagane Gear | Yes |
| X-Ship | Yes |
| Micro Module II | Yes |
| X-Protect | Yes |
| Hagane Body | No |
| G-Free Body | Yes |
| Silent Drive | Yes |
| Infinity Drive | No |
| Ci4+ Material | Yes |
| Cross Carbon Drag | Yes |
| Heat Sink Drag | No |
| X-Shield | No |
| Long Stroke Spool | Yes |
| X Tough Drag | No |
| AR-C Spool | Yes |
| EI Surface Treatment | No |
| Rigid Support Drag | Yes |
| S A-RB | Yes |
| One-Piece Bail | Yes |
Table of Shimano Features Included with the Shimano Sustain
Conclusion
The Shimano Sustain Spinning reel is a high-quality reel that is perfect for inland saltwater fishing. Although the price is a bit on the high side, the excellent features are worth it.
Not interested in the Sustain? Have a look at these other options by Shimano.
Happy Fishing!