The best way to fish a texas rig is with a soft plastic worm and a bullet sinker when targeting bass in shallow water as you don't need to worry about getting snagged in weed beds.
The Texas rig is one of the tried-and-true lures for bass fishing and catching other species in freshwater lakes and rivers, as well as saltwater inlets and flats. It's one of the simplest ways of fishing with a soft plastic lure and works in a huge variety of different situations. 
If you're new to the Texas rig and want to know more about this workhorse of a lure presentation, keep reading because we'll break down everything you need to know to get started. 
What is a Texas Rig?
The Texas Rig has been around for many years. It first began to become popular around the early 1970's among professional bass fishing anglers. There are a few old-timers who will say that it was legendary angler Dave Hawk who invented the lure that we call the Texas rig sometime in the 60's, but nobody knows for sure. 
The Texas rig is sometimes referred to as the slip sinker rig, but most anglers consider the use of a bullet sinker and soft plastic worm to be the official Texas rig design. The Texas rig consists of a bullet sinker, a hook and your choice of soft plastic lure. 
There are a number of different styles of bullet sinkers that will work with the Texas rig presentation, including those made with different color finish, as well as lead or tungsten material. If you're going to use a larger-sized plastic lure, you'll likely need a larger sinker to match it. There are some instances where you might want to use a smaller or more lightweight sinker when fishing in shallow water or for bedding bass. 
It's also true that you can use a variety of different style and size hooks with the Texas rig. I personally prefer a 3/0 straight-shank for most plastic worms and lizards that are around 6 inches in length, as well as most creature baits. It's better to use a 4/0 straight-shank for longer worms and lizards that are 7 or 8 inches, or for larger flukes. If you're fishing for trophy bass, you'll need a 5/0 or possibly a 6/0 hook. 
You can also use a bobber-stop or small rubber band directly in front of your bullet sinker to hold it in place. Most anglers aren't concerned about this as the sinker should naturally slide down the line until it meets the base of the hook, but using something to keep the sinker in place is essential if you're going to fish in heavy cover or for skipping it under docks.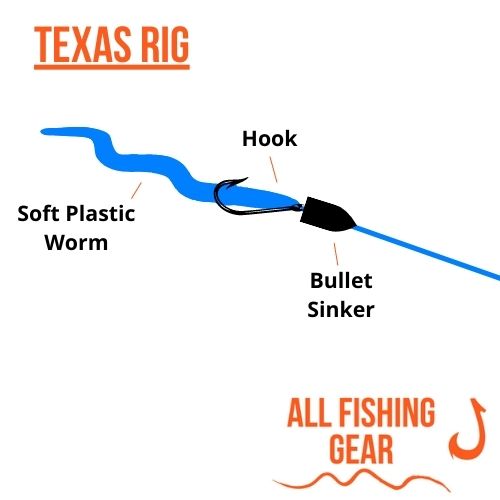 When to Use a Texas Rig
The Texas rig is a workhorse compared to most other types of lures because it's capable of doing the heavy-lifting required when you're fishing in thick cover. You can use a Texas rig when fishing in heavy cover since it's a weedless rig that doesn't have an exposed hook. 
A Texas rig is one of my favorite lures for fishing during the onset of a cold front when the weather is sunny and calm. These days are usually what anglers refer to as "bluebird" days and the approaching cold front makes bass stick very close to different types of cover. The Texas rig is the perfect lure to throw as you won't have to worry about getting snagged and it can usually punch through dense vegetation and reach the places where fish are hiding. 
You can also use a Texas rig to beat the banks and fish along points and other parts of the shorelines when bass are in shallow water. If you're able to skip the lure, a Texas rig is an outstanding choice of lure for fishing around docks or getting the lure into areas where there are overhanging branches above deeper water. 
The Texas rig is an excellent choice during the fall when bass are feeding on crawfish. You can fish it with virtually any type of crawfish-style soft plastic since the Texas rig allows you to closely mimic the way a crawfish swims across the bottom. 
Conclusion 
There's really no wrong way to fish a Texas rig. I've caught dozens of keeper-sized bass by fishing a Texas rig along a 20-foot shelf while snow flurries are hitting the water and I've also used it to catch giant spawning bass that are locked on their beds. 
The Texas rig is easy and simple to use and can be a reliable lure option for times when fish are harder to find. No matter what time of year it is, an expert angler should always keep a Texas rig on hand. 
References