Electric fishing reels are growing in popularity because of their advantages to anglers. It can be difficult to decide when to pack your electric reel and power source and when to rely on your more versatile spinning reel alternatives.
I have seen a lot of anglers who are reluctant to pull out their electric reel even when they are in the perfect circumstances to use it. I have written this guide to help more anglers understand the benefits of using electric reels and when to use them to their advantage.
What is an Electric Reel?
Electric reels are conventional reels attached to a power source that allows the angler to drop their bait to an exact depth and retrieve their line automatically. The more advanced options also have automated jigging patterns to attract more fish to the moving bait. Electric fishing reels are more expensive than manual options due to the addition of a motor. They can also be retrofitted to a manual reel by installing a conversion kit.
These images show some of the most popular electric fishing reels on the market at the moment: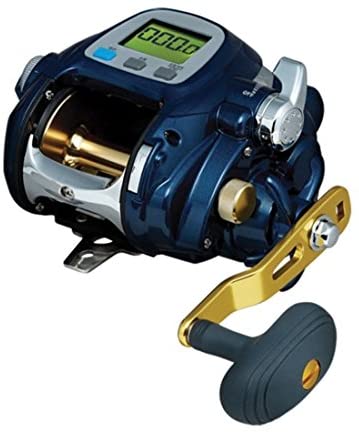 Advantages of Electric Reels
Electric reels have a lot of advantages over manual overhead reels. They are a genuine game changer for many anglers.
Significantly reduces your muscle soreness compared to fighting large game fish manually.
Allows you to retrieve empty hooks from hundreds of yards down easily.
Gives you the ability to retrieve an empty hook while multitasking and preparing your next bait.
Automatic jigging functions allow you to attract more fish without holding the rod the entire time.
Allows disabled anglers to experience the feeling of catching large fish species.
If you have a physical ailment that means you cannot retrieve a large fish without pain or excessive discomfort, I recommend an electric fishing reel without hesitation.
Disadvantages of Electric Reels
Not everything is rosy about electric reels. You should be aware of some genuine problems before purchasing this product.
More expensive than a manual alternative of the same size.
The motor makes the reel much heavier.
Requires you to transport a power source.
One of the complaints I hear about electric reels is that you lose some of the experience of battling against a large fish species. Does it even count as catching the fish if the motor drags it in? I disagree with this point of view – you can always retrieve the fish manually and not use the motor in that circumstance. But the electric reel will always give you an advantage during other situations, such as retrieving empty hooks and checking your bait on a 500-yard deep reef.
Electric Reels for Deep Dropping
The number 1 reason for changing to an electric reel is for deep dropping baits onto reefs in the open ocean. I use 300 yards as my cut off for recommending using an electric reel. You don't have to lose many fish cutting your line on a reef at 500 yards to understand just how long and physically taxing it is to retrieve that line dozens of times a day. I will generally still fight the fish manually for my own personal satisfaction, but any time I need to retrieve an empty hook I will use the motor.
This serves several purposes. First, I don't need to wear myself out for no reason and can save my strength for that giant grouper I am waiting for. Second, it allows me to cut up my next piece of bait or rig a new hook so I can spend more time with my bait in the water.
Electric reels generally have a depth counter so you can target the exact depth you are looking for. This means you can use your reel in conjunction with your fish finder to put the bait in the ideal position. You will be surprised at the increased number of fish strikes you get when you spend 25% less time messing around with manual retrieves.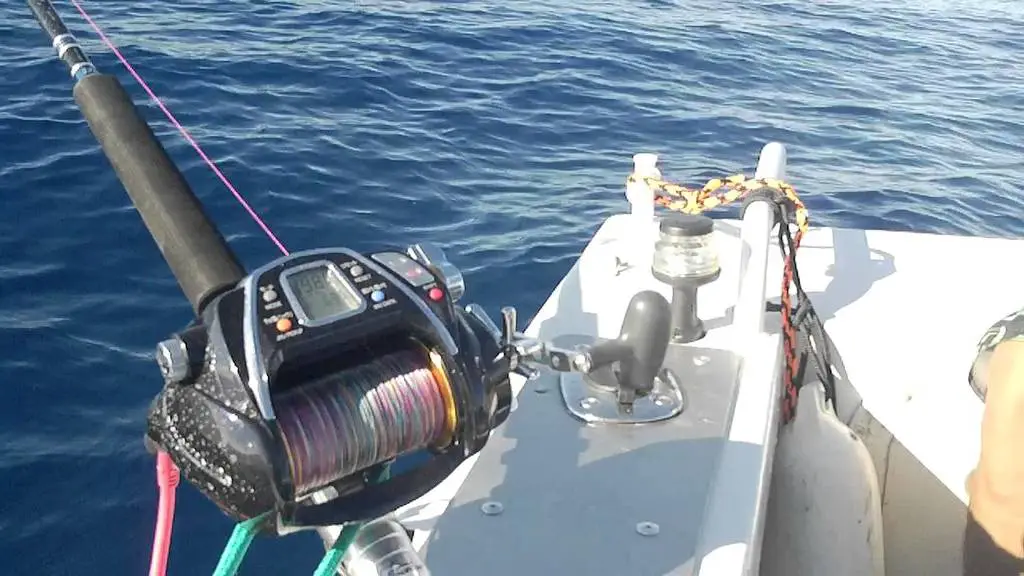 The last advantage of an electric reel is the automated jigging functions. These functions will repeatedly pull in a few feet or line and then release it again, causing your bait to jig up and down enticingly. I have always done this manually and am certain it catches the eye of hungry fish. With an electric reel, you can set this jigging function up on one rod and jig manually on your second setup.
Some the top of the line reels even enable you to program your own jigging pattern if you think you can do better.
Electric Reels for Large Fish
Some fish species are so large and difficult to retrieve that they can injure even the strongest angler. Grouper or large reef fish can pull many times their considerable weight. This can make landing them impossible without powered assistance. Electric reels won't be able to drag these giants themselves but can provide invaluable help in the pursuit of your dream species.
If you combine the size of these underwater monsters with the depth that they typically live, it can be an hour-long battle to bring them to your boat. Using an electric reel as a tool to help you land more fish can be extremely useful for most offshore anglers.
You can also use electric reels to help catch fast-swimming pelagic species like tuna or mackerel. However, I would confirm that the retrieve rate, measured in meters per minute, is sufficient for these speedy fish. The last thing you want is to rely on an electric reel that cannot maintain the tension in the fishing line and you lose your fish.
Electric Reels for Disabled Anglers
Some people with physical disabilities are reluctant to try fishing, which is a real shame. Electric reels can assist disabled anglers in catching any fish that the able-bodied can. Whether you get tired halfway through a battle or are reluctant to try any fishing, I recommend trying an electric reel. They can remove almost all of the physical components of angling.
Anything that can help people with physical ailments get onto the water and experience the joy of fishing is priceless. Electric reels are the most modern technology available that allows everything from small children to elderly anglers catch any fish species in the ocean.
Conclusion
Electric reels are the most technologically advanced option for anglers but are very targeted to a particular type of fishing. They don't provide any assistance in casting, purely in retrieving. They also are more expensive and require transporting a power source. Having said that, for an angler fishing in hundreds of yards of water or targeting large fish species, they are a priceless tool. For physically disabled anglers, they are a necessity. I personally believe that more anglers should consider adding an electric fishing reel to their collection. Anytime you are deep-dropping baits on a deep reef, you should choose an electric reel.