Selecting the right size conventional reel for your needs is essential to ensuring you never miss that trophy fish. Whether you are fishing for marlin in the open ocean, deep dropping for grouper on a reef, or soaking baits for catfish, choose the ideal model conventional reel if important.
I have used conventional reels for well over a decade for everything from offshore to inshore and I am a big fan. One of the biggest mistakes I see is choosing an overhead reel that is significantly larger than is required for the task at hand. So I have put together this list of my recommended conventional reel sizes depending on the type of fish species and your target depth.
What is a Conventional Reel?
Conventional reels are also known as overhead reels, trolling reels, offshore reels, or big game reels. They differ from a spinning reel as they don't have a bait arm and have their spool aligned at 90 degrees to the fishing rod. They are also designed with extremely high line capacities and lower gear ratios but more drag power. They are well suited for fishing for big game fish or deeper offshore waters.
Here are some examples of the most popular conventional reels on the market at the moment for both offshore and inshore fishing: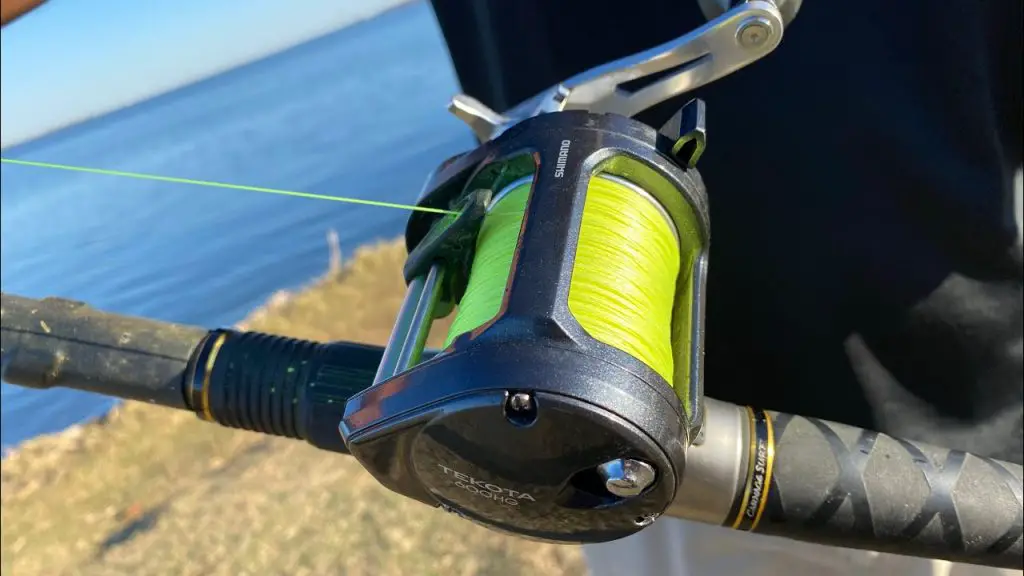 When to Use a Conventional Reel?
Conventional reels are best used when you are more interested in the power and line capacity than casting accuracy and distance. It is extremely difficult (I would say impossible) to cast a conventional reel very far, so they are primarily used to drop baits directly down or release lures behind your boat for trolling. They should be used when you are trolling for pelagic species like mackerel or tuna, or for dropping baits for larger species from catfish to marlin.
I personally own a Shimano Tyrnos, and have used it extensively when fishing offshore for sailfish and dropping baits for reef fish.
Conventional reels are also very popular for some types of inshore fishing or even freshwater fishing for larger catfish species. Really, any fish that will strike a stationary bait and put up a big fight is worth upgrading to an overhead reel.
Conventional reels often have a slower retrieve rate than a spinning reel, this is to allow them to have more power. This doesn't mean you can't use a conventional reel when fighting a fast-swimming species like tuna or sailfish. Many modern overhead reels have a two-speed gearing system so you can switch between max power and max retrieve. This is good for both retrieving empty hooks and fighting fast fish.
What are the Different Sizes of Conventional Reel?
Conventional reels use a different size system to spinning reels, although they are easy to convert. Spinning reels use a 4-digit numbering system, such as 1000 or 4000. Conventional reels use a 2 or 3-digit system, such as 16 or 40, or sometimes even up to 130 for the largest models.
I generally talk about conventional reels in terms of whether they are small, medium, or large. Small reels are best suited for small reef fish or smaller pelagic species like mackerel. Large conventional reels are exclusively built for the largest fish in the ocean – marlin and large groupers.
| | | | | |
| --- | --- | --- | --- | --- |
| Class of Conventional Reel | Size Model | Line Capacity | Max Drag | Cost |
| Small-Size | 12-20 | 500 to 1000 yards of 40 lb braid | 25 to 40 lb | $150-$300 |
| Medium-Size | 20-50 | 500 to 1500 yards of 60 lb braid | 30 to 60 lb | $300-$500 |
| Large-Size | 50-130 | 1500 to 3000 yards of 100 lb braid | 50 to 80 lb | $500-$800 |
Which Size Conventional Reel for Different Fish Species?
The species of fish you are target plays a significant role in determining which size conventional reel you require. The power of the fish will influence how much drag you need. The swimming speed or the depth they live will impact on the amount of line capacity. If you are target larger fish species and require larger diameter fishing line then this will reduce the amount you can store on your spool.
Of course, you never truly know which species of fish will strike your bait, nor how large that individual fish will be. So I have put together these guidelines about what sized conventional reel I would advise for different species so that you never get into trouble on the water.
This table shows the recommended conventional reel size and some key criteria for common recreational angling species. I haven't included species that I would recommend using a different type of fishing reel, like bass (which I would suggest using a baitcaster).
| | | | |
| --- | --- | --- | --- |
| Fish Species | Conventional Reel Size | Line Capacity | Max Drag |
| Mackerel | 12 | 250 yards of 20 lb braid | 10 lb |
| Tarpon | 12 | 300 yards of 50 lb braid | 15 lb |
| Catfish | 15 | 300 yards of 50 lb braid | 15 lb |
| Tuna | 20 | 300 yards of 50 lb braid | 15 lb |
| Mah Mahi | 25 | 500 yards of 40 lb braid | 20 lb |
| Sailfish | 50 | 1500 yards of 80 lb braid | 40 lb |
| Sturgeon | 50 | 500 yards of 60 lb braid | 40 lb |
| Grouper | 80 | 500 yards of 80 lb braid | 60 lb |
| Marlin | 130 | 1500 yards of 130 lb braid | 85 lb |
Which Size Conventional Reel for Different Depths?
Another key consideration is how deep you will be fishing. Even though you may only be targeting a small species, if that species lives on a reef several hundred feet deep, you may need to choose a larger conventional reel size purely for its additional line capacity.
This table shows the recommended conventional reel size for different target depths. I have included some safety margin to make sure you have enough line to fight the fish when it is on the bottom. You should also consider if you are target especially large fish, like grouper, to go up a size or two to adjust for the thicker fishing line.
| | |
| --- | --- |
| Target Depth | Recommended Conventional Reel Size |
| 50 feet | 12 |
| 100 feet | 14 |
| 200 feet | 16 |
| 300 feet | 20 |
| 400 feet | 25 |
| 500 feet | 30 |
| 600 feet | 50 |
| 800 feet | 60 |
| 1000 feet | 80 |
You should also consider upgrading your conventional reel to an electric powered model if you are fishing at deeper than 300 feet. This will save considerable muscle soreness and improve your overall fishing experience. Nothing is worse than manually retrieving your empty hook from the depths a hundred times throughout the day.
Conclusion
Conventional reels are ideally designed for a particular type of fishing – dropping baits into the depths and trolling lures for big game. They are becoming increasingly popular for more powerful recreational species like catfish. However, they are expensive for a quality model and you don't want to be overspending for a larger size than you will use. The larger models are also extremely heavy, which is a concern if you are travelling long distances with them.
You can select the ideal size conventional reel by considering the type of fish you are target and the depth. This should give you a clear understanding of the fishing line strength, the fishing line capacity, and the amount of drag. You can narrow down your selection to a few individual models using these three data points.