The best multi tool for fishing is made from rust-resistant stainless steel and contains a knife, scissors, a saw, and nippers, such as the Leatherman Wave.
A multi tool is a universal tool that combines many functions into one tool. Several hundred multi-tools are on the market, united by dozens of brands. But many multi-tools have featured that are not necessary for fishing.
Another idea to consider is whether you will use this outdoor tool only for fishing or whether you will use it for DIY or other activities – in which case you may want to consider a much more expensive product like a heavy-duty Leatherman that has more versatility.
Also, consider the construction material – for saltwater fishermen, you will certainly want to select an easy-to-use and corrosion-resistant stainless steel multi-tool for fishing.
A multi-tool is an essential piece of equipment when fishing. Let's see which of the functions of fishing multi-tools are necessary for an angler, and which ones can be dispensed with when fishing.
I personally own a Leatherman and use it often. I have used dozens of multi-tools for fishing and other outdoor experiences over the years. All of the information in this guide is based on my own personal experiences and insights from over a decade of angling experiences.
Image
Features
Score
Price

Best Overall

25 Year Warranty
18 Tools, including Pliers, Wire Cutters, Saw, Scissors, Screwdrivers
Corrosion Resistant Stainless Steel
Made in Portland, Oregan

Check on AmazonCheck at Bass Pro Shop

Best for Freshwater

12-in-1 Multi Tool including Pliers, Wire Cutters, Tweezers, Bottle Opener
Made from Stainless Steel
Slim Design to Fit in Your Pocket
Limited Lifetime Warranty

Check on Amazon

Best Value for Money

13-in-1 Multi Tool including Pliers, Screwdrivers, Saw, Punch, File
420 Hardened Stainless Steel
High-Quality Protective Nylon Sheath
Safety Locking Mechanism

Check on Amazon
Important Multi Tool Components
Let's use this Leatherman schematic as an illustration of what different tools look like so that you can judge what the next guide is talking about: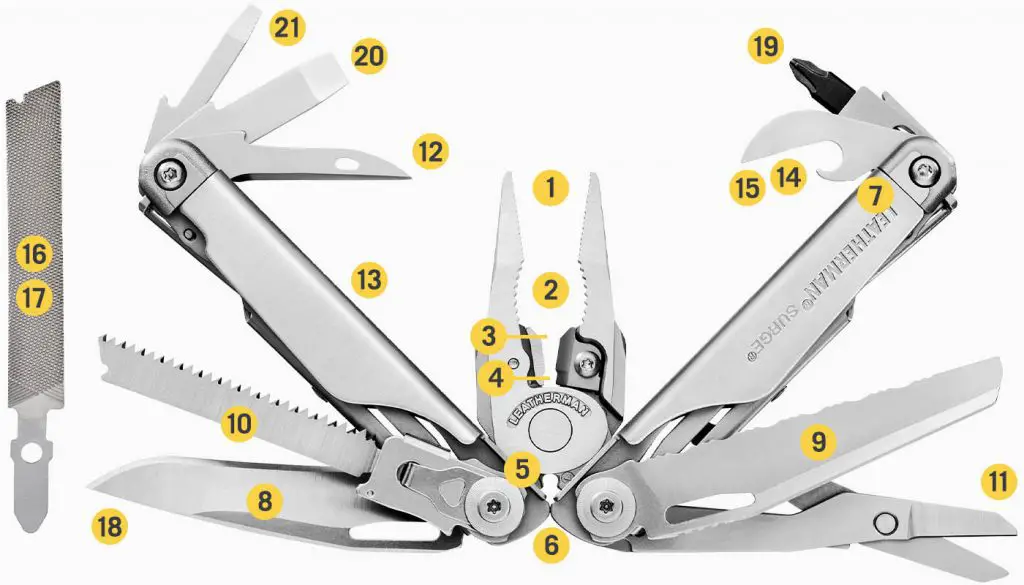 1. Leatherman Wave Multitool
There are no tools that I trust as much as my leatherman. I have owned a leatherman multitool for well over a decade and it has saved my bacon dozens of times. I regard them as the premier multitool on the market and have seen their long-lasting durability, and superior performance personally.
I can't count the number of times I have needed a screwdriver to replace a missing screw or a wire stripper to connect some electrical wires in my outboard motor while on the water – and I have always had a leatherman on my hip.
The wave series is an upgrade from the original design with the addition of heavy-duty wire cutters. This gives it 18 different tools to cover almost every task you can imagine.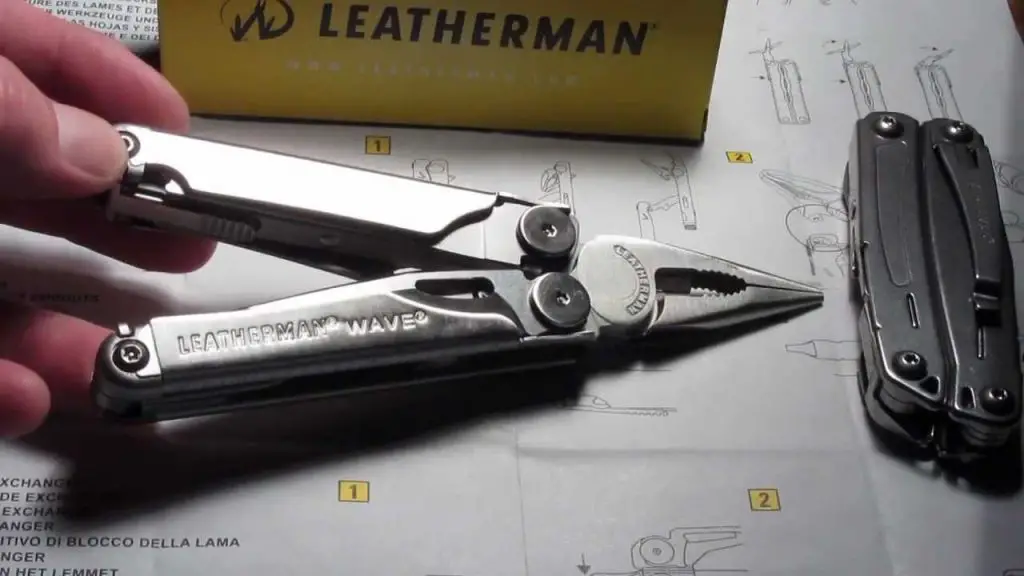 Pros
Leatherman offer a 25 year warranty which shows the faith they have in the quality of this product.
The tool is designed to be operated with one hand – all of the locking mechanisms are easily accessible from the outside.
It is made from 420HC stainless steel which makes it corrosion resistant and well suited for saltwater anglers.
Cons
This is a more expensive product than some of the alternatives, but when you factor in the 25 year lifespan and warranty, it is easy to justify the price and I still believe it offers value for money.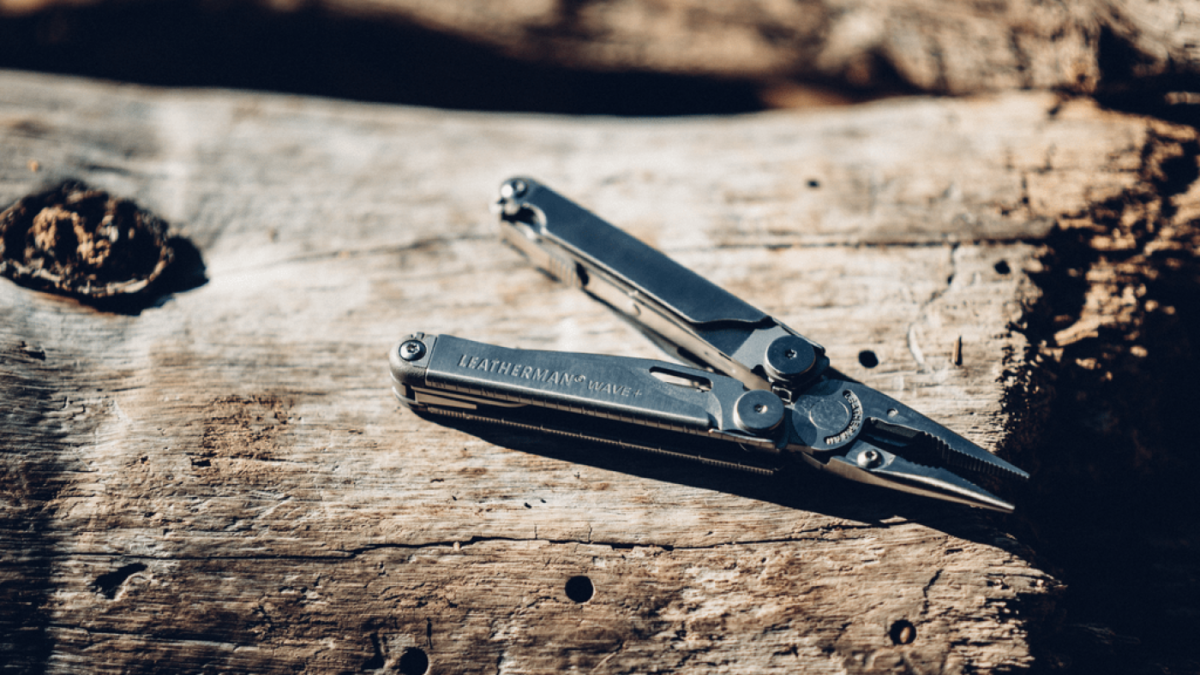 2. Pohaku 13 in 1 Multitool Knife 
ON SALE $14.00 OFF
Bestseller No. 1
Few multi tool models on my list can match the same level of performance and value that the Pohaku 13 in 1 Multitool Knife offers. This product is priced at a rate that anglers of all skill levels can afford, but it provides users with everything they could possibly need while out on the water. 
The Pokahu 13 in 1 Multitool Knife is somewhat of an unconventional item that is made of 100 percent stainless steel. Each of the 13 different tools that are found within this model will come in handy for fishing. Anglers will appreciate the enlarged blade, needle-nose pliers, bottle opener, saw, clippers, file and more. 
This multi tool folds up into a relatively compact and lightweight item that weighs only 8 ounces. Pohaku crafted this item with rust-proof and anti-corrosive properties, which allow it to be used in either freshwater or saltwater scenarios. The Pohaku 13 in 1 Multitool Knife is the perfect gift item for the beginner angler that will last many years if cared for properly.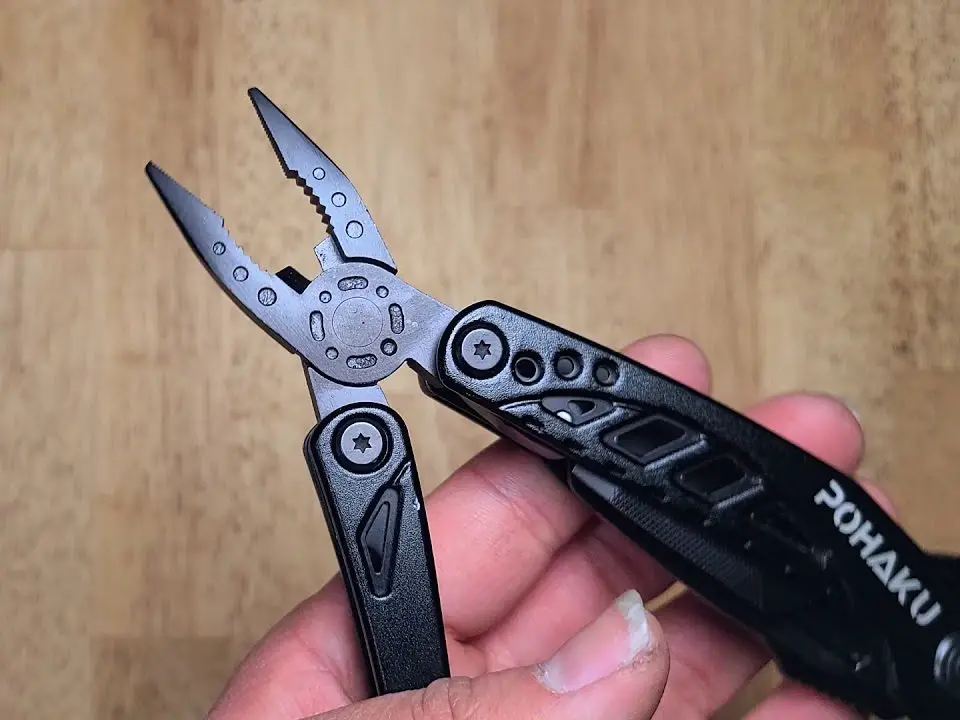 Pros
Very compact.
Suitable for saltwater – this will last for years to come.
Affordable and great value for money.
Lightweight at only 8 ounces.
Cons
It doesn't have a pair of scissors which I use a lot for cutting line.
3. Ascent 10 in 1 Fishing Multitool 
The Ascent 10 in 1 Fishing Multitool is described as the ideal 'gift' for any angler as it provides a unique combination of items that any fishing enthusiast will find useful. The value and quality of the Ascent 10 in 1 make it an easy addition to my list of the best 10 fishing multi tools that are currently available on the market. 
It's clear that any angler would find this item to be handy is just about any situation they might encounter on the water as it contains an accurate scale, hook remover, scraper, tape measure, snips, flashlight, and much more, In fact, there's no other product like the Ascent 10 in 1 Multitool in the fishing industry that's specifically designed with anglers in mind. 
It folds up into a compact and relatively lightweight 10-ounce item that can be easily tucked away into a gear pack, tackle box, or just about anywhere else you want to keep it. 
Pros
Specifically design for fishermen.
Very lightweight design at only 10 ounces in weight.
Even includes a flashlight.
Cons
The inclusion of the scale makes it look somewhat poorly designed – its not a pretty multi-tool.
4. Gerber Linedriver Fishing Line Multi-Tool
ON SALE $15.00 OFF
Bestseller No. 1
Gerber is among the best of the best brands in the outdoor industry when it comes to making bladed items and multi-tools that are of outstanding quality. For decades, anglers have come to rely on Gerber's products, which makes the Gerber Linedriver Fishing Line Multi-Tool an obvious choice to be among the top of my list of the best 10 multi tools. 
This product is designed solely for fishing use as it features everything from a spinning hook vice, eyelet spike, dual serrated scissors, crimpers, and other items that combine for a highly-useful tool. It's made out of 6061 aluminum material, which makes it very lightweight and easy to carry along thanks to a simple belt-clip that's made for quick access. 
This multi-tool offers six different functions that are specifically designed to address an angler's fishing line in a variety of ways. This product is relatively affordable and is the perfect addition to the tackle box or gift for the angler who seemingly already has everything. 
Pros
Specifically designed for angler's needs.
Affordable and good value for money option.
Made from aluminum which makes it lightweight.
Cons
I personally don't think it is as aesthetically pleasing as the more traditionally designed multi-tools.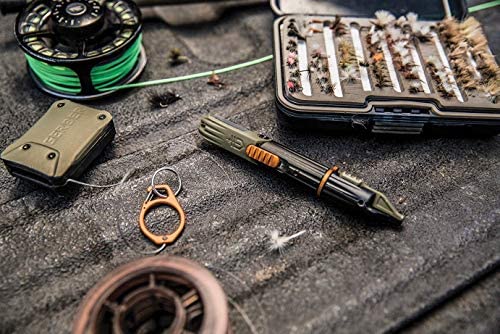 5. Booms Fishing L1 Fishing Pliers 13-in-1 Multi-Tools
One of the main concerns of professional anglers regarding multi-tools is the need for them to be as compact as possible since space is always at a premium—especially for kayak anglers. The Booms Fishing L1 Fishing Pliers 13-in-1 Multi-Tools fits that bill as it has the ability to fold up into a carrying length of under 7 inches. 
This highly-versatile tool is lightweight and durable thanks to its anodized stainless steel construction. Designed to resist rust, as well as the corrosive properties of saltwater, this multi-tool offers anglers everything from a set of standard pliers to hook removers, split-ring opener, braid cutter, wire snips, and other tools that any angler will find helpful. 
This particular product can be ordered in either a blue or black metallic appearance and will easily fit into any tackle box or anywhere else you want to store it. It's one of the most affordable items on my list of the best 10 multi tools, but that doesn't mean it's lacking in quality. 
Pros
One of the most affordable options on the list.
Folds up to under 7 inches in length.
Stainless steel construction is lightweight and durable.
Cons
May lack in level of workmanship.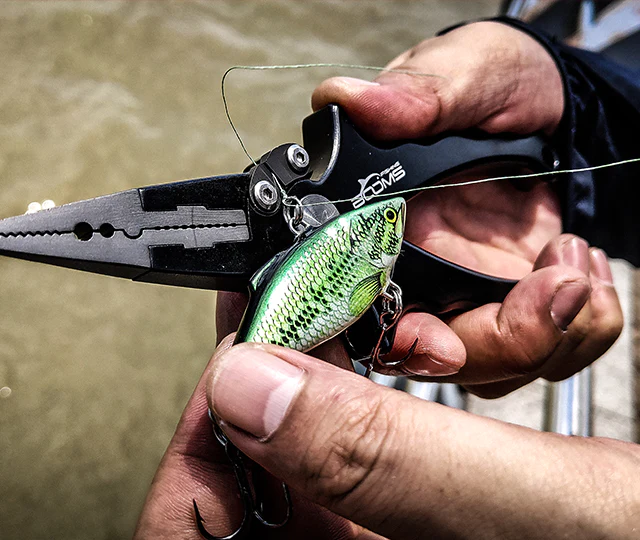 6. KastKing Cutthroat 7 inch Fishing Pliers
Anglers understand that KastKing makes a number of different fishing tools, equipment, and gear items that are designed with a no-nonsense approach that users find to be useful in any situation on the water. Made to easily fit into the pocket, tackle box, or anywhere else, the KastKing Cutthroat 7 inch Fishing Pliers adhere to the same high-quality standards that the brand's products are known to have. 
Made of 420 stainless steel material, the Cutthroat 7 inch Fishing Pliers offers anglers everything they need, including tungsten carbide cutters, multi-function jaws, rubberized handles, a handy sheath, and a coiled lanyard. One of the only downsides of this product compared to the other items on my list of the best 10 multi tools for fishing is that it doesn't have quite as many different 'tools' as other products. 
Nevertheless, KastKing made this item as one that will guard against the corrosive properties of saltwater thanks to its outer Teflon coating. 
Pros
Teflon coating and stainless steel material makes it well suited to saltwater.
High quality workmanship and construction.
Cons
Doesn't have as many tools as some of the alternate options.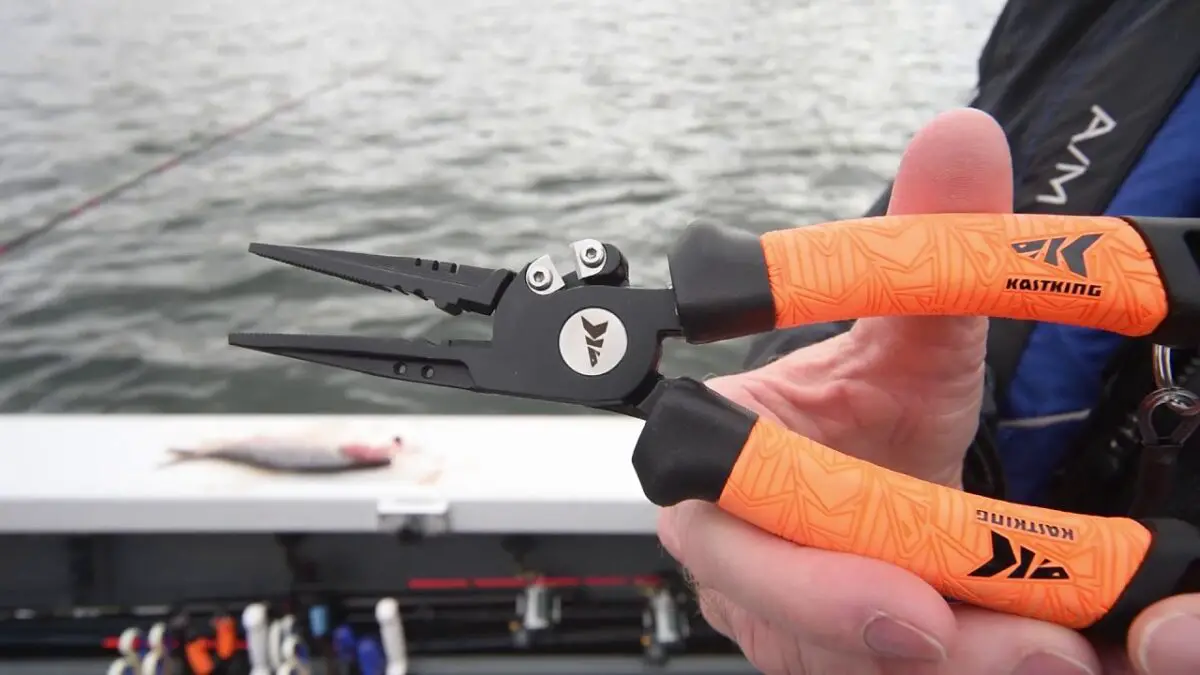 7. Mossy Oak Multi-Tool 
ON SALE $2.00 OFF
Bestseller No. 1
Most outdoor enthusiasts know the Mossy Oak brand as a company that focuses more on producing items that are used in hunting, camping, or general survival situations. The Mossy Oak Multi-Tool is ideal for all of those uses, but this product can also serve as a helpful multi-tool for fishing purposes as well. It's priced at a rate that almost any angler can afford and features a sleek, stealthy camouflage appearance with black stainless steel blades and tools that easily fold outward. 
This product is a bit heavier than other items on my list, but that's an understandable trade-off considering it comes with everything from a Phillips screwdriver to a pair of needle-nose pliers, as well as slotted screwdrivers, file, bottle opener, leather punch, knife blade, wire cutter, and more. 
This item is likely the best choice for anglers who might be hiking into the wilderness in search of those hard-to-reach mountain streams that are often teeming with healthy trout and other game fish species. The Mossy Oak Multi-Tool also comes with a black sheath, but the only downside to this item is that it's not equipped to handle saltwater fishing.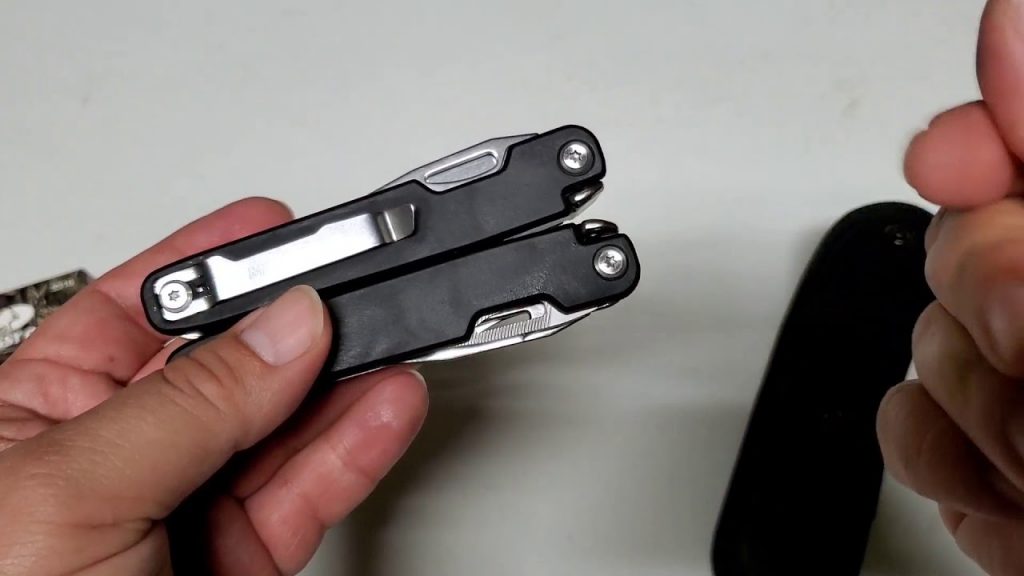 Pros
Includes almost every tool variation you could ever want.
Comes with a black sheath.
Cons
One of the heavier multi tools I have used, which I particularly don't like with flimsy jacket pockets.
Not suitable for saltwater.
8. Amoygoog Stainless Steel Fishing Pliers 
Sometimes you just want a gear or equipment item that's affordable and gets the job done. The Amoygoog Stainless Steel Fishing Pliers is one such product that offers a high amount of value packed into a simple, lightweight design. This item is considered to be an excellent choice for beginner anglers as it offers everything they would need to address common problems on the water that usually require a simple fix. 
Amoygoog has designed this pair of fishing pliers with stainless steel material that is springloaded in the center for easy, one-handed use. It comes with a retractable lanyard that is extremely convenient for kayak anglers who can't afford to let any gear item slip into the water and sink down to the depths below. 
Anglers will appreciate the Amoygoog Stainless Steel Fishing Pliers' anti-slip ergonomic design and will undoubtedly find this tool useful as it combines line cutters, crimp sleeves, hook removers, and crimp leads into a handy set of needle-nose pliers that anyone can use. 
Pros
Made from stainless steel.
Spring-loaded for one-handed use – I think it is very well suited for kayak fishermen.
Lots of value for money packed into their product.
Cons
Better suited for beginner anglers than experienced fishermen.
9. Gerber Suspension Multi-Plier
ON SALE $7.20 OFF
Bestseller No. 1
My list of the best fishing multi tools wouldn't quite be complete without a product like the Gerber Suspension Multi-Pliers listed among the top 10. I found this item to be extremely lightweight and compact as it is crafted from titanium material. 
The Suspension Multi-Plier offers a huge variety of different tools that include everything from a saw blade to different knives, as well as pliers, wire cutters, line snips, bottle opener, and more. This product is capable of easily fitting into the pocket of any fishing enthusiast or can also be tucked away in a backpack or tackle box. 
This particular Gerber multi-tool is moderately affordable and allows anglers to save a considerable amount of room in their tackle box as it accounts for a litany of different tools that are all combined into one simple, lightweight item.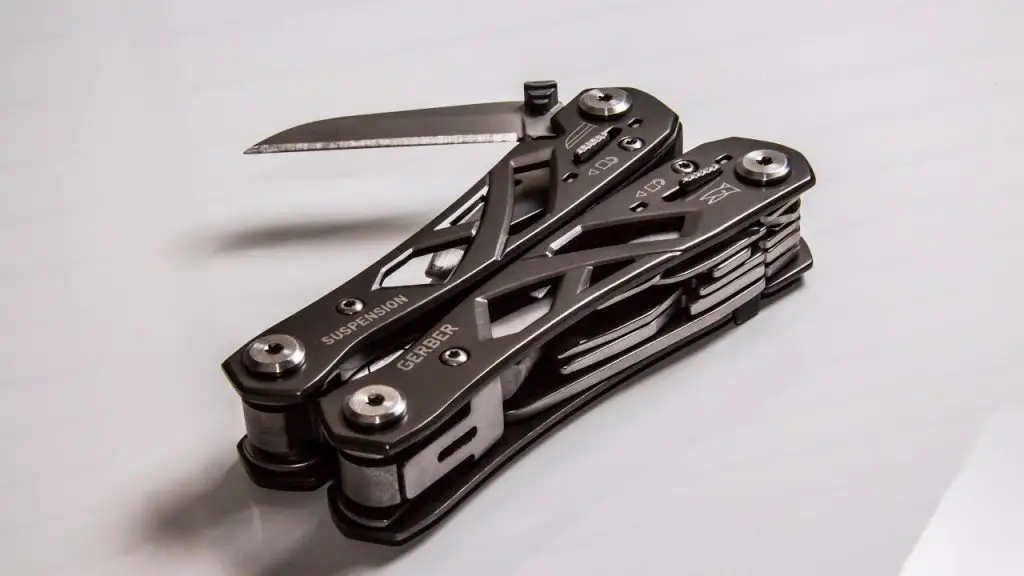 Pros
A lightweight option that is compact and easy to transport and carry.
Constructed of titanium material for strength and durability.
Cons
I would classify it as 'moderately affordable.'
10. SAMSFX Aluminum Fishing Pliers
There are certain capabilities that anglers expect to find within a modern fishing tool like the SAMSFX Aluminum Fishing Pliers. This incredibly lightweight item packs in just what you need to catch fish and avoid trouble on the water as it features a healthy variety of tools all rolled into one easy-to-carry package. 
These pliers feature an offset design that is specially made to help anglers see down into the mouths of a fish as they have the jaws of their pliers locked on the hook in an effort to carefully extract the lure without causing life-threatening damage to the fish. 
This product comes with a braided line cutter, split ring opener, coiled lanyard, fly fishing knot tying tool, retractors, and sheath in a simple, easy-to-use item that is another affordably-priced product capable of getting the job done. This product can also be ordered in a variety of nine different metallic color options to allow anglers to match their pliers to whatever color scheme they prefer for their rod and reels, boat, or other equipment. 
Pros
Lots of different color schemes to match your own personal tastes.
Extremely lightweight which I prefer – I am already carrying enough gear with my phone and other tools.
Cons
The offset plier design is useful for removing hooks from fish but can be annoying when working on tackle.
Multi Tool for Fishing Buying Guide
Knife
Knives are crucial for fishing, whether it is for cutting line or cutting bait. I would highly recommend having a dedicated fishing knife that is a larger size than in a multi tool. This allows it to be used for filleting fish as well that a multi tool knife cannot.
The knife in the multi tool is only 3-5 inches long and have a narrow blade because it is hidden in the handle. All multi tools come with a knife and are generally of a similar style.
A Knife is Required for a Fishing Multi Tool.
Serrated Knife
It seems the same narrow little knife, but with serreytornoy sharpening. But I use this knife from time to time as it is perfect for cutting any ropes, tows, twine or thick "wattle".
It may come in handy when fishing. Very useful.
A Serrated Knife is Required for a Fishing Multi Tool.
Pliers
I use it regularly – many times a day. With the narrow ends of the pliers, it's quite convenient to insert tees into rings or equip jig baits. Especially useful for removing hooks from a fishes mouth if you haven't got any else nearby to use.
In addition, from time to time it is required to unscrew something, slightly grasping one-handed with pliers. An extremely useful tool for an angler.
I will also include wire cutters within this category as the best multi tools for fishing build the wire cutter blades inside the base of the pliers.
You can select either a needle nose plier design or a more snub nose depending on your own personal needs.
Pliers are Required for a Fishing Multi Tool.
Round Pliers
Round pliers are in sets of some multi tools, but they are not particularly useful for fishing. A good set of pliers is particularly handing for opening hook rings, but round pliers are not as effective.
I wouldn't be desperately searching for a multi tool with round pliers for fishing purposes.
Round Pliers are Optional for a Fishing Multi Tool.
File
A file is very handy for sharpening your hooks. Some fish with a strong jaw require a very sharp hook. So having a file at your fingertips is very handy to give your hooks a quick sharpen, particularly if you notice they are getting bashed on rocks.
I would classify a file in fishing multi tools as very useful, but not essential.
A File is Optional for a Fishing Multi Tool.
Diamond File
However, this is an absolutely indispensable fishing tool. After all, every hook, every snag makes the points of my hooks, doubles and tees blunt. Sharpen, sharpen and sharpen again with a diamond file.
There are, of course, special hook sharpeners. But I personally do not like them. But the diamond file in my multi tool is one of the most popular tools.
A Diamond File is Required for a Fishing Multi Tool.
Large File
A large file is not the most useless tool in a fishing multi tool. I remember that one fall, we repaired a four-stroke outboard Nissan 18 hp engine using a multi tool, an axe and a coil of wire. And the large file in the multi tool then helped us a lot.
Сomes in handy.
A Large File is Optional for a Fishing Multi Tool.
Nippers
Have you ever seen a hook going through a fellow angler's ear?
It is not pleasant. And if it were not for the pliers in the fishing multi tools, then we would have had to go to the nearest hospital, which was 100 miles away from the fishing site.
And so, after the "operation", we lubricated a broken ear with alcohol and continued fishing, catching that trophy pike for 20 lb in weight that evening.
I have a soft spot for this one. I would certainly recommend including this.
Nippers are Required for a Fishing Multi Tool.
Awl
An awl is a stitching tool that you will find in some multi tool. A rather inconvenient tool in all multi tools. We tried to sew an awning with this awl as well as trying to sew a tent. It turned out pretty rough, but better than nothing.
Similar to the file – comes in handy but is certainly not essential.
An Awl is Optional for a Fishing Multi Tool.
Saw
In good American multi tools there is a gorgeous two-row saw. I am delighted with mine. Once, when I was fishing, I sawed out a seat for my fishing box from a piece of laminated plywood. My original seat made from a foam box had broken very quickly. And the seat carved by a multi tool saw has been under me for almost ten years now.
So, this fishing tool is indispensable. Just hope that the saw is not a cheap Chinese multi tool as it will not be as good as a comparable American design.
Take a high-quality multi tool, and there should be a saw in it. Very useful.
A Saw is Required for a Fishing Multi Tool.
Phillips Screwdriver
I wouldn't ever consider a multi tool without a Phillips head screwdriver. I don't go anywhere without mine.
Loosen the screws on the spinning reel, the screws on the spool of the winter fishing rod, the screws in the case of any fishing device. Yes, you never know what else.
Crucial.
A Phillips Head Screwdriver is Required for a Fishing Multi Tool.
Slotted Screwdriver
Same as a Phillips screwdriver. But it can still pry off the lid, enter a thin groove, push the turns of the winding ring.
The right tool. Essential for any good fishing multi tools.
A Slotted Screwdriver is Required for a Fishing Multi Tool.
Bottle opener
Crucial, particularly for a multi-day fishing/camping trip.
If you drink beverages out of a can with a pull top then you can ignore this item, but it is certainly useful.
A Bottle Opener is Required for a Fishing Multi Tool.
Can-opener
By the way, it opens cans well. And protects the blades of my fishing knives. Generally, I would prefer to be eating fresh fish on a camping trip, but not every trip is successful and a backup of canned dinner is wise.
Useful but not essential.
A Can Opener is Optional for a Fishing Multi Tool.
Scissors
An absolutely indispensable item for winter or float fishing. This is because multi tool scissors cut a monofilament or braided line perfectly.
Although I usually use fishing line cutters during fly fishing, I always use multi tool scissors for float and winter fishing – they have special serrated blades and the mono-fishing gear does not slip on them.
Essential for any fishing multi tools selection. I particularly like spring action scissors which make the process a lot easier.
Scissors are Required for a Fishing Multi Tool.
Hex Bits
These are more suitable for a home renovator than for a fisherman. When fishing, sets of bits are constantly lost, clogged with all sorts of garbage and dirt. In addition, bit sets are quite heavy. And for those who wear a multi tool in a belt pouch, this is extra weight.
Not required for an angler.
Hex Bits are Not Required for a Fishing Multi Tool.
Wire Stripper
The answer to this component was an immediate not required – then I began to think about all of the electrical problems I have had with my outboard motor and interlinking wiring over the years. But I hope that you are wiser than I am and make sure your boat's electrics are well maintained before you put it in the water.
Wire strippers are Not Required for a Fishing Multi Tool.
Small Spanners
Useless fishing multi tool component. There are no such nuts in the public domain when fishing. And if they are, they are usually hidden in wells, for example, on coils, and they cannot be approached with a wrench in the multi tool – a special key is required.
Not required for an angler.
Small Spanners are Not Required for a Fishing Multi Tool.
Corkscrew
If you are a wine drinker then go for it, if not then don't.
Pretty simple really.
A Corkscrew is Optional for a Fishing Multi Tool.
Flashlight
I don't recommend a tiny flashlight as part of any good fishing multi tools. I have a headlamp with me on a fishing trip, a second spare headlamp, a large hand-held flashlight, and a flashlight also built into the fishing box. There are also lights in the boat and in my SUV.
So a small flashlight in multi tool is not particularly handy.
A Flashlight is Optional for a Fishing Multi Tool.
Conclusion
So, in summary, a good multi tool should contain everything you need and nothing more. The composition of the fishing multi tools should include a knife, pliers, a diamond file, nippers, a saw, a Phillips and slotted screwdrivers, a can opener and scissors. These items are essential – Everything else is optional.
You don't need a swiss army knife containing everything under the sun – just the aspects that are required for you. Another option is to buy different tools for specialist purposes and jobs – for example, I would prefer a dedicated fillet knife than to use the small knife on my leatherman wave – the same applies for fish scalers.
No matter which brand you select – a high quality, heavy-duty fishing multi tool is a must-have in any anglers tackle box.
Last update on 2022-11-29 / Affiliate links / Images from Amazon Product Advertising API