The Penn brand name is virtually synonymous with quality when it comes to saltwater fishing tackle and equipment. While the company is well-known for producing some of the highest-quality fishing gear, purchasing a Penn reel doesn't necessarily mean having to spend a small fortune. 
The Penn Wrath is designed for the budget-minded angler and can be purchased for a mere fraction of the price that it typically costs to buy a high-end Penn reel. The Wrath is a spinning reel that's made to be used just about anywhere since it's made with corrosion-resistant parts that are designed for both fresh or saltwater use. 
Anglers, like myself, who are fans of lightweight spinning reels will surely appreciate the effort that Penn has gone to in making sure the Wrath is a highly capable spinning reel that is ideal for catching just about any type of inshore saltwater species, as well as a variety of freshwater fish. 
All the scoring and judgments in my review are based on my own experiences and testing.
Extremely Affordable Price Tag

Ideal for Beginner Anglers or Children

Stainless Steel Ball Bearings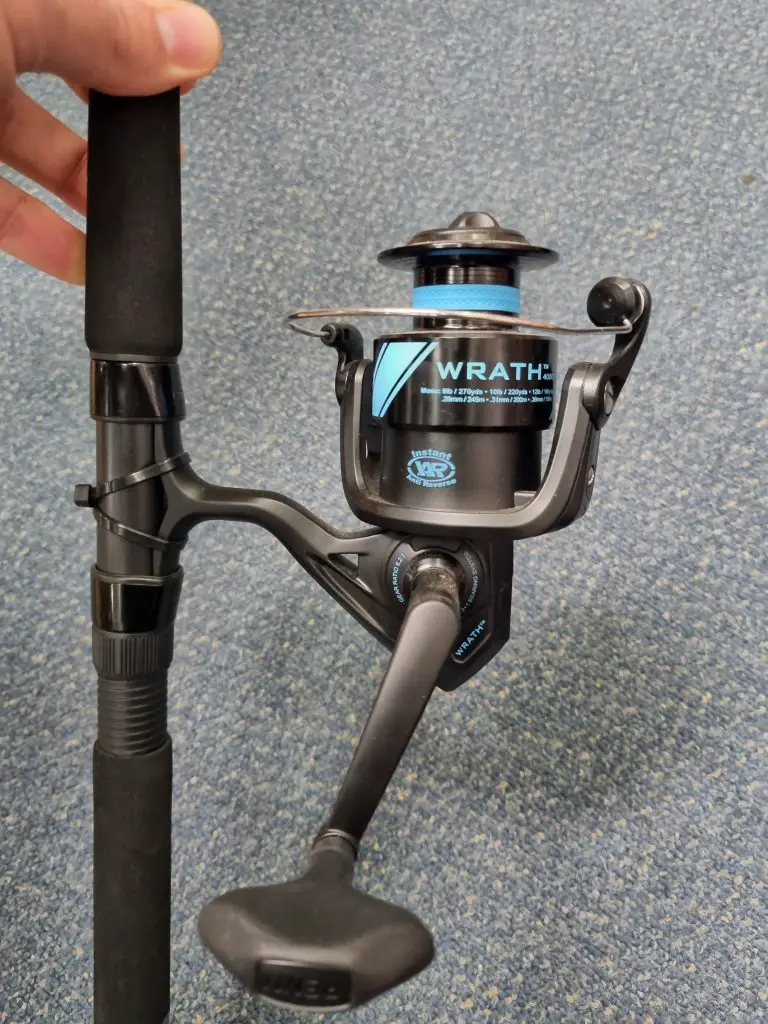 Penn Wrath Spinning Reel Overview 
The Penn Wrath is made with lightweight parts that offer enough durability to allow anglers to confidently use this reel in fishing for small to medium-sized game fish species. Unlike other reels that might be in the same class regarding price, the Penn Wrath is in a league of its own when it comes to internal components. In my opinion, other budget-friendly models simply can't match up to what Penn offers in this lightweight reel that is surprisingly smooth and tough. 
One of the main characteristics of the Penn brand is the overall toughness and durability which their products are known for. The Wrath is no different as it is made of some of the highest-quality graphite material that's designed to be tougher than other graphite, as well as offering extra corrosion-resistant properties that help to protect the reel from succumbing to the damaging effects of saltwater. 
In addition to the graphite body, the internal mechanisms of the reel are also made to have corrosion-resistant properties and will last through many seasons when cared for properly. The Wrath is made with two stainless steel ball bearings for an extra-tight and strong drag system, as well as an anodized aluminum spool that allows anglers to handle just about any type of inshore or freshwater fish you might encounter. 
Pros:
Lightweight 
Corrosion-resistant material 
Anodized aluminum spool 
Instant anti-reverse bearing 
Stainless steel ball bearings 
Available in a variety of sizes 
Cons:
Lightweight and Durable 
Two characteristics that I have rarely seen paired together when it comes to fishing reels are the ability to be both lightweight and durable, but Penn has managed to achieve a decent level of both with the Wrath Spinning Reel. The reel's tooling and body are modeled after the Penn Pursuit, which has enjoyed a stellar reputation for many years. The Wrath is crafted using high-quality graphite material that's used for both the housing, as well as the sideplates, making this reel especially lightweight and easy to cast and handle on all-day fishing ventures. 
The body is also made to have corrosion-resistant qualities that help protect the reel from collecting the usual high levels of rust and other damage that are all-too-often a common occurrence with saltwater use. Many anglers report that the Wrath is capable of being used in either fresh or saltwater settings while working smoothly despite being under intense amounts of pressure at times. 
The reel also features a graphite rotor which helps to further add to the Wrath's lightweight characteristics. Other components are made from material that is tougher than parts made by other brands such as the stainless steel bale wire. The Wrath also offers a very strong, aluminum die-cast handle that's made to be both durable and lightweight, but some users point out that it can have just a bit too much play, which results in the handle feeling a bit 'loose' at times. 
Quality Components 
Part of the reason why Penn fishing products have developed such a high reputation is the use of premium, high-quality components in the internal workings of each reel. The Wrath is another great example of this concept as it features a number of quality components that combine to give the angler a very smooth experience in both casting and reeling in their catch. 
The Wrath is built with two shielded stainless steel ball bearings that help to create a very smooth reeling experience. The spool is another point of durability as it is made of both machined anodized aluminum material. These two aspects combined should provide each angler with enough confidence to go after some of the largest fresh and saltwater species of game fish as the Wrath is certainly built to stand up to the test. 
The reel features instant anti-reverse capabilities which I've noticed helps give anglers an added element of control over their rod and reel to ensure that they don't allow the fish to pull out any more line than is necessary. 
Wide Variety of Sizes
Like so many other Penn products, the Wrath is made to offer a wide variety of different sizes so that each angler can get the size reel that's just right for their specific needs. The Wrath reels are made in sizes that range from a 2500 all the way up to a larger 8000 model. Each size is made with a 6.2:1 gear ratio except the 5000 and 6000 which are made with a 5.6:1 and the 8000 that is made with a 5.3:1 ratio. 
Video Review
If you want to see a video of the Penn Wrath Spinning Reel in action then have a look at this unboxing video by DJ Rheenz Fishing Adventures.
Extremely Affordable Price Tag

Ideal for Beginner Anglers or Children

Stainless Steel Ball Bearings
Penn Wrath vs Pursuit

A common comparison that needs to be explored is the Penn Wrath vs Penn Pursuit. The wrath was styled off the Pursuit, so there is a lot to compare. This comparison is also more difficult with the release of the Pursuit III reel, which has the primary advantages of the upgraded drag system from oil felt to HT-100.
The oil felt system was effective but it did deteriorate over time and required servicing – the HT-100 drag system has a much longer life and makes the entire reel more durable. It does seem somewhat over the top to require servicing of a spinning reel at the price point of the Wrath.
Let's take the 4000 model size to compare the specifications and features of these two popular fishing reels:
| | | |
| --- | --- | --- |
| Specifications | Penn Wrath 4000 | Penn Pursuit III 4000 |
| Bearing Count | 3 | 5 |
| Drag Material | Oil Felt | HT-100 |
| Retrieve Rate | 37 inches | 37 inches |
| Max Drag | 15 lb | 15 lb |
| Weight | 12.7 oz | 12.4 oz |
Specifications
MODEL NUMBER
WRTH2500C
WRTH3000C
WRTH4000C
WRTH5000C
WRTH6000C
WRTH8000C
BEARING COUNT
3
3
3
3
3
3
BRAID CAPACITY YD/LB
240/10
220/15
160/20
250/15
180/20
130/30
360/15
260/20
185/30
420/20
300/30
240/40
490/30
390/40
335/50
475/50
390/65
345/80
GEAR RATIO
6.2:1
6.2:1
6.2:1
5.6:1
5.6:1
5.3:1
MAX DRAG LB
10lb
12lb
15lb
20lb
20lb
25lb
MONO CAPACITY YD/LB
255/6
175/8 140/10
200/8
165/10 120/12
270/8
220/10 165/12
225/12
200/15 135/20
335/15
230/20 210/25
340/20
310/25 230/30
RECOVERY RATE
33″
35″
37″
36″
41″
44″
REEL SIZE
2500
3000
4000
5000
6000
8000
WEIGHT
10.5 oz
12.2 oz
12.7 oz
21 oz
22.8 oz
30.5 oz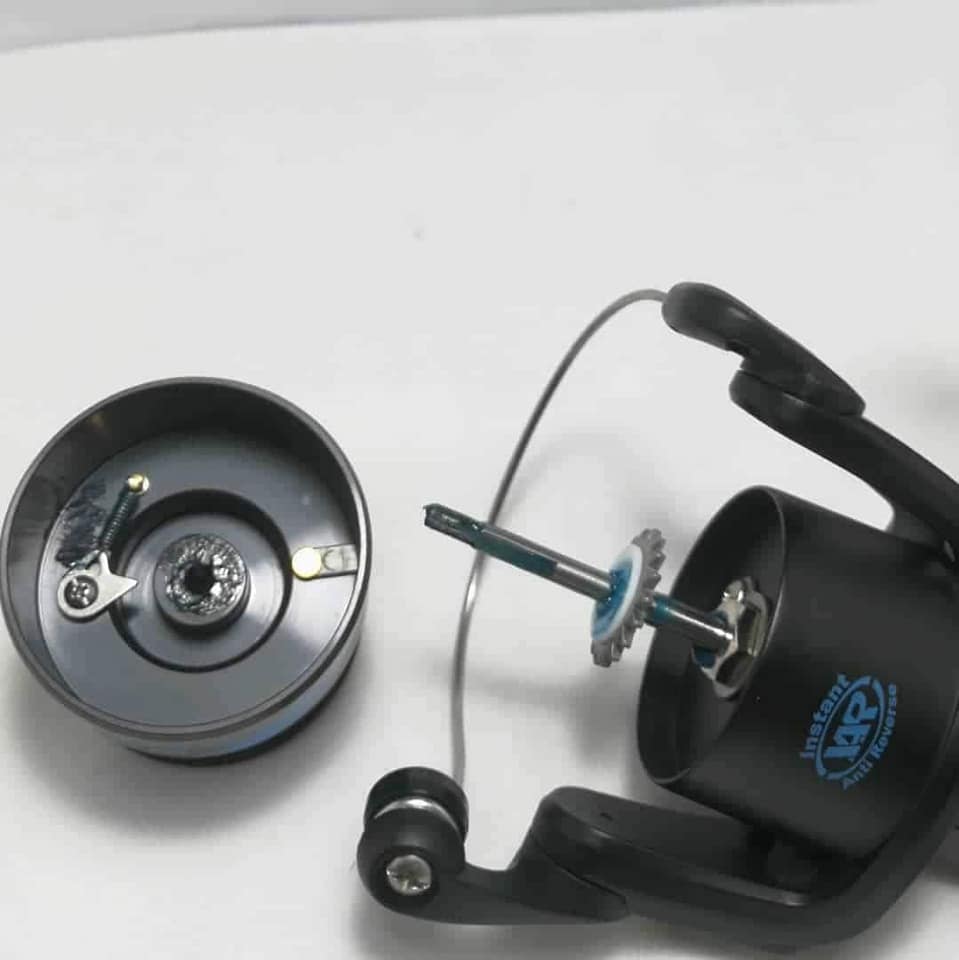 Penn Technology Included
| | |
| --- | --- |
| Penn Technology | Wrath |
| IPX8 Sealed | No |
| IPX6 Sealed | No |
| IPX5 Sealed | No |
| CNC Gear Technology | No |
| Full Metal Body | No |
| Dura Drag | No |
| HT-100 Drag Washers | No |
| Metal Power Knob | No |
| Sealed Stainless Steel Ball Bearings | No |
| Hydrophobic Line Roller Bearing | No |
| Braid Ready | Yes |
| Instant Anti-Reverse | Yes |
| Techno Balanced | No |
| Line Capacity Rings | Yes |
| Leveline | No |
| Superline Spool | Yes |
Penn Technology Included in the Wrath
Conclusion 
Since being released in 2019, the Penn Wrath has hit the market and made quite a splash with anglers of all skill levels. It's popularity has resulted in the Wrath being used for everything from freshwater catfishing to going after black drum in the coastal areas of the United States. No matter where it's used, the Wrath has the same reputation as other Penn products that are built around quality.
This reel is an excellent choice for beginners and novice anglers as it can be purchased for a relatively low cost and will offer an outstanding level of performance in any type of environment.