Daiwa is a brand that has long been among the best in producing quality fishing reels. The Daiwa Tatula Reel was released in 2013 and has since been one of the most popular lineups of any that Daiwa has produced in the last few decades. The company created three distinct reels that were all part of the Tatula lineup: the Tatula 100, Tatula Type-R, and the Tatula Type-HD. 
Update July 2023: At ICAST 2023, the new Daiwa Tatula 100 Baitcasting reel was released. This comes with Hyper-drive design and an A7075 aluminum spool to reduce the weight and increase casting distance.
These three reels have distinct advantages that anglers of any skill level can appreciate. Each model has some specific similarities and a few differences that each play their own specific role in the overall functionality of the reels. Most of the differences between each reel model comes down to each product's different bearings, gear ratios, and spool sizes. 
In this article, I will take a closer look at these three specific Daiwa Tatula reel models and highlight some of the most impressive features I identified during testing and the capabilities you'll have in using them. 
T-Wing Levelwind System

Lightweight Aluminum Frame

Anti-Reverse Capability

Extremely Lightweight at Under 7 Ounces

Magforce-Z Braking System
Tatula 100 Reel 
The Tatula 100 is the most affordable of the three main types of reels in the Tatula lineup. It's made to be very durable and offers the company's patented T-Wing levelwind system that designed to allow the line to be evenly spooled onto and off the reel, making it easy to avoid having those frustrating tangles and birds nests that are so common in lesser quality baitcasting reels. 
This model is considered the most basic of the three and is a moderately affordable reel that most serious anglers will see the obvious value in.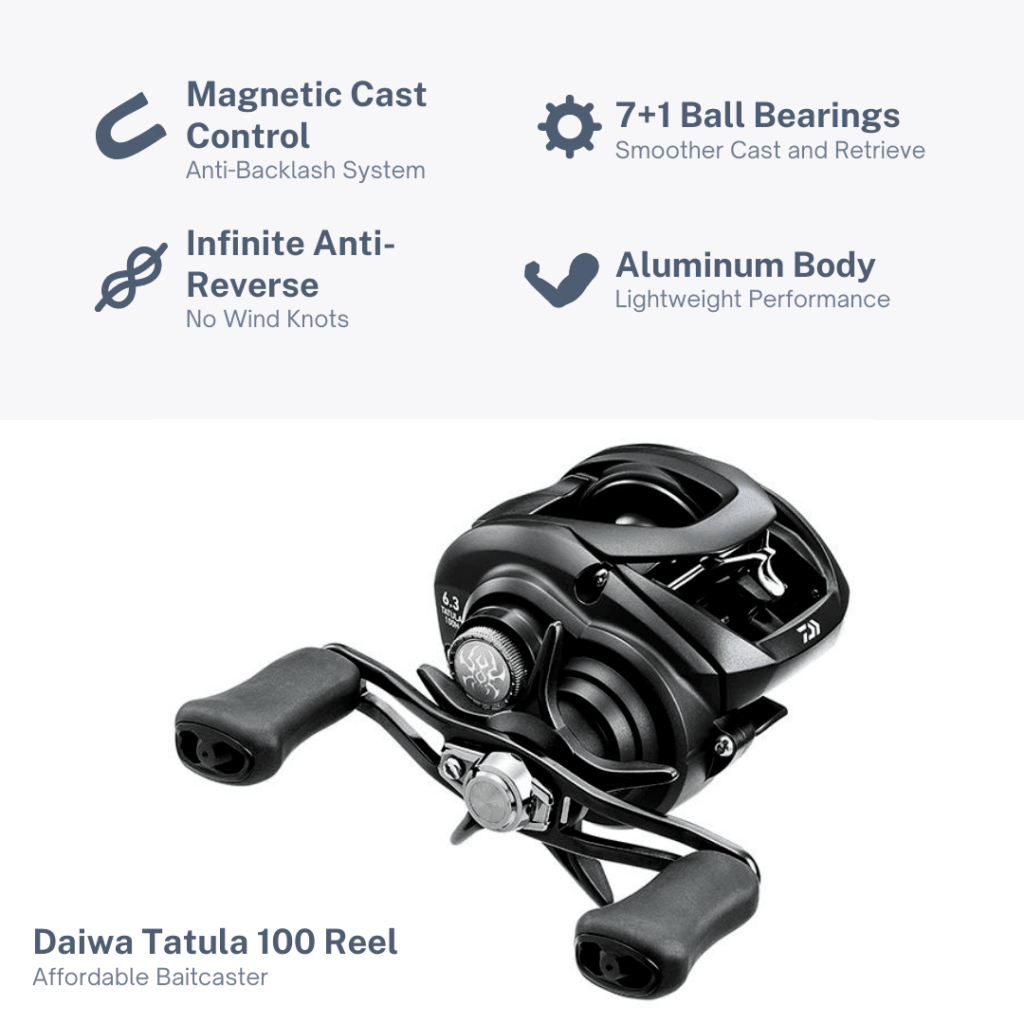 Tatula Type-R Reel 
The Tatula Type-R is Daiwa's mid-level model among its three distinct types of reels in the Tatual lineup. This reel is a bit more expensive than the Tatula 100 because it offers several more features and capabilities that align with what professional anglers look for in a good baitcasting reel. 
These added features include a more lightweight housing, Zaion drag star adjustment system, 8-bearing corrosion resistant system that can be used in freshwater or saltwater environments, and a faster 8.1:1 gear ratio. 
This reel is considered to be an ideal choice for anglers who do quite a bit of inshore fishing as its corrosion-resistant body and gear system means you can use it in saltwater without ever having to worry about experiencing the damaging effects of saltwater. 
Tatula Type-HD Reel 
Lastly, the Tatula Type-HD reel is the most advanced of these three models. The reel is a bit higher in price, but that increased cost is well-worth the investment for anglers looking to get the best quality products with the kind of features they need. 
This reel is also great for saltwater use as it features the same 8 ball bearing system and corrosion resistant capabilities as the Tatula Type-R. The reel is also made of the same lightweight composite material that gives it plenty of durability without the extra weight of most low-end baitcasting models. 
Anglers who do quite a bit of inshore fishing can also spool more line onto this reel as it features a larger spool, as well as a longer handle that is aimed at giving you more leverage when fighting large, hard-pulling fish. 
Notable Features of the Tatula Lineup 
There are several great features that each of the three Tatula reel models offer which are designed to give anglers a reel that will result in fewer headaches and more fishable water. These features have been developed by Daiwa's design experts who have considered much of the feedback from anglers who have used the company's reels over the years. The result is a new and improved reel line that is one of the most sought after in the industry. 
T-Wing Levelwind System 
One of the most popular features of the Tatula Reel lineup is the T-Wing Levelwind system. This feature is designed to spool your line onto the reel more evenly than ever before. The reel is able to do this because it changes the size of the aperture that receives the line when you're both reeling the line in or casting it out. The smaller aperture retrieves the line while the larger aperture opens and allows the line to spool away from the reel more smoothly than ever before.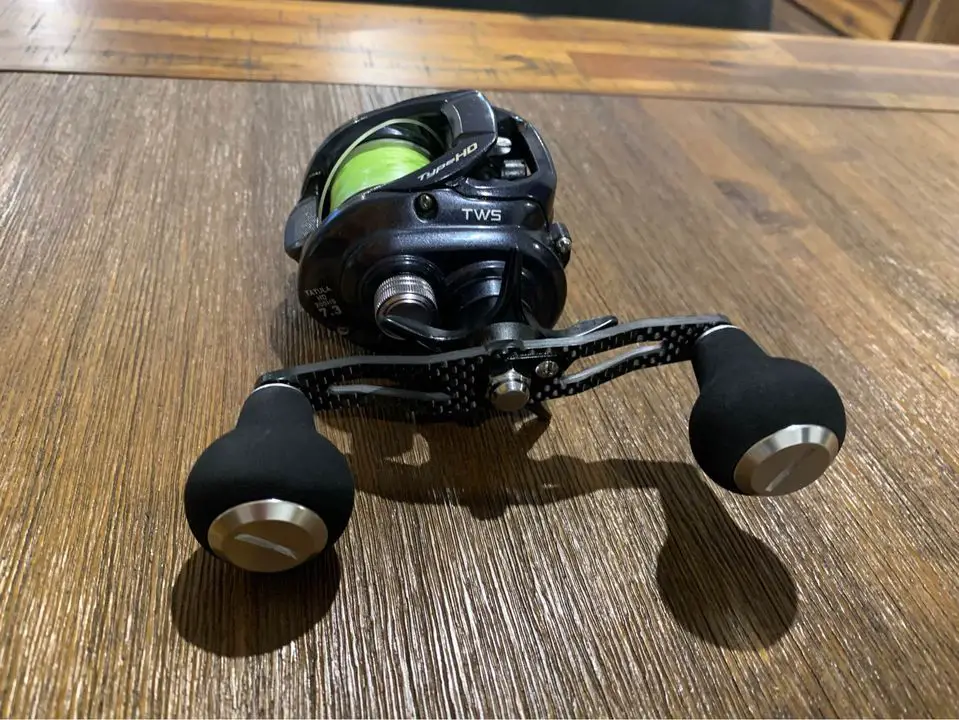 Lightweight Aluminum Housing and Side Plates
One of the first things anglers notice when they pick up or handle any of the Tatula reels is that they are much more lightweight than most other reels on the market today. This means you won't feel as much fatigue in your wrists and arms when using the reel over a day or even a few days as tournament anglers are known to do. 
Daiwa is able to achieve this lightweight design thanks to its incorporation of a specialized aluminum material that makes up the reel's outer housing, as well as the side plates. This aluminum material combines to make these reels weigh less than 8.1 ounces for any of the three models. 
Ultimate Tournament Carbon Drag System 
One of the other very popular features that gets the attention of serious anglers as it relates to the Tatula reel lineup is the Ultimate Tournament Carbon Drag system. This system utilizes oversized carbon fiber drag washers on both sides of the spool. These drag washers put an equal amount of drag onto the spool depending on the degree to which you have the drag set. 
The Daiwa Tatula is also leading Bassmaster angler Seth Feider's preferred casting reel:
"My reel is going to be a Daiwa Tatula. This is going to be for all my crankbaits, from deep divers to square bills to flat sides. 7.0:1 is my preferred gear ratio. I don't like bouncing back and forth depending on water temperature, I force myself to fish slower with the reel if it's really cold but it also allows me to burn that bait during the hot weather months when the fish are really active."

Seth Feider, Bassmaster Pro Angler
Magforce-Z System
The Daiwa Tatula reels also utilize the brand's Magforce-Z cast control system that is a magnetic braking system that ensures your reel's spool will spin freely on each cast and uses the magnets to slow the spool's rotation after a certain distance. This goes a long way in helping cut down on the potential that your reel gets tangled or backlashed. 
Specifications
| MODEL | BALL BEARINGS | GEAR RATIO | RETRIEVE RATE | WEIGHT (OZ) | MONO CAPACITY | BRAID CAPACITY | MAX DRAG (LB) |
| --- | --- | --- | --- | --- | --- | --- | --- |
| TTU100H | 7BB + 1 | 6.3:1 | 26.3 inches per crank | 6.9 | 12/150, 14/125, 16/110 | 30/140, 40/110 | 11 |
| TTU100HS | 7BB + 1 | 7.1:1 | 29.8 inches per crank | 6.9 | 12/150, 14/125, 16/110 | 30/140, 40/110 | 11 |
| TTU100XS | 7BB + 1 | 8.1:1 | 33.9 inches per crank | 6.9 | 12/150, 14/125, 16/110 | 30/140, 40/110 | 11 |
| TTU100HL | 7BB + 1 | 6.3:1 | 26.3 inches per crank | 6.9 | 12/150, 14/125, 16/110 | 30/140, 40/110 | 11 |
| TTU100HSL | 7BB + 1 | 7.1:1 | 29.8 inches per crank | 6.9 | 12/150, 14/125, 16/110 | 30/140, 40/110 | 11 |
T-Wing Levelwind System

Lightweight Aluminum Frame

Anti-Reverse Capability

Extremely Lightweight at Under 7 Ounces

Magforce-Z Braking System
Conclusion 
The Daiwa Tatula reel lineup is certainly one that anglers see the value in. These reels are exceptionally lightweight with very smooth casting and retrieval action.
The features that combine to give you more control over the spool and the way the line is retrieved helps to reduce the possibility that you'll end up having to deal with your line being tangled. This means you can spend more time fishing, which is extremely valuable for anglers of all skill levels.