ICAST is the largest fishing tradeshow in the world. This is where all of the major brands announce their latest products and technologies. I have been reviewing as many of these new rods and reels as I can get my hands on to give you a sneak peak at what the next 12 months of angling looks like.
This is a summary of my 9 favorite new fishing rods and reels from ICAST 2023.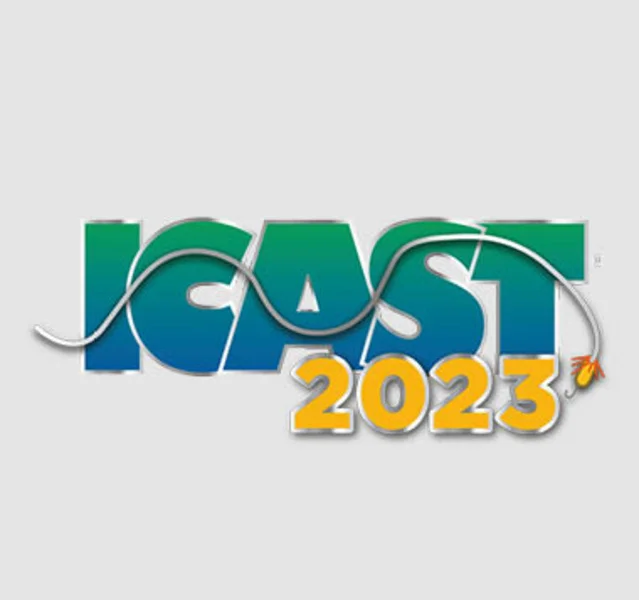 Shimano Stradic FM Spinning Reel
I have always been a fan of Shimano Stradic reels (as have many anglers over the years), so I was excited to see the latest FM model. This is the winner of the Best Freshwater Reel at ICAST 2023.
Some of the upgrades are the latest technologies trickling down from the premium Stella range, including:
InfinityXross – Improved gear durability through better meshing on the drive and pinion gears
HAGANE Gearing – Cold forged gears for improved strength
Duracross Drag – 10 times the durability of the drag washers
InfinityDrive – Increased cranking power
Anti-twist Fin – Removes slack line from wrapping around the spool
It is available in 1000 to 5000 sizes, so you can pick one that suits your needs. If you want the lastest technologies from Shimano in your favorite Stradic design, check out the FM model.
My only criticism is the low max drag of only 7 pounds in the smallest model.
Gear Ratio: 6.2:1
Bearings: 6+1
Braid Line Capacity: 95 yards of 10 lb to 260 yards of 20 lb
Max Drag: 7 to 24 lb
Weight: 6.5 to 10.1 ounces
Retrieve Rate: 25 to 40 inches per crank
Lew's Custom Lite SS Baitcast Reel
Weighing in at 5.0 ounces, this shallow baitcast reel from Lew's is the definition of ultralight. It is designed especially to cast light finesse baits accurately. The reel is only 30mm high and requires less inertia to cast – resulting in more distance for light baits.
It is extremely powerful for such a small reel with 20 pounds of max drag. This is enough to handle any species you would target. It is more powerful than most other full size baitcast reels.
The main downside of the shallow spool design is the low line capacity. It can only fill 65 yards of 8 lb braid or 55 yards of 8 lb mono. This reel best suits small ponds or panfish that can't swim far away.
Gear Ratio: 7.5:1
Bearings: 11
Braid Line Capacity: 65 yards of 8 lb
Max Drag: 20 lb
Weight: 5.0 ounces
Retrieve Rate: 28 inches per crank
Daiwa Tatula 100 Baitcast Reel
Daiwa have added their Hyper-Drive design to improve the smoothness of the retrieve. The spool is even lighter to help increase casting distance by reducing the friction. This is due to A7075 aluminum which has reduced the spool weight by 15%.
It also has both T-wing line guide for maximum casting distance and Zero adjuster cast control for spool tension.
It is available in standard (6.3:1), high speed (7.1:1), and extra high speed (8.1:1). This allows you to pick the ideal gear ratio for your target lure, whether it is a topwater frog or deep diving crankbait.
My only misgiving is that the maximum drag is 11 pounds in all models. I prefer to get at least 15 pounds to ensure it is powerful enough when I hook that trophy bass.
Gear Ratio: 6.3:1 to 8.1:1
Bearings: 7+1
Braid Line Capacity: 130 yards of 30 lb
Max Drag: 11 lb
Weight: 6.8 ounces
Retrieve Rate: 26 to 33 inches per crank
Shimano Talica 16IIA Conventional Reel
Moving on to the Saltwater reel section, Shimano have released the Talica 16IIA conventional reel. This has become their flagship saltwater conventional reel with the addition of InfinityDrive technology to increase drag force.
It also has X-Protect to improve its water resistance and corrosion protection.
It has a 2 speed retrieve at 5.7:1 and 3.1:1 gear ratios and a lever drag system. With a line capacity of over 750 yards of 50 lb braid, this reel can handle both deep dwelling reef fish and fast moving pelagic species, like Tuna.
It has a powerful 44 pounds of drag that will handle most saltwater species.
Gear Ratio: 3.1:1 and 5.7:1
Bearings: 7
Braid Line Capacity: 750 yards of 50 lb
Max Drag: 44 lb
Weight: 25.6 ounces
Retrieve Rate: 42 inches per crank
Penn Spinfisher VII Spinning Reel
The Penn Spinfisher is commonly found at the top of the best spinning reels for most anglers, so getting my hands on the latest model, the VII is exciting. It has a wide range of sizes from 2500 to 10500, so you can target anything from bass up to tuna.
The Spinfisher design has been ongoing for over 6 decades and continues to get better and better. It has IPX5 sealing for saltwater resistance as well as HT-100 drag washers in a sealed spool. The body is made from full metal with all-brass CNC gearing. This reel is the definition of durable, and is popular among charter anglers.
It also comes with some specialist designs including Standard, Live Liner, Long Cast, and Bail-less models.
Gear Ratio: 6.2:1
Bearings: 6
Braid Line Capacity: 240 yards of 10 lb to 845 yards of 50 lb
Max Drag: 15 to 50 lb
Retrieve Rate: 33 to 42 inches per crank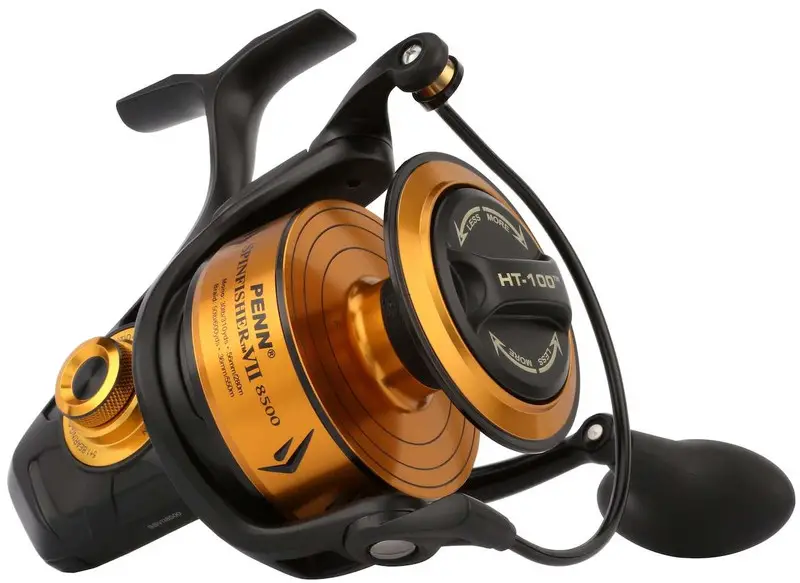 Daiwa Seapower 1200 Electric Reel
Winner of the best saltwater reel of 2023, is the Daiwa Seapower 1200 electric reel. This reel is designed to handle the largest fish in the ocean, from sharks to marlin. It has a powerful brushed variable speed motor that can produce 66 pounds of drag. It is 40% more powerful than its alternative the Tanacom 1200.
The LCD screen is visible when wearing polarized sunglasses. The handle is made from aluminum with an oversized knob.
It can hold over 1000 yards of 80 pound mono with a retrieve rate of 140m/minute. Powered by a 12V battery, I suspect this will quickly become one of the best electric fishing reels on the market.
Gear Ratio: 2.1:1
Braid Line Capacity: 1100 yards of 80 lb
Weight: 72 ounces
Max Drag: 66 lb
Retrieve Rate: 23 inches per crank
St Croix Mojo Bass Trigon Rod
Let's move on to the fishing rods that caught my attention at this year's ICAST trades show.
The winner of the best freshwater rod was the St Croix Mojo Bass Trigon Rod.
The St. Croix Mojo Bass Trigon Casting Rods look great for both casual and competitive fishing. They're tailored for various techniques, ensuring your success in the water. The rods use top-tier components and tech, offering dependable and enjoyable performance. The SCIII carbon blank is light, strong, and potent. It allows easy detection of soft bites and retains the power to extract fish from their habitats.
Stainless steel guide frames and aluminum-oxide rings enhance the rod's durability and smooth casting. The agglomerated cork grips are stylish, user-friendly, and low maintenance. Unlike regular cork, they have higher density with insignificant weight differences. This property protects the grips from common scrapes and dents.
The Mojo Bass Trigon rods' variety caters to finesse and power demands. This widens your fishing capabilities, ultimately helping you catch more fish.
Fenwick World Class Bass Rod
Fenwick World Class Bass rods are a fusion of sensitivity, balance, ergonomics, and artistry. They introduce new blanks and a unique reinforcing resin. This innovation makes the rod extremely sensitive, amplifying the angler's senses. The rods are perfected with expertly constructed multi-material grips. These offer flawless ergonomics and balance, matching the super-light blanks.
Carbon-reinforced soft touch reel seats are shaped to fit the hand perfectly. This comes with titanium guides that enhance casting efficiency. All these improvements set these rods apart from their predecessors.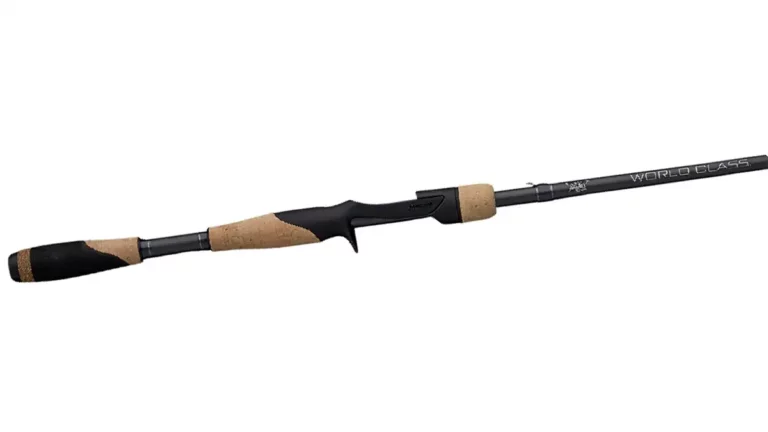 G Loomis NRX+ Inshore Rod
Finally, the winner of the best saltwater rod was the G Loomis NRX+ Inshore rod.
The G-Loomis NRX Inshore spinning rods are a new range of fast and extra-fast, magnum power spinning rods. They use a novel nano-silica resin system, making them lighter, remarkably sensitive, and stronger than previous G-Loomis rods.
These rods include a hybrid guide train with titanium framed, SIC K-frame stripper guides. This design prevents braided line from tangling at the rod's stiffest point. After the initial three K-frame guides, nickle titanium recoile guides follow. These reduce weight and improve tip recovery speed, leading to unmatched casting distance.
All rods in this series have split grip handles. They come with a limited-time warranty, an added upgrade from the prior models.