The best baitcasting rods for bass are 7 feet in length, lightweight material, sensitive tip, and non-slip grip.
The Entsport Camo Legend is my top choice because of its dual power design gives superior flexibility and versatility. It features a 2-piece design to choose between a medium and medium-heavy power depending on the amount of weed cover. It is ideal for anglers who only want to purchase a single rod but have the versatility of a pro.
This article is part of my Complete Guide to Bass Fishing series that you might be interested in.
1. Entsport Camo Legend
The Entsport Camo is the perfect option for using with spinnerbait lures. This 7-ft rid gives you the casting distance, leverage, and ability for a speedy retriever. It's a fast-action rod that gives you maximum portability. The rod breaks into half and comes into two interchangeable tips. The one half is for moderate cover, and the other one is for medium-heavy and can fight through the hardcover.
The rod is made of 24-ton carbon fiber. The rod is equally light and robust. To prevent the line fraction, the stainless guides are smart places to lessen the line friction. Also, the rod has EVA high-density handle and rust-free aluminum hood. These factors are helpful to keep the rod safe for a long time during a whole fishing trip. The best thing about the baitcasting rod is that it's designed to increase your control and keep your hand and wrist less fatigued.
Pros
Lightweight and strong.
Breaks down into two pieces for maximum portability.
Helps for efficient fishing.
High-density EVA handle.
Comes with a protective bag.
Offers 1 year of warranty.
Cons
I did find that the rod split in half unexpectedly when under strain.
 2. KastKing Perigee II
If you are on a tight budget and still want a good quality rod, then you must go for Kastking Perigee. This is one of the best value bass fish rods available online. The rod comes in different models/lengths to get the right one according to your skills. You get spinning rods in 6'7", 7'1", and 7'4" lengths. However, the 7' casting or rod offers two detachable parts which work individually as two separate powered pieces.
All KastKing Perigee II Fishing Rods models are medium, medium-light or medium-heavy with sensitive, fast-action features. However, the rod is made from 24-ton carbon fiber, which offers excellent power and durability. Some notable features of this baitcasting rod for bass are Fuji-o ring guidelines, EVA grip, and a responsive hook keeper for safety. 
Pros
Lightweight but suitable for lifting heavy loads too.
The connection between the two pieces is very stable. 
Very sensitive to feel the light bite.
Durable product. 
Affordable price.
Cons
The warranty service is depressing; thus, it'll make pay the entire shipping cost to resend the product.
3. Ugly Stik GX2 Baitcasting Rod
The Ugly Stik GX2 could be a wise investment in your arsenal. You get the freedom to choose from different sizes, lengths, including power ratings. We tested the 6'6" medium power rod. This one is good for triggering explosive surface bites with a topwater lure. The GX2 is suited for 15 lbs line weights. It allows 1/8 to 5/8 oz. Lures with distance casting. However, it can withstand heavier lures if you want.
The Baitcasting rod is fast action and comes in one or pieces as per your demand. It has a better reel seat and a larger handle than the usual 6 ft model. The rod is made of fiberglass and graphite combination and lasts for many years. It's light and sensitive and great for bass fishing. You can use the rod for catching fish around 55 lbs without any tension. We are not saying this is a pro-level rod and could handle everything, but a severe fisher cannot be disappointed by it. 
Pros
Includes stainless steel guides for inserts.
It has options to choose from size, power, etc. 
Can handle channel catfish, bass, and other big fish.
Affordable option to buy. 
Cons
The long handle feels odd on the first few days.
 4. KastKing Royale Legend
Here is another baitcasting rod for bass fishing from KastKing Royale. This model has lots of length and power options that you will love. This one is made of Toray 24-ton carbon matrix kastflex technology blanks. That is the reason it becomes susceptible and equally compelling. The cut and crises are made of lease focus technique to make sure everything is perfect. The quality and consistency of the rod deliver the performance that a serious angler wants.
For the proper casting distance, the rod has got Fuji-O ring guides. And that contains monofilament, fluorocarbon and some braided lives too. Additionally, the reel seat of it is perfect in quality and has a stable base. You can hold the rod all long without feeling much discomfort. 
The KastKing Royale Legend comes with medium, medium light, high power of fishing rods 1 pc and 2pcs. The length would be between 6- 7 ft in casting and spinning rods. The 2pcs rod can be wrapped at four angles – 0, 45, 90, and 135. But it feels with one and keeps the power flowing. 
Pros
Smart design and attractive color combination. 
The Fuji O-ring guides superior casting distance. 
Suitable for both salt and freshwater.
Strong and reliable. 
Reasonable pricing.
Cons
5. Berkley Cherrywood HD Baitcasting Rod
The Berkley Cherrywood is made for modern anglers. It has a cork handle, hybrid crafting, high sensitivity, and reasonable pricing. You better use it in freshwater fishing. The rod feels great, looks excellent, and is suitable for all levels of fisherman. It can be your first baitcasting rod or the backup one to use.
You get the different variations in this model with different power and 1 pcs or 2pcs configurations. Like, 5'6″, 6′, 6'6″, 7′ lengths and medium, medium-light, medium-heavy powers.
The best casting rod for bass is made of graphite blank and hybrid through handle new design. The structure of the rod is strong, durable, and sensitive. It features SS304, which is 55% lighter and 20x harder than any aluminum oxide guides. The handle is made of cork and gives a firm grip and better control.
You can use the rod for catfishing, kayak fishing along with the bass. The sensitivity of it lets you feel every little thing and has the strength to handle/carry heavyweight fighting fish.
Pros
Comfortable cork handle and looks good too. 
Sensitive and rapid action. 
Versatile medium power.
Lightweight, easy, and comfortable to use. 
Reasonable pricing.
Cons
The end of the rod is short.
Not good for saltwater. 
6. KastKing Speed Demon Pro Tournament Series
If you invest in one rod for bass fishing and never want to look back then, KastKing Speed Demon Pro is the thing you need. The Speed demon pro is made of Elite carbon blank using Nano resin technology. This technology utilized a Carbon nanotube resin system to make the rod even, sleek, and light but durable. It's lighter than your standard graphite or aluminum fishing rods. But not the weight this construction works best to make it sensitive and it's a good rod that doesn't miss any movement in the water.
The consisting Fuji guides and reel seat is the place to make sure the reel stays in its place well. Also, the golf style handles with detailed designs look pretty and feel firm. This is an elegant-looking fishing rod. 
The Speed Demon has an extensive collection of 15 different lengths and powers of fishing rods, from 6'6″ inches to 7'10" inches and medium, medium-light, medium-heavy, and heavy powered. All these are one pcs. 
Pros
Fast and sensitive action.
Nice line guides.
The detailed design is remarkable. 
Golf-style flying butt with a nice handle.
Easily manage your fighting water pray.
Cons
7. Shimano FXC Baitcasting Rod
Shimano is one of the popular brands when it comes to casting or spinning rods. Our list will be incomplete without it. The Shimano FXC 2-piece baitcasting rod is a high-quality, durable baitcasting rod that feels good and looks decent. It's a strong and reliable option for any real fisherman. And the good thing is it's affordable also.
The grip of the rod is soft and seems good in quality. The pole is also strong and dependable for catching some medium size of fish. This baitcasting rod is tested for 20 lbs of weight. But we know fishing can't be bound on size or weight limit all the time. So, you need to be careful about the limit.
The rod comes in three different versions- 6 ft medium (one piece), 6 ft medium (two pieces), and 7 ft (one piece) medium. So it's a medium power rod but offers fast action and excellent sensitivity. It's because the Aeroglass blank construction and the aluminum oxide guides improve its performance. 
Pros
Includes reinforced aluminum guides. 
Has durable Aeroglass blank construction.
Medium power fast action. 
Easy to control.
Cheap in price.
Cons
Usual capacity tested for 9 kgs. 
Feels A little heavy.
8. Rippin Lips Super Cat
This is one of the cheap-priced rods you can ever imagine that is good for bass fishing. This is a medium-heavy rod of 7 ft 6 inches in length. It's fast, sensitive, and efficient for handling all fighting fish up to 45 lbs. The rod is constructed with E-glass, s Glass, and Graphite blank. That is why it's light but strong. But don't go with its lightness. This powerful rod is good for any serious catfish hunters.
The rod includes heavier stainless steel guides, a fast tip, and EVA split handle for dragging or bottom fishing. Many people choose the rod for catfish or bass. You can also use it for other fish if they are suitable for this power and weight range.
Pros
Lightweight and easy to hold for a long time.
Fast, balanced, and sensitive action. 
Splits grip design. 
Durable Rod.
Cheap in price.
Cons
Not suitable for heavy casting.
9. Piscifun Torrent Portable Baitcasting Rod
You can choose the Piscifun Torrent baitcasting rod for maximum flexibility and durability. It's a two-piece rod with a medium-heavy action performance. It's suitable for salt and fresh water. The rod is strong and can bend over 75 degrees or more if needed. You use it for catching catfish, bass, tuna, salmon, etc.
The bottom of the rod is 80% stiff, hard, and powerful. Also, the tapper of the rod is 15-20% light and sensitive. You can feel the fish when it's around the bait trying to touch or eat. The model we are talking about is 1st generation 2psc 6 ft. 6 inches medium rated. It's very versatile and good for beginners or intermediate-level of anglers.
The rod is made of fiberglass and graphite composite. It's light, well-balanced, and powerful for handling fighting fish.
Pros
Suitable for both salt and freshwater.
Durable and flexible performance. 
Good for handling fighting fish.
Firm and comfortable grip.
Affordable price.
Cons
10. Entsport Rattlesnake
Last but not least. The Entsport Rattlesnake 2-Piece 7-Feet Casting Rod is a good option for those new to fishing. This one comes with three tips. These are different power rod tips, medium, medium-light, and medium-heavy. You get all three power performances only by getting this one versatile rod. Without carrying three different rods, use one single one, and reduce extra loads.
This casting rod is designed to give you the best performance possible. Its graphite structure parabolic blend gives super light portable actions for efficient fishing. But let's make it clear to you. You can catch heavy fish with it for sure, but excessive load could cause damage and break the rods initially.
The rod comes with medium, medium-light, and medium-heavy options to choose from. It has a cork, spilled-grip handle, which reduces weight further and offers more control. Additionally, its seven guides with stainless steel frame and ceramic inserts let you cast smooth and increase performance. 
Pros
Comes with three different tips for different power actions.
Good craftsmanship.
Secure reel lockdown.
Easy to use and attach the reel.
Very reasonable price.
Cons
Doesn't seem durable enough for use under heavy loads over time.
Baitcasting Rods for Bass Buying Guide
Selecting a high-quality rod for bass fishing, particularly for an angler is a little tricky. But this one cleaver formula will help you find the best rod for catching bass. And that is:
Big Bass = Power + Technique + Action
If you don't understand the formula let's break it down and simplify the matter.
Light-line Fishing Techniques
Light-line fishing includes jerk baits, crankbaits, spinnerbaits, and buzz baits. These are retrieving quickly and keep the line tight always. Fish like bass tend to hit the baits hard. Moderate action rods allow the fish to eat the bait without pulling the lure from its mouth. The flexible rod tip let the fish turn its head before setting the hook. There is no need for the stiff rod to set a hook.
In the tight line bait system, the bait controls the lure action, and the soft tip allows the lure to move water frequently. The moderate rod action loads well, on the other hand, using its litheness increases the casting distance. Vast casting distance allows deep-diving plugs to get down to their maximum depth.
Slack-line Fishing Techniques
These techniques include flipping and pitching plastic worms, dragging tubes, and jigs. You need a fast action rod with stiff tip sets and fishing hooks. A single heavy-gauge hook is buried inside the plastic bait and often there will be some slack in the line. All these things make the hook set move difficult a bit. That is why you need a hard, stable rod to manage the whole action.
The design of the lure either you are using jigs, or plastic baits does not supply its action. It's the rod tip that gives you much control of how the lure will move in the water. Moreover, a stiffer rod gives you the stability to put more pressure on the crowded water surface – such as a water body with stiffer vegetation or lake with lily pads.
Fishing Rods Length & Actions 
Short rods like 6-6.5 ft. are suitable for better casting accuracy fishing in tight spots. These are needed to attach with light lures. Long rods start with 7 ft. And more offers better casting distance and leverage to fight the fish. These can manage heavier lures better. You should choose the rod length that you could handle or grip comfortably. The baitcaster reel cut-outs which put your hand in direct contact with rod bland offer more sensitivity. For slack-line baits fishing, the reel seat is an important thing to consider.
The action of a fishing rod is determined by where it bends because of weight. Fast action rods are susceptible and flex near the tip. The moderate action rod stretches towards the blank middle. And finally, the slow action rods bend the least and flex close to the butt section. You should choose better the moderate to the new fast range for bass angling.
Selecting the Rod Power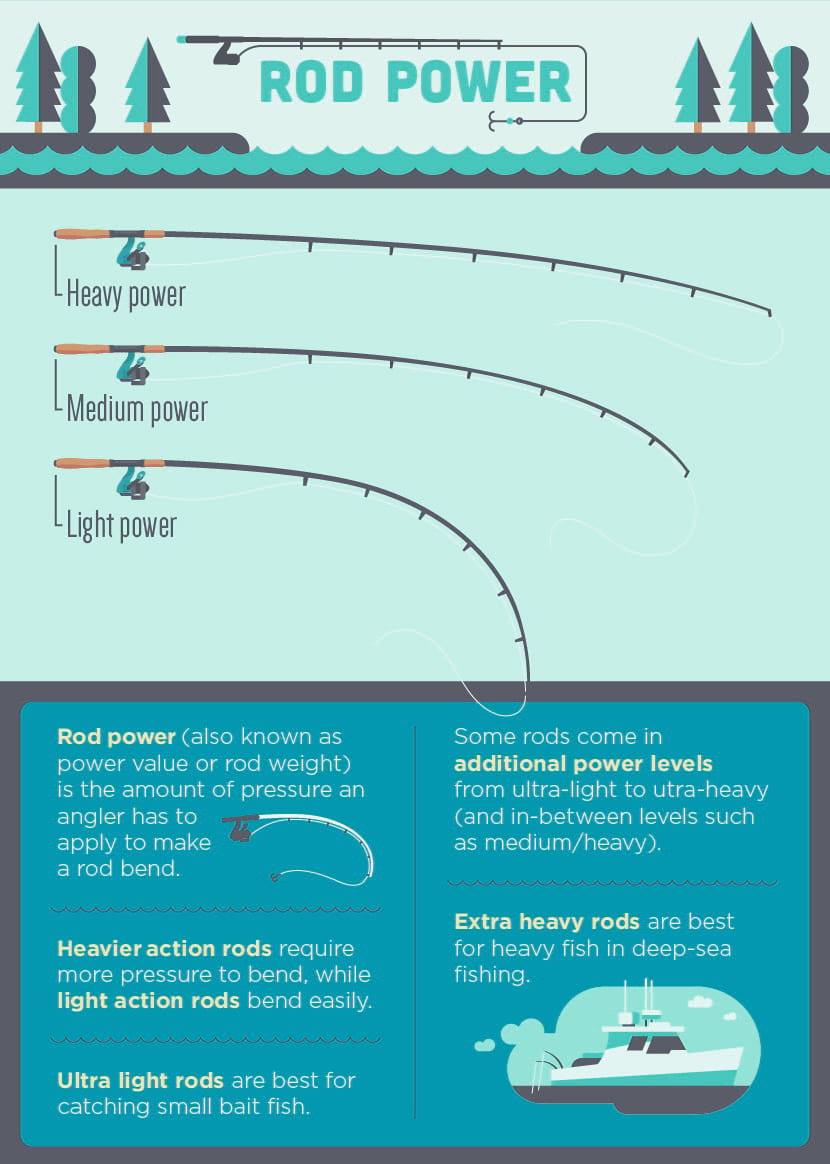 Rod power and action does not mean the same thing. The power of the rod is listed on the flex and flex of the rod in action. The rod power refers to how much pressure it could bend the rod. Select the rod designed to cast the lure weight and fishing line you usually use to fish. Such as, fishing in weeds and covers needs more power than clam and clean water. Low power rods are suitable for the weave-less clean water body. 
Usually, graphite rods are lighter than fiberglass rods. These are sensitive and better for fishing slack-line techniques. But fiberglass rods are more robust and more flexible and useful for light-line procedures. There are some composite rods made of the right combination of fiberglass and graphite. These include sensitivity like graphite and flexibility as glass. 
Final Words
Our top pick for the best casting rod for bass fishing is Entsport. This brand has lots of fantastic fishing rods, not only for bass but also for other types of fishing.
If you need an affordable option that can withstand maximum toughness and perform by investing less effort, then you should go for KastKing Royale Legend Fishing Rod. It's super handy and suitable for different sizes of bass fishing.
Or you can have the KastKing Speed Demon Pro Tournament Series Bass Fishing Rods. This one offers more power, action, and satisfaction than the first one and is also very elegant. It's a little more pricey than the first one but a perfect investment. There are also some great Abu Garcia, G Loomis, and St Croix rods from Bass Pro Shops you may be interested in.
I've also written guides focused on more specialized options such as the best fishing rods for spinnerbait lures and the best rods for chatterbaits.
Overall, all the Baitcasting rods are worthy of investing in different skills of anglers. So, take a deeper look and choose your needs best. We guarantee you won't regret your decision by following our suggestions for the best baitcasting rod bass.