Kistler Rods is a brand that's beginning to turn some heads in the fishing industry, but what about their reels? With so many other options in a crowded market, is there room for another premium-quality baitcaster reel to gain traction?
I recently got my hands on a Kistler Series 2 Baitcaster Reel and put it through some rigorous field testing to see if the Kistler brand's products are everything anglers have hoped for from one of the most popular up-and-coming brands in recent years. 
If you want to learn more about this reel and whether or not it's worth the price compared to similar models, keep reading. 
Kistler Reels Overview 
Most anglers are relatively familiar with the Kistler Rods brand as it has been making a name for itself among professional anglers for more than two decades. The company features a truly genuine approach to customer service and offers exceptional quality and customization in their fishing rods. Yet there are many questions related to the quality and performance of their reels. 
Kistler's Series 2 Baitcaster Reel is a relatively compact and lightweight model that turns out to be quite a workhorse of a reel compared to some of the other products priced at a similar level. I tested this reel with Kistler's Argon 7' Lite Medium Heavy Casting Rod, which is designed explicitly with weightless soft plastic fishing techniques and a few other medium-heavy rods. 
In the following sections, we'll discuss some of the upgrades Kistler has made to their reels and how the Series 1 is different from the Series 2. Kistler advertises the Series 2 as a more affordable version of its high-performance Series 1 Baitcaster, but a reel that's also not lacking in the most essential areas of reliability, toughness, and smooth operation. 

First Impressions 
After unboxing the Kistler Series 2 Baitcaster Reel, I was pleased to find that it came with a velvet carrying pouch and extra reel lube. The matte black finish was a welcome change from many other reel manufacturers that use a bright and shiny finish on their reel housing and side plates. 
If you read the instruction manual that comes with each reel, you'll notice that it's recommended to add a bit of extra lube to specific parts to ensure that your reel performs as it should. First, remove the side cover using the quick-release button on the bottom of the side plate. This will expose the reel's internal parts and, after removing the spool, allowing you to place a dab of oil on the shafts and bearings. 
Be sure to run through the instructions provided in this video to inspect your Kistler reel and make sure all parts are in good working order. Don't forget that Kistler offers a 30-day money-back guarantee if you're unsatisfied with their product. This kind of confidence speaks volumes compared to some other brands in the industry.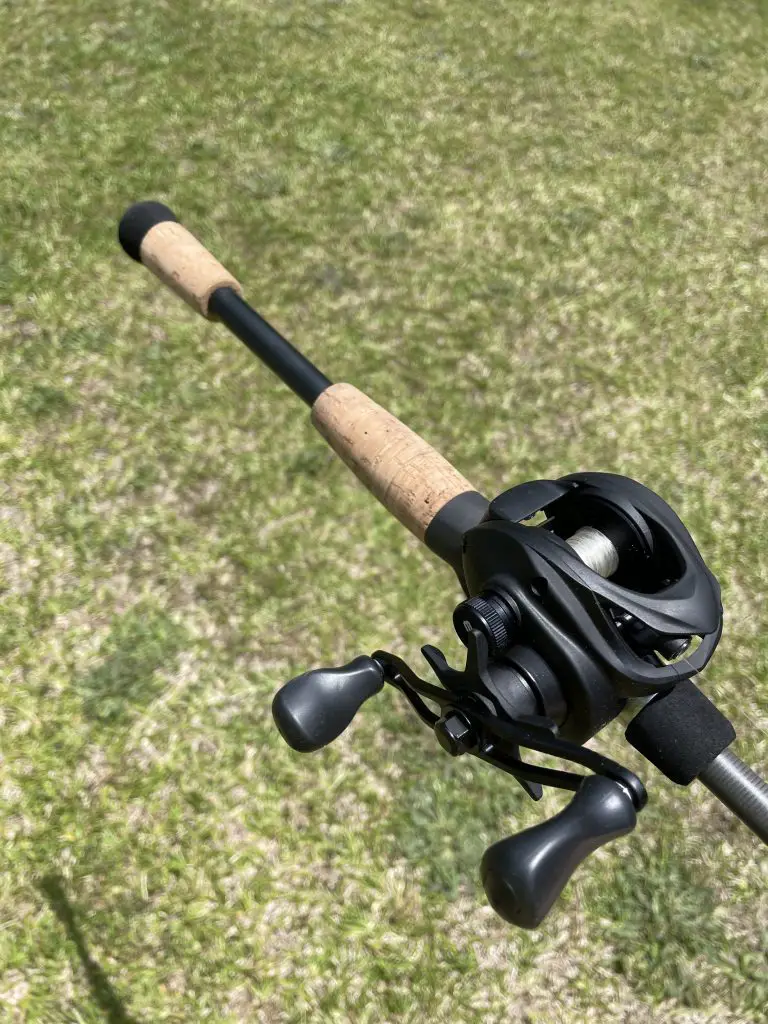 Features 
It's essential that we cover some of the Kistler Series 2 Baitcaster Reel's most critical features and explain how they can make this particular product more attractive than some of its competitors' reels. 
One-Piece Aluminum Frame
The most important thing I look for in any baitcaster reel is a strong, one-piece frame. Kistler's Series 2 has just that in an extremely durable aluminum frame designed to hold up well against the extreme pressure you can expect when fighting a sizable fish. I got the Series 2 in the 200 size, which I would recommend if you're going for a reel that offers good versatility. It does come in a smaller 100 size if you're interested in a lighter version of this reel. 
It's also worth noting that I'm very pleased that Kistler used matte black paint on this reel to provide a non-slip grip on every inch of its exterior. This is very convenient for maintaining control over your rod and reel and its functions, no matter how wet your hands get. 
Multiple Teflon Disk Drag Washer System
The brand certainly didn't cut any corners for the Series 2 Baitcaster Reel's drag system. This reel features a Multiple Teflon Disk Drag Washer System that provides you with immense drag power and enhanced heat resistance if you're fighting a monster fish that's causing the drag to scream. 
The 12 pounds of drag power in the Kistler Series 2 Baitcaster Reel's is enough to handle any species of largemouth or smallmouth bass and a few other types of fish. I was pleased with how the drag performed when reeling in fish, as it seemed to be very smooth and didn't produce the kind of jerking sensation that cheap reels are known for.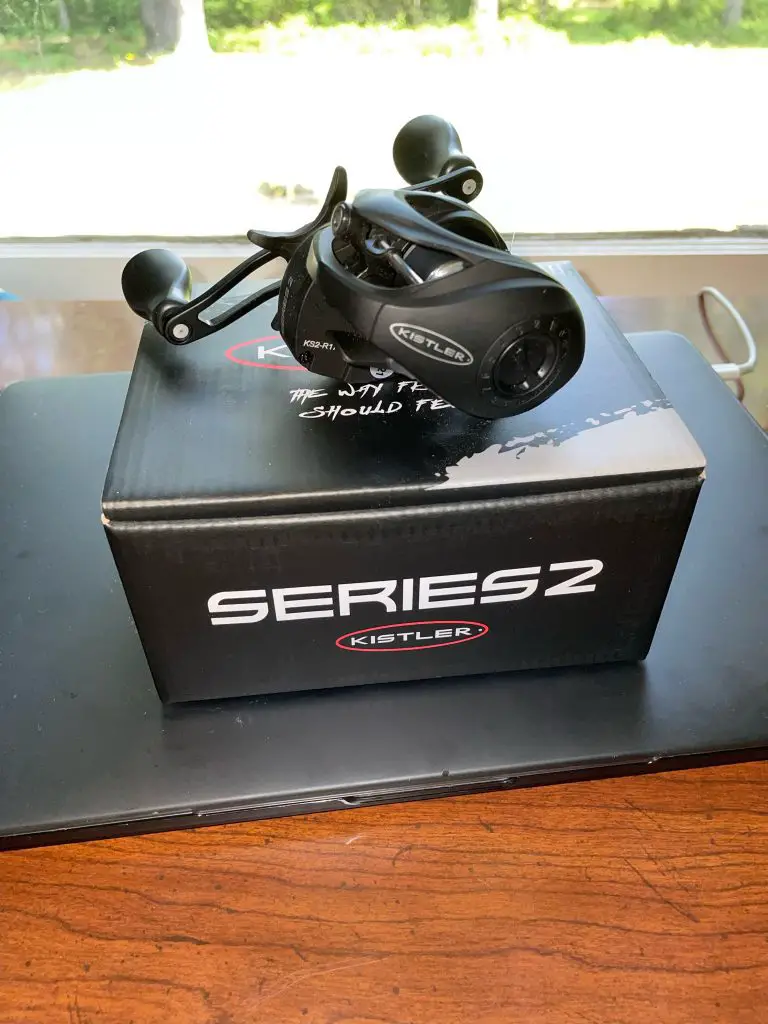 Star Drag and Spool Tension Knobs
Another great feature about this reel is that every adjustable knob you'll find offers a single click for the slightest turn. This lets you tune your reel to precise levels that you can't get without those subtle but unmistakable clicks. It was straightforward to dial in my reel quickly and easily when switching to different lures, as I could easily keep track of the level at which I was adjusting each knob. 
Anodized Aluminum Spool 
As you might expect on any high-end baitcaster, Kistler gives anglers a deep-set anodized aluminum spool on the Series 2 reels. This helps to provide increased line capacity and is durable enough to handle any type of fishing line, from fluorocarbon and monofilament to braid. I tested the reel with all three different kinds of line and was pleasantly surprised to learn that it performs beautifully with any line you choose. 
Centrifugal Brake System
The Centrifugal Brake System is another high-quality feature that will come in handy for anglers who like to use a variety of different size and weight lures on a single rod. Like the star drag and spool tension knob, the Centrifugal Brake System offers the same clicks to ensure that you dial in your braking system accordingly. 
I really like that this Centrifugal Brake System can be easily adjusted externally without having to remove anything. It's perfect for pairing this reel with the Argon series of rods used for technique-specific fishing with flukes, weightless worms and Senkos. 
Ball Bearing System 
There's no mistaking the buttery-smooth action you get from reeling and casting the Kistler Series 2 Baitcaster Reel. This is accomplished by implementing 8 high-quality stainless steel ball bearings that have been tested with more than 1 million casts and retrieves by the company's engineers and design experts, as well as professional anglers. 
I used this reel mostly with very lightweight lures in tandem with the Argon 7' Lite Medium Heavy rod. I was very pleased with its ability to toss the lure out farther than I expected using a baitcaster of this size and capability. It also presents decent accuracy if you're able to have the spool tension knob and braking system dialed in correctly. 
I generally prefer using a baitcaster with a faster gear ratio when fishing with soft plastics, and the 7.3:1 was perfect for this reel's application to the Argon LMH rod. However, if you need a slower or faster retrieve, Kistler does offer a 6.6:1 or 8.1:1 gear ratio in the Series 2 reels. The 200 size allows anglers to collect 32 to 34 inches of line per turn, thanks to the 7.3:1 ratio and reel design. 
Other Notable Features
The handle is made with a strong, aluminum cranking arm and rubberized countered grips to help you maintain control over the reel when fighting a fish. The reel didn't feel like it was hard to get a solid grip on, and it felt like it offered a very natural grip for what you should expect in a quality baitcaster. 
Kistler includes a solid brass pinion gear and hardened zirconia line guides on the Series 2 reels to ensure that these small but crucial components are capable of withstanding any punishment they receive on the water. 
The side plate's quick-release button works very well and allows anglers to very easily remove the spool and perform simple maintenance, even if you're on the water. Everything slides back into place with ease, and the side plate produces a satisfying 'click' sound to let you know that it's locked into position again. 
Performance 
You'll be hard-pressed to find many anglers that have a legitimate gripe with Kistler reels, and the Series 2 Baitcaster has—so far—proven to me that it can withstand the torture-test that series fishermen usually put their equipment through. I've found nothing to indicate that this reel is made with any less standard of excellence than Kistler Rods, which is quite a statement for anyone who knows the quality and craftsmanship that goes into their products. 
The thumb push button did get stuck a few times early on when using this reel, but I quickly remedied that issue by applying a bit of extra oil to the edges of the button to lubricate the mechanism underneath. This reel feels as smooth as you might expect some of Shimano or Daiwa's high-end products to be in terms of casting and retrieval. 
I was able to easily crank a sizable 4-pound largemouth bass out of heavy cover using braided line on this reel. I did not experience any of the slippages that some anglers complain about in other brands' products.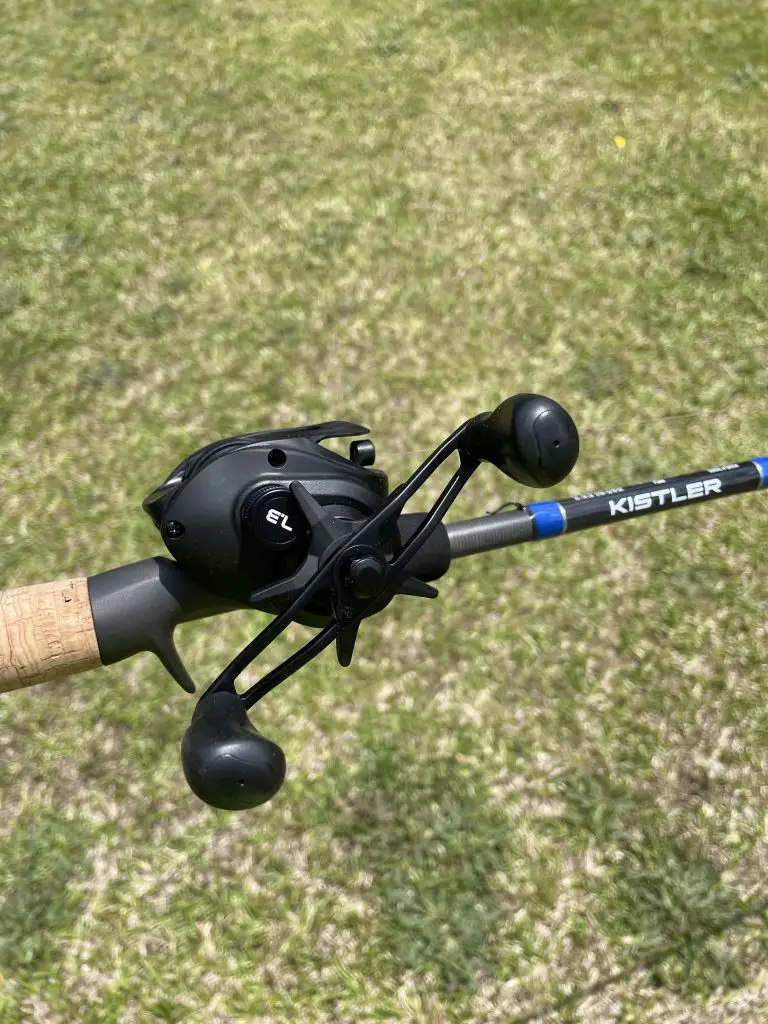 Specifications
Gear Ratio: 6.6:1
Retrieve Rate: 24 inches per turn
Max Drag: 12 lb
Ball Bearings: 8 Stainless Steel
Line Capacity: 170 yards of 12 lb
Weight: 6.5 oz
Final Thoughts 
I was pleasantly surprised with the Kistler Series 2 Baitcaster Reel from start to finish. It feels and performs like a well-rounded product designed and tested with exceptional care. Since I've gotten more familiar with Kistler's products, I've been satisfied with everything within reason and found the brand's personalized approach to marketing its products to the customer appealing. 
If you're looking for an American-made reel that's designed with high attention to detail and unmistakable craftsmanship, Kistler deserves a closer look. The Kistler Series 2 Baitcaster is worth the money and will be a sound investment for anglers who require a great deal out of their gear. 
After fishing with this reel for a few months, I'm confident that I'll be considering Kistler's reels right alongside some of the fishing industry's top brands.