Like many anglers, I'm always in search of a new brand that offers just what I'm looking for in terms of durability, sensitivity, and overall performance on the water. Kistler is one of the fastest-rising companies in the fishing industry that's gaining a reputation for delivering premium quality at a reasonable price, so I was intrigued to learn more after seeing a few of their latest promos for their technique-specific Argon rod series. 
I recently got my hands on one of the Kistler Argon 7' Weightless Worm, Senko, Fluke Casting Rods. After putting this rod through a gauntlet of tests for nearly a month, I now feel confident in sharing my thoughts on what I believe to be one of the most underrated fishing rod manufacturers in the industry. 
If you're looking to learn more about the Kistler Argon 7' Weightless Worm, Senko, Fluke Casting Rod and whether or not it's worth the price, keep reading. 
Kistler Overview
In order to properly assess this product, I believe it's crucial that you know a bit about Kistler as a company. What caught my attention when I began to look into Kistler Rods was the genuine nature with which it operates. 
I like to look for brands that offer products that are hand-crafted—from start to finish—at the same facility, and Kistler is one of the few American-made names in the industry that can say that. They are a faith-based organization with a reputation for partnering with various groups in the fishing world to help introduce young anglers to the sport among other causes. 

The Kistler brand has just released its technique-specific fishing rod models for 2022 and there are plenty to choose from. The company is rolling out three different technique-specific rod series this year, including the Argon, KLX and Helium series. Each series offers the following technique-specific rod models in both casting and spinning rod series: 
Weightless Worm, Senko, Fluke
Shaky Head, Tube, Spy Bait
Dropshot, Finesse Worm
Deep Crank, Swimbait, Umbrella Rigs
Magnum Worm, Creatures, Jigs
Shallow Cranks, Topwaters
Spinnerbaits, Chatterbaits, Underspins
Texas-Carolina Rigs and Jigs
Hollow-Body Frog, Toads 
First Impressions 
The rod appears to be very well-designed and certainly passed the 'eye-test' that many anglers give their gear. When I unboxed the Kistler Argon 7' Weightless Casting Rod, I noticed the sleek, matte-black rod colors with blue accents, which is nice for anglers who want to have a visually-appealing rod that they can pair with just about any type of reel. 
For the purpose of objectively testing this product, I mounted the Kister Series 2 Casting Reel with it. The Argon 7' Weightless Casting Rod is aptly-named as the rod feels very lightweight and nimble in your hands. The reel seat is capable of accommodating virtually any type of casting rod you choose to pair this rod with and holds the reel firmly in place without the need to continually tighten it after landing a sizable catch. 
The rod's technique-specific design is clearly indicated on the blank above the handle. It notes the Argon's 7' Lite Medium Heavy power along with the fact that Kistler recommends using 12-14 pound test line with this one. It's also convenient that the brand chose to indicate the specific lure weight (1/16 to 5/16 oz.) which this particular Argon series rod will offer optimal performance with, as well as the serial number for warranty purposes.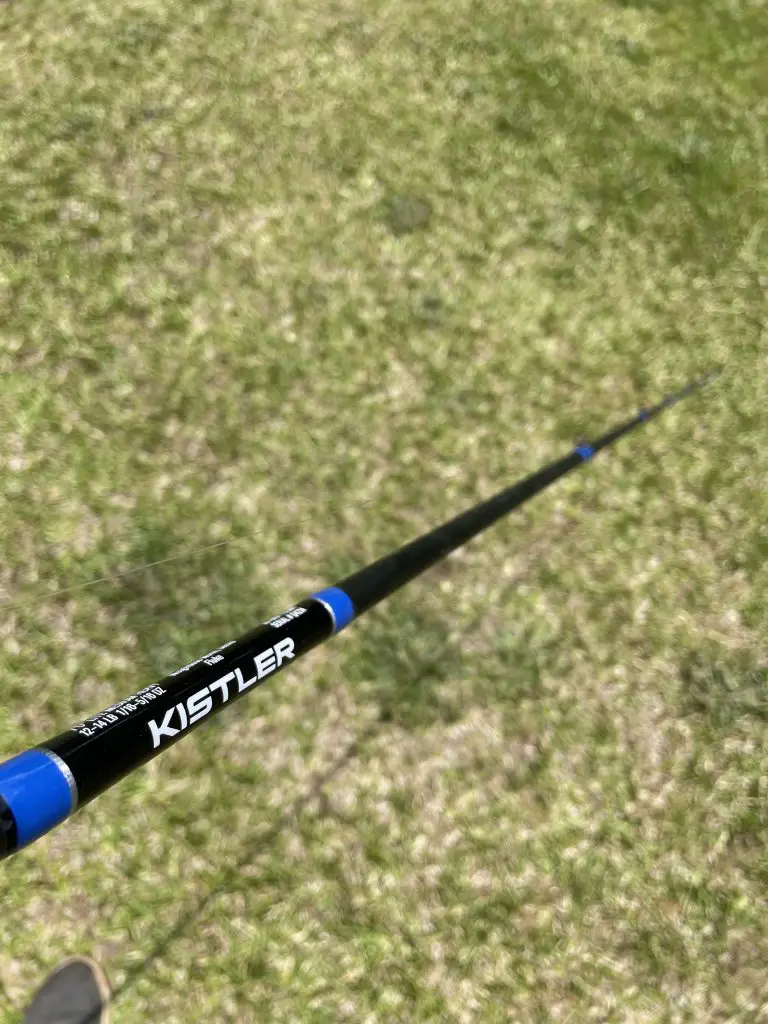 Features 
In the following sections, I'll highlight some of the rod's most notable features and provide a brief assessment of the nature of their performance and how they compare to some of the other more popular brands' rods. 
KC7 Carbon Fiber Blank 
The near-weightless feel of the KC7 carbon fiber blank is undeniable. The blank is crafted from a one-piece blank that's made of 100% Japanese Carbon by Toray, which is a T700 Intermediate Modulus. This basically translates to the rod offering outstanding durability despite being made of extremely lightweight material. 
The rod is described as a Lite Medium Heavy (LMH) power, which might confuse some anglers. There are many different brands that describe their rods as medium heavy, but in fact these rods will often be vastly different from another company's definition of 'medium heavy.' Kistler has designated this particular style rod as Lite Medium Heavy because it is a rod that has a lighter tip with a medium heavy backbone. 
The Argon's Lite Medium Heavy simply means that the rod offers a light enough tip that you'll be able to toss small and lightweight lures into moderate cover, yet you'll still have the medium heavy backbone you'll need to pull fish out of such cover. 
If you're an angler that prefers a rod that doesn't have a weighty feel and won't leave your arms and wrists feeling fatigued after a day on the water, this is a solid option. It doesn't feel quite as light as the Dobyns Fury, yet the comparison between these two products should also take into account the rod's durability and sensitivity before you can truly say that one is better than the other. 
The rod has a good balance for one that is specifically designed to be used with weightless lures and rigs. The Kistler Argon 7' Weightless Casting Rod also possesses superb stiffness compared to any other rod that's technique-specific for weightless fishing. In fact, my fishing buddy (who shall remain nameless) offered to test the rod's stiffness under the understanding of 'you-break-it-you-buy-it.' The rod held up surprisingly well to quite a bit of pressure and weight. 
Carbon fiber rods are the gold standard of sensitivity in the fishing industry and this might just be the Kistler Argon 7' Weightless Casting Rod's most outstanding feature or performance characteristic. One of my favorite fishing techniques on my home lake of R.L. Harris Reservoir (Lake Wedowee) is using a weighted hook and fluke around heavy cover or along with depth changes. The Argon's KC7 carbon fiber blank seems to out-perform many of my other rods, which I use for lightweight lure presentations. 
The sensitivity factor in the KC7 carbon fiber blank is one of the Argon's best selling points for anglers who want a technique-specific rod for weightless soft plastic rigs like flukes or wacky rigs. It's often very difficult to ascertain whether one rod of the same material is more sensitive than another, but I was certainly pleased with the Kistler Argon 7' Weightless Casting Rod in this department.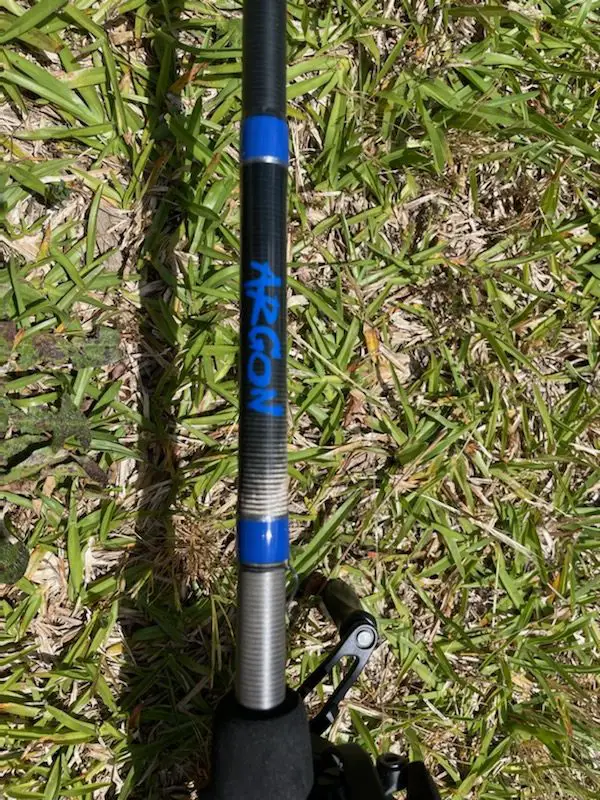 Handle 
Starting from the bottom of the rod, you'll find an EVA butt-cap on the end of the split-grip cork handle. This is a nice touch that provides some added comfort for anglers that find themselves resting the butt of their rod in their ribs or along their beltline when fighting a sizable fish. It's also comfortable when simply resting against your torso as you work your lure in with each cast. 
Many rod manufacturers won't include something that's so seemingly insignificant, but serious anglers should be aware that any rod that is at or near the 'premium' quality level should offer something of this nature. Personally, this is one of the little things that I often grow to appreciate after fishing with a rod for several months. 
All of Kistler's technique-specific Argon rods are designed with a split-grip cork handle with each technique model having a different split length between the cork butt and handle. This is obviously another well-thought-out feature from the brand that gives anglers a bit more control over the rod and accuracy when casting. Split-grip handles are intended to lighten the overall weight of any rod and the Kistler Argon 7' Weightless Casting Rod has one of the longer 'splits' of any of the company's technique-specific rod models. 
It has a very nice feel in the hands of most anglers and the company's founder, Trey Kistler, says that each rod's handle is specially designed with each technique in mind. The Argon series rods each have a trigger grip that's made to allow anglers to have better command over their rod when casting, reeling and especially when fighting their catch.
One of the things I love about the handle design is that it features an exposed graphite trigger grip, which means this trigger grip handle doesn't cover the blank, but instead leaves it exposed. The exposed blank makes it possible for anglers to keep their index finger in direct contact with the carbon fiber blank so they can feel any kind of vibration that a covered handle would not allow. These handles also feature a smart-grip EVA cover over the top of the handle, which helps anglers maintain a solid grip on their rod at all times.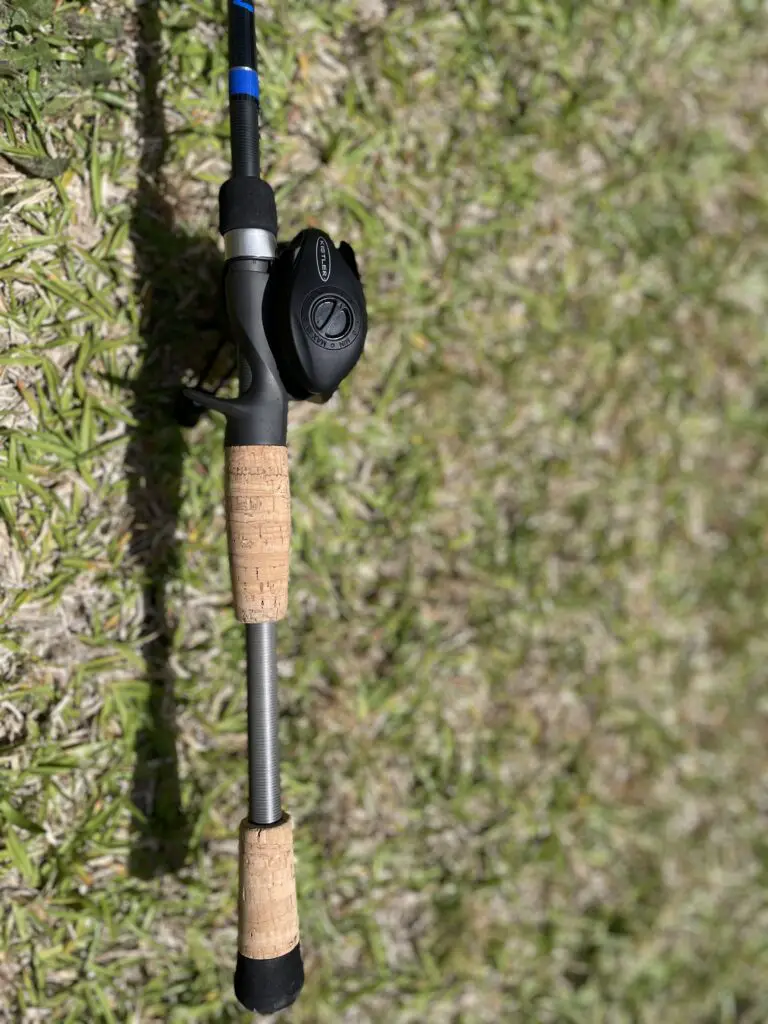 Rod Guides and Other Features 
Above the handle, you'll find a hook keeper loop that's designed to allow for quick and easy storage and placement of your lure's hooks so you won't have to worry about finding a place to hook your lure when the rod is not in use. This small, but necessary feature is a must-have for any serious angler who intends to use a variety of different rods while they're on the water. 
Kistler's Argon series rods are made with Kigan stainless steel ring guides frames with Coalite ring inserts that provide plenty of smoothness for your line to pass through, as well as durability in a very lightweight package that won't add any unnecessary weight to the rod itself. You can safely use monofilament, fluorocarbon or braided line with these Coalite inserts in any size or pound test you choose. 
The tip of each rod is made with a tangle-free Kigan frame that is designed to significantly-lessen the likelihood that your lure might get wrapped around the rod tip, which happens more commonly for low-cost rods. 
Rod Review and Testing 
As I've already noted, I paired the Kistler Argon 7' Weightless Casting Rod with a Kistler Series 2 casting rod. I used a wide variety of different types of lures, types of fishing lines, as well as different pound test lines during the time I spent field testing this rod. 
When using weightless lure presentations, I generally stick to fluorocarbon line, but I did experiment with some monofilament line when using a weightless Zoom Super Fluke with a 5/0 hook. The purpose of using mono with a weightless fluke is to maximize the amount of stretch you'll get when twitching your line. This seems to produce a more realistic action in the fluke and I was able to catch dozens of keeper-size bass using this method. 
The Kigan stainless steel ring guides frames with Coalite ring inserts performed as advertised and I had no issues at all with these, or any other component on this rod. In the next sections, I'll break down exactly how the Kistler Argon 7' Weightless Casting Rod performed when used with each of the three different types of techniques listed in this product's 'technique-specific' design. 
Weightless Worm 
I seldom use a medium heavy baitcasting rod when fishing with weightless worms, but the Kistler Argon 7' Weightless Casting Rod and Kistler Series 2 reel allowed me to get quite a bit of distance and accuracy out of every cast. I rigged a variety of different soft plastic worms on the rod with 12 pound fluorocarbon line and offset hooks of different sizes. 
What really stands out to me about using this particular technique with the Kistler Argon 7' LMH rod was the sensitivity it offered. At virtually every moment the soft plastic worm was in the water, I had the ability to adequately feel its movement and the subtle taps that are produced from making contact with branches or rocks along the way. 
I absolutely love throwing a Texas-rigged soft plastic worm with a very light bullet sinker and this rod allowed me to utilize this technique and weightless worms to a degree that I've never experienced. The Argon's sensitivity was evident throughout my testing of this technique and I would compare it to the sensitivity you'll get with some of the biggest name brands in the fishing industry. 
Senko 
I've become a Senko fanatic in recent years and this rod works almost like a magic wand when it comes to rigging a weightless Senko in different ways. I really enjoyed the fact that the Kistler Argon 7' Weightless Casting Rod is capable of casting braided 10 pound test line as smoothly as it can any other. I experimented with just about every type of weightless Senko fishing technique including a simple Texas-rigged hook style, wacky rigged and even Neko rigged with a light Neko style weight. 
The rod's stiffness makes it easy to develop your own degree of action in each type of Senko rig presentation. A few gentle twitches on a wacky rigged Senko was enough to draw strikes from post-spawn bass that were holding very close to trees and brush piles. One of my all-time favorite weightless Senko techniques to use is commonly known as the weightless wacky Texas rig and it's one that I used to draw strikes from a couple of bedding bass using the Kistler Argon as well. 
Fluke 
The fluke is one of the most underrated soft plastics in the fishing industry. Weightless flukes are a staple for many bass anglers throughout the spring and summer, but I also like to throw flukes with a weighted offset hook to target. This weighted offset hook approach allows me to target bass that have retreated down into deep water and the Kistler Argon 7' Weightless Casting Rod worked very well using this effective, yet unorthodox technique. 
The stiffness of the Kistler Argon LMH rod makes it very easy to produce the 'walk-the-dog' technique that many anglers aim for with a weightless fluke. I was able to cast the weightless fluke and other weightless lures out to a reasonable distance with ease, as well as decent accuracy. 
Quantitative Scoring
Performance: 5/5 
The Kistler Argon rod seemed to perform exactly as you might expect a technique-specific rod to consider its Lite Medium Heavy style blank
Durability: 5/5 
Having only used this rod for a month, I can't say that I've truly put it to the test in terms of durability, but I certainly have not experienced any issues so far with it
Value for the Money: 4/5 
The Argon rods are the lower tier of Kistler's three different technique-specific rod series. I think it's reasonably priced and is actually a bit more affordable than some other brands' technique-specific rod models 
Overall Score: 5/5
The Kistler Argon 7' Weightless Casting Rod simply outmatches the competition on many different levels of performance and characteristics. I've been well-pleased with it and this product has quickly become one of my go-to rods when I'm on the water
Final Thoughts 
Until a few years ago, I was not a believer in technique-specific rod series and models because I have always been a firm believer in having a few good 'workhorse' style rods that I can use for a variety of applications. However, the recent strides that Kistler and other brands have made in producing seriously useful rods for certain fishing techniques have caused me to reconsider. 
It's evident from the feedback, reviews, and my own hands-on experience with Kistler's new Argon technique-specific rods that these products are well worth the price for those who are willing to invest in them. Kistler is a veteran-owned company that boasts American-made craftsmanship, as well as outstanding customer service. 
Kistler stands out from the competition, not only in the quality of their products but in the fact that they had clearly poured countless hours into research and development, as well as testing of their new technique-specific rod series. 
In addition to this, it's also incredibly impressive to consider the fact that Kistler offers a 'Build Your Own' rod option on its website in which anglers can literally customize every minute aspect of their rod, including having it engraved with their own name or message. This customization process concludes with the company allowing anglers to choose whether or not 
Every Kistler rod is hand-made in the company's Magnolia, Texas facility, and each rod is also backed by the Kistler "Bend Strong" 5-year warranty. In addition to this, the brand offers free replacement of your rod during the first year you own it if there is an issue with its construction, as well as prorated replacement for the second, third, fourth, and fifth year. 
I would strongly recommend any anglers who love fishing with weightless techniques to consider the Kistler Argon 7' Weightless Worm, Senko, Fluke Casting Rod as it is a work of craftsmanship and quality that's somewhat rare in today's fishing industry.