Outfit a bass fishing boat with essential equipment: a trolling motor, fish finder, GPS, rod holders, tackle storage, live wells, comfortable seating, and a casting deck. Add safety gear like life jackets, throwable flotation devices, and a first-aid kit. Customize lighting, electronics, and accessories based on personal preferences and budget.
Not all fishing boats are created equal. There are many varieties of fishing boats that are designed for a specific purpose like offshore fishing, traversing rivers and fishing around shallow lakes. However, you can modify almost any fishing boat and equip it to serve as a capable bass fishing boat. 
This process takes a bit of planning and knowledge as to what exactly you need for bass fishing. If you're wondering how to outfit a fishing boat for bass fishing, I've compiled this article as a handy guide to help you get started. 
This article is part of my Complete Guide to Bass Fishing series that you might be interested in.
| Accessory | Function | Requirement |
| --- | --- | --- |
| Life Jackets | Personal floatation devices for each person on board | 5/5 |
| First-Aid Kit | Contains medical supplies for treating minor injuries | 5/5 |
| Trolling Motor | Provides quiet, controlled boat movement during fishing | 4.5/5 |
| Fish Finder | Electronic device that uses sonar to locate fish and show underwater structures | 4.5/5 |
| GPS | Provides real-time location, navigation, and mapping information | 4/5 |
| Live Wells | Aerated containers that hold live fish, used for keeping fish alive | 4/5 |
| Casting Deck | Elevated platform to provide better casting and visibility | 4/5 |
| Rod Holders | Securely store and organize fishing rods while on the boat | 4/5 |
| Tackle Storage | Organized storage for lures, hooks, lines, and other fishing gear | 4/5 |
| Throwable Flotation Devices | Throwable floatation devices in case someone falls overboard | 3.5/5 |
| Comfortable Seating | Provides support and comfort for extended fishing trips | 3/5 |
Bass Boat Overview 
Not everyone can afford a brand-new Triton 21 TrX or a Phoenix 921 Elite. This leaves the rest of us to make do with what we have regarding fishing boats. If you're willing to put in the time and effort, you can outfit your fishing boat and create a functional and comfortable bass fishing boat that will take you anywhere you want to go on the water. 
This is a process I undertook a few years ago with my 16' aluminum boat that I've had for decades. Depending on how much you're willing to invest in the project and your overall capabilities as a builder, you can transform your fishing boat into an impressive bass boat that will be tournament-ready once you're finished.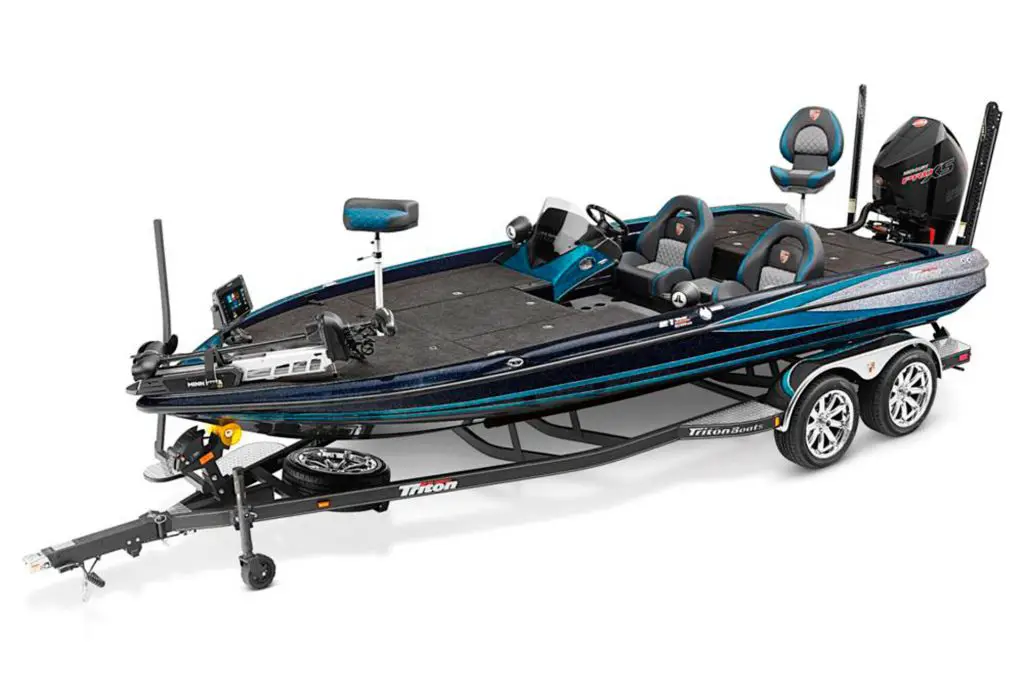 Advantages of Outfitting an Aluminum Fishing Boat for Bass Fishing
I would recommend starting with at least a 16' aluminum boat for any custom bass boat project as this type allows you to make the most number of adjustments with plenty of space to work with. However, you can actually outfit any type of jon boat for bass fishing or any other style of fishing boat if you're willing to get creative. 
By using an aluminum boat, you can have a more durable and stable base and surface to mount anything you choose, or you can build a platform on the front or back. If you can start this project with a boat at least 16' in length, you will have enough space to comfortably fit your livewell, trolling motor, seats and other storage compartments. 
Another major benefit of customizing an aluminum jon boat for bass fishing is that the aluminum hull is incredibly durable and allows you to fish on shallow rivers, and sections of lakes where standing timber or rocks make it impossible to use a more expensive fiberglass bass boat. 
One of the most ideal advantages of using an aluminum jon boat for this project is that you can create a fully-customized bass boat for a fraction of the price. These boats are much more affordable than bass boats made out of fiberglass or other material. 
If you're going to have a functional bass fishing boat that allows you every possible advantage you can have, there are a few specific things you'll need. Some of these items cost more than others and this might be something you accomplish over the course of months or even years before it's fully complete. 
Solid Casting Deck 
One of the major advantages that an actual bass boat has over smaller fishing boats is the large, open casting deck. This space allows bass anglers to stand and walk freely without worrying about stepping or stumbling over different gear and equipment items. It also makes fishing much more comfortable and you can fight and land fish without watching where you step the entire time. 
As someone who has been bass fishing for many years out of both a normal fishing boat and a boat that's been outfitted for bass fishing, I've experienced the benefits of each and can attest that a casting deck is an absolute must if you want to make your boat as comfortable and practical as possible. 
Building a casting deck on your boat will be one of the most time consuming and frustrating parts of the customization process. Some anglers will pay a handyman to accomplish this task, which is a great option if you're not as adept at woodworking or building. However, there are other means that you can use as a guide in the process of building a deck. 
Thankfully, plenty of online videos feature a step-by-step guide for creating a bass boat casting deck on the bow of virtually any type of fishing boat. You can browse Youtube and find dozens of these types of videos, so I recommend searching for a guide to decking out your specific model and style of fishing boat. 
Storage 
Storage space is one of the most overlooked things many anglers forget in building their new deck or outfitting their fishing boat for bass fishing. It's absolutely essential that you have storage compartments where you can stash your tackle box, rods, and any other type of gear inside the standing deck (if you're building one). 
If not, then you'll need to be aware of the need for storage space as you begin adding other gear and equipment to your boat such as fish finders, trolling motors, etc. Think about how you'll access these storage spaces while you're on the water and whether or not they need to be sealed and waterproof or if you want one that's open. 
Trolling Motor
If you want the greatest potential for locating and catching fish with your newly-outfitted bass fishing boat, you'll need to install a trolling motor. Some great options can be purchased from online retailers or bought used from certain places. 
You can install a trolling motor on the boat's front, back or sides. Each of these positions have their own advantages and downsides, but my personal preference is to have my trolling motor on the bow of the boat. 
Having a trolling motor on the bow allows you to make more precise turns and maneuvers, which is great if you're weaving your way through a lake with standing timber all around or any other scenario where you want to stay on a specific course. The only downside is that the movements are sometimes jerky if you aren't used to adjusting the speed and direction while running the trolling motor. 
A trolling motor on the side is easy to operate, but it will use more power than any other method because you're working against the boat's hull design. A trolling motor on the stern is the best use of power as it pushes the boat instead of pulling it along as the bow-mounted trolling motor will. However, a stern-mounted trolling motor forces you to make wide, sweeping turns instead of short, tight maneuvers.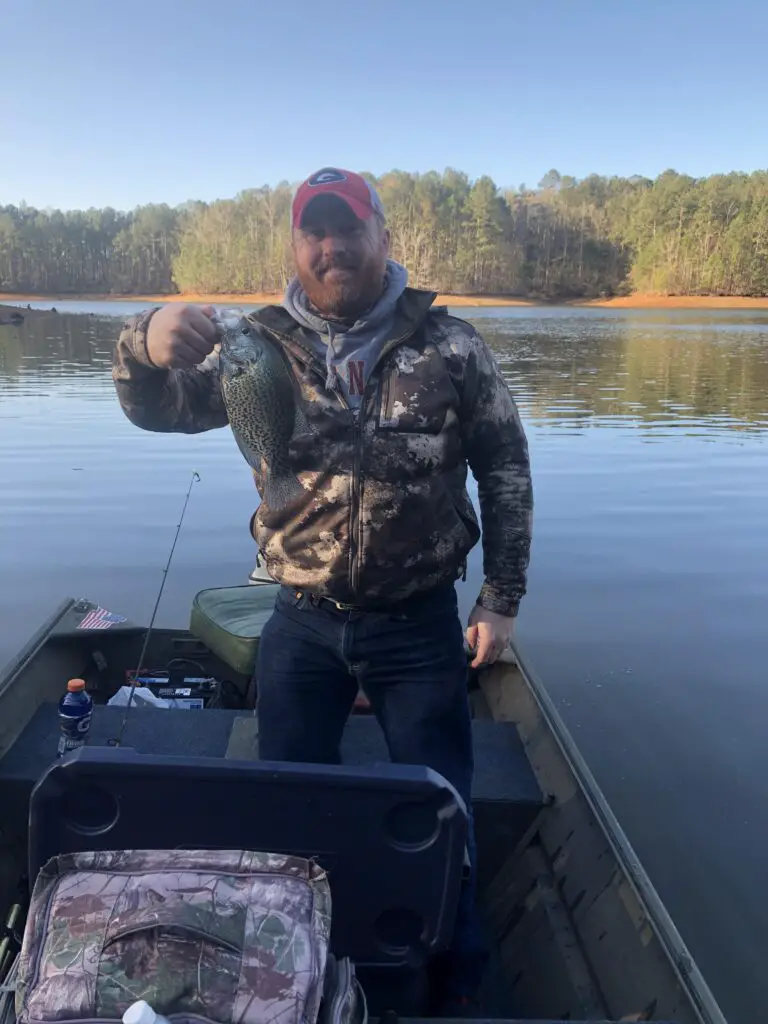 Fish Finder 
A fish finder is another thing that isn't necessarily a must-have piece of equipment, but it certainly is useful and eliminates hours of guesswork on each fishing trip. As you're outfitting your fishing boat for bass fishing, be sure that you'll have room for the battery or batteries that will power your trolling motor and fish finder. 
In most cases, a standard 12V battery will be enough to power your boat's trolling motor and fish finder, but some anglers prefer to use two batteries to provide a bit more juice. These batteries are going to be heavy, so placement is highly important. 
You don't want to have your battery too far on the boat's bow as it will weigh it down and prevent the boat's hull from cutting through the water as it's supposed to. Most anglers utilize the stern well for their batteries to rest, but be sure to install a wooden platform, preferably one with a rubber mat. This will help prevent the battery from moving and serve as a barrier so that the battery isn't sitting on the aluminum surface. 
Outboard Motor
If you want to have the ability to fish large, vast reservoirs and lakes, you'll need to have an outboard motor that offers at least 15 HP (horsepower) engine. I prefer a hand-operated 25 HP outboard mounted on the middle of the boat's transom. This will be the most expensive part of your newly-outfitted bass boat, but it's well-worth the investment. 
Before you purchase an outboard motor, be sure it's capable of being mounted on your transom. It's equally important to make sure that you have enough room to fit the gas tank close by as well. I have my gas tank stored in the stern tank well on the port side with my 12V battery situated on the starboard side of the stern well. 
Seating 
You never want to forget to add comfortable seating to your outfitted fishing boat. Most aluminum boats will have the standard bench seats, which are less than comfortable, to say the least. If you don't have a casting deck, you can mount a low-backed seat directly to the bench, or install a bracket where the seat can be removed if you want. 
It's much better to have high-swivel pedestal seats that are comfortable to sit in since you'll be spending hours and hours in them many days out of the year. I have one of these high-swivel pedestal seats mounted on the middle of the casting deck on the bow with a slide-in bracket mounted on the rear bench. 
This slide-in bracket allows me to remove the seat and place it in the middle section of the boat, which allows myself and my co-angler to comfortably sit side-by-side on this rear bench while we are operating the outboard motor and traveling across the lake to our next spot.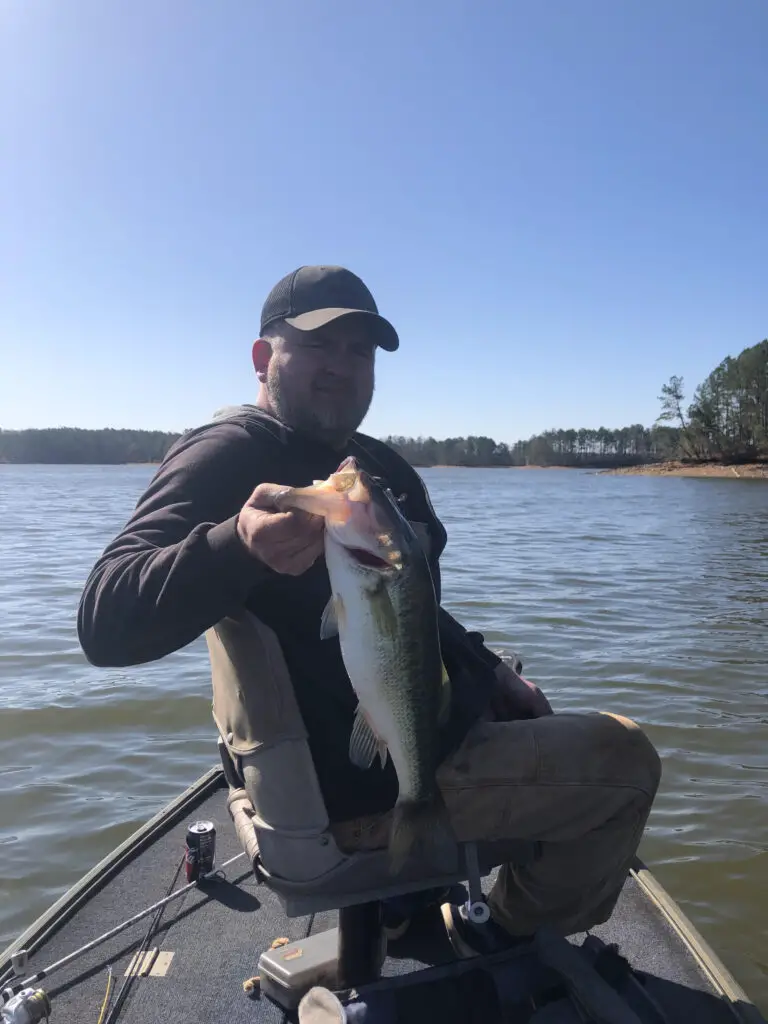 Other Accessories 
It's important to have the necessary safety accessories and items you are required to have on any bass fishing boat. Be sure to install and have working navigation lights on the front and back. Check the laws in your state to ensure that your lights comply with the rules and regulations regarding such lights on fishing boats. 
Also pack a few personal floatation devices (PFD) or lifejackets in the boat for anyone boarding it. I keep at least 3 lifejackets on board, as well as two others that will fit kids if I have a few extra fishing buddies join me. 
You'll also want to have rod holders or places where you can store your fishing rods on the deck to keep them out of the way when you're moving across the lake using the outboard. It's very easy to hit an area of wake or choppy water and have a rod bounce out of the boat, lost forever in the deep. 
Conclusion 
Some anglers might have concerns about adding so many different components and pieces of equipment to a small fishing boat, but I assure you that you can accomplish this outfitting project while keeping your boat within the total capacity limit. I was initially concerned with how my boat would perform while fishing and operating the motor to travel across the lake. After outfitting my aluminum boat with all of the above items mentioned, it rides much better than ever before and is very stable with two or even three other anglers in the boat with me. 
Be sure to do plenty of research before undertaking this type of project. If you make each addition and adjustment in a way that's careful and well-planned, you'll be able to outfit your fishing boat for bass fishing and create an outstanding bass boat that's perfectly customized to your own desires.