The best saltwater spinning reels have stainless steel ball bearings, a powerful, sealed drag system with 15 lb of max drag, and over 200 yards of 10 lb mono line capacity.
The Shimano Vanford is my top choice because of its superior performance and the latest technology. It is the replacement of the Stradic Ci4+ but with upgraded technology, better waterproofing, and a higher gear ratio. It is ideal for saltwater anglers who value performance.
I have compiled a comprehensive buying guide so you can learn everything you need to select the right reel for your circumstances. Whether you are fishing for tuna requires a different type of reel than a coral trout. No matter what type of fish species you are targeting, I can help you find a spinning reel for your saltwater fishing needs.
I have been offshore, saltwater fishing for over a decade, and all of the information below is based on my own experiences and first-hand insights with each of the products mentioned.
Lower Weight than its Predecessor
Extremely Durable
Long Casting Distance
Full of Shimano's Latest Technology
The difference between freshwater and saltwater fishing is the size of the fish and the risk of corrosion, particularly to the internal gearing for your reel. So a saltwater spinning reel is generally larger and made from higher quality, corrosion-resistant materials.
Here are my recommended top 5 spinning reels.
1. Shimano Vanford Spinning Reel
Lower Weight than its Predecessor

Extremely Durable

Long Casting Distance

Full of Shimano's Latest Technology
Line retrieve: 35 in
Maximum drag: 20 lb
Looking for a long-range smooth-retrieve spinning reel on a tight budget? The Shimano Vanford Spinning reel is perhaps one of the finest picks for those looking for a top-class reel at an affordable price. Many reels in the market can't hold up the unusual situation and circumstances.
Shimano is remarkable for manufacturing of top-class gear, which is why they have made the list so often. They offer many unique innovations to fishing technologies, materials coatings, bearing constructions, and some marketing hype.
The Vanford is an upgraded evolution of the popular Shimano Stradic Ci4+ but with upgraded technology, better waterproofing, and a higher gear ratio. It has quickly become one of the most popular new reels.
I recommend the Shimano Vanford as one of the best saltwater spinning reels, let alone within the budget category. If you want a premium reel that will perform for years to come, the Vanford is my top choice.
What I Like About It
Let's dig into the advantage and features of Shimano Vanford Spinning Reel
The Vanford is one of the lightest spinning reels on the market. If you will be fishing for extended periods and have experienced muscle fatigue, I recommend getting a lighter option.
It is full of Shimano's technologies including new carbon drag washers – this was one of the few weaknesses of the Stradic Ci4+ and makes the Vanford almost flawless.
Pros
Incredibly Lightweight.
Nearly Waterproof.
Cons
The Vanford does come at a higher price point than its predecessor the Stradic Ci4+, but with all the latest technology it is packed with, I still feel it is great value for money.
The smaller-sized models in the 500 to 3000 options don't have the updated drag washers.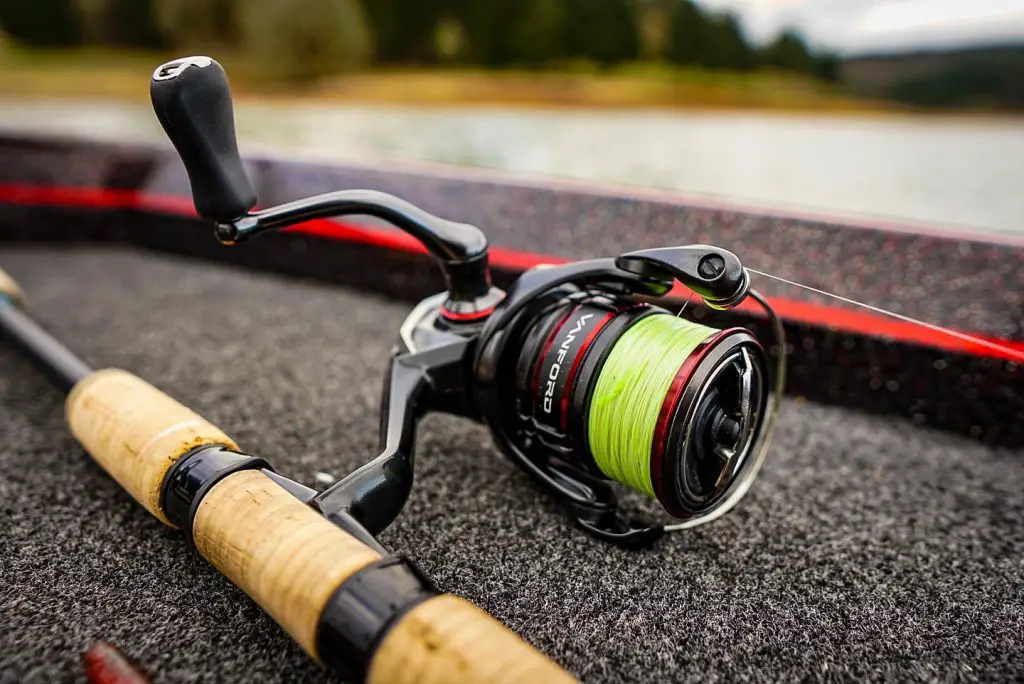 2. Abu Garcia Revo SX Spinning Reel
Saltwater Ready

DuraGear Brass Gearing

Titanium Coated Line Guide

Improved Dura Clutch
Abu Garcia Revo SX Spinning Reel has a feature that is far better than the mediocre. Even if you are investing in an affordable range; you still receive some amazing benefits from this spinning reel.
Abu Garcia Revo Spinning Reel drag has come with another four models- REVO2XS10, REVO2XS20, REVO2XS30, and REVO2XS40. The retrieve rate ranges from 30 to 40 inches per crank depending on the model.
If the Vanford is outside your budget, the Abu Garcia Revo SX is my next recommendation. It is renowned for always being in the top 5 spinning reels around the industry. It is affordable, performs at a high level, is full of Abu Garcia's latest technology, and has a durable design.
What I Like About It
Let's dig into the benefit and features of this spinning reel-
Eight stainless steel HPCR bearings and one roller bearing provide smooth retrieve and Advanced Corrosion Protection.
As The Rocket Line Management Is Used, you get a better lay on the spool to hold more line.
Includes Abu Garcia's Rocket Spool Lip.
Advanced K-Clutch Spool And Carbon Matrix Drag System.
It is pretty light because it combines a C6 carbon body and X-Crafts gearbox design. The rotor is also lightweight as it is made from graphite.
Pros
Outstanding Drag.
Versatile Castability.
Reliable Operation.
Cons
The extremely lightweight nature of the reel makes it vulnerable to air knots.
The largest model is 4000, undersized for any particularly large saltwater fish species.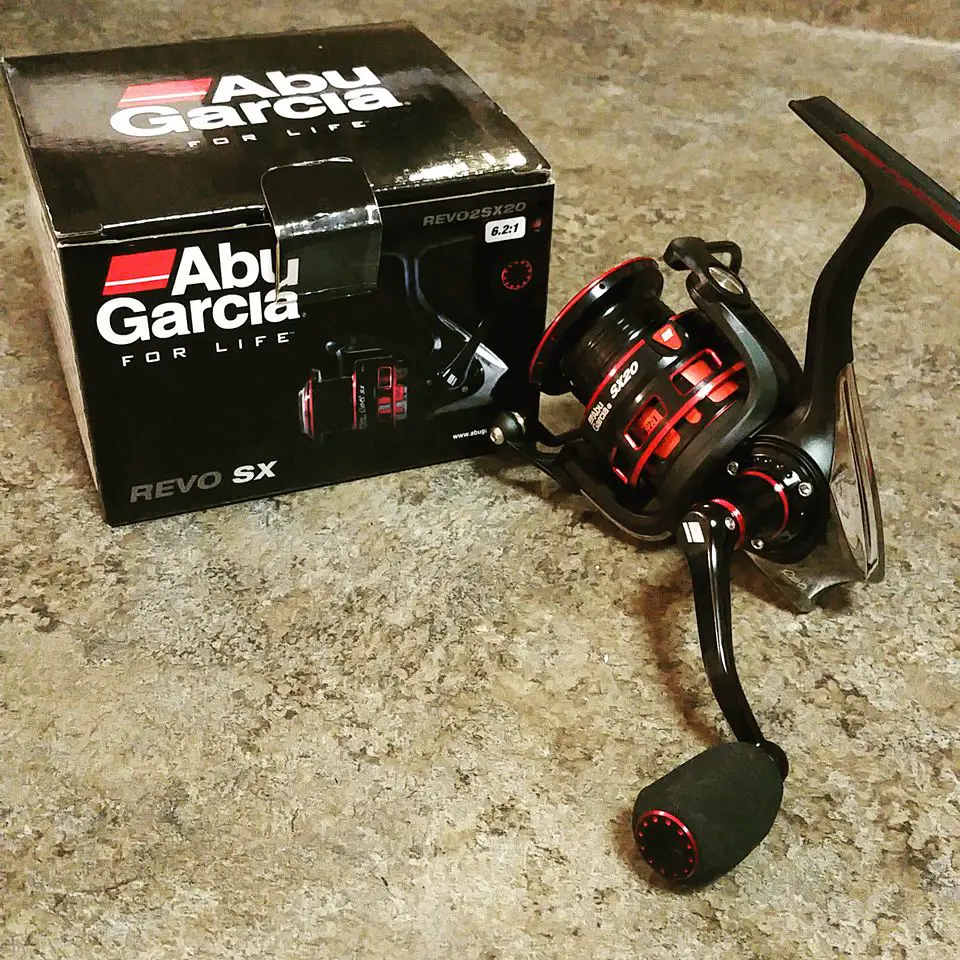 3. Shimano Baitrunner D Spinning Reel
Solid Aluminum Frame and Handle

Propulsion Line Management System

Shielded Ball Bearings

Rear Drag is Easier to Adjust During a Fight
Line retrieve: 36 in
Maximum drag: 20 lb
Item weight: 1.7 pound
If you are worried that spending less than $200 means you have to pick a spinning reel without some superb features, then look at the Shimano Baitrunner.
Shimano paved the way for new fishing technology, especially for someone who wants an excellent saltwater spinning reel on a tight budget. You will get everything you want from this ideal spinning reel.
Shimano are one of my favorite fishing brands, because of the attention to detail they put into everything – from the design to the materials and everything in between. Shimano are a byword for quality and durability.
This Baitrunner D series from Shimano offers several medium-sized reels for saltwater. At the same time, these are readily available in four other model from 4000-12000. However, the line capacity of this model starts from 8 Ib mono and 15 Ib in the braid. As it goes high, the line capacity also is shown as 20 Ib mono and 80Ib in braid on the 12000 model of D series.
Make sure you pick a reel size that suits your needs, depending on the type of fish – predatory fish like mackerel tend to run hard and require longer fishing line spool lengths, while tarpon fight hard and require stronger and thicker fishing line.
What I Like About It
Let's dig into the benefits and features of Shimano Baitrunner D Spinning Reel:
The first noticeable feature is its anti-reverse mechanism. It comes with a Super Stopper II, where one of the bearings is used to eliminate any back play. This will help avoid bird nesting or spooling your line out when you don't want it to.
It also has the Shimano SA-RB anti-rust bearing. This is referred to as 'Metal Shield' and is one of the ways that Shimano builds corrosion resistance. This makes it suitable for saltwater and is one of the key reasons I gave it the number 1 ranking on this list.
The spool is made from cold-forged Aluminum, giving it superior durability and low weight.
It also has a good balance with Shimano's Dyna which maintains the reel's stability during retrieval.
Finally, it also has Shimano's Propulsion Line Management, which helps to give longer casting distance by spooling the line on neatly. This also helps to fit more line onto the spool and prevents backlash.
Pros
Affordable
Better Casting Distance
Excellent Line Lay
Comfortable Grip
Shimano produces high-quality products with the latest and greatest technology available
Cons
I noticed that the reel does not have a comparative dragging force and casting distance, compared to other similar reels. You may want to pick a different reel for larger pelagic species, but it is fine for smaller reef fish.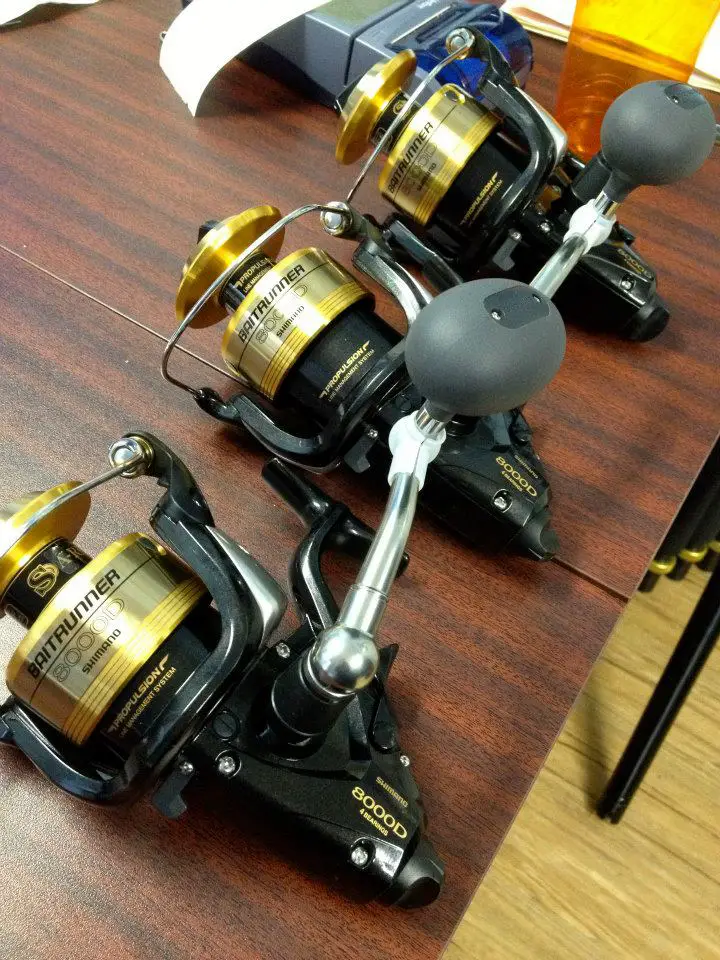 4. Pflueger Supreme XT Spinning Reel
Long Distance Casting Reel
Extremely High Line Capacity
10 Corrosion Resistant Ball Bearings
Sealed Carbon Drag System
Pflueger Supreme XT Spinning Fishing Reel is one of the finest examples of a well-constructed spinning reel.
Rather than using a regular spinning reel with other extra features, choosing Pflueger for saltwater fishing is safer. However, it is incredibly buttery smooth and worth to invest.
This model from Pflueger comes with four different models:
The SP25X has a 5.2:1 Gear Ratio, 8 lb Maximum Drag, and 6 Ounces In Weight
The SP30X has a 6.2:1 Gear Ratio, 10 lb Maximum Drag, and 6.8 Ounces In Weight
The SP35X has a 6.2:1 Gear Ratio, 12 lb Maximum Drag, and 8 Ounces In Weight
The SP40X has a 6.2:1 Gear Ratio, 14 lb Maximum Drag, and 8.7 Ounces In Weight
What I like About It
Let's dig into the benefit and features of this spinning reel. The first feature I like to introduce is its corrosion resistance; this model is specially designed for saltwater.
Most versatile reel in the market today with an adjustable handle. Suitable for Lake Trout, Salmon, Carp, or Any Large Sized Saltwater Species.
It comes with a carbon fiber handle with helps to reduce the weight – carbon fiber is 21% lighter than aluminum.
Thanks To Its SMARTretrieve Feature, the line is re-spooled evenly after every cast.
EVA Handle Knob is extremely comfortable.
Pros
Lightweight But Durable.
Instant Response.
I didn't notice any wiggle or lag when under load.
Cons
Because the weight is extremely low, casting can face balancing issues during windy conditions
5. Shimano Stradic FK Spinning Reel
Shimano Aero Wrap II Reduces Vibration

Propulsion Spool-Lip Design Allows Casting Longer

Dynam Balance Eliminates Wobble
Update July 2023 - At ICAST 2023 the Shimano Stradic FM was released. This model contains a lot of technology trickled down from the Shimano Stella. This includes InfinityXross gear durability, Hagane gearing, Duracross Drag, and an anti-twist fin.
Roller bearing: 1
Line retrieve: 35 in
Under budget, but still, such a superb reel that will meet your entire requirements as an ideal spinning reel in saltwater. One of the finest reels that work fantastic and with some amazing features on a tight budget.
On the other hand, this model from Shimano comes with five different models; Like- ST1000HGFK, ST2500HGFK, STC3000HGFK, ST4000XGFK, and STC5000XGFK.
What I Like About It
Let's dig into the benefit and features of this spinning reel-
The Propulsion spool-lip design provides less friction, allowing it to cast longer distances. It also helps to reduce backlash and wind knots.
It also has Shimano's Aero Wrap II, which reduces vibration during retrieval.
The Dynam balance eliminates wobbles and vibration through smooth rotation.
The handle is customizable with anti-reverse to eliminate back play, a must-have feature for saltwater reels.
It has a stylish design and is incredibly light and comfortable.
Pros
Superb Casting.
Outstanding Line Capacity.
Smooth Rotor And Drag.
Surprisingly Affordable.
Cons
No anti-reverse function
Does contain some plastic parts that can break over time
Specification Comparison
All of these reels should be compared by looking at their key specifications which I have done in this table looking at their 3000 sized models.
| | | | | | |
| --- | --- | --- | --- | --- | --- |
| Saltwater Reels | Gear Ratio | Ball Bearings | Mono Line Capacity | Max Drag | Price Range |
| Shimano Baitrunner D 4000 | 4.8:1 | 3+1 | 270 yards of 15 lb | 15 lb | $$$$ |
| Shimano Vanford | 6.4:1 | 7+1 | 200 yards of 10 lb | 20 lb | $$$ |
| Pflueger Supreme XT | 5.2:1 | 11 | 130 yards of 8 lb | 10 lb | $$ |
| Abu Garcia Revo SX | 6.2:1 | 9 | 175 yards of 8 lb | 11 lb | $$ |
| Shimano Stradic FK | 6.0:1 | 6+1 | 200 yards of 10 lb | 20 lb | $$$ |
Table comparing the key specifications of each saltwater spinning reel
Saltwater Spinning Reel Buying Guide
Fishing in saltwater can be challenging to maintain your gear and continue to deliver the performance of a brand new reel.
Corrosion Resistance
As we all know salt water can cause corrosion and rust in important internal gears of fishing rods that aren't made from the right material. So when you pick the spinning reel, ensure it has corrosion resistance.
Even with this I recommend you thoroughly flush your reels with clean, freshwater after use. This will remove any salt crystals that form, keeping your reel clean and ready to go. You don't always know how long it will be until you fish next and keeping your gear in good working order is important.
Drag
As saltwater fish are much bigger, drag is a vital factor.
Drag lets you put more pressure on the fish as it swims away. The bigger the fish, the more drag you generally need. Of course, you can't apply more drag than your fishing line can handle or it will snap.
| Fish Species | Max Drag Required |
| --- | --- |
| Trout, Flounder, Bass | 10-15 lbs |
| Redfish, Stripers, Blues | 16-20 lbs |
| Mackerel, Snapper | 20-30 lbs |
| Shark, Marlin, Tuna | 40+ lbs |
Line Compatibility
A great reel should have decent line capacity and braid line compatibility. You must decide how much capacity you need depending on the size and fish you target.
If you are in salt water (which I assume you are), you will be catching bigger fish than in freshwater (in general). Ensure you have enough line so the biggest fish you could catch doesn't swim away with all of your spool.
This also depends on the line diameter. Mono is much thicker than braid so you can fit less on your spool – although it does have other properties.
| Fish Species | Fishing Line Strength Required |
| --- | --- |
| Trout, Flounder, Bass | 8-14 lbs |
| Redfish, Striper, Blues | 16-25 lbs |
| Mackerel, Snapper | 30-40 lbs |
| Shark, Marlin, Tuna | 80+ lbs |
Durability
When it comes to saltwater fishing, you have to face seaweed, sand, and rocks – So make sure that the reel is pretty durable.
You can do this by selecting high-quality manufacturers who use good quality materials. In this list, I have shown Shimano, Abu Garcia, and Pflueger, but you could also add Daiwa as well.
There are plenty of cheap reels available, but if you have to replace them next year, it is very poor value. If you can use the same reel for the next 20 years then it was worth the extra cost.
How We Rate Products
Russ Egan and Donny Karr have over 40 years of combined fishing experience. We know the difference between a high-quality reel and a poor alternative.
I thoroughly review all products to measure their performance, durability, and value for money. I conduct bench and field testing to check how the product performs. Each reel is tested for at least 8 hours, with a full test taking 2 weeks. This testing results in an overall score that I give to all products. All metrics are scored out of 5.
Performance
The performance score is how well this product fulfills its primary purpose. Does it have all the features and optional extras you need to catch the target species? I also interview expert anglers on their experience to build a more comprehensive view of the performance under multiple conditions.
I take all reels down to my local freshwater lake for bass, or inshore fishing off the beach for redfish.
Test 1: I confirm that the max drag meets the manufacturer's specifications using a calibrated scale.
Test 2: I test the maximum casting distance using a 1.0-ounce lure.
Test 3: I test the accuracy by casting 10 times into a 3 ft diameter circle at 30 yards.
Test 4: I check the versatility and the ability to handle multiple uses by field testing with 3 different lures and baits, by actually going fishing.
Durability
Durability refers to how long the product will continue functioning. I twist, bend, and break all the products to check their longevity. This score is for the construction materials, the workmanship quality, and the servicing requirements. There are also bonus points for manufacturers' warranty.
For products I can't test for long enough, I also consult experts who have been using them for decades to judge their longevity.
Test 5: I pull it apart to check the grease and oil levels, how difficult it is to maintain, and whether sand or salt has deposited after use in saltwater.
Value for Money
The final aspect of the scoring system is the price or, more specifically, the value for money. Value for money is a comparison against the closest alternative products, both by the same manufacturer and other brands.
Overall Score
Finally, I average the three scores of performance, durability, and value for money to give the overall score of each product reviewed.
To see more details, please read the complete guide on how I test and evaluate fishing products.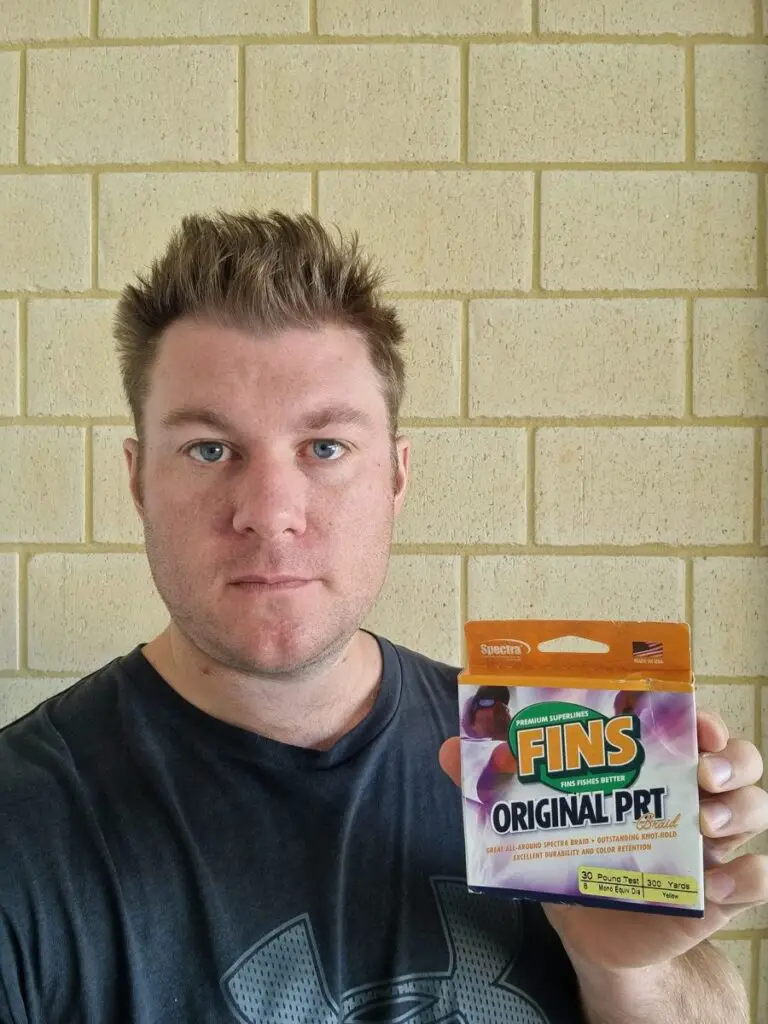 My Recommendation
Every spinning reel in my top list has been entered for its excellent benefits and value.
I highly recommend the Shimano Vanford for its excellent features with classic, elegant design.
Shimano is so far one of the finest spinning reel manufacturers on the market today and a trustworthy brand in the fishing industry – it is generally my preferred brand for fishing reels.