The best spinning reels for bass are a 2500-sized model, have a gear ratio of 6.2:1, 140 yards of 10 lb mono line capacity, 15 lb of max drag, corrosion-resistant materials, and high-performance ball bearings, such as the Penn Spinfisher VI.
For a smooth bass fishing experience with your friends, you need the Best Spinning Reels for Bass Fishing which will not only provide absolute control but also give comfort at the same time. In this guide about the best spinning reels for bass, you will get useful tips and a quick comparison of all Spinning Reels for Bass Fishing available on the market. All of this information is based on my own experience.
Black Bass are the most popular angling species in North America with 9.6 million anglers chasing this species yearly (Source).
In summary, I will cover some must-have features and some high-quality spinning reels for bass fishing. These top-rated reels comprise awesome features such as smooth retrieve, maneuverability, reliable operation, compact design, and overall customer satisfaction.
This article is part of my Complete Guide to Bass Fishing series that you might be interested in. I have also put together a guide for the best spinning reels overall if you are interested in a more multi-purpose tool.
How We Rate Products
I thoroughly review all products to measure their performance, durability, and value for money. This is done through bench and field testing to check how the product performs. This testing results in an overall score that I give to all products. All metrics are scored out of 5.
Performance
The performance score is how well this product fulfills its primary purpose. Does it have all the features and optional extras you need to catch the target species? We also interview expert anglers on their experience to build a broader and more comprehensive view on the performance under multiple conditions.
Test 1: Confirm that the max drag meets the manufacturer's specifications.
Test 2: Test the maximum casting distance using a 1.0-ounce lure.
Test 3: Test the accuracy by casting 10 times into a 3 ft diameter circle at 30 yards.
Test 4: Check the versatility and the ability to handle multiple uses by field testing with 3 different lures and baits.
Durability
Durability refers to how long the product will continue functioning. I twist, bend, and break all the products to check their longevity. This score is for the materials of construction, the quality of the workmanship, and the servicing requirements. There are also bonus points for manufacturers' warranty.
For products that we can't test for long enough, we also consult with experts who have been using them for multiple decades to judge their longevity.
Test 5: Pull it apart to check the grease and oil levels, how difficult it is to maintain, and whether any sand or salt has deposited after use in saltwater.
Value for Money
The final aspect of the scoring system is the price or, more specifically, the value for money. Value for money is a comparison against the closest alternative products, both by the same manufacturer and other brands.
Overall Score
Finally, I average the three scores of performance, durability, and value for money to give the overall score of each product reviewed.
To see more details, please read the complete guide on how we test and evaluate fishing products.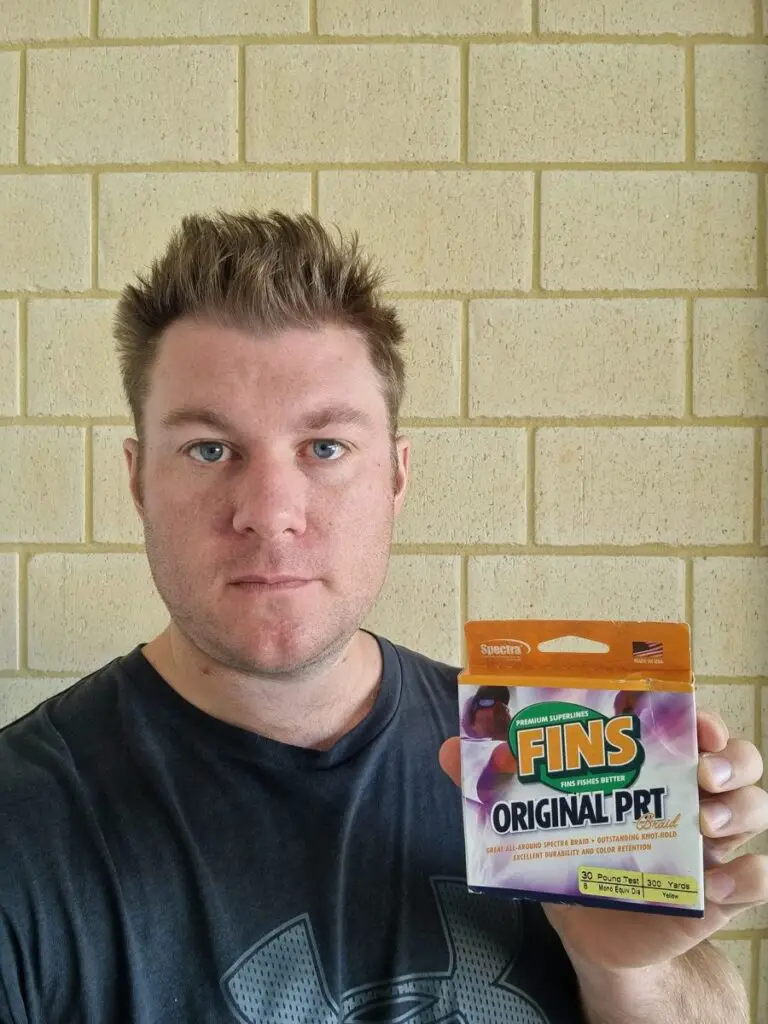 If you are a professional fisherman or love to fish frequently, you will easily realize the importance of a great spinning reel for bass fishing. Every year several manufacturers come with different features and benefits. Due to the various range of production, you may not decide what is best for you. Here are our recommended top 10 Spinning Reels for Bass Fishing. So let's get into the selective product reviews of our top spinning reel on the market.
1. Penn SpinFisher VI Spinning Reel – Best Overall
After testing more than a dozen reels for use on bass fishing, we decided that Penn Spinfisher VI spinning reel is another great option for most anglers.
The PENN Spinfisher VI features IPX5 sealing so that if it gets hit with a wave, or lets it ride in the spray on the way home, you don't have to panic about saltwater getting into the drag system or gearbox.
Why I Like It:
A Full Metal Body keeps the CNC Gear System in the right alignment under heavy loads. Durable construction with side plate and rotor and aluminum bail wire makes it unique from the rest. It is available in live liner, standard, long cast, and bail-less models.
The HT-100 drag washers are placed in a fully sealed spool to provide the stopping power needed for giant saltwater fish. 
Pros
Silky-Smooth Drag  
Instant Anti-Reverse Bearing
Watertight Spinning Reel
Sealed Slammer Drag System
Cons
Live line feature can fail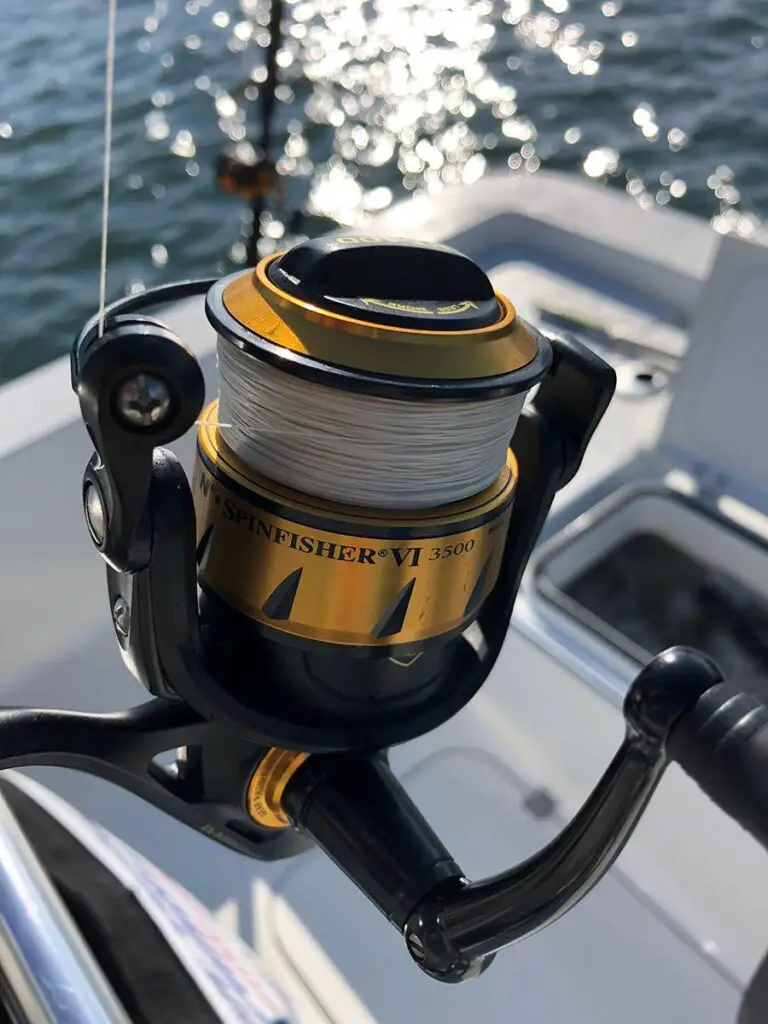 2. Abu Garcia Revo SX Spinning Reel – Best Lightweight
If you one of those who wants a great spinning reel at a reasonable price? The Abu Garcia Revo SX series will be the best choice for you. The strength, quality, and durability are brilliant so far. 
It comes in several sizes and models. The smallest options are 10 and 20. Another small option is REVO2 SX30 which is a bit heavier. And the medium size reel is 40 which is great for large flathead. SX10 and SX20 are designed for finesse anglers.
On the other hand, SX30 and SX40 are perfect for big fish. Though both 30 and 40 come with a common specification, they will perform well for fresh, salt, or inshore water. This reel is an absolute joy to use. The COG technology has eight stainless steel bearings and AMGearing which is pure comfort, especially under the heavy load of a significantly large fish.
Why I Like It:
The design of dominant black is elegant. A touch of grey and red trims gives a super sports appeal. More than anything, it comes with a notable reduction in weight compared to its previous model. The combination of one-piece aluminum gear and carbon body makes it pretty lightweight.
Pros
Very lightweight  
Everlast™ Bail System Ensures Rigidity
Very Smooth Drag
Interruption-Free Cranking Handle
Cons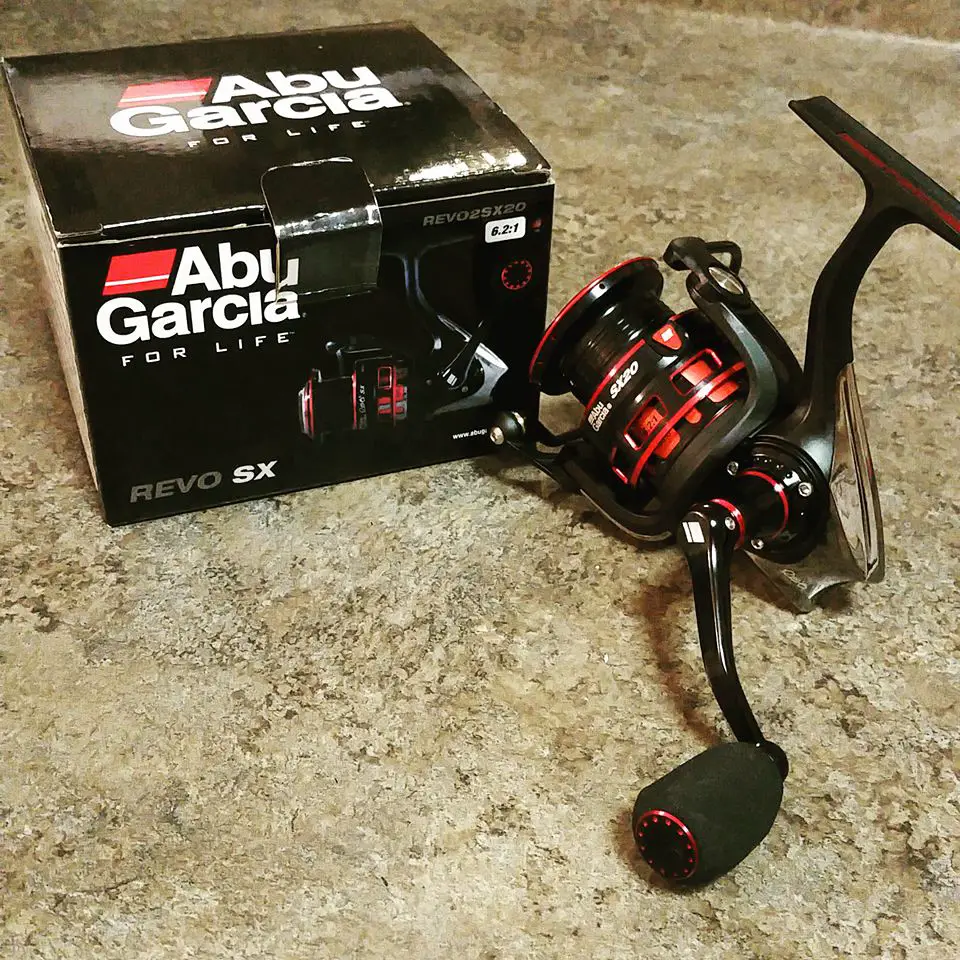 3. Daiwa BG Spinning Reel – Most Durable
The Daiwa BG saltwater spinning reel is the best fishing reel for anglers or enthusiasts who prefer a classic "Hard Bodyz" body and increased strength.
The Daiwa BG high-quality components, and industry-leading ingenuity, make this one lean, fish-fighting machine. Equipped with a "Hard Bodyz" machined body, its aluminum frame along with the side cover gives internal part stability. 
Why I Like It:
To increase the strength of corrosion and scratch resistance, This Daiwa Bg has a Black Anodized body and cover. The ABS spool works to maximize the core diameter. Plus the reversed taper lets no dead line buried in the core for longer and easier casting.
It's also braid-ready. The aluminum screw-in-handle design offers zero movements between the handle arm and main gear, offering the angler both control and confidence when rotating the handle.
The Air Rotor is 15% less in weight than ordinary rotors, as its unique shape cuts out the extra fat while distributing stress evenly for added strength in a lightweight design.
Pros
The Carbon Automatic Tournament Drag  
Increased Torque
Internal Part Stability
Scratch Resistance
Cons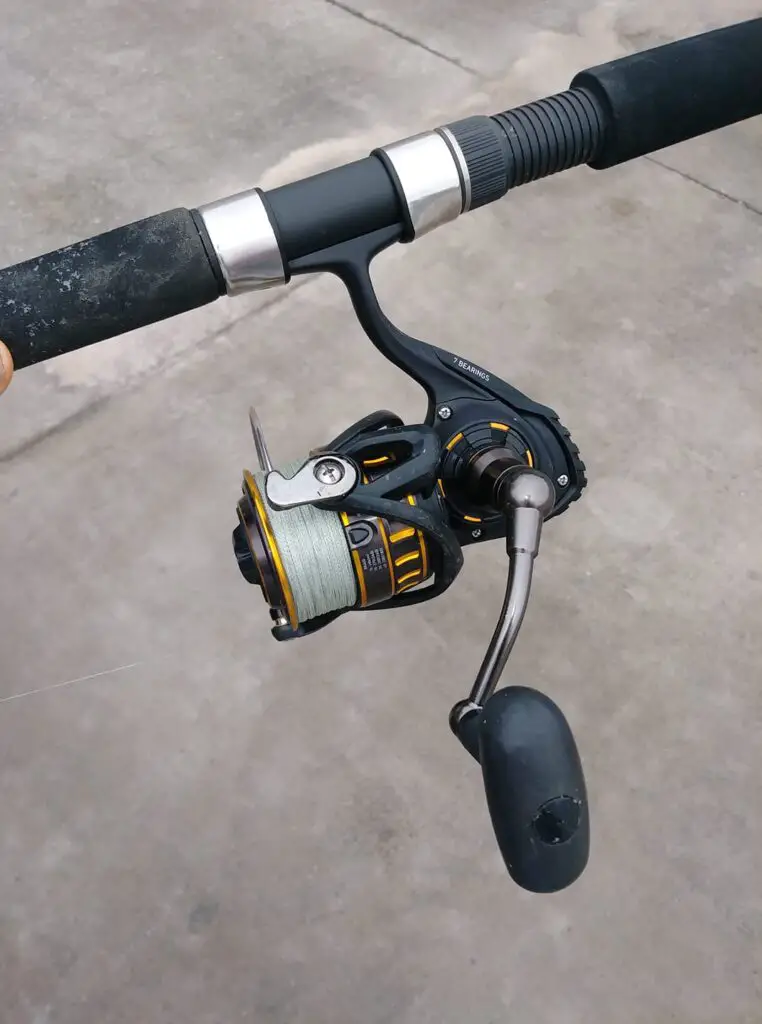 4. Shimano Vanford Spinning Reel – Best for Saltwater
Another addition by many angler's favorite reel manufacturer – and certainly my own favorite – is the Shimano Stradic – although recently replaced by the Shimano Vanford.
The Vanford is full of Shimano's latest technologies that give it better performance, a higher gear ratio, and lower weight. If you liked the Stradic Ci4+ then you will love the Vanford. The one weakness in its predecessor has been eliminated by the addition of carbon drag washers.
Why I Like It:
A great combination of style, durability, and performance – you won't go wrong with any Shimano reels due to their X Ship and X Protect gearing design, bearing system, and corrosion-resistant coatings.
Pros
The reel only weighs under 6 ounces, which is extremely lightweight and can help reduce muscle fatigue.
The magnum-light roto gives long casting distances and a smooth retrieve.
It has a strong body with a metal cover and dragging knob.
Cons
It does come at a higher price range than the Stradic Ci4+ but with its improved performance I still believe it is great value for money.
5. Penn Battle II Spinning Reel – Extremely Durable
Last on our list, but certainly not the least is the Penn Battle II reel. Specially designed by this reputable manufacturer, this reel is worth your consideration.
Why I Like It:
The full metal body construction including side plates allows it to maintain precision gearing with a smooth retrieve, even under heavy load. It has an instant anti-reversing bearing, aluminum bail wire, and carbon fiber drag washers.
I also like the line management system that reduces the frequency of birds nesting knots on your spool.
Pros
Very high max drag can fight trophy bass
Highly durable construction with a full metal body and carbon fiber drag washers
Cons
The larger sized reels in this model can become quite heavy
The bearings don't have a comprehensive sealing system so make sure you thoroughly flush your reel with freshwater
6. Pflueger President Spinning Reel – Best for Freshwater
The Pflueger President Spinning Reel is a high-quality fishing reel popular with bass anglers, particularly due to its 10-bearing system which gives a smooth performance in casting and retrieval.
Why I Like It:
It has a graphite body which is strong but keeps the weight down and has a 5.2:1 gear ratio which is spot on for bass. The drag is stainless steel and the bail arm is aluminum for corrosion resistance.
Available in both left and right-hand retrieve designs, the weight is between 6.2 – 11.5 ounces depending on the size.
Pros
Features 10 ball bearings which give a smooth retrieve feel and has roller bearings that allow for instant-stop auto-reversing.
Excellent rotor and gearbox.
The aluminum cover with giver enamel makes it lightweight and durable.
Cons
Not suitable for saltwater fishing
Lower max drag than alternate options
7. Pflueger Supreme Spinning Reel
Another high-quality reel from Pflueger is the Supreme. It comes with a magnesium rotor and body and a bearing system with a 9 bearing count. The spool is designed to be braid ready so you don't need to back your line with mono, allowing it to hold a higher braid fishing line capacity.
Why I Like It:
Along with the President, it was a 5.2:1 gear ratio in the 2500 model, but the larger reels have a 6.2:1. The 4000 size reel has a 38″ retrieval rate per crank and 200 yards of 20 lb braid capacity with a 14lb max drag – it can handle anything a trophy bass can throw at it.
Pros
10 stainless steel bearings for corrosion resistance
Manganese has been applied to the body and surface which reduces the weight
Cons
This reel is lightweight and can have trouble balancing during windy conditions
8. Shimano Sahara Spinning Reel
The last bass fishing spinning reel on the list is another Shimano – the Shimano Sahara. It has a G-Free body design which is supposed to move the center of gravity closer to the angler. This will reduce fatigue and improve comfort during long days of casting.
Why I Like It:
It is made from Shimano's specialist HAGANE body and gearing system and the X-Ship feature (Extra, Smooth, and High Power). 
The 2500-sized model has a 5.0:1 gear ratio, which is just lower than perfect but can hold 140m of 8kg monofilament fishing line.
Anything made by Shimano is a worthy product.
Pros
This is a good quality reel at an affordable price that gives it great value for money
Plenty of Shimano's latest technologies including G Free Body, Hagane Gears, X-Ship, and Graphite Frame, Rotor, and Side Plate.
Cons
No anti-reversing system
Personally, I found the handle is too close to the spool and kept hitting my knuckles
9. Yoshikawa Baitfeeder Spinning Reel – Best for Live Bait
Yoshikawa has a winning design with the Baitfeeder Spinning Reel which is far better than their other reels. This model comes in different versions from 3000 to 6000; other versions are 4500 and 5000. They all have a gear ratio of 5.5:1.
CY3000:
Weight: 11.9 oz
Max Drag 18LB
Line Cap.: 8/200, 10/160, 12/120 (Lbs/Yds)
CY4000:
Weigh: 15.0 oz
Max Drag 28LB
Line Cap. : 8/220,10/165,12/130 (Lbs/Yds)
CY5000:
Weight: 16.5 oz
Max Drag 28LB
Line Cap. 10/275, 12/220, 15/160 (Lbs/Yds)
CY6000:
Weigh: 18.6 oz
Max Drag 28LB
Line Cap.: 16/220, 20/170, 24/140 (Lbs/Yds)
The best feature of this spinning reel is the baitfeeder lever which controls up or on. The cranking handle is used to flick back or off. The excellent rear drag works well when the fish is tough to handle. It also comes with protecting gears and free spool. 
Why I Like It:
The blending of corrosion-resistant and TITAN graphite makes it sturdy. The anti-backlash system is surely an added advantage. 10+1 ball bearings give high power. Upgraded materials like superb line lay, internal bail trip, and oiled felt washers are used in this spinning reel.
Pros
It Works Great In Tough Weather And Saltwater  
Super Smooth Appearance
It Looks Very Attractive
Cons
Drag can have some issues
10. Shimano Spirex FG Spinning Reel – Best for Smallmouth Bass
Need reels for bass fishing that are inexpensive as well as durable? Well, consider the Shimano Spirex FG Spinning Reel. Shimano is a trustworthy manufacturer that produces high-quality fishing instruments.
Honestly speaking, this reel is great for walleye anglers and smallmouth, who need a reliable drag. It comes in three different models – 200 yards, 140 yards, and medium light.
Each of them contains five ball bearings and a maximum drag of 7 pounds. The noticeable feature is they all have 6.2:1 gear ratio and 2/270, 4/140, 6/110. Line capacity.
Shimano Spirex FG Spinning Reel is fully enclosed by graphite frame, rotor, side-plate, and suitable handle shank. On the other hand, Fluidrive® gearing gives more control as well as allows a high tolerance. Another noteworthy feature is its cord-forged aluminum pool and six stainless steel ball bearings.
Why I Like It:
Thanks to its auto-position casting trigger, it gives a flexible movement of handles. An extra feature of the Propulsion Line Management System makes a big difference from the rest. The easy removal spool needs just a push of the top button.
This reel is a heavy-duty weapon and reliable performer at an affordable price.
Pros
Smooth Retrieve Every Single Time Without Any Wobbling At All  
It's Reliable And Sturdy So That You May Handle Big Fish
The Casting Is Pretty Damn Quick
Cons
Specification Comparison
It can be difficult to tell the difference between all of these features and benefits. So let's focus entirely on the data and the specifications. All of this information is based on a size 3000 reel model.
Spinning Reels for Bass Fishing Buying Guide
These 10 Best Spinning Reels for Bass Fishing will be incomplete without mentioning the buying guide. I will discuss some of the great spinning reels for bass along with their benefit, specification, and limitations. As mentioned earlier, bass fishing is different from deep, inshore, or saltwater fishing. So I have added nine basic things you should know while you are going for bass. 
How can I catch more bass?
It's the most frequent question we have faced. Let's be clear – bass fishing can be tough if you don't follow some basic tips. A great spinning reel plays a vital role as well as the fishing rod in the goal of catching big bass. But there are plenty of useful tips you should follow:
Generally speaking, bass fishing is the sport of angling for the bass game fish in North American. Black bass is the species including smallmouth bass or Micropterus dolomieui, largemouth bass or Micropterus salmoides, spotted bass or Micropterus punctulatus. Black bass are comparatively strong fighters. Black bass can be found in reservoirs, lakes, ponds, creeks, rivers, or streams.
Find Cover:
The most relevant and important factor is to place the lure where the fish are feeding or sheltering. The cover comes in different forms such as wood, grass, boat docks, rocks, and lily pads. Keep in mind bass loves to hang close to cover.
Match the Hatch:
Bass are brutes. While you are attempting to catch that bass, make sure your lure matches either whatever the bass are feeding on, or is aggressive enough to mimic a predator of the bass hatchlings. If it's small or too big, it will be unsuccessful.
Versatile angler:
As bass are rude and savages, handling them is not an easy task. You have to be a versatile angler to fight with this beast. This also depends on where you are fishing whether it is in a lake or pond.
Understand the Weather:
There can be dramatic changes in weather at any time. So before going for a bass fish, learn how bass behaves under various weather conditions.
Water temperature:
The temperature may differ from time to time, even in location. So watch the water carefully when its temperature changes. The techniques may differ to catch the bass in cool or warm water, particularly the depth they move to.
Wind:
If the wind is blowing over 15mph, it can be difficult for fishing. This situation is unsuitable for properly casting or even steering the boat position. But normal quiet wind can be your friend for bass fishing.
Tying knots:
What would be more painful than tying knots on the water? Losing fish for bad knots is the worst. So to save time, pick a versatile knot.
What Size Spinning Reel for Bass Fishing?
The best size spinning reel for bass fishing is 2500. This is my personal favorite as it gives plenty of power, and line capacity (even if you are using monofilament fishing line), but also keeps the weight down.
You can use anything from 1000 to a 4000-sized reel, although the 4000 is starting to get suited for larger fish.
Frequently Asked Questions
Final Verdict
Hopefully, the 10 Best Spinning Reels for Bass Fishing will be helpful for you for your next buy. To wrap up this article, we could say each of the spinning reels has entered our list due to their top quality. But we highly recommended the Penn Spinfisher Spinning Reel for your next bass fishing.
We hope you enjoyed our article.