Shimano is well-known for making some of the most reliable, high-performance reels in the fishing industry. There are a number of low, mid and upper-tier baitcasting reels that the brand has produced in recent years and anglers of all skill levels can usually find one that's well-suited for their own personal needs. The Shimano Torium is an excellent mid-level baitcasting reel that is ideal for bottom fishing or jigging in saltwater, or even freshwater environments. 
This reel is available at a decent price and is also packed with new and exciting features. The Shimano Torium actually has quite a reputation among anglers for having a great overall feel in the hands of most anglers. You can use this reel for casting or jigging and anglers have noted that it is very well-suited for going after virtually any saltwater game fish species like tuna, wahoo, grouper and more. 
In this article, I'll take a closer look at the Shimano Torium and explain why so many anglers consider this to be among one of the best value conventional reels for larger game fish species in both fresh or saltwater. All of this review is based on my own first hand testing and angling experience.
Quantitative Score
Performance – 3/5
Durability – 4/5
Value for Money – 5/5
Overall Score – 4/5
The Shimano Torium is an exceptionally well-made fishing reel that offers plenty of reasons for anglers to opt for this model over some of the brand's other, more expensive reels. It's made of a solid, durable one-piece aluminum body that is extremely tough and capable of withstanding very heavy amounts of pressure from giant fish. The Shimano Torium also provides exceptional quality when it comes to its internal components, which are all very well-made and precision machined for the greatest functionality. 
The Shimano Torium comes in a wide variety of sizes that include more than 10 different options. Most of these sizes differ in gear ratios, but each reel model is made with the same 3+1 ball bearing system that is made with high-quality stainless steel bearings. These bearings are specially designed to eliminate friction in the reel's casts, retrieves and for when you're reeling in your catch. 
The aim of Shimano in making the Torium was to create a reel that delivered similar precision and performance as some of their premium models at a price that most anglers could more easily afford. The result was a reel that is very well-designed and has much of the same smooth feel that Shimano is best known for. 
High Efficiency Gearing System 
The Shimano Torium is made with the brand's High Efficiency Gearing system, which is specially designed to function at a much higher level due to the gears and every other internal component being made with extreme precision cutting and fit. Everything inside the reel's gear system fits like a glove and the Torium's gear system doesn't have any amount of 'play' like most other brands are known to have. 
These gears are made to withstand the extreme amounts of pressure that often results from fighting with very heavy fish for extended periods of time. The High Efficiency Gearing system offers a larger drive and pinion gear that is made to prevent twisting and pulling in the reel's gears and allow for a more precise hook set and control over your catch. 
Aluminum Construction 
One characteristic that immediately stands out about the Shimano Torium reel is that it is made with an all-metal body that's formed from Hagane aluminum. This type of metal is extremely durable and meant to withstand very heavy amounts of pressure without bending or warping during the time when you're reeling in your catch. 
Most of Shimano's other all-metal framed reels are priced at a significantly higher rate than the Torium, but this reel is available for a more reasonable cost. Serious anglers are likely well-aware of the importance of having a solid metal frame that won't bend in the slightest degree. This ultimately keeps all of the reel's internal components and gears in close alignments without the risk of them being loosened and rendered less capable of reeling in larger-sized fish.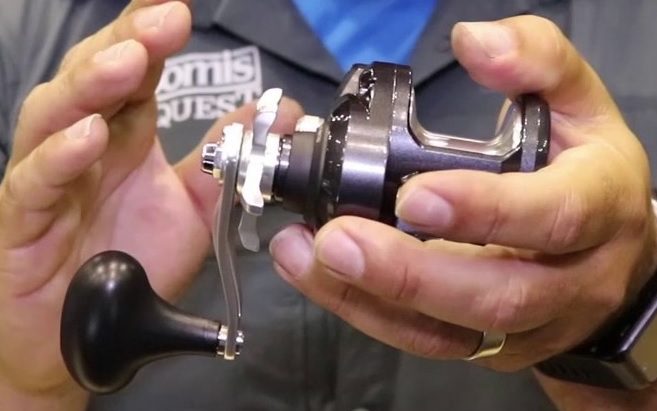 Better Aluminum Spool 
Another very important part of any baitcasting reel is the spool and the other small components that are related to its makeup. The Shimano Torium is designed from the inside out with the toughest, most durable elements you'll find in any brand. The Torium's spool is made from cold-forged aluminum material that is much stronger and capable of dealing with greater stress levels produced by massive fish pulling against the reel with all their strength. 
Anti-Rust Bearings
The Shimano Torium also features bearings that are made with Anti-Rust capability. This means the reel's one-way roller bearing is coated with special material that helps to prevent rust, even after years of use in either fresh or saltwater. The bearings that are treated with Anti-Rust Bearing material are said to be able to last up to 10 times longer than those that are not treated. 
Precision Star Drag 
One of the most talked-about features of the Shimano Torium is the specialized drag system that offers the distinctive 'click' sound that lets the angler know exactly how many turns the drag is set in one direction or the other. This drag system is made to prevent the reel from reversing without your knowledge and decreasing the drag. 
Gear Ratio
Each one of the Shimano Torium's different reel models offers a unique gear ratio that is designed to give the angler as much capability to retrieve the line more quickly, or with greater power for fighting heavier fish. The smallest models offer a 6.3:1 or 6.2:1 gear ratio, which is a bit faster than most reels of this size. The two largest models feature a 4.6:1 and 4.9:1 gear ratio, respectively. 
Other Notable Features
The Torium offers a unique manual oversized clutch that makes it very easy to switch between the free spool and drag settings of the reel. The manual clutch is designed so that the reel's clutch will not engage when you start reeling, which has been a common problem in previous versions of baitcasting reels. 
You'll also notice an oversized clicker button that is made to help alert you to instances when the drag is set too low and a fish is taking off with your bait. This clicker button is very easy to engage at your own discretion and comes in very handy when you're patiently waiting for a bite. Hearing this 'click' is a sound that is sure to get your adrenaline pumping. 
Pros
The high speed models have very high retrieve rates at over 45 inches per crank. This is particularly useful when deep dropping baits or trolling lures offshore.
I did find the all metal aluminum body to be very rigid and durable. This is a saltwater ready reel.
Cons
When you are picking a large size overhead reel that is almost 30 ounces in weight, you would expect to get more than 30 pounds in max drag. I would want a little more for big gamefishing. This reel is better suited for medium sized saltwater species.
I don't consider this reel to have the same performance as the much larger, more expensive conventional reels.
Specifications
| MODEL | MONO LINE CAPACITY (LB/YD) | WEIGHT (OZ) | BEARINGS | GEAR RATIO | RETRIEVE PER CRANK (IN) | BRAID LINE CAPACITY (LB/YDS) | MAX DRAG (LB) |
| --- | --- | --- | --- | --- | --- | --- | --- |
| TOR14HGA | 14/300, 16/270, 20/200 | 15 | 3+1 | 6.3:1 | 38 | 40/375, 50/370, 65/240 | 17 |
| TOR16HGA | 16/450, 20/320, 25/260 | 18.9 | 3+1 | 6.2:1 | 46 | 50,530, 65/330, 80/250 | 24 |
| TOR16HGAL | 16/450, 20/320, 25/260 | 18.9 | 3+1 | 6.2:1 | 46 | 50,530, 65/330, 80/250 | 24 |
| TOR16PGA | 16/450, 20/320, 25/260 | 19 | 3+1 | 4.6:1 | 34 | 50/530, 65/330, 80/250 | 33 |
| TOR20HGA | 20/420, 25/340, 30/280 | 19.2 | 3+1 | 6.2:1 | 46 | 50,710, 65/375, 80/310 | 24 |
| TOR20HGAL | 20/420, 25/340, 30/280 | 19.2 | 3+1 | 6.2:1 | 46 | 50/710, 65/375, 80/310 | 24 |
| TOR20PGA | 16/450, 20/320, 25/260 | 19.4 | 3+1 | 4.6:1 | 34 | 50/710, 65/375, 80/310 | 33 |
| TOR30HGA | 25/420, 30/350, 40/260 | 19.8 | 3+1 | 6.2:1 | 46 | 50,1015, 65/515, 80/415 | 24 |
| TOR30HGAL | 25/420, 30/350, 40/260 | 19.8 | 3+1 | 6.2:1 | 46 | 50/1015, 65/515, 80/415 | 24 |
| TOR30PGA | 16/450, 20/320, 25/260 | 20.3 | 3+1 | 4.6:1 | 34 | 50/530, 65/330, 80/250 | 33 |
| TOR40HGA | 40/470, 50/370, 60/270 | 27.9 | 4+1 | 5.1:1 | 46 | 40/1500, 50/1250, 65/920 | 31 |
| TOR40PGA | 40/470, 50/370, 60/270 | 27.9 | 4+1 | 3.9:1 | 35 | 40/1500, 50/1250, 65/920 | 35 |
| TOR50 | 40/490, 50/440 | 33.2 | 3+1 | 6.2:1 | 43 | 65/845, 80/710, 100/540 | 30 |
| TOR50HGA | 50/470, 60/370, 80/270 | 29.8 | 4+1 | 5.1:1 | 46 | 50/1600, 65/1150, 80/950 | 31 |
Conclusion 
There is no denying that this reel is made with a higher level of quality than most other brands' products that are similarly priced. The Shimano Torium is made with an exceptional level of quality that anyone who is familiar with the Shimano brand will not be surprised by. This reel is made for going after giant fish and it allows you to do so with confidence thanks to its carefully-made components. 
Last update on 2022-09-29 / Affiliate links / Images from Amazon Product Advertising API