Zebco has been a trusted name among anglers for decades. The brand is known for producing some of the best spincast reels that can be very reliable when other models might fail. Their Zebco 33 is a legendary fishing reel that many of the best anglers in the world used to begin their fishing career. 
The Zebco Bullet is one of the company's newest and most advanced products ever created. The reel contains upgraded components that make it much more durable with higher performance than any other reel in their current lineup. The Bullet is still a spincast reel, but it's one that is incredibly smooth and easy to use for anglers of all ages. 
Zebco is often viewed as a starter brand for people who are just getting into fishing, or for kids who are trying to get the hang of casting a fishing reel since the push-button design is very easy to operate. However, Zebco seems to be targeting a much more experienced demographic in the Bullet reel. 
If you're looking for a premium Zebco reel that offers the same ease you've probably experienced with some of their classic reel designs combined with the excellent performance you demand in a high-end fishing reel, the Zebco Bullet delivers a surprising amount of power and smooth action. 
In this article, I will examine the Zebco Bullet and explain how each of the new components and upgraded features help to give this reel outstanding performance compared to other spincast models that are currently on the market. 
Learn more about our scoring system.
Zebco Bullet Overview 
One of the first things that likely stands out about the Zebco Bullet is the reel's price tag. This reel is much more expensive than most of Zebco's other brands, but it could be worth the investment for anglers who are looking to get their hands on an extremely well-functioning spincast reel. 
The Bullet's housing is made with a metal housing that gives it much greater durability than other reels that feature plastic or composite material. The reel's cover is made of double-anodized aluminum, which is incredibly strong and made to adequately protect the reel's spool and other internal components. 
Zebco does make a baitcasting and a few different spinning reels, but the Bullet is their premium spincast model for this season. The reel can be used in both freshwater, or saltwater environments as the reel is made with corrosion-resistant capability. It features a ton of impressive features that should catch the attention of anglers that are either fans of the Zebco brand, or looking to add a good spincast reel to their tackle selection. 
9 Ball Bearing System 
The Zebco Bullet offers a 9 ball bearing system that is designed to significantly eliminate the amount of friction caused by the reel's internal parts. This helps to make the reel extremely smooth for both casting and retrieval, as well as when you're reeling in a fish. The Bullet is made with 8 stainless steel bearings and one Anti-Reverse bearing. 
Compared to other spincast reels made by Zebco, the Bullet offers what probably feels like the most smooth action of any model they've produced in recent years. The ball bearings help to extend the length of your cast out so that you can reach farther out than ever before with a spincast model like the Bullet. 
Spool 
The Zebco Bullet can be spooled with virtually any kind of line and most anglers who have used it prefer to spool this model with either braided line or monofilament. The reel seems to function better when it's spooled with monofilament as the line stays tightly packed onto the reel and freely spools off of it when you make casts. It rarely develops any tangles when spooled with a monofilament line, which is what we recommend using if you do purchase the Zebco Bullet. 
Gear Ratio 
The Zebco Bullet has a gear ratio that is 5.1:1 which is right in line with what most anglers are usually looking for in a good spincast reel. This gear ratio gives you enough speed to reel up quite a bit of slack if you're using a lure that requires you to pause every now and then and you'll also have plenty of power to crank down the handle when fighting larger fish. The Bullet gets its name from the speed and smoothness with which the reel operates. Even the most experienced anglers are usually surprised at how well the reel feels in their hands when casting and reeling in their lure.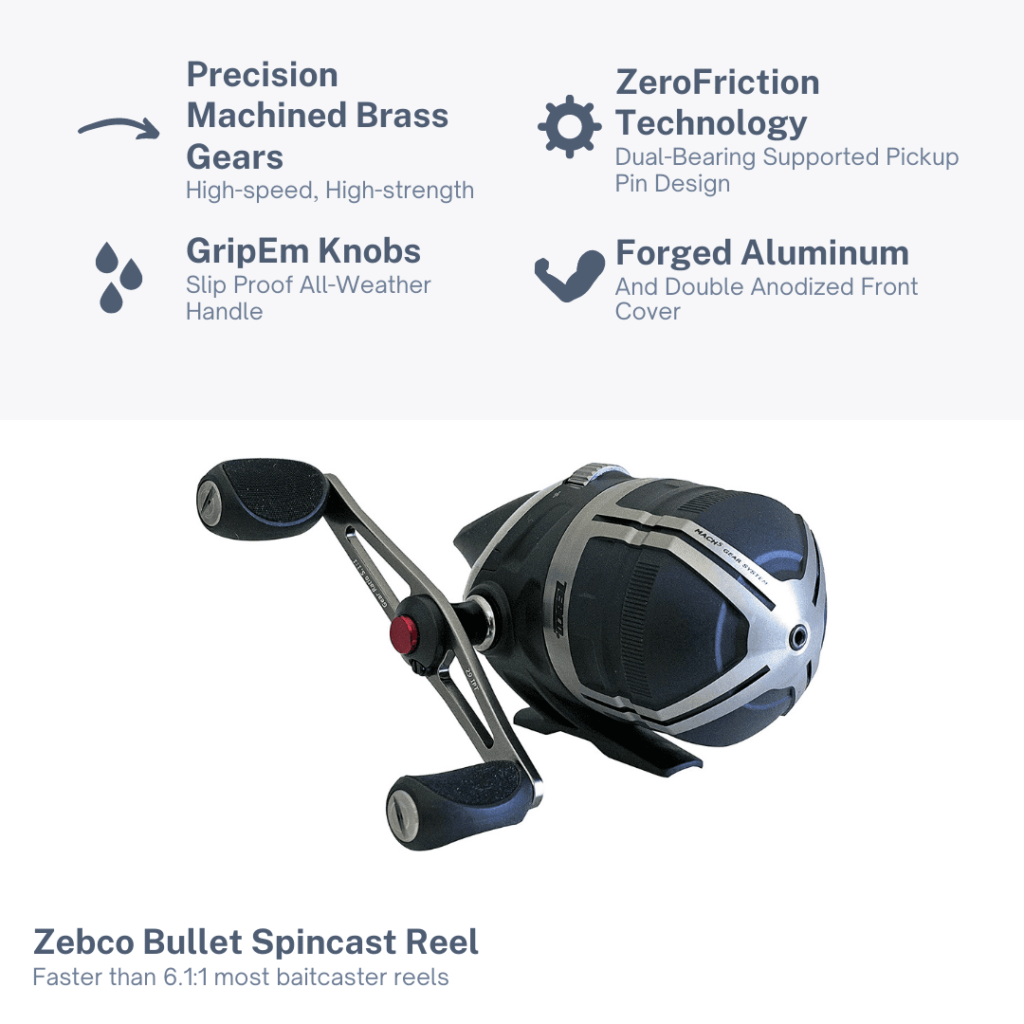 Quick-Change Spool 
The Zebco Bullet offers anglers an extra spool that is mostly intended to allow them to spool a different kind of line onto the reel very quickly and effortlessly. You can remove the outer metal cover and the spool cap to easily remove the spool and replace it with the extra spool in the event that you've been fishing for one type of fish and you're getting ready to target a different species the next day. 
You can also change the spool out on the fly with no trouble at all. This is an exceptionally useful feature for anglers who like to occasionally target different species of fish and don't want to completely spool a new line onto the reel manually. 
Other Notable Features 
The Zebco Bullet offers you the ability to adjust the drag on the fly when you're fighting a fish by flipping the dial with the thumb on your reel hand. The reel can be used ambidextrously, which means the handle can be easily swapped to accommodate right or left handed anglers in no time at all. The Bullet offers a double-handle design that is extremely comfortable to use and features a continuous anti-reverse ability that ensures you won't have to worry about line being spooled off the reel when you're not expecting it to be. 
Pros
The Bullet has a much faster gear ratio and retrieve rate of 29 inches per turn compared with its Zebco cousins and other options.
Ability to change out the spool on the run if you want different strength line.
Ambidextrous design with the handle able to swap between sides.
Cons
I have noticed it can get tangled when using braid fishing line, so I suggest you use mono.
It is on the heavy side at well over 10 ounces, which can result in some muscle fatigue if you are fishing for long periods of time or for younger anglers.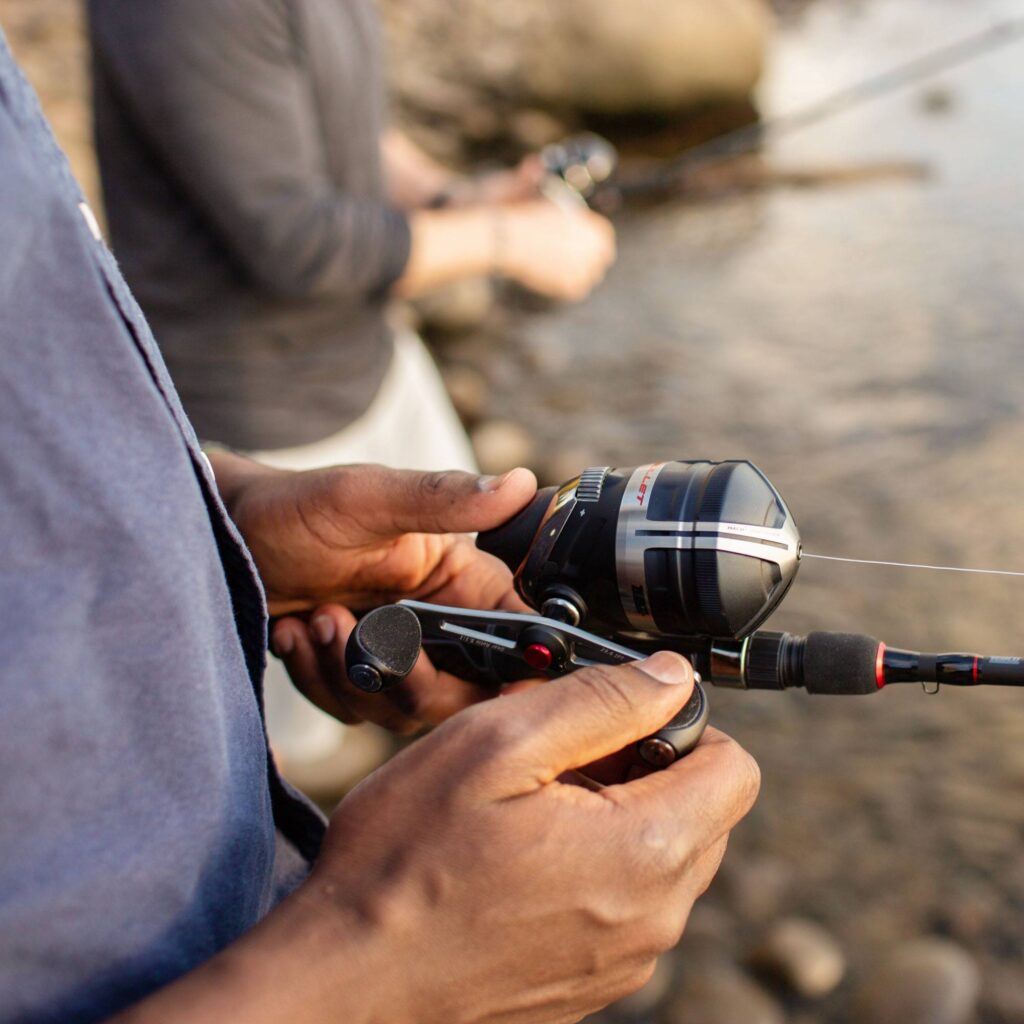 Specifications
| | |
| --- | --- |
| Specifications | ZB3 Model |
| Weight | 13.4 oz |
| Mono Line Capacity | 85 yards of 10 lb |
| Bearings | 8+1 |
| Gear Ratio | 5.1:1 |
| Retrieve Rate | 29 inches/crank |
| Max Drag | 14 lb |
Zebco Bullet Specifications
Alternative Comparison
| | | | | |
| --- | --- | --- | --- | --- |
| Specifications | Zebco Bullet | Zebco 33 | Zebco 202 | Zebco Omega Pro |
| Weight | 13.4 oz | 8.5 oz | 6.2 oz | 10.6 oz |
| Mono Line Capacity | 85 yards of 10 lb | 120 yards of 10 lb | 110 yards of 10 lb | 85 yards of 10 lb |
| Bearings | 8+1 | 1 | 0 | 6+1 |
| Gear Ratio | 5.1:1 | 4.1:1 | 2.8:1 | 3.6:1 |
| Retrieve Rate | 29 inches/crank | 23 inches/crank | 15 inches/crank | 19 inches/crank |
Comparison of Zebco's Spincast Reel Specifications
Conclusion 
The Zebco Bullet is an incredibly fun and easy reel to use. It offers plenty of smooth action and enough power to match up against most medium sized freshwater game fish like walleye, bass, and other species. Most anglers do have a few things that they are not quite happy about, which includes the fact that Zebco advertises this reel as having an all-metal design. It contains a decent amount of plastic parts, so you can't really count on the reel to be as tough as it might seem upfront. 
The reel does offer plenty of great features and capabilities that should pique the interest of any angler who prefers using a spincast reel, or is simply tired of having to deal with bird's nests in their favorite baitcasting setup.