The best saltwater spinning rods are made from corrosion-resistant materials like SiC guides and fiberglass blanks, with a non-slip cork grip, and a wide range of lengths.
The Cadence CR5 is my top choice because of its versatility and robust construction that can handle harsh saltwater environments. It features SiC guides with a robust stainless steel frame, and has a comfortable cork grip. It is ideal for anglers who value longevity and want a rod that will survive for many years into the future without any degredation in performance.
Saltwater spinning rods come in a variety of sizes. There is a big difference in the rod type you will need, whether you are targeting tuna, tarpon, or marlin.
I tested each saltwater rod in several environments to check its performance, durability, and value for money. This included inshore fishing from my local pier, offsure fishing for reef fish, and trolling for pelagic species.
Strong, yet balanced graphite and fiberglass construction
Durable one-piece stainless steel guides
7-year warranty
Comfortable EVA handle
Comfortable Cork Handle
Saltwater and Freshwater Ready
Stainless Steel Guides
Flexible with greater fiberglass content
1. Cadence CR5 – Best Saltwater Spinning Rod
Cork and EVA Handle
Fuji Reel Seat
Stainless Steel Guides
Lightweight and Strong
Key Features
SiC guides with a robust stainless steel frame
Constructed from lightweight yet sturdy carbon fiber
Finished with a blend of premium cork and EVA grip
The Cadence CR5 is undoubtedly the most adaptable spinning rod I've ever used.
Its compact design effortlessly fits in the trunk of my car and even in a boat hatch – a plus for any angler on the go.
This rod offers top-notch features that punch above its weight class in value. It proved to be superb when I was targeting game fish, and also when I decided to switch up and try for freshwater species like walleye, bass, and trout. I also had some success using it for inshore species like speckled trout, redfish, and flounder, with just a quick rinse required after fishing.
What I Admire
The CR5 fishing rods, whether in 1-piece or 2-piece configurations, are crafted with a 30-ton graphite blank. This provided an outstanding combination of power, durability, lightness, and sensitivity, which set it apart from other rods I've tested.
The stainless steel guides and SiC inserts not only make this rod remarkably durable, but also ensure a smooth experience that minimizes line resistance and friction. I was especially impressed by how these features amplified sensitivity, transferring vibrations from the fishing line to the rod.
The choice of materials used in the Cadence spinning rods stands out. These high-quality materials lend the rod strength and sensitivity without adding unnecessary weight. I appreciated that the rods were available in two handle configurations – a full grip and a carbon split grip using cork. The integration of EVA further adds value, creating a truly reliable rod that outperforms its competition.
What Could Be Better
One area where I felt the CR5 could improve is the rod handles. I believe more reinforcement on the handles could enhance durability and comfort, especially during those long fishing days.
Pros
Highly portable, making it easy to transport
Made of ultra-premium materials for enhanced durability and performance
Delivers smooth power, allowing for a seamless fishing experience
Cons
The handles could benefit from additional reinforcement for extended fishing sessions.
2. Okuma Celilo – Best Ultralight Rod
Stainless Steel Reel Seat
Aluminum-Oxide Guides
Comfortable Cork Grip
Graphite Composite Blank
Key Features
Specifically designed for trout, salmon, and bottom fishing
Offers top-notch performance without breaking the bank
This rod hits the mark when it comes to action.
It's perfectly tailored for trout and salmon, offering an aesthetically pleasing design that thankfully doesn't require you to empty your savings to include in your rod collection.
What Impresses Me
Okuma's ultralight rods are crafted to deliver extreme sensitivity. This means you'll detect even the smallest nibble – something I found particularly impressive during my testing. If your target is a smaller fish like bluegill, be prepared for a thrilling tussle.
The reel seats are robust in design, and equipped with stainless steel hoods for added durability. In addition, the rod comes with a stainless steel hook keeper, a feature that always comes in handy. The handle is fitted with sturdy, smooth cork grips, ensuring a lightweight yet reliable grip during your fishing expeditions.
What Could Be Improved
The bottom half of the rod is somewhat stiff for my liking. This might impact the flexibility for certain fishing techniques or when targeting specific species.
Pros
Durable graphite blank construction for longevity and better performance
Rear cork grips for an excellent balance of comfort and control
Thoroughly tested for quality to ensure you get the best fishing experience
Cons
The stiffness in the bottom half of the rod might hinder flexibility
The handle's design could be improved
3. Ugly Stik GX2 Spinning Rod
Solid Construction Yet Lightweight
Comfortable EVA Handle
Graphite and Fiberglass Combination
Stainless Steel Guides
Key Features
A blend of graphite and fiberglass construction for durability
One-piece stainless steel guides for enhanced strength
Unique clear tip design for added sensitivity
The Ugly Stik GX2 Spinning Rod is a sight to behold with its striking design and formidable strength. It represents the new generation of Ugly Stik, maintaining the traditional essence and heritage of the original while simultaneously amplifying the strength and durability the brand is known for.
What I Appreciate
The balanced construction of fiberglass and graphite sets this rod apart from its competition.
The Ugly Stik GX2 rods bring to the table superior balance, improved components, a lighter feel, and an impressive modern aesthetic.
A review of the Ugly Stik GX2 spinning rod wouldn't be complete without discussing its technical aspects. This lightweight rod boasts a 2-piece design, making it easy to transport and assemble.
One of the highlights of this rod for me was the EVA material used for the grip. It offered a pleasant tactile experience, enabling me to fish for extended hours without discomfort. This robust material also significantly enhances the durability of the rod. I found the Ugly Stik logo at the end of the rod a smart touch, as it allows for easy identification amidst other gear in my fishing collection.
What Could Be Improved
While this rod serves well as a travel spinning rod, I found its action a tad slow and its sensitivity not quite up to my preference, which might be something to consider depending on your specific fishing style.
Pros
Lightweight EVA grips for comfort during long fishing sessions
Balanced graphite construction ensures durability and optimal performance
Provides a lighter feel for ease of use
Cons
The action could be faster for more responsive fishing
The reel seats seem a bit flimsy, calling for careful handling.
4. St Croix Triumph Spinning Rod
SCIII Carbon material
Premium Cork Handle
Flex Coat Slow Cure Finish
5 Year Warranty
Key Features
Constructed with superior SCII graphite
Developed with over 70 years of expertise in the industry
If you're an angler who craves high-end performance without the accompanying price tag, the St. Croix Triumph Spinning Rod might just be your dream come true. Born out of St. Croix's 70-year long journey, this rod is meticulously crafted, ready to perform just when you need it most.
What I Admire
St. Croix's Research and Development department is indeed among the most advanced I've seen in the industry. They've made substantial investments in composite materials and manufacturing techniques, all of which are evident in the Triumph Spinning Rod.
This remarkable rod is built from Premium SCII Graphite, giving it strength and durability. The Fuji DPS reel seat, with its frosted silver hoods, adds an aesthetically pleasing touch. The fact that this rod is designed in Park Falls and handcrafted in Fresnillo, Mexico, speaks volumes about the attention to detail invested in its creation.
What Could Be Better
While testing the ultra-lite version of this rod, I found it to be quite flexible. This could pose a challenge when setting the hook, especially with a considerable amount of line out. I believe this rod is best suited for smaller water bodies like creeks and ponds. That being said, it is a bit heavier than I'd prefer for an ultra-lite rod.
Pros
Fine-tuned action for a range of fishing scenarios
Provides substantial hook-setting power
Impressive overall power, enhancing your fishing experience
Cons
The ultra-lite version is quite flexible
The rod is somewhat heavier than expected
The reel seat tends to lock quite easily, which could be improved for a better user experience.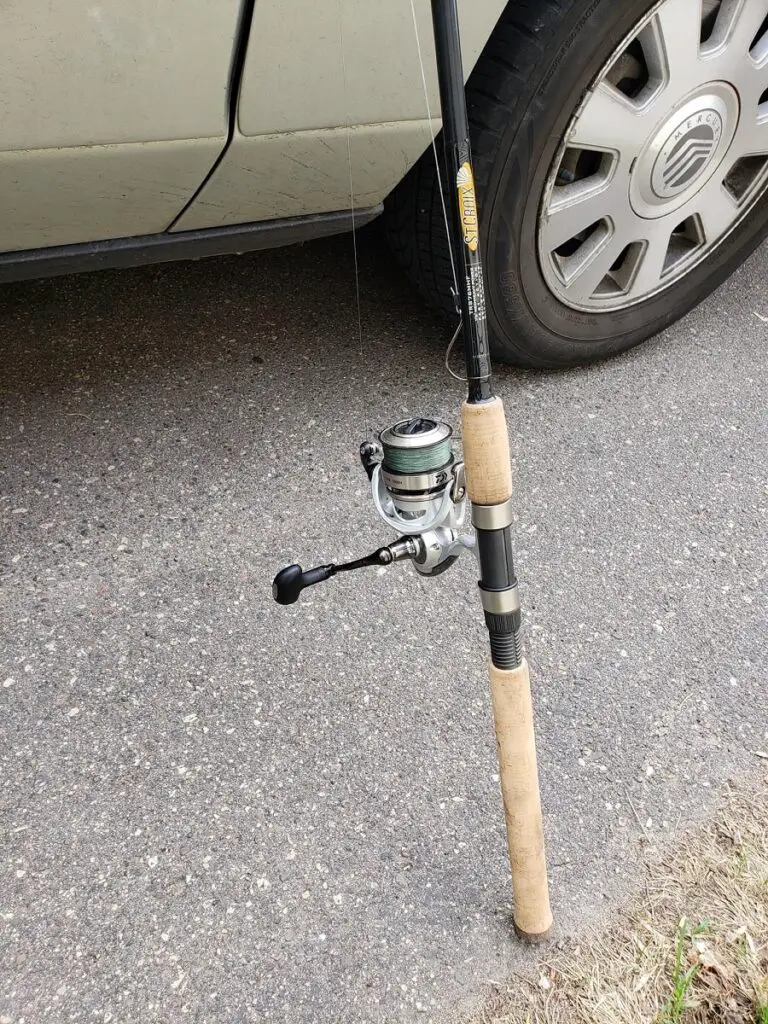 5. Ugly Stik Elite Spinning Rod
Comfortable Cork Grip
Graphite/Fiberglass Composite
Virtually Indestructible
Ugly Tuff Guides
Key Features
Perfect for all types of line, providing exceptional versatility
Clear Tip design to detect even the subtlest nibbles
The Ugly Stik Elite Spinning Rod by Shakespeare has been a joy to use. Be it larger stripers or horse redfish, I found it almost impossible to miss a single nibble. Boasting improved strength and sensitivity compared to its predecessor, this rod delivers uncompromising performance suitable for anglers of all abilities.
What Impresses Me
What's really impressive is the versatility of this rod – it can handle virtually any type of line, a characteristic that significantly broadens its utility. The Clear Tip design of the spinning rod is exceptional, responding to even the lightest nibbles.
This Ugly Stik Elite rod is composed of 35% more graphite than previous models, which makes it lighter without compromising the legendary toughness associated with the Shakespeare Ugly Stik range. The cork handles provide a sturdy, yet comfortable grip, enabling reliable hook sets and hours of comfortable fishing.
The one-piece stainless steel guides reduce insert pop-outs, adding to the rod's convenience and usability. It also features blank-style reel seats with 'D' stainless steel hoods, ensuring the reel remains securely attached. To top it off, the rod comes with a generous 7-year company warranty, reaffirming its professional performance and excellent value for money.
What Could Be Better
During my testing, I found that a notch eventually forms on the rod's surface, which tends to abrade the fishing line over time. This is something that could potentially be improved in future versions of the rod.
Pros
Ugly Tech Construction for increased durability
Enhanced sensitivity, allowing detection of the lightest nibbles
Maximum durability, backed by a 7-year warranty
Cons
The rod is slightly heavier than I prefer
The formation of a notch over time can damage the fishing line.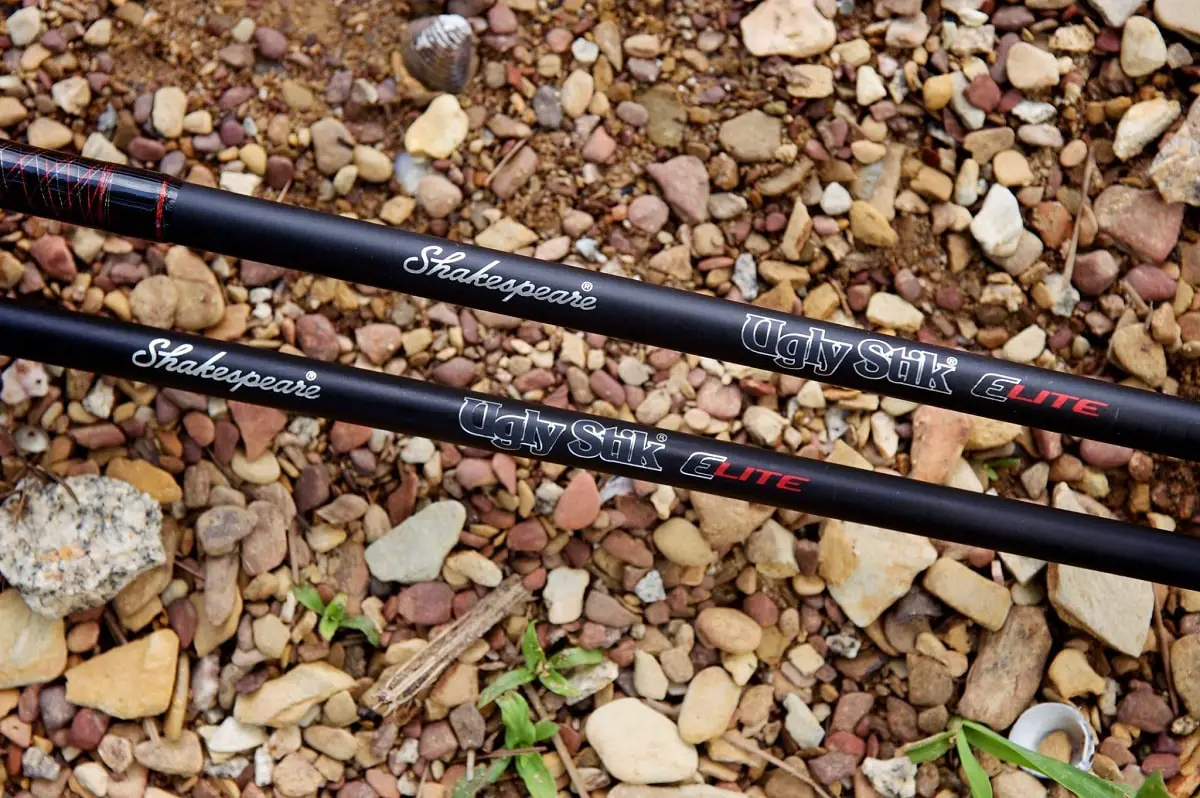 6. St Croix Premier Spinning Rod
SCII Graphite Material
Premium Cork Handles
Fuji Reel Seat
Flex-Coat Slow Cure Finish
Key Features
Beautiful black pearl design, offering both aesthetic appeal and durability
It is manufactured and handcrafted in the U.S.
SCII blank composed of mid-modulus graphite fiber for optimal sensitivity and power
The St. Croix Premier Spinning Rod, in its striking black pearl design, is not only a beauty to behold but is also sturdy and reasonably priced. With this rod in your hands, you're not merely fishing – you're becoming a part of a celebrated tradition.
What I Appreciate
The first thing that caught my eye was the rod's overall appearance. The Premier Series rod is crafted with SCII graphite blanks and high-grade components, lending it a sophisticated look and robust feel.
The rod features durable Batson aluminum-oxide guides with double-plated frames across each blank, providing rugged and reliable performance. The Fuji TCS reel seats add a lightweight, comfortable base for the reel, enhancing the overall user experience.
What I particularly enjoyed was the premium grade cork handle. It provided a comfortable grip and ample fighting leverage. In a nutshell, this rod offers an excellent blend of value, performance, and style.
What Could Be Better
In all honesty, I found this rod to be extremely sensitive. Depending on your fishing style, this may or may not be a drawback.
Pros
Offers excellent value for the price
SCII graphite blanks provide exceptional sensitivity and power
Comfortable, premium grade cork handle for an enjoyable fishing experience
Cons
The price point might be a bit high for some anglers
Its ultra-sensitivity may not be to everyone's liking.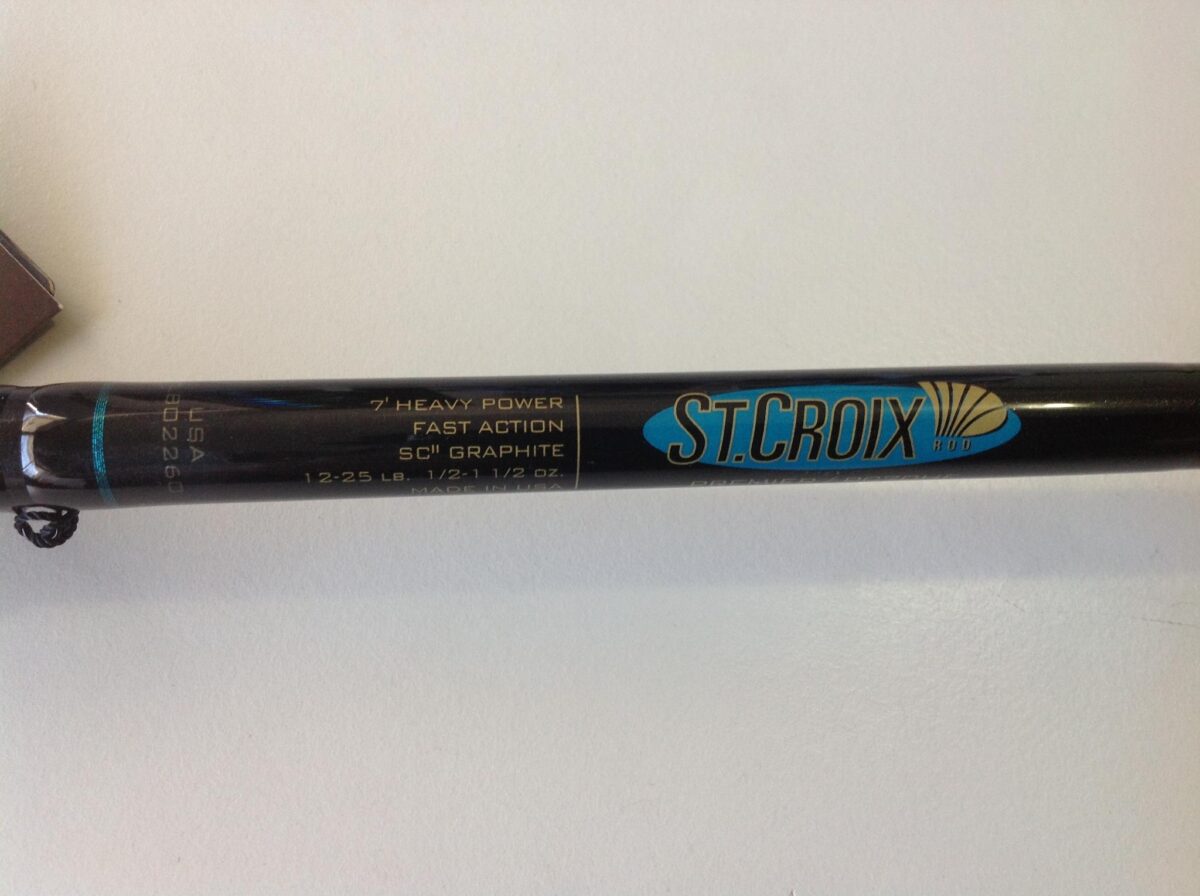 7. Cadence CR7 Spinning Rod
Key Features
Composed of 40-ton carbon graphite
Equipped with stainless steel guides and SiC inserts
Boasts a Fuji reel seat
Features premium-grade cork and EVA handles
For those seeking a medium and enjoyable fishing rod, look no further than the Cadence CR7. Its unique attributes and availability in multiple lengths make it an ideal choice for catching saltwater species as well as freshwater such as walleye, bass, and trout. The quality, features, and design of this Cadence spinning rod will surely surpass your expectations.
What Impresses Me
Before delving into the specifics, I'd like to discuss the rod's overall appearance. Constructed from 40-ton carbon, equipped with sturdy stainless steel frames and SiC guides, and topped with a comfortable Fuji reel seat, the CR7 is not only a sight to behold but also impressively durable.
The CR7 series offers two handle configurations: full grip and carbon split grip, both using premium EVA cork. The rod's design aims to deliver a high-end product at a price significantly lower than its competitors.
All Cadence products, including this rod, come with a one-year warranty and excellent customer service to make your experience as smooth as possible.
Having tested it, I can confidently say that the Cadence CR7 spinning rod provides top-tier features at an unbeatable value. The medium-fast action of this rod did not disappoint.
What Could Be Improved
I experienced issues with the sleeve on the reel nut breaking off a bit too easily. This is an area that could benefit from some improvement.
Pros
Features an extra-fast taper for optimal casting and control
Constructed from premium materials for durability and performance
Equipped with SiC guides for smooth line movement
Cons
Extremely sensitive, which may not be ideal for all anglers
The sleeve on the reel nut is prone to breaking off.
8. Tica HLHB Spinning Rod
Key Features
Crafted from TC2 graphite material
Highly sensitive blank with strength and action
Light, strong, and sensitive
The Tica HLHB rod offers unmatched performance, whether you're casting from the shore, a boat, or wading in the river. Among all saltwater casting rods, this HLHB, constructed from TC2 graphite material, stands out. This rod is lightweight, strong, and incredibly sensitive, designed to maximize your success regardless of the water's depth.
What I Love About It
Equipped with high-quality Fuji ring guides, the Tica HLHB rod prevents the rod from heating due to the friction between the fishing line and the guides, a common issue that can lead to frustrating line breakages.
These durable ring guides maintain a flat line for flawless line flow. Also, the top-grade APS graphite trigger seat guarantees the secure attachment of the spinning reel, providing hassle-free retrieves and stable performance.
When testing this rod, I was genuinely impressed by its responsiveness and how seamlessly it performed, all while keeping my line intact and flowing smoothly.
Areas for Improvement
One notable downside is that the hook keeper must be purchased separately. Considering the price of this spinning rod, I found this to be a significant dissapointment.
Pros
Enables super-fast casting for improved performance
Delivers incredibly smooth action
Impressively lightweight for easy handling
Cons
It tends to be a bit stiff, which might not suit all anglers
Hook keeper not included and must be purchased separately
Saltwater Spinning Rods Buyer's Guide
Let's discuss some of the key attritubtes that make a fishing rod suitable for the harsh environment of saltwater.
Saltwater vs Freshwater Spinning Rods
Saltwater and freshwater fishing are two distinctly different experiences. I've spent countless hours pursuing both types of fishing, and my experiences have taught me a great deal about the respective necessities of each environment.
In the world of saltwater fishing, you encounter a broad range of larger target species. From tenacious redfish and speckled trout to hard-fighting tarpon and snook, saltwater angling often demands more strength and power in your fishing gear.
However, saltwater fishing does come with its own set of challenges, especially in relation to gear maintenance. The sea's salty nature is notorious for its corrosive properties. I've learned the hard way that saltwater can wreak havoc on your gear if it's not made from corrosive-resistant materials. Not only can it damage your rod and reel, but it can also degrade your fishing line, hooks, and other tackle, compromising their integrity and effectiveness.
The best saltwater fishing gear must be specifically designed with materials that resist corrosion and rust, ensuring the longevity and performance of your equipment.
Material Selection
The first thing to consider while choosing the spinning rod is the material.
Graphite:
Mostly popular for its lighter blanks, graphite is preferable in a smaller diameter. It is strong and light but lacks impact resistance so it will break more easily if you strike it against a hard object like the side of your boat. I prefer graphite rods for baitcasters when I will be casting a lot.
Fiberglass:
It can face the abuse on boats and windy seas and is a trusted all-around rod material. Meanwhile, it's durable, strong, and flexible. I prefer fiberglass rods for heavy-duty boat rods where strength is important and I won't be doing any casting – plus I can put it in a rod holder and not worry about the extra weight.
New-Generation Composite:
A formulation of both graphite and fiberglass, New-generation composites are lightweight designed materials in spinning rods. In summary, it's a combination of durability and toughness.
High-Quality Cork Grip
Ensure the rod you pick has a high-quality cork for your comfortable grip. It's so important because this is the part you will hold in your hand most. I am a big fan of cork – it is extremely comfortable and non-slip and looks better.
Saltwater Spinning Rod Specification Summary
| Saltwater Species | Recommended Power | Recommended Action | Recommended Length | Recommended Material |
| --- | --- | --- | --- | --- |
| Redfish | Medium | Fast | 7′ – 8′ | Graphite, Fiberglass |
| Speckled Trout | Medium-Light | Fast | 7′ – 7'6″ | Graphite |
| Flounder | Medium | Moderate-Fast | 6'6″ – 7′ | Graphite |
| Tarpon | Heavy | Fast | 7′ – 8′ | Graphite, Composite |
| Snook | Medium-Heavy | Fast | 7′ – 8′ | Graphite |
| Tuna | Extra Heavy | Fast | 6′ – 7′ | Graphite, Composite |
| Mahi Mahi | Medium-Heavy | Fast | 7′ – 8′ | Graphite, Composite |
| King Mackerel | Heavy | Fast | 7′ – 9′ | Graphite, Composite |
| Sailfish | Extra Heavy | Fast | 6′ – 7′ | Graphite, Composite |
| Marlin | Extra Heavy | Fast | 7′ – 8′ | Graphite, Composite |
Wrapping Up
Considering all aspects of fishing rods discussed above will help you find the right saltwater spinning rod. However, the rod that impressed us most is the Cadence CR5. 
I have also written a guide about surf fishing rods if you intend to go beach fishing.