Zebco is a brand that's widely considered to be a true classic in the fishing industry. Their products are easily the most popular for beginner and novice anglers as the Zebco 33 and a few other models are solid spincast models that are very easy to use and deliver a hassle-free performance. One of those reels is the Zebco 202, which I will be closely examining today. 
Much like the legendary Zebco 33, the 202 model is similarly constructed, but has a few slight differences. These differences don't necessarily mean that one is significantly better than the other, but that it gives anglers an option to choose the model they want based on certain design elements and slight differences in each one's performance. 
In this article, I will be examining the Zebco 202 and giving a full review of this classic reel and all its components, as well as what kind of performance you can expect to get out of it. 
Zebco 202 Reel Overview 
The Zebco 202 is another one of the brand's mainstay models that has been around since the 1960's. Zebco actually started out as a company that specialized in producing parts for oil drilling rigs. Still, one of their engineers came up with a spectacular design for a fishing reel that would greatly reduce the amount of backlash that anglers normally experienced with the reels that were available at the time. The reels went into production and were an immediate hit with everyone in the fishing industry. 
First introduced in 1949, the Zebco 202 has stood the test of time and remains one of the highest-selling reels from the Zebco brand. There have been a few small alterations in recent years, but overall, this reel delivers much of the same reliable performance anglers want from the 202. 
The Zebco 202 is a spincast reel, just like some of the brand's other very popular models. 
It's a great option for anglers who like to fish in freshwater environments as the components of the Zebco 202 are not very well-made to hold up against the destructive properties that can be caused by saltwater corrosion. This reel is geared toward fishing for crappie, largemouth or smallmouth bass, bluegill, walleye, and other freshwater fish across the United States and the rest of the world. 
The Zebco 202 is typically sold as a rod and reel combo, but we will focus on the reel portion for this article as it's the most important part of the whole package. It can also be interchanged and fit onto several rods for freshwater fishing applications. One of the greatest things about the Zebco 202 is that it's highly affordable and perfect for anyone who is just getting into the sport of fishing based on it's price, as well as the ease with which it can be used.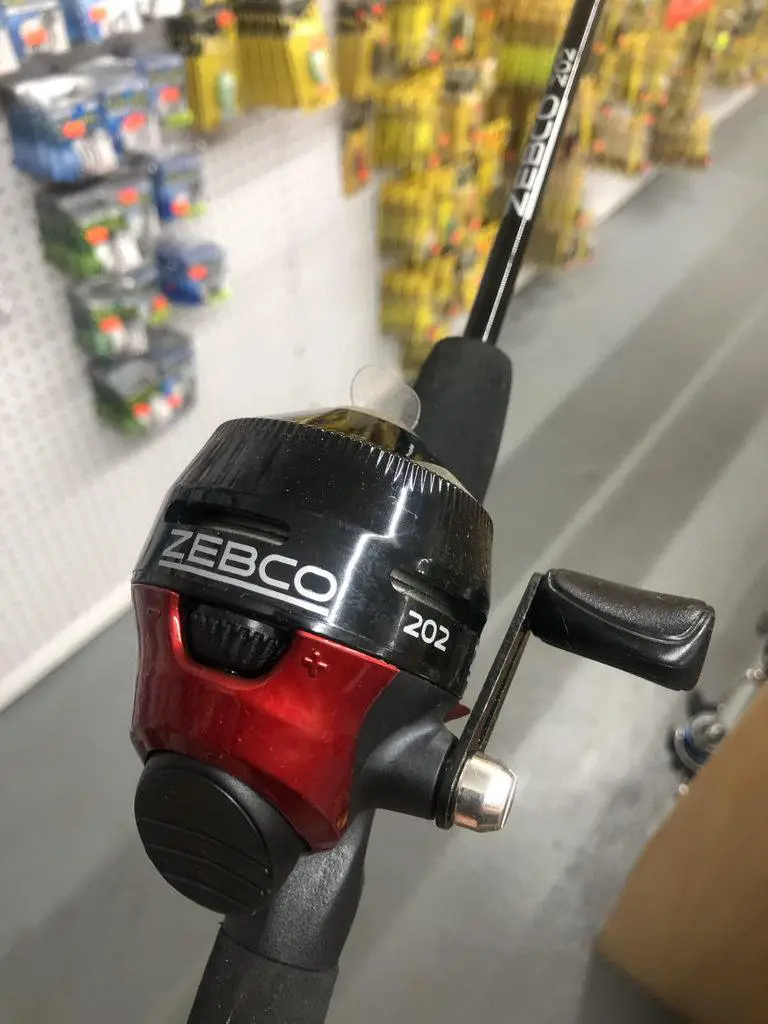 Construction
Unlike the Zebco 33, the Zebco 202 has slightly less expensive parts to serve as a budget-minded angler's dream reel. The front cover is made of plastic instead of the usual metal material common with other Zebco spincast reels. The opening on the front cover, however, 's made of metal as it helps reduce the friction that comes from the line contacting the surface of the entrance ring. 
The overall body of the 202 model is a bit more compact than the Zebco 33 and it's one that's very well-suited for kids and anyone who wants a smaller reel that's a bit lighter and possibly easier to handle. The reel's housing is typically made with a solid black coloring, although some Zebco 202 models in recent years have been made in black or red. 
Internal Components 
The reel comes with a stainless steel pickup pin that helps retrieve the line in a way that ensures less tangles and twists. This main feature makes the Zebco 202 valuable and functional among competing brands and models. The 202 reel model is recommended for kids and beginners because you rarely have to deal with the common frustrations and tangles that come with other affordably-made spincast or spinning reels. 
The brand includes in the features listed about the 202 reel a Patented No-Tangle Design that virtually eliminates much of the usual headaches that come with cheaper fishing reels. Most of the internal pieces are made of plastic, however. This is an obvious downside if you're very concerned with the reel's inside and out durability. 
The Zebco 202 reel features an all-metal gear system, which delivers the reliable nature that it's really known for. Despite being made with budget-friendly parts on behalf of the manufacturer, the 202 reel holds together quite well and gives anglers a good amount of cranking power when needed. 
Gear Ratio and Drag 
The Zebco 202 offers just a 2.8:1 gear ratio, much lower than most other reels on the market. The main reason for building this reel with such a low ratio is to give the angler as much cranking power as they can based on the reel being made with internal parts that are mostly plastic and not quite as durable as the Zebco 33. 
The reel does come with an instant anti-reverse capability that ensures your spool won't be letting out when you don't intend for it to. This is very helpful if you're fighting a fish that's a little bigger than what you're used to and you might need to pause to adjust the drag or reposition your grip without letting too much line get away from the reel itself. 
The Zebco 202 comes with a Dial-adjustable drag system which allows you to increase or decrease the amount of drag the reel has at any time while you're using it. This is exceptionally useful for anyone fishing for smaller species and hoping to hook a larger bass or other type of fish that might easily strip away line from the reel. Once you dial in the right amount of drag, you can land most freshwater fish using the Zebco 202.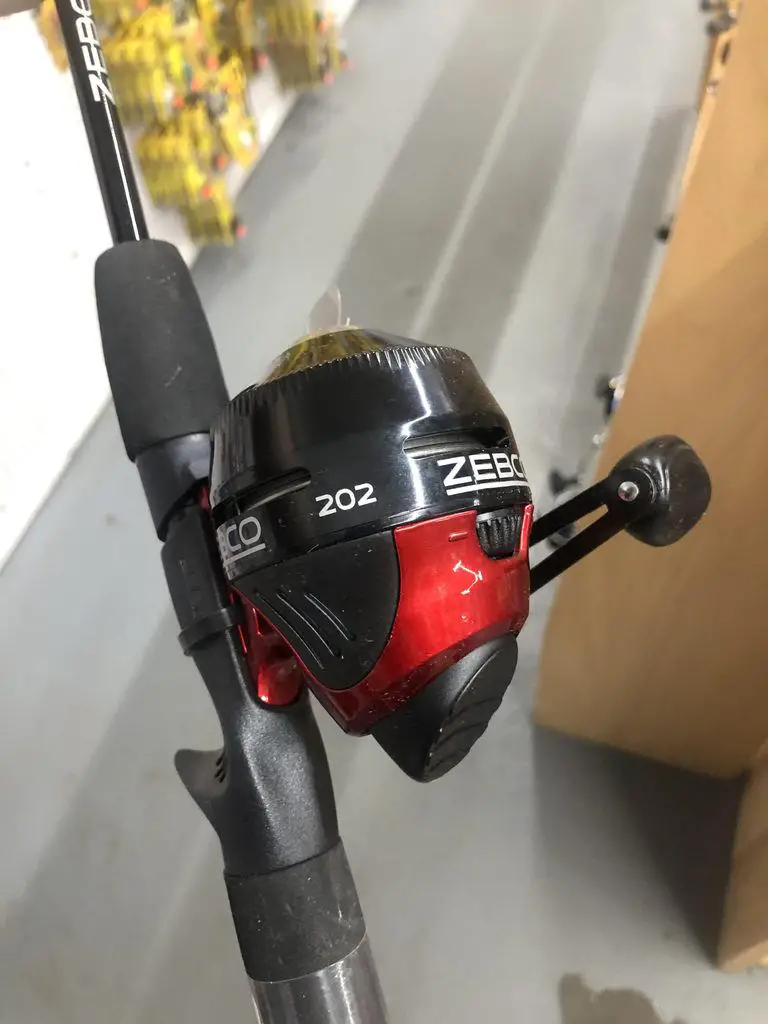 Performance 
This reel comes pre-spooled with a 10 pound test monofilament fishing line, but it can be spooled with a variety of other types depending on how you want to use it. It's not recommended to go much higher than about 15 pound test in most cases and you can spool line as small as 4 pound mono if you want to fish for trout or small panfish. The reel will hold roughly 110 yards of 10 pound mono line, which is more than enough for most types of freshwater fishing. 
It's a size 30 reel, which equates to a size 3000 for other brands. This is a highly versatile size that is great for anything from largemouth bass to bluegill and is not too large for small children to use with relative ease. 
This reel does have quite a bit of play in the handle and can also experience some drag slippage when fighting a larger-sized fish that pulls harder than expected. Nevertheless, the Zebco 202 delivers an adequate performance because it's made with parts that are not as durable as Zebco's other, more expensive models. 
Pros
Much more affordable option for a Spincast design.
If you are looking for a kids fishing reel, then this is a very viable option – It is very lightweight.
Dial adjusting maximum drag.
Cons
Regardless of how low it is, it doesn't have the performance and features to justify the price tag. Honestly, I would suggest paying up for a Zebco Bullet or Omega Pro.
Very low retrieve rate can give fighting fish an opportunity to get off the hook.
Specifications
| | |
| --- | --- |
| Model | Zebco 202 |
| Gear Ratio | 2.8:1 |
| Ball Bearings | 0 |
| Weight | 6.2 oz |
| Line Capacity | 110 yards of 10 lb |
| Retrieve Rate | 15″ Per Crank |
Zebco 202 Specifications
Alternate Comparison
| | | | | |
| --- | --- | --- | --- | --- |
| Specifications | Zebco Bullet | Zebco 33 | Zebco 202 | Zebco Omega Pro |
| Weight | 13.4 oz | 8.5 oz | 6.2 oz | 10.6 oz |
| Mono Line Capacity | 85 yards of 10 lb | 120 yards of 10 lb | 110 yards of 10 lb | 85 yards of 10 lb |
| Bearings | 8+1 | 1 | 0 | 6+1 |
| Gear Ratio | 5.1:1 | 4.1:1 | 2.8:1 | 3.6:1 |
| Retrieve Rate | 29 inches/crank | 23 inches/crank | 15 inches/crank | 19 inches/crank |
Comparison of Zebco's Spincast Reel Specifications
Conclusion 
There's no denying that this reel is one of Zebco's least expensive reels, but it brings quite a bit of decent features and capabilities. Most online retailers or tackle shops will sell the Zebco 202 for less than $20, a great deal meant to appeal to budget-minded anglers and beginners who simply don't want to spend too much money on a decent fishing reel just yet.
It has just the right components for young or novice anglers to enjoy fishing without worrying about tangles or poor performance out of their fishing reel.