Zebco is one of the most well-known names in the fishing industry as the brand has been around for many decades producing quality gear at affordable prices. There is perhaps no other fishing reel that's more reliable and easy-to-use than the classic Zebco 33. The Zebco 33 does leave a bit to be desired in performance, but Zebco's Omega Pro Reel has many of the same features and design elements of the 33, but with better quality components and a smoother performance. 
If we take a closer look at the Zebco Omega Pro Reel, it's easy to see why so many anglers who prefer spincast reels see this as one of the better models produced in recent years. It's somewhat more expensive, but for those who are willing to invest slightly more money into a solid spincast model, the Omega Pro is one that certainly won't disappoint. 
In this article, I will take a closer look at the Zebco Omega Pro Reel and what makes this reel one of the favorites among spincast enthusiasts. I'll cover the reel's components, as well as the Omega Pro's performance on the water. 
Zebco Omega Pro Spincast Reel
Overall Score – 5/5 ⭐⭐⭐⭐⭐
Zebco Omega Pro Reel Overview 
Like many other Zebco spincast reels, the Zebco Omega Pro is typically sold as a rod and reel combo. There's an obvious price difference between the Zebco 33 and 202 compared to the Zebco Omega Pro Reel, but this is a result of the Omega Pro having much higher quality components that deliver a greater overall performance. 
Unlike most other Zebco spincast reel models, the Omega Pro reel offers more ball bearings and other premium components that combine to give you a smoother feel when it comes to casting and retrieving. In fact, many anglers have compared the smooth feel you get with the Zebco Omega Pro Reel to some of the brand's spinning reel models. 
It's designed to be used in freshwater as the Omega Pro reel isn't equipped with the usual corrosion-resistant properties you need for a reel to be capable of handling the rigors of saltwater fishing. However, some anglers report that the reel can function quite well in saltwater if it's cleaned properly after each occasion. 
Overall, the Zebco Omega Pro Reel has a more sleek, ergonomic look than some of the brand's other spincast models, which are typically described as being overly large and bulky. For a spincast reel, the Zebco Omega Pro Reel is one of the better options you'll find on the market today that is also versatile enough to be used for nearly any type of freshwater fish you're likely to find in North America and other parts of the world. 
The main drive Zebco had behind the Omega Pro's design was to create a spincast reel that's just as reliable and durable as their legendary Zebco 33 or 202 models, but with a heightened level of quality in terms of the internal components used. One of the first things anglers will likely notice when fishing with the Zebco Omega Pro Reel is just how much smoother it is than what one typically expects from a Zebco reel. It doesn't have the same amount of play in the handle that's also characteristic when using the Zebco 33 since the Omega Pro is engineered with a greater precision.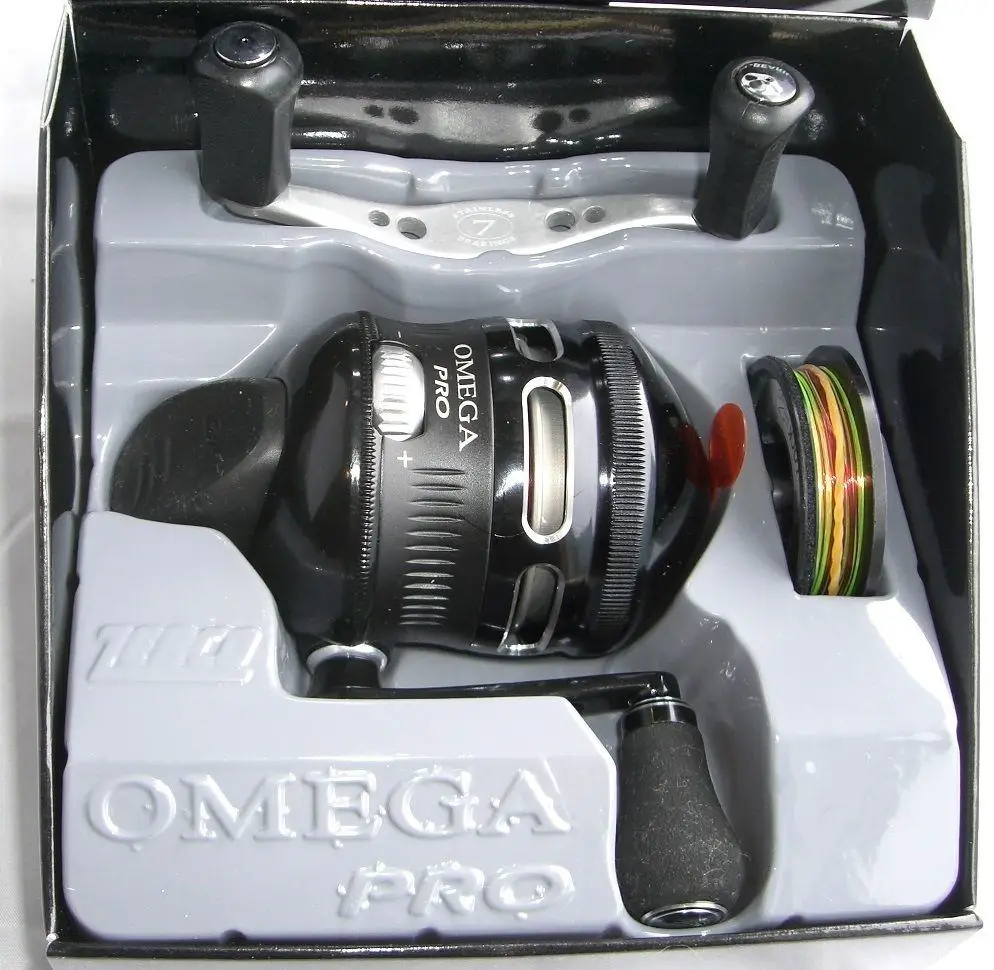 The Omega Pro Reel is one of the more durable spincast reels you'll find on the market today. Zebco's spincast series reels are known for their toughness, but the Omega Pro is designed with better components to elevate the durability to be one of Zebco's best. For most anglers, spincast reels are notoriously weak when it comes to being able to hold up against the rigors that come from catching, fighting and landing larger-sized fish. 
The usual struggle that comes with fighting largemouth bass, walleye, catfish and the other species that angler commonly use spincast reels for can put quite a strain on a reel's internal parts as well. The Zebco Omega Pro Reel is made to deliver solid levels of durability both inside and out. 
The Zebco Omega Pro Reel has a metal cover that's made out of lightweight and tough aluminum. This cover manages to provide you with enough durability while not weighing the reel down too much. The Omega Pro is also made with a ceramic line guide and rubber seal, as well as a few other internal parts that are designed to offer more ability to stand up to hard-pulling fish better than Zebco's other models are often able to. 
The forged aluminum and double-anodized cover is the heaviest piece of the Omega Pro, but it's not quite as heavy as some might think. Despite the fact that the Zebco Omega Pro Reel has slightly heavier and tougher components and parts, the reel doesn't feel that much heavier in your hands than most other spincast models produced by the brand. 
Ball Bearing System and Spool 
Zebco went to much greater lengths to produce a greater overall quality reel when it comes to the Zebco Omega Pro. The reel's internal parts are mostly higher quality than the majority of the brand's other reel models that's been released in the last few years. One of the more obvious differences between the Zebco Omega Pro Reel and the brand's other models is the fact that the Omega Pro is equipped with 7 ball bearings. 
These stainless steel ball bearings are designed to lessen the amount of friction that's produced when you're reeling your line in or casting it out. This is the main reason why the Zebco Omega Pro Reel feels so much smoother than the Zebco 33 or the 202, which has no bearings at all. The Omega Pro is fitted with 6 stainless steel ball bearings and one roller bearing, which makes it a 6+1 bearing system that's comparable to some of the spinning reel models in the same price range. 
The Zebco Omega Pro Reel is also equipped with an oscillating quick-change spool. The spool is specially designed to allow anglers to open the front cover and easily swap out the spool for another one that might have a heavier or lighter type of fishing line already spooled on. This makes it extremely convenient to change out your fishing line while you're on the water instead of having to go through the trouble to spool the new line onto the existing one by hand. 
Gear Ratio 
The Zebco Omega Pro Reel is designed with a 3.4:1 gear ratio, which is a bit faster than the Zebco 202's 2.8:1 ratio, but is still considered to be slow in terms of overall retrieval speed. Most spincast reels have a slower gear ratio than spinning or baitcasting reels, but it's usually accepted that these reels aren't necessarily designed to be as high-performance driven as some of the more premium spinning and casting reels that feature a much higher ratio. 
Most anglers who generally prefer to use spincast reels report that the 3.4:1 gear ratio is just about perfect in terms of what you really need to get out of a reel like the Omega Pro. You might not have the blazing speed you'd get from anything higher than a 6.2:1 gear ratio, but the 3.4:1 that the Omega Pro is equipped with offers plenty of cranking power to allow you to land most species of freshwater fish. 
Pros
It has a much smoother performance than its more affordable options in the Zebco 33 or 202.
Premium components and materials make it much more robust and durable.
Cons
Relatively low retrieve rate can result in losing some hooked fish but it does give good power in exchange.
Only has 85 yards of 10 lb mono line capacity, which is lower than alternate options.
Specifications
| | | |
| --- | --- | --- |
| Model | ZO2PRO | ZO3PROBX |
| Gear Ratio | 3.6:1 | 3.6:1 |
| Ball Bearings | 6+1 | 6+1 |
| Weight | 8.1 oz | 10.6 oz |
| Line Capacity | 85 yards of 6 lb | 85 yards of 10 lb |
| Retrieve Rate | 19″ Per Crank | 19″ Per Crank |
Zebco Omega Pro Specifications
Alternate Comparison
| | | | | |
| --- | --- | --- | --- | --- |
| Specifications | Zebco Bullet | Zebco 33 | Zebco 202 | Zebco Omega Pro |
| Weight | 13.4 oz | 8.5 oz | 6.2 oz | 10.6 oz |
| Mono Line Capacity | 85 yards of 10 lb | 120 yards of 10 lb | 110 yards of 10 lb | 85 yards of 10 lb |
| Bearings | 8+1 | 1 | 0 | 6+1 |
| Gear Ratio | 5.1:1 | 4.1:1 | 2.8:1 | 3.6:1 |
| Retrieve Rate | 29 inches/crank | 23 inches/crank | 15 inches/crank | 19 inches/crank |
Comparison of Zebco's Spincast Reel Specifications
Conclusion
Anyone who actually handles and feels the performance of the Zebco Omega Pro Reel will likely be able to tell why it's one of the highest-rated spincast reels on the market today. It does have its own flaws and disadvantages, but when compared to other spincast models made by Zebco and especially other brands, it's clear that this one is a cut above most others. The price is slightly more expensive, but the Zebco Omega Pro Reel offers a better overall performance and greater features that make it a worthy investment for serious anglers.