The best sized spinning reel depends on the size of fish you are targeting and the length of what diameter fishing line required to fight them. A rule of thumb is to pick a 1000-sized reel for panfish, a 3000-sized reel for bass, and 5000-sized reels and above for offshore fishing.
If you're considering a purchase of a new spinning reel, it can sometimes be a bit overwhelming to distinguish which size you really need. There are a number of factors you should take into consideration before you buy any size spinning reel, as well as any particular make and model. For most novice or beginner anglers, these size specifications might be something that's a bit hard to grasp if you've never had any experience with them before. 
Knowing which size spinning reel to purchase comes down to a few simple factors that any angler can identify. If you're looking to gather more information on spinning reel sizes and find out which size is right for you, we've compiled this simple guide to help anglers understand more about each size spinning reel.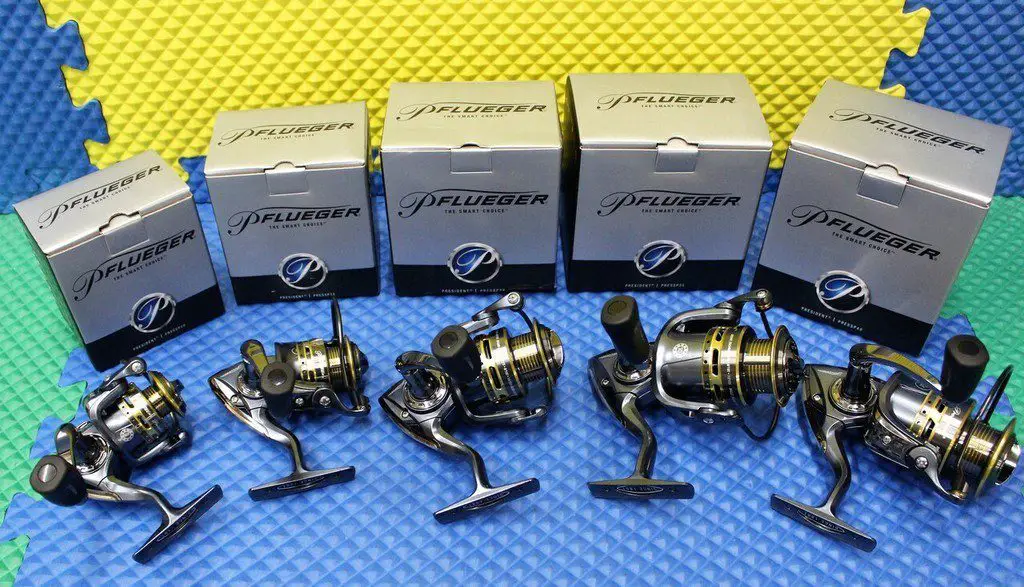 Where Do I Start in Selecting a Spinning Reel Size?
The first thing you should do when looking for a new spinning rod in the right size is take into consideration a few simple factors that will help distinguish certain sizes over others. These factors involve a few things that experienced anglers already know going into their search for a new fishing rod. 
Start by identifying what size fish you're planning to catch with your spinning rod and reel. This is easily the most important factor that will help you pick out a reel that's the right size and usually eliminate the potential for selecting anything that might be too big or too small. We'll cover this in greater detail later in the article, but an easy way to understand the different sizes is that the lower numbers represent something better suited for going after small species while the larger numbers are indicative of something you would use for big species. 
Another thing you should consider is what size and type of fishing line you plan to use. This often ties in with the size reel you will end up needing, but there are many varieties of fishing line sizes that are found in fluorocarbon, monofilament and braided line styles. Be sure to do your research and figure out what type of line is needed for the type of fish you plan to catch before you pull the trigger on purchasing your spinning reel. 
It's also smart to first think about whether or not you're going to be fishing in saltwater or freshwater. If you overlook this step, you might run into major problems that are a result of using a spinning reel in saltwater environment that isn't equipped to handle the corrosive properties of saltwater. In some cases, saltwater will quickly diminish the quality and performance of your reel. If you're going to be saltwater fishing, be sure that the reel you're looking at has corrosion-resistant material and is designed to handle the rigors of saltwater. 
Understanding Fishing Reel Sizes 
Most fishing reel manufacturers will identify the size of their reels using a simple numeric system. The vast majority of the most popular brands operate using a system that begins with 1000, 2000, 3000 and so forth. However, there are a few other brands that indicate the size of their reels using two digit numbers of 10, 20, 30, and upwards as you increase in size. 
These two different systems might seem to be confusing on the surface, but you can easily alternate between the two as a 10 size reel is equal to a 1000 size and any other corresponding numbers also coincide. To eliminate any potential confusion, you can identify the reel size using the first two digits in each numeric system. 
Spinning Reel Sizes Explained 
Small Sized Fishing Reels 
If you're planning to fish for small species like trout, panfish, or anything else that's less than one or two pounds, you're most likely going to need a small sized fishing reel. These sizes generally range from 1000 on up to 3500, with the 3500 size being considered a small-to-medium reel size that's capable of handling any small fish, as well as most medium-sized fish. 
Using a small reel means you'll need to pair it with a small sized rod as well. In most cases, it's acceptable to go with a rod that's no larger than 6' or 6'6 when using anything from 1000 to 2500 and up to a 7' rod for anything from 2500 to 3500. This is usually what most bass anglers start out with as it allows them to target younger bass that are easier to catch. 
There are a variety of different size and style fishing lines that can be used with small sized fishing reels. Most anglers will typically go with monofilament or fluorocarbon line depending on what type of fish they plan to target or the specific lure they're using. A select few might opt for smaller sized braided line, which also works well with these reels.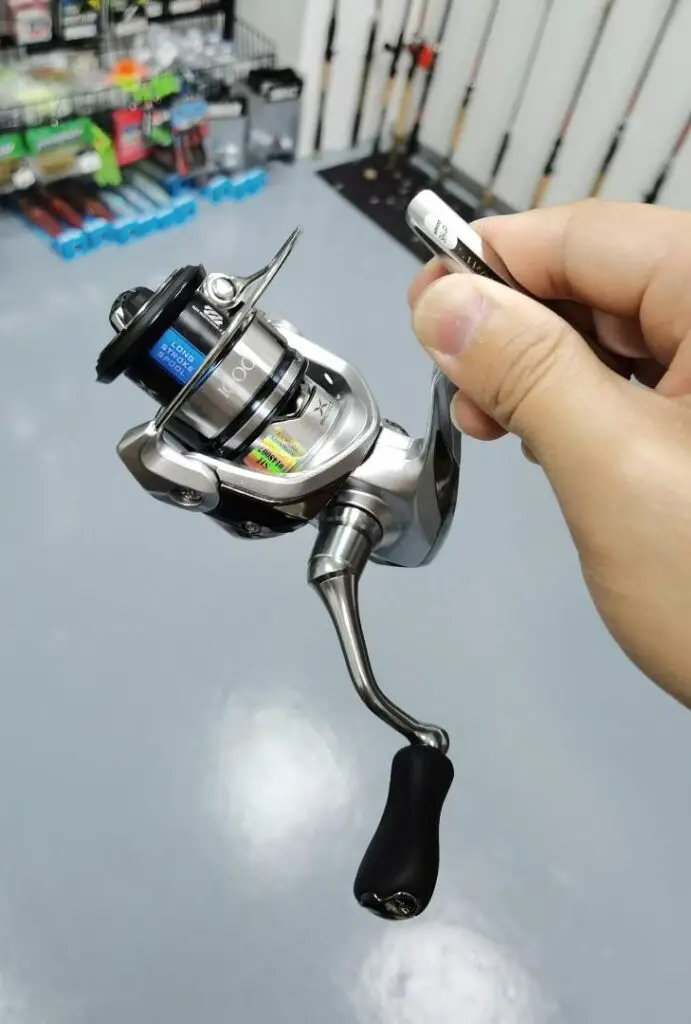 Medium Sized Fishing Reels 
Medium sized reels generally include anything in the 4000 range that extends up to a 5500 in most makes or models. This is also a very popular reel size for bass fishing as it allows you to have a light enough line to cloak your approach and not spook the fish while giving you enough power to handle trophy-sized largemouth or smallmouth bass. 
When using a medium sized fishing reel, you're able to use a slightly larger fishing rod as well. Most anglers recommend using a rod that's no longer than 7' in length while some might go with anything up to 8' depending on what type of lure presentation they want to use the rod for. The medium reel size might also present you with the greatest variety as far as gear ratios, which often allows you to select the one that's just right for your own personal needs. 
You can feel comfortable going after heavier fish with these reels as they are equipped to handle fishing line sizes that are anywhere from 10 to 25 or even 30 pound test. This is an ideal size for anyone looking to catch big largemouth, pike, walleye, or catfish in most lakes and rivers throughout the world. 
Suppose you're looking for a reel that's better suited for the smaller varieties of fish you might find in saltwater environments. In that case, we recommend going with a saltwater-resistant medium size rod as it will allow you to use a lighter line while still offering enough power in case you happen to hook something bigger than expected.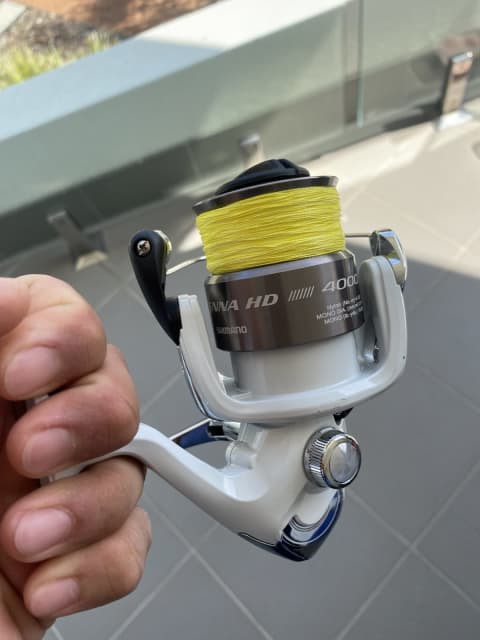 Large Fishing Reel Sizes 
A large fishing reel size is virtually anything bigger than a 6000 size. This can go all the way up to as much as a 30000 size for serious anglers who are looking to target behemoth tuna and other monster fish that lurk in the depths of the ocean. 
Large spinning reels are generally made for anglers that know what they want and what type of fish they're after. If you're a beginner, it's best to stick with a small or medium size reel until you get the hang of using it and reeling in your catch. 
As you might expect, the large size fishing reels are made to handle the heaviest fishing line as well. Some anglers might spool their large sized reel with anything as low as 15 pound monofilament all the way up to 60 pounds. Anyone using braided line might even spool their reel with as much as 100 pound test to go after giant fish species. 
Most competitive and professional catfish anglers will utilize large spinning reels in some cases, but the most common use for these reels is surf fishing and offshore angling for marlin and other massive predatory fish. 
You can feel free to use a larger, heavier rod with a large sized fishing reel as they obviously aren't compatible with smaller sizes. It's a good idea to pay close attention to what size reel the manufacturer recommends pairing the reel with, or the general sizes that most anglers typically use.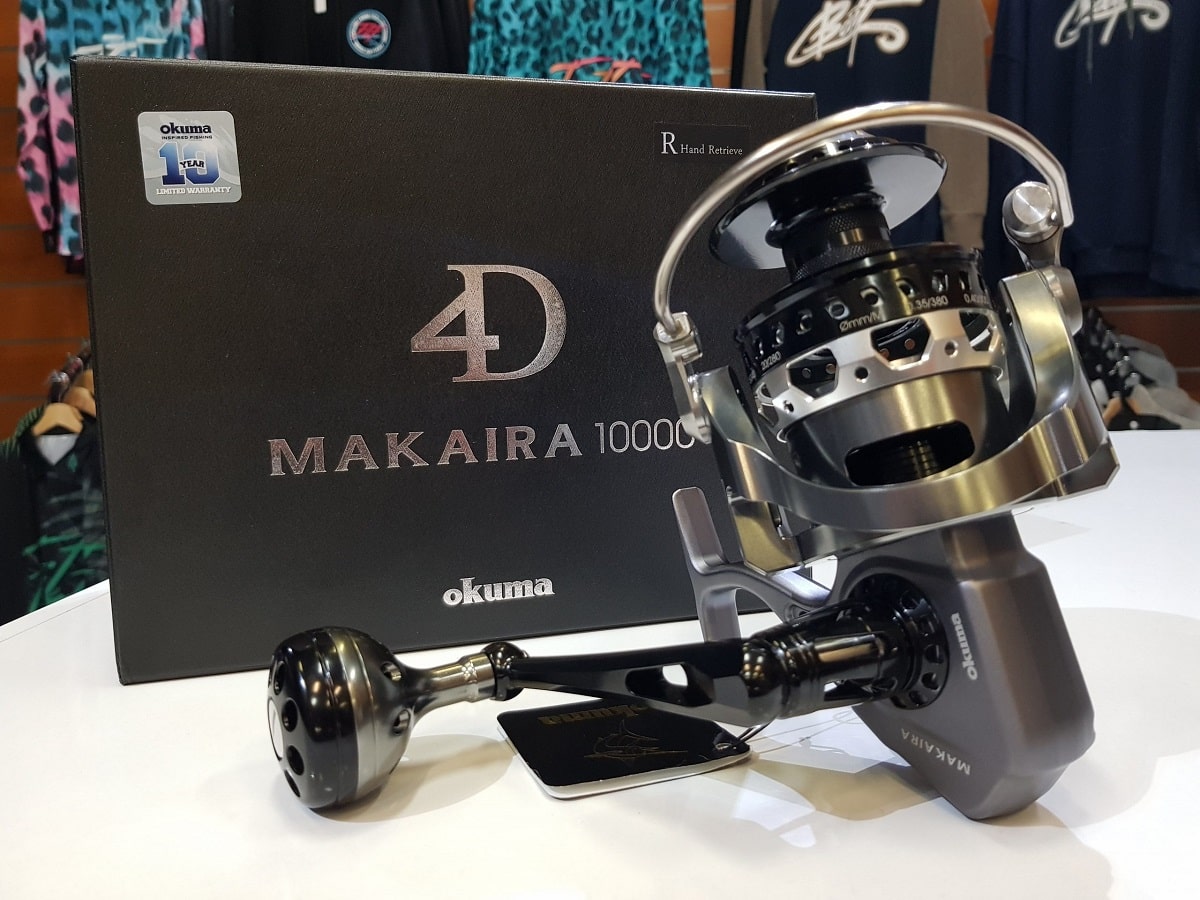 Recommended Fishing Reel Sizes
If you are targeting a particular species then please see our recommended reel sizes below:
| | |
| --- | --- |
| Fish Species | Recommended Fishing Reel Size |
| Bass | 2000 to 4000 |
| Trout | 1000 to 2500 |
| Salmon | 2500 to 4000 |
| Redfish | 2000 to 3000 |
| Pike | 5000 to 8000 |
| Catfish | 3000 to 5000 |
| Carp | 8000 |
| Tarpon | 8000 to 10000 |
| Snook | 4000 |
| Walleye | 3000 to 3500 |
| Crappie | 1000 |
| Perch | 500 to 2500 |
| Bluegill | 500 to 2500 |
| Mackerel | 6000 |
| Barracuda | 6000 |
| Cobia | 5000 to 8000 |
| Wahoo | 5000 to 8000 |
| Roosterfish | 5000 to 8000 |
| Marlin | 8000+ |
Table of Recommended Fishing Reel Size by Species
Fishing Reel Size Chart
| | | | | |
| --- | --- | --- | --- | --- |
| Model Size | General Size | Target Fish Species | Mono Line Suitable | Average Reel Weight |
| 1000-3000 | Small | Panfish, Bream, Trout, Crappie, Bass, Walleye, Redfish | 2-10 lbs | 6-14 oz |
| 4000-5000 | Medium | Bass, Salmon, Catfish, Snook | 8-14 lbs | 12-20 oz |
| 6000-8000 | Large | Wahoo, Roosterfish, Cobia, Barracuda, Mackerel | 12-45 lbs | 20-40 oz |
| 8000+ | Extra Large | Carp, Tuna, Marlin, Sailfish, Tarpon | 45-60lbs | 40+ oz |
This table explains the recommended fishing reel size depending on the target fish species
Conclusion 
If you're just getting into the sport of fishing, we hope this simple guide will help you navigate the seemingly confusing world of fishing reel sizes and other gear and equipment. Once you have a firm understanding of the type of fish you plan to catch and where you'll be fishing, you can usually experiment with a few different sizes until you find the one you prefer. 
You can also expect to pay a much higher rate for high-performance spinning reels that are made by the most popular brands. However, if you're just starting out, you shouldn't feel overly pressured to purchase an expensive reel just yet. It's better to start out with something more affordable until you get your bearings and know what you want in your next spinning reel. 
There are also different rules of thumb regarding sizes for different types of reels, such as conventional reels or baitcasting reels.