KastKing has quickly gained quite a bit of popularity in the fishing industry since the brand was established in 2014. Many of their products have a reputation for offering specific products that match the needs of anglers who want to remain within a certain budget range. The KastKing Megatron Spinning Reel is one that offers a surprising amount of solid features and performance characteristics despite being one of the brand's more affordable spinning reels. 
The KastKing Megatron Spinning Reel is not your average lower-tier spinning reel. It offers some components that you might expect to find in a higher-priced reel and it's one that's well-suited for going after larger-sized saltwater fish that are bound to put a strain on the drag of any reel. 
In this article, I'll take a closer look at the KastKing Megatron Spinning Reel and help you decide if the features and capabilities it offers might be right for your needs. 
Sealed 7+1 Stainless Steel Ball Bearings

Up to 40 lb Max Drag

Built for Raw Power

Affordable Price Tag
KastKing Megatron Spinning Reel Overview 
The KastKing Megatron Spinning Reel is one that's geared toward being a lower-cost spinning reel that can still handle the rigors that are commonly associated with saltwater fishing, especially along the surf. It offers a number of reasons why anglers should view this reel as a great value in terms of its overall performance capabilities. It's one that, despite being priced at well under $100, is expected to be able to hold up quite well when compared to the more expensive saltwater spinning reels. 
It's equipped with a 7+1 shielded stainless steel ball bearing system that gives it quite a bit of smooth action in terms of how the reel casts, as well as its ability to retrieve certain lures and heavy rigs. It's not the smoothest reel in its class, but it does exceptionally well considering the price of the reel and the fact that most of the internal parts are more budget-friendly than some of its competitors. 
The KastKing Megatron Spinning Reel truly shines when you take a look at the drag capacity and the fact that it's made with a whopping 39.5 pounds of max drag. This makes it a reel that should be well-equipped to hold up against those bigger, hard-pulling saltwater fish like red drum, mackerel, and striped bass. 
The reel comes in five different sizes that include a small 2000, 3000, 4000, 5000, and 6000 size reel. Each of these reels are equipped with either a 5.0:1 or a 4.5:1 gear ratio that's not necessarily fast by any means, but is engineered more for serious cranking power when fighting larger fish. This is one of the more popular saltwater spinning reels for budget-minded anglers looking for a serious deal in terms of quality and capability.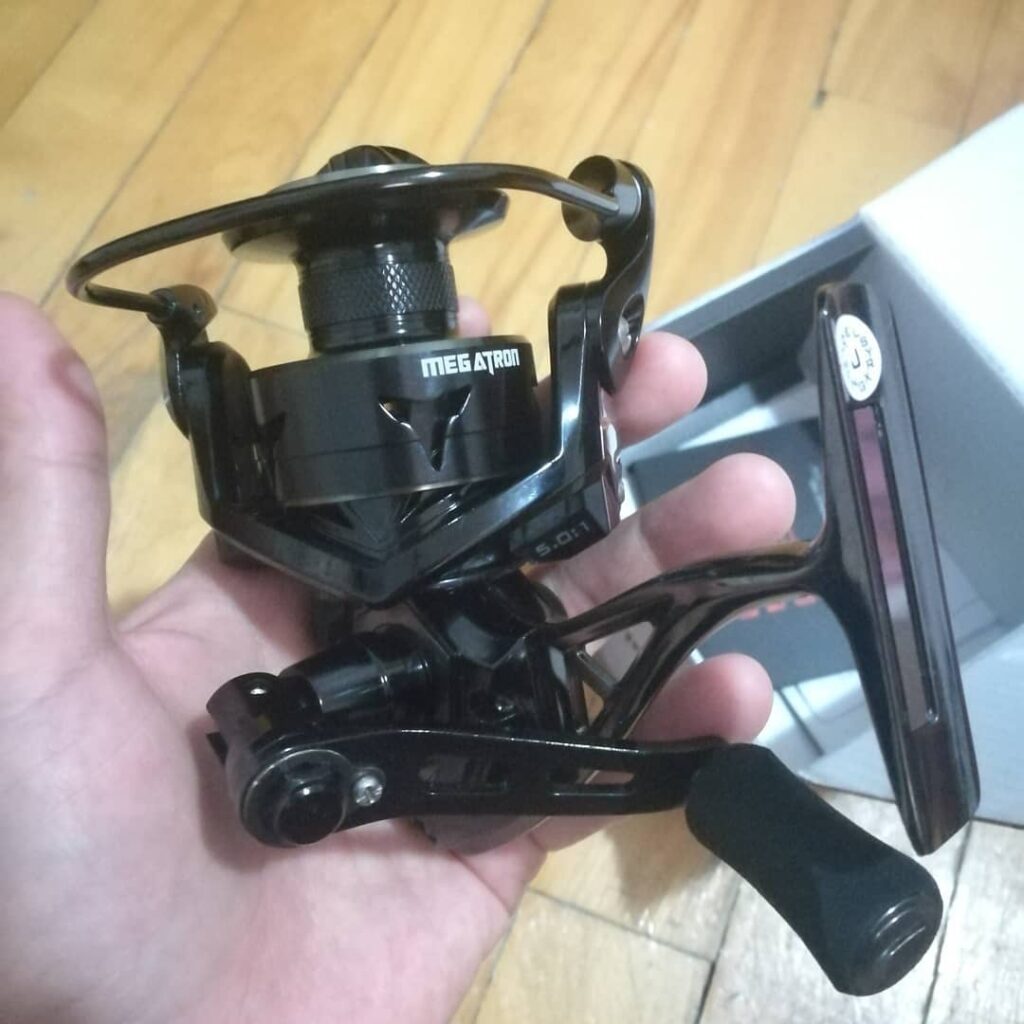 Construction 
The KastKing Megatron Spinning Reel is made with a specialized Rigid Aluminum Skeletal Frame system that is made to deliver in terms of overall toughness while limiting the reel's weight. This aluminum material is specially designed to provide plenty of strength and durability to stand up against the extreme pressures you'll experience on the frame itself, as well as the reel seat. 
This aluminum material is made of an aerospace aluminum alloy material that's as strong as nearly any reel in its class. In addition to providing exceptional strength and toughness, this specialized alloy material gives the reel a silver shine and serious demeanor that some would likely describe as an elegant look. 
Raw Power 
KastKing designed the Megatron Spinning Reel to have the ability to deliver in terms of its max drag and cranking power, but the reel's frame is also specially engineered to help disperse weight and pressure so that the pressure any monster fish puts on the reel will be significantly lessened based on the design alone. 
The brand managed to accomplish this through the use of complex geometric forms that spread the pressure and weight out across the entire frame as opposed to having it overload the spool or other specific areas of the reel. With the ability to manage pressure in such a way, the KastKing Megatron Spinning Reel has quite a bit of boost in terms of raw power that we can't ignore. 
Gear System 
One thing KastKing is well known for is making reels that offer great quality gearing systems, even if they are considered a 'budget-friendly' model. The brand was started after another reel manufacturer went out of business, but a few of the former company's most passionate engineers and design experts stuck around to build a company that would make a name for itself in terms of quality at a reasonable price. 
The KastKing Megatron Spinning Reel's gear system is built with a main drive that's made of zinc alloy which is matched in terms of power and durability thanks to a solid brass pinion gear. These two important components help the reel have its characteristic smoothness, as well as the rigidity you need to tackle the larger saltwater game fish species you're going to target with it.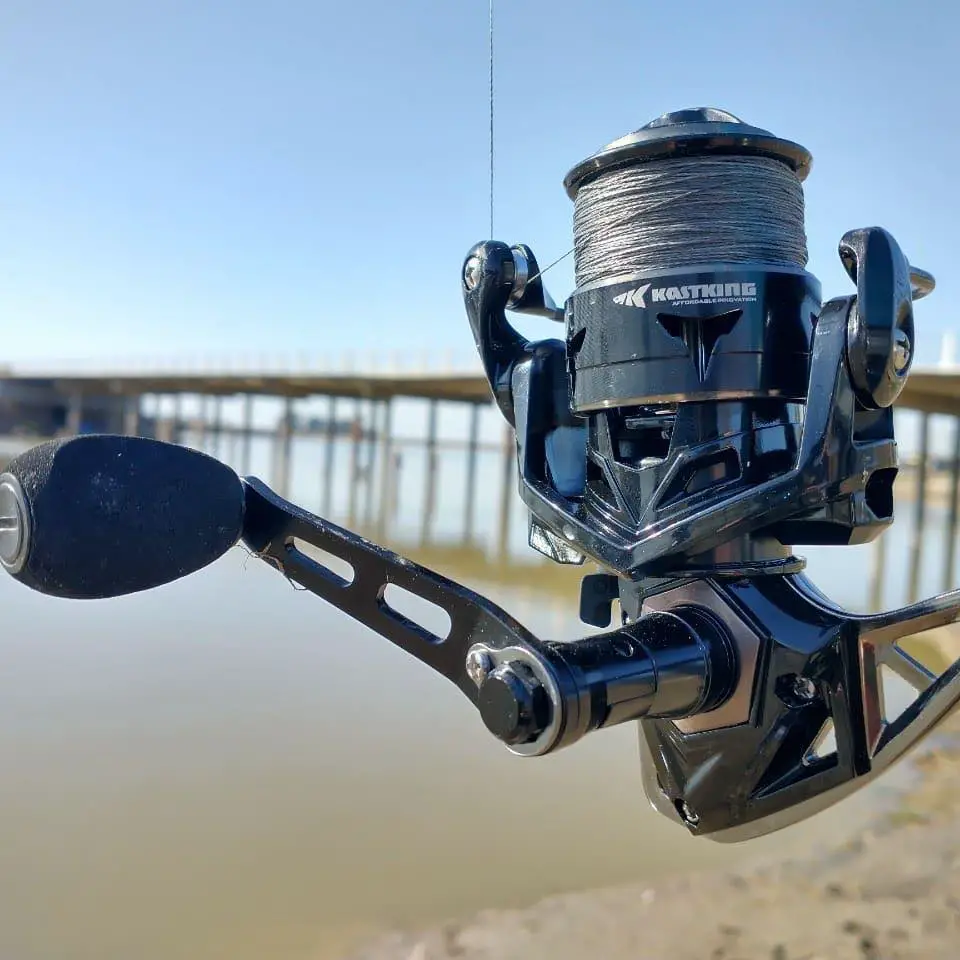 Drag System 
The KastKing Megatron Spinning Reel is built around power and toughness more than anything. The brand poured a significant amount of time into making sure the drag system was well-equipped to hold up against hard-pulling fish that you're likely to encounter along the shoreline and surf of any coastal area. 
The smallest 2000 size model of the KastKing Megatron Spinning Reel is made with a max drag weight of 33 pounds while the larger two versions are equipped with a more serious 39.5 pounds. This is the kind of power you absolutely have to possess when it comes to saltwater fishing and the massive fish species that are known for tearing off many dozens of yards of fishing line at a time when matched up with lesser quality reels and weak drags. 
Smooth Bearing System 
The KastKing Megatron Spinning Reel has a small amount of play in the retrieval, but it's hardly noticeable unless you're a seasoned angler who's used to fishing with premium-quality reels. This dynamic reel is equipped with a very capable 7+1 double-shielded stainless steel ball bearing system that is able to deliver a surprising amount of smoothness considering the fact that the reel is more power oriented. 
It's also designed with an instant anti-reverse capability that helps to ensure you won't lose any fishing line when fighting bigger fish that are certain to pull against the drag and require you to either adjust the drag, or reposition your grip. 
Line Capacity 
The KastKing Megatron Spinning Reel is capable of holding quite a bit of fishing line on the spool. The largest version of this reel is capable of holding 330 yards of 16 pound test monofilament fishing line and 180 yards of 65 pound braid. These numbers are ideal for the amounts of line you're likely to need when it comes to fishing for larger-sized game fish species that are certain to pull out considerable amounts of fishing line while you're attempting to reel them in. 
Pros
Extremely high max drag – with 33 lb for a 2000 size reel is extraordinarily high. This reel has some serious fighting power.
Very high value for money with good performance and high durability for an entry level price tag.
Personally, I just love the name.
Cons
The gear ratio is on the low side at a 4.5:1 in the larger models which gives a retrieve rate of 24.4 inches per crank. This does limit the lures that you can use to the slower, deep diving crankbaits.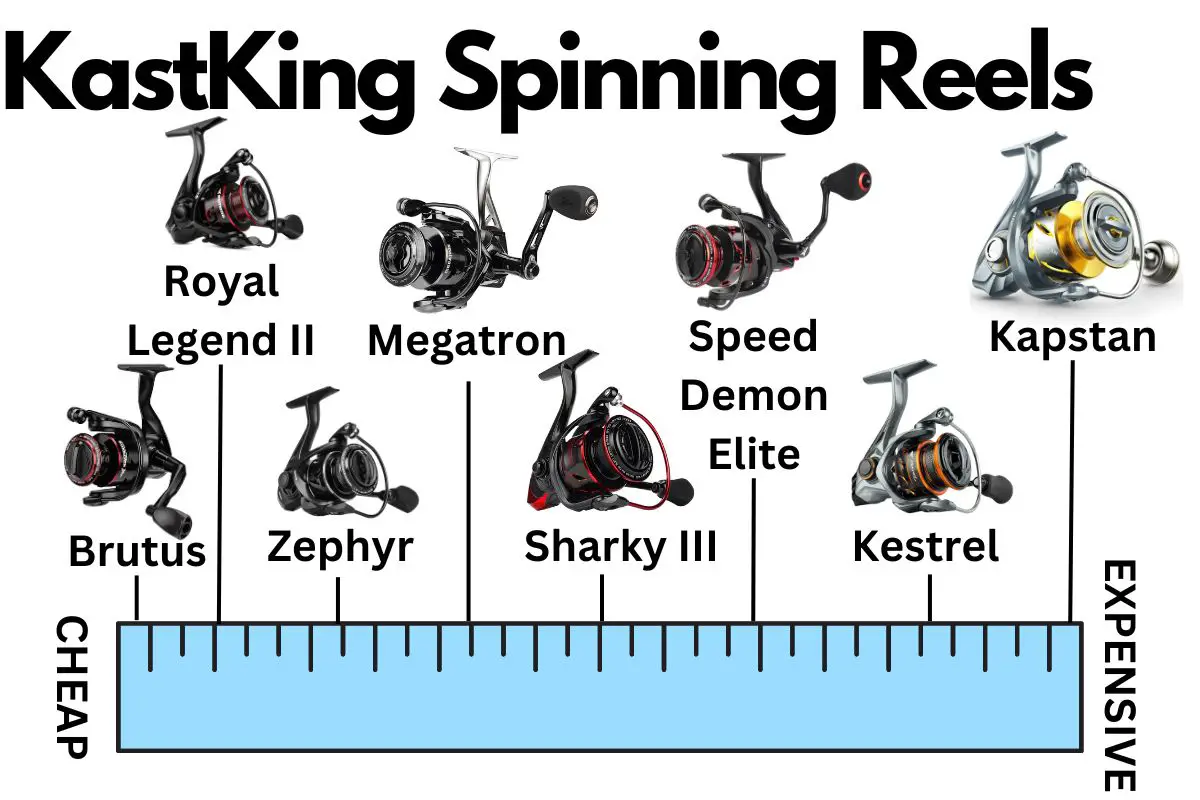 Specifications
| | | | | | | |
| --- | --- | --- | --- | --- | --- | --- |
| Model | Gear Ratio | Ball Bearings | Mono Line Capacity | Max Drag | Weight | Retrieve Rate |
| 2000 | 5.0:1 | 7+1 | 310 yards of 8 lb | 33 lb | 8.8 oz | 21.3 inches per crank |
| 3000 | 5.0:1 | 7+1 | 360 yards of 8 lb | 33 lb | 9.5 oz | 22.4 inches per crank |
| 4000 | 4.5:1 | 7+1 | 370 yards of 12 lb | 33 lb | 12.7 oz | 22.8 inches per crank |
| 5000 | 4.5:1 | 7+1 | 410 yards of 12 lb | 39.5 lb | 13.2 oz | 24.4 inches per crank |
| 6000 | 4.5:1 | 7+1 | 380 yards of 16 lb | 39.5 lb | 13.4 oz | 24.4 inches per crank |
Conclusion 
The KastKing Megatron Spinning Reel is a reel that's designed for raw power, but it's also one that is relatively lightweight as the largest and heaviest version of the reel is only 13.4 ounces. This reel certainly lives up to its name and the Megatron persona and is one of our favorite budget-friendly saltwater spinning reels that's geared toward catching big fish.
There are plenty of reasons to favor this reel as opposed to some of its competitors' products and anyone in the market for a decent low-cost reel that's both powerful and tough should seriously consider this one.