The best reels for catfish is a 4000-sized model with a minimum of 20 lb of max drag, 200 yards of 20 lb mono line capacity, a slower 4.5:1 gear ratio, and a high-quality drag system.
The Abu Garcia C3 Catfish Special is my top choice because of its premium performance that is specially built for catfish. It features a Carbon Matrix drag system and 6-pin centrifugal braking to prevent backlash. It is ideal for catfish anglers who want a reel built for large catfish and with an affordable price tag.
Catfish are widely considered to be one of the most sought-after freshwater fish in the world for several reasons. They are known to grow to massive sizes and are one of the toughest fighting freshwater species. They are regarded by rod and reel anglers as a 'heavyweight' fish that only the most skilled fishing enthusiasts dare go after. 
If you're planning to do a significant amount of catfish fishing in the lakes and rivers that run through North America or any other part of the world, you must come prepared. This means having the correct gear and equipment— most importantly, a reel that will stand up and allow you to go toe-to-toe with one of these monsters. 
In this article, I will detail the most critical factors that anglers need to keep in mind when searching for a reel for catfish fishing. 
Anodized Aluminum Side Plates
CNC Machined Aluminum Spool
Carbon Fiber Drag System
Precision Cut Brass Gears
1. Abu Garcia C3 Catfish Special
Specifically Designed for Catfish

3+1 Stainless Steel Ball Bearings

6-Pin Centrifugal Braking System

Premium Quality Components
If you're like most catfish anglers, beginner or even a seasoned professional, you're likely looking for the best reel for the money. The Abu Garcia C3 Catfish is easily one of the top choices on my list of the best reels for catfishing as it presents the user with a number of premium-quality components and capabilities, but is available for a price that is much more affordable than some of the top brands in the industry. 
Abu Garcia is well-known in the fishing industry and has been producing some of the best reels for many decades. Their latest version of the ideal catfishing reel is truly hard to beat as it packs in a number of prominent features. As the name implies, the Abu Garcia C3 Catfish reel is specially-designed for going after these whiskered monsters. 
What I Like About It
This reel comes in two main size options, the 6500 and the 7000, which are both virtually the same except for a few small differences. I tested the 6500 model. The 6500 features 3 stainless steel ball bearings with one roller bearing while the 7000 offers 2 bearings and 1 roller. As you might imagine, the 7000 is capable of holding a larger amount of heavier line, which is ideal for anglers who specifically plan to target the largest catfish in their chosen waterway. 
Both models also offer a Carbon Matrix drag system capable of holding up against the largest cats. The Abu Garcia C3 Catfish is also equipped with a 6-pin centrifugal braking. It can be specially ordered to have a power handle that will hide anglers with more torque when reeling in their catch. 
Pros
Premium-quality components
Value for money
Powerful enough to catch large catfish
Cons
The smallest model has a max drag of only 15 lbs
2. Penn Squall LevelWind
Machined Aluminum Housing and Spool for Durability
Versatile Enough for Saltwater Offshore Fishing
40 lb Max Drag
Over 2000 Yards of 80 lb Braid Capacity
Penn is known throughout the fishing community as one of the most reputable brands in the industry. Their products have been rods and reels that anglers have relied on for many decades as the company focuses on delivering top-notch quality in a price that most anglers can afford. 
The model I tested, the Penn SQL30LW Squall LevelWind is arguably one of the best catfish reels currently on the market for a number of reasons. The reel's housing and spool are made from highly-durable machined aluminum and are well-made to stand up against the toughest fights with trophy catfish. This reel could also double as a solid saltwater option as it is made with anti-corrosion capabilities that make it ideal for trolling or bottom-fishing in the open ocean. 
What I Like About It
This one is virtually made for fighting with large fish as it features a line capacity indicator that helps anglers determine how much line they have left on their reel, allowing them to adjust their efforts accordingly. The reel features a very durable stainless steel pinion gear system, as well as a tough HT-100 Versa drag system that is designed for going after big catfish. 
As with most Penn reel models, anglers can choose between a few different sizes and spools that lets you get the one that's just right for your style and approach when it comes to catfishing. 
Pros
Machined aluminum housing and spool for durability
Versatile enough for saltwater offshore fishing
Cons
Make sure you don't pick a model that is too small for larger catfish
3. KastKing Rover Round
Anodized Aluminum Side Plates

CNC Machined Aluminum Spool

Carbon Fiber Drag System

Precision Cut Brass Gears
The last option on my list of the best catfishing reels is certainly not the least when it comes to performance and capability on the water. The KastKing Rover Round Baitcasting Reel is a very reasonably-priced rounded baitcasting reel that is well-equipped for taking on monster-sized cats. 
What I Like About It
It offers an exceptionally durable body housed with anodized aluminum side plates and fitted with a CNC machined aluminum spool. This reel also features precision-cut brass gears and an all-alloy level wind. 
The carbon fiber drag system features high-quality Cymbal-Washers that are equipped to handle the toughest fighting fish while the reel MaxiDur double-shielded stainless steel ball bearings are also well-equipped for serious catfishing adventures. 
Pros
CNC machined aluminum spool
Precision cut brass gears
Stainless steel ball bearings
Cons
Multiple gear ratio options – so make sure you pick enough
4. Abu Garcia Ambassadeur 7000
Anti-Reverse Capability

Extremely High Line Capacity

6-Washer Drag System

Dual Levelwind System
While I could opt for placing another Abu Garcia reel model further down my list to diversify the options a bit, I would be doing our readers a disservice. The Abu Garcia Ambassadeur 7000 is easily one that could be considered the best overall catfish reel on the market today. This round baitcasting reel has the classic look and feel that most serious catfish anglers look for in a high-quality reel. There are also plenty of reasons you should seriously consider this model if you're in the market for a premium catfish reel. 
What I Like About It
It's tough to find a reel that is tougher and more reliable than the Abu Garcia Ambassadeur 7000, which is the model I tested. Anglers have been using reels just like this one for many decades, and it's no secret that Abu Garcia is among the top brands in the fishing industry—especially when it comes to making catfishing reels. 
This model offers a dual levelwind system and a durable 6-washer drag system that gives anglers the edge over big, hard-pulling cats. It also offers brass gears that are designed for smooth operation and dual anti-reverse capability as well. This reel is made to hold up to 300 yards of 20-pound mono or 600 yards of braid. It's also equipped with a 'clicker' that lets anglers know when a catfish is beginning to pull, ever so slightly, on the bait. 
Pros
Tough and reliable design and construction quality
Anti-reverse capability to help hold big catfish
Extremely high line capacity
Cons
Has a lower retrieve rate of 22 inches per crank
5. Lew's Speed Cast Reel
5+1 Stainless Steel Ball Bearings

Anodized Aluminum Housing

Carbon Fiber Drag

Brass Main Gear and Crankshaft
Lew's is a brand that has made significant strides toward the top of the fishing industry in recent decades as many professional anglers have increasingly started to choose their products over the tried-and-true companies that have been around for much longer. The Lew's Speed Cast Reel is another rounded baitcasting reel that is perfectly suited for catfishing on lakes and rivers. 
What I Like About It
Everything about this reel is heavy-duty and made to be as tough as possible, which is a significant advantage over other brands' products in today's market. The Lew's Speed Cast Reel is crafted with a carbon fiber drag system capable of handling the largest catfish species and 5 stainless steel bearings with one Zero Reverse bearing that serves as an anti-reverse system. 
The Lew's Speed Cast Reel is made with a brass main gear and crankshaft that will prove to be as durable as any on the market today. The reel's housing and side plates are both fitted with anodized aluminum instead of graphite, making it one of the toughest reels on my list and one that is fully capable of fighting monster cats. 
Pros
Carbon fiber drag system
Stainless steel bearings for corrosion resistance
Anodized aluminum housing and side plates
Cons
6. Daiwa BG
Saltwater Ready

Braid Ready - No Mono Backing Required

Machined Aluminum Housing

Infinite Anti-Reverse System
Overall Score – 4/5 ⭐⭐⭐⭐
Performance – 4/5 ⭐⭐⭐⭐
Durability – 5/5 ⭐⭐⭐⭐⭐
Value for Money – 4/5 ⭐⭐⭐⭐
For anglers who prefer an open-faced spinning reel as their main choice of weapon for trophy catfish, look no further than the Daiwa BG Spinning Reel. The main drawback of this particular reel is that it is quite expensive compared with others on my list, but there's no denying that it is made of exceptional quality. 
What I Like About It
Daiwa is another top name in the fishing industry and catfish anglers who have been in the game for more than a few years are likely already aware that some of the most skilled catfish anglers prefer this company's products over any other. The Daiwa BG Spinning Reel features a sturdy and tough housing that's crafted from anodized aluminum material, which means it's a bit heavier than most others on my list, but will not easily break under immense pressure. 
The spool is also made with ABS aluminum material and the carbon drag system gives anglers a serious edge when it comes to fighting against large catfish that often get the better of anglers that are equipped with weaker drags. The Daiwa BG Spinning Reel features a high-quality 6+1 ball bearing system that is exceptionally smooth. 
Pros
Anodized aluminum housing for durability
Very versatile option for different kinds of fishing
Cons
I personally prefer overhead reels for catfish
Tends to be heavier than alternate options
7. Okuma Convector Reel
Mechanical Stabilization System for Gear Alignment

Depth Counter to Put Your Bait in the Right Place

Self-Lubricating Gear System

6.2:1 Gear Ratio
Anglers who have been paying attention to some of the hottest up-and-coming brands on the market in the last decade have likely picked up on the fact that Okuma is one of the best companies in the fishing industry. This brand has established a reputation for producing great quality products for a reasonable price that most anglers can afford. The Okuma Convector is no different in that respect. 
This rounded casting reel is surprisingly lightweight despite having a housing and side plates that are made of aluminum material. This reel's spool is also crafted from machined aluminum and the drag can be adjusted using a single star ratchet tool. This drag adjustment method isn't very convenient for adjusting the drag while an angler is fighting to reel in a catch, but it allows for a precise adjustment. 
Model Tested: Okuma Convector 45
What I Like About It
The Okuma Convector features a self-lubricating gear system that creates an exceptionally smooth performance and a Mechanical Stabilization System that helps the reel maintain proper alignment despite being put through numerous bouts with large-sized catfish. 
This reel also offers anglers a depth counter that is prominently displayed on the top of the reel to allow anglers to properly monitor their depth range at all times. The reel comes in six different sizes, allowing anglers to select the right one for their needs. 
Pros
Mechanical Stabilization Systems keeps the gearing properly aligned
Depth counter to put your bait in the right place
Cons
Inconvenient drag adjustment mechanism
8. Penn Spinfisher VI Reel
Saltwater Ready

IPX5 Waterproof Seal

HT-100 Drag Washers

Stainless Steel Ball Bearings

Full Metal Body
Overall – 4/5 ⭐⭐⭐⭐
Performance – 3/5 ⭐⭐⭐
Durability – 5/5 ⭐⭐⭐⭐⭐
Value for Money – 4/5 ⭐⭐⭐⭐
Update July 2023 - At ICAST 2023 the Penn Spinfisher VII was released. This model comes with new technology, improved materials, and better specifications.
The Penn Spinfisher VI is arguably one of the best spinning reel models in today's market that is well-suited for catfishing. This particular reel is another model in a long line of outstanding quality reels that professional catfish anglers have come to rely on during serious competition. 
The carbon fiber HT-100 drag washers are fully sealed and protected, offering anglers a tough and smooth drag system that should hold up against just about any sized catfish in lakes and rivers around the world. The reel is equipped with a CNC gear system that helps it maintain a well-balanced feel. 
What I Like About It
Anglers who are looking for an exceptionally tough spinning reel option will likely appreciate that this reel offers a Full Metal Body and side plates that help provide added structural integrity that will stack up against the meanest catfish you'll encounter. 
The Penn Fishing Spinfisher VI comes in a multitude of options that allow anglers to select the ideal size for the fish they plan to target. With a 5+1 stainless steel ball bearing system, it's easy to see why so many seasoned catfish anglers prefer to use this model over the many other choices they could take to the water with. 
Pros
HT-100 drag washers
Versatile for different fish species
Full Metal Body and Side Plates
Cons
I prefer overhead reels for catfish
9. Shimano Sedona FI
Overall – 3/5 ⭐⭐⭐
Performance – 3/5 ⭐⭐⭐
Durability – 3/5 ⭐⭐⭐
Value for Money – 4/5 ⭐⭐⭐⭐
Shimano is easily one of the most popular brands in the fishing industry and has a stellar reputation when it comes to producing some of the best spinning reels on the market. The Shimano Sedona FI Spinning Reel is an outstanding model for anglers who want to stay within a reasonable budget, but prefer to use a large sized spool that can be matched with a catfish rod and be used to catch plenty of other game fish species. 
I field tested the FI 8000 model.
Shimano reels are all about toughness and exceptional performance, making the Shimano Sedona FI Spinning Reel an easy addition to my list of the best catfish reels as it features a surprising number of capabilities and characteristics that serious catfish anglers typically look for in their reels. It offers anglers with a tough, but lighter G-free body housing that also features a Magnumlite rotor for exceptional durability and performance. 
What I Like About It
Like so many other top notch spinning reel models, this reel is made with Hagane gears, which are considered to be among some of the most well-made in the fishing industry. The Sedona FI offers anglers with an incredibly smooth 3+1 ball bearing system that feels much more like it has double the number of bearings. 
The larger sizes of the Shimano Sedona FI Spinning Reel are the more suitable models recommended for catfish anglers. Each one provides a 6.2:1 gear ratio that allows anglers to gain some serious ground on catfish can often rip away several feet of line per second. If you're looking for a budget-friendly spinning reel, this is one that is virtually perfect. 
Pros
Budget-friendly option
G-Free Body puts the center of gravity closer to the rod for less muscle fatigue
Cons
Make sure you pick a large enough reel for large catfish
10. Abu Garcia Ambassadeur Blue Yonder
Stainless Steel and Aluminum Housing

Stainless Steel Ball Bearing

Carbon Matrix Drag System

Duragear Brass Gear
As we've already mentioned, Abu Garcia makes a strong case for being the absolute best brand when it comes to producing reels that are ideal for catfishing. The Abu Garcia Ambassadeur Blue Yonder is an easy and clear addition to my list that should probably be ranked higher if it weren't for the fact that this model is exceptionally more expensive than any other option on this list. However, anglers who are seeking the absolute best catfishing reel they can find should seriously consider investing a few extra bucks into this model as it really is the total package when it comes to catfishing. 
This is another round baitcasting model that delivers an exceptionally-smooth performance despite using extremely heavy fishing line in either mono or braid. The housing and side plates are made out of super durable stainless steel and aluminum material that is made to stand up against anything you'll encounter on the water. 
What I Like About It
It offers a simple 2 stainless steel ball bearing system that is also crafted with a single roller bearing that delivers an incredibly smooth casting and reeling experience. The reel also offers anglers the ability to adjust their drag system and other elements using the Duragear brass gear and MagTrax brake system. 
With a corrosion-resistant anti-reverse bearing and a Carbon Matrix drag system, it's easy to see why so many anglers are willing to drop a bit more money into this exceptional-quality reel. 
Pros
Total package for catfish
Corrosion resistant
Stainless steel housing and side plates
Cons
More expensive than alternatives on my list
Specification Comparison
All of these reels have been compared by looking at the key specifications of their 7000 sized options or their closest alternative.
| | | | | | |
| --- | --- | --- | --- | --- | --- |
| Catfish Reel | Gear Ratio | Max Drag | Mono Line Capacity | Ball Bearings | Price Range |
| Abu Garcia C3 Catfish Special | 4.1:1 | 20 lb | 250 yards of 20 lb | 3 | $$$$ |
| Penn Squall II LevelWind 50 | 4.0:1 | 33 lb | 770 yards of 20 lb | 4 | $$$ |
| Abu Garcia Ambassadeur 7000 | 4.1:1 | 20 lb | 250 yards of 20 lb | 2 | $$$$ |
| Lew's Speed Cast 600 | 5.3:1 | 15 lb | 210 yards of 20 lb | 4+1 | $$ |
| Daiwa BG 8000 | 5.3:1 | 33 lb | 500 yards of 20 lb | 6+1 | $$$ |
| Okuma Convector 45 | 6.2:1 | 20 lb | 450 yards of 20 lb | 2+1 | $$ |
| Penn Spinfisher VI 7500 | 4.7:1 | 34 lb | 330 yards of 20 lb | 5+1 | $$$$ |
| Shimano Sedona FI 8000 | 4.9:1 | 24 lb | 185 yards of 20 lb | 3+1 | $$$ |
| Abu Garcia Ambassadeur Blue Yonder | 5.3:1 | 20 lb | 250 yards of 20 lb | 3 | $$$$$ |
| KastKing Rover Round | 4.2:1 | 25 lb | 280 yards of 20 lb | 4+1 | $ |
Catfish Reel Key Specification Comparison Table
Catfish Reels Buying Guide 
When it comes to purchasing a reel that is intended to be used mainly to target catfish, there are some essential factors you'll need to pay attention to. Many of the same tips you might commonly consider for purchasing a bass fishing reel or one for other species of fish will not apply when it comes to catfish reels. 
In most cases, these reels will have their own set of quality indicators especially aimed at making sure you'll have the right kind of performance capabilities for your equipment to hold up against a giant trophy catfish. Here are some essential tips to consider as you're looking to purchase a catfish reel.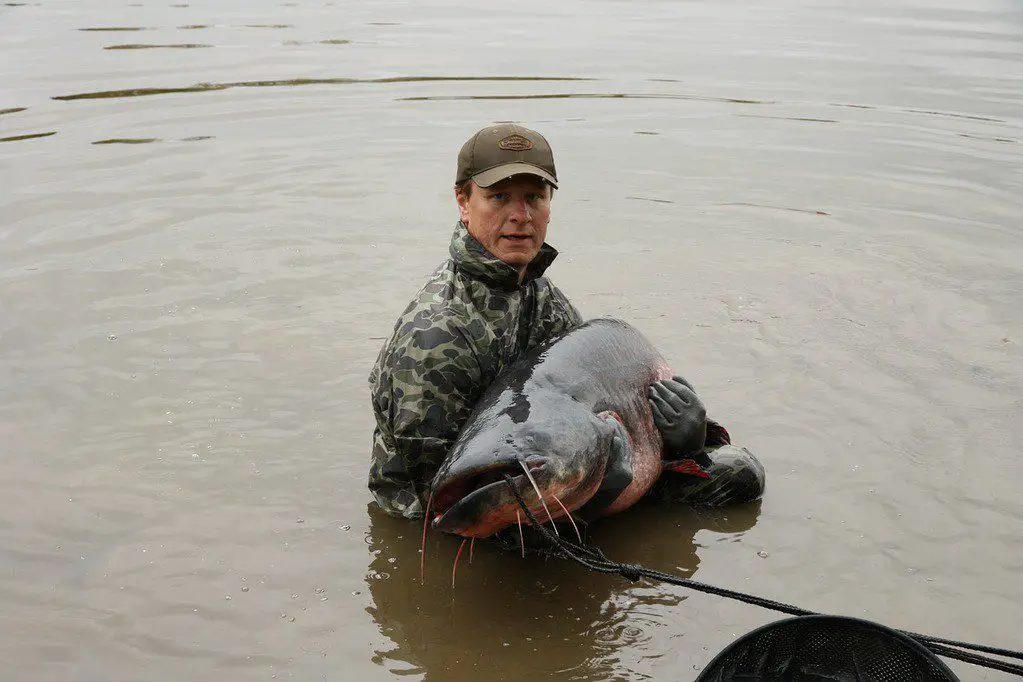 | Specification | Recommended Value for Catfish |
| --- | --- |
| Reel Type | Baitcasting or Spinning |
| Line Capacity (Mono) | 150-300 yards of 20-40 lb test |
| Line Capacity (Braided) | 200-400 yards of 30-65 lb test |
| Gear Ratio | 4.9:1 – 6.4:1 |
| Drag System | Carbon Fiber or Multi-Disc Drag |
| Maximum Drag | 15-30 lbs |
| Ball Bearings | 5-10 |
| Frame Material | Graphite, Aluminum or Carbon Fiber |
| Handle Design | Large EVA or Rubberized Grip |
| Retrieve Rate | 25-35 inches per turn |
| Weight | 7-16 oz |
Type of Reel 
One of the most important things to consider when it comes to your search for the best reels for catfish is the specific type or style of reel. As most anglers are well-aware, one can choose between a spin-cast reel, a spinning reel, and a baitcasting reel for catfishing or going after virtually any other type of fish. 
Each type of reel will have its own unique advantages and drawbacks or pros and cons. Understanding and paying attention to the various good and bad aspects of these types of reels is the beginning step in your journey to find the best reel for catfishing. 
Spincast Reels
Spincast reels are considered ideal for anglers who might just be getting started in catfishing. These models are very straightforward and require little technical knowledge in order to properly use them for catching catfish. They are the most simple type of catfish reel to use and are the perfect choice for beginner anglers and kids who want to learn how to get started in the exciting world of catfishing. 
One of the main drawbacks to spincast reels is that you'll be very limited as to the overall amount of accuracy and the distance you can cast with them. While these spincast reels are excellent choices for young anglers and beginners, they are really not ideal for any angler with a significant amount of catfishing experience.
Spinning Reels 
Spinning reels are also very popular for catfishing, but for several reasons. These reels are designed to allow anglers to cast their rigs much farther than they might be able to with a spincast reel. Spinning reels are also much more accurate than spincast reels and will allow anglers to make more precise casts. This is a key advantage of having a catfish spinning reel as it will allow a skilled angler to cast their rig and bait in just the right spot, which is crucial when fishing in or around heavy cover or other major structures that can result in getting hung up or tangled. 
The main downside of using a spinning reel is that these particular types of reels are not necessarily well-equipped to handle heavier lines of more than about 20-pound test in most cases. Some spinning reels are capable of holding heavy line, but there are many instances where the line can become tangled or other problems can arise. 
Baitcasting Reels
Lastly, baitcasting reels are considered to be the ideal choice for serious catfish anglers. This is due to the fact that baitcasting reels are capable of allowing anglers to use very heavy lines of all kinds, as well as allowing anglers to make very accurate casts out to significant distances. Simply put, there are plenty of reasons why skilled anglers should be searching for a baitcasting reel instead of a spinning or spincast model. 
There are also fly fishing reels, but I won't go into detail here because they aren't common for catfish due to their feeding nature.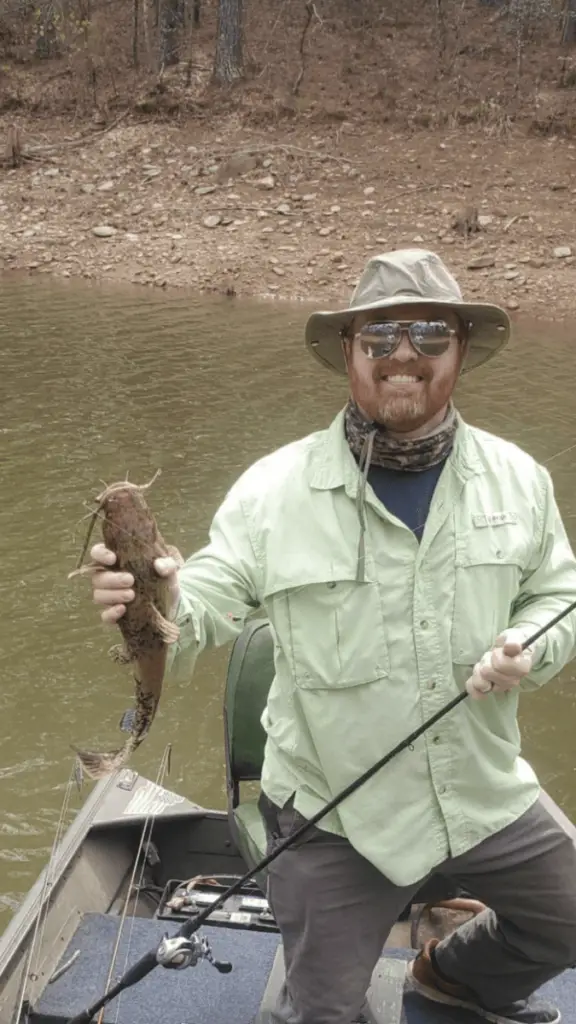 Drag System 
The reel's drag system is considered the most crucial performance characteristic that often gets overlooked by anglers looking to purchase a reel that looks like a great deal and might be offered at an attractive price. The best quality reels will be well-equipped with a solid drag system because catfish are notorious for being one of the most hard-pulling fish in the world's waterways. These freshwater giants have no problem stripping out a poorly-made drag system, which can ruin your reel and cause you to lose the fish as well. 
A good drag system will allow you to tangle with the catfish and maintain solid contact while gradually wearing the fish down. If the catfish is able to pull harder than what the drag is able to give, it can easily snap the line or strip the drag out. Look for a drag system that is made of high-quality materials that include drag washers made of solid metal material—not plastic or other material. 
Construction 
Another key point when it comes to the best reels for catfish is looking for one that is made with high-quality material that won't easily be susceptible to cracking or breaking under pressure. The top catfish reels will be made of very tough, durable material that might often be heavier than others of construction material. 
While most reels are advertised as 'lightweight,' this is actually not a quality that is essential for catfish reels. In fact, anglers would do well choosing a reel with a housing and side plates made of solid aluminum or other metal material, as this will ensure your reel won't break or crack in the same way graphite is known to do. 
Stainless steel is another good option for reel construction material that will guarantee you won't be as vulnerable as you would with a weaker, lighter material. Remember, when it comes to going after catfish, you will be dealing with hefty fish. A brand that touts their reel being more lightweight than the competitors should be viewed with discernment. 
Line Capacity 
Catfish have been known to rip off hundreds of feet of line in just a few minutes in some cases. One of the most common elements that seasoned catfish anglers seek out in a solid catfishing is how much line they can fit onto the spool. This is a point that can cause some dilemma in choosing between a reel capable of fitting much more line on the reel, and one specially designed to accommodate heavier line, which is more suitable for catfishing. 
Be sure to pay close attention to the reel's capacity for a heavier line that are at least 12 to 20 pounds in most cases. Anything less than this pound test rating will not be capable of giving you a fighting chance against the trophy catfish that are known to stalk the lakes and rivers of North America and other parts of the world. 
Gear Ratio 
Another main point of contention between some of the top brands in the fishing industry that are considered to be well-suited for catfishing is the gear ratio. This number varies widely across the many different types of reels, as well as the size and other factors that come into play. I recommend a gear ratio of 4.0:1 to 5.0:1 for catfish.
The gear ratio refers to the number of spool rotations you'll get with each full rotation of the reel's handle. When it comes to catfish reels, you're better off using a gear ratio that is a bit higher than most other reels. This will allow you to crank in more line with each turn of the handle. This can prove to be a significant advantage for anglers locked in a tense struggle with a hard-pulling fish that continually makes hard and fast runs back out away from your boat or position – forcing you to make up ground through patience, relying on your reel to do its job. 
Ball Bearings 
Like most other types of reels, when it comes to selecting the best reels for catfish, you'll want to opt for a model that provides a high number of ball bearings if possible. Generally, the more ball bearings a reel has, the more smooth its casting and retrieving action will be on the water. When it comes to catfishing, anglers are not likely to be doing as much casting as they are likely to do when fishing for other species. 
This means that you'll want to look for and focus on a reel that has a smooth feel when it comes to reeling the line in. Also be aware of the material that the ball bearings are made of as poorly constructed ball bearings will almost always mean a wobbly or uneven feel when reeling in the line. 
Size and Weight 
The last point of concern you'll want to take into consideration when looking for the best catfishing reels is the size and weight of the product. Since you're targeting larger, heavier fish, it's not necessary to have a lightweight reel as this will only prove to be more of a disadvantage than anything. 
I recommend a 4000-sized reel for catfish.
The reel needs to be large enough to hold plenty of heavier fishing line as you can't get very far using small diameter, light line that is not well-suited for big, heavy catfish. Look for a larger reel capable of handling heavier line to give yourself the best possible advantage on the water for catfish. 
It's also not very important to worry much about the reel's weight since you'll not likely be casting your rig out as often as you would for something like a largemouth bass or pike. Sometimes, a heavier reel made with stainless steel or aluminum will give you the best advantage when going after catfish. 
How We Rate Products
Russ Egan and Donny Karr have over 40 years of combined fishing experience. We know the difference between a high-quality reel and a poor alternative.
I thoroughly review all products to measure their performance, durability, and value for money. I conduct bench and field testing to check how the product performs. Each reel is tested for at least 8 hours, with a full test taking 2 weeks. This testing results in an overall score that I give to all products. All metrics are scored out of 5.
Performance
The performance score is how well this product fulfills its primary purpose. Does it have all the features and optional extras you need to catch the target species? I also interview expert anglers on their experience to build a more comprehensive view of the performance under multiple conditions.
I take all reels down to my local freshwater lake for bass, or inshore fishing off the beach for redfish.
Test 1: I confirm that the max drag meets the manufacturer's specifications using a calibrated scale.
Test 2: I test the maximum casting distance using a 1.0-ounce lure.
Test 3: I test the accuracy by casting 10 times into a 3 ft diameter circle at 30 yards.
Test 4: I check the versatility and the ability to handle multiple uses by field testing with 3 different lures and baits, by actually going fishing.
Durability
Durability refers to how long the product will continue functioning. I twist, bend, and break all the products to check their longevity. This score is for the construction materials, the workmanship quality, and the servicing requirements. There are also bonus points for manufacturers' warranty.
For products I can't test for long enough, I also consult experts who have been using them for decades to judge their longevity.
Test 5: I pull it apart to check the grease and oil levels, how difficult it is to maintain, and whether sand or salt has deposited after use in saltwater.
Value for Money
The final aspect of the scoring system is the price or, more specifically, the value for money. Value for money is a comparison against the closest alternative products, both by the same manufacturer and other brands.
Overall Score
Finally, I average the three scores of performance, durability, and value for money to give the overall score of each product reviewed.
To see more details, please read the complete guide on how I test and evaluate fishing products.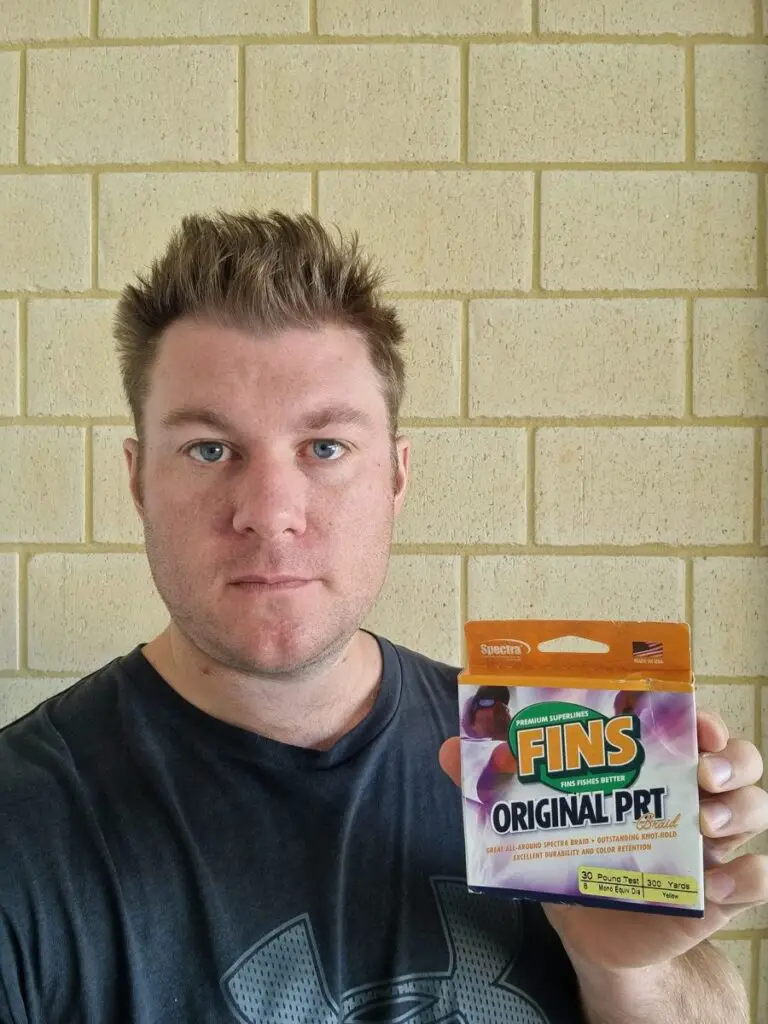 Frequently Asked Questions
What size fishing reel is best for catfish?
In my opinion, the minimum size you would want to use for catfish would be a 4000-sized reel. If you are chasing monster catfish, you would want to go up to a 6000 or 7000-sized option that can handle enough line capacity to fight these freshwater giants.
What line size is required for catfish?
I recommend a 12 to 20 lb fishing line when targeting catfish. If you are chasing larger catfish, you may want to go even heavier than 20 lb.
What is the best gear ratio for catfish?
Catfish are fierce fighters so you want to make sure your fishing reel has enough torque and drag to land them. To achieve this I recommend you pick a lower gear ratio in the 4.0:0 to 5.0:0 range. Catfish aren't very fast swimmers compared to other species, so it is better to prioritize power over retrieve rate.
How much drag should a catfish reel have?
I recommend at least 20 lb of drag for your catfish reel and up to 30 lb if you are targeting larger individuals.
Final Thoughts 
A good quality catfish reel will undoubtedly provide you with different features than most anglers are accustomed to having. Remember that to catch some of these monster, trophy-sized cats, you'll need to have a big and tough reel to stand up for the challenge. With the points I've listed in this buyer's guide and my list of the best 10 reels for catfish, you should have everything you need to be well on your way to becoming a seasoned catfishing expert.