The best rods for redfish and speckled trout are 6'6″ in length, medium-heavy power, fast action, 5/8 oz lure rating, and stainless steel guides.
The Ugly Stik GX2 is my top choice because it has great sensitivity, is extremely durable, and powerful enough to handle larger redfish. It features stainless steel guides, and EVA grip. It is ideal for anglers looking for a versatile rod that will handle a wide range of fishing scenarios.
Redfish and speckled trout are my favorite fish because of their size and taste. Trout is the 3rd most popular species in North America with 7.8 million anglers chasing them annually and Redfish are the most popular saltwater fish with 2.1 million (Source).
Strong, yet balanced graphite and fiberglass construction
Durable one-piece stainless steel guides
7-year warranty
Comfortable EVA handle
Cork and EVA Handle
Fuji Reel Seat
Stainless Steel Guides
Lightweight and Strong
SCII/SCVI Graphite Material
5 Year Warranty
Stainless Steel Guide Rings
Premium Cork Handle
There are quite a few options available for fishing rods today. After researching and studying, I have created a shortlist of the top ten choices. These picks are some of the best for redfish and trout. I'll include both the good and bad sides of each selection.
Read through the reviews and pick a rod that goes well with your requirements.
1. Ugly Stik GX2 Spinning Rod
Solid Construction Yet Lightweight
Comfortable EVA Handle
Graphite and Fiberglass Combination
Stainless Steel Guides
One-piece design
Stainless steel guides
Clear tip design for added sensitivity
6'6″ length
Medium power
GX2 from Ugly Stik is a powerful spinning rod for aggressive species such as redfish and trout. The construction, pricing, and ease of use all do a wonderful job to give effective results through all fishing sessions.
My Impressions:
The design is a one-piece type, which gives greater sensitivity. It is super easy to understand and figure out.
The guides are built from stainless steel. The construction quality will survive in most water conditions, especially inshore saltwater. This eliminates inert popouts as well. It is 6 ft 6 inches long, and is a great option for long-distance casting.
With around 6-15 lb. power the rod can handle redfish weights well. The same goes for trout. The handles are made from EVA. You won't feel any soreness after a long day of fishing.
It comes with a great lure rating which is preferable for big species of fish and is a solid choice for inshore saltwater conditions.
The Ugly Stik GX2 is my highest recommendation for a spinning rod for redfish. It is extremely versatile and durable. If you only want to own a single rod for various fishing scenarios, this is the rod for you.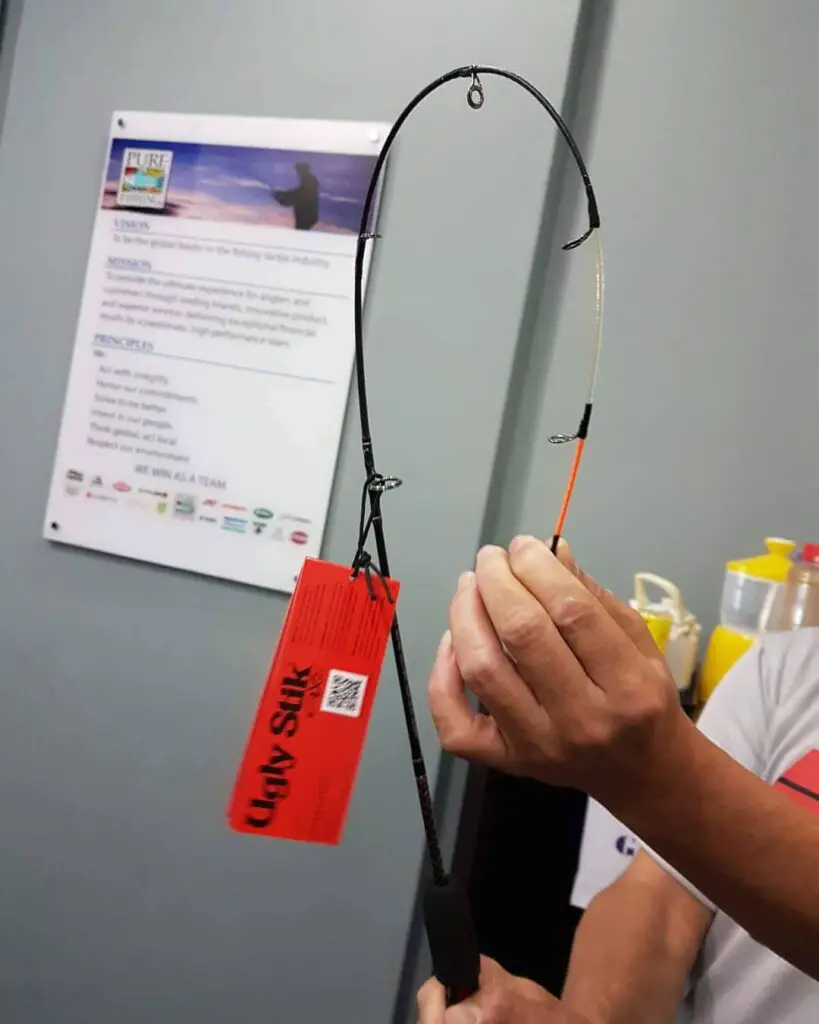 Pros
Stainless steel guides.
The tip design is nice.
Amazing one-piece construction.
Smooth handle.
Good lure weight.
Cons
The packaging needs improvement.
2. Cadence CR5 Spinning Rod
Cork and EVA Handle
Fuji Reel Seat
Stainless Steel Guides
Lightweight and Strong
Carbon matrix graphite for extra strength, lower weight, and improved sensitivity
SiC guides with stainless steel frames
Premium cork and EVA grip
Cadence is a well-known rod manufacturer. They produce some quality casting and spinning rods. The rod's action provides a quick response to hook aggressive species. There are SiC inserts included.
It's an affordable option for beginners who want to start casting for big species.
My Impressions:
This variant comes with CR-5P carbon construction. So, it is really sturdy to last a lifetime. The durability doesn't come at the expense of additional weight though. The design is pretty lightweight for easy handling.
It comes with a Fuji reel seat. This makes reeling a piece of cake, especially for the tough water environment. Fighting the aggressiveness of redfish becomes simpler with such a design.
The ring line guides have a durable stainless steel design.
The carbon matrix blanks make a really compatible rod for trophy redfish with efficient casting speed. 
The Cadence CR5 is what I recommend for speckled trout. It is lightweight and affordable, but durable enough to handle larger fish species.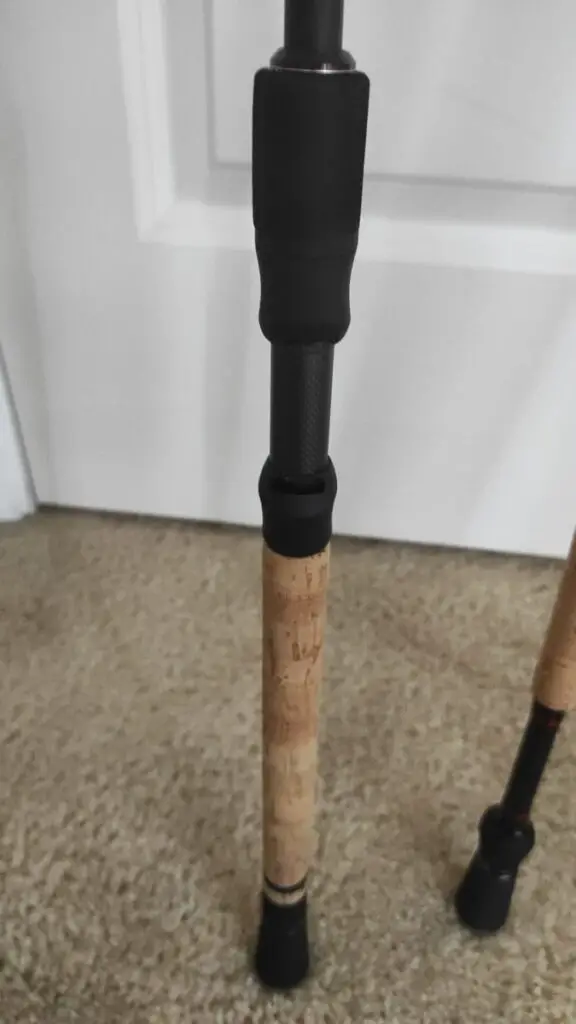 Pros
Carbon matrix blanks included.
Lightweight and durable rod.
90 days refund policy included.
Smooth performance.
Comes with SiC inserts.
Cons
The handle needs a rubber cover for more comfortable casting.
3. St. Croix Trout Spinning Rod
SCII/SCVI Graphite Material
5 Year Warranty
Stainless Steel Guide Rings
Premium Cork Handle
SCII graphite rod with SCVI high-modulus/high-strain
Minima guides that save 20-30% weight
Minima reel seat with custom insert
This spinning rod from St.Croix is a wonderful choice for hunting trout. It's one of the premium picks that come with three in one facility of balance, sensitivity, and weight.
My Impressions:
It comes with SCII graphite constructions along with high modulus SCVI graphite. This is both stronger and lighter than their previous models.
Speckled trout anglers would love the performance with superior functions. There are Pac Bay Minima guides included – this reduces the weight by up to 20-30%. It shows great sensitivity that will lead to my hook ups.
It also has quality custom insert on the reel seat. The design makes sure the sensitivity is even more profound and usable.
It is covered with flex coat slow-cure finish two times for better protection and durability. I think anybody would love the rod with high-grade cork handle.
I am a big fan of all of the St Croix range. They are premium rods that just perform. If you have the budget to spend on a high end rod that will certainly ensure you catch more fish, give this Trout rod a try.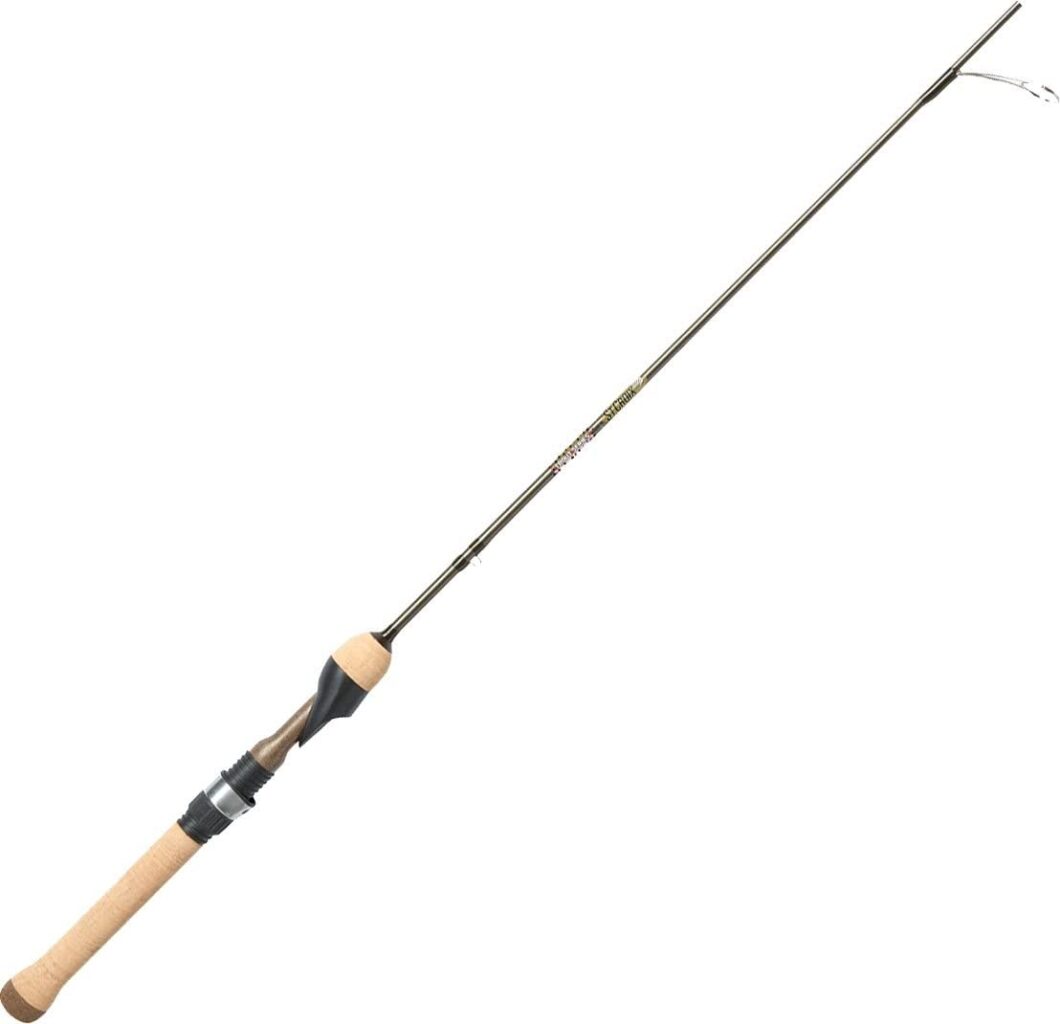 Pros
SCVI graphite construction.
Excellent sensitivity.
20-30% less weight.
Two coats for a slick finish.
High-quality cork handle.
Cons
The guide's alignment needs improvement.
4. St Croix Mojo Graphite Rod
Premium-quality SCIII graphite
Specifically designed for bass
Split-grip/premium-grade cork handle
SCII graphite rod
Hard aluminum-oxide guides
Fuji DPS reel seat
5 year manufacturer's guarantee
This inshore spinning rod from St Croix comes in a practical price range with some really good-looking features to try. The cherry on the cake about the overall choice is it also includes a 5-year warranty back up by the manufacturer. So, your money is probably invested safely.
My Impressions:
With the premium SCII graphite construction, you will be enjoying a high quality product that will serve you for years to come. The strength is good enough to help you win fights with aggressive species.
The guides are made of high-quality aluminum-oxide. These are well protected from corrosion issues thanks to the black frame design.
The spinning models also ensure the reel seat is well placed and provides good functionality. It comes with a DPS reel seat that is extremely high in quality.
The overall rod also comes with a cork handle. This is a split-grip category to give you a premium grade performance.
The quality never fails to impress with extra durable performance in a reasonable price range.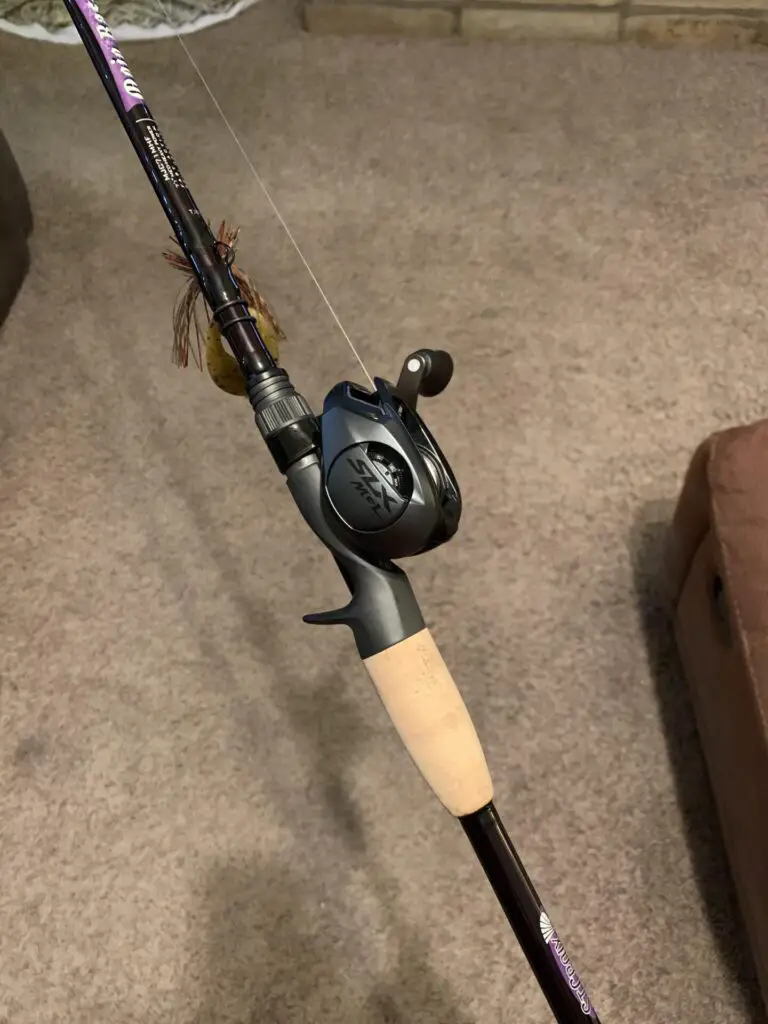 Pros
SCII Graphite construction.
Comes with aluminum-oxide guides.
The reel seat is Fuji DPS.
There are black hoods included.
5 years warranty.
Cons
Packaging needs improvement.
5. G.Loomis GL2 Trout Jig Rods
Ultra-light Spinning Rod
Graphite, Fiber Blend
Comfortable Cork Handles
1 and 2 Piece Designs
GL2 graphite rod
Fast action
Ultra-light to light
GL2 is a jigging rod meant for trout species and it comes with a few really awesome features at the price point.
My Impressions:
This is a fast-action rod that comes with good speed for easy retrieval. The construction quality is good and will serve you for many years.
The main material for this jig rod is GL2 graphite. So, it can handle fish's aggressiveness quite well. Also, the durability is very impressive.
There is composite cork coming along for better functionality. Not only this, it even includes a premium quality species of cork.
You can get the model in both four-piece or two-price configurations. It depends on the style you prefer.
With two different types of cork, holding and using this premium rod for some fast action reason seems pretty enjoyable.
I am a big fan of cork rod handles due to their comfort and aesthetics.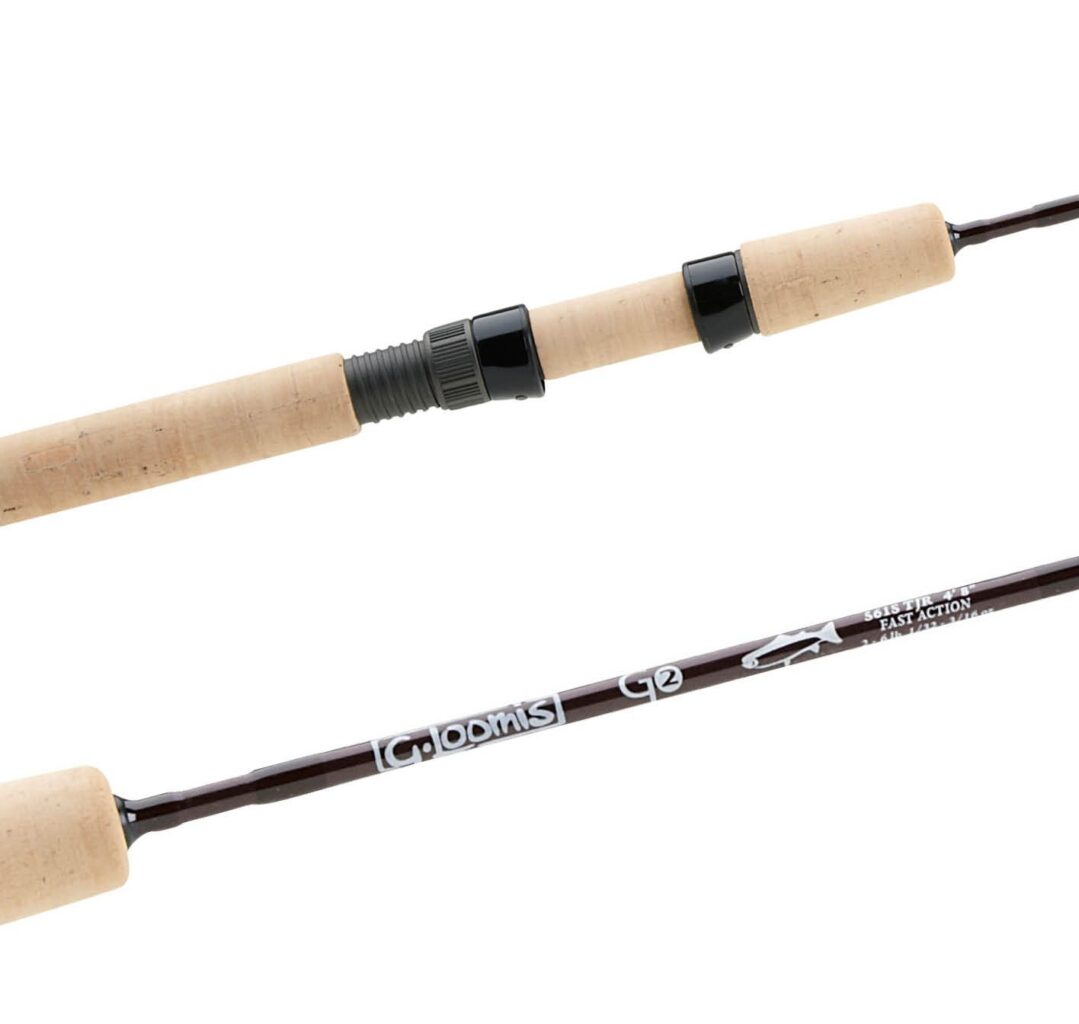 Pros
Comes in 2-piece and 4-piece configurations.
It includes composite cork.
Graphite construction is durable.
The action is fast for jigging.
Suitable for trout fishing.
Cons
The cork handle is pretty thick
6. Piscifun Torrent One Piece Baitcasting Rod
Suitable for both salt and freshwater
Durable and flexible performance
Good for handling fighting fish
IM6 carbon rod
8+1 guides
X shaped high temperature molding resin
If you are someone who likes to use baitcasting reels for redfish, and need an equally great rod to go with it, then Piscifun has this really amazing option for you.
My Impressions:
The Torrent rod is made of quality IM6 Carbon and performs well for baitcasting.
There is a total of 9 strategically placed guides distributed to make sure you get the smoothest and most consistent power transition for fishing.
This reasonably priced rod piece comes with high-density grip from EVA. Also, the carbon blank and graphite reel give you ergonomic comfort while fishing for long sessions.
9 strategical guide distributions with IM6 carbon construction ensures you would be getting some amazing performance in this lightweight design. 
I am becoming more and more of a fan of Piscifun's products every time I get a chance to test them. They are built to high specifications and have a quality construction, but come with a price tag that is normally half what I expect. They give unprecedented value for money and the Torrent is no exception.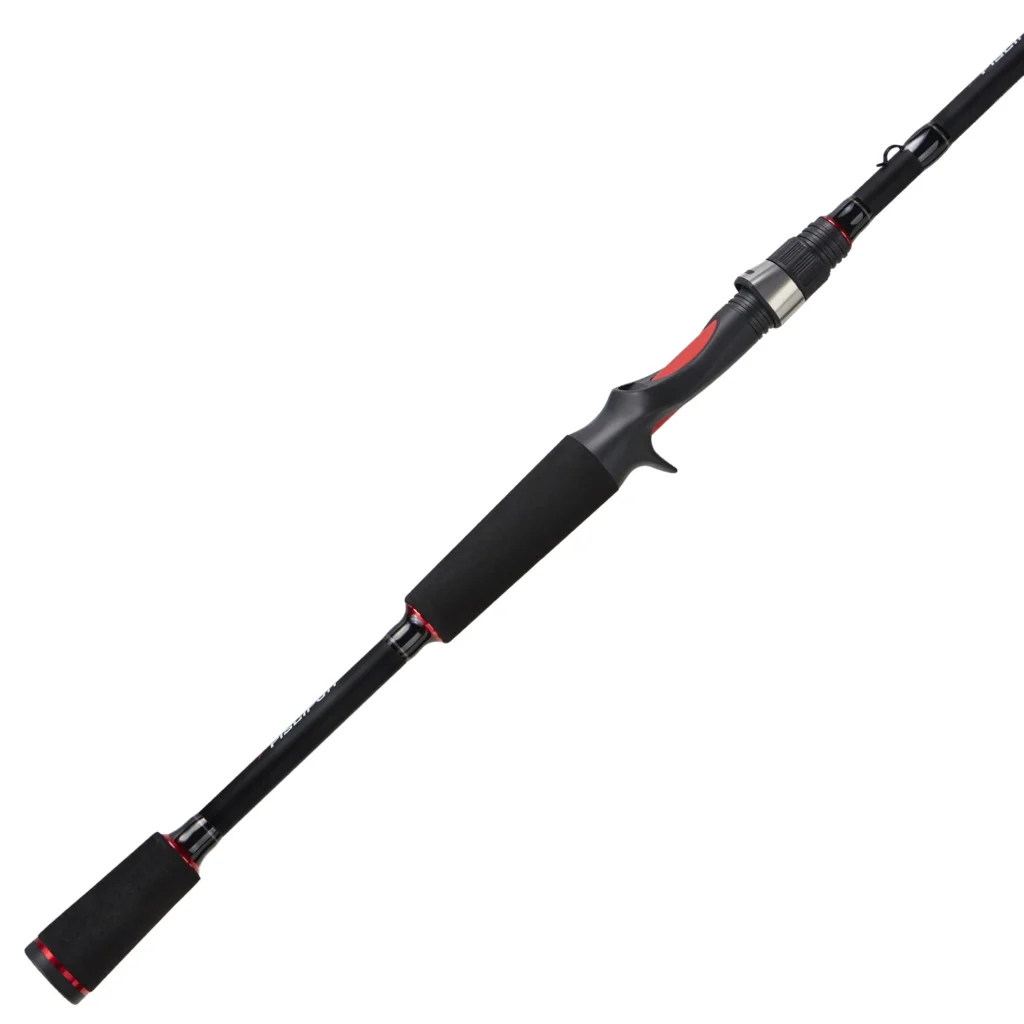 Pros
IM6 carbon built-in.
Four different angled guides.
High-quality carbon blank.
Practical price.
S-shaped hook keeper included.
Cons
Material needs proper maintenance.
7. St Croix Premier Spinning Rod
SCII Graphite Material
Premium Cork Handles
Fuji Reel Seat
Flex-Coat Slow Cure Finish
Anyone looking for a powerful yet lightweight rod with the high-quality component can choose St. Croix premier spinning rods. These come with a really mind-blowing features.
My Impressions:
The spinning rod comes with an SCII graphite blank construction.
There are also guides made of aluminum oxide and they come with durable hardness. The double plated chrome frames ensure you can be solid and comfortable during use.
The reel seat comes from Fuji TCS. It makes for a really strong and easy-to-use base for redfish casting. With the premium quality cork handle, you can enjoy a long-time casting without feeling soreness in your hands.
The handcrafted spinning rod comes with an ideal blend of performance and value. You won't be disappointed with purchasing a St Croix rod.
This SCII graphite rod for redfish can be used for years to come.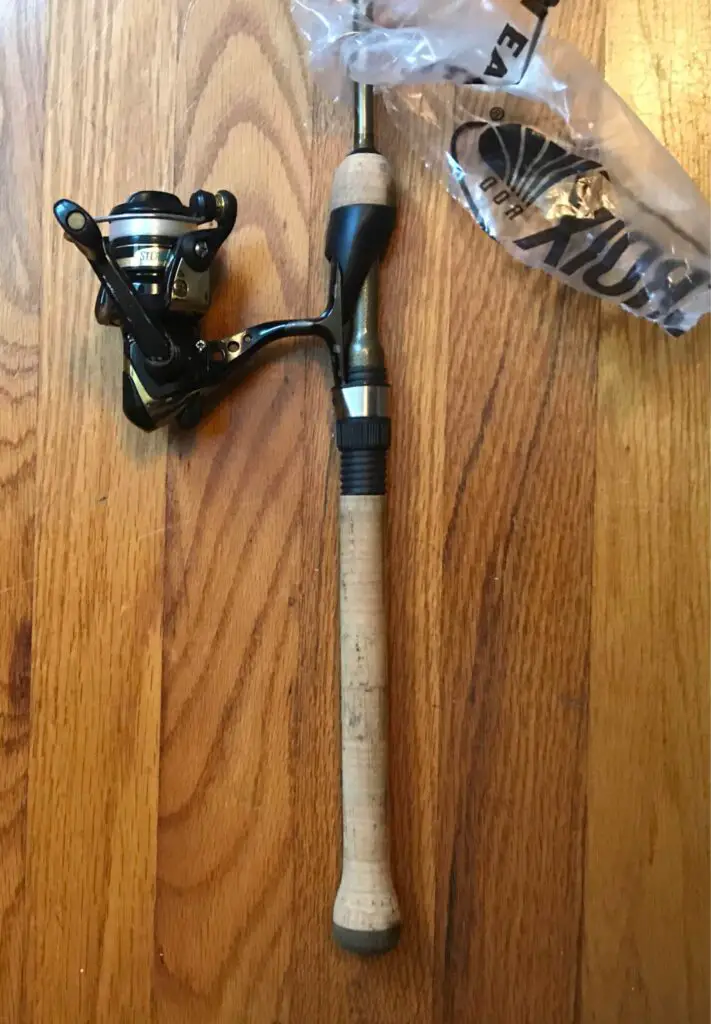 Pros
Strong built-in quality.
Durable frames for smooth performance.
Quality reel seat included.
Full cork for better grip.
Cons
The sensitivity feels a bit low.
8. Okuma Celilo Graphite Salmon/Steelhead Spinning Rod
Stainless Steel Reel Seat
Aluminum-Oxide Guides
Comfortable Cork Grip
Graphite Composite Blank
If you want to get the highest quality material built spinning rod for your casting needs then Okuma Celilo might be a great choice to consider.
My Impression:
It comes with the genuine quality performance necessary for easy casting. You can use the rod for almost any water situation and weather.
It comes with Graphite blank construction, so the durability is really awesome for the price.
There are Aluminum oxide guide inserts that make sure the user can enjoy a smooth performance at any time.
There is a reel seat made of stainless steel to provide a strong and tough function. It also includes quality fore and rear cork grips for a non-slip experience with redfish casting.
Long distance casting is an absolutely delightful and marvelous with this amazing 8'6" long spinning rod.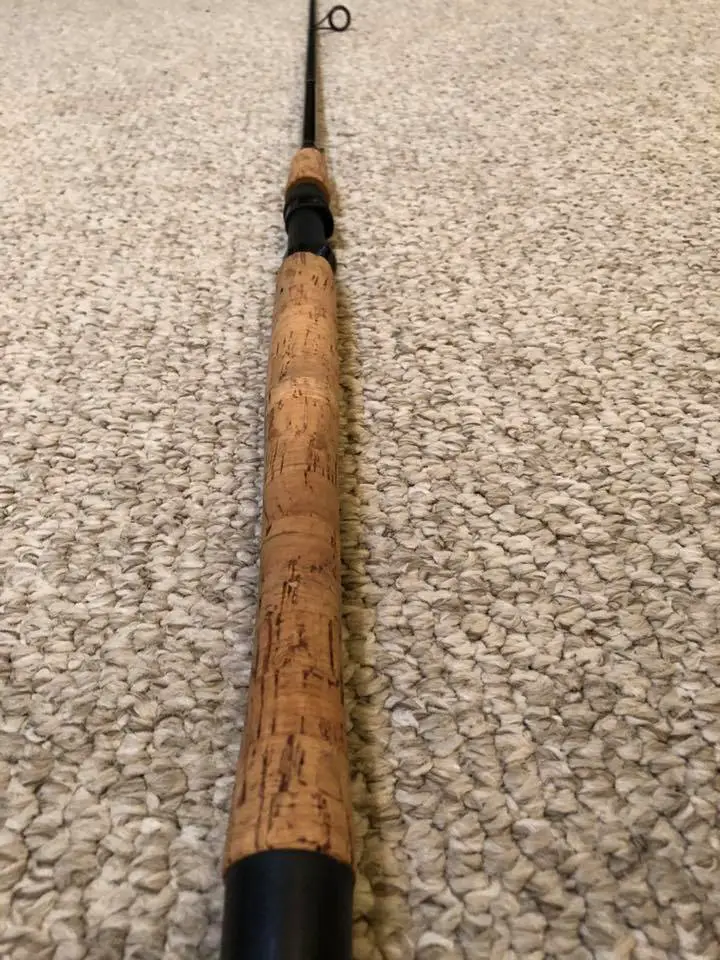 Pros
8 ft 6 inches long rod.
Excellent middle action.
Comes with cork grips.
Graphite blank built-in.
Reliable and quality brand.
Cons
9. Ugly Stik Elite Fishing Rod
Comfortable Cork Grip
Graphite/Fiberglass Composite
Virtually Indestructible
Ugly Tuff Guides
The Ugly Stik Elite fishing rod is meant for any age angler with all experience levels. It is one of the reliable and durable fishing rods for redfish and trout casting. The high-quality rod is proven by test to be of high qulity and easy to use.
My Impressions:
The fast action rod will give you effective results whenever you want to hunt for redfish or trout. The design is impactful for winning the fight with aggressive species.
Also, it can handle larger lures with heavy weights pretty well. It's basically great for what it's meant to deliver.
You will love the sensitivity Elite provides. There's no compromise balance in this price range which is amazing. You would be able to feel the bites quite well.
This quality rod comes with some tough and smooth guides that give you excellent performance.
The reel seat is made of graphite and it does moderately well for different situations. The handle with cork feels easy to hold. Even for longer hours, no pain or soreness will disturb your hands.
The way it handles weighty lures without giving any pressure on the angler's hand is truly remarkable at this price point.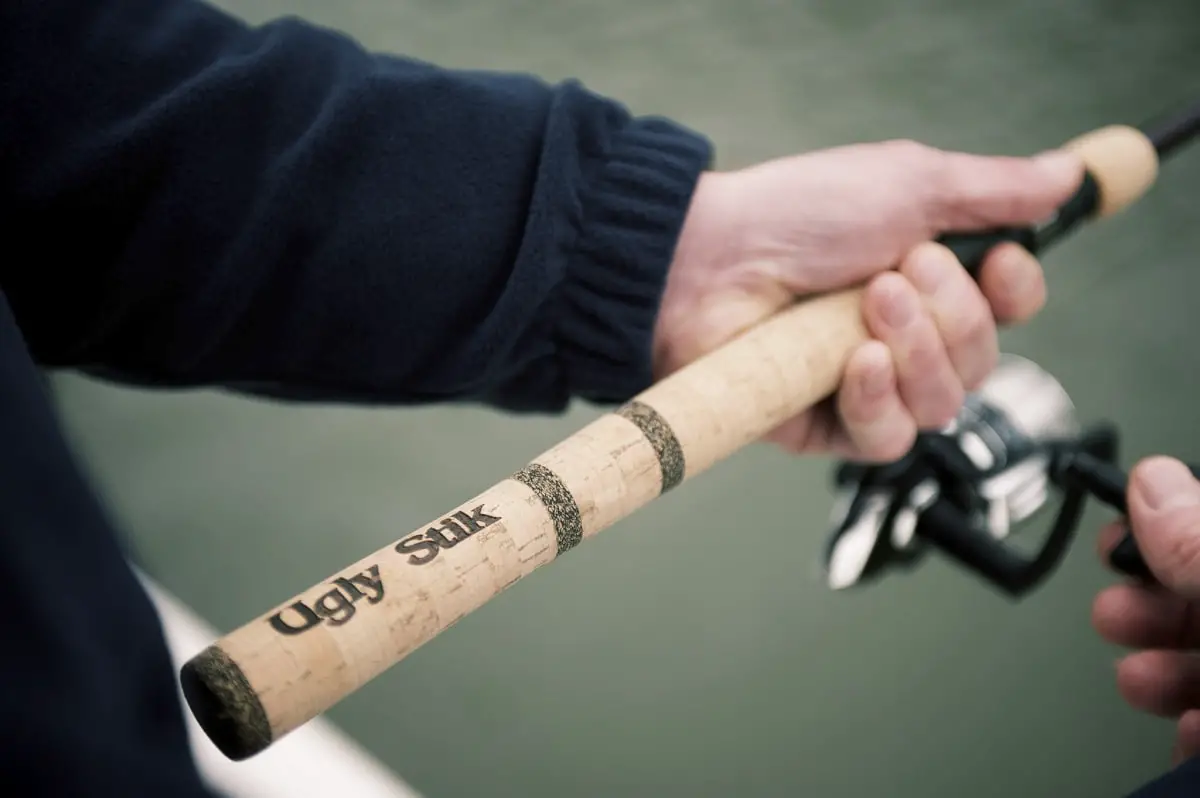 Pros
A fast action rod.
Handles heavy lures.
Good with sensitivity.
No need to change guides.
Comfortable handle.
Cons
Eyelet needs improvement.
10. KastKing Calamus Ultra-Light Fishing Rod
IM7 graphite rate
EVA grip
Titanium guide frames
Available in 9 models from 4'6″ to 7'2″
Trout fishing basically needs a lightweight spinning rod and KastKing has an option available with a reasonable price range. They even claim it to be the lightest spinning rod on the planet.
My Impressions:
This rod has an extremely low weight and at the same time provides better sensitivity. There are titanium guide frames for better functioning. It includes a 2-piece graphite reel seat and rings.
You can enjoy a balanced and comfortable holding with the EVA handles. It comes with a wrap for the split fighting butt.
There are up to nine models that you can choose from this series. The two-piece design makes it easy to carry and store.
A travel-friendly rod design and weight to carry at any place and at any time. The features make it an upgraded choice for pro anglers. 
Pros
Ultra-lightweight design.
Travel-friendly two-piece design.
Graphite reel seats.
Comes with EVA handles.
Well balanced and great built-in.
Cons
The metal clip should be placed on the top or side.
Redfish and Trout Fishing Rod Buying Guide
So, what exactly does the finest rod for redfish and trout look like? There are some really common specs that you have to ensure in the rod you buy. Here are the individual factors and why they matter.
Ability to Handle Different Size Fish
You can call it the power of a fishing rod. It determines the capability of dealing with diverse sizes of different fishes.
You can choose from ultra-light, light, medium, medium-heavy, and heavy ratings for power.
In most cases, ultra-light, light, and medium variants are used for smaller size fish. I believe you should choose something from medium-heavy for a big redfish. Choosing anything less might give you no virtual power to fight aggressive redfish and trout. Eventually, this might break the rod too.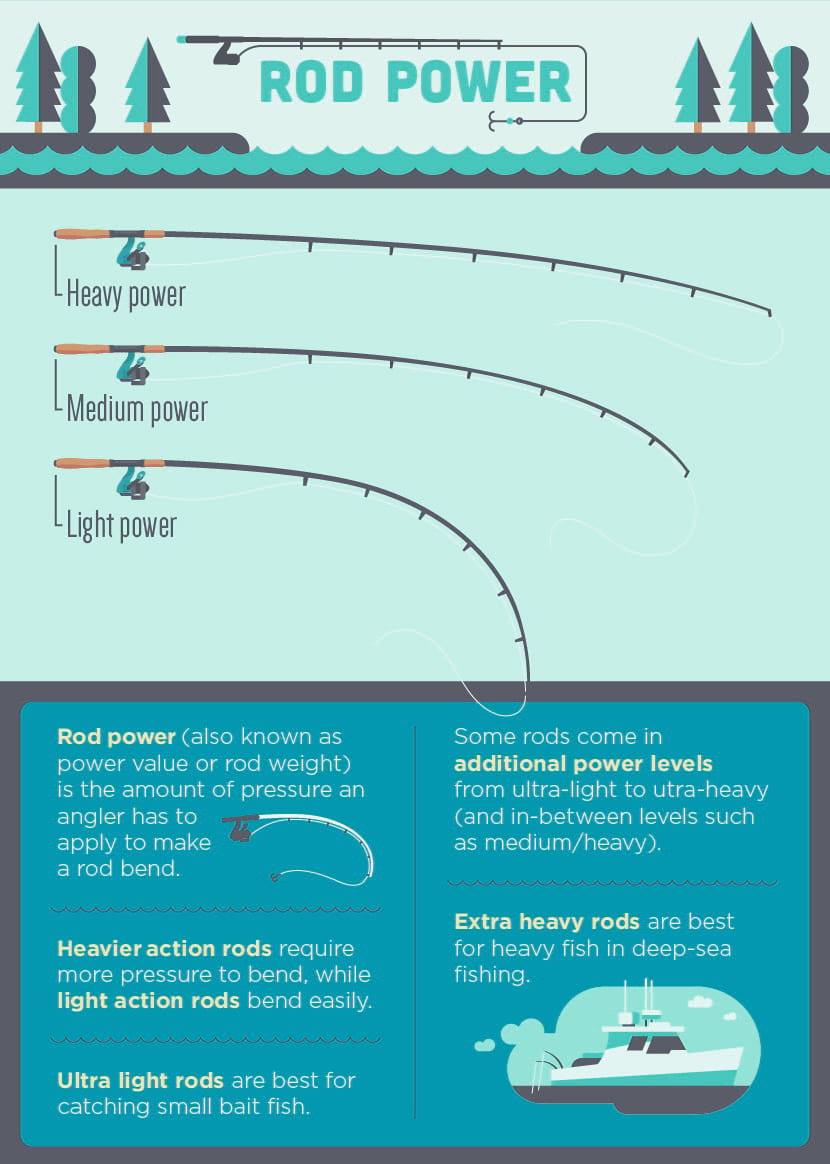 Image Source: fix.com
Rod Action
This factor decides how quickly your rod comes back to its original position. The bend of your rod depends on the action.
Too fast action rods will bend towards the tips. When you choose a moderate speed rod, it would bend along the whole length of the rod. The bending is called taper for a rod. Basic actions for rods are slow, moderate, fast, and extra fast. If you wish to cast for long distances, consider a slow action.
For jigging and soft trout bites, a fast-action rod is preferable. While for horse redfish, getting a very fast action will do. However, this might not be so good in long casts.
What is the Ideal Length?
For speckled trout and redfish, you need to understand length requirements well. When jigging for speckled trout, you need something easy to manipulate. So, get something that is not too long or too short.
I prefer a 6'2" for most situations.
But then again, if you need to use popping cork, getting a bit longer rod may be useful. This gives you better exertion of power over fish. You can also cast for longer distances.
Long rods are also good for sight fishing redfish. I always like to take my 7 ft rod for such occasions. It helps me control lure depths and align the fishing line well.
Line & Lure Ratings
I think most fishermen would hardly consider giving importance to line rating. But using inappropriate line rating can make your rod break down. So, make sure the line rating is enough for handling trout and redfish.
Lure rating is surely one of the most important factors to remember. Usually, it refers to weight fractions of an ounce or ounces.
I believe ratings from 1/4 oz to 5/8 oz are excellent for speckled trout and redfish.
Important Requirements at a Glance:
Rod with minimum power of Medium-Heavy.
Slow action for long-distance casting, fast action for jiggling and soft trout bites, and very fast action for horse redfish.
Not too short or long rod length for jiggling, long rods for popping cork and sight fishing.
Compatible line rating.
¼ oz to 5/8 oz lure rating.
Conclusion
Fishing is one of the most exciting activities one can engage in. To a few, it might also be their profession. No matter the reason, for effective results picking the right tools can never be ignored. Same goes for finding the best rods for redfish and trout.
Make some time for research and judging each option available. It does not have to be pricey but also don't just get anything low quality to save a few bucks.
I would love to hear about your favorite rod for redfish and trout in the comments below.