Humminbird has long been known as a company that produces tailor-made fish finders to meet the needs and expectations of various users. The company's PiranhaMAX 4 fish finders are one of the most popular models ever made by Humminbird as they are designed to be more suitable for the average angler and those who might be searching for a more budget-friendly fish finder model. 
The Humminbird PiranhaMAX 4 is widely considered ideal for users who operate smaller boats or even kayaks as it is a somewhat smaller and more compact model than some of Humminbird's premium designs that are much larger. The PiranhaMAX 4 Series comes in three different models that offer distinct, targeted advantages to anglers based on certain properties. 
In this article, we'll look at each of these PiranhaMAX 4 models and determine what sets them apart from other brands and products currently available on the market for 2021. 
Humminbird PiranhaMAX 4 Overview 
Humminbird products are considered by most professional anglers to be among the best fish finder products money can buy for many reasons. Each year, the company works to create a better, more innovative product using the latest technology and feedback from dealers and customers alike. 
The PiranhaMAX 4 is a combination of technology that delivers just what the everyday angler wants and needs to enjoy the advantages of having a fish finder on their boat or kayak. It's not very big and the display screen is only 4.3 inches wide, which actually makes it perfect for kayak anglers. 
This particular model operates using a combination of sonar capabilities along with GPS technology and live-mapping features that can be a true game-changer for fishermen and women who are either new to using fish finders or have been relying on a much older, obsolete model. 
Pros
Small, ergonomic design
Wide display screen
Portable kit
Excellent value 
Cons
PiranhaMAX 4 Notable Features 
Like all other Humminbird products, the PiranhaMAX 4 comes with a variety of great features that set this series apart from other brands and companies that create fish finders with relatively similar prices. For the budget-minded angler, it's hard to beat everything the PiranhaMAX 4 offers.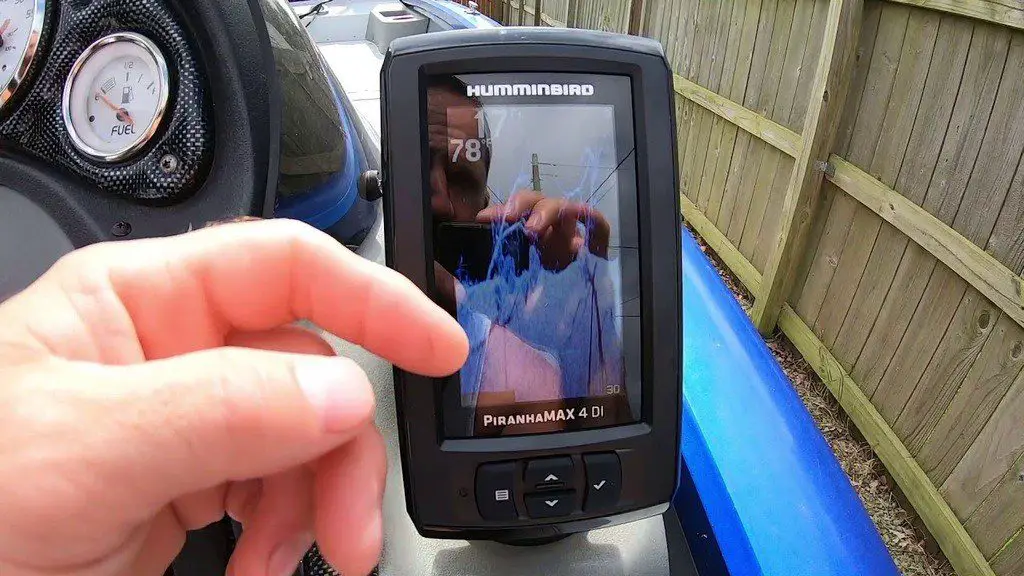 Compact, Ergonomic Design 
Considered to be one of the most ideal fish finders for the average, everyday kayak angler, the PiranhaMAX 4 is a small, compact model that features a 4.3-inch display screen. The fish finder is very simple and easy to install and can also be adjusted to position the display screen toward any direction.
This is a huge advantage to anglers who might prefer to keep an eye on their fish finder as they are motoring past parts of the particular body of water they're fishing, but want to quickly stop and turn the display to face their seating position once they're ready to make that first cast. 
Better Imaging and Display 
Unlike previous models from Humminbird, the PiranhaMAX 4 is made with more pixels, producing a clearer picture. The 272H x 480V resolution combined with the TFT 256 color range is a clear advantage over Humminbird's competitors who operate with a smaller, lower-quality screen.
With these qualities and LED-backlighting, it's easy to understand why so many anglers prefer this model to others as the PiranhaMAX 4 makes it easy to distinguish between underwater structure and fish suspended at certain depths. 
Different PiranhaMAX 4 Models 
Humminbird produces three distinct models of the PiranhaMAX 4 fish finder, each designed to deliver a specific type of imaging for users depending on their preference. The differences between each model are clear and each one is priced well under $200 in most cases, making it an exceptional deal for any angler. 
PiranhaMAX 4 DI 
This particular Humminbird model of their PiranhaMAX 4 Series is made to provide an outstanding level of sharpness and clarity using DualBean sonar technology. This model utilizes high-frequency down imaging to produce a display that allows angler to easily distinguish between underwater vegetation, structure, and fish. 
The Fish ID+ and fish alarms help anglers to understand when their vessel is overtop a school, or individual fish that might be suspended at a particular depth. Users can also zoom in on the imaging display to get a closer look at just what's below their boat and better plan their approach to catching the fish they're after. 
PiranhaMAX 4 Standard 
The standard PiranhaMAX 4 model comes with a modern take on Humminbird's famous display style. With the same size screen as the other PiranhaMAX 4 models, this one utilizes DualBeam sonar to produce a range of colors which indicate the differences in bottom, as well as underwater structure. 
Users can easily modify the contrast of the colors to more easily distinguish between schools of baitfish and vegetation, as well as timber and other features.
Another notable feature is the WhiteLine function, which replaces one of the colors with white, creating a much more distinguishable line to indicate the bottom. This is especially useful if you're trying to locate fish sticking on or very close to the bottom of the lake or river you're fishing. 
PiranhaMAX 4 PT 
This portable fish finder comes with a soft, waterproof carrying case that makes it easy for kayak anglers to quickly install their display unit before launching their boat. The PiranhaMAX 4 PT version operates using the same reliable technology as the standard PiranhaMAX 4 model and includes the clear imaging that is expected of Humminbird products. 
This model comes with a suction-cup transducer, a 7Ah battery, and a charger ideal for anglers of all skill levels. This model, along with each of the other PiranhaMAX 4 Series products comes standard with a one-year limited warranty. 
Specifications
| | |
| --- | --- |
| Series | PiranhaMAX |
| Display Size – Diagonal | 4.3″ |
| Display Pixel Matrix | 272H x 480V |
| Sonar-Standard | Dual Beam |
| Sonar-Coverage | 28° & 16° @ -10dB |
| Sonar-Frequencies Supported | 200/455kHz |
| Depth-Sonar | 320 ft (20) 455 kHz, 600 ft (20) 200 kHz |
| Depth-Down Imaging | 320 ft |
| Interface | Keypad Control |
| Memory Card Slot | None |
| Power Draw | 180 mA |
| Power Input | 10.8-20 VDC |
| Power Output Peak-to-Peak | 2400 Watts |
| Power Output RMS | 300 Watts |
| Screen Snap Shot | Not Supported |
| Mount-Standard | Gimbal |
| Mount-Standard Size | 3.91″ W x 7.34″ H x 3.62″ D |
| Mount-Optional | In-Dash Mounting Kit |
| Mount-Optional Size | 3.91″ W x 5.875″ H x 2.5″ D |
| Transducer Included | XNT 9 28 T |
| Transducer Mount Location | Transom |
| GPS Chartplotting | Not Supported |
| GPS Receiver | Not Supported |
| GPS Trackplotting | Not Supported |
| Humminbird Basemap | Not Supported |
| LakeMaster Compatibility | No |
| Platinum Compatibility | No |
| Target Separation | 2.5″ |
| Upgradable Software | No |
| Display Colors Grayscale | 256 Color |
| Display Type | Color TFT |
| Speed | Not Supported |
| Temperature | Built In |
| Warranty | One-Year Warranty |
Conclusion 
The PiranhaMAX 4 is an excellent fish finder for the beginner or novice angler who wants to gain the advantages of having a fish finder on their boat without having to spend a small fortune to do so.
With high-quality components and technology, it's easy to see why so many users consider the PiranhaMAX 4 to be among the highest value products made by Humminbird.