Historically, anglers generally preferred Humminbird due to their significant technological advantages that made their sonar pictures far superior. However, Garmin has released significant upgrades recently, such as LiveScope, which has meant that makes their devices easier to set up and doesn't come with any hidden mapping costs.
When it comes to leaders in the fish finder industry, there are none greater than Humminbird and Garmin. They both produce the highest quality products that have evolved significantly over the last few decades. As you try to decide on your next fish finder, it makes sense to re-evaluate which of these brands best suits your needs.
| | | |
| --- | --- | --- |
| Brand | Garmin | Humminbird |
| Display | ⭐⭐⭐⭐ | ⭐⭐⭐⭐⭐ |
| Model Options | ⭐⭐⭐⭐ | ⭐⭐⭐⭐⭐ |
| Connectivity | ⭐⭐⭐⭐⭐ | ⭐⭐⭐⭐ |
| Sonar | ⭐⭐⭐⭐ | ⭐⭐⭐⭐⭐ |
| Performance | ⭐⭐⭐⭐⭐ | ⭐⭐⭐⭐⭐ |
| User Friendliness | ⭐⭐⭐⭐ | ⭐⭐⭐ |
I have used both brands extensively in my fishing adventures and have spent some time understanding their latest technologies so you can make an informed choice. In this article, I have compared Humminbird vs Garmin, their most popular models and my opinions on their differences in features, user-friendliness, pricing, and other factors.

Humminbird Overview
Humminbird first began in 1971 as Techsonic Industries but has always been focused on fishing technology. They continually research and develop new improvements that are rolled out to anglers, including mapping functions like LakeMaster and CoastMaster, as well as integration with Minn Kota trolling motors.
Humminbird are based in Eufaula, Alabama and conducts all design, engineering, manufacturing, and support from the US.
Some of Humminbird's most popular models include:
Garmin Overview
Garmin was founded in 1989 and was once known more for its line of GPS devices that were initially sold to the U.S. Army and used in a number of different high-level combat aircraft and vehicles. The brand was able to easily make the shift over to creating fish finders and anglers today are likely well aware that their GPS technology and mapping are second-to-none in the fishing industry. 
Garmin doesn't have quite the expansive lineup that Humminbird or other brands offer, but the few products they do feature are of exceptional quality. In recent years, Garmin devices have come a long way in terms of screen resolution and each device's features. 
Some of Garmin's most popular models include:
Humminbird vs Garmin Fish Finders
Humminbird was always the favorite tool for anglers and the first device purchased after the boat was delivered. They have made significant advances in technology to the point where their sonar pictures are hard to distinguish from photographs.
However, many anglers have moved over to Garmin in recent years as they have developed and released significant upgrades, such as LiveScope. They are generally easier to set up and don't come with any hidden costs without mapping software upgrades.
Garmin Striker 4 vs Humminbird PiranhaMax 4
The first comparison is between the entry-level fish finders, their most popular models. These are designed for smaller crafts like fishing kayaks and can quickly and easily move between vessels.
Product
Sonar
Display Type
Display Type
HVGA Color
256 Color TFT
Display Resolution
Display Resolution
272 x 480 pixels
272 x 480 pixels
Weight
Weight
8.1 ounces
8.1 ounces
Frequencies
Frequencies
50/77/83/200 kHz
200/455 kHz
Maximum Depth (Freshwater)
Maximum Depth (Freshwater)
1600 feet
600 feet
Maximum Depth (Saltwater)
Maximum Depth (Saltwater)
750 feet
600 feet
GPS
Waterproof
Waterproof
IPX7 (submerged 1 meter for 30 mins)
IPX7 (submerged 1 meter for 30 mins)
Garmin Echomap vs Humminbird Helix
Next is comparing their premium models in the Echomap and the HELIX. These are much larger and more expensive options with high-definition displays. Both models come with GPS, extensive mapping, and a wide variety of sonar types and frequencies. These are suited for larger vessels and experienced anglers.
Product
Sonar
Sonar
CHIRP, SideVu, ClearVu
Dual Spectrum CHIRP, MEGA Imaging
Display Type
Display Type
WVGA display
High Definition
Display Resolution
Display Resolution
800 x 400 pixels
1024 x 600 pixels
Weight
Weight
2.3 pounds
4.8 pounds
Frequencies
Frequencies
50, 77, 83, 200, 260, 455, 800 kHz
50/83/200/455/800 kHz
Maximum Depth
Maximum Depth
2300 feet
3500 feet
GPS
GPS
Yes - 5000 Waypoints
Yes
Waterproof
Waterproof
IPX7 (submerged 1 meter for 30 mins)
IPX7 (submerged 1 meter for 30 mins)
Display
The Humminbird models offer larger and higher definition displays. This is also linked to the quality of the sonar that they offer. I personally use the Humminbird MEGA 360 imaging most often (I will talk about this down further), which gives crystal clear pictures. So this possibly impacts my preference for their displays.
That is not to say that Garmin have low-quality displays – far from it. Although I do sometimes feel that Garmin's lack of WVGA coloring in the Striker 4 means that it is a duller display and can be difficult to see as clearly either in bright sunlight or in dim light such as at night. This can be a problem with kayak fishing when moving in and out of shade from overhanging trees.
User Friendliness
I found the Garmin units to be much simpler than Humminbird in terms of initial setup and navigating to the features that you need. Garmin's just work.
Selecting a Garmin will mean you spend more time fishing than on the phone to technical support.
If you intend to buy a high-end Humminbird and use all of its features, then expect some downtime to get it all ready. Even connecting your fish finder to your electric trolling motor can involve cables, cards, and other electrics.
Humminbird also offers a huge range of other features, such as their LakeMaster and CoastMaster mapping, but these can cost upwards of $100 per card. If you fish nationally or move between locations, you can spend thousands of maps to get your Humminbird to function optimally.
Humminbird have also developed a model called SmartStrike. This uses your local body of water, the contours from their LakeMaster charts and calculates the most likely fishing spots based on the weather, season, time of day, and species. I personally have trouble believing these black box solutions, but I will take any edge to catch more fish.
Features
The main difference between Garmin and Humminbird is their premium sonar, with Humminbird having the Mega 360 imaging. This is second to none and is reason enough to ignore all the other problems and pick Humminbird. This gives you a 360-degree view of what is underneath your boat without needing to physically drive over the top of it. Seeing what is in the water, both in front and to the sides of your boat, gives you an extremely clear vision of the submerged structures that fish can be hiding in. I can't count the number of fish I have caught because the Mega 360 has shown up a target area that I wouldn't have noticed without it.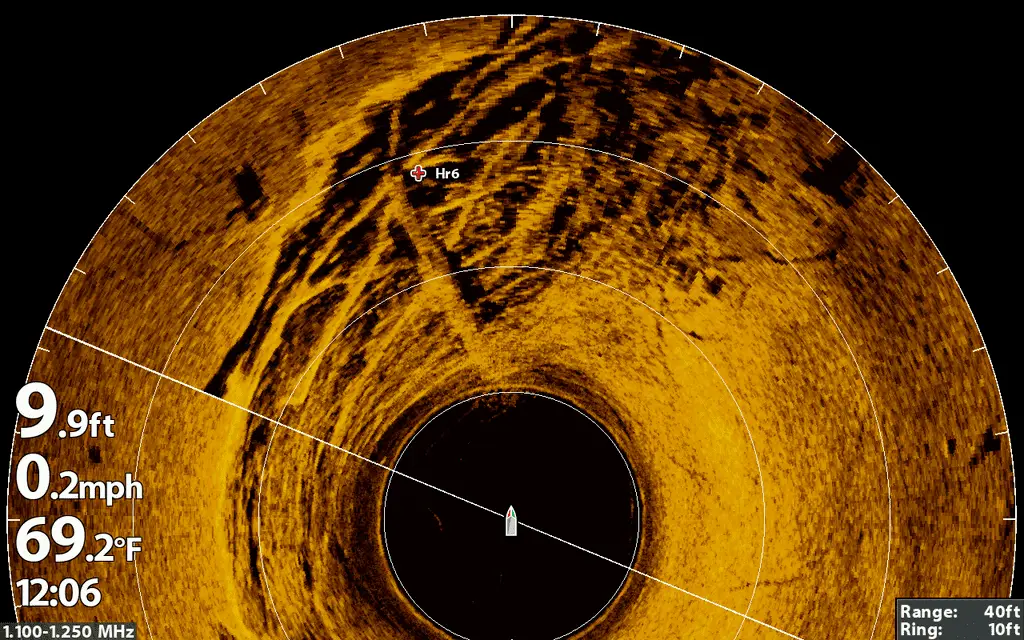 Garmin has been improving their offering with their LiveScope features (anglers often refer to this as LS). This is almost a photography-level display of exactly what is underneath your boat. This is a good way to identify specific fish to throw a bait in front of.
You can even see your lure moving through the water as you retrieve it.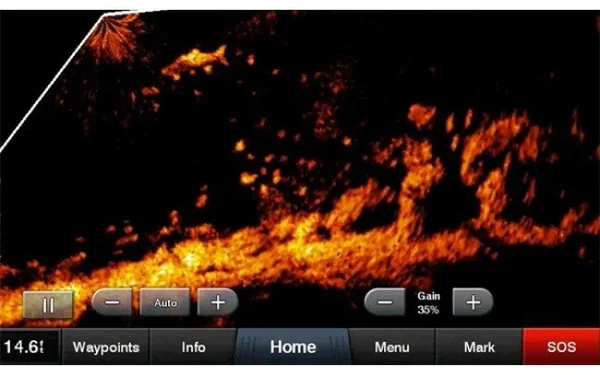 It is becoming increasingly popular to use a Humminbird fish finder for the Mega 360 to find the structure and then switch to a Garmin fish finder for LiveScope to identify individual fish. Amazing!
Connectivity
Both brands have extensive connectivity with your smartphone through Bluetooth. This can be extremely helpful in giving a secondary screen to look at mapping or other metrics while your main fish finder stays functional.
My only comment would be that Humminbird generally is more technically difficult to set up. You should give yourself an afternoon on dry land to ensure that all your devices are linked, especially your smartphone and trolling motor. Garmin also works great in terms of wireless connectivity and Bluetooth capability.
Conclusion
If you asked me 5 years ago, the answer would be that Humminbird produces better fish finders with superior sonar features. This gap has closed significantly to the point where Garmin are a genuine alternative. Their LiveScope functions in combination with their ease of setup, user-friendliness, and cheaper mapping, does bring Garmin into a close second place. However, I would still give Humminbird the top rank purely because of their MEGA 360 imaging, which I couldn't live without.