KastKing has made quite a splash in the fishing industry since they started producing fishing gear in 2014. The company has developed quite a reputation as a brand that manufactures quality products for a reasonable price. There are plenty of different KastKing rods and reels that are garnering some attention from anglers who are usually looking for more budget-friendly products. 
The KastKing Sharky III spinning reel is a good reel that's been receiving quite a bit of praise from anglers of all skill and experience levels. This spinning reel is one that can be used in a variety of different scenarios that include both saltwater and freshwater applications. It's a versatile product that deserves a closer look by anyone looking for a solid reel that won't necessarily break the bank. 
In this article, I'll explore some of the features and characteristics that make the KastKing Sharky III so popular. All of this information is based on my own first hand testing.
Kastking Intrusion Shield System

Powerful Drag System

Lightweight

10+1 Stainless Steel Ball Bearings
KastKing Sharky III Overview 
The KastKing Sharky III is a sleek, ergonomically-made spinning reel that is quite an upgrade over previous models produced by the company. This reel is all about toughness and durability as KastKing has crafted it to have the ability to withstand nearly anything you're likely to encounter on the water. 
KastKing makes this reel in 5 different sizes that range from a small 1000 size reel all the way up to a 5000 size model. The brand set out to make a solid all-around spinning rod that could handle any size fish in the lakes, rivers or oceans. After producing some earlier models with the Sharky and Sharky II, the company's third effort seems to have been the charm as this reel packs an impressive punch in terms of features. 
The new version of the Sharky III reel is built to be much lighter than previous models, which were said to be decent reels, but were a bit on the heavy side. Now, the KastKing Sharky III emerges as one that's lighter, but also stronger and smoother in comparison. This reel comes with an array of valuable features that certainly puts it at the higher end of budget-friendly fishing reel models.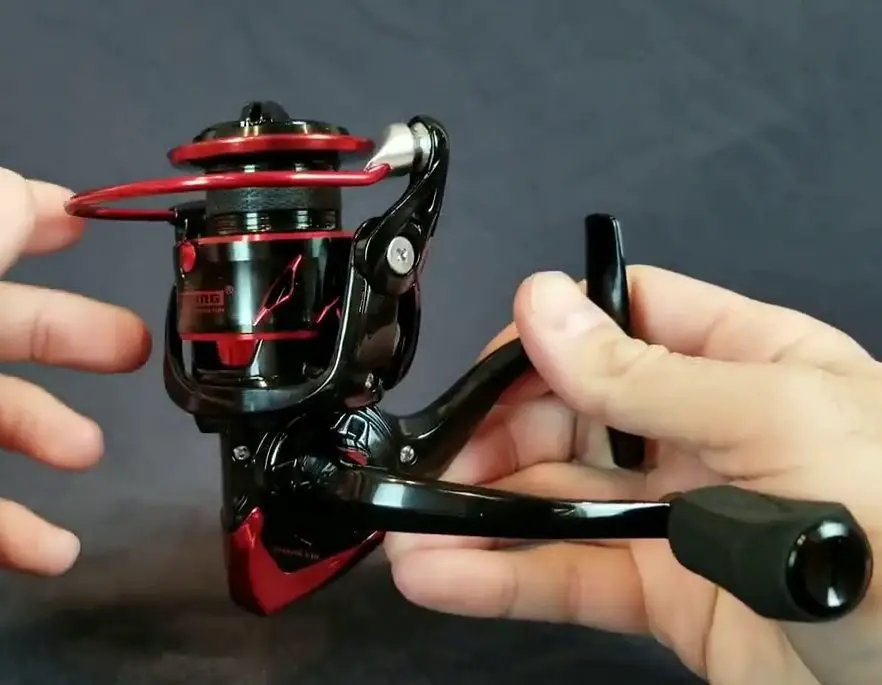 Performance 
As you might expect, anglers looking to catch monster fish will be mostly concerned with the overall durability of their fishing rod and reel and whether or not it will hold up against a giant fish ripping away many feet of line as it dives into the depths. KastKing has carefully designed the Sharky III to be extremely tough compared to other fishing brands that make reels in a similar price range. 
Each of the 5 different size reels offers a 5.2:1 gear ratio, which is roughly what you want for going after bigger fish as it allows you to rely on the reel's cranking power to help take the line up. KastKing went to extra lengths to make sure this reel is capable of withstanding the rigors that are commonly associated with saltwater and that it won't be susceptible to the same type of corrosion that other affordable reel models are known to develop. 
The KastKing Sharky III is surprisingly smooth when it comes to casting and reeling in line and is very likely one of the smoothest reels you'll find for its price range. The maximum drag rating on these reels ranges from 33 to 39.5 pounds, which means you'll have what you need to fight larger fish species. 
I noticed that the Sharky III is well-balanced and holds up nicely to the strain from a large fish that puts the drag to the test. However, you shouldn't expect this budget-friendly reel to hold up as well over time as you might with premium spinning reel models that are much more expensive. 
Features 
The Sharky III is made with various features that set it apart from other reels at or near its price range. KastKing went to great lengths to listen to customer feedback, as well as the recommendations they received from experts and professional anglers that offered up their advice on what they would like to see in a great quality, budget-friendly spinning reel that could tackle anything. 
K.I.S.S. Sealed 
KastKing seals each one of its Sharky III spinning reel models with a K.I.S.S. (KastKing Intrusion Shield System). This system is designed to adequately seal out certain areas of the reel to protect the inner workings such as the spool and rotor. Reels that allow saltwater to seep into such areas are sure to break down over the course of many outings and KastKing specifically wanted to address this issue and make sure the Sharky III was a reel that would not present the usual degradation that other models showed when it came to budget-friendly spinning reels. 
Powerful Drag System 
KastKing is clear about its intentions for the Sharky III. They want the reel to be the best all-purpose spinning reel that's capable of catching any size fish in both saltwater or freshwater  in the world. One reason why anglers might expect them to live up to this expectation is the powerful drag system and its ability to provide up to 39.5 pounds of drag. 
The drag is designed with a triple-disc carbon-fiber drag system that is much tougher than other brands in the same class by quite a bit. The oversized stainless steel main shaft also creates a better overall drag performance as does the precision-mesh manganese brass fishing gears, which function as the brute force of the Sharky III. 
Braid-Ready Aluminum Spool
When it comes to going after the largest species in the rivers and sea, most anglers rely on braided fishing line to get the job done. KastKing is aware of this and crafted the Sharky III to have a Shark Fin braid-ready aluminum spool that won't allow the line to slip and also works using a Anti-Twist Line Roller to ensure that the line is collected onto the spool in an orderly fashion. 
Ergonomic Handle and EVA Grip
The handle is made with an ergonomic design that helps anglers maintain their grip on it throughout any intense fights they have with massive fish. The handle's grip is also fitted with a high-density EVA foam grip covering, which helps you maintain your hand's position on the handle no matter how wet your hands or the reel might get. 
Other Notable Features 
The Sharky III relies on a bearing system that features 10+1 stainless steel ball bearings that are saltwater rated and double shielded to ensure that they don't succumb to the beating that saltwater commonly puts most spinning reels through over time. 
It also comes with an instant-lock anti-reverse capability that ensures you won't have your spool going backward unless you flip the switch and are aware of it. Each Sharky III reel size offers much more line capacity than nearly every other spinning reel that's in the same class.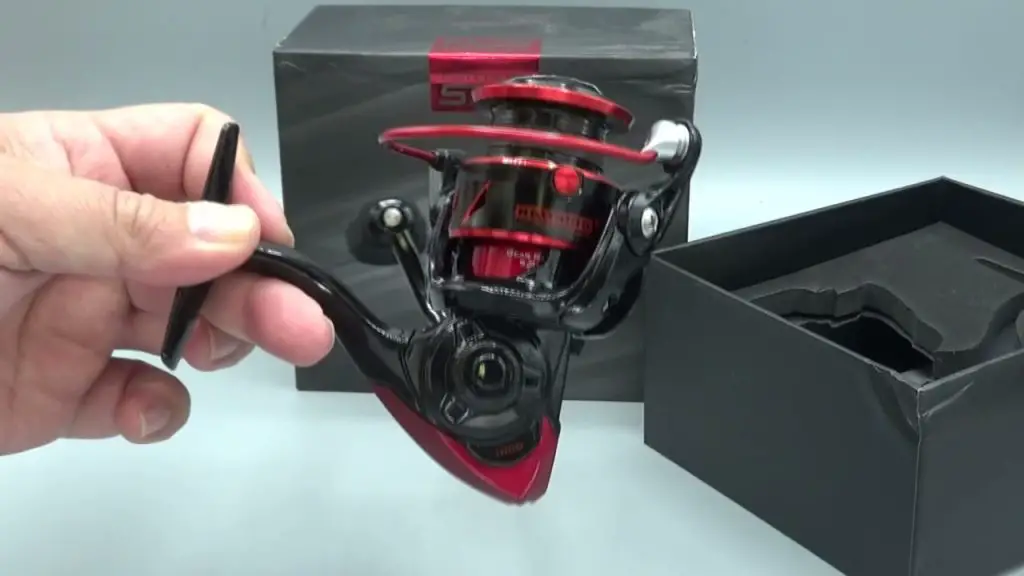 Construction 
The KastKing Sharky III is designed with a next-generation feel that is a step up from older Sharky models. KastKing set out to make this reel as strong as possible without adding too much weight to the reel itself in the process. They were able to accomplish this by using a high percentage fiber material that's reinforced with a graphite body and rotor. 
The smallest and lightest Sharky III 1000 model weighs 7.4 ounces while the largest 5000 version tips the scales at just 10.6 ounces. These reels are also built with a smaller profile and rotor height compared to other brands' products. The Sharky III 5000 is likely not going to be as large in size as most of the other 5000-size reels you're used to seeing. 
Pros
Very high max drag with 33 lb in the smallest 1000 sized model. This will handle anything that you can throw at it. This is surprising considering how lightweight this reel is.
Saltwater ready with double shielded and saltwater ball bearings.
Cons
This is better than most budget level reels, but it is still a budget level reel and doesn't have the same features or performance as a more premium option.
Kastking Intrusion Shield System

Powerful Drag System

Lightweight

10+1 Stainless Steel Ball Bearings
Specifications
| | | | | | |
| --- | --- | --- | --- | --- | --- |
| Model | 1000 | 2000 | 3000 | 4000 | 5000 |
| Weight (oz) | 6.9 | 9.2 | 9.4 | 10.5 | 10.5 |
| Max Drag (lb) | 33 | 33 | 33 | 39.5 | 39.5 |
| Gear Ratio | 5.2:1 | 5.2:1 | 5.2:1 | 5.2:1 | 5.2:1 |
| Ball Bearing | 10 + 1 | 10 + 1 | 10 + 1 | 10 + 1 | 10 + 1 |
| Retrieve Rate (in per turn) | 26.2 | 27.5 | 29.4 | 31.5 | 33.4 |
|  Mono Line Capacity (LB/Yds) | 6/197, 8/164, 10/131 | 6/218, 8/185, 10/142 | 8/218, 10/175, 12/131 | 10/218, 12/196, 14/164 | 12/218, 14/185, 16/153 |
|  Braid Line Capacity (LB/Yds) | 15/200, 20/170, 25/140 | 15/220, 20/190, 25/150 | 20/220, 25/180, 30/140 | 25/220, 30/200, 40/170 | 30/220, 40/190,50/160 |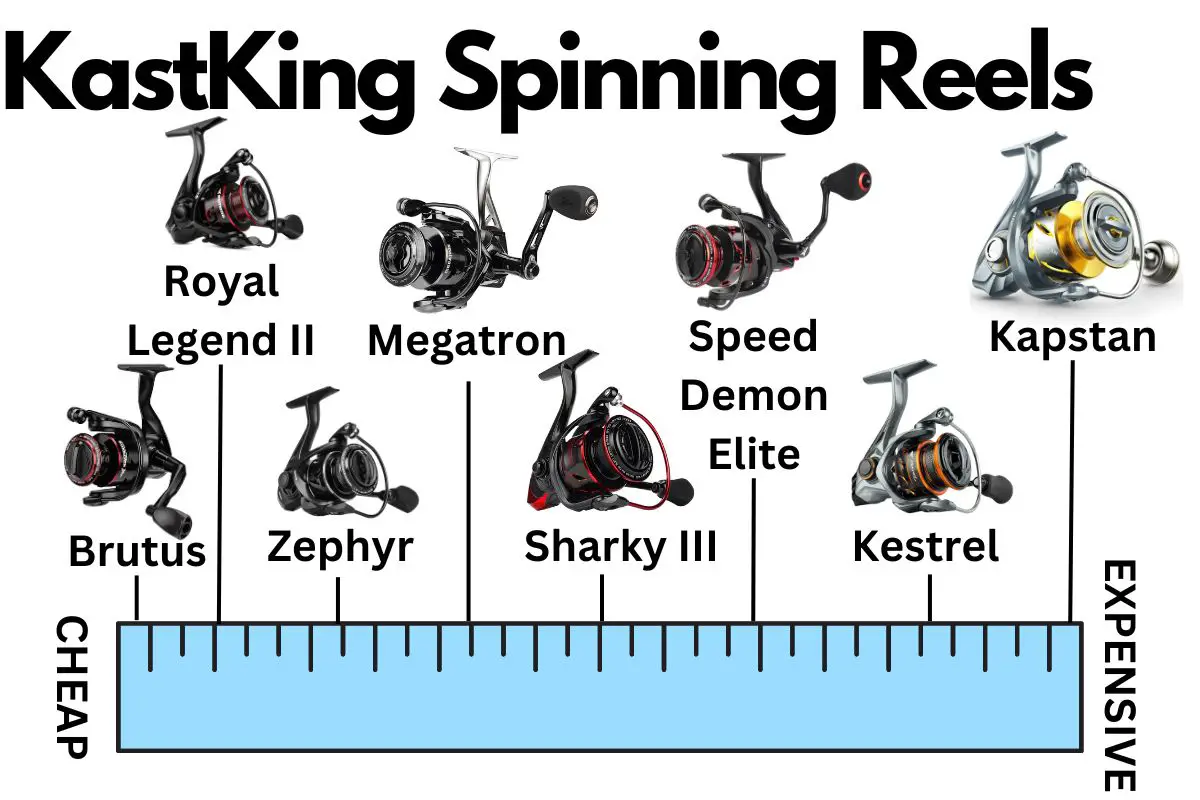 Conclusion 
The KastKing Sharky III is surprisingly smooth for a reel that is priced well below $100. This is an ideal option for anglers looking for a decent quality spinning reel that doesn't require them to spend a small fortune to acquire. It's truly hard to find another reel that packs in this many quality features and craftsmanship into something that is much more budget-friendly than some of the more well-known brands' products. 
It offers plenty of features and characteristics that make it tough enough to be used in a variety of scenarios, including saltwater fishing. However, there are some concerns with the reel's overall performance over the course of a few seasons, especially if you plan to do quite a bit of fishing and will put a considerable amount of strain on the reel. 
The KastKing Sharky III's performance and functionality easily outperform almost any other spinning reel that's priced at roughly the same rate. This is one of the best budget-friendly spinning reels you'll find this season.