In this article I will review the Penn Squall Conventional Reel, in terms of its advantages and its drawbacks.
This reel comes in two modes – the Lever Drag and the 2-Speed Lever Drag. They are made by one of the best brands in manufacturing fishing reels in Penn. From my experience you don't need to worry about the manufacturing quality or workmanship of any Penn products.
In comparison to some of Penn's other reels, the Squall doesn't have the features of a premium option but it will handle itself in almost any offshore battle. The Squall series models are most suitable for people who do not need to use their reels on a day to day basis. Unlike the Penn Fathom and Penn International, you do not get a full metal body on the two Squall models.
All of the comments in this article are based on my own experiences and judgements.
Quantitative Score
Performance – 3/5 ⭐⭐⭐
Durability – 3/5 ⭐⭐⭐
Value for Money – 5/5 ⭐⭐⭐⭐⭐
Overall – 4/5 ⭐⭐⭐⭐
Click here to learn more about how we score.
Description
The Penn Squall is saltwater ready with a stainless steel main shaft and 4 stainless ball bearings. Some of its main features include a solid anti-reverse system, a machined aluminum spool that is braid ready, graphite rotor, and a thick wire bail system.
When I describe this as an 'medium' level reel, that is exactly what I mean – I don't mean it is a cheap and nasty knock off. This is a well made, quality reel that doesn't have all of the power or features of a more premium overhead reel. But if you tackle smaller fish species then this reel will go all day for years into the future. Its line capacity also allows you to be extremely versatile in your fishing style and target species.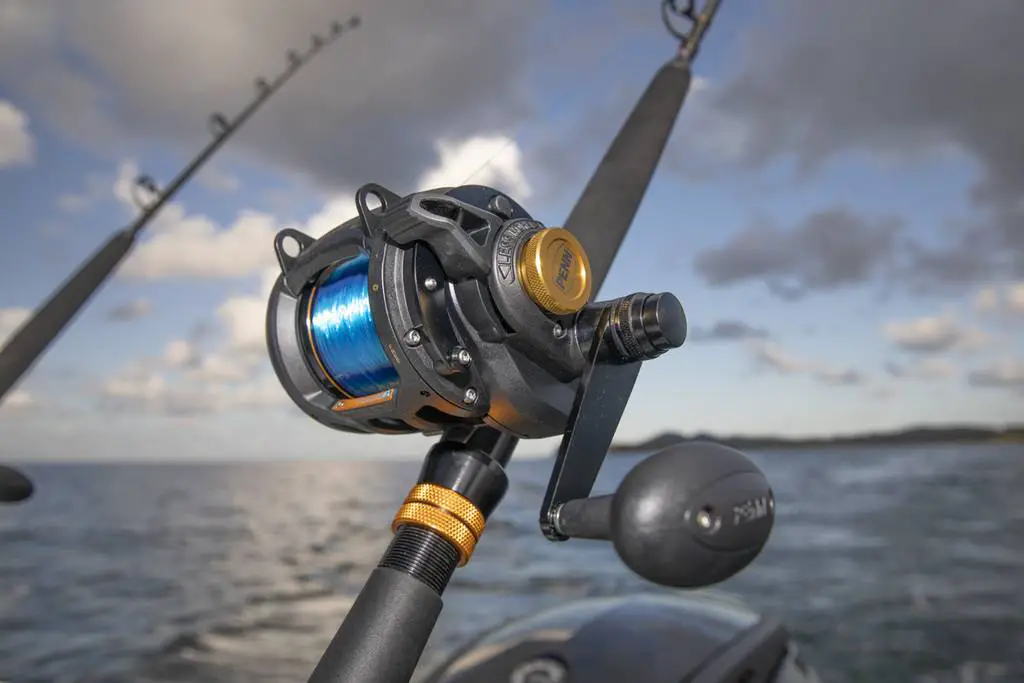 Features
Graphite Body Construction
The graphite body makes it corrosion resistant for those who are looking for fishing reels that will provide a service for a long time. However, this will not be as stiff as aluminum and will flex a bit, which based on my experience means the gears may wear out more easily.
Forged Machine Spool
The spool is made of aluminum and the capacity rings can inform you how much line is left on the spool. This means you will never get the line finish up which could occur when fishing the large species. I can remember a specific example when I was really low on fishing line after I hooked onto a fast moving mackerel so I can appreciate how useful capacity rings can be.
Good Line Capacity
The spools can hold between 550 yards of braided lines weighing 50 lbs up to 1050 yards of 65 lb weight. This gives it the versatility for both bottom fishing deep reef fish and tackling fast moving pelagic species. It is low on max drag, but the line capacity makes up for it – you can just let the fish swim and tire itself out instead of needing to muscle it back to the boat.
Stainless Steel Gears
The pinion and main gears are stainless steel meaning they are stronger than bronze but they can also corrode easily. These types of gears are on both the Lever Drag and Lever Drag 2.
Dura Drag System
The two Penn Squall models of fishing reels incorporate the Dura-Drag system which is even stronger than the HT-100. The HT-100 is one of the outstanding features on the Penn Pursuit III reel, and this makes it high-end drag. In fact, the drag system makes it worth the expenditure.
Stainless Steel Bearings
With 6 bearings that are made of stainless steel, you get a durable but not so light-bearing system. Drag 2 is made of 4 bearings also made of stainless steel. These are corrosion resistant and will perform as well in a decade as they do the day you buy them.
Silent Double-Dog Anti-Reverse
This system provides a tighter grip for engaged reels, meaning you get a backup. It also prevents any wear and tear on the reel because it will distribute pressure across 2 paws on the system.
Lugs
These are installed on both the single and double speed models. You can skip using the lugs on the single speed reels, in which case you should click them down and out of the way.
Versa-Handle System
Retrieving is fantastic on these fishing reels because you can adjust speeds to 2 different levels by positioning the handle in two different positions. Effectively this means there is a high speed option and a high torque option. You can use the high speed to retrieving lures/baits and the high torque for applying pressure to land large fish.
This doesn't have the finesse of adjusting the drag slightly during a fight, but it is quick and easy to set the exact drag you have pre-set on shore.
During the rough seas you get the danger of the drag sliding around. This problem can be prevented by using the ratcheted drag lever.
Variable Sizes
It is offered in 2 models of about 9 sizes in total, each size having different weight, line capacity, and gear ratio among other features.
Design
The smallest of the Squall Lever Drag provides a gear ratio of 6.1:1, has 6 bearings, has a max drag of 13 lb, weighs 18.2 oz, and can have a capacity of between 390 to 260 yards of monofilament line weighing 20 to 30 lbs. The largest of the model has a gear ratio of 4.3:1, max drag of 33 lbs, and a weight of 28.1. It can take between 1050 to 775 yards of monofilament lines weighing 65 to 100 lbs.
The Squall 2 Speed Lever Drag has three variants with the smallest having a gear ratio of 4.5:1 to 2.1:1, 4 bearings, max drag of 26, and weight of 38.5 oz. It can contain a monofilament line of between 1090 to 540 yards of between 15 to 30 lbs in weight. The largest weighs 55.6 oz., provides a max drag of 40, and has a gear ratio of 2.9:1 to 1.5:1. It can contain a monofilament of between 1550 yards to 565 yards of between 30 lbs and 80 lbs. 
All of the sizes and variants are braid-ready. 
Pros
A high-quality Dura-Drag system
Can be used for fishing all kinds of fish both freshwater and saltwater
Good for beginners and advanced anglers
The high line capacity makes it versatile enough for deep bottom fishing and fast moving pelagics. You can really use the extra line to offset the low drag.
Cons  
Does not provide a lot of features for that price tag
Has a low drag for an offshore fishing reel compared to alternatives with the same sized model
Alternative Comparison
I also like to compare reels to other options in my reviews. In this case I have picked the Penn Fathom. The Penn Fathom is another lever drag overhead reel manufactured by Penn. These comparisons below are based on a 40 sized reel model:
| | | |
| --- | --- | --- |
| Features | Penn Fathom | Penn Squall |
| Gear Ratio | 5.0:1/2.5:1 | 5.1:1 |
| Max Drag | 40 lb | 20 lb |
| Bearings | 4+1 | 5+1 |
| Braid Line Capacity | 785 yards of 50 lb | 750 yards of 50 lb |
| Price | $$$ | $$ |
The Penn Fathom is a larger, more heavy-duty version of the Squall. It comes with the 2 speed gearing system which is particularly useful against big gamefish. It also has double the max drag on the same sized reel. If you are targeting large gamefish then I would personally recommend the Fathom, otherwise the Squall could handle smaller varieties.
Penn Squall Video Review
Have a look at this Penn official product video for the Squall to see how it works and its functionality:
Specifications
For the numbers inclined anglers, have a look at all of the models and their specifications below. The left hand series can be seen by scrolling to the right:
| | | | | | | |
| --- | --- | --- | --- | --- | --- | --- |
| MODEL NUMBER | SQL30LD | SQL40LD | SQL50LD | SQL60LD | SQL40LDLH | SQL60LDLH |
| BEARING COUNT | 6 | 6 | 6 | 6 | 6 | 6 |
| BRAID CAPACITY YD/LB | 1025/20 775/30 550/50 | 1075/30 750/50 625/65 | 1050/50 875/65 750/80 | 1050/65 900/80 775/100 | 1075/30 750/50 625/65 | 1050/65 900/80 775/100 |
| GEAR RATIO | 6.1:1 | 5.1:1 | 4.3:1 | 4.3:1 | 5.1:1 | 4.3:1 |
| MAX DRAG LB | 13lb | 20lb | 27lb | 33lb | 20lb | 33lb |
| MONO CAPACITY YD/LB | 390/20 350/25 260/30 | 490/25 360/30 300/40 | 500/30 420/40 310/50 | 500/40 370/50 330/60 | 490/25 360/30 300/40 | 500/40 370/50 330/60 |
| RECOVERY RATE | 37″ | 37″ | 35″ | 35″ | 37″ | 35″ |
| WEIGHT | 18.2 oz | 20.9 oz | 27.4 oz | 28.1 oz | 20.9 oz | 28.1 oz |
Conclusion
That brings me to the end of my review. The Penn Squall is certainly a great conventional reel that packs in a lot of performance for its price range. If you are not sold and want to have a look at some alternatives then please have a look at my article highlighting the best conventional reels available.
If I woke up ready for an offshore fishing trip and only had a Penn Squall, then I would be a happy angler without any reasons to doubt that I could catch 95% of fish in the ocean. The only reasons I would have to want a more premium overhead reel would be if I was target marlin or sailfish and wanted a much higher drag, or if I was a charter fisherman and wanted to have a more durable option.
If you own a Penn Squall, then please leave a comment below with your experience so we can all learn from your wisdom.
Happy fishing!