The best fishing reels for redfish are 3000-sized spinning reels with at least 15 lb of max drag, 200 yards of 6 lb mono line capacity, a gear ratio of 6.2:1, and made from corrosion-resistant materials.
The Penn Battle III is my top choice because of its durable construction and impressive performance. It is powerful enough to handle large redfish with HT-100 drag washers and sealed, stainless steel ball bearings. It is ideal for red drum anglers who value longevity and want a reel that will continue performing for years to come, even in harsh saltwater conditions.
Redfish is a much-prized saltwater game fish. Earlier they were called a red drum. They came as a big solace when other species are not taking the bite. Redfish bites at several different kinds of lures but when hooked they put up a spirited fight. They are powerful sports fish that can be controlled and brought in only by an equally powerful saltwater-proof reel.
If you have a reel that is good for redfish, it can be good for other saltwater fish such as cobia and black drum as well. Here, we have put together Fishing Reels for Redfish Buying Guide for you. This will walk you through all important aspects of the best fishing for redfish and similar other saltwater fish.
Click here for the best fishing rods for redfish.
Full Metal Body and sideplate
HT-100 carbon fiber drag washers
5+1 sealed stainless steel ball bearing system
Line Capacity Rings
Braid Ready Superline spool
1. Penn Battle III
Saltwater Ready

HT-100 Drag Washers

Extremely Durable Material

Wide Range of Sizes Available

High Speed Options for Fast Moving Lures
The Penn Battle II is one of my most recommended reels, particularly for bass, redfish, walleye, and other similar sized recreational fish species.
This American made reel has all of the features you need at a price point that is hard to walk away from.
What I Like About It
This reel is the definition of durability. It comes with HT-100 carbon fiber drag washers which are the premier in all modern reel designs. It has 5 stainless steel ball bearings that are sealed not just shielded.
Available in the 4000 sized model with a 6.2:1 gear ratio and 37 inch retrieval rate. This is a brilliant redfish reel.
Pros
Great drag capacity up to 30 lbs and decent casting accuracy.
Durably built with a full metal body and carbon fibre drag washers.
Five stainless steel, sealed, ball bearings with an anti-reversal roller.
Cons
The bearings don't have a comprehensive sealing system so make sure you thoroughly flush and maintain your reel and store it dry
Lacks the features of the next model up the Clash II
2. Abu Garcia Revo SX
Saltwater Ready

DuraGear Brass Gearing

Titanium Coated Line Guide

Improved Dura Clutch
Next on the list is the Abu Garcia Revo SX. This is a brilliant little reel. It comes with 9 ball bearings, carbon fiber drag washers, a 6.2:1 gear ratio and from 10 to 17 lbs in maximum drag.
What I Like About It
The body is made from C6 carbon which is lighter than the old model. Its design has also been upgraded with a rocket spool lip that reduces slippage chances.
The Revo SX also comes with an instant-anti reversing feature which helps to prevent air knots.
Pros
C6 Carbon body of the device makes it lightweight
The Main Shaft is made of stainless steel and is very much durable since corrosion resistant
Cons
The extremely light weight of the reel makes it vulnerable to air knot
3. KastKing Sharky III
Kastking Intrusion Shield System

Powerful Drag System

Lightweight

10+1 Stainless Steel Ball Bearings
The KastKing reels are a very interesting manufacturer in the market. Their prices are substantially lower than some of the big name brands.
The Sharky III is built tough. It is made from reinforced graphite body and rotor. With up to 40 lbs of drag, this is more than strong enough for redfish.
What I Like About It
It also has a unique water resistant design for the spool, body, and rotor.
With 10+1 shielded stainless steel ball bearings, the retrieve of this reel is extremely quiet and smooth. It is braid ready, so you don't need to use a backing line to get started.
Pros
The Sharky III model weighs 7.4 ounces, and the largest weighs just 10.6 ounces
10+1 stainless steel ball bearings
Instant-lock anti-reverse capability
KastKing Intrusion Shield System
Cons
There are some concerns about the durability of the reel across multiple seasons
4. Daiwa BG
Saltwater Ready

Braid Ready - No Mono Backing Required

Machined Aluminum Housing

Infinite Anti-Reverse System
This ultralight spinning reel is another option for redfish. It is built with Daiwa's HardBodyz design which makes it more durable.
What I Like About It
The Daiwa BG comes with 6+1 stainless steel ball bearings, a gear ratio of 5.6:1 and only weighs 8.5 ounces for the 1500 sized model.
It is available in 1500 to 8000 sizes depending on the fish species you are targeting – for redfish we recommend a 3000 sized reel.
Pros
The cranking ability and the line capacity of the reel are really outstanding
The reel contains an Air Rotor which reduces the weight somewhat.
Cons
This is a heavier reel than some of the alternate options which can cause some muscle fatigue
5. Penn Spinfisher VI
Saltwater Ready

IPX5 Waterproof Seal

HT-100 Drag Washers

Stainless Steel Ball Bearings

Full Metal Body
Update July 2023 - At ICAST 2023 the Penn Spinfisher VII was released. This model comes with new technology, improved materials, and better specifications.
The upgrade of the Penn Spinfisher VI compared to the V model is the introduction of IPX5 sealing. This means that if you let your reel stay in saltwater spray for the ride home, then it won't get any saltwater into the gearbox or drag system. It comes with HT100 carbon fiber drag washers.
What I Like About It
Available in 2500 to 6500 sizes, and max drags from 15 to 30 lbs. There are also a wide variety of gear ratios available, so you can select the reel that suits your fishing style and the type of lures you intend on using.
Pros
Sealed Stainless Steel Ball Bearings (as opposed to shielded)
Superline Spool eliminates the need for backing
Cons
There has been some reports of paint chipping and bail arm loosening over time.
6. Shimano Sedona
The Sedona from one of my favorite manufacturers, Shimano, comes with Hagane gearing and has received a significant upgrade in a redesigned rotor and improved drag output.
What I Like About It
It is saltwater ready with X-Ship and comes with a 10 year warranty.
It only comes with 3+1 ball bearings, but is available in both 5.0:1 gear ratios and high speed options at 6.2:1.
It also has Shimano's G-Free body which puts the center of gravity closer to the the angler's hand. While you won't notice this on a single cast, it significantly reduces muscle fatigue after a long day of casting.
Pros
Shimano manage to fit a lot of technologies into a good value for money option
The varispeed oscillation system makes the line lay more evenly along the spool
I found the G free body design reduces the muscle fatigue compared to similarly sized reels
Cons
The 3+1 ball bearings is on the low side, even for other entry level reels in this size range
I don't like that there is no reverse feature so you don't run the spool backwards to remove line
Some durability issues but I was expecting that at this price range
7. Shimano Stella
Shimano's Premier Spinning Reel

Extremely Corrosion Resistant Materials

All of Shimano's Latest Technologies

Can Handle the Largest Saltwater Species
The Shimano Stella is the best of the best, the premier Shimano reel containing all of the technology that Shimano has developed over the last few decades. It is high performance, durable, and will last a lifetime. If you are looking for the choice reel and budget is no limit then have a look at the Stella.
What I Like About It
With 14+1 ball bearings, this reel has a noticeable improved smooth retrieve feeling. It is available in 14 different models so you can certainly find the gear ratio, maximum drag, and retrieval rate to suit your needs.
Pros
The housing and side plates are made of extremely tough metal known as the Power Aluminum Body
Has a powerful X-Tough Drag System
The gearing system comes with Shimano's X-Ship technology
Cons
This is a premium reel and is much more expensive than the alternates on this list
8. Shimano Vanford
Lower Weight than its Predecessor

Extremely Durable

Long Casting Distance

Full of Shimano's Latest Technology
The Shimano Vanford is the replacement for the people's favorite the Stradic Ci4+. It has all the features that everyone loved about the Stradic and has eliminated its few weaknesses.
What I Like About It
It is perfect for saltwater with Shimano's X-Ship and X-Protect technologies.
Available in 1000 to 5000 model sizes and higher gear ratios of 5.5:1 to 6.4:1. This is perfect for faster retrieving lures like small bladed spinnerbaits.
The Vanford also comes with MGL rotors with reduces the weight of the rotor by 25%. Its Cold Forged Hagane Gears give it extreme durability for long term performance.
Pros
I have found this reel to be extremely durable due to corrosion resistance in X-Protect – this will increase the value for money as the reel will last a lot longer
The combination of long stroke spool and propulsion line management allow you to cast light lures further
The retrieve on the Stradic was good, but the Vanford is even better due to the upgraded Hagane gearing
Cons
I don't like the fact that the 500 to 3000 sized reels don't have carbon drag washers, as at some point you will want to replace the felt washers
The price is higher than the standard Stradic, but this is understandable considering what you are getting for your money
9. KastKing Kodiak Spinning Reel
The KastKing Kodiak is designed for trophy fish. It has 40 lbs of drag so even bull redfish won't be able to beat you.
It is available in 1000 to 5000 sizes, and with 10+1 shielded stainless steel bearings, this is suitable for saltwater. This reel also comes with 3 plate carbon fiber drag system.
What I Like About It
The spool is made from aluminum and the rotor is computer balanced.
The handle is made from aluminum with EVA knob.
Pros
Large, comfortable EVA handle
10+1 ball bearings for smooth retrieve
High max drag of almost 40 pounds
Cons
Uses KastKing's Saltwater Tough material instead of stainless steel which could have some durability problems over time.
10. Pflueger President
9+1 Stainless Steel Ball Bearings

Oil Coated Drag Washers

Lightweight Graphite Body

Comfortable Rubber Handle Knob
The Pflueger President is one of the most popular spinning reels at the moment. It is well-engineered with a great combination of performance, durability, and value for money. The reel is built with a full metal body and metal-cased rotor – this makes it heavier than some of the other options but you can feel the difference in build quality.
Its 10 stainless steel ball bearings also give it a really smooth retrieve feel, although this can be limited when under heavy load because of its lower max drag.
What I Like About It
This is one of my favorite freshwater spinning reels. It is extremely well made and you won't have any issues for years to come. I really notice the smooth retrieve compared to the alternatives in this price range.
My main negative is that it isn't fully designed for saltwater and it is short of drag power if you are looking to battle some larger redfish.
Pros
Braid-ready spool so you don't need any mono backing line.
Sealed drag system.
10 stainless steel bearings.
Cons
It isn't designed for extensive saltwater use so you will want to flush it with freshwater thoroughly after use.
The max drag is a little lower than I would like at only 10 lbs in the 3000 sized model.
Specification Comparison
All of the key specifications can be compared in this table, based on the 3000 sized models.
| | | | | | |
| --- | --- | --- | --- | --- | --- |
| Redfish Spinning Reels | Gear Ratio | Max Drag | Ball Bearings | Mono Line Capacity | Price Range |
| Penn Battle III | 6.2:1 | 15 lb | 5+1 | 210 yards of 6 lb | $$ |
| Abu Garcia Revo SX | 6.2:1 | 11 lb | 9 | 175 yards of 8 lb | $$$ |
| Daiwa BG | 5.6:1 | 15 lb | 6+1 | 280 yards of 8 lb | $$$ |
| Penn Spinfisher VI 3500 | 6.2:1 | 15 lb | 6 | 285 yards of 8 lb | $$$ |
| Shimano Sedona | 6.2:1 | 20 lb | 3+1 | 200 yards of 10 lb | $$ |
| Shimano Stella | 5.8:1 | 24 lb | 12+1 | 170 yards of 8 lb | $$$$$ |
| Shimano Vanford | 6.4:1 | 20 lb | 7+1 | 200 yards of 10 lb | $$$$ |
| KastKing Sharky III | 5.2:1 | 15 lb | 10+1 | 218 yards of 8 lb | $ |
| KastKing Kodiak | 5.2:1 | 33 lb | 10+1 | 218 yards of 8 lb | $ |
| Pflueger President | 5.2:1 | 10 lb | 9+1 | 130 yards of 8 lb | $$ |
How We Rate Products
Russ Egan and Donny Karr have over 40 years of combined fishing experience. We know the difference between a high-quality reel and a poor alternative.
I thoroughly review all products to measure their performance, durability, and value for money. I conduct bench and field testing to check how the product performs. Each reel is tested for at least 8 hours, with a full test taking 2 weeks. This testing results in an overall score that I give to all products. All metrics are scored out of 5.
Performance
The performance score is how well this product fulfills its primary purpose. Does it have all the features and optional extras you need to catch the target species? I also interview expert anglers on their experience to build a more comprehensive view of the performance under multiple conditions.
I take all reels down to my local freshwater lake for bass, or inshore fishing off the beach for redfish.
Test 1: I confirm that the max drag meets the manufacturer's specifications using a calibrated scale.
Test 2: I test the maximum casting distance using a 1.0-ounce lure.
Test 3: I test the accuracy by casting 10 times into a 3 ft diameter circle at 30 yards.
Test 4: I check the versatility and the ability to handle multiple uses by field testing with 3 different lures and baits, by actually going fishing.
Durability
Durability refers to how long the product will continue functioning. I twist, bend, and break all the products to check their longevity. This score is for the construction materials, the workmanship quality, and the servicing requirements. There are also bonus points for manufacturers' warranty.
For products I can't test for long enough, I also consult experts who have been using them for decades to judge their longevity.
Test 5: I pull it apart to check the grease and oil levels, how difficult it is to maintain, and whether sand or salt has deposited after use in saltwater.
Value for Money
The final aspect of the scoring system is the price or, more specifically, the value for money. Value for money is a comparison against the closest alternative products, both by the same manufacturer and other brands.
Overall Score
Finally, I average the three scores of performance, durability, and value for money to give the overall score of each product reviewed.
To see more details, please read the complete guide on how I test and evaluate fishing products.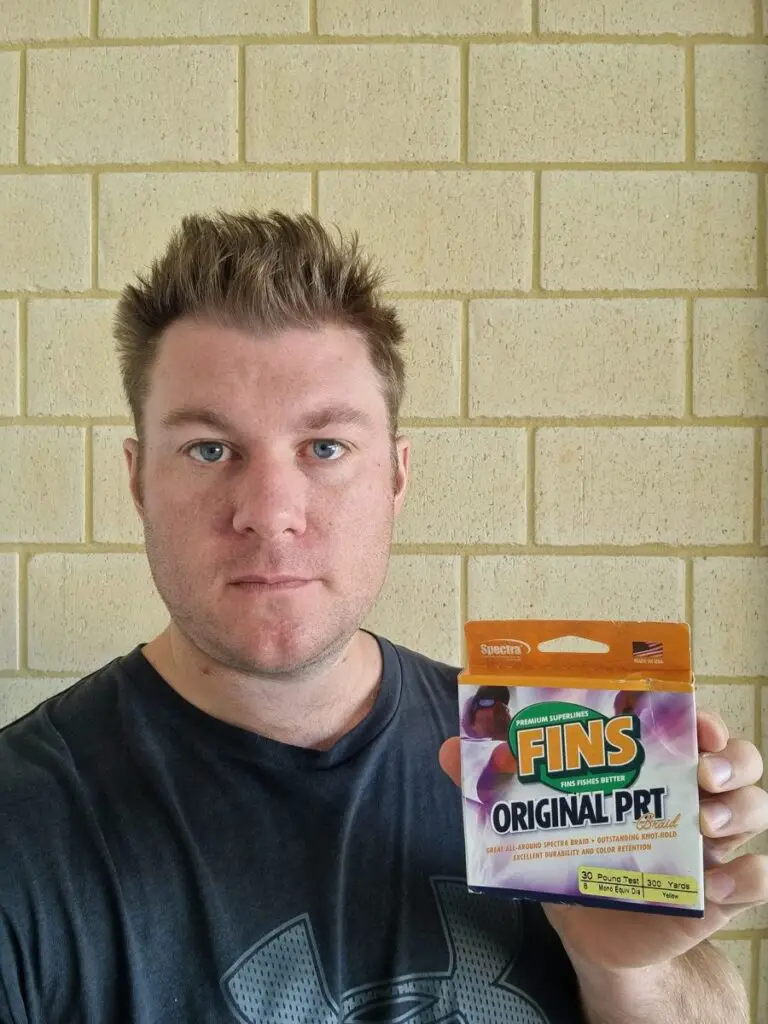 Fishing Reels for Redfish Buying Guide
Redfish are the most popular saltwater fish species for anglers in North America with 2.1 million fishers annually (source).
| Specification | Recommended Value for Redfish |
| --- | --- |
| Reel Type | Spinning or Baitcasting |
| Gear Ratio | 5.1:1 – 7.1:1 |
| Line Capacity (Mono) | 150-300 yards, 10-20 lb test |
| Line Capacity (Braided) | 200-400 yards, 20-30 lb test |
| Drag System | Sealed, with 15-25 lbs max drag |
| Ball Bearings | 5-10 bearings, stainless steel |
| Frame Material | Aluminum or graphite |
| Spool Material | Aluminum, braid ready |
| Weight | 7-14 oz (light to medium weight) |
Choose good-quality components
Internal components of the reel give it strength or vulnerability. So while shopping for a fishing reel, you should examine the components to understand the unit's strength or durability.
Similarly, look at the size of the rivets on the reel knobs. Thinner and lighter rivets can become loose and break under pressure. Thicker rivets are a better choice.
Does the Spool braid well? The best quality reels will have a rubbery material in the spools that grips the braid but won't affect its spin. A spool having fill rings can indicate when you need to re-spool. This is particularly important when you have a big fish with no intention to stop its run.
Proper Gear Ratio
Redfish are a strong species and they take cover in underwater structures such as rocks. If your reel does not have enough gear ratio, it might get snagged and you may lose the catch.
If you want to fish redfish, you must choose reels that have a minimum 5.0:1 gear ratio. With this and above gear ratio, you can be able to drive your redfish catch away from weeds and rocks that can break off the line. 
How Much Drag Do You Need?
Redfish are powerful that should not make you overly obsessed with max drag. Most anglers won't be able to hold on to their rod safely beyond 20 pounds of pressure for more than a few minutes. It is like you have pulled up and stay hanging there!
Shopping for a reel capable of handling 40 pounds of drag pressure is not worth it for redfish. An adult angler can feel comfortable with 15-20 pounds of drag pressure. This is sufficient for most recreational fish species except for the largest of them. 
Buy at least mid-range quality
When fishing redfish or any on its ilk you know your gear will get marinated in saltwater. This means you have no option but to sacrifice it after one or two seasons. So why buy an expensive high-quality reel? But this is not right thinking. It's okay if you don't buy top of a line reel but a mid-range is a must.
If you buy a poor quality reel, it will have persistent performance-related issues such as drag. But if you buy a high-quality reel and care for it, it can last much longer than you think. A high-quality reel can travel with you just anywhere and in some places, you may need to count on it.
Corrosion protection
When fishing in saltwater, corrosion to your gear is a real and serious challenge. Some reels have better sealing than others. This is possible when internal components have a protective coating, gaskets, and sealed bearings.
Some may not have one or the other corrosion-resistance feature. Before buying a reel for redfish fishing, you should read its corrosion-protection features. You should go for the one that offers maximum protection to the reel from saltwater corrosion.
Does it fit and feel well?
You are planning to buy a reel for fishing saltwater redfish at the shop. You should not judge the reel just by what the label says. Those are of course important criteria but after you are satisfied with the specifications, material, and overall quality, you check the gear how it fits on your gear and how it feels to your hand.
If it's not the best fit or comfortable in your hand, all the best features it may have may be of little use. Of course, you can't take to the sea to just try it. But you can check it well by setting it to move and feeling it in your hand.
Choose an ergonomic handle
While fishing for long hours, comfort is an important consideration. Many manufacturers fail to give due importance to the design of the handle. The reel's design must have the best ergonomics, especially its handle. It should feel comfortable as are chasing your fish. It should not stress your hand particularly when you need to stay focused on your trophy.
Ball bearings
Spinning reels that have the ball bearings in their bail line rollers are not the best choice. Ball bearings are more prone to receiving and retaining saltwater. If you don't have proper precautions, they can start making noise and stop functioning someday. You should check what kind of protection the ball bearings have. After you have bought the reel, the ball bearings need regular checkups and care to keep them rust-free.
Line capacity
Will your new reel hold enough line of the size and quality you will use? This is an important consideration especially if you have a long cast and narrow spools. If you have not given this enough, you may run out of line in tough battles.
We recommend looking at 10 lb braid when reviewing line capacities.
What size reel for redfish?
We recommend a 3000 series reel for redfish – either spinning or baitcasting reels do fine. This is suitable even for large bull redfish with a 10lb braid line and 20lb leader.
Do you need a leader for redfish?
We always recommend using a leader for redfish – a 20lb mono leader will do the job. Leaders reduce the risk of braid line getting cut on structure, rocks, or fish teeth.
What gear ratio for redfish?
We recommend between a 5.0:1 and 6.2:1 gear ratio spinning reels for redfish. This gives some versatility in using different size and shaped lures and baits.
What drag is required for redfish?
We recommend a 15-20 lb maximum drag for redfish. This will allow you to haul in even bull red drum.
Final thoughts
Redfish is a strong saltwater sports game. For this kind of fishing, you need a strong reel that has good mid-range features. But more importantly, it should have corrosion-resistant features that can make it last against salty seawater invasions. You should not go for the cheap variety of spinning reels.
These can leave you in difficult spots while fishing. You may shun the top-end products as well, if budget is a consideration for you. But you can safely go with a mid-range range reel that has all other features and specifications perfect for you.
Happy fishing!