The Shimano Sienna Fishing Reel has an extremely balanced format with M-compact body and that gives the anglers support for deep and long casting. Excellently designed, this is one of the top-ranking products in the store.
In my opinion, the Shimano Sienna is an entry-level reel that doesn't contain any fancy bells and whistles. However, it is well made and has decent specifications. If you are just looking for a cheap reel that won't break when you try to catch some panfish a few times a year, then this is ideal. If you are looking to get a high-end option that will fight saltwater monsters, then this is not the reel for you.
I Have Tested This Extensively in Saltwater

Extremely Affordable and Great Value for Money

Propulsion Line Management System

Graphite Reel, Frame, and Side Plate
Read more about how our scoring system works.
Shimano Sienna Overview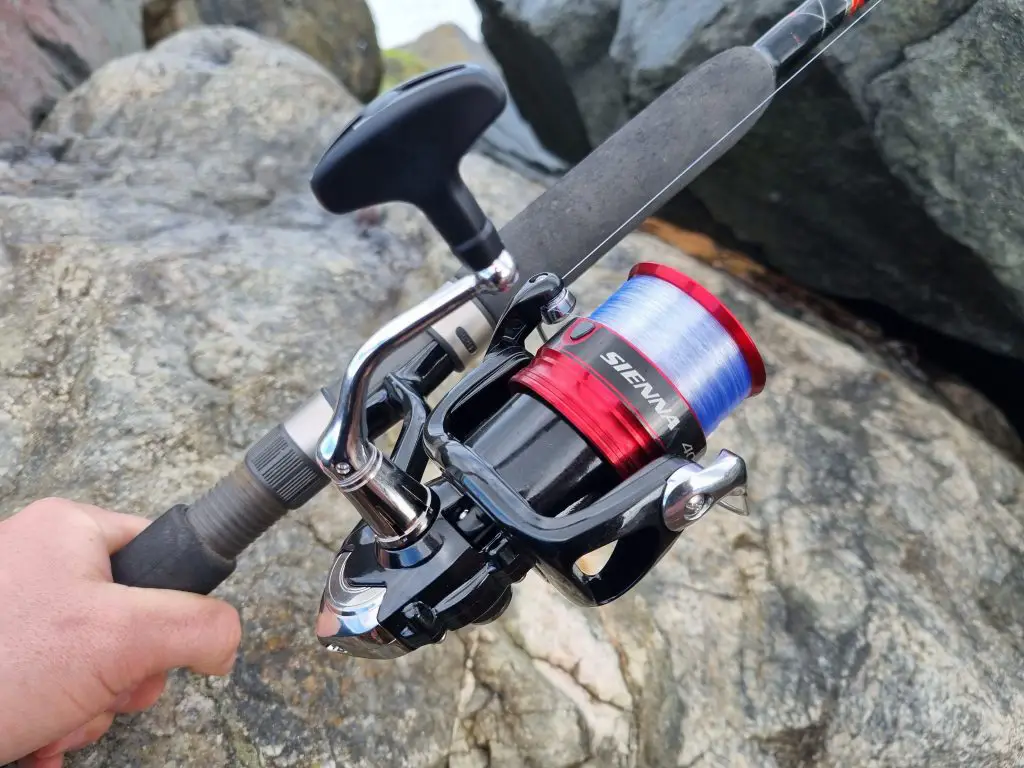 I tested a Shimano Sienna FG 4000 spinning reel that I purchased from Tackle World purely for this test case. I spooled it with 10 lb monofilament fishing line and went to my local fishing hot spot to give it a test. I paired this reel with an Ugly Stik Platinum Spinning Rod that was around 7 feet long and relatively lightweight.
My first comment was how long it took me to find the anti-reverse switch. This is black and small and almost impossible to see without my glasses. Eventually, I found it after worrying that I had a defect for a few minutes. I then spent some time casting a small lure to come to some conclusions.
This is not a premium reel, but it does offer some great value-for-money features and is well constructed for its price range. If you are on a budget and looking for a spinning reel that won't break down, then I would certainly rate the Shimano Sienna. There are plenty of reels that are better, but few that are better in the same price range.
Types of Shimano Sienna Reels
There are various different models of Sienna reels that can create some confusion.
Shimano Sienna RE – Rear Drag
Shimano Sienna FE – Front Drag
Shimano Sienna FD – Obselete Model
Shimano Sienna FG – Newest Model
The Hard Cased Body Gives Longevity 
The casing of any fishing reel is one of the key aspects that need to be considered. The casing is one thing that makes a fishing reel last for a longer time. There are plenty of features in this device, including the well-crafted rotor, side plates, and gearbox.
They are well outlined with a hard casing that provides the essential balance to the reel. The Shimano Sienna reel is well-made and will last for years, but this isn't a reel you will hand down to the next generation. Shimano is a Japanese company that has been providing anglers with fishing gear for the last 60 years, and this product is one such signature item from them. Shimano are one of my favorite brands because of its engineering focus and quality craftsmanship.
Excellent Drag – No Need to Drag Hard 
Shimano products are designed with one particular feature in common – a smooth action. This Shimano Sienna Spinning Reel is also not an exception in that sense. It performs like a much more expensive reel.
It has a lay-line that is well closed and covered and that has been aided with bearings that make it smoother and spontaneous. In terms of drag power, you will only get up to 20 lb in the largest model. The smallest models only give 6 pounds of drag, which is extremely low and only sufficient for panfish.
Casting with A Single Hand 
Cast the line single-handed with this fishing reel. The reel has a gear function that has been set up and aligned with Shimano's computerized design. This will give you an excellent output from the reel.
You can cast with a single hand. Depending on the size you can get over 150 yards of line capacity. The Shimano Sienna smart fishing reel has been configured in every way to meet your needs during casting.
With the reel, you can fish in freshwater lakes in the saltwater bodies. The propulsion system in the reel will hold the backlashes and wind knots.
Reversing and Anti-Reversing – The Ultimate Gearing Function 
The stainless steel gear is covered with a graphite case which makes the reel lightweight. Stainless ball bearings are corrosion-resistant and can handle saltwater angling.
The retrieve is smooth, which is surprising given the low number of ball bearings. The reel's roller gear will give you anti-reversing with an easy-to-access control switch set in the base.
The Shimano Sienna high-tech reel has one of the best sets of gears among similarly priced products.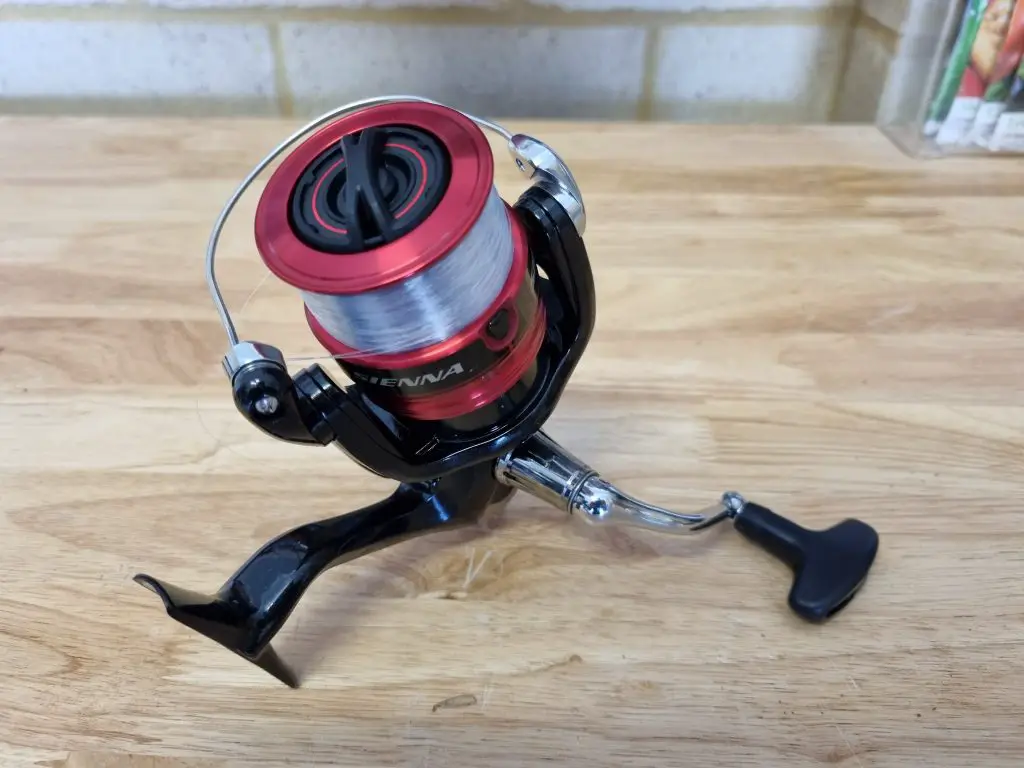 Pros
The reel is designed to be used in all weather and surface conditions. You can use it both in saltwater and also in freshwater conditions. But it is not suited for large fish species, so buyers beware.
This reel is not a new product. Endless users of the device have used it for over 15 years. However, the present version has had many improvements and changes in configuration. This makes it one of the most in-demand fishing reels in the entire market in its price range.
Back play in the reel has been reduced by the instant gear stoppage function when the anti-reverse is on. The anti-reverse is supported with SSII tech, which also helps the rotor to counter-balancing.
Cons
The device has an M-Compact body that brings the fishing rod near to your palm. This will create some problems at the beginning, as you are not used to it. As you practise, you will find better support, and your casting distance will improve.
The max drag is less than 20 lbs in their largest model. This also limits the size of the fish that you can catch. If you are looking for a saltwater big game reel, keep looking. The smallest models only have 6.6 pounds of drag.
It took me around 5 minutes to find the anti-reverse knob which is tiny and hidden at the bottom of the spool.
I Have Tested This Extensively in Saltwater

Extremely Affordable and Great Value for Money

Propulsion Line Management System

Graphite Reel, Frame, and Side Plate
Video Review
Specifications
| MODEL | BEARINGS | BRAID CAPACITY (LB/YDS) | GEAR RATIO | DRAG POWER (lb) | WEIGHT (oz) |
| --- | --- | --- | --- | --- | --- |
| SPL_SN1000FE | 1+1 | 10/90, 15/85, 20/65 | 5.0:1 | 6.6 | 7.9 |
| SPL_SN1000RE | 3+1 | 10/95, 15/85, 20/65 | 5.2:1 | 6.6 | 8.2 |
| SPL_SN2500FE | 1+1 | 10/150, 15/145, 30/100 | 5.0:1 | 8.8 | 9.5 |
| SPL_SN2500RE | 3+1 | 10/170, 15/145, 30/95 | 5.2:1 | 11.0 | 9.5 |
| SPL_SN4000FE | 1+1 | 15/280, 30/170, 50/150 | 5.2:1 | 18.7 | 12.5 |
| SPL_SN4000RE | 3+1 | 15/265, 30/175, 50/145 | 5.1:1 | 15.4 | 13.0 |
Shimano Technology Included
| | |
| --- | --- |
| Hagane Gear | No |
| X-Ship | No |
| X-Protect | No |
| Hagane Body | No |
| Silent Drive | No |
| Infinity Drive | No |
| Heat Sink Drag | No |
| X-Shield | No |
| X Tough Drag | No |
| AR-C Spool | Yes |
| EI Surface Treatment | No |
| Rigid Support Drag | No |
| S A-RB | No |
| One-Piece Bail | No |
Table of Shimano Features Included with the Shimano Sienna
Conclusion
The Shimano Sienna is a great entry-level reel with three important features – M-Compact body to ensure a better grip and better casting. Propulsion technology in the gear to support pinpoint accuracy and long-distance casting in any conditions SSII technology to support the rotor in counterbalancing.
I enjoyed my time testing my Shimano Sienna FG 4000 model and would be happy to give it to any budget-conscious beginner. But I would be looking to upgrade pretty quickly as soon as I got more interested in the sport of fishing.
If you are looking for alternates then please have a look at our review of the best Shimano spinning reels.